It's my first real winter, ever. I'm not doing so well. Every time the temperature dips below 40F I truly suffer. It's not pleasant, and I feel as if I can't get warm even in my own home. Now I know why folks go all meat and potatoes in the winter. To keep warm. Yes, old as time, pot roast, stews and the like are what the doctor ordered. 
Since I don't eat potatoes, I ventured for a nightshade free and lower carb option that wasn't cauliflower. I mean, I love cauliflower, but there are just some recipes where it won't work as well and this low carb classic pot roast was one of them.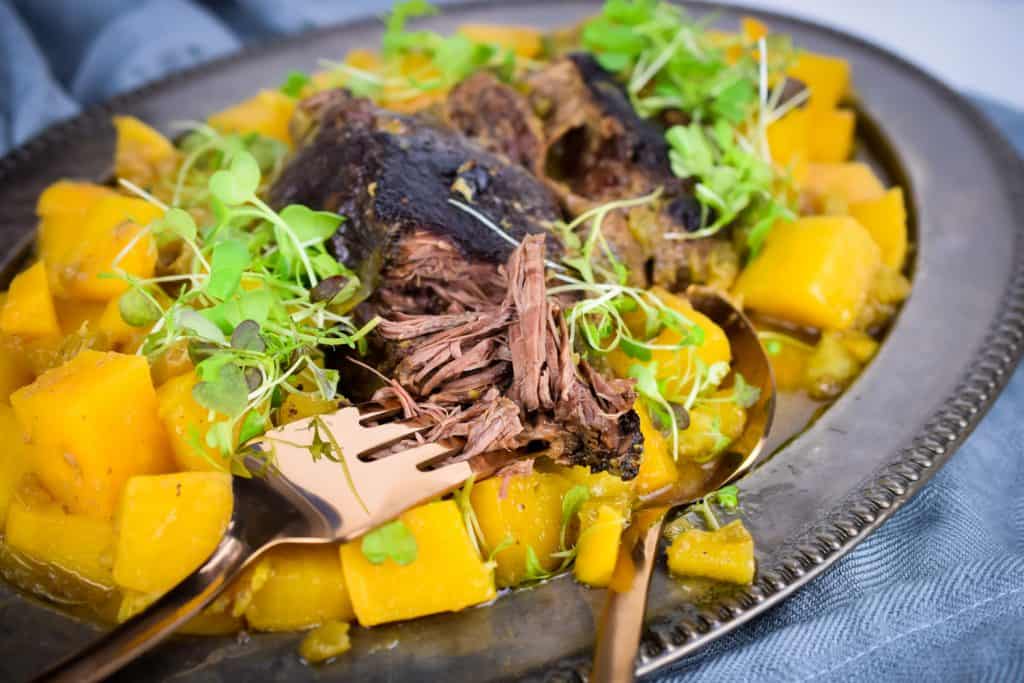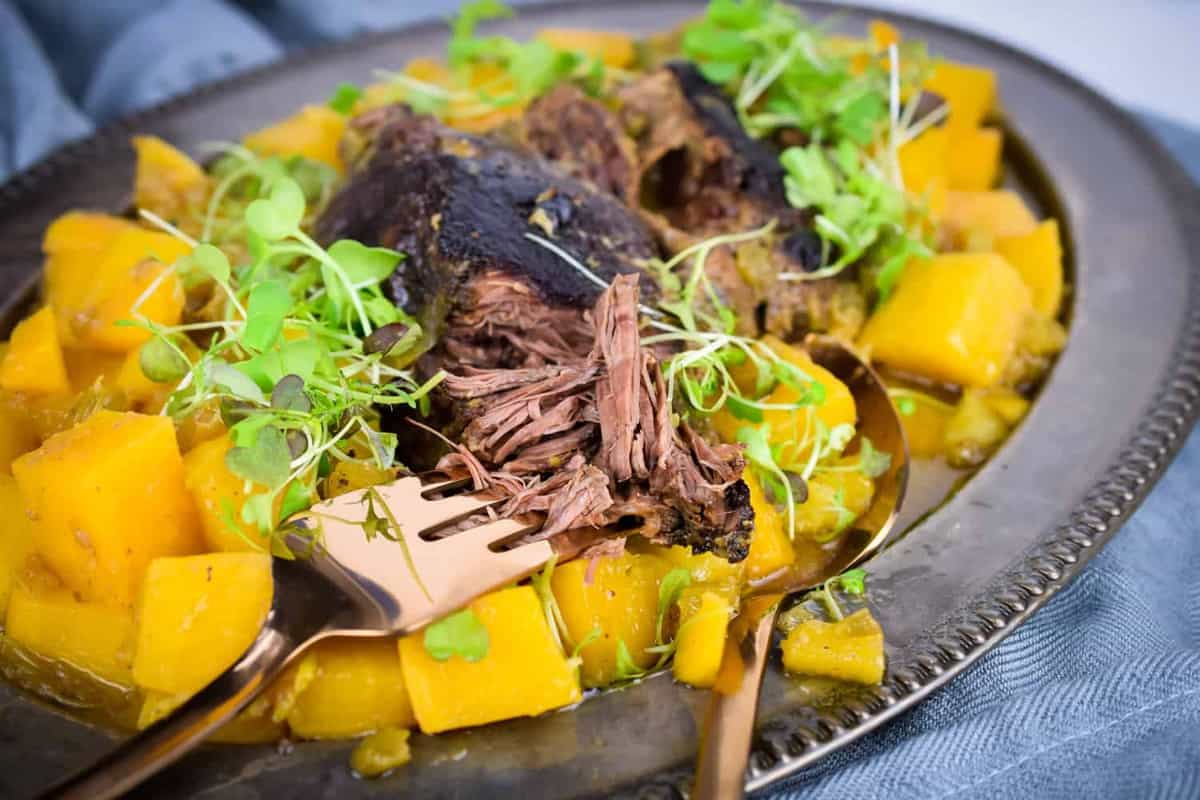 Going Old School
I truly kept to traditional flavors here and went with the slow cooker, although I will include pressure cooker instructions too. The beef is seasoned with mustard and salt. The veggies are leek and celery, but you may also use onion. A little bone broth and then rutabaga instead of potatoes. 
Rutabaga Instead of Potatoes
This simple swap makes this classic pot roast recipe low carb! Rutabaga are yellow turnips, also known as swedes to much of the world. They are a root vegetable, a hybrid between cabbage and turnips! Chock full of nutrients like thiamine, B6, phosphorus, magnesium and high in antioxidants. 
Their creamy orange flesh is sweet and they grow best in cold weather. A winter bounty indeed! They are 9 grams of total carbs, 7 net per 3.5 ounces raw. 
Compared to white potatoes they are much lower in carbs! "A 1-cup serving of boiled cubed rutabaga contains only 51 calories and 12 grams of carbohydrates, including 3.1 grams of fiber, making the net carbs 9 grams. The same amount of boiled potatoes contains 136 calories and 31 grams of carbohydrates, including 3 grams of fiber, which means 28.8 grams net carbs." (Source: Living Healthy)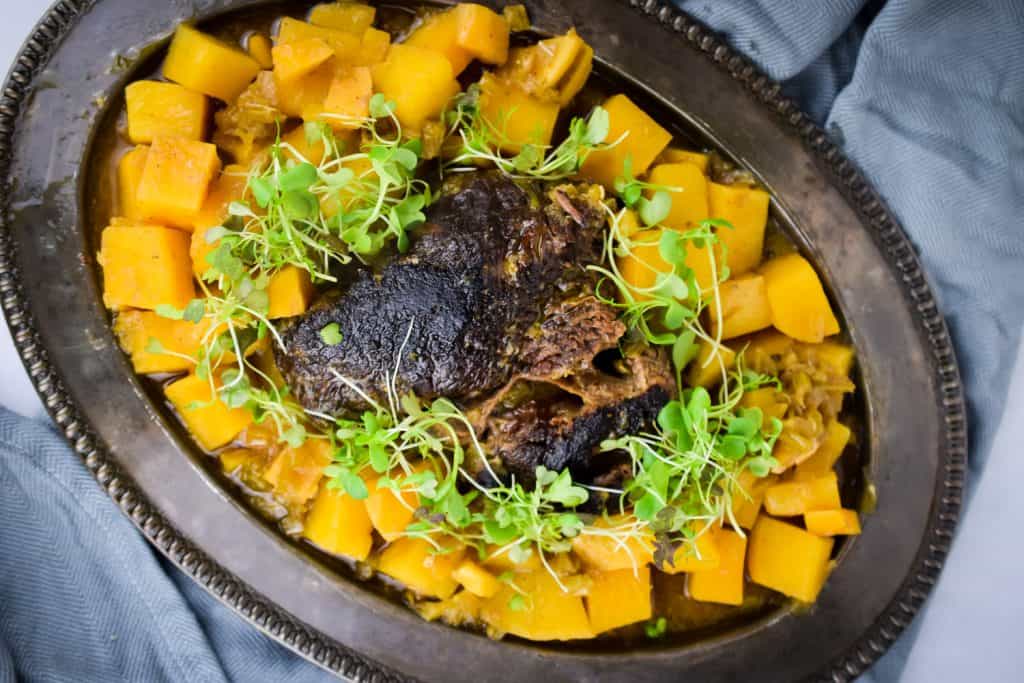 Pressure Cooker Instructions
For these to make sense you need to read the recipe below too, but here is how you modify this low carb pot roast for the Instant Pot.
Add in the celery, leek, garlic and salted beef. Pour in the marinade over the beef. Add the broth around the beef. 
Close the lid and pressure cook on high for 40 minutes. 
Open the lid, remove the meat and while you sear stove top (instructions below).
Add the diced rutabaga to your pressure cooker, close and cook on low for 7 minutes while you sear the beef. 
Open the pressure cooker and serve the tender rutabaga and sauce with the beef. Enjoy!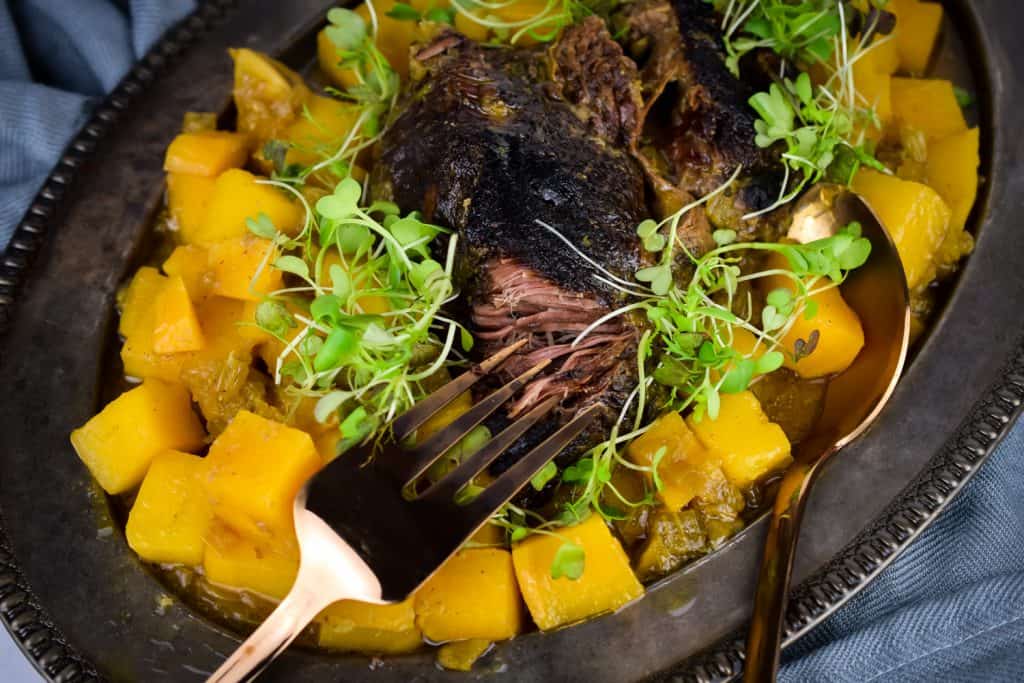 Print
Low Carb Classic Pot Roast
Ditch the potatoes and enjoy this old-school pot roast with delicious and low carb rutabaga!
Author:
Prep Time:

10

Cook Time:

6 hours

Total Time:

6 hours 10 minutes

Yield:

4

Category:

dinner

Method:

slow cook

Cuisine:

traditional
Ingredients
5 tablespoons olive oil, divided 
2.5 pound chuck roast
3 teaspoons salt, divided 1 leek, white part only, sliced
3 celery leaf stalks, diced
4 cloves garlic, minced
1/4 cup Dijon mustard
2 tablespoons coconut aminos 
1 cup bone broth
3 cups medium-diced rutabaga (1 large rutabaga)
Instructions
Add the 3 tablespoons olive oil to your crock pot or slow cooker. 
Salt the meat with 2 teaspoons of salt and rub it in. 
Place the celery, leek and garlic in the pot and place the meat on top.
In a small cup mix together the mustard and coconut aminos with 2 tablespoons olive oil. Pour it over the meat and turn it over to coat it evenly. 
Pour the bone broth around the meat over the veggies. 
Set to cook on high for 4 hours. 
After four hours, open the pot, add in the diced rutabaga. Sprinkle them with a little salt. 
Turn the meat over and mix the rutabaga in with the celery and leek and both. 
Close the lid and cook another 2 hours on high. A total of 6 hours. 
When it's done, open the lid. Heat a skillet on medium-high heat. When it's hot, place the meat on the skillet and sear 4 minutes on each side. Keep the veggies in the closed slow cooker during this time to keep warm.
Transfer the roast to a cutting board or serving platter, slice or shred to serve then spoon the tender rutabaga and veggies with broth all over it. 
(See post for pressure cooker instructions). 
Nutrition
Serving Size:

1/4 of recipe

Calories:

513

Fat:

26g

Carbohydrates:

12g

Fiber:

2g

Protein:

55g
Keywords: low carb classic pot roast
Other Recipes You Might Like: