Made using yellow split mung beans (moong dal) or moong lentils – this easy lentil wrap is the perfect vegan, gluten-free, grain-free wrap! Chilla is a traditional Indian recipe for mung bean pancakes, but make them extra thin and big and they're a versatile wrap that you can make in a jiffy.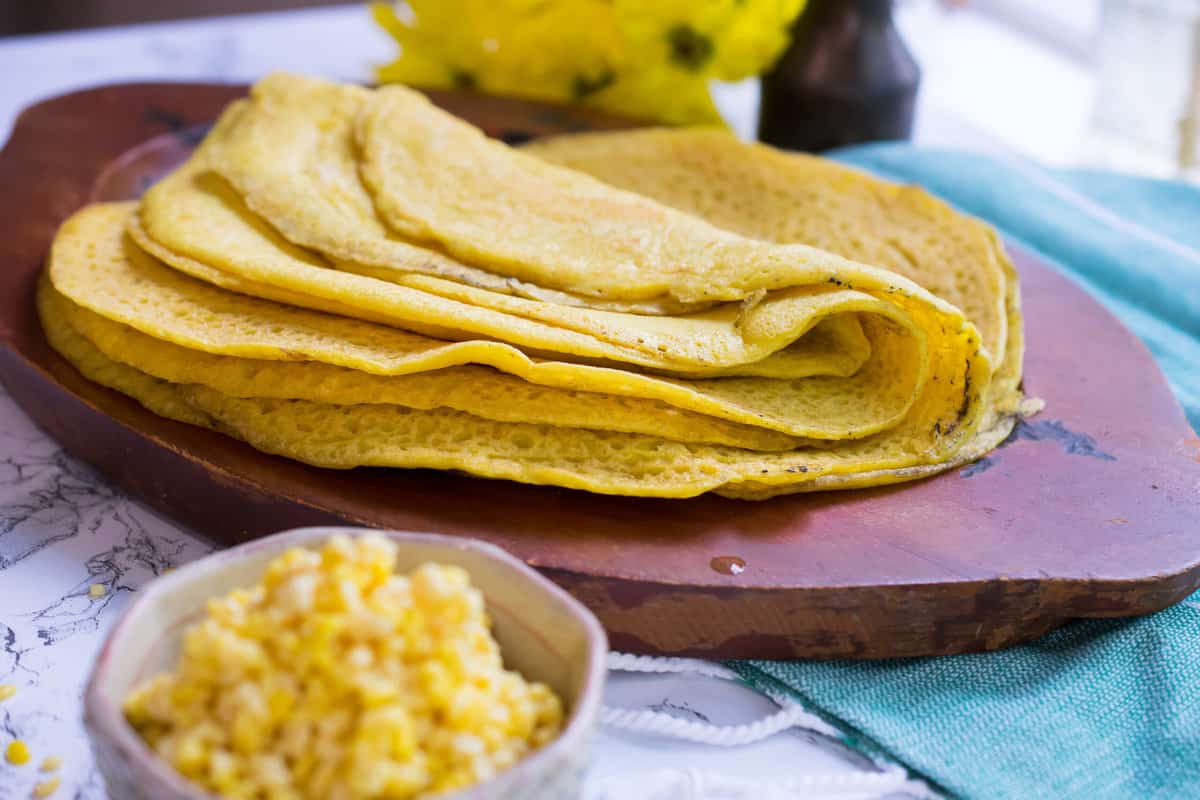 Table of Contents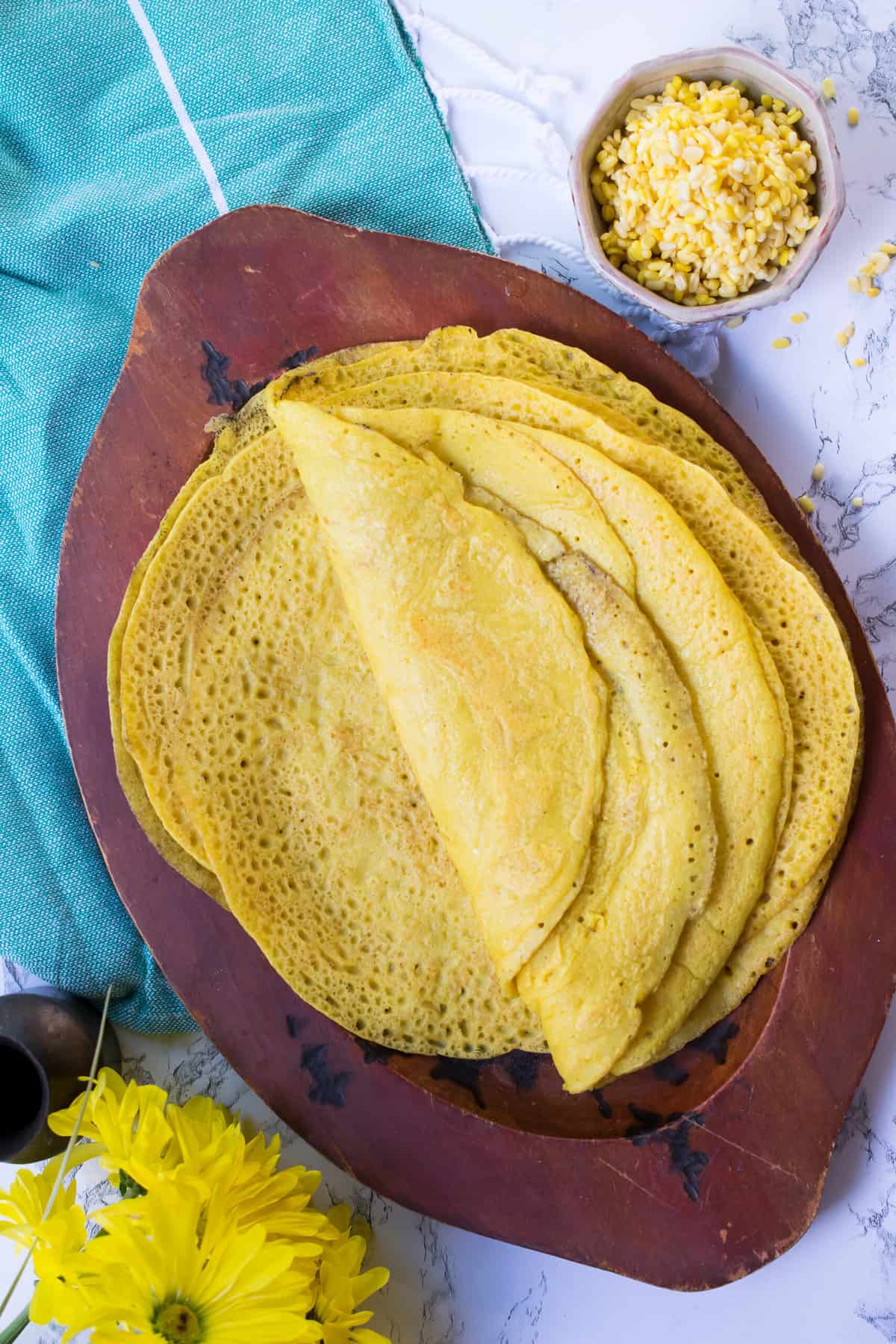 The BEST 1-Ingredient Lentil Wrap
Technically you also need water, but that's it. You can keep this recipe simple as mung beans and water, but that's boring and also not true to real deal moong dal chilla. I suggest you add a few dried spices (which I suggest below). This adds wonderful flavor to these bendy, stretchy, and oh-so-foldable lentil wraps. High in protein and fiber, with a moderate carb count, these lentil wraps are such a delicious solution for lunch wraps and burritos.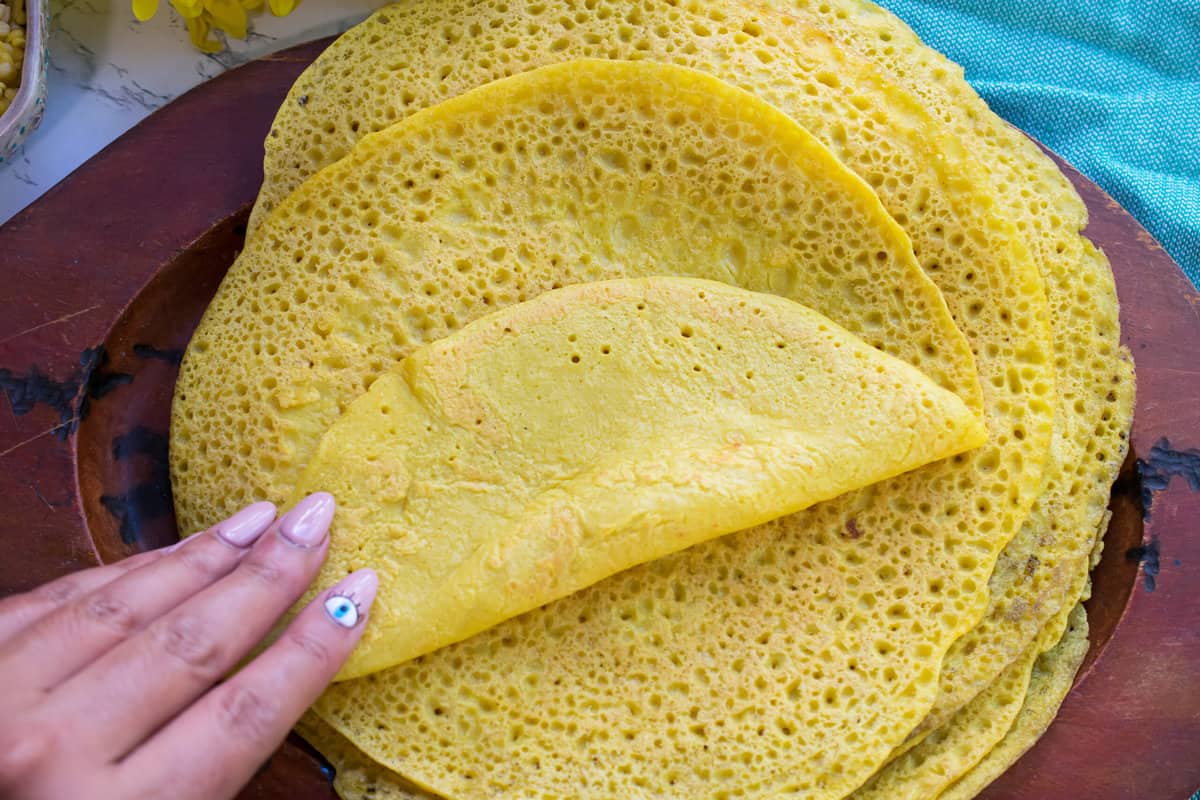 About The Ingredients
Lentil wrap made with mung beans? Well, mung beans are a type of lentil, and yellow, split, mung beans work great for this recipe! Mung beans are also easy to digest and very nutritious, which is why they're ideal for this soak and blend recipe.
Water to soak and then blend. An overnight soak softens up the beans and makes them even easier to digest. I like adding salt, pepper, turmeric powder, and garlic powder for flavor too!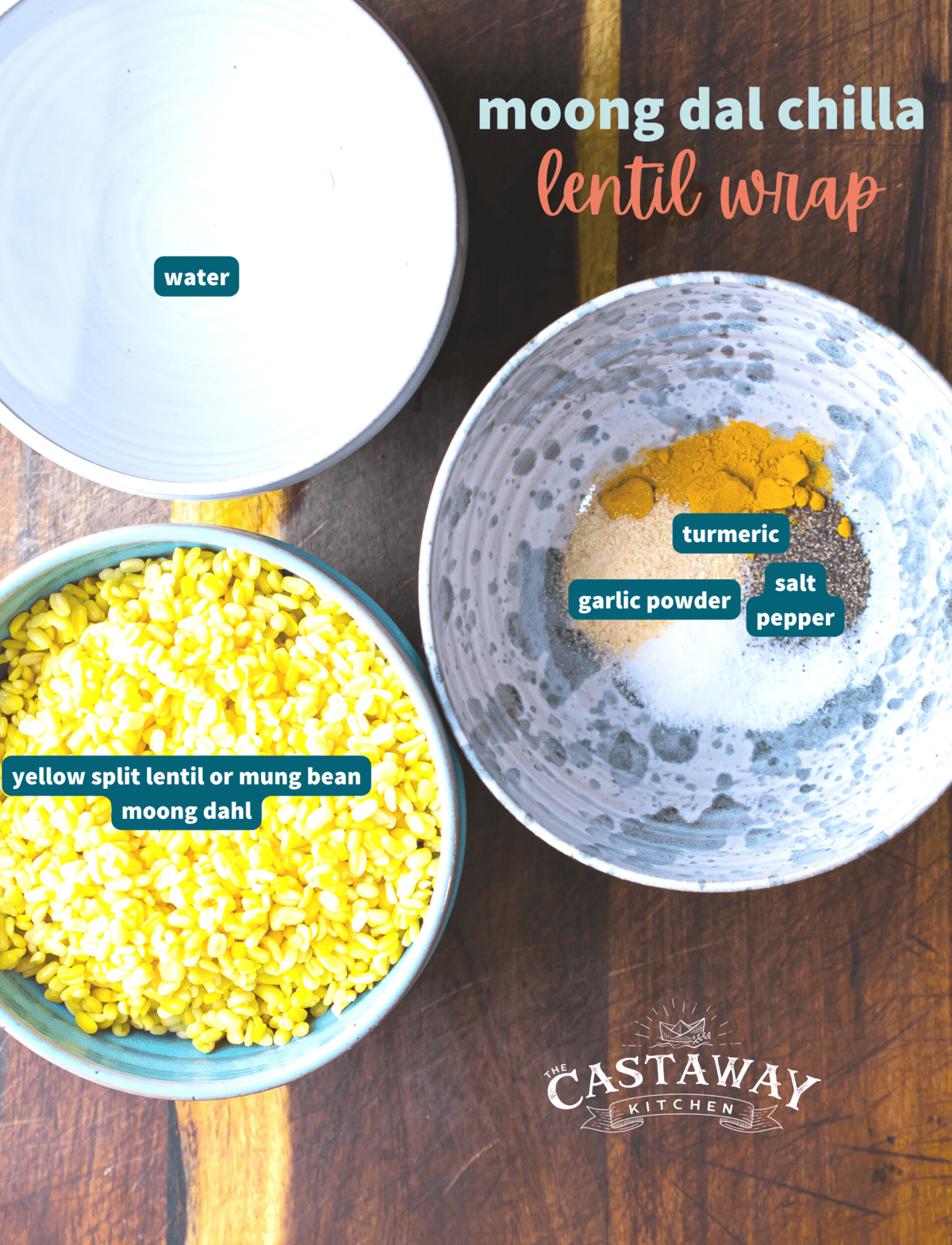 3 Step Lentil Wrap Process
Soak the beans overnight. Then rise and drain.
Combine the measured water, seasonings, and beans in a blender and make the batter.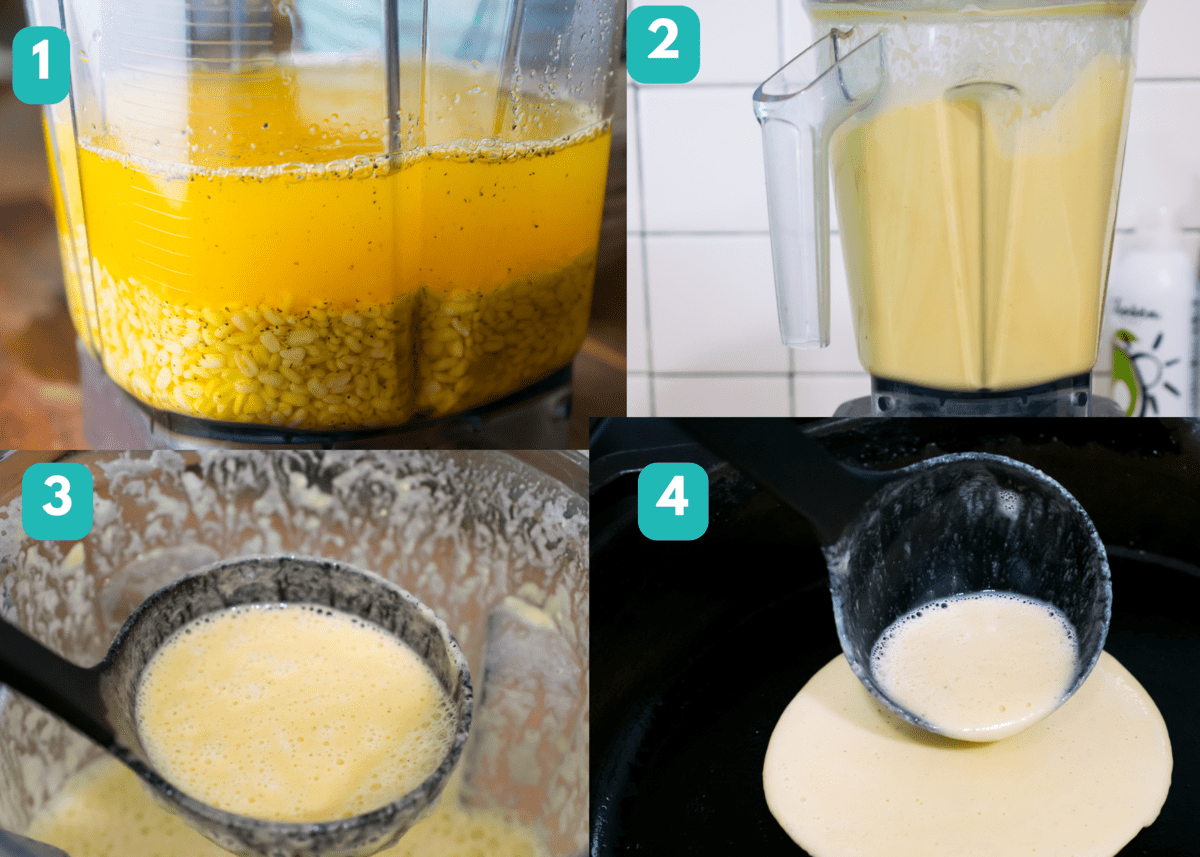 Cook up like pancakes in a lightly oiled skillet.
Use a ladle to measure out the batter and cook for 2 minutes per side.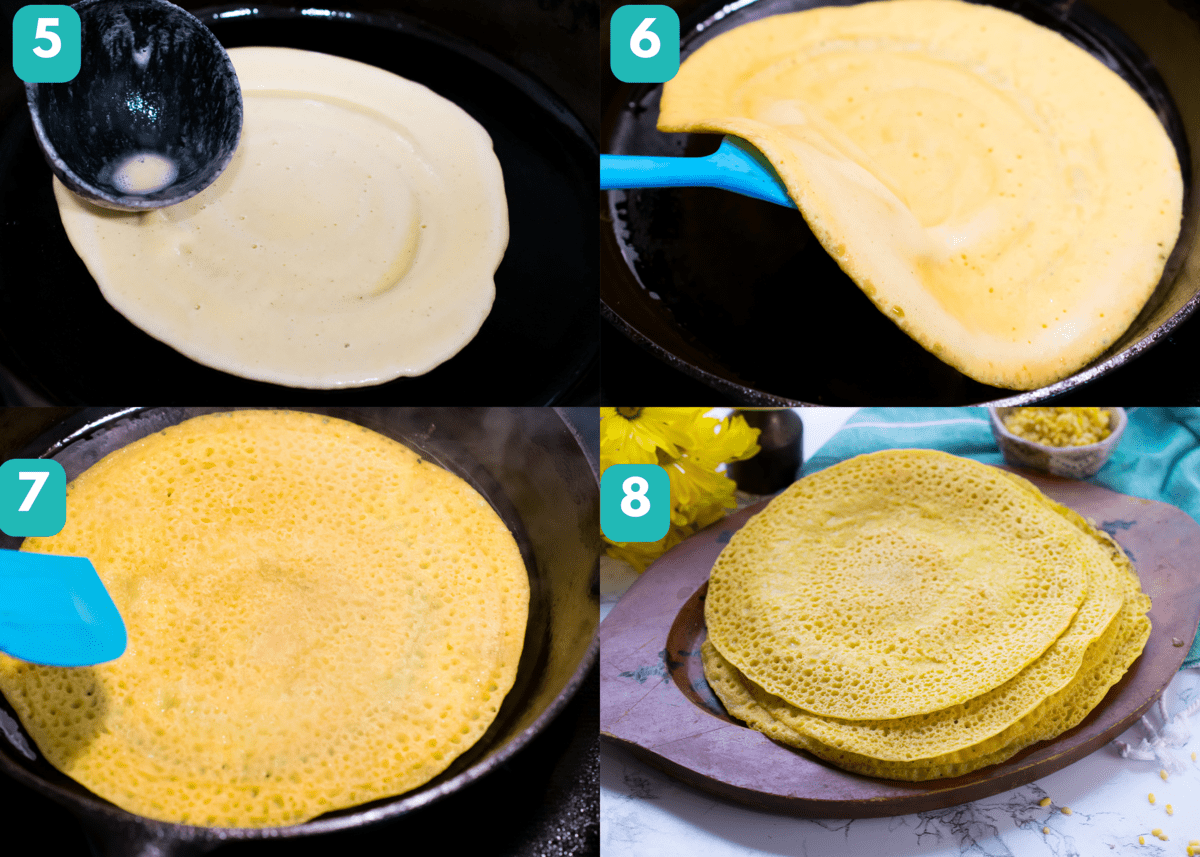 Tips for Success
Don't skip the soaking.
Use the right kind of beans. If you don't want to order split mung beans on Amazon, you can find them in your Asian market.
Don't overheat the skillet.
Don't make them too thick or too thin. Use the bottom of the ladle in a gentle, circular motion to spread out the batter.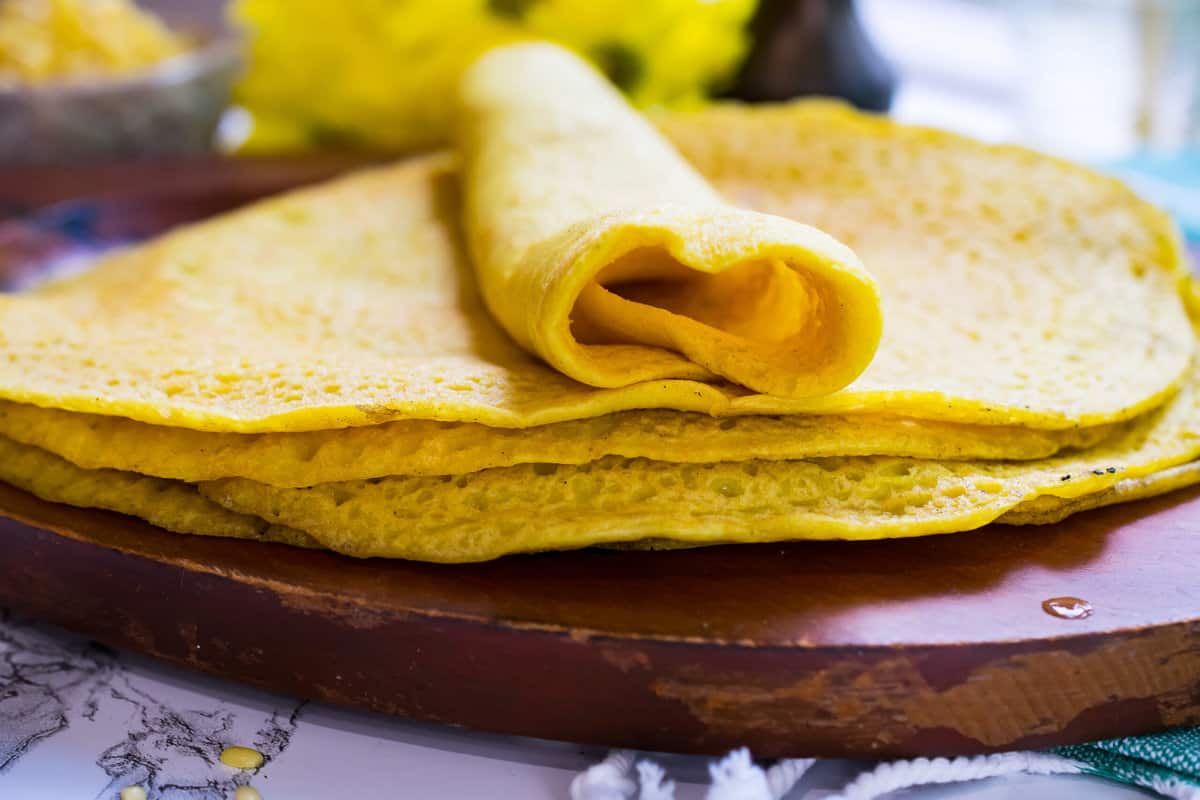 If You Love Chilla, You're going to Love…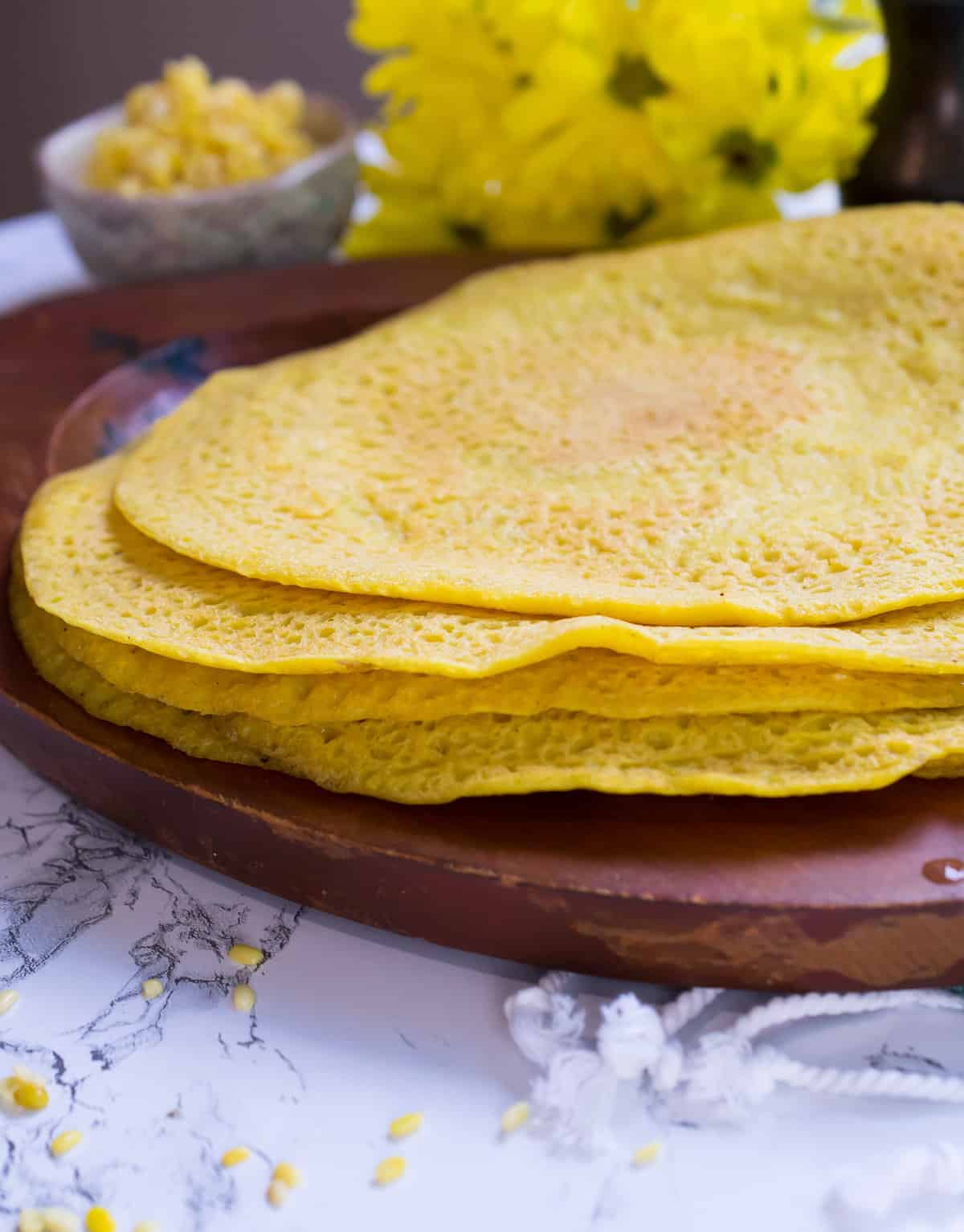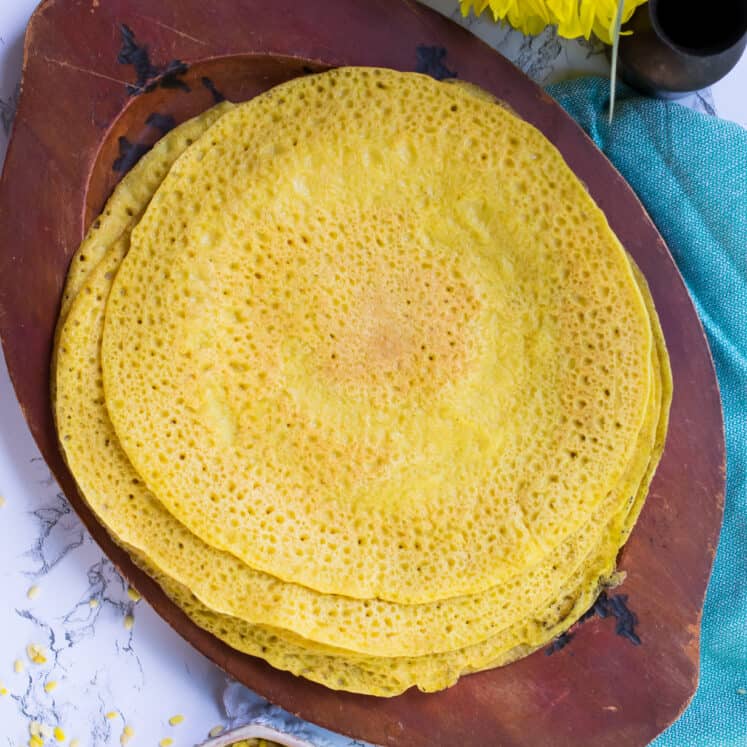 Easy Lentil Wrap (Moong Dal Chilla)
---
Author: Cristina Curp, FNTP
Prep Time: 5 minutes
Cook Time: 16 minutes
Total Time: 51 minute
Yield: 8 large wraps 1x
Category: bread
Method: pancake
Cuisine: Indian
Diet: Gluten Free
Description
Easy, 2-ingredient, and allergen-free wrap inspired by Indian yellow lentil pancakes – Moong Dal Chilla! 
---
Scale
Ingredients
4 cups soaked moong dal/ yellow split mung bean/ split yellow lentil
2 1/2 cups filtered water
Cooking oil 
Optional
1 teaspoon salt
1 teaspoon turmeric
1 teaspoon garlic powder 
---
Instructions
Soak the beans overnight, drain and rinse. You will need about a pound of beans or 3 cups dry beans. 
Measure out 4 cups of soaked beans and combine them in a blender with 2 cups of water, add in seasonings, if using. 
Blend on high until the consistency of pancake batter, if you need it thinner, add the remaining 1/2 cup of water. 
Heat a large skillet over medium heat. Once it's hot, lightly oil. I used avocado oil spray. 
Use a ladle to measure out the batter, and slowly pour in the. center of the skillet and use the bottom of the ladle to spread out the batter in a slow, circular motion. 
Cook until it's filled with little bubbles and dry along the edges. Use a spatula to gently lift and flip. Cook for 2 minutes and remove from the heat. Repeat the same process until you used all of the batter. Makes about 8 large wraps. 
Serve warm! To store: stack with parchment paper and wrap up flat and store in a flat surface in the fridge. Heat on a dry skillet to warm up, much like a tortilla! 
Nutrition
Serving Size: 1 wrap
Calories: 58
Sodium: 2mg
Fat: 2g
Saturated Fat: 0g
Trans Fat: 0g
Carbohydrates: 10g
Fiber: 4g
Protein: 4g
Cholesterol: 0mg
Keywords: easy lentil wrap