The most amazing keto, and AIP-friendly CHICKEN PIZZA CRUS. There's no dairy insight unless you want it. I like to pile on the Dairy-Free Cheese and Legit Nomato Sauce for the most epic paleo pizza!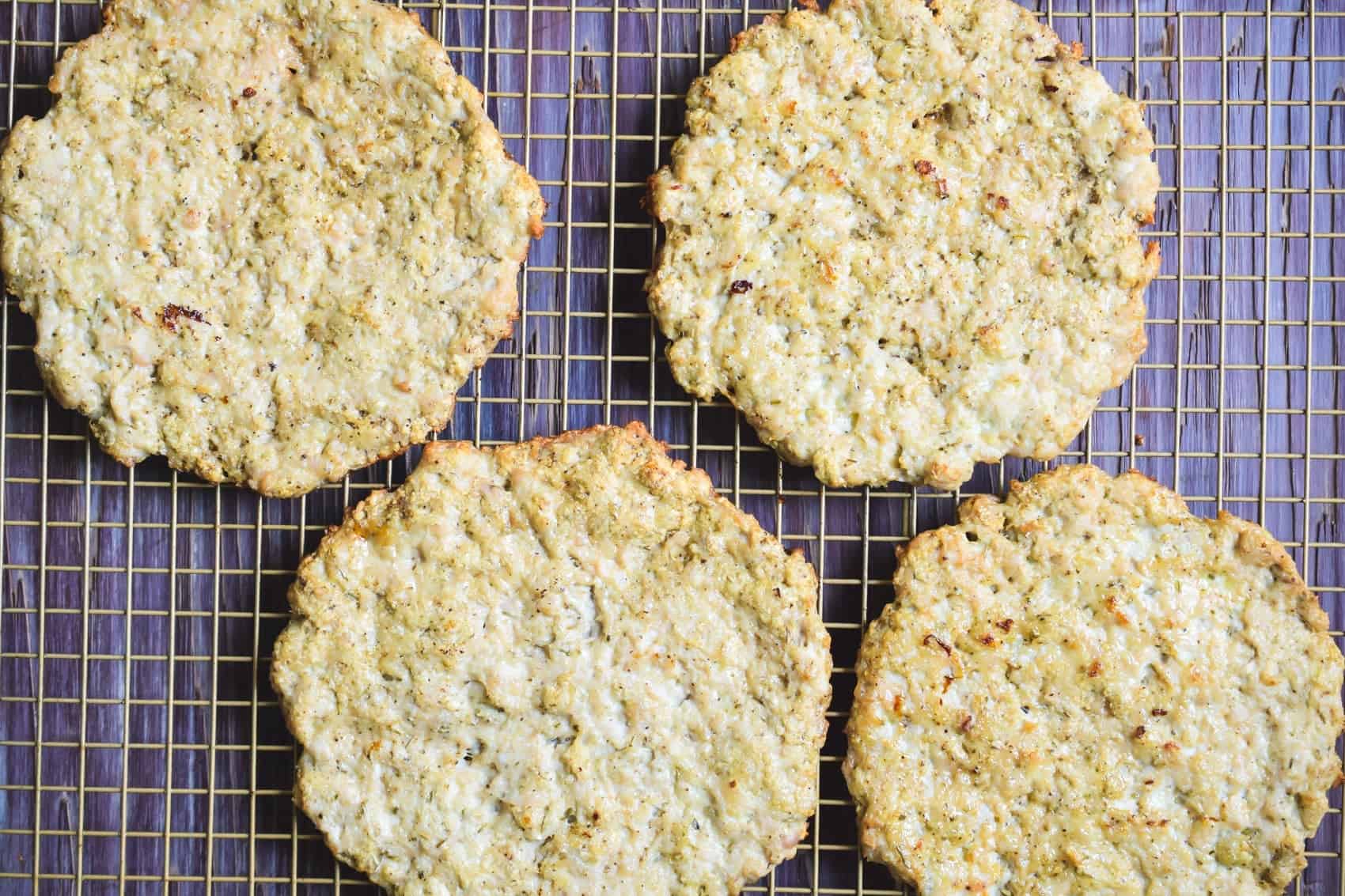 Table of Contents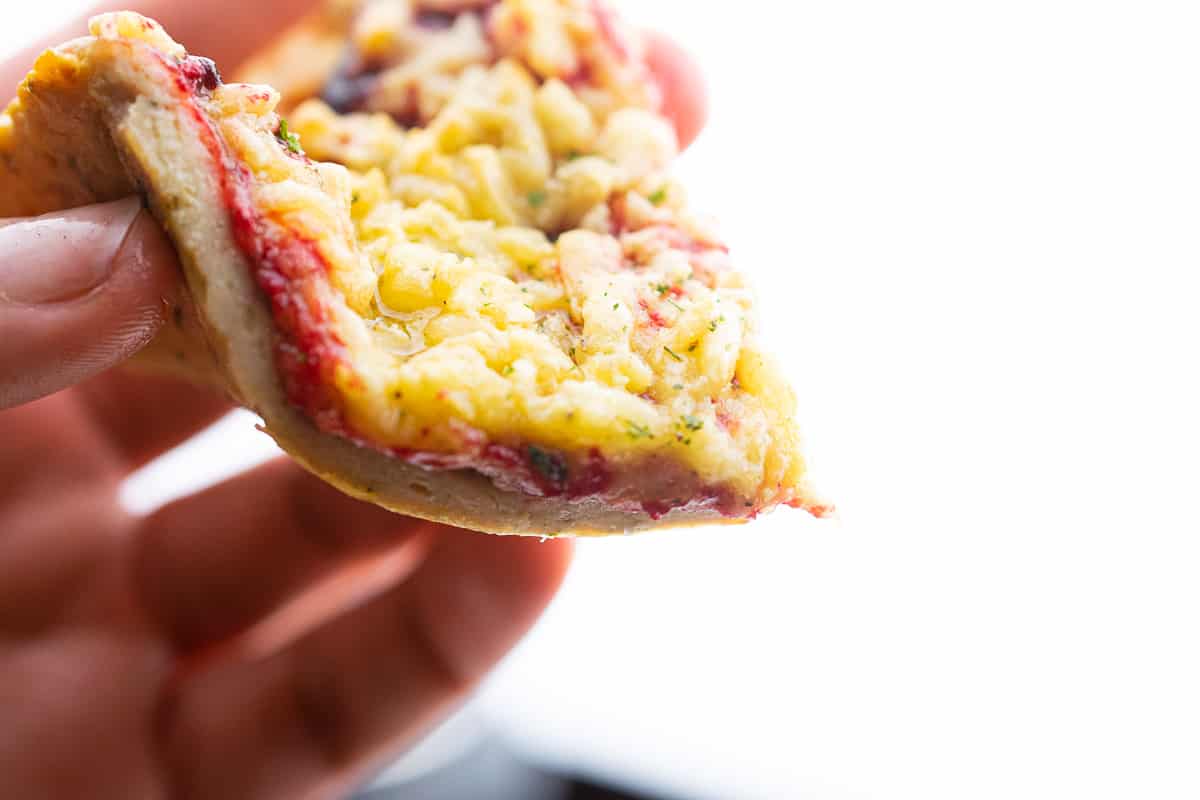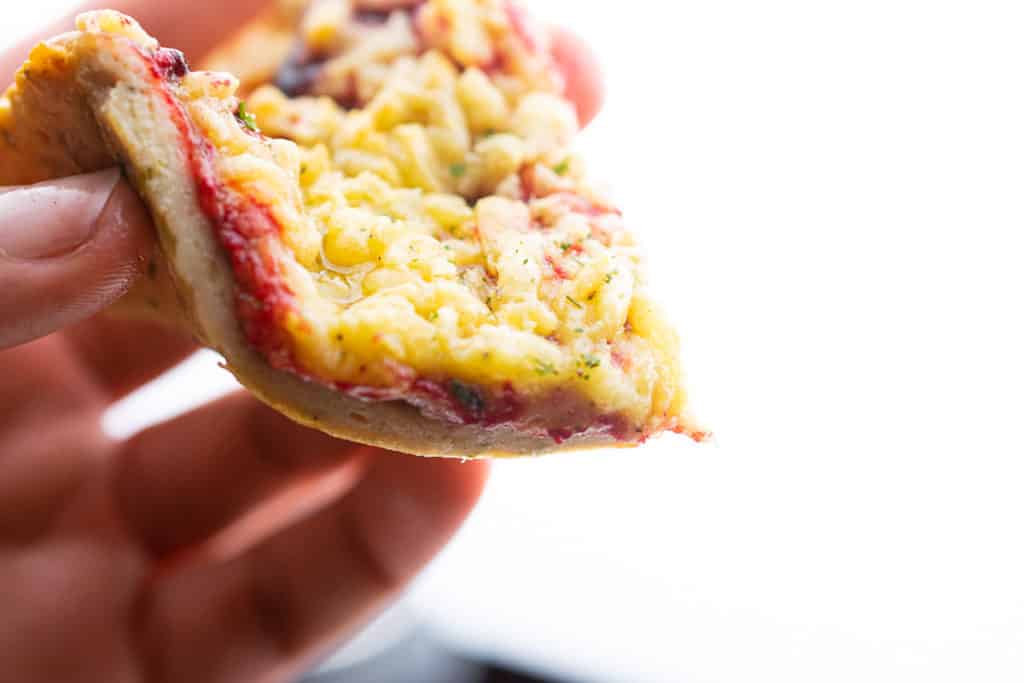 Why Chicken for the Crust?
Protein is impossible to overeat. Actually, of the macronutrients (fat, protein, and carbs) it's the only one that our bodies are like, NOPE. We're full. It's extremely satiating. Bonus, unlike the carby counterpart, this chicken meatza will keep you full for a long time. While being really, really good. A great chewy thin crust that's made of chicken. I know, but trust me. Keep reading. This chicken pizza crust is a game-changer.
Believe it! You're going to love chicken meatza – they bake up like your favorite CRISPY, THIN crust! It's toasty and firm and holds together perfectly!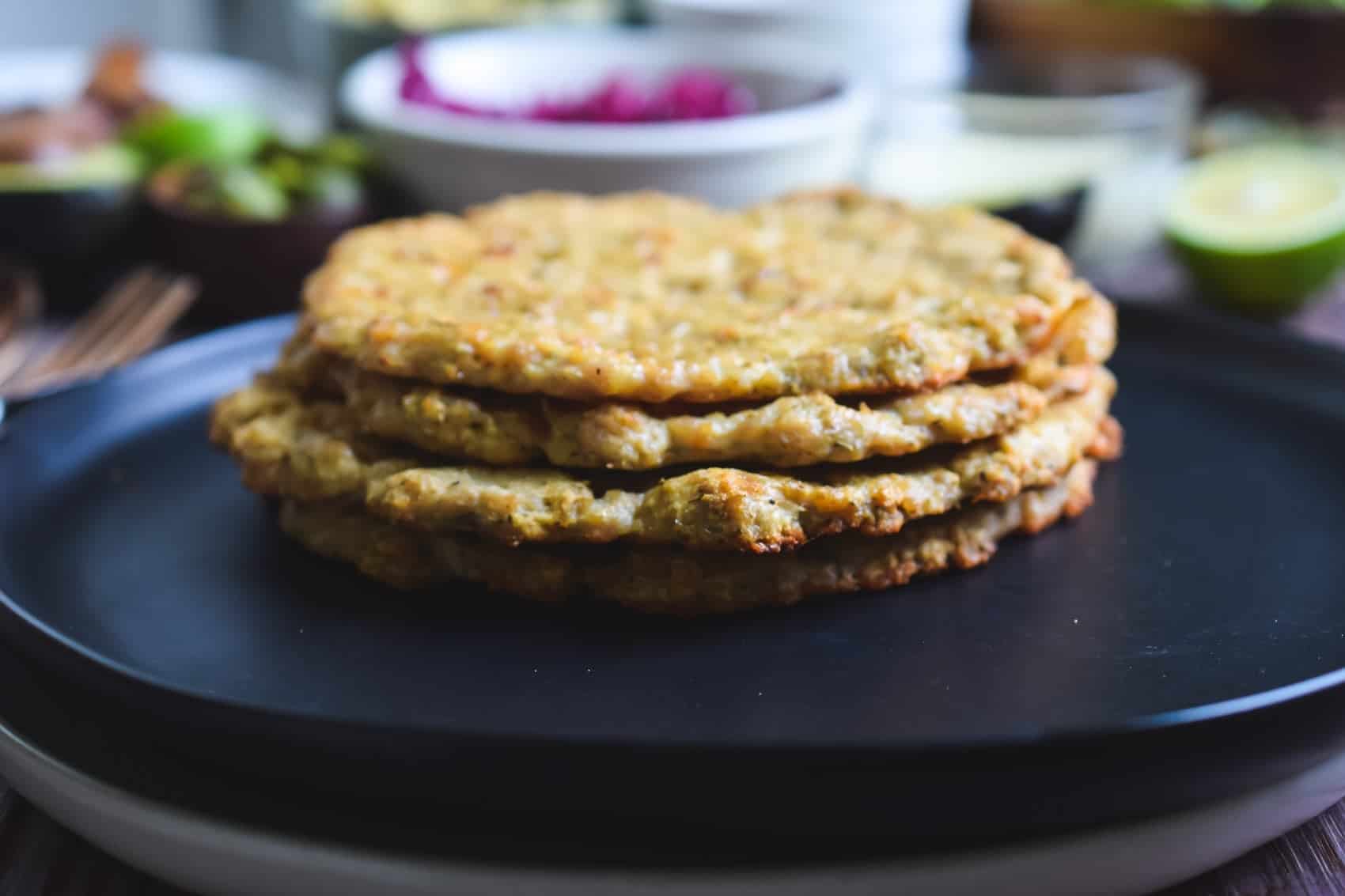 Let's Talk Toppings
You can do a wonderfully alternative AIP pizza spread as pictured below or go with a more authentic pizza. It's your Chicken Pizza Crust. Have it your way.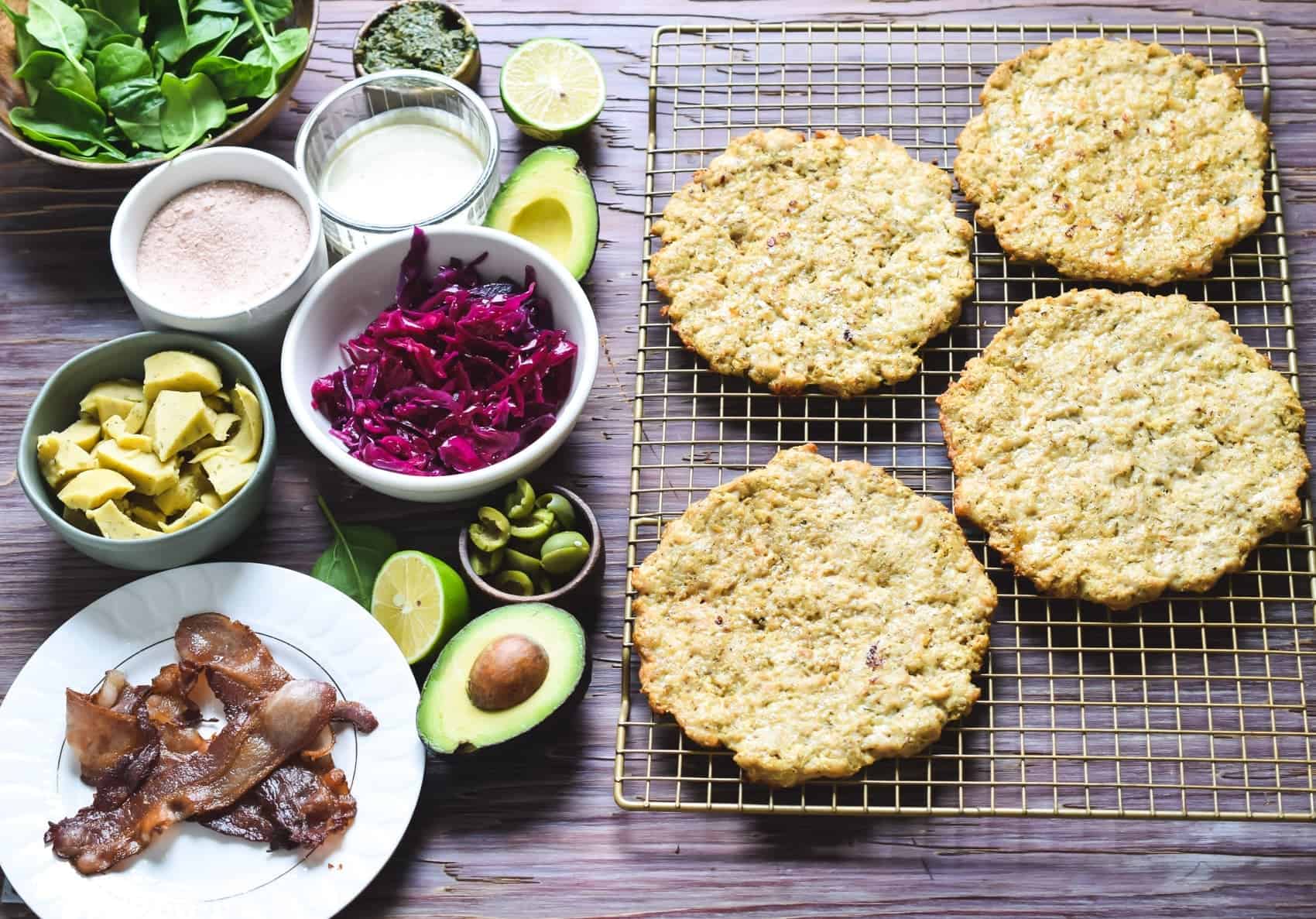 If you're AIP and want a marinara and "cheese" combination, all I can say is… coming soon! I have a Roasted Beet Marinara and a Hard Cheese, and Cheese Sauce in my cookbook, Made Whole. Order HERE Since the release of my first and then my second book I've shared these gifts with all of you. Linked at the top of this page. But check out how they come together!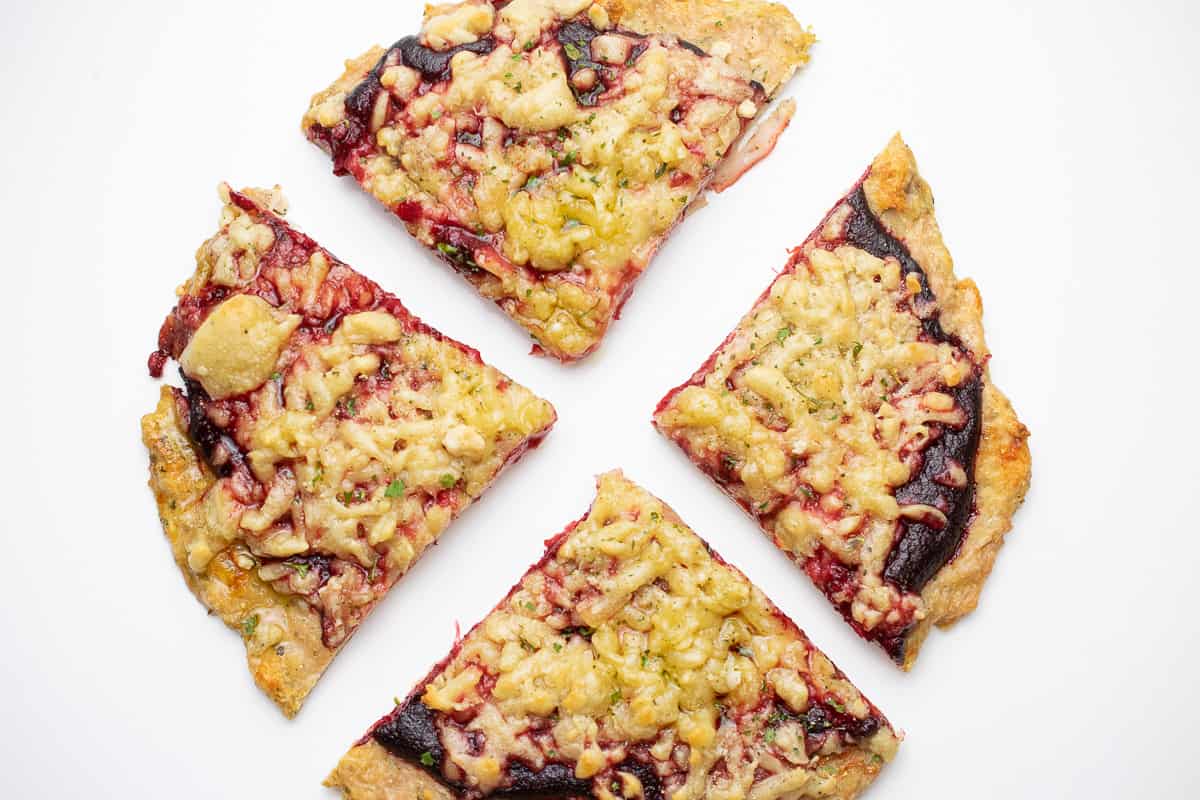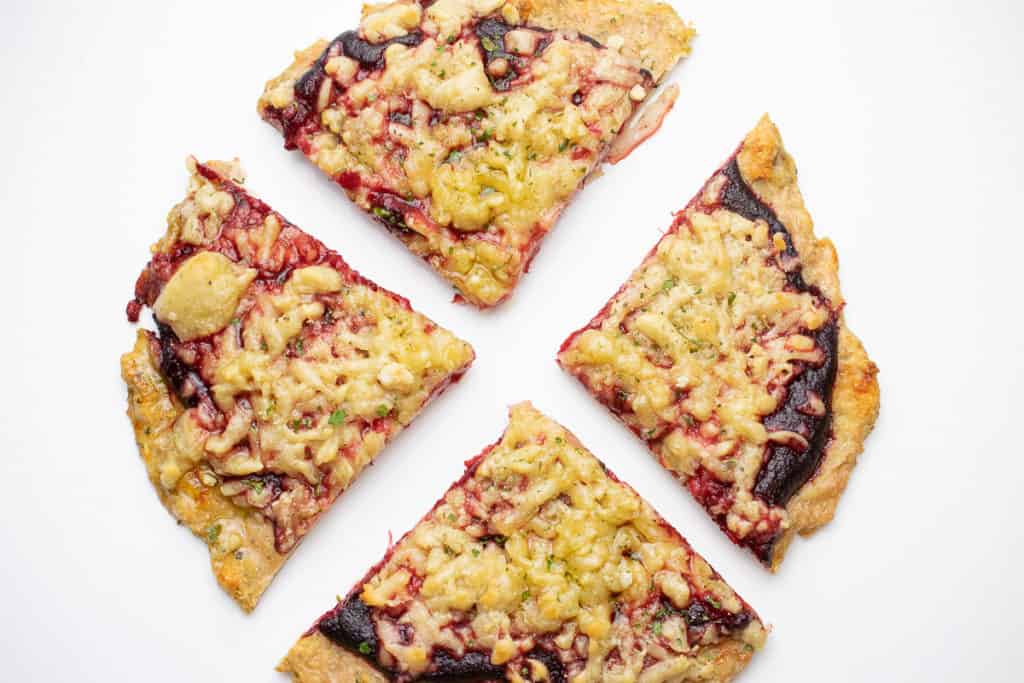 Ingredients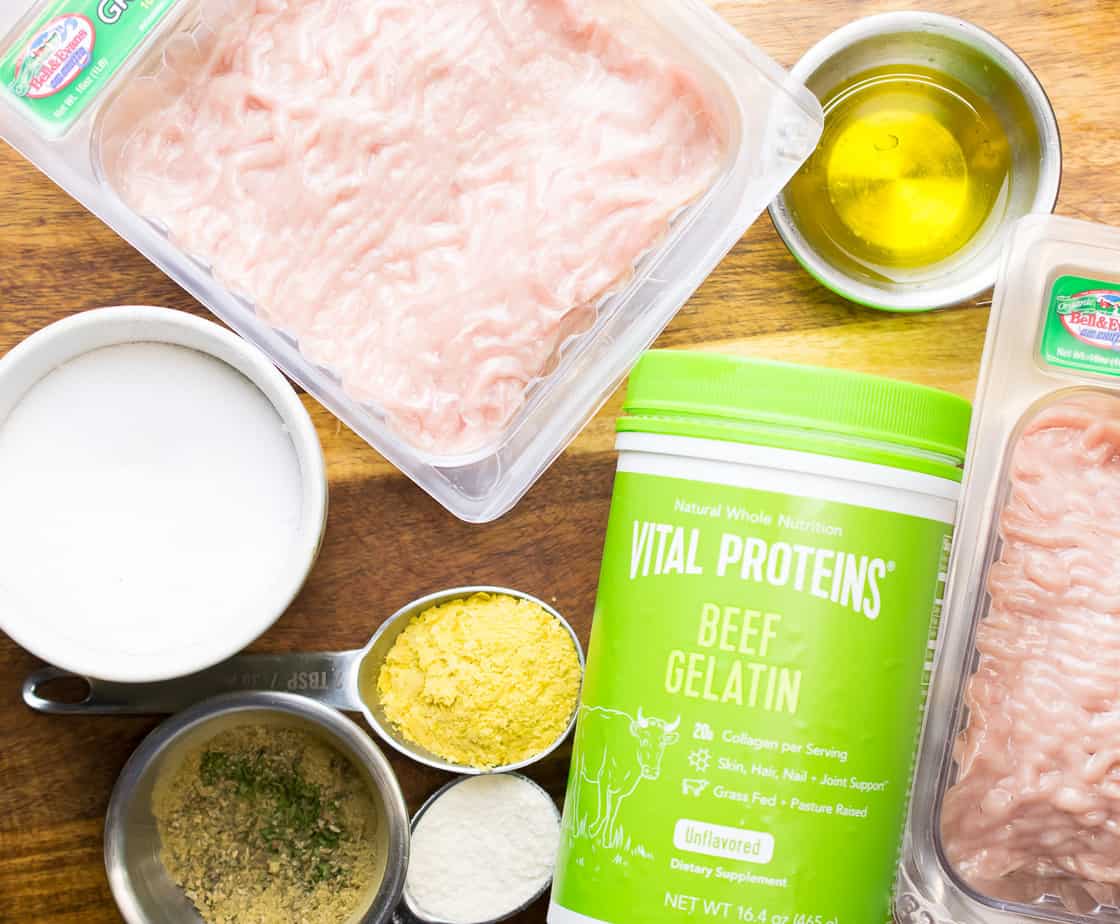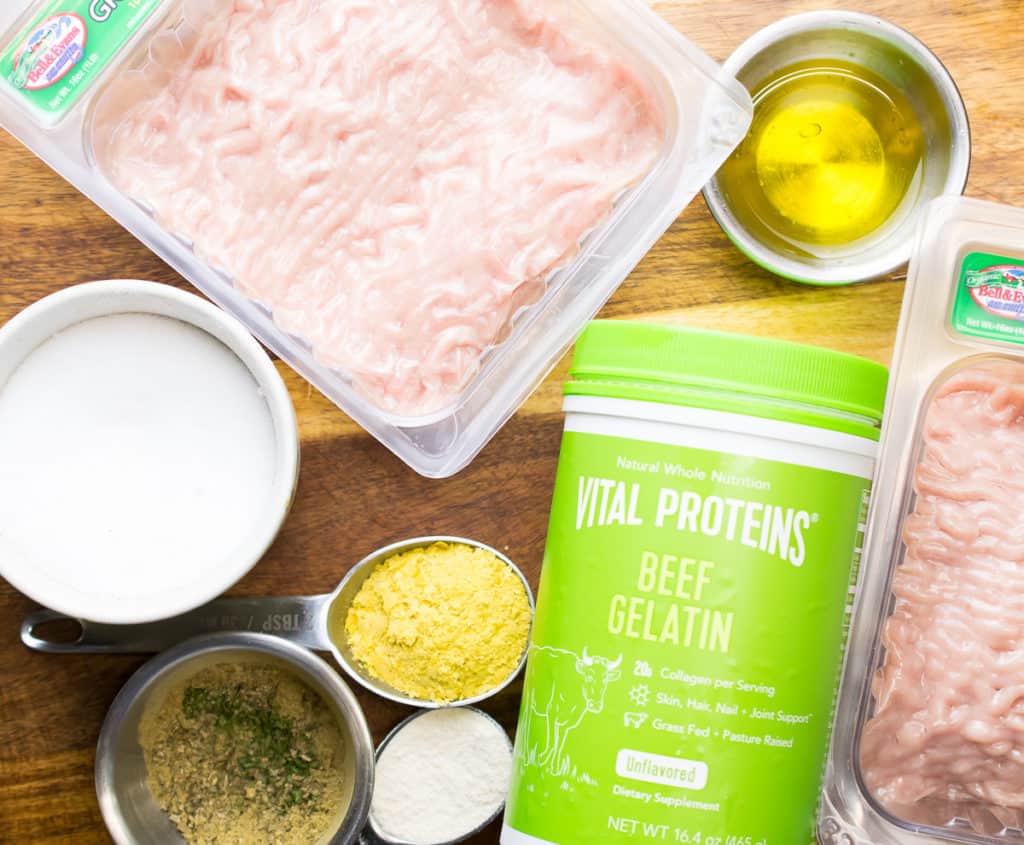 Ground chicken or turkey – the base! Lean protein makes this crust feel like bread!
Italian herb blend – to make it taste like pizza!
Nutritional yeast (optional) – because it's cheesy!
Pastured gelatin (or 1 large egg) – makes it chewy and binds it!
Coconut flour (+ up to 2 teaspoons more if needed) – Help bind and crisp!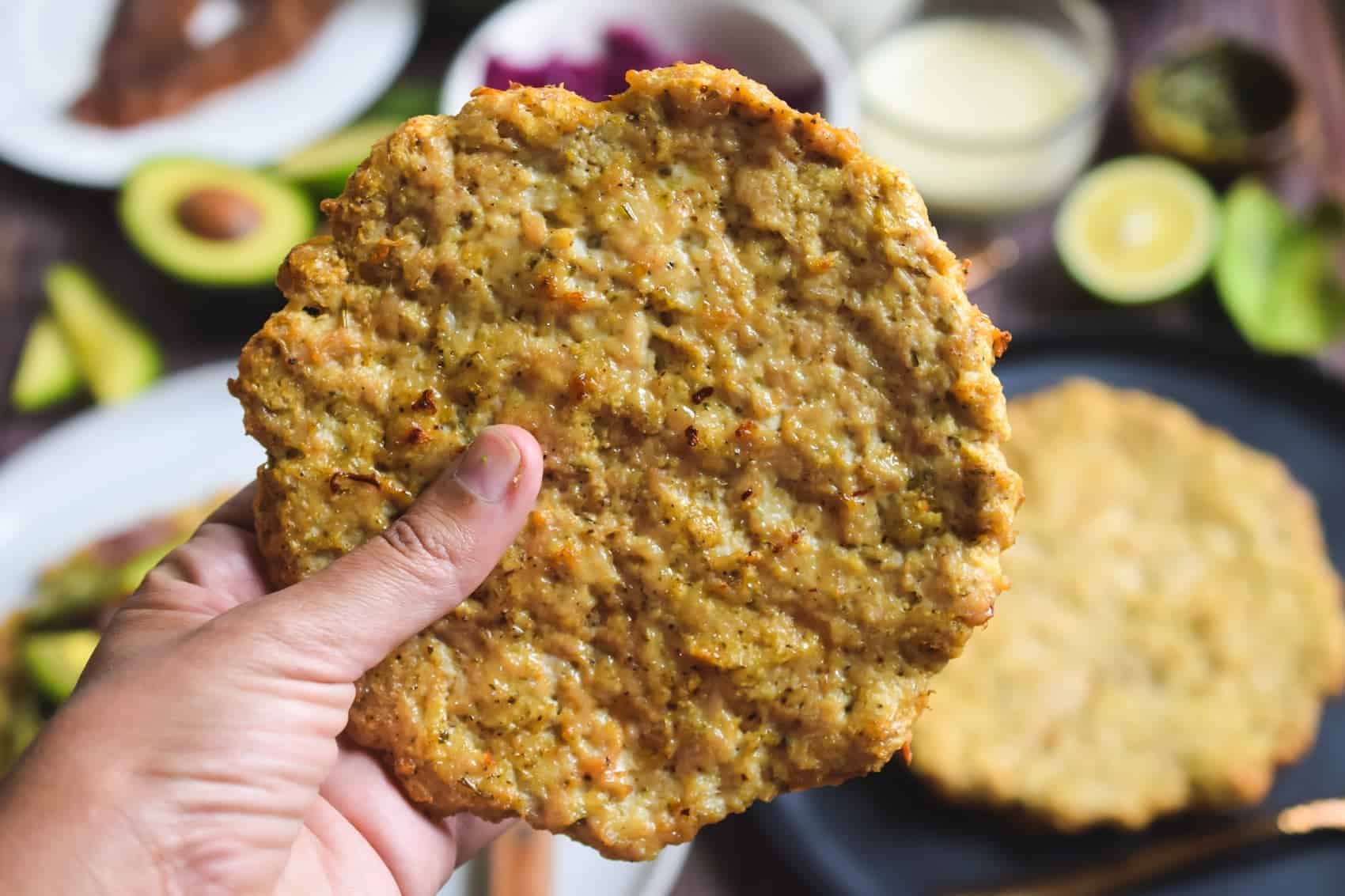 Step by Step Tutorial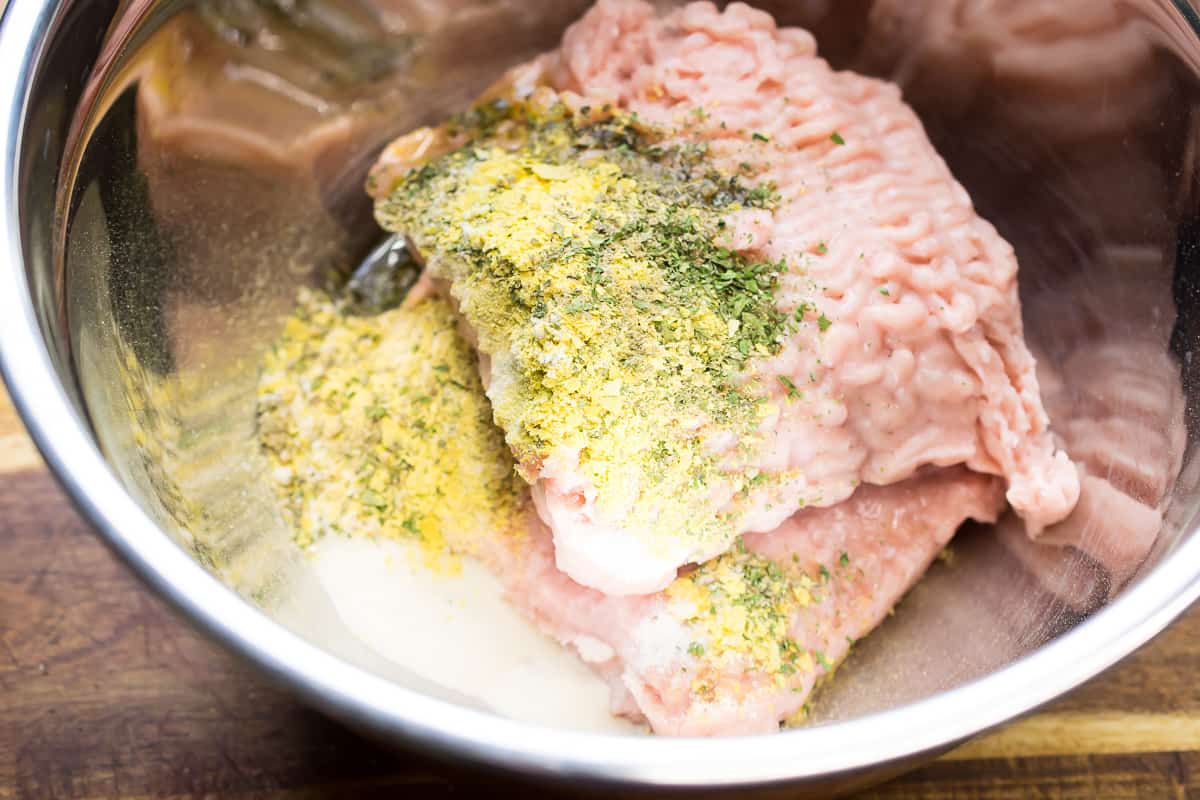 Frequently Asked Questions
How should I store these?
The recipe makes 4 mini chicken meat crusts. You can wrap them up and store in the fridge for up to a week. Toast in the oven or in a skillet to heat. Or top and bake on a sheet pan for 10 minutes at 350F.
Do I have to use chicken?
Dark meat ground turkey is a great alternative. You can use pork or beef too, but they will shrink more when cooked as those meats are fattier.
Can I make one large pizza?
Absolutely, but you will have to increase the cooking time until the center is set. You may also need to drain fluid from the pan halfway through cooking. I prefer the smaller pizzas because you get a more consistent consistency.
What sauce do you put on your meatza?
My beet based tomato free marinara of course!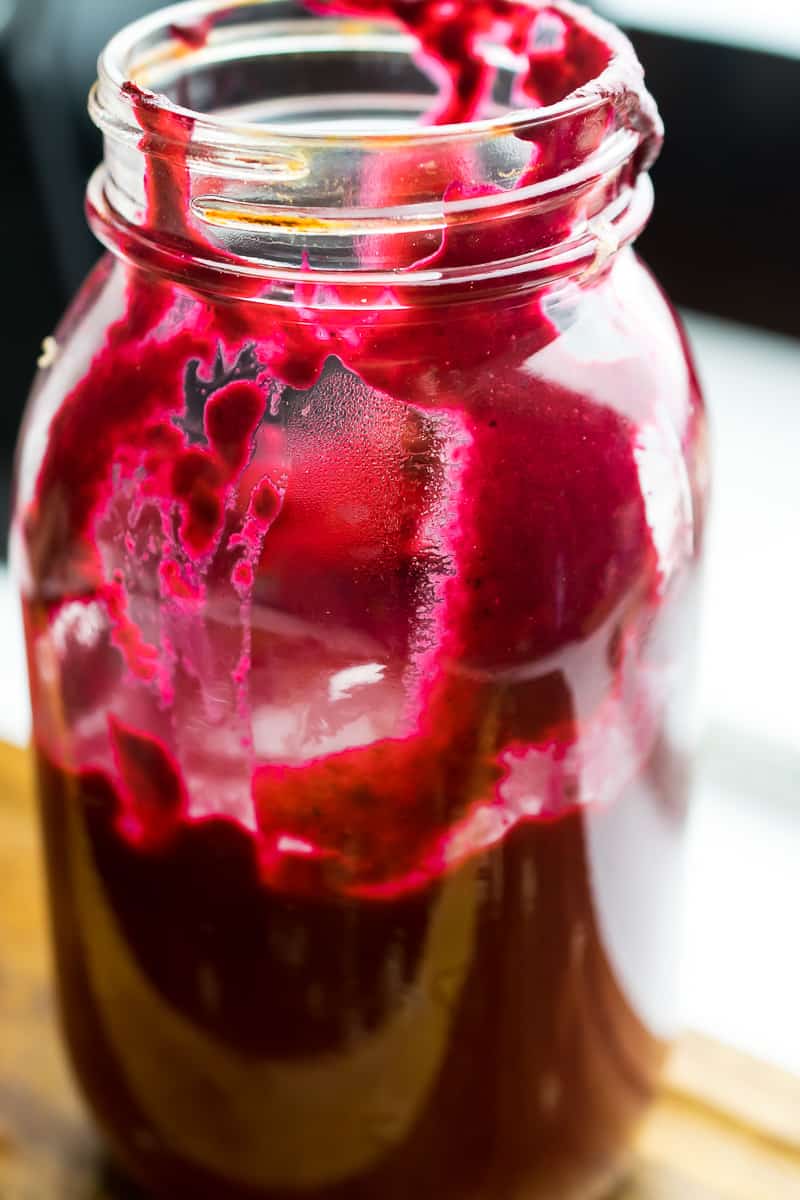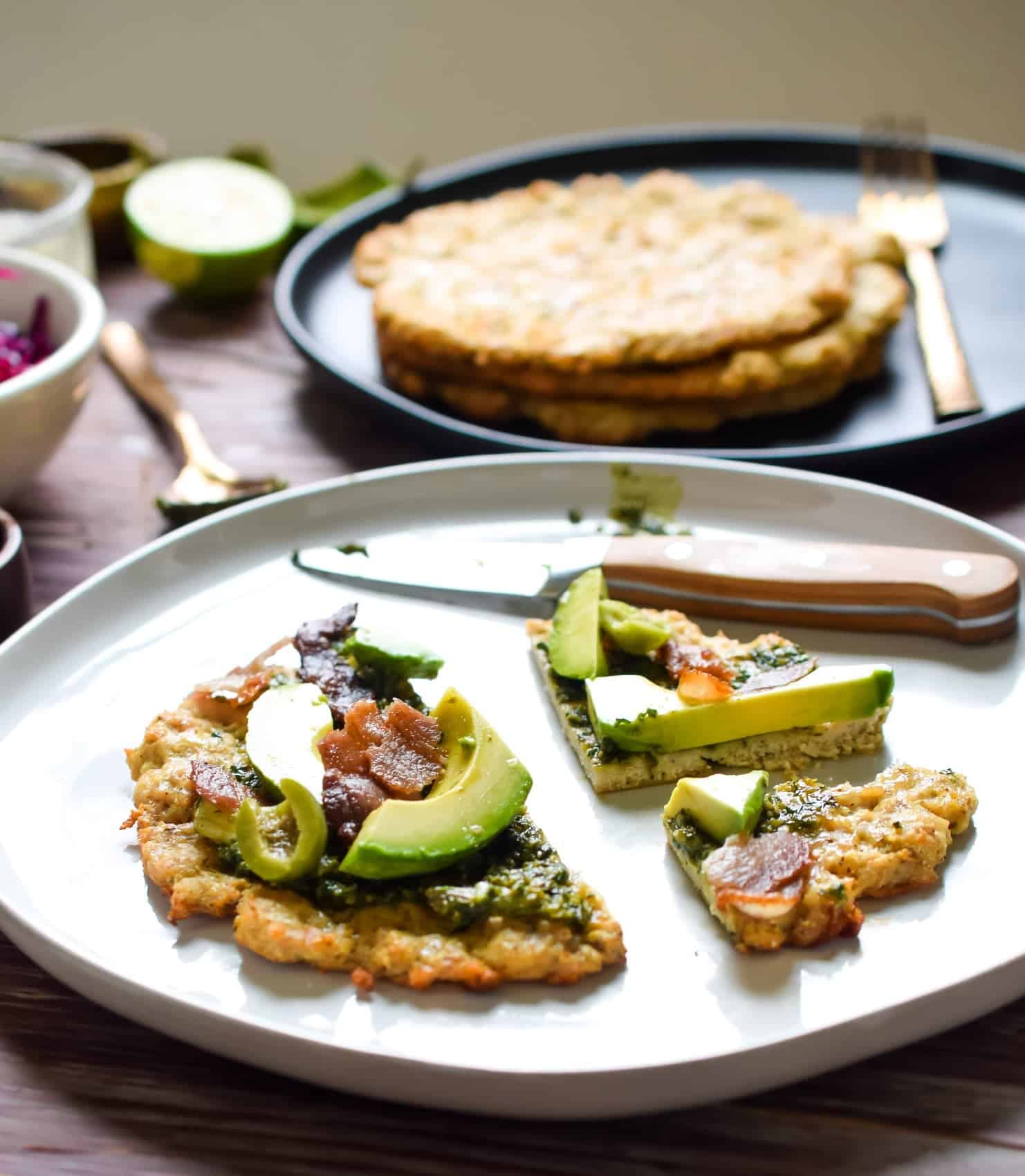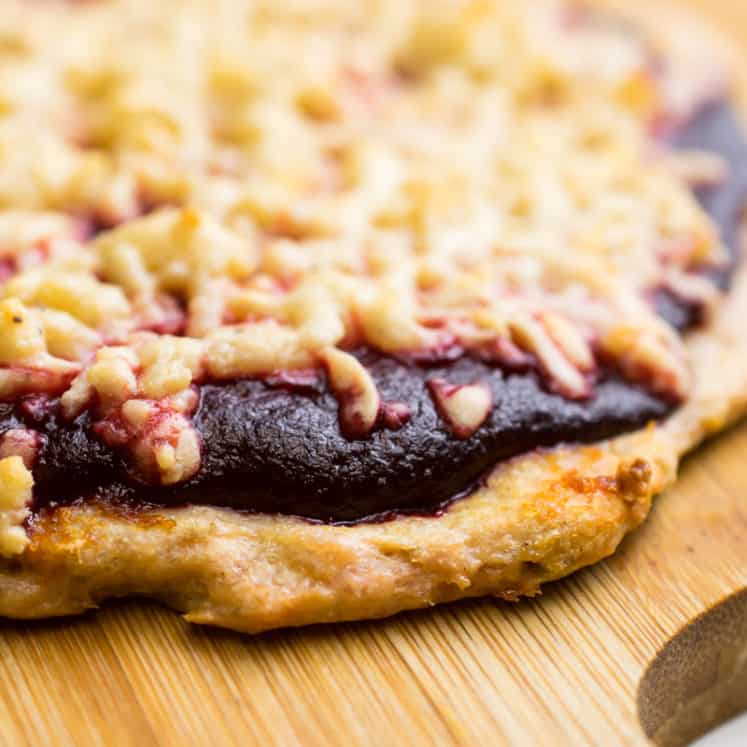 Chicken Pizza Crust
---
Author: Cristina Curp
Prep Time: 10
Cook Time: 35
Total Time: 45
Yield: 4 1x
Category: Pizza
Method: Bake
Cuisine: Italian
Description
Thin crust pizza made of chicken. It's AIP, paleo and Keto!
---
Scale
Ingredients
2 pounds ground chicken or turkey
2 teaspoons fine salt
2 teaspoons Italian herb blend
1/2 teaspoon black pepper (omit for AIP)
1/2 teaspoon ground cumin (omit for AIP)
2 teaspoons nutritional yeast (optional)
1 tablespoon pastured gelatin (or 1 large egg)
1 tablespoon coconut flour (+ up to 2 teaspoons more if needed)
3 tablespoons avocado oil, divided
---
Instructions
Pre-heat oven to 400F.
Line a baking sheet with parchment paper.
In a large bowl combine all of the ingredients, except 1 tablespoon avocado oil.
Mix until well combined and a dough forms.
Shape 4 equal sized balls. One at a time place them on the sheet pan and gently spread out to shape a 6″ wide, 1/4 inch thick round. Repeat with all of the chicken meat balls.
Bake for 10 minutes. Check on the crusts. If the chicken has released a lot of water, carefully drain the fluid in to the sink.
Drizzle the meatzas with avocado oil, and rotate the pan (turn it around).
Bake another 20 minutes, then open the oven and carefully flip the meatzas over. Bake 5 more minutes, remove from the oven and let them cool on a wire rack.
Top, share, enjoy! See post for storage instructions.
Nutrition
Serving Size: 1 crust
Calories: 276
Fat: 23g
Carbohydrates: 4g
Fiber: 1g
Protein: 23g
Keywords: chicken pizza crust