You guys, these are so decadent. Keto chocolate brownie cookies stuffed with salted peanut butter. Well, I use sunflower seed butter to keep them nut-free, but you know what I mean. Keto Peanut Butter Brownie Cookies! Easy to make. Epic. And inspired by these cookies. Bakerita is a baking master! So I took a page from her book for the flourless base and keto-fied the recipe and added my own twist. You will love these over-the-top cookies.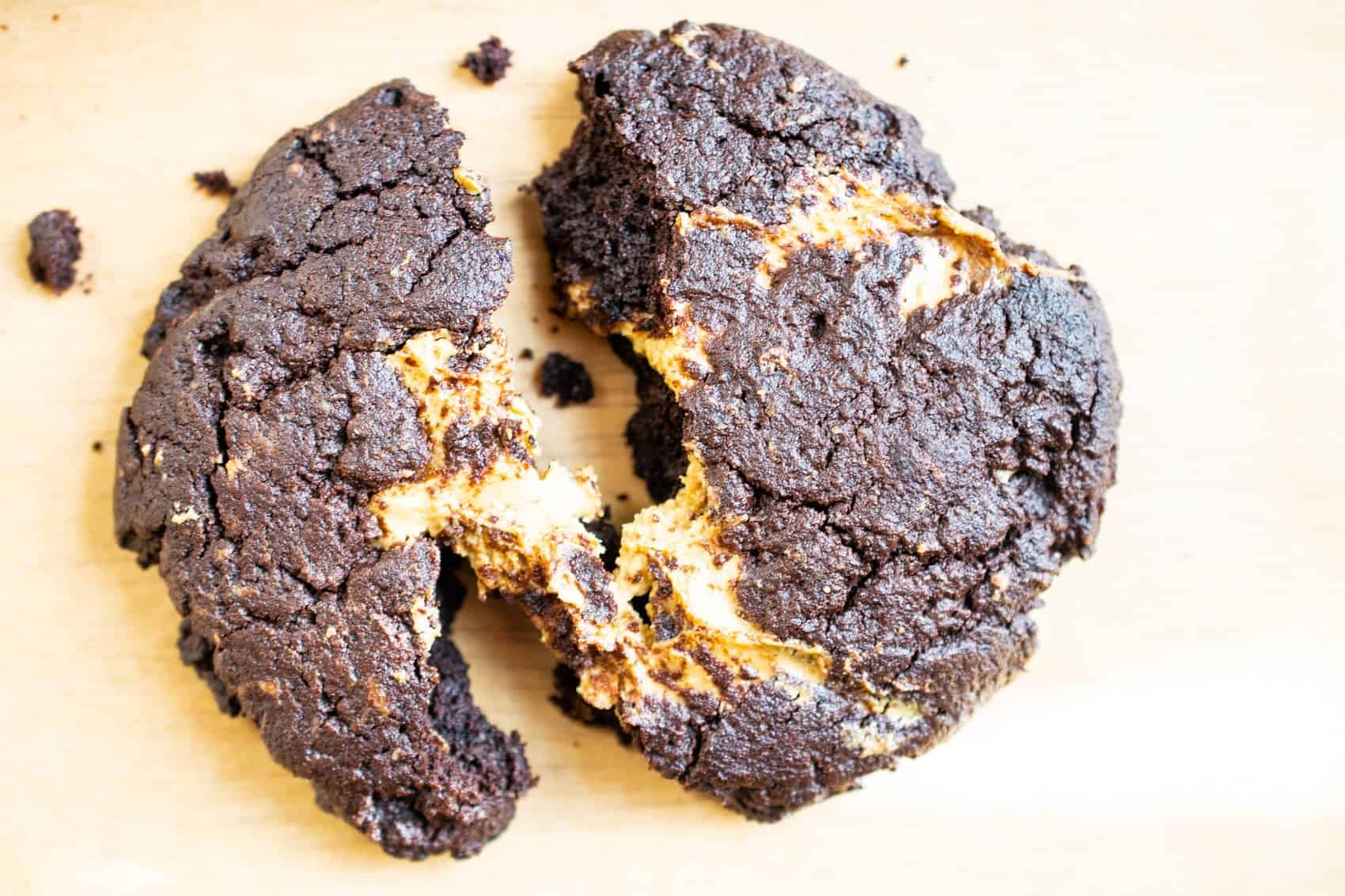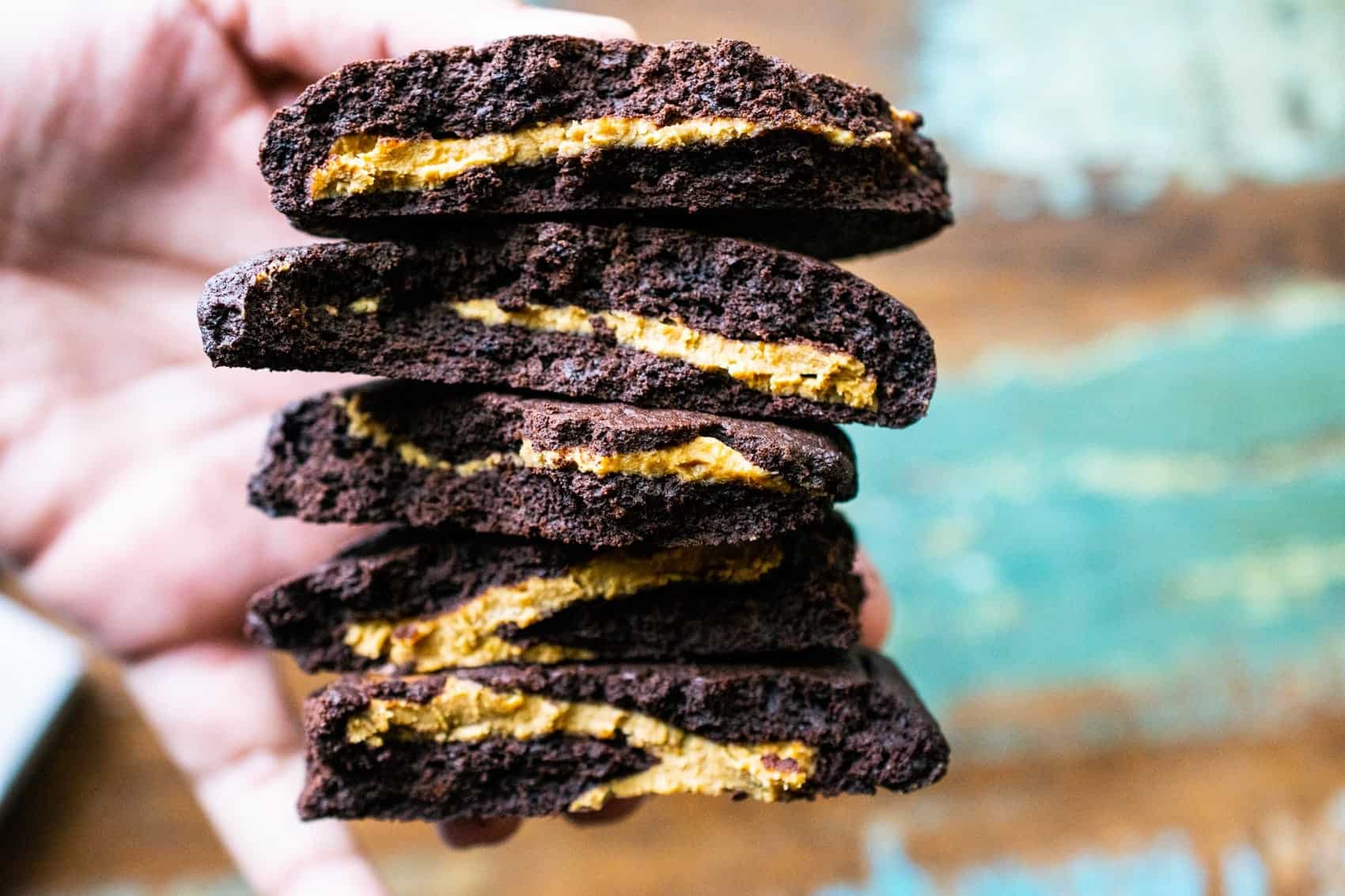 Why You Need These Keto Cookies
They've got this really decadent flavor and they're flourless! A fudgy finish that is absolutely addicting. But they're BIG and decadent that you'll be satisfied with just one. If you love Reese's or chocolate and peanut butter, you're doing to love these peanut butter brownie cookies.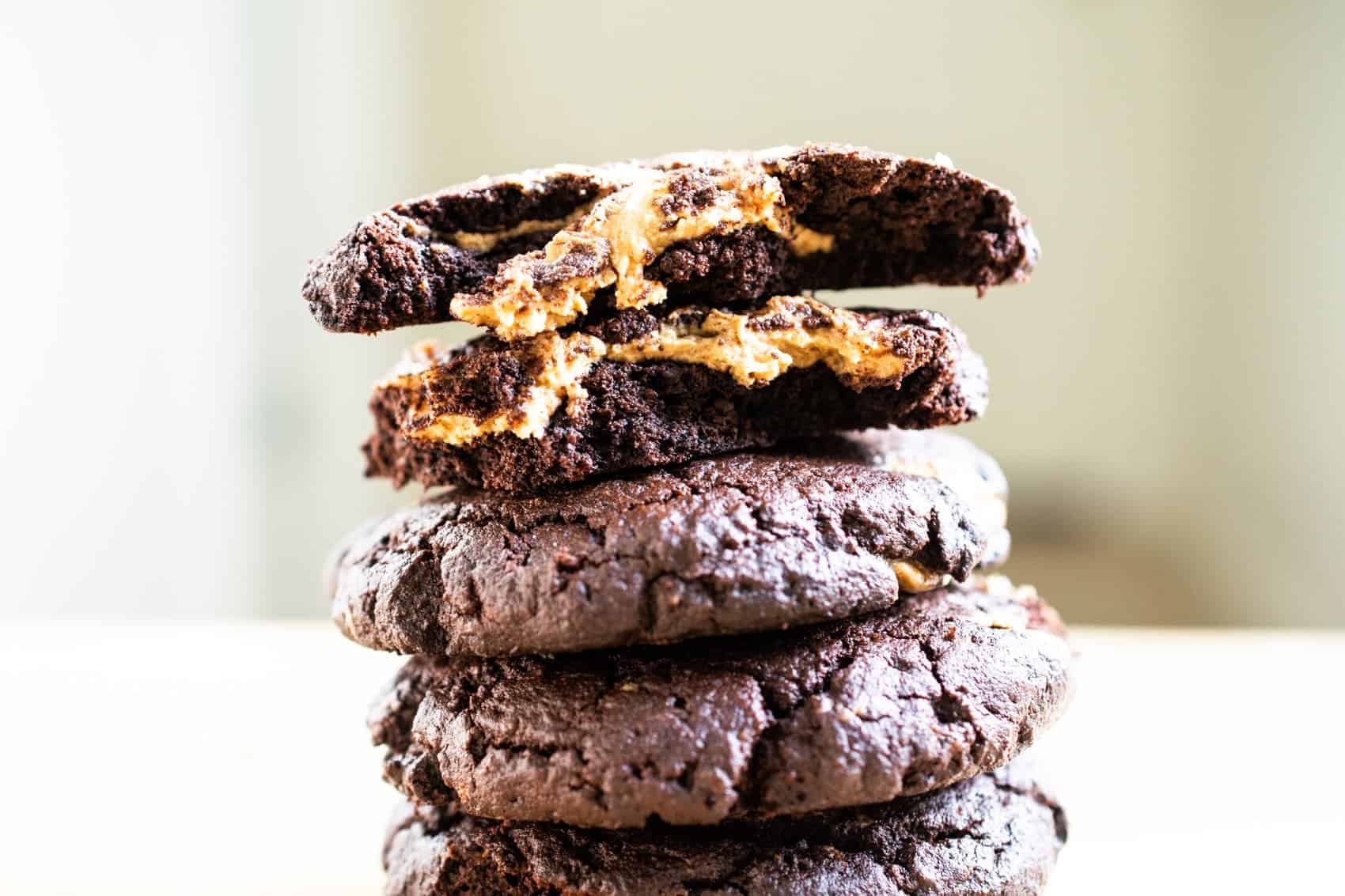 Tip on Measuring the Cacao:
Use a spoon to fill your measuring cup with cacao powder. Scooping it up from the bag will result in a packed cup, which will make dry, crumbly cookies. As a rule of thumb, this is a good way to measure dry ingredients for baking!
Shop For Recipe Essentials:

Variations
Because you are my people, and we are all about making and enjoying foods that work for your body, there are ways to tweak this keto peanut butter brownie cookie recipe to work for you!
If you're not into nut or seed butter you can fill the dough with chopped up dark chocolate, or just mix in chocolate chips.
If you don't have ghee you can use softened butter. If you can't do dairy, use softened coconut oil.
I haven't tested it, but if you're egg-free you can try a flax egg. Usually, 1-egg recipes work well with a flax egg.
If you don't use Swerve, you can use coconut palm sugar or raw honey.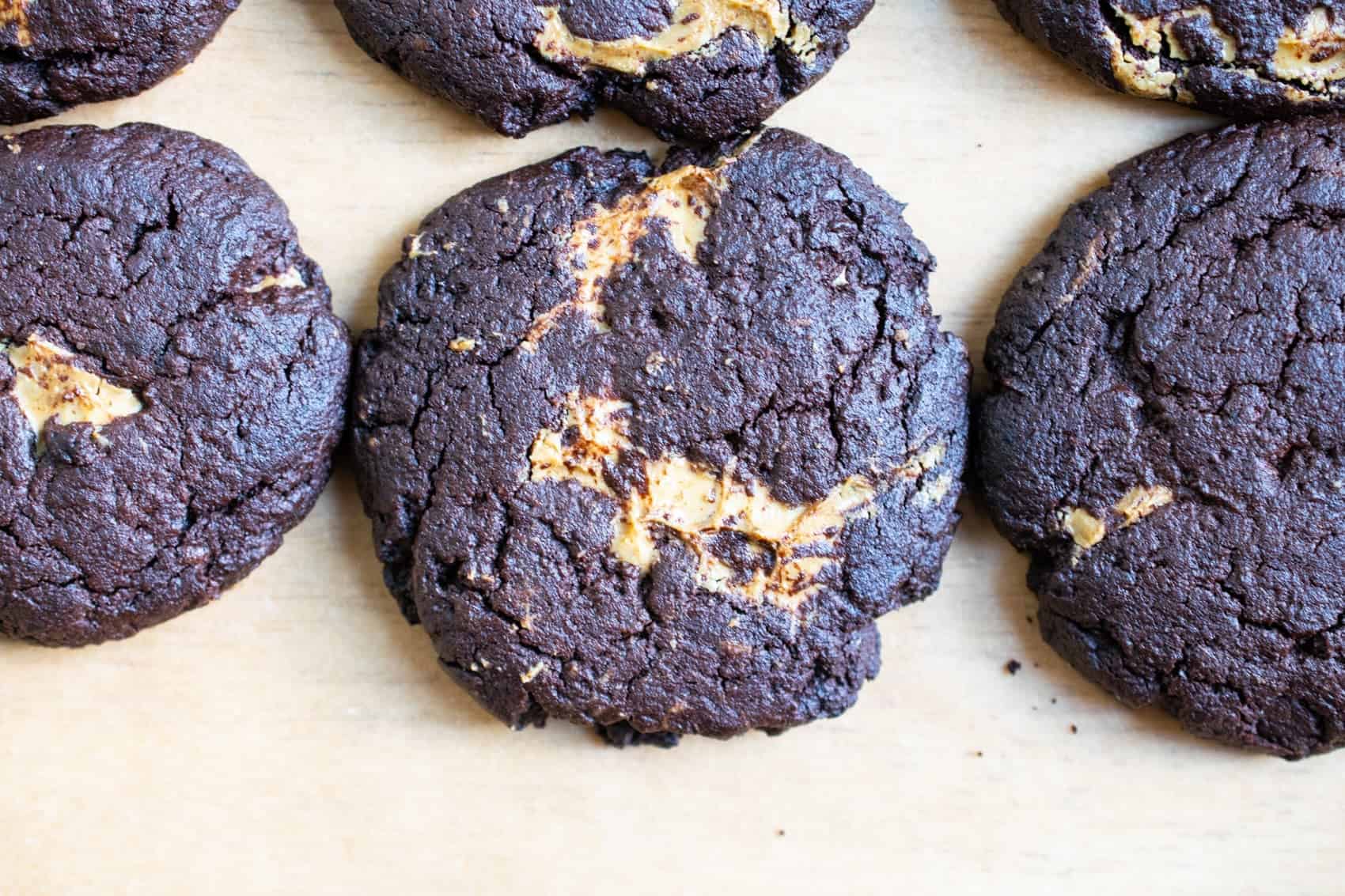 Big @SS Cookies
This recipe makes 6 large cookies. You're going to roll the dough into large balls in your palm. Flatten the dough and fill it with a spoonful of sun butter, a pinch of salt, and close your palm around it, rolling the cookie into a ball. Then gently flatten the ball, bake a viola! Easy. Delicious. These Keto Peanut Butter Brownie Cookies, are really a no-fuss recipe.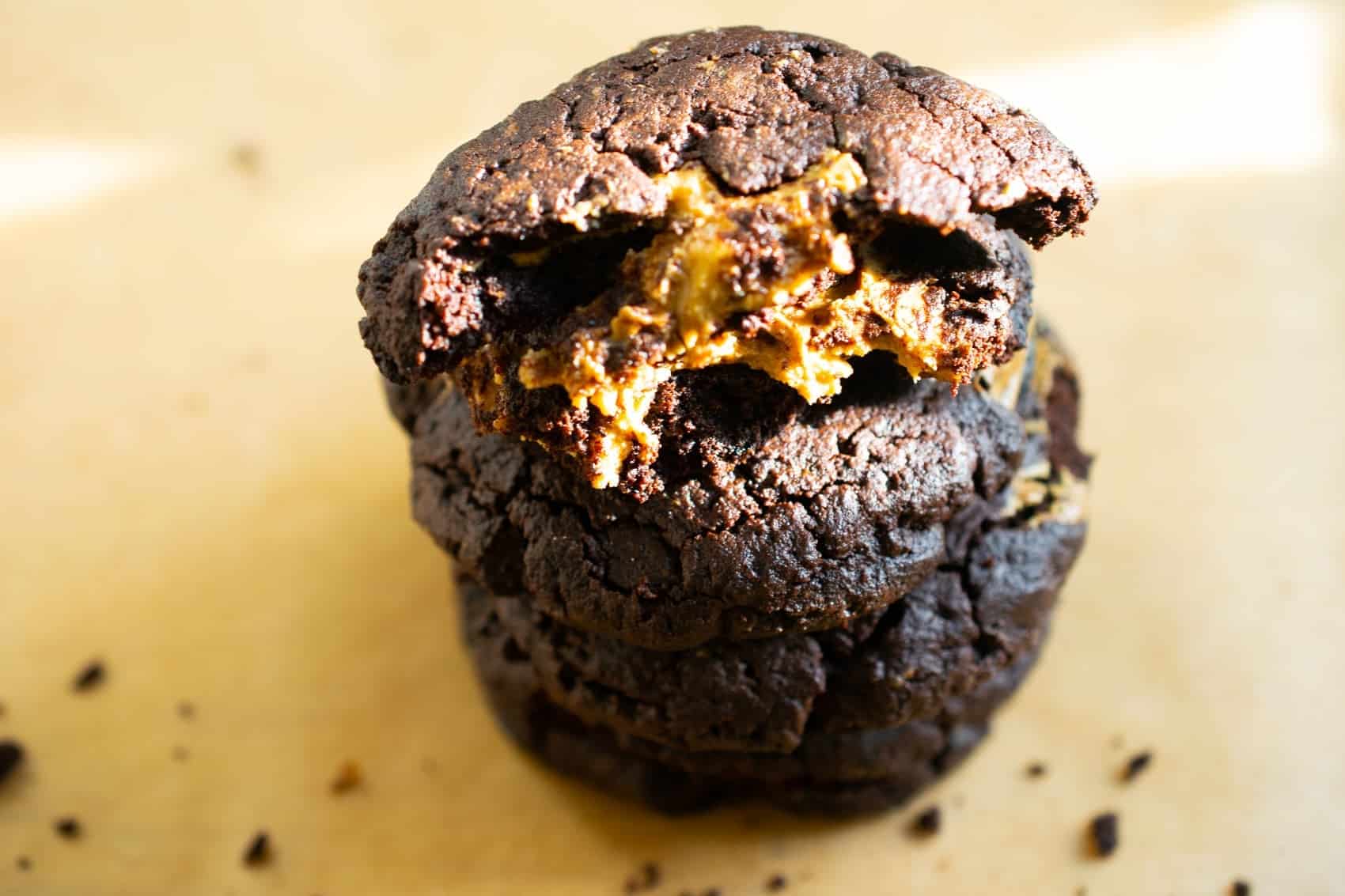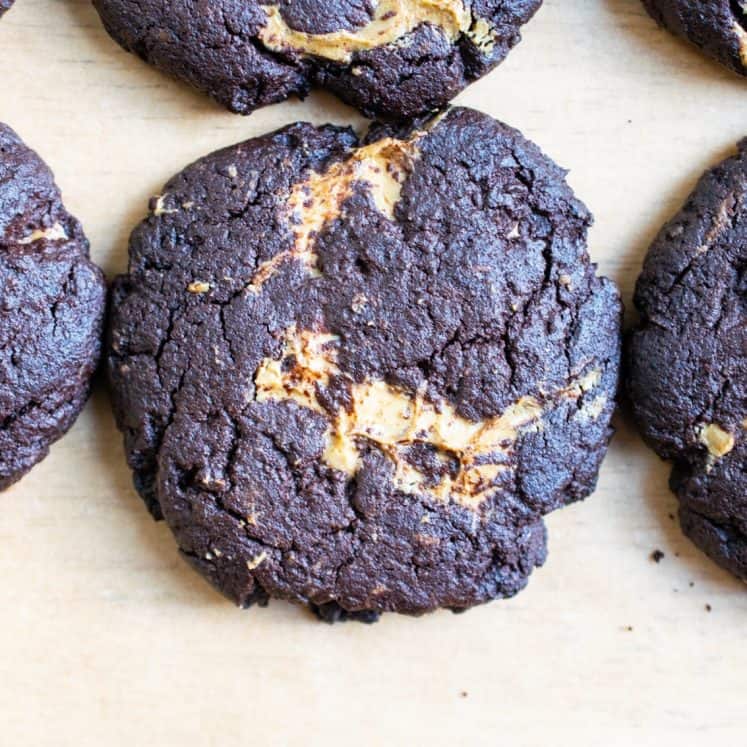 Keto Peanut Butter Brownie Cookies
---
Author: Cristina Curp
Prep Time: 10
Cook Time: 12
Total Time: 22
Yield: 6 1x
Category: Dessert
Method: Bake
Cuisine: Keto
Diet: Gluten Free
Description
Flourless, keto and paleo friendly decadent chocolate cookies filled with salted nut or seed butter!
---
Scale
Ingredients
1/2 cup brown butter ghee (lard or coconut oil)
1/2 cup confectioner's Swerve
1 large egg
1 tsp vanilla extract
10 drops stevia glycerite (optional)
1/2 tsp baking soda
1/2 tsp salt
1 cup cacao powder (see notes above)
1/3 cup unsweetened, unsalted sun flower seed butter (or peanut butter)
---
Instructions
Pre-heat oven to 350F. Line a baking sheet with parchment paper.
In a large bowl mix together the ghee and Swerve until smooth.
Add in the egg, vanilla and stevia and mix again until smooth.
Add in the baking soda, salt and cacao powder. Mix until a smooth dough forms.
Measure your the sun butter and have some salt at the ready.
Shape the dough into 6 large balls.
One at a time, flatten a cookie ball in your hand, place a spoonful of sun butter in the center, add a pinch of salt. Close the cookie dough around the seed butter (like stuffing a meatball). Then roll it to a round ball again in your hand.
Place on the lined sheet pan and gently press down to flatten to 1/2 inch thick.
Repeat with remaining dough and seed butter.
Bake for 12 minutes.
Remove from the oven and let them cool on the sheet pan for 20 minutes, then transfer to a wire rack to completely cool.
Enjoy!
Recipe Notes:
*Macros per BIG cookie *you can also make 12 regular sized cookies from the recipe for 15g total carbs per cookie. I find that half of one large cookie is enough for me, these bad boys are RICH*
Nutrition
Serving Size: 6
Calories: 325
Fat: 28g
Carbohydrates: 10g
Fiber: 6.3g
Protein: 6.7g
Keywords: keto brownie peanut butter