This delectable Whipped Cauliflower is my contribution to AIP Mashed Potatoes.  Made with only 5 ingredients, I'm thrilled with how this recipe turned out! It has the best of everything. It tastes rich and decadent, it's silky and creamy, it's free of all top allergens and inflammatory foods but it is also low carb! It's perfect if you're doing my AIP Keto Reset!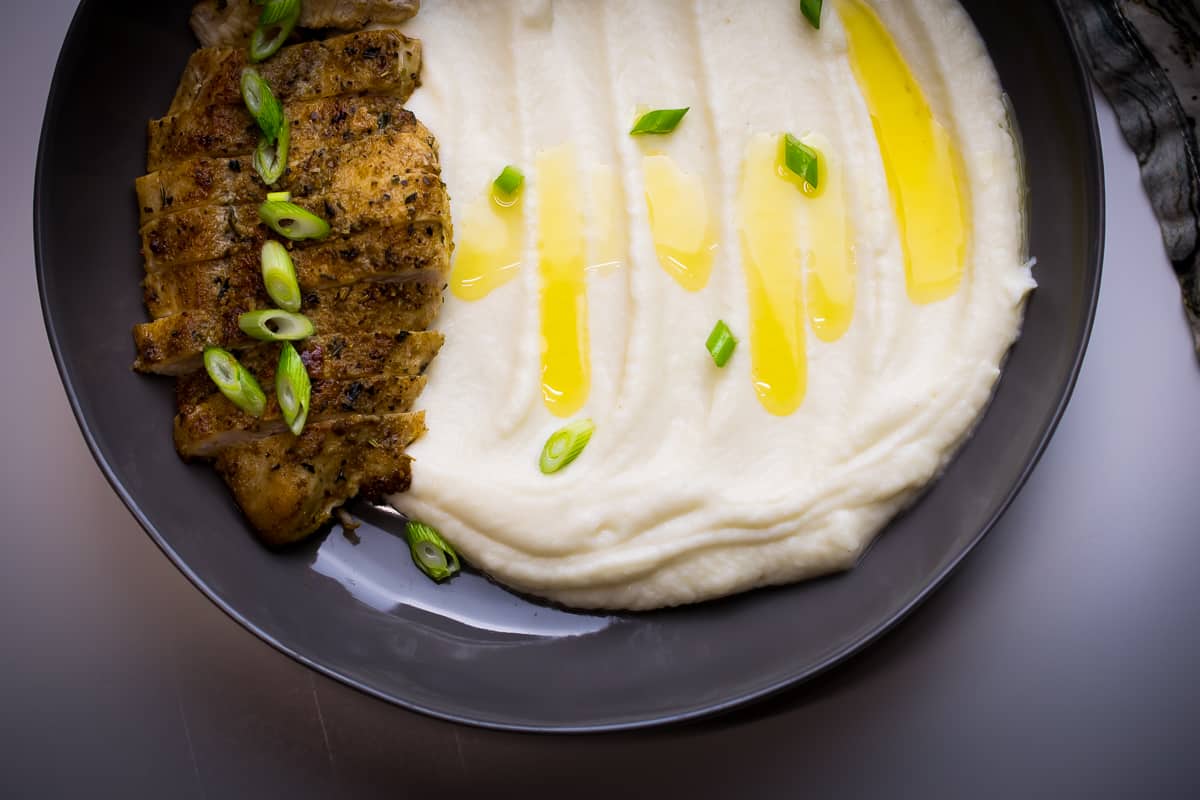 Table of Contents
Only 5 Ingredients?
You may think that with only 5 ingredients there is no way that these taste that good. But if you know me, or have my books, or have made my Cauliflower Alfredo. Well, then you know what I can do with Cauliflower, wink wink. I promise you this Whipped Cauliflower / AIP Mashed Potatoes will be a new favorite in your home!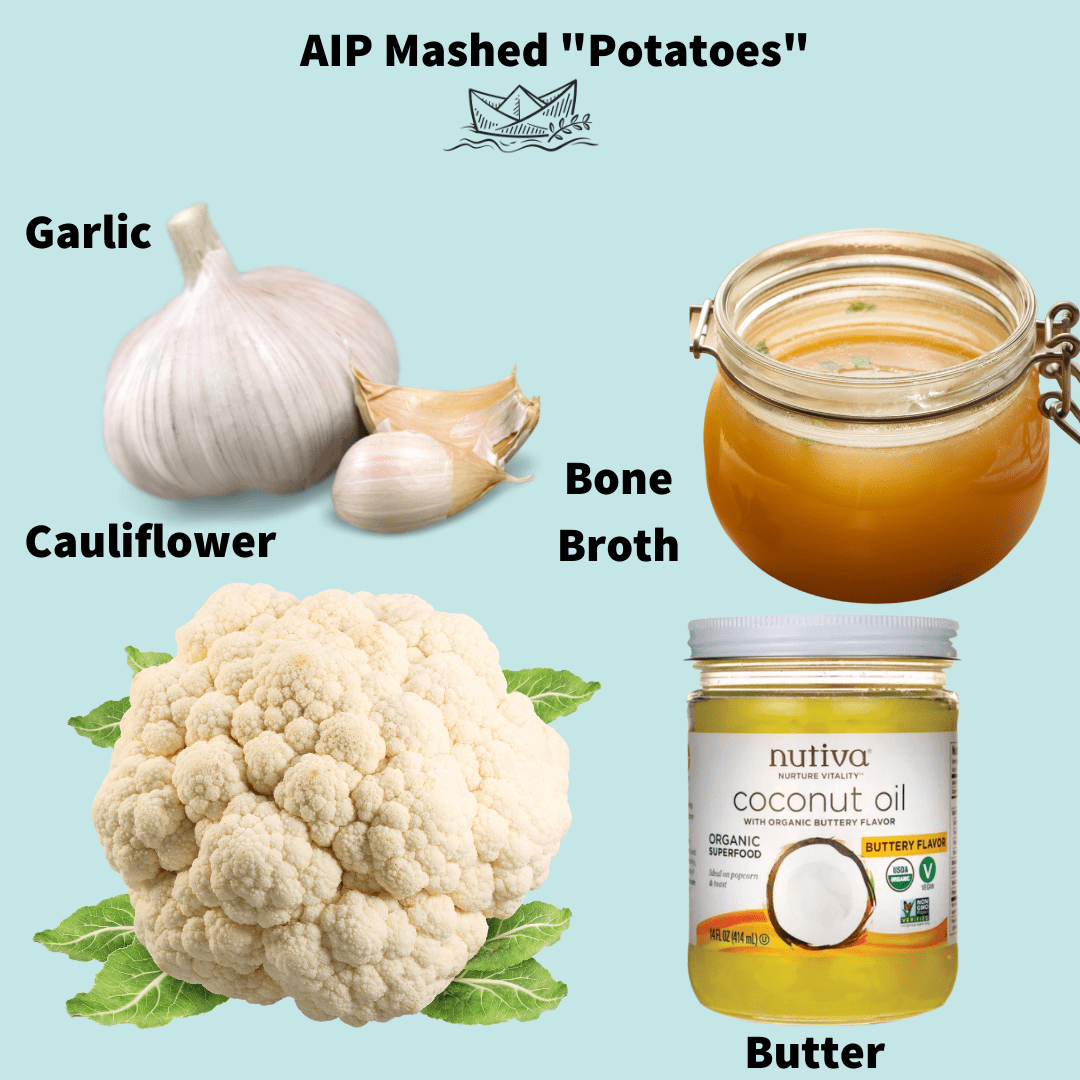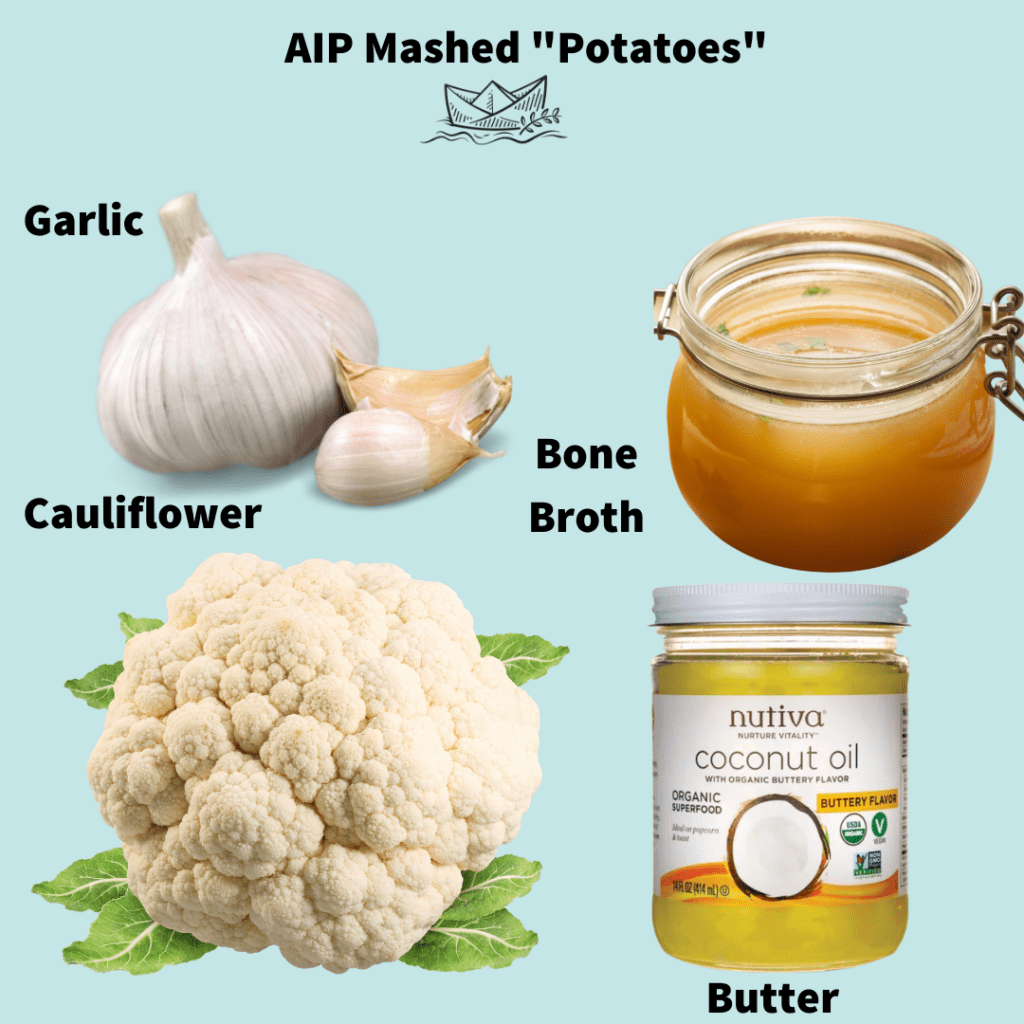 Bone broth is essential for the depth of flavor and nutrient density.
Garlic is steamed WITH the cauliflower, you can't add it in raw!
Nutiva Butter Flavored coconut oil is a MUST for AIP but butter and ghee work for paleo or Whole30.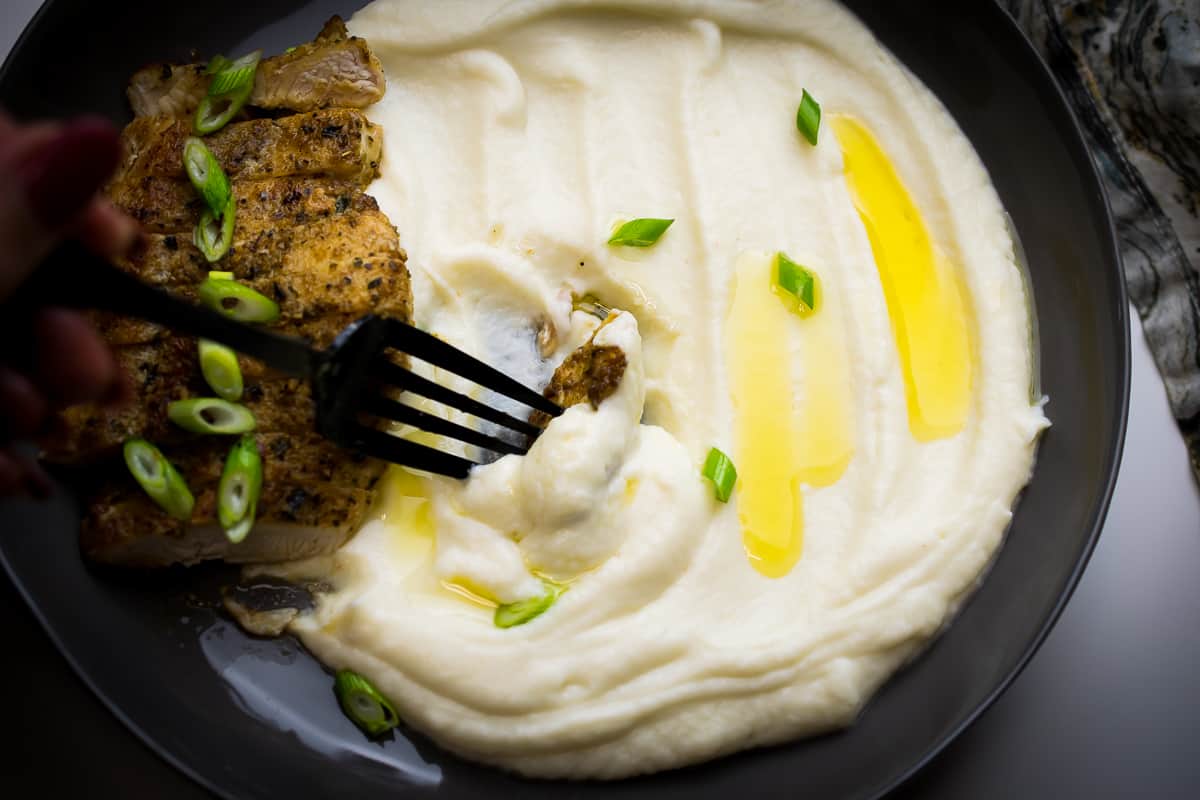 Whipped Not Mashed Cauliflower
You can't really mash cauliflower like you do potato, you'll end up with a clumpy mess. When folx say "mashed cauliflower" they really mean whipped or blended, because these recipes are made in the blender or food processor! So these AIP Mashed Potatoes are dubbed Whipped Cauliflower as they should be. It's a thick, silky, puree that has a buttery, garlic flavor that will make you think potato!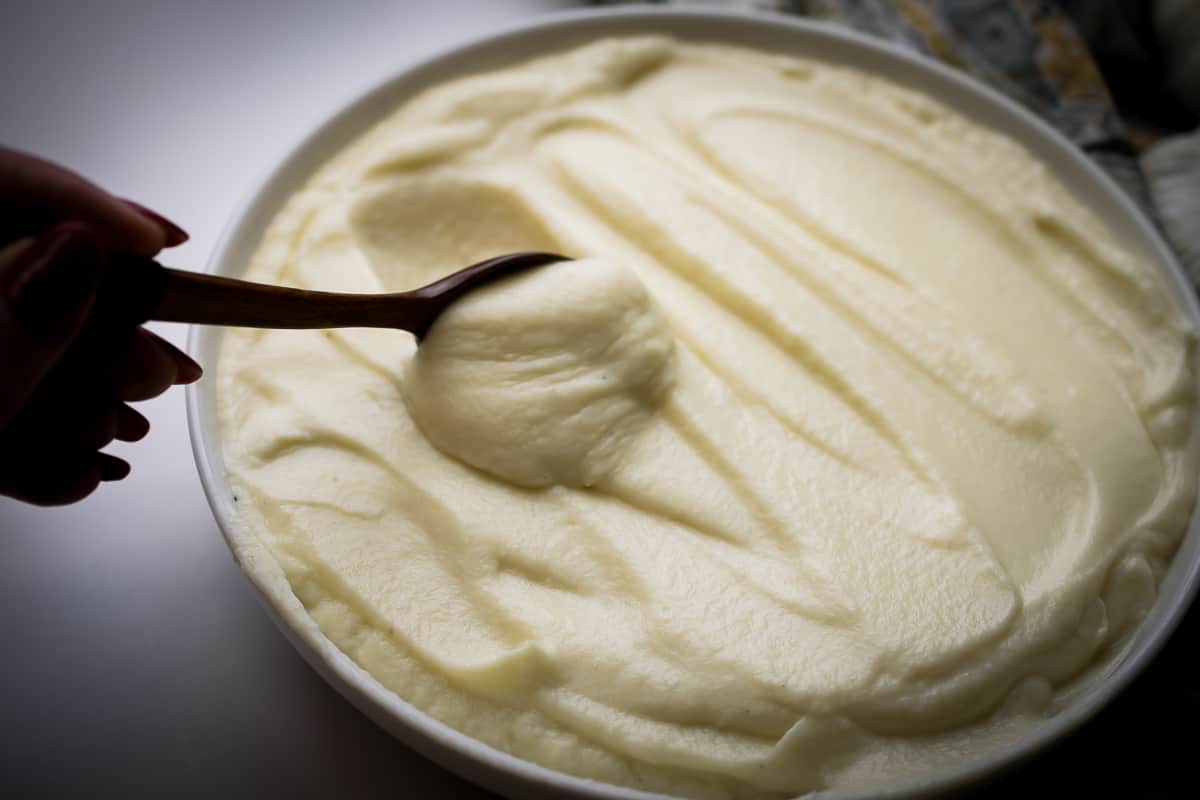 So Easy to Make!
Cut your cauliflower into florets and place in a pot with a tight fitting lid. Add the garlic cloves then the broth.
Bring to a simmer and cook until tender.
Transfer to a blender, add in the salt and butter and blend.
That's it! Easiest recipe ever. But these AIP mashed potatoes are SO dreamy!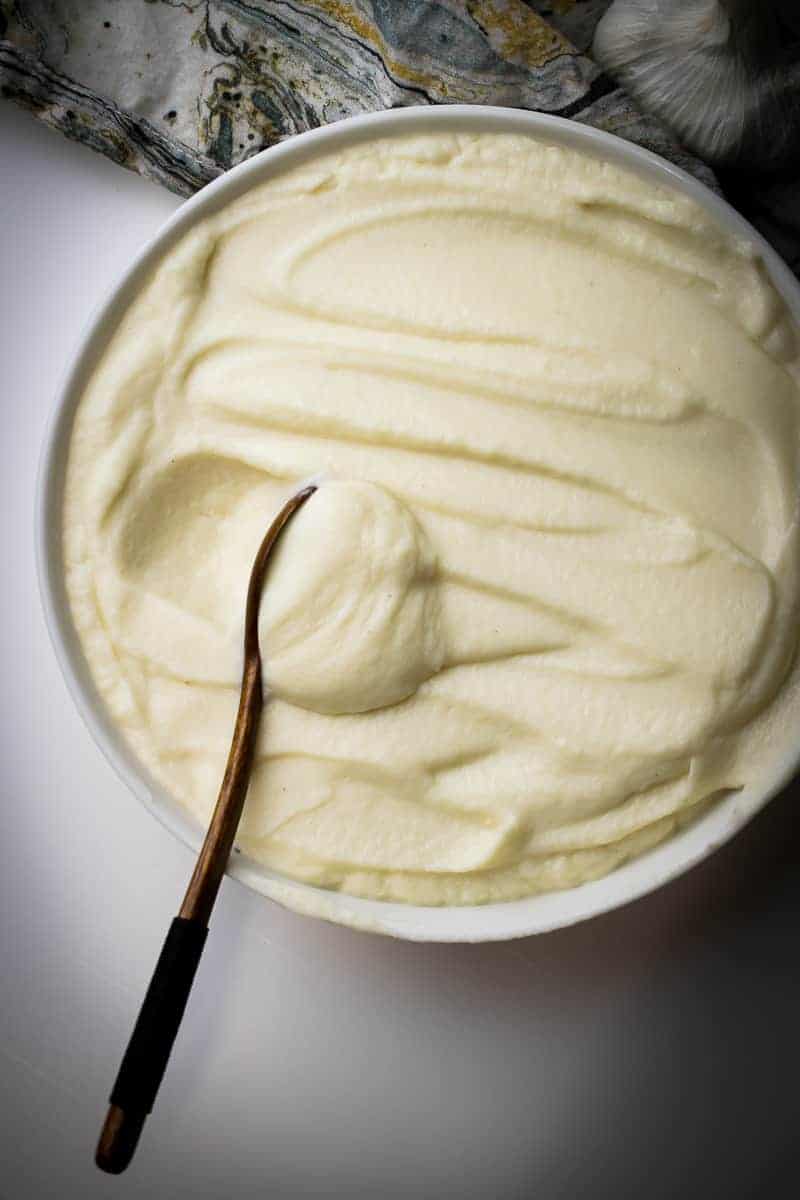 Frequently Asked Questions
Can I use butter or ghee?
Yes! Absolutely.
Will this work with celeriac or turnips?
No. This specific ratio is for cauliflower.
What do you serve it with?
It's a wonderful side dish for any protein. Lot's of people also use this cauliflower mash to top Shepherd's Pie or as a creamy base for Dairy Free Soups!
Do I need a blender?
Yes or a food processor. A mixer won't work for this silky consistency.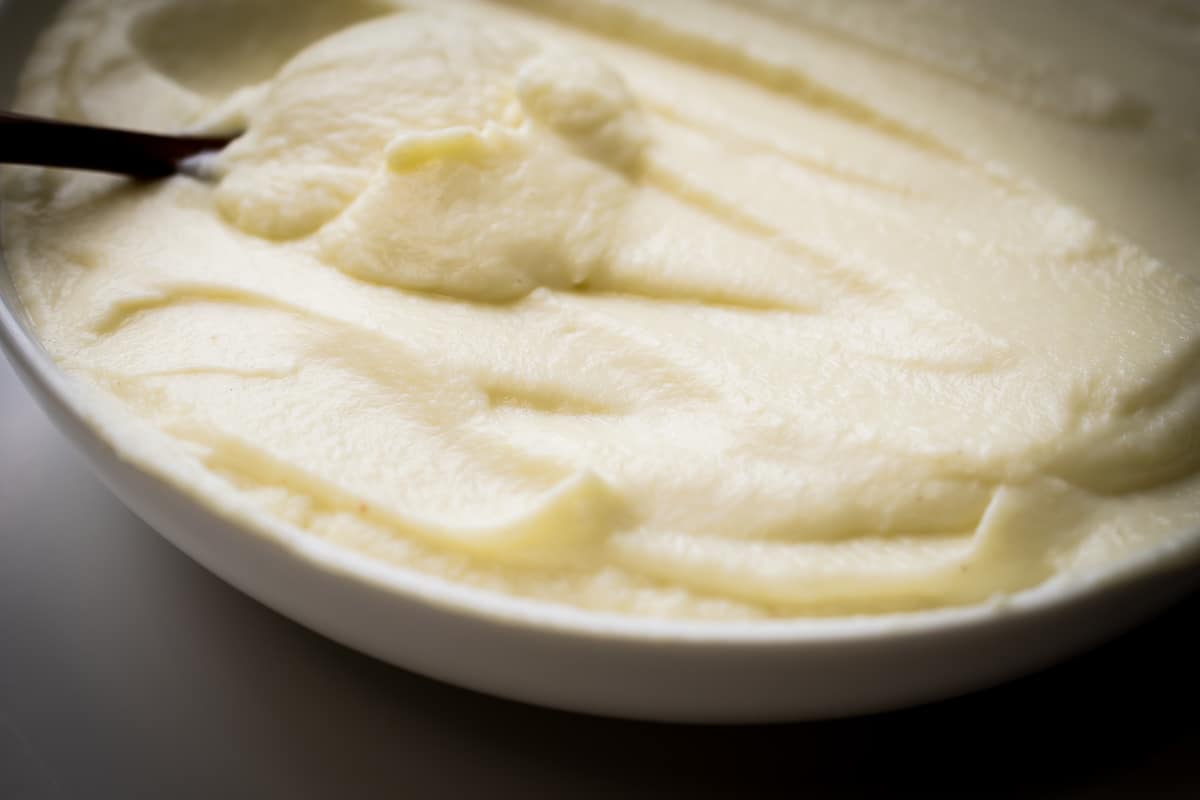 AIP + KETO?
The Autoimmune Protocol is perfect for those with autoimmune disease to figure out which foods make their symptoms worse. Keto is also a really powerful tool for healing, ketones are anti-inflammatory (source). The hard part is that not many people combine these two and therefore we are lacking in resources. That's where I come in. Not only with recipes like this Whipped Cauliflower – AIP Mashed "Potatoes" that is also keto-friendly but with a ton of recipes that work for both AIP and Keto, in both my books and recipe right here on the blog- check them out here.
You May Also Like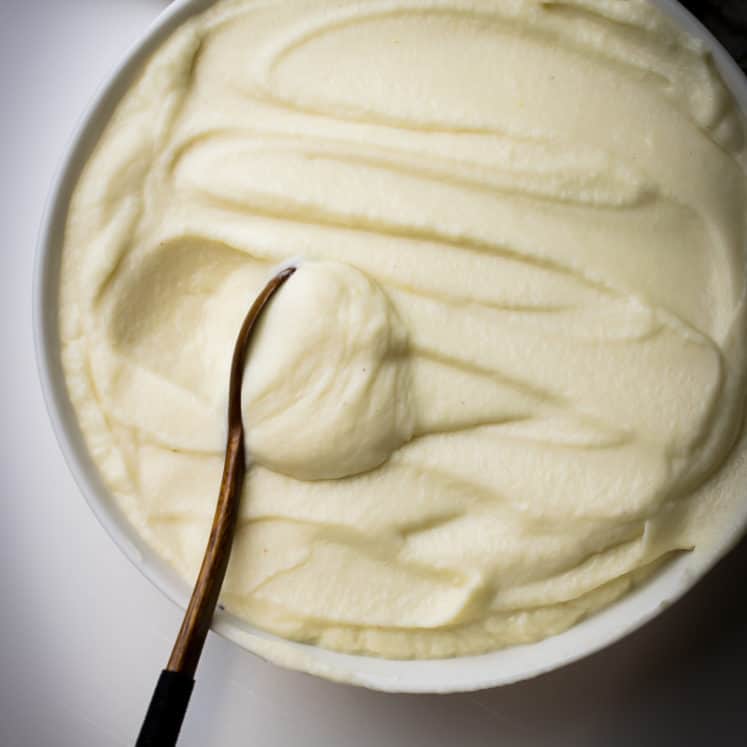 Whipped Cauliflower AIP Mashed "Potatoes"
---
Author: Cristina Curp
Prep Time: 10
Cook Time: 20
Total Time: 30 minutes
Yield: 4 1x
Category: Side Dish
Method: Steam
Cuisine: American
Diet: Diabetic
Description
Who needs potatoes when you can make cauliflower taste this good?
---
Scale
Ingredients
1 head cauliflower (aprx 5 inches in diameter), or 4 cups florets
9 cloves garlic
1/3 cup bone broth (more if needed)
4 tablespoons Butter Flavored Coconut Oil 
1 1/2 teaspoons salt, more to taste
---
Instructions
Bring a 4-quart pot of water to boil. While it comes to a boil, cut up your head of cauliflower.
Once the water is boiling add in the cauliflower and garlic. Cover and let it cook for 15 minutes or until the cauliflower is fork-tender.
Drain very well and place the tender cauliflower and garlic in a high powered blender or food processor.
Add in the bone broth, salt and buttery coconut oil. Blend on low, gradually increasing the power to high. Use a tamper to mash down the cauliflower, and keep the mix moving. If your blender doesn't have a tamper, pause the blending periodically and scrape down the sides and move it around with a spatula.
Blend until it's thick and silky. Taste, add up to 1/2 teaspoon more salt if needed. Blend and serve hot.
I like to garnish it with green onion and a little melted Buttery Coconut Oil. This goes really well with Chicken Breast, Meatballs, or Broiled Salmon. 
Recipe Notes:
If you're not AIP you can use grass-fed butter or ghee instead of coconut oil.
All that garlic doesn't make it spicy, the garlic cooks and becomes tender and sweet.
Don't add more bone broth unless you really have to, the more you add the less thick it will be.
4.6 net carbs per seving.
Nutrition
Serving Size: 1/4 recipe
Calories: 167
Sodium: 635.4 mg
Fat: 14.2g
Saturated Fat: 5g
Trans Fat: 0
Carbohydrates: 8g
Fiber: 3.4g
Protein: 3.8g
Cholesterol: 0
Keywords: Whipped Cauliflower AIP Mashed Potatoes