I can tell you a million times that this dairy-free Cauliflower Alfredo tastes JUST LIKE THE REAL THING. But you won't believe me until you make it. However, you can read the reviews on Amazon. Yup, this is one of the most loved and coveted recipes from my first book, Made Whole. You can read all about it, buy it at any bookstore.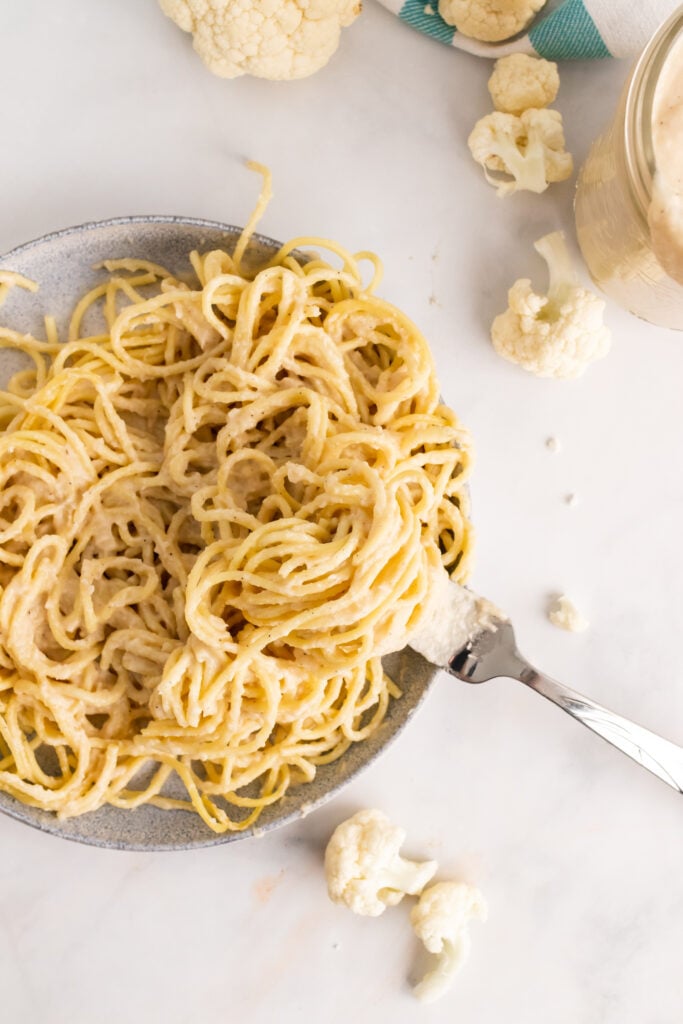 Table of Contents
Yes, it tastes just like Alfredo Sauce
This sauce is oh-so-simple, yet oh-so-legit. I've had people post in my Facebook groups that they cried the first time they tasted it. Yeah, like that. It's also a no-fail way to get your kids to eat vegetables. Great as a creamy sauce in casseroles, stir fry, and more, you will be making a batch of this low carb, dairy-free, nut-free Cauliflower Alfredo WEEKLY! The secret ingredient is the fish sauce, packed with umami, just like aged parmesean. This dairy free cauliflower alfredo will change your life.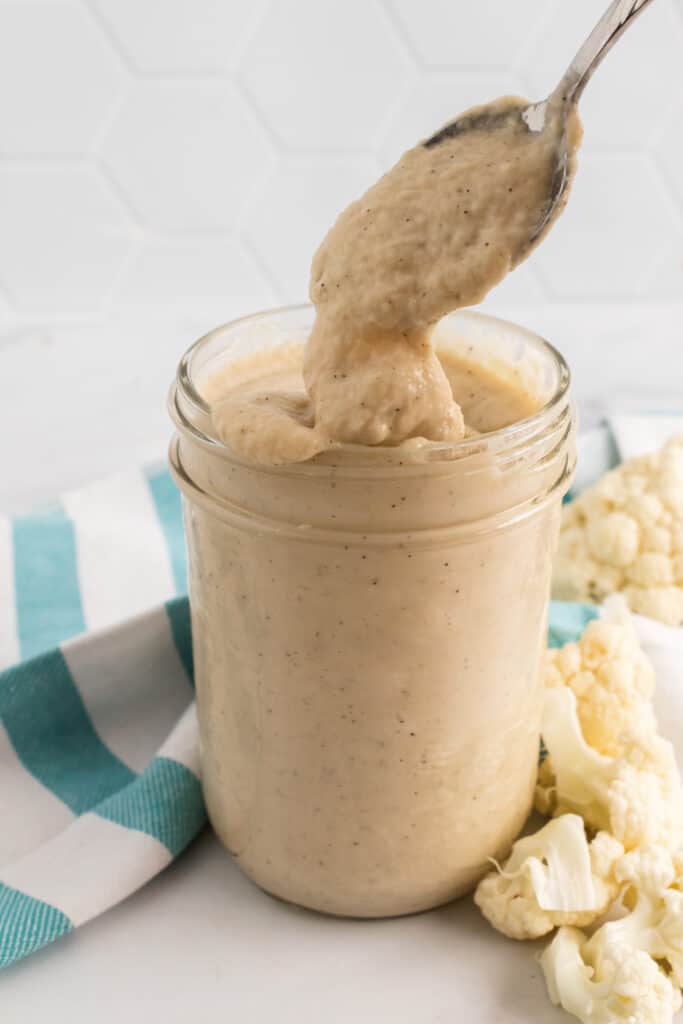 Sharing a coveted recipe!
So why am I sharing this recipe from my cookbook? Am I making bad marketing decisions? Maybe! But you know, at the end of the day, I want to make your life better and I want you to enjoy the food you eat and heal your body while you do it. For those of us who gave up nuts and dairy a long time ago, the flavor of a rich, creamy Alfredo might have been a thing of the past. I know you are going to love this sauce! I'm 100% confident in that.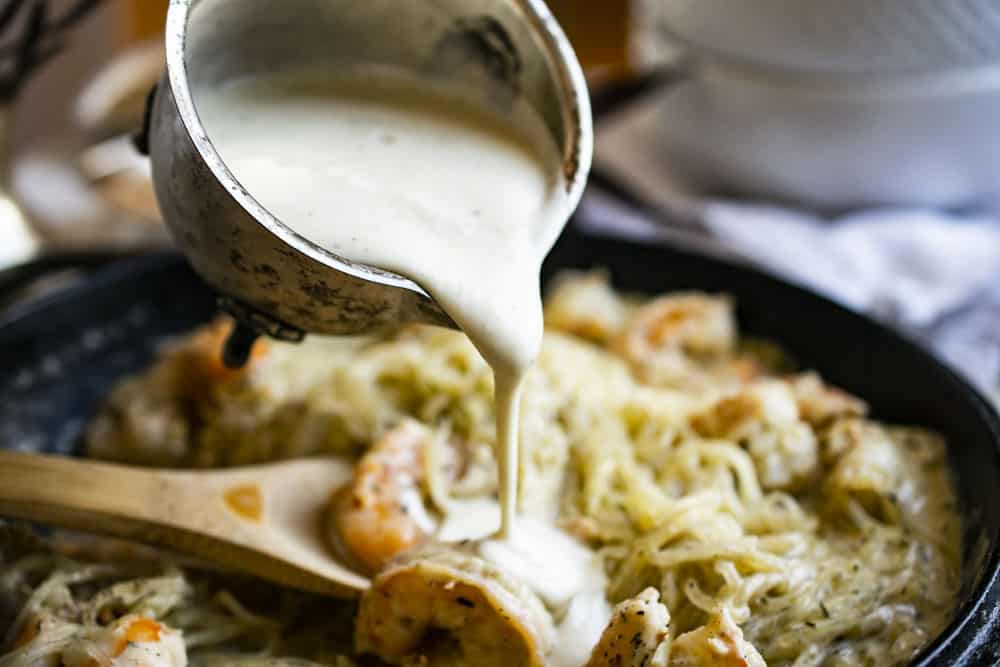 I wrote this book to help people! This is my dedication, and I mean every word!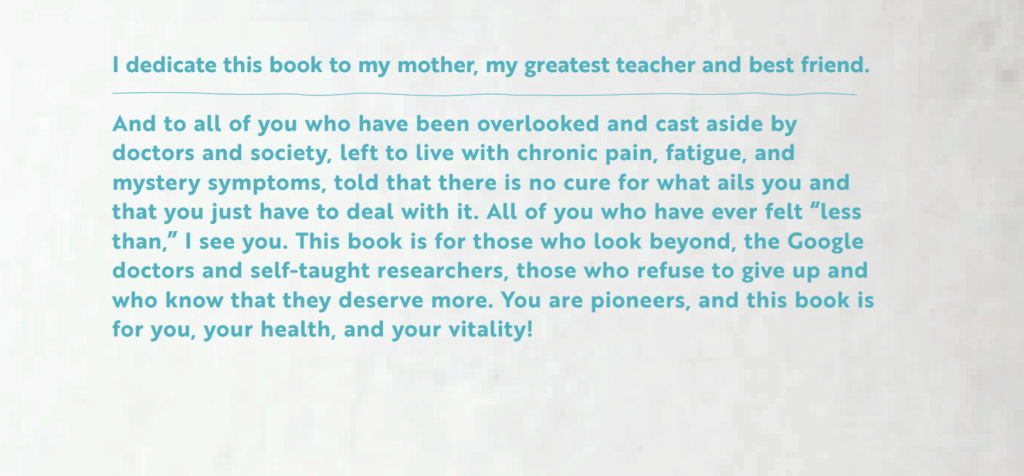 Magical Combination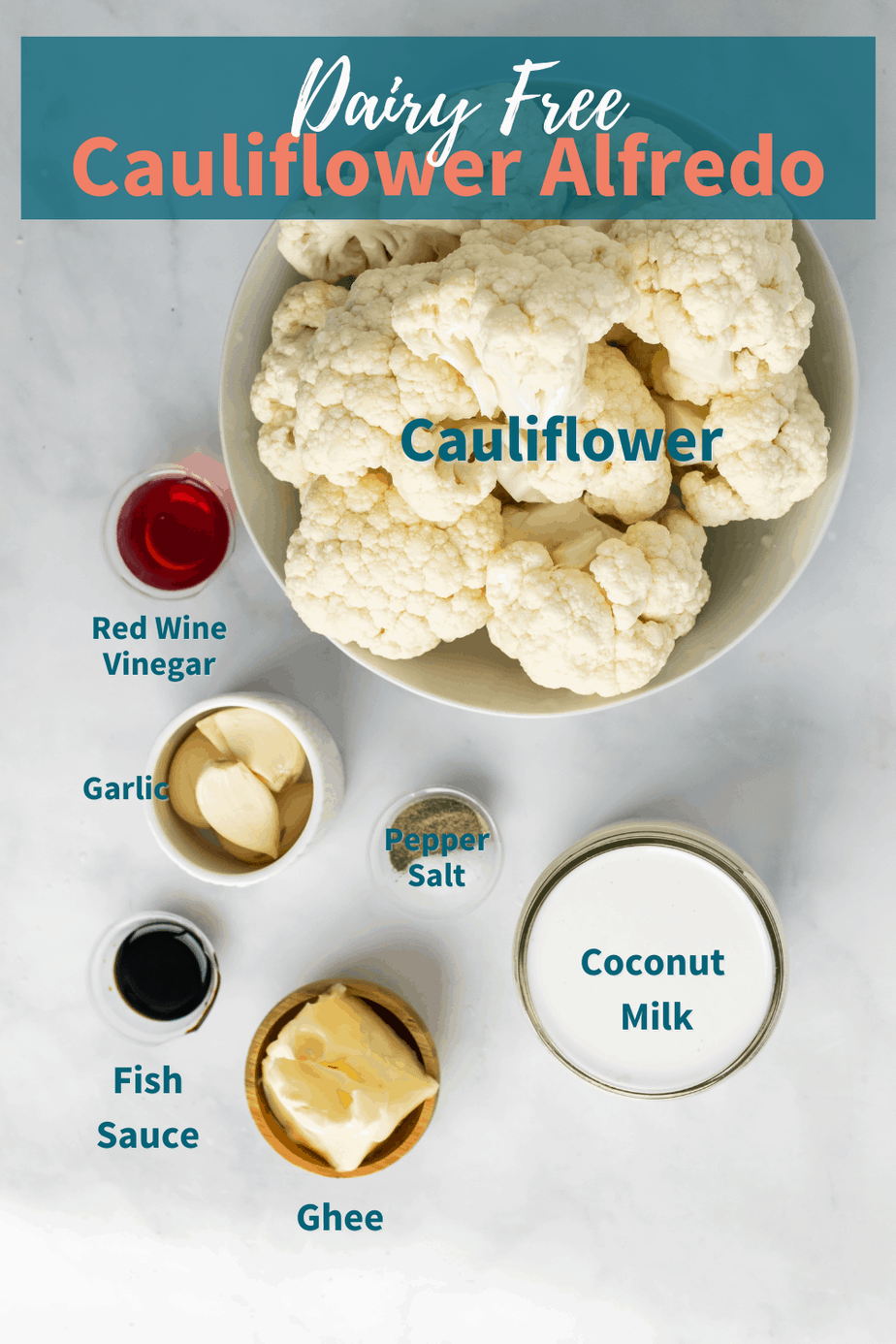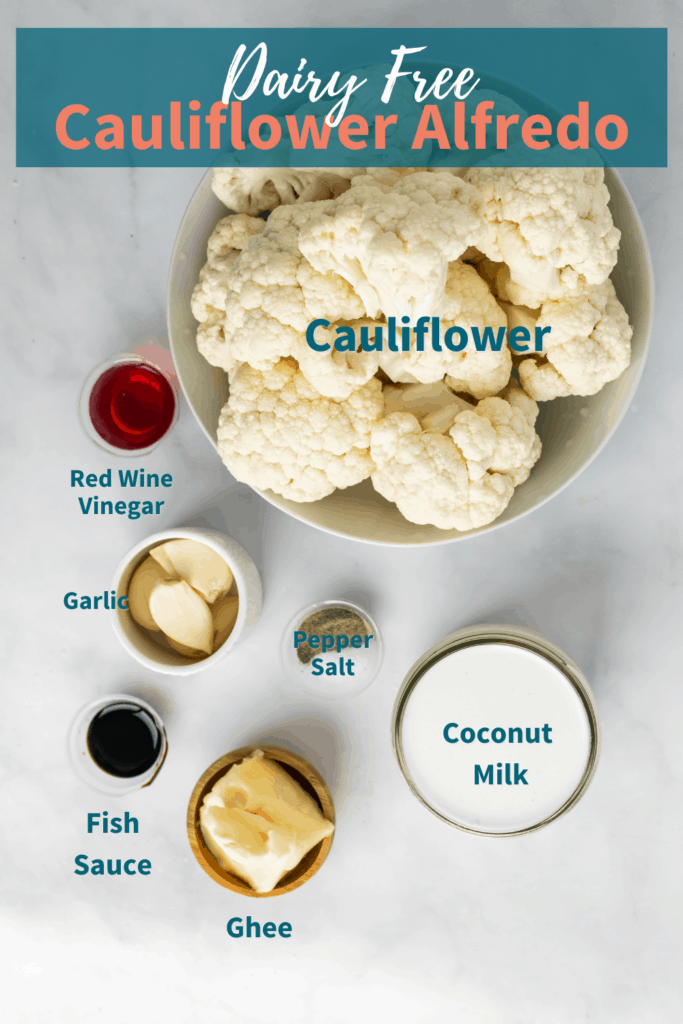 The base of this sauce is obviously cauliflower! We use it a lot, that's why it's so creamy. I love this chameleon vegetable that can truly be anything.
Red wine vinegar adds a little tang, you know because cheese has a little tang to it too.
Lots of garlic. It's my love language. These are steamed with cauliflower so they lose their bite.
Fish sauce, it's the magic ingredient. I use Red Boat Fish sauce because I think it's the best! This ingredient is what makes this Alfredo taste so legit.
A little ghee, butter, or butter flavored coconut oil.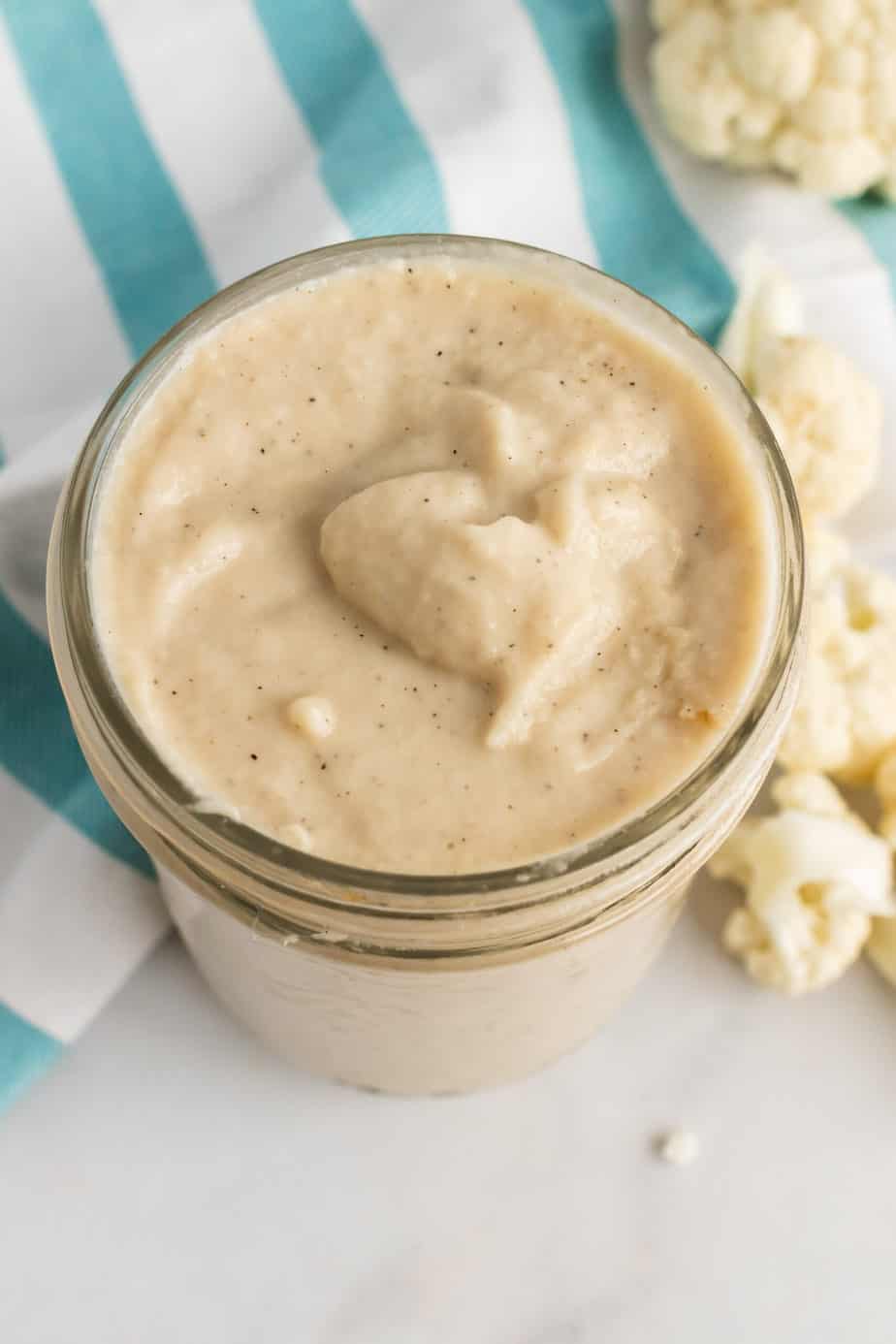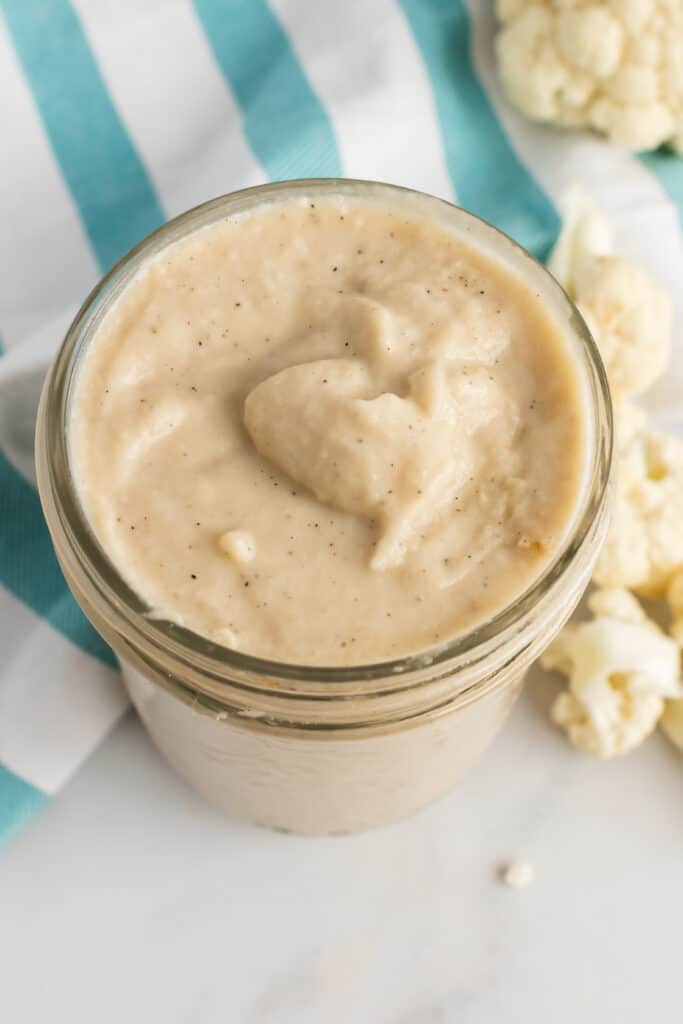 Step by Step Cauliflower Alfredo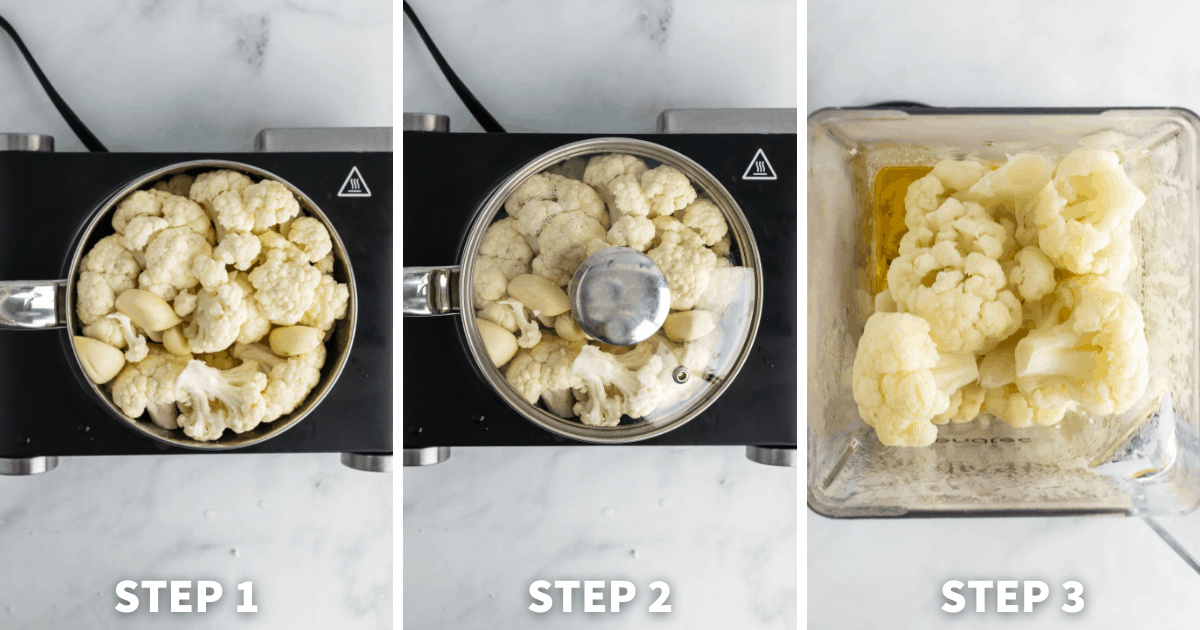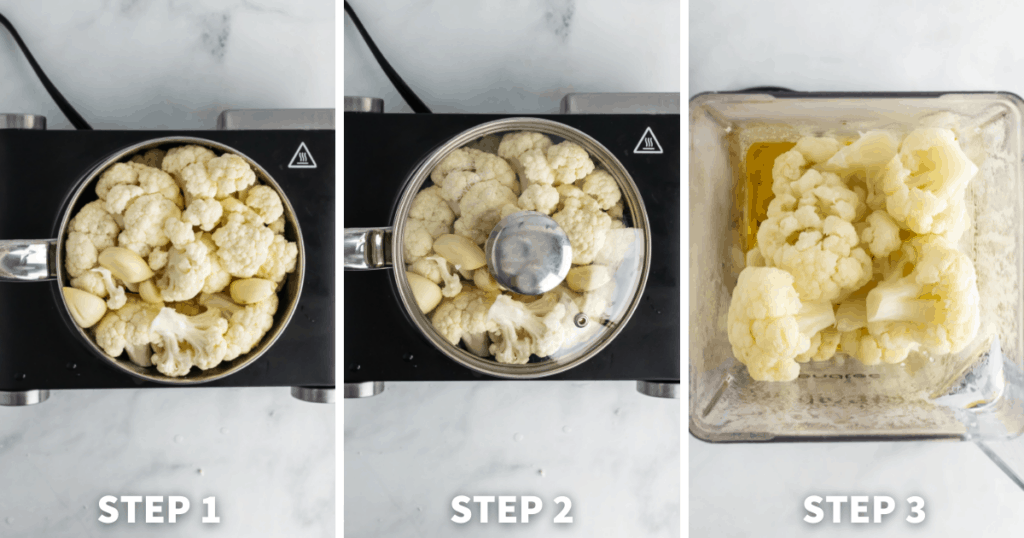 Cut up your cauliflower floret and combine it in a small pot with the garlic.
Add water and cover with a tight fitting lid. Steam until very tender.
Drain completely and transfer the cauliflower and garlic to a blender. Add in the remaining ingredient while the cauliflower is still hot.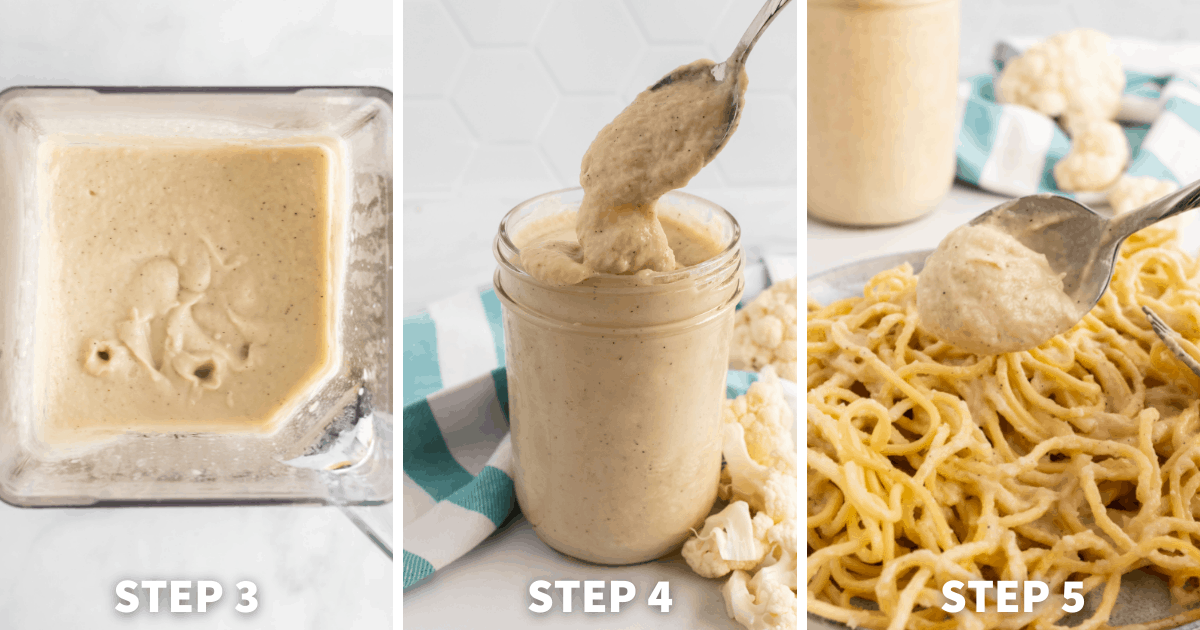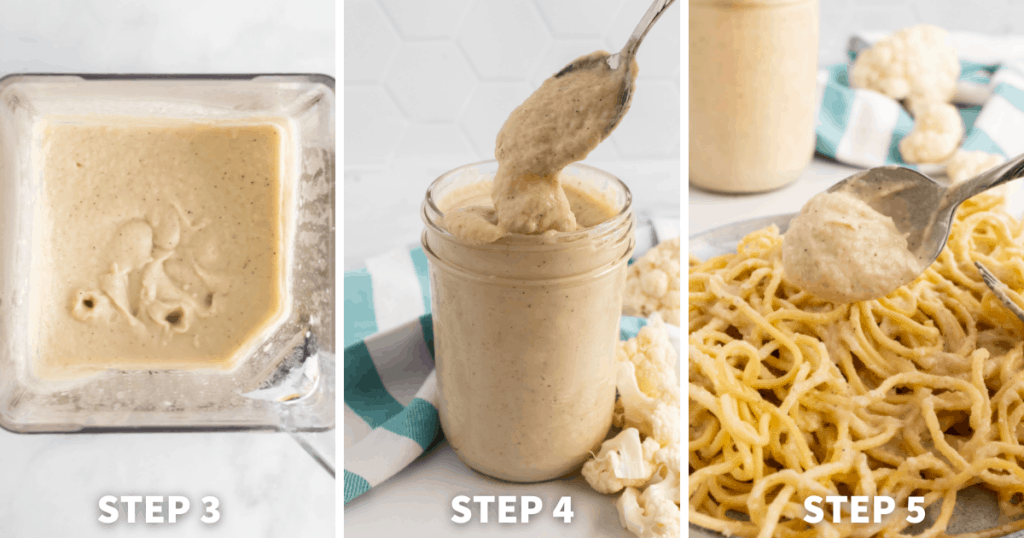 Blend until completely smooth!
Transfer to a jar or toss with pasta.
Store leftovers in a mason jar in the fridge for up to 8 days.
Frequently Asked Questions
Will I be able to taste the coconut milk?
No, it doesn't come through at all in this recipe. If you're allergic to coconut milk use cashew cream instead.
Can I leave out the fish sauce?
I don't recommend it, but if you have to you can use 2 tbsp nutritional yeast instead. This will also make the sauce vegan, along with using butter-flavored coconut oil.
How do I make it AIP?
Use duck fat, bacon fat, or even olive oil, leave out the black pepper.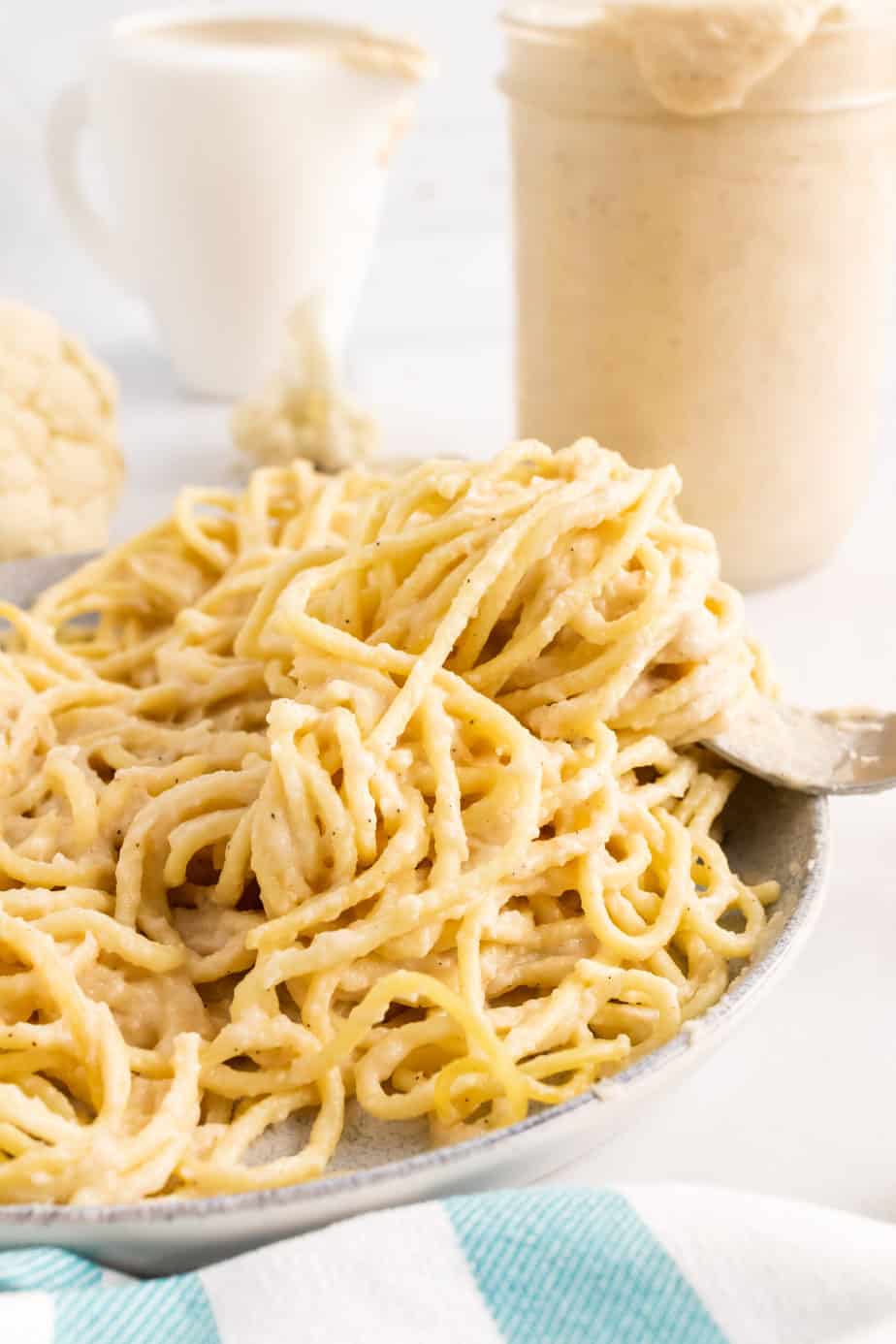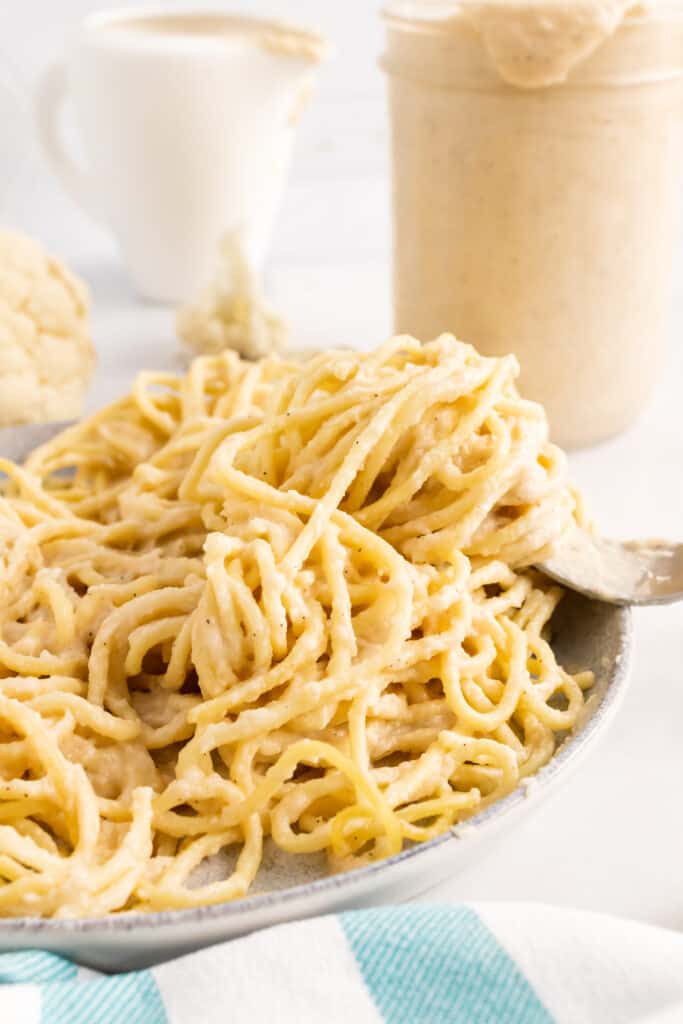 Tips and Tricks
Use fresh cauliflower! This will keep that lingering cauli smell and taste to a minimum.
Blend the sauce up while the ingredients are hot, it will give you a smoother sauce.
Don't skimp on the fat!
Taste it before you're done, always adjust your salt, acid, or fat before pouring it out of the blender.
Use this sauce as base for casseroles, serve with cassava pasta or low carb noodles.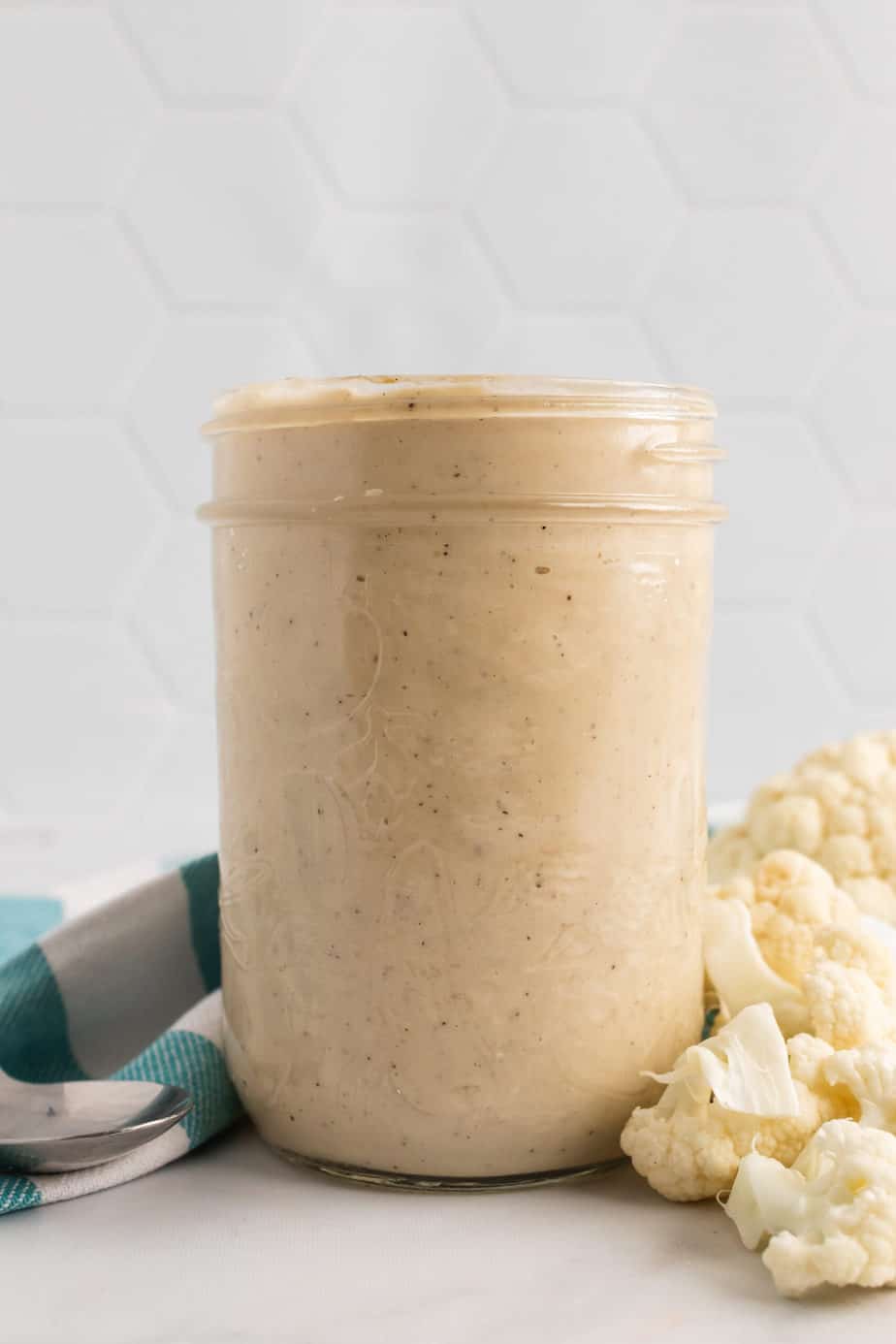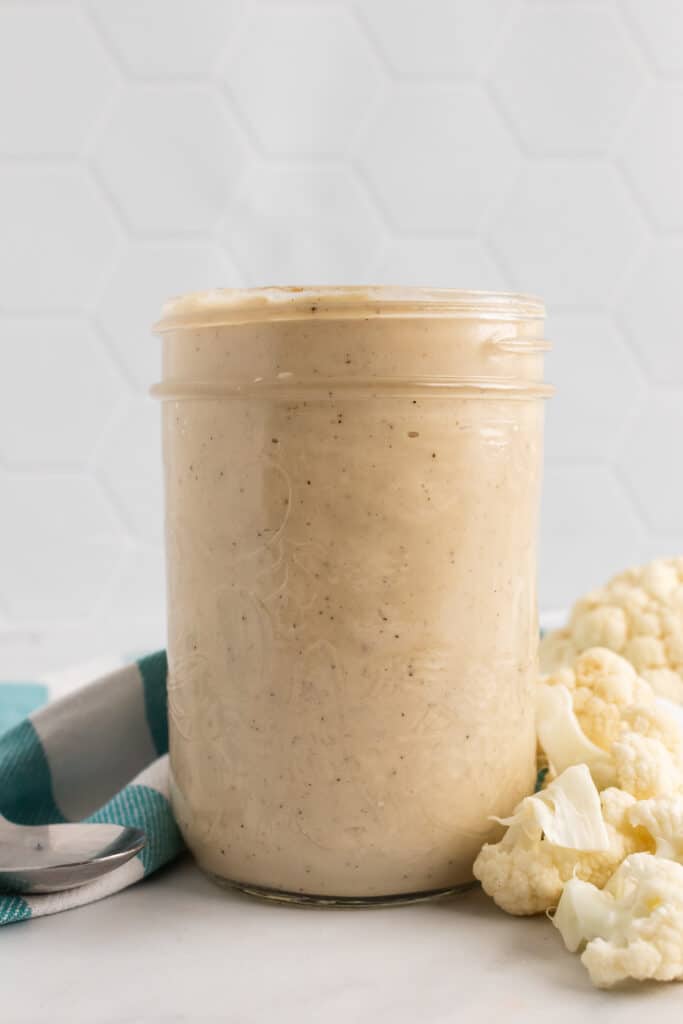 If you haven't bought my book yet, you will after making this.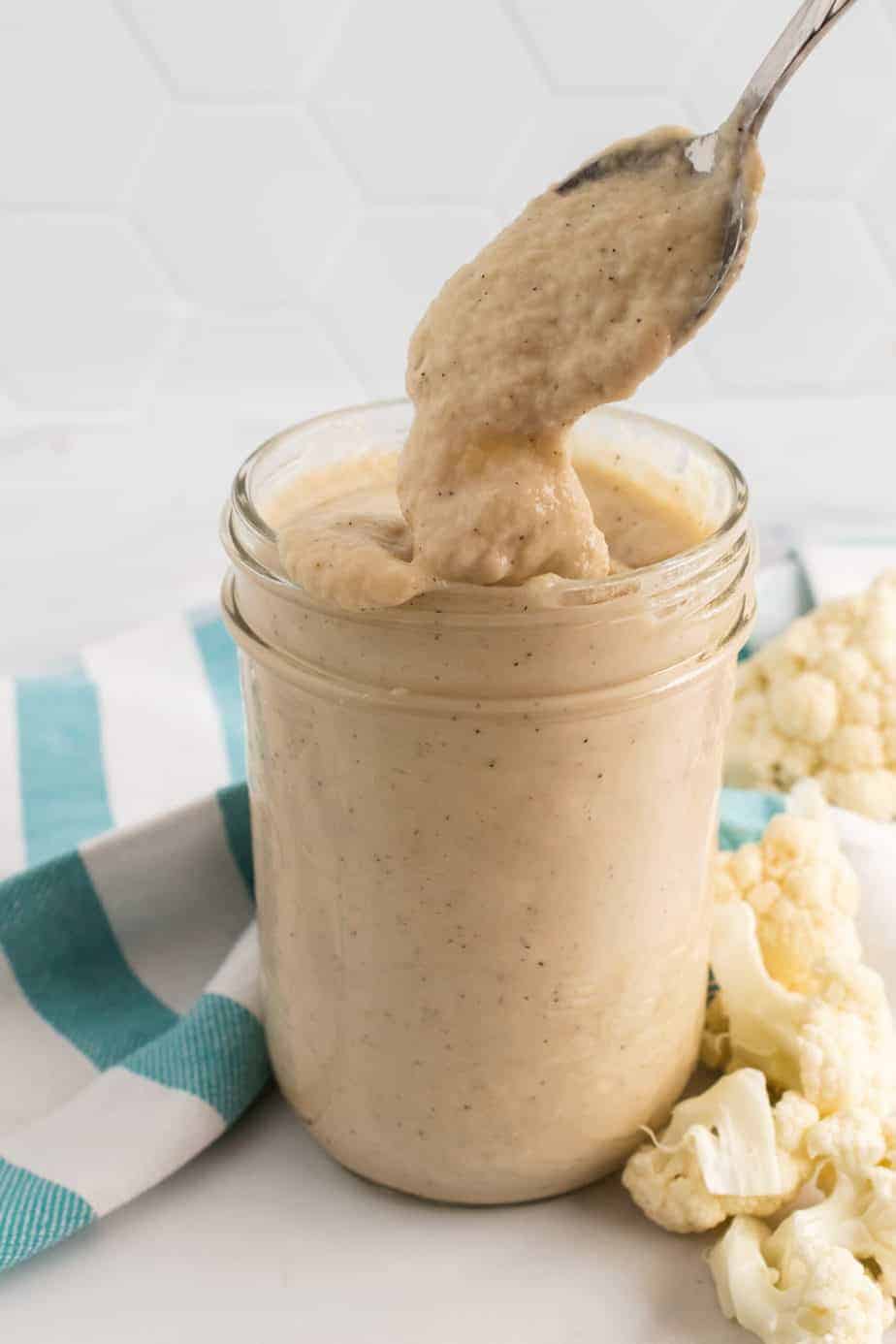 Cauliflower Alfredo (Dairy Free, Nut Free, Paleo, Keto, AIP)
---
Author: Cristina Curp
Prep Time: 10
Cook Time: 12
Total Time: 22 minutes
Yield: 2 cups 1x
Category: Sauces
Method: Blend
Cuisine: Italian
Description
The best dairy free alfredo you will ever taste, made from cauliflower, no joke.
---
Scale
Ingredients
3 cups cauliflower florets
5 cloves garlic, peeled
1 cup full-fat coconut milk
3 tablespoons salted butter, ghee, or duck fat
1 tablespoon Red Boat Fish Sauce
1 tablespoon red wine vinegar
1 teaspoon fine salt
1 teaspoon ground black pepper
---
Instructions
Fill a sauce pan with about an inch of water and add the cauliflower and garlic. Heat the pan over medium-high heat and bring to a boil with the lid on. Cook for about 8 minutes, until the cauliflower is fork-tender. Remove from the heat and drain.
Place the cauliflower, garlic and remaining ingredients in a blender. Puree until smooth.
Store in an airtight container in the fridge for up to 10 days. To reheat, bring to a simmer in a saucepan over medium heat.
Nutrition
Serving Size: 1/2 cup
Calories: 250
Fat: 24g
Carbohydrates: 9g
Fiber: 3.4g
Protein: 3.5g
Keywords: Cauliflower Alfredo