EATING WITH A TODDLER ON AIP
Often times on my Autoimmune Paleo journey I find that I can't share meals with my toddler. In a perfect world my kiddo would eat all my protein and veggie packed meals, but that just isn't the case. Recipes like these make my day. Fun, creative, satisfying & healthy for both of us! Real talk, my kid has never eaten fast food, and that won't change any time soon. But I sure did. And my favorite: Chicken McNuggets. Oh man I loved them. So I remade them. Paleo Chicken Nuggets!
We had just come back from a hike & I wanted little man to get his protein in, but eggs and beef were out since he's had plenty the last few meals. I think the thought of something quick and easy was so tempting, I almost stopped at Whole Foods for some frozen chicken tenders, when I conceded that we have plenty of food at home and anything I make will be better for him. It worked out, because now we could share these nuggets, as opposed to any store bought variation that would just be for him.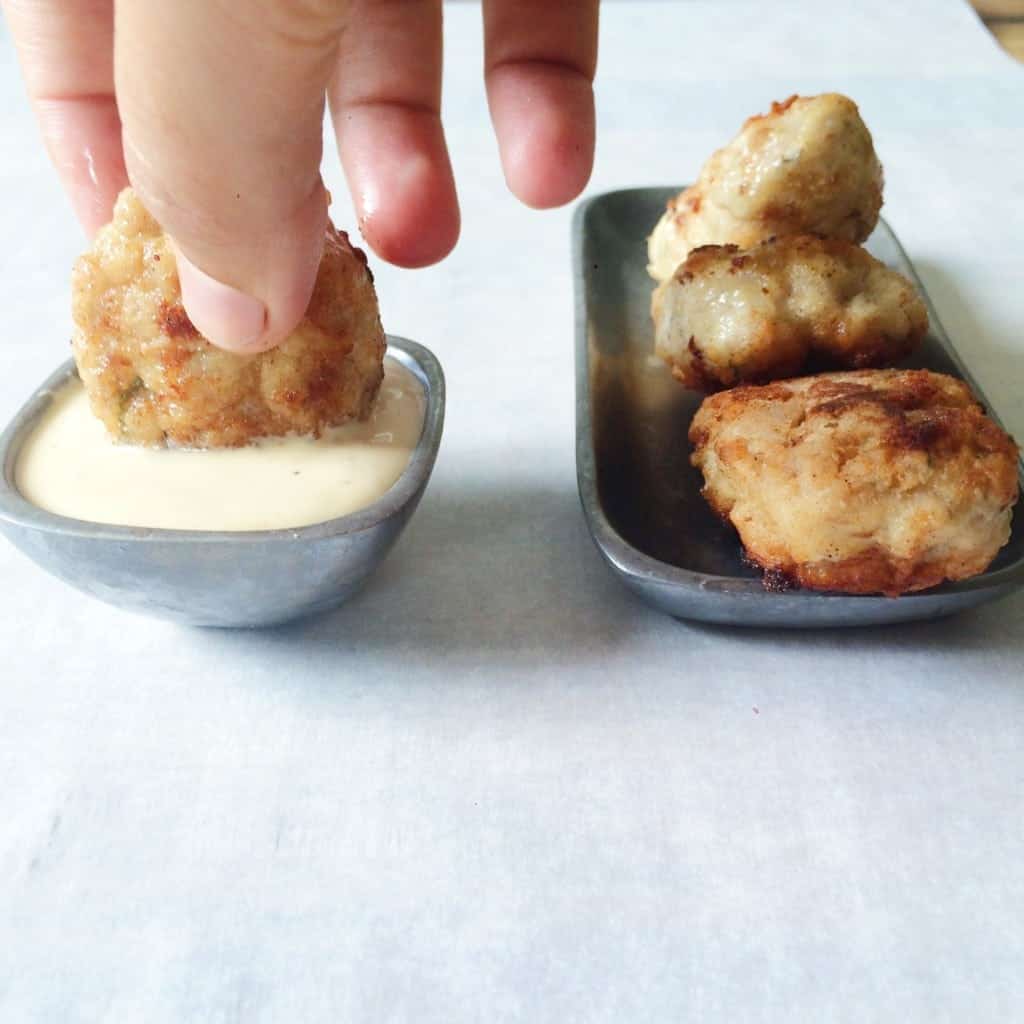 FOOD PROCESSOR PLEASE!
I used whole, boneless skinless chicken thighs and ground them up in the food processor (not my meat grinder). Now, I will say, this step is imperative… if you use ground up chicken (which is usually mostly white meat) the tenders will be dry & the consistency will be off. The process of "pureeing" the meat in the food processor with herbs & garlic, gives it a paste like consistency that makes it ideal for a nuggets. The breading is just a a mix of coconut flour, tapioca flour & herbs, so it's light. The nuggets get crispy without having the thick layer of breading. So, they're good. Real good! Here's how to make these totally legit Paleo Chicken nuggets!
Nut-Free Paleo Chicken Nuggets (AIP, too!)
---
Author:
Prep Time: 8
Cook Time: 15
Total Time: 23
Yield: 6 nuggets 1x
Category: entree
Method: fry
Cuisine: kid friendly
Description
Chicken Nuggets made healthy!
---
Scale
Ingredients
Nuggets
4 pastured skinless boneless chicken thighs
1 garlic clove
2 springs fresh dill (optional)
1 tsp sea salt
1/2 cup tapioca flour
2 tbsp coconut flour
1 tbsp Italian Herb blend, dried (herbs only! check labels)
1/4 cup beef tallow, or other cooking fat
Sauce
1/4 cup fatty party of full fat coconut milk
3 tbsp coconut aminos
pinch salt
1 garlic clove minced
1/4 inch chunk of fresh ginger, minced
1 tsp lemon juice.
---
Instructions
In a large food processor, pulse chicken thighs, herbs, garlic & salt until it makes a paste.
Heat cooking fat in a skillet on medium-high in the meantime, mix flours & herb blend on a flat surface.
Scoop out a spoonful of chicken paste at a time- shape it in to nugget shape and lightly bread in flour mix.
Gently toss between hands to shake off extra flour. Set aside on dry surface. You should have 5-7 nuggets. When cooking fat is hot, carefully arrange nuggets in skillet.
Use a tong to handle them. After 4 minutes, when the bottom is golden brown, turn over and cook for another 3-4 minutes. When golden all over, set on a cooling rack over a plate to cool down.
In the meantime, make the sauce!
Now tomato-less ketchup or honey mustard (if you can eat it) would be awesome too… but this sauce was on point and AIP!
Mix up all the sauce ingredients in a small bowl and mix with a fork. Dip. Eat. Enjoy.
Keywords: AIP chicken nuggets