Colcannon is an Irish mashed potato dish that's a huge it for Saint Patrick's Day. My husband's family is of Irish decent. I have a lot of beautiful little red headed nieces and nephews and a freckled green eyed son myself. As the resident chef, I thought it would be awesome to make an AIP Colcannon. Not that white potatoes aren't a perfectly healthy food, but this version uses cauliflower, white sweet potato, kale and anti-inflammatory fats. It's a healthy Colcannon that tastes amazing and a way that I can share my husband's heritage with him, while sticking to foods that make me feel good.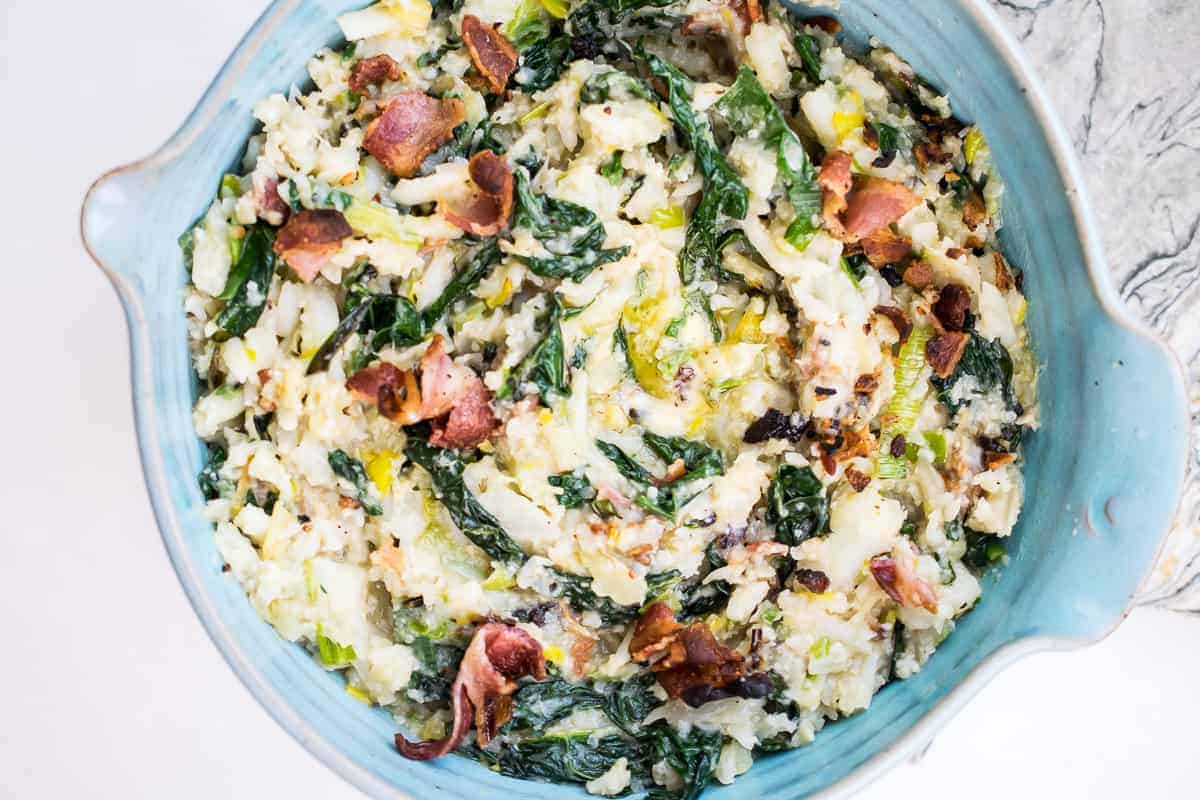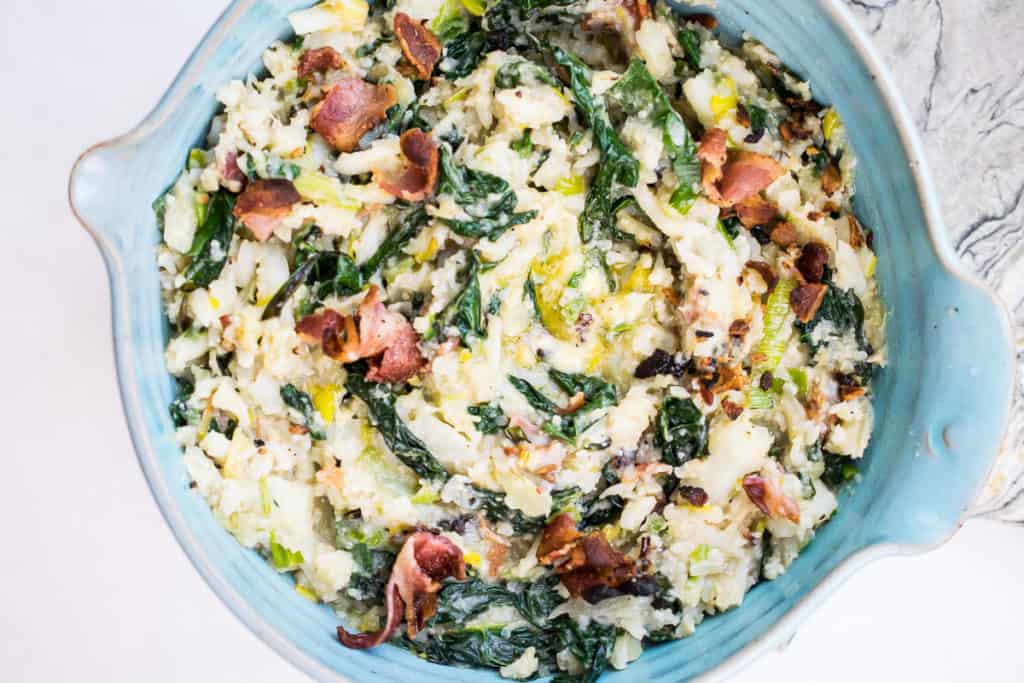 Table of Contents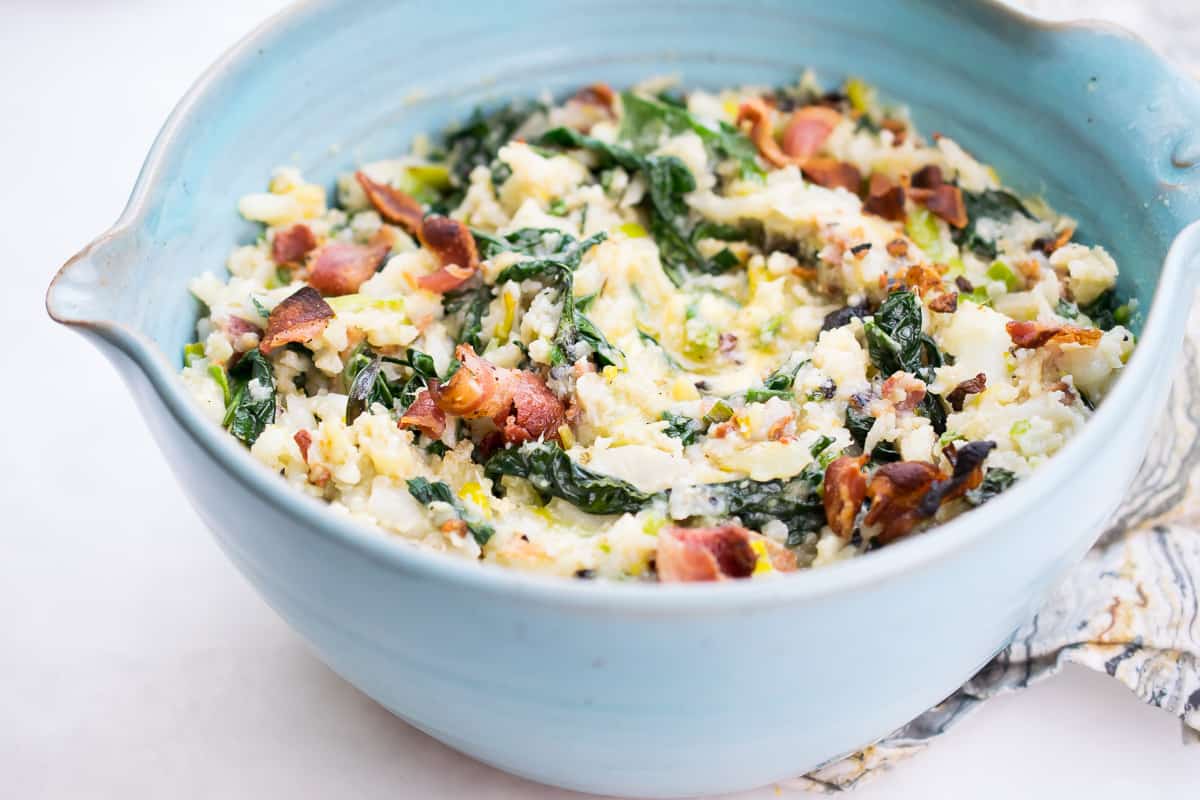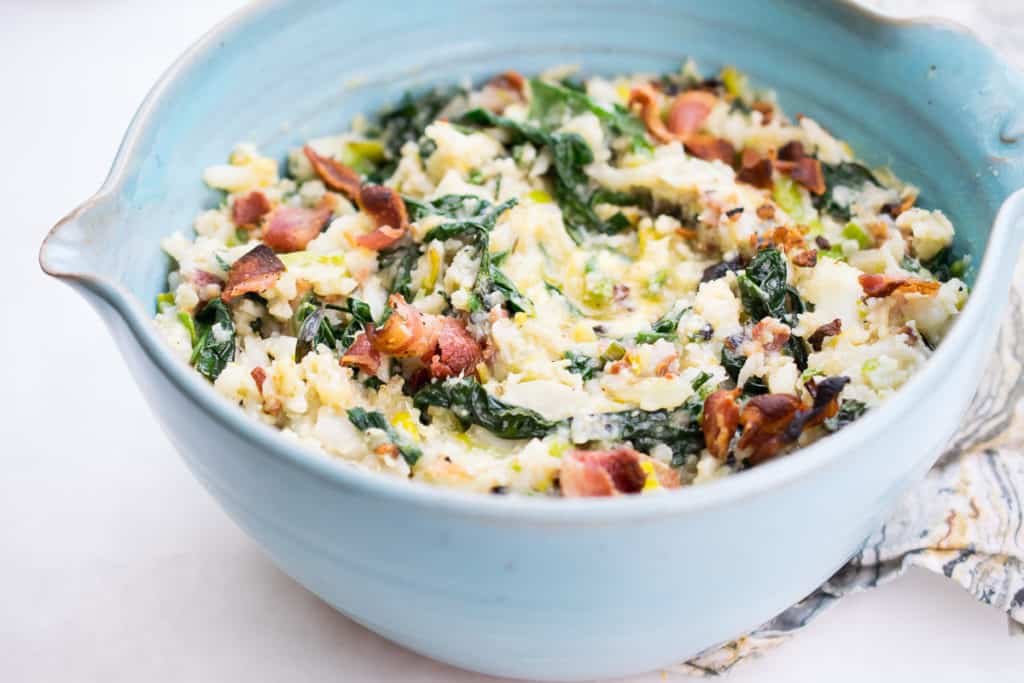 Why Skip the White Potato?
Traditional Colcannon is made with regular white potato, but since they're high inflammatory to my body, along with all other nightshades I made an AIP Colcannon without them. Cauliflower Colcannon is a great substitute for the real thing. I mixed in a little Japanese sweet potato, the white, less sweet one for added creaminess. Went heavy with the added fats and flavor. You're going to love this lower-carb, much healthier, yes absolutely delicious paleo Colcannon.
Cauliflower Colcannon Ingredient Breakdown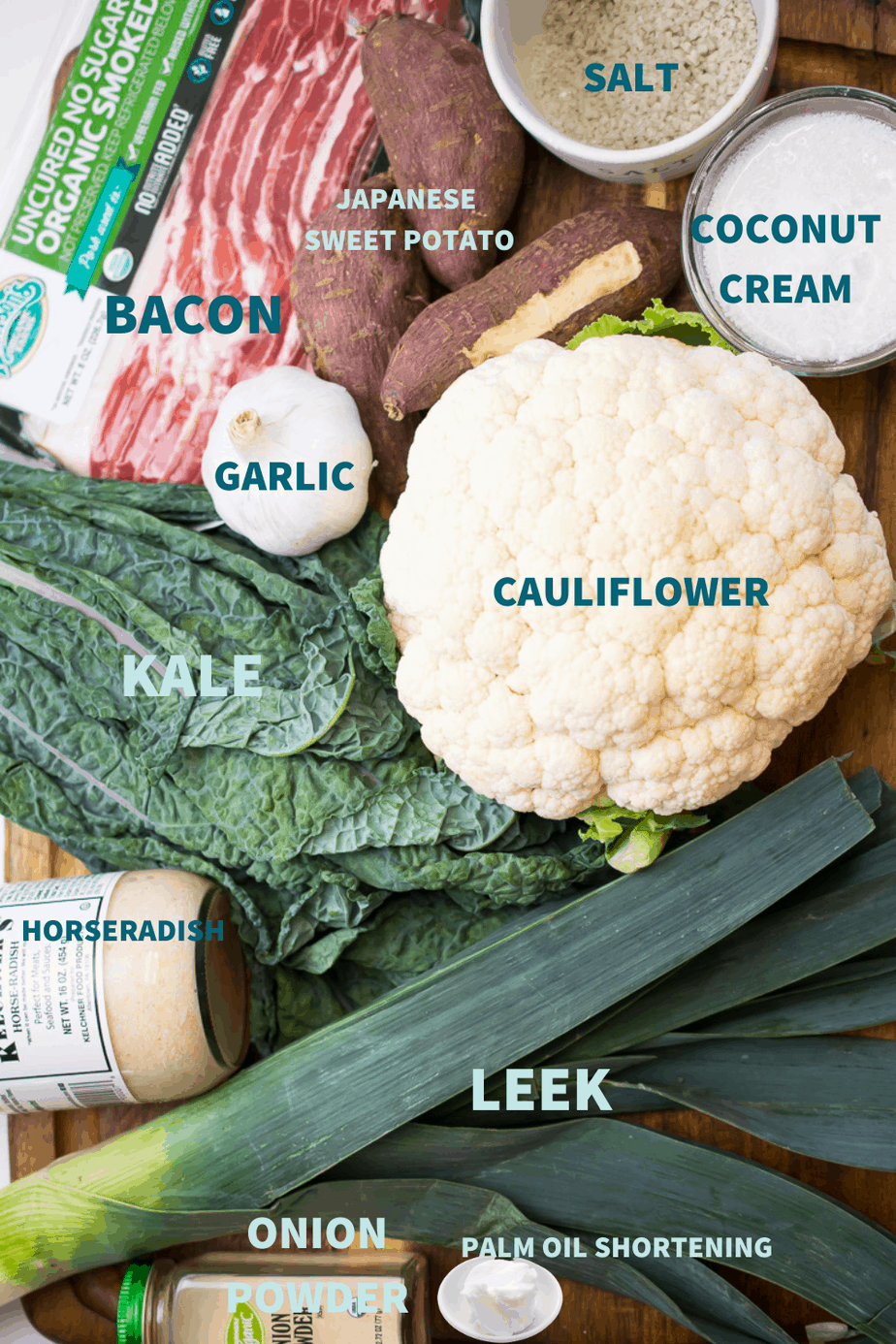 The main ingredient is cauliflower. This versatile cruciferous veggie can really do it all.
Japanese sweet potato is the white brother of regular sweet potato, less sweet, more starchy. Gives this predominately Cauliflower Colcannon that authentic potato feel.
Leeks for color and onion flavor and because they're delicious. Always wash well!
Dino kale, my favorite hearty green, traditional Colcannon often features it too.
Coconut cream instead of heavy cream.
Bacon because it's bacon.
Palm oil shortening instead of ghee or butter to keep it AIP and make it really creamy!
Horseradish gives it a nice kick.
Step by Step Colcannon
Start by peeling potatoes and garlic. Dice everything up. Put in a pot and cover with water.
Add salt and bring to a boil. Once tender, drain the water out and set aside.
Cook all of the bacon until crispy. Reserve the fat.
While the bacon cooks de-stem the kale, cut and clean the leeks. Then sauté in the bacon fat.
Add the coconut cream and palm oil to to the cauliflower and use a whisk to cream.
Mix in the sautéed greens, salt, horseradish, onion powder and some bacon fat if needed.
Add chopped up bacon and serve!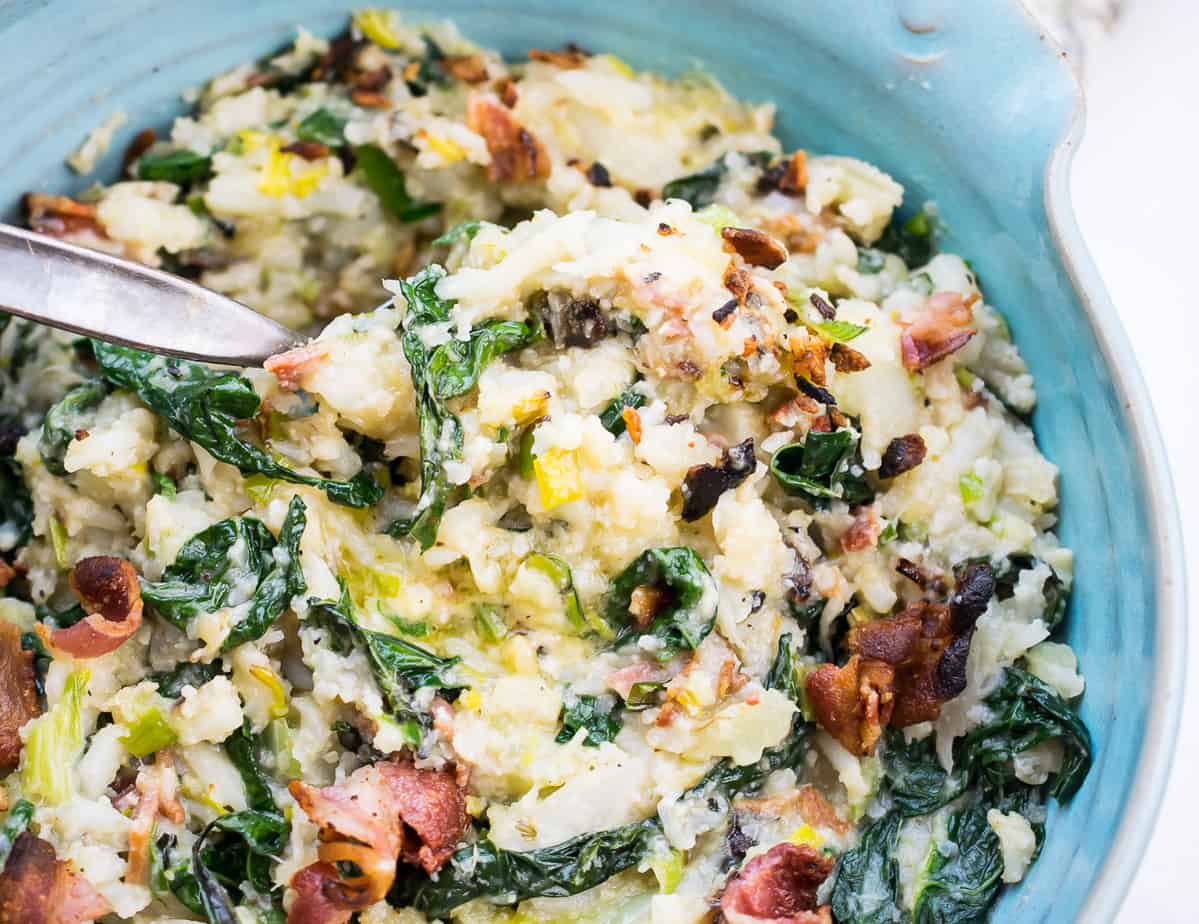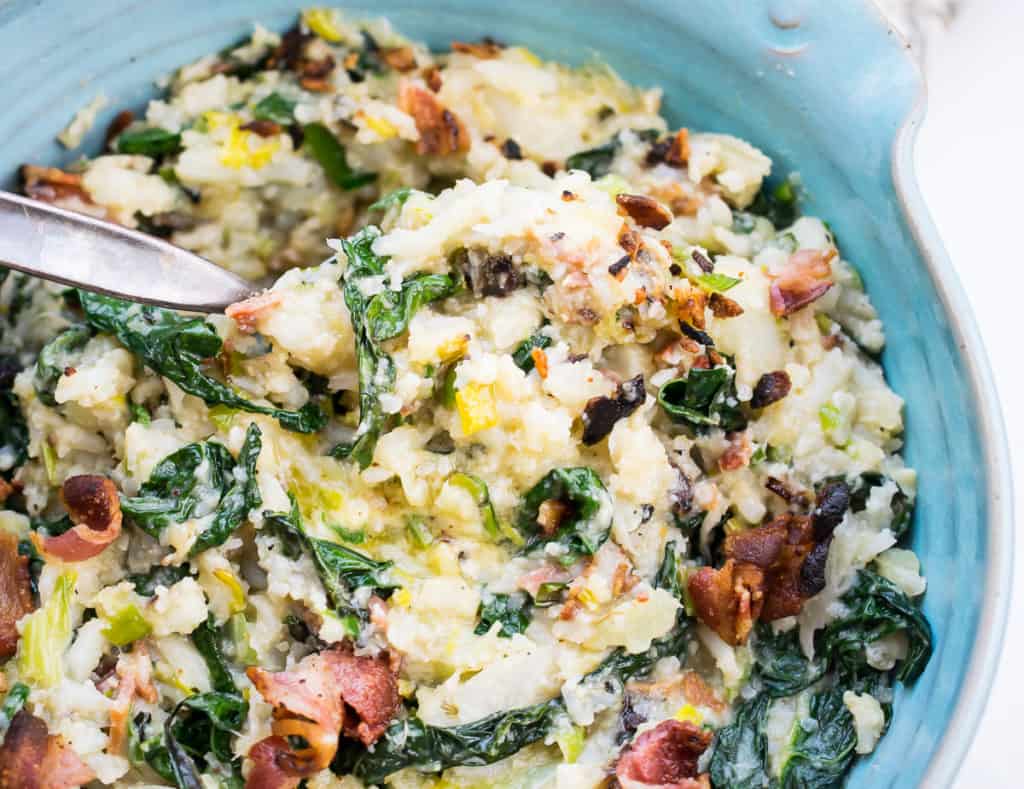 Frequently Asked Questions
Can I skip the Japanese Sweet Potato?
Yes, you can add more cauliflower and more garlic! Reduce the coconut cream a bit.
Can I use cabbage instead of kale?
Absolutely! You can use pretty much any greens you like.
Isn't palm oil bad for the environment?
Yes, it can be. But I purchase Nutiva brand palm products and they're sourcing is ethical, you can read more about it on their site.
Can I use butter or ghee instead of palm shortening?
If you're not doing the autoimmune protocol or allergic to dairy, yes you can definitely use butter or ghee.
Will this be good without the bacon?
It will! Just use more fat to cook the veggies in, since you won't be using the bacon grease.
Does this store well?
It really does. We like it hot and cold! Hot it's like mashed potatoes, cold it's like potato salad. We eat it with AIP BBQ Pulled Pork!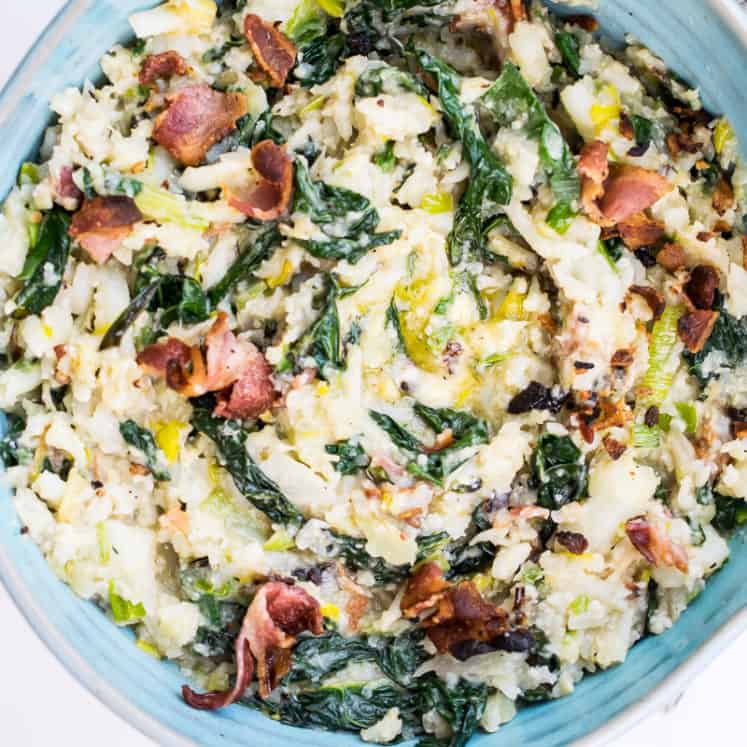 Cauliflower Colcannon (AIP, Low Carb, Paleo)
---
Author:
Prep Time: 15 minutes
Cook Time: 20 minutes
Total Time: 35 minutes
Yield: 8 servings 1x
Category: Side Dish
Method: Stove Top
Cuisine: Irish
Diet: Gluten Free
Description
Celebrate St. Patrick's Day with Cauliflower Colcannon and keep it AIP! Creamy and dreamy this low-carb version hits the spot.
---
Scale
Ingredients
10 ounces Japanese sweet potato (3 small ones)
12 ounces cauliflower (1 large head)
3 cloves garlic
10 ounces bacon (1 pack)
1 bunch dino kale, de-stemmed
1 stalk leek
2 tablespoons palm shortening 
1/2 cup canned full fat coconut cream
1 teaspoon onion powder
2 teaspoons fine salt, more to taste
1 tablespoon grated horseradish
---
Instructions
Peel your sweet potatoes and garlic cloves. Dice the potatoes and cauliflower. Put in a large pot, cover with water, and add 1 teaspoon of salt to the water. Bring to a boil, cover, and cook until tender.
In the meantime, wash your leeks and slice them, wash the kale and destem it, then tear the leaves into chunks.
When the cauliflower is tender, pour everything out into a colander, set it aside.
Put the pot back on the heat and add the bacon to the pot and cook here until crispy. Crumble it up and set it aside. Leave the bacon fat in the pot.
Add the veggies to the pot and saute, stirring often until tender and wilted for about 12 minutes.
Put the cauliflower mix in a large bowl. Add in the coconut cream, salt, onion powder, horseradish, palm shortening, and mix and mash with a whisk.
Add in the sauteed kale and leeks (along with the bacon grease). Keep mixing and mashing until creamy and combined.
Mix in a little bacon and leave the rest to put on top. Take a spoon, taste it, add more salt if needed. Add more palm shortening if it needs to be creamier. Once it's perfect, top with bacon and serve! 
Nutrition
Serving Size: 1/8 recipe
Calories: 164
Fat: 11.3g
Carbohydrates: 11.9g
Fiber: 2.3g
Protein: 5.3g
Keywords: Cauliflower Colcannon