When you're on a healing protocol food can seem restrictive, but AIP Brownies make it a little easier. While AIP omits a lot of things, it's also about what you can add to your diet and these vegan AND AIP Glazed Brownies use top-notch ingredients so you can heal your gut and have a brownie at the same time!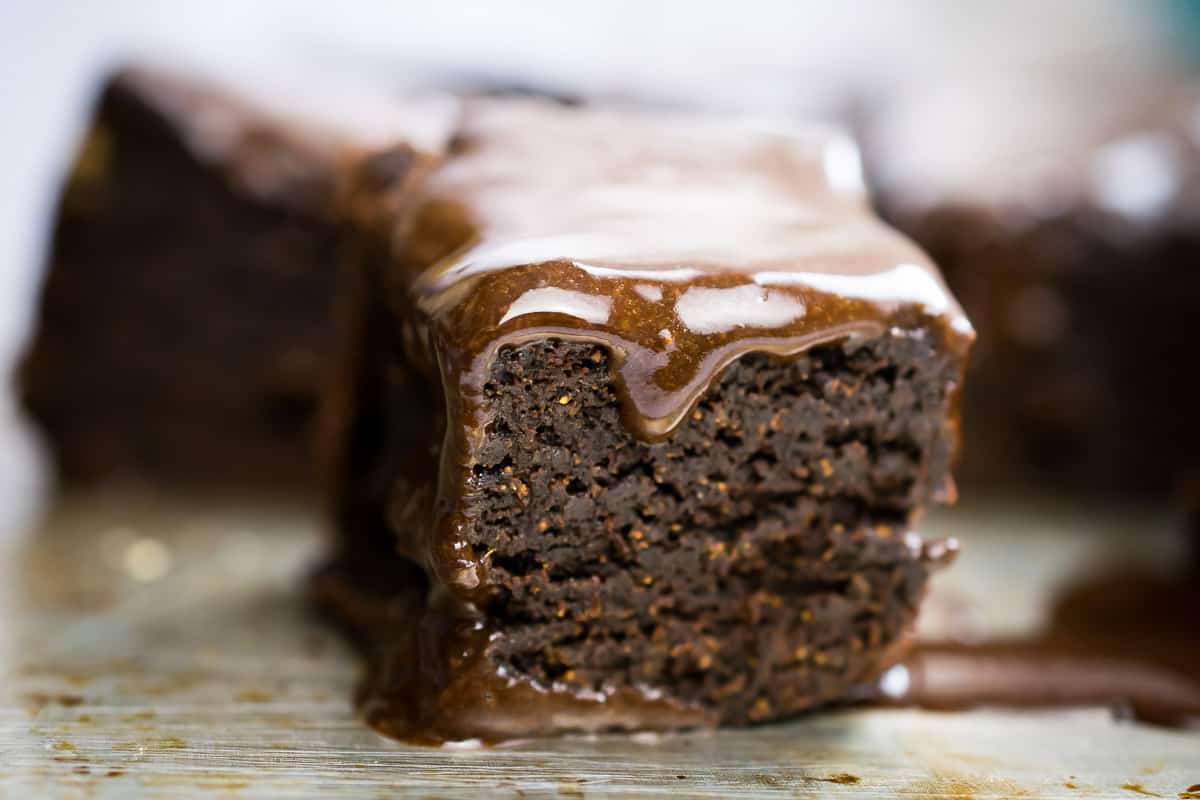 WHY THESE BROWNIES ARE THE BOMB
These AIP allergen-free + vegan brownies are so easy to make and really hit the spot. They are a great intro into AIP baking and they bring some much needed joy into a sometimes monotonous diet pattern. Despite not having any of the typical baked good ingredients and not even having actual chocolate (WHAT?!)- these AIP brownies prepared with a simple glaze are dense, fudgy, and good for you too! We get creative with whole foods to bring together a satisfying and delectable dessert. If you are wanting a single serving style treat, this recipe is a bigger version of my AIP Brownie Mug Cake!
ALLERGEN FREE BROWNIES: INGREDIENTS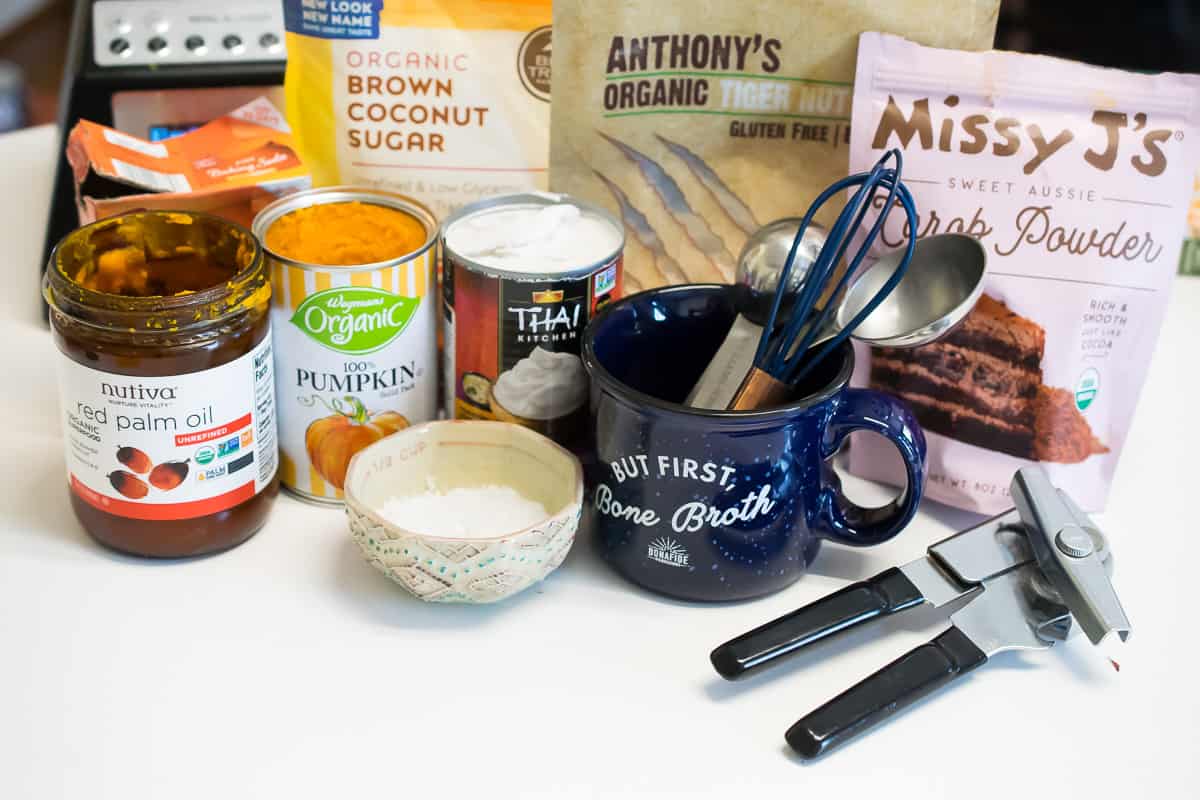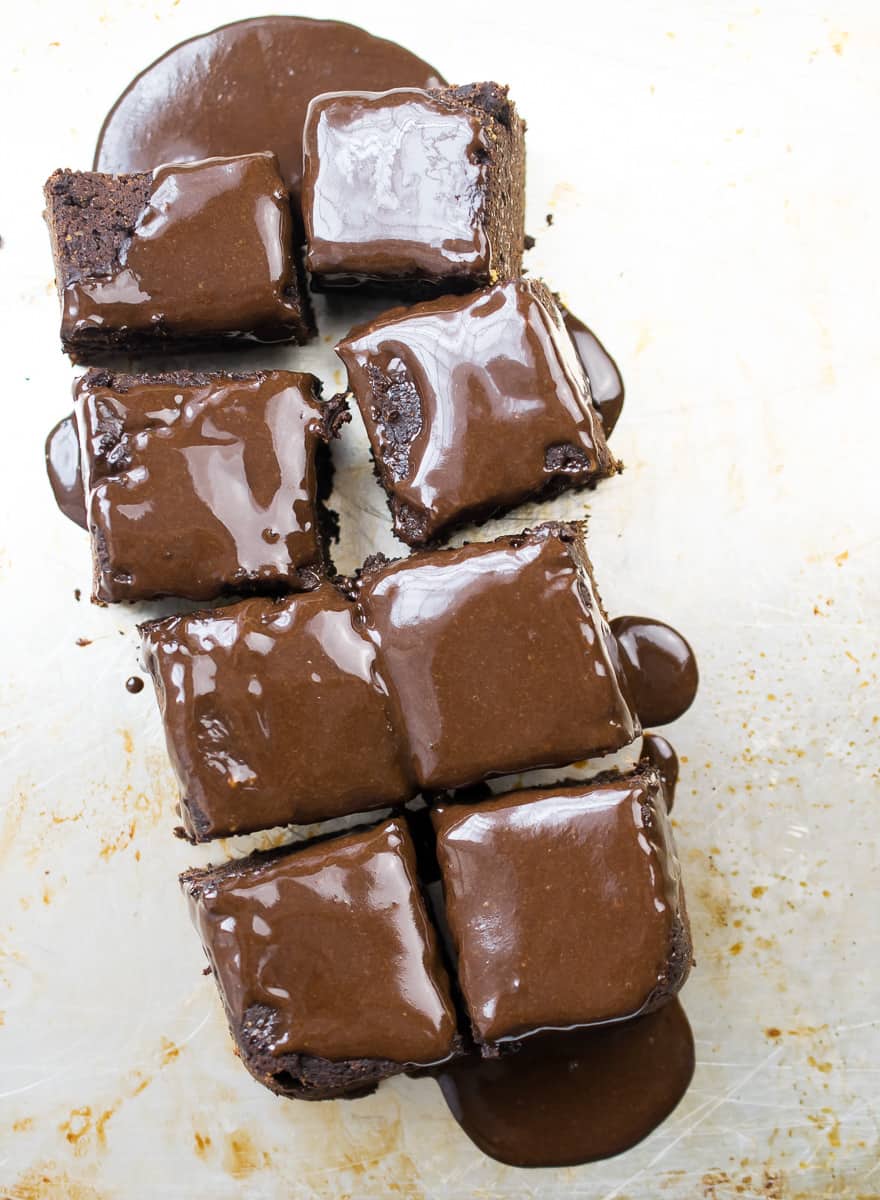 STEP BY STEP AIP GLAZED BROWNIES
To make your AIP Glazed Brownies, start with the pumpkin puree, the oil, and the coconut sugar. Mix well then add in the flour, baking powder, carob powder, and salt. Mix until you've got a thick batter/dough consistency.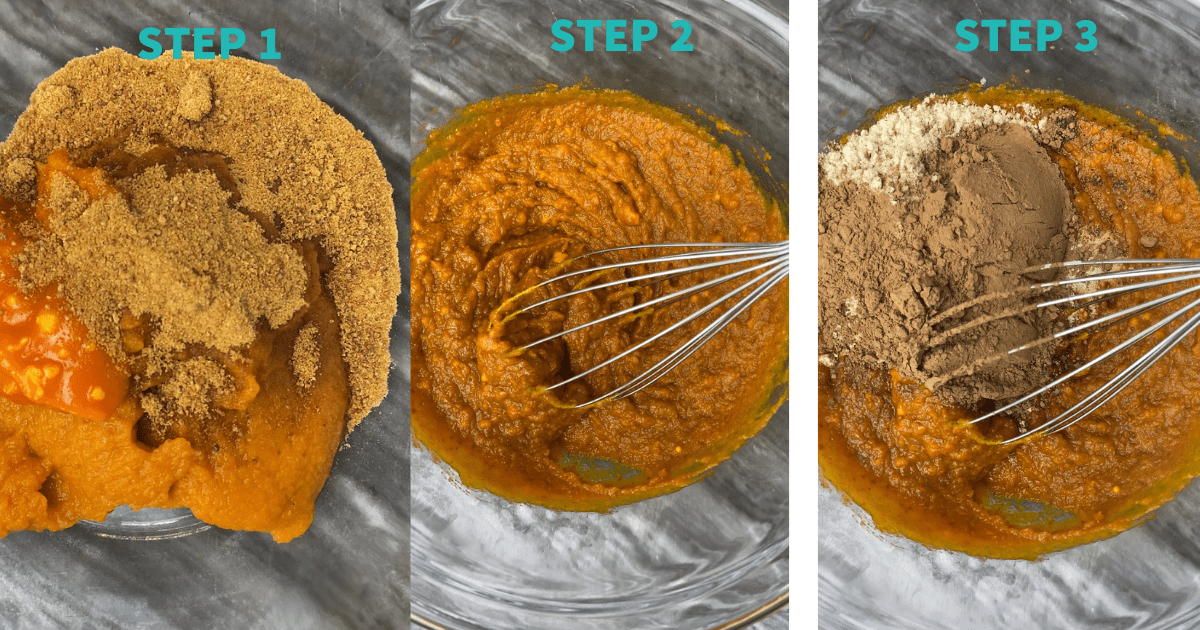 Mix your vegan brownie batter well until it looks thick and dark brown. It should be VERY thick! Use a spatula to transfer to a lined loaf pan and spread it flat. Bake until set. It will firm up more as it cools.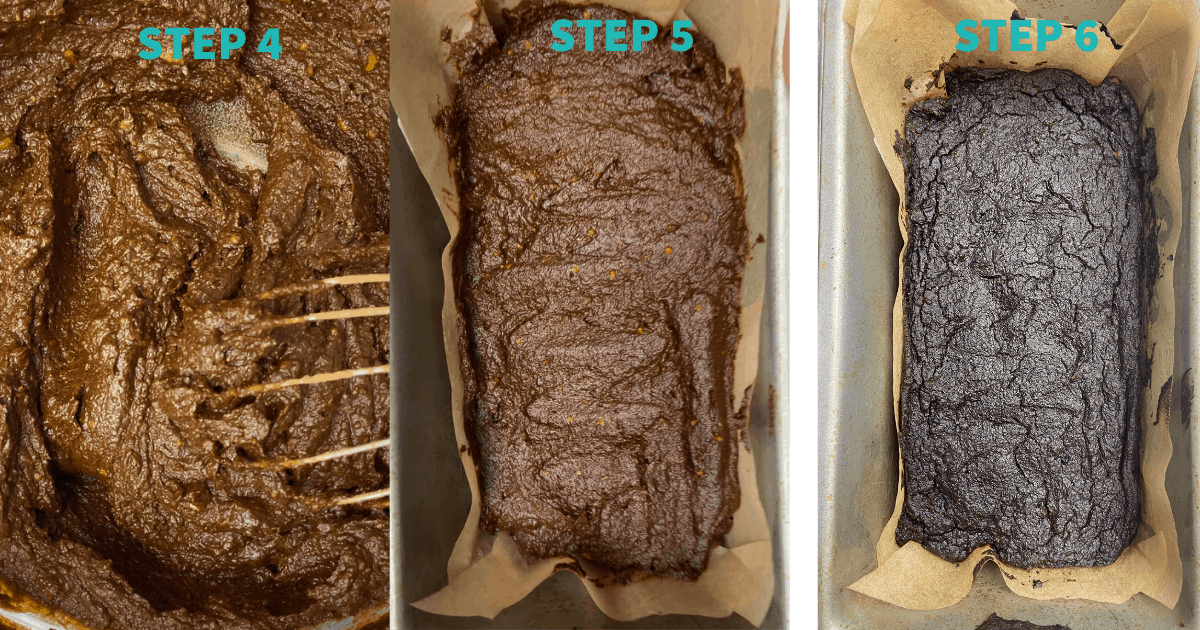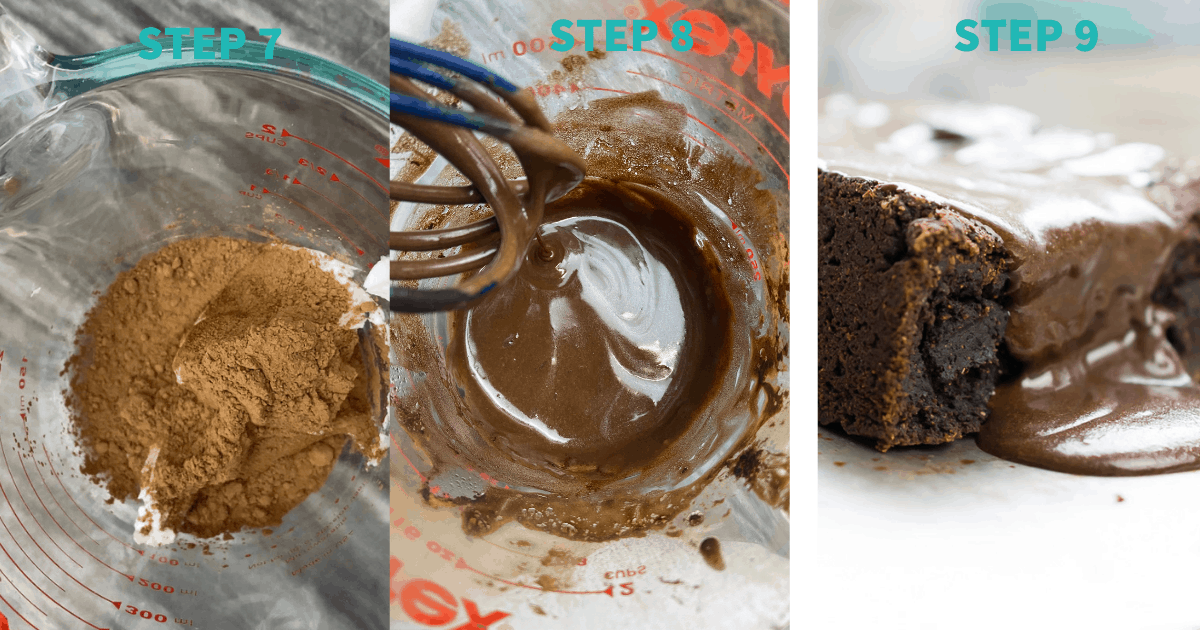 Once your AIP brownies are cooled, make the super-easy AIP glaze; it's as easy and mixing the carob powder and coconut cream together. It will melt on the hot brownies and then cool and thicken like a creamy ganache.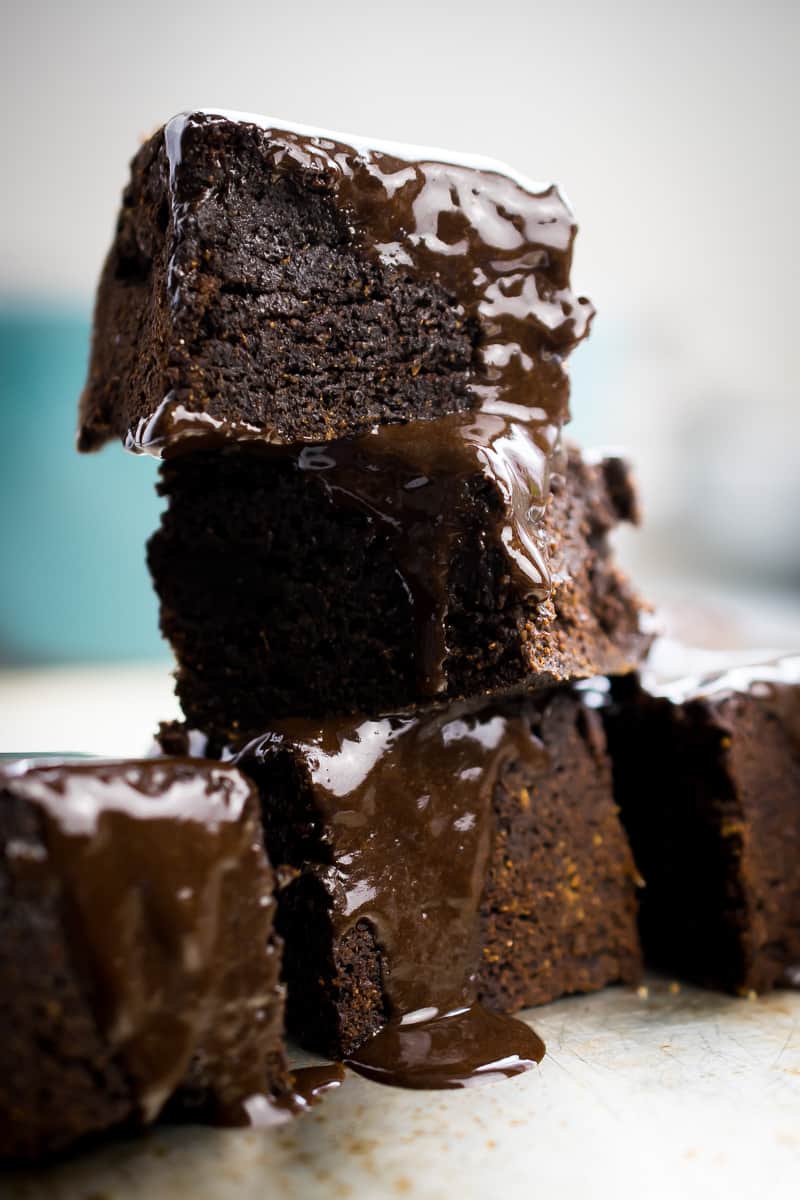 AIP BAKING TIPS
You need to know your flours! Each grain-free flour has its own characteristics. I prefer using flours that are lower in starch because I find them easier to digest. In this recipe we're using tiger nut flour, it's got a 50/50 starch and fiber content, so it's not as absorbent as coconut flour, but not as starchy as cassava.
Egg substitute! Apple sauce, bananas, pumpkin puree, or gelatin egg. For this recipe, we're using pumpkin puree. you have to think about how your binder behaves when it's heated!
Something to make it rise a bit, AIP baked goods are notoriously dense. While density might be a good thing for AIP Glazed Brownies, you don't want to feel like you're eating a brick. If the recipe has an acidic component then using baking soda will do. Without an acidic component, you need to use AIP Baking Powder, which is easy to make at home!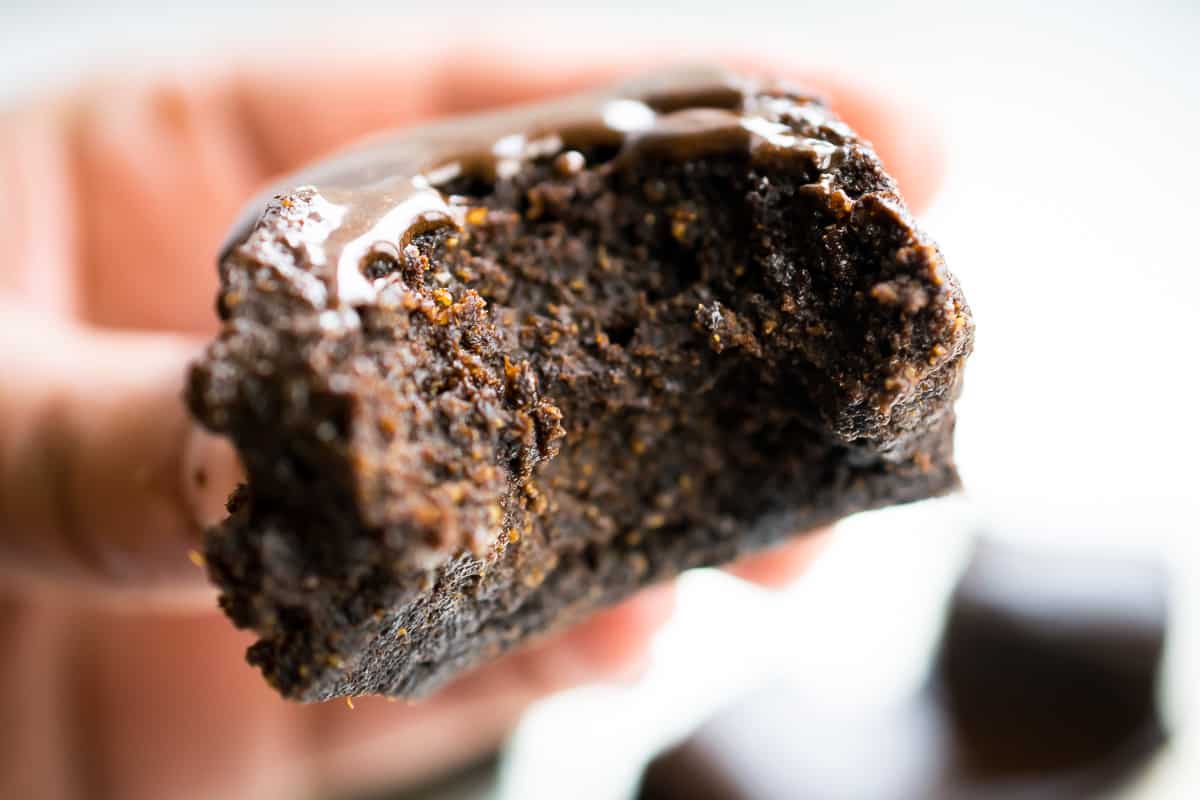 FAQ
Can I use coconut flour instead?
Yes, but start with 1 scant tbsp. Mix the mug cake batter. If it's thin add in a little more. If it's too thick add in a little water. Flour absorbencies vary from brand to brand. Use the step-by-step process shots to guide you in the texture.
Can I use cassava flour?
I haven't tested that yet. But I think it might make it gummy. Sweet potato flour will work better.
If I'm not AIP can I use cacao or cocoa powder?
Absolutely, but carob is much sweeter than cacao. If using cacao add an extra tsp of sweetener.
I can't do pumpkin what else can I use?
Mashed banana would be the best replacement.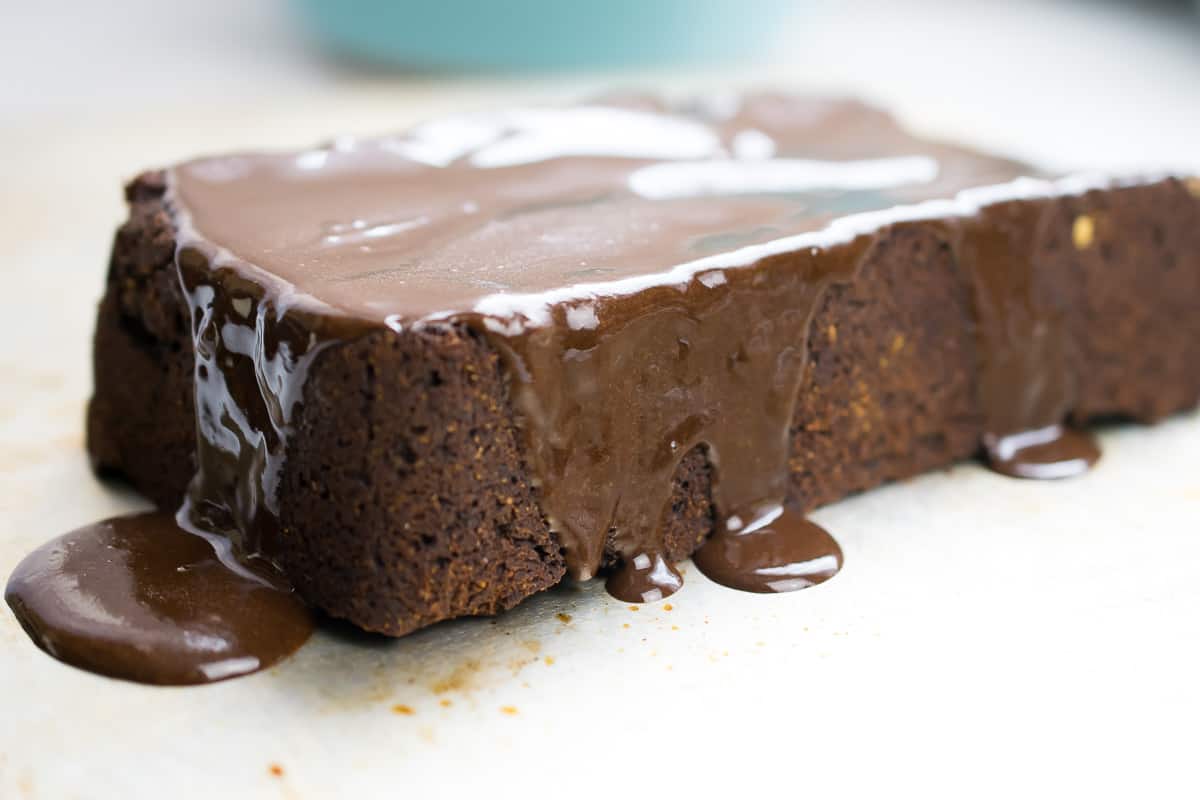 CHECK OUT MY OTHER BROWNIES: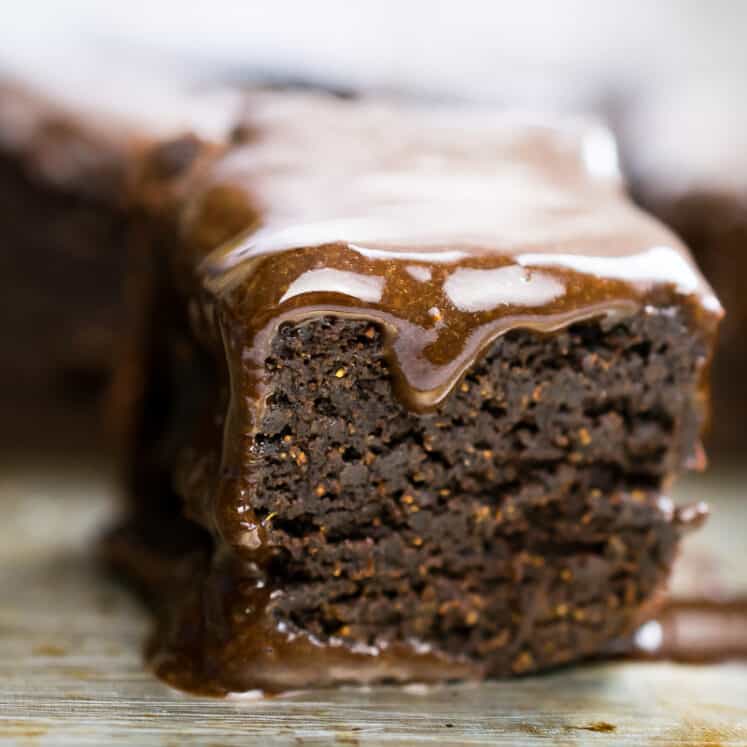 AIP Glazed Brownies (nut free, egg free, dairy free)
---
Author: Cristina Curp, FNTP
Prep Time: 10 minutes
Cook Time: 25 minutes
Total Time: 35 minutes
Yield: 8 1x
Category: Dessert
Method: Baking
Cuisine: AIP
Diet: Gluten Free
Description
A delicious and decadent treat that's free of all major allergens! AIP Brownie with "Chocolate" Glaze
---
Scale
Ingredients
3/4 cup pumpkin puree
1/4 cup palm oil or coconut oil
1/4 cup coconut palm sugar
1/4 teaspoons salt
1 teaspoon AIP baking powder 
1/4 cup tiger nut flour + 1 tablespoon
1/4 cup carob powder + 1 tablespoon
1/4 teaspoon vanilla bean scrappings (optional)
For the Glaze
1/4 cup coconut cream
2 tablespoon carob powder
1/4 teaspoon vanilla bean scraping (optional)
---
Instructions
Preheat the oven to 350F. Line a loaf pan with parchment paper.
Combine the pumpkin puree, oil, and coconut sugar in a small bowl and mix well.
Add in the salt, baking powder, tiger nut flour, and carob powder. Mix until well combined and very thick.
Transfer to the loaf pan and spread out. Use a spatula to clean up the sides and smooth the top.
Bake for 30 to 35 minutes. The edges will feel firm, there will be some cracking on the top. The center might feel a little soft, but it will firm up as you let it cool.
Mix together the glaze ingredients. It will be thick like a cream, but as you spread it on the warm brownies it will melt, then when it cools it will thicken like a glaze or ganache.
Remove from the oven and let it cool for 15 minutes before unmolding.  While they're still warm apply the glaze. Let it sit until the glaze cools over the brownies, then cut into 8 pieces. 
Store in the fridge for up to 5 days. The brownie will harden in the fridge and get the consistency of fudge, so you will want to warm it up a bit or let it come to room temperature before enjoying it.
Delicious served with a glass of tiger nut milk! 
Recipe Notes:
The key to these it making sure your brownie mix is nice and thick before it goes in the oven, give it a taste before baking, and you can tweak the flavor to your liking, more sweetener or more carob etc.
Read the blog post for extra information on AIP baking.
Nutrition
Serving Size: 1 square
Calories: 157
Fat: 14.2g
Carbohydrates: 13.1g
Fiber: 4g
Protein: 1.2g