If you look around this food blog, you might notice some things missing. Maybe you won't, I'll give you a hint: NIGHTSHADES. When I did the Autoimmune Protocol I discovered that eating nightshades caused inflammation in my body. Not only inflammation but a full-on autoimmune flare. Symptoms vary, swollen gums, swollen joints, boils, fatigue, nausea, and more. So I cook, I write cookbooks and I create delicious amazing meals without nightshades and I don't miss them.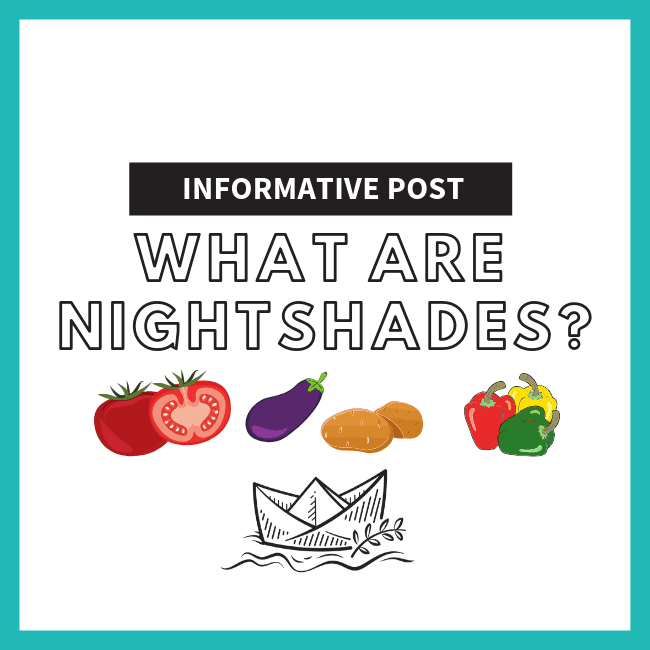 Before I teach you how to cook without nightshades, let's go over two things:
WHAT ARE NIGHTSHADES?
WHO SHOULD NOT EAT THEM? (SPOILER: THE ANSWER IS NOT EVERYONE)
Nightshades Are Plants Belong to the Solanaceae Family
There are over 2,000 nightshades in the plant kingdom, and some are deadly like belladonna. However, there are many which we eat on a regular basis. Yup, nutrient-dense vegetables like tomatoes, potatoes, eggplant, and all variations of peppers.
All plants have anti-nutrients (lectins, solanine, saponin, gluten, tannins, oxalates, phytic acid). It's the plant's protective mechanism so they don't get eaten. In recent years terms like oxalates, lectins, etc have become really popular. Well, those are anti-nutrients found in all vegetables, nuts, seeds, grains, legumes, and more.
Nightshades tend to be higher in solanine and lectin anti-nutrients. Peppers are high in capsaicin, which makes them spicy and in the wild protects them from being eaten by animals. Nicotine is also present in some nightshades. While these anti-nutrients and alkaloids can be deadly to bugs and critters, they should be safe for humans. However, in some people, these antinutrients cause damage to the gut lining and flora. (1, 2)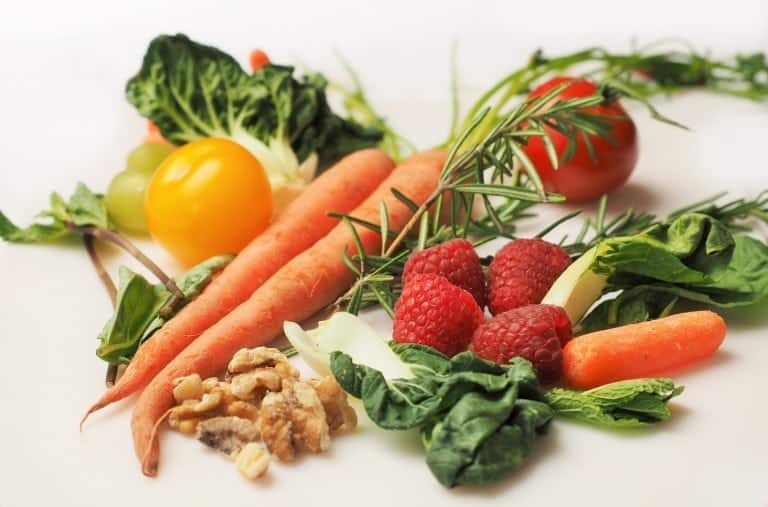 "The gastrointestinal tract consists of an enormous surface area that is optimized to efficiently absorb nutrients, water, and electrolytes from food. At the same time, it needs to provide a tight barrier against the ingress of harmful substances and protect against a reaction to omnipresent harmless compounds. A dysfunctional intestinal barrier is associated with various diseases and disorders." (source)
"The observation that Solanaceae spices (paprika, cayenne pepper) increase permeability for ions and macromolecules might be of pathophysiological importance, particularly with respect to food allergy and intolerance."

"Our results demonstrate that consumption of potato skins containing glycoalkaloids can significantly aggravate intestinal inflammation in predisposed individuals." (source)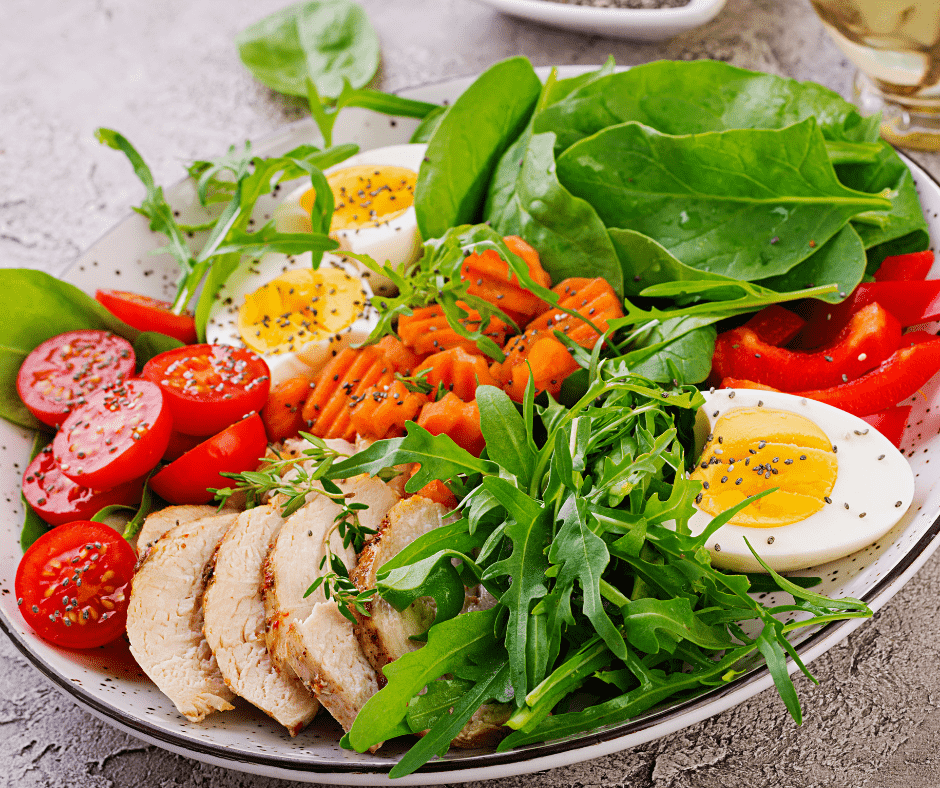 List of Edible Nightshades
Bell peppers, Hot Peppers, Jalapeño, Serrano, etc
Any spice extractives made from peppers like: red pepper flakes, cayenne, paprika, ancho chili, taco seasoning etc
Tomatoes, tomatillos
Eggplant
Potatoes (red skin, white, Idaho, blue potatoes etc. Not sweet potatoes)
Tobacco
Goji Berries aka Wolf Berries
Ashwagandha
Cape gooseberries
Modified food starch (usually has potato starch)
"Spices" when listed in sausage or packaged foods often have nightshades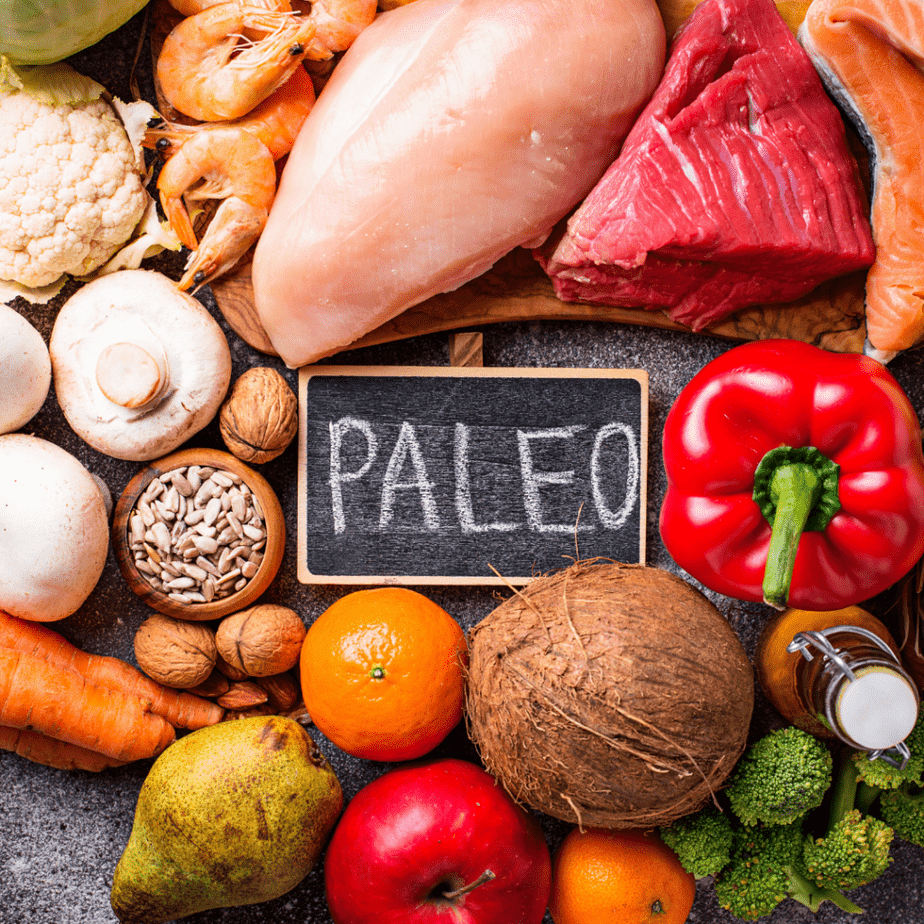 Who Should Avoid These?
If you have an autoimmune disease and suffer from a lot of inflammation despite eating a whole foods diet.
If you react to nightshades.
If you have Hidradenitis Suppurativa.
If you have a lot of joint pain or swelling.
Have you done paleo and Whole30 or keto and still felt sick? Tired? Swollen? Ance?
Try omitting nightshades for 30-60 days. Then add them back in and see if you feel different.
If you suffer from chronic inflammation your omega3 to 6 ratios are important, and you can read more in this sardine cake post. Get My NIGHTSHADE FREE COOKBOOK!
Simple Nightshade Free Swaps: printable image!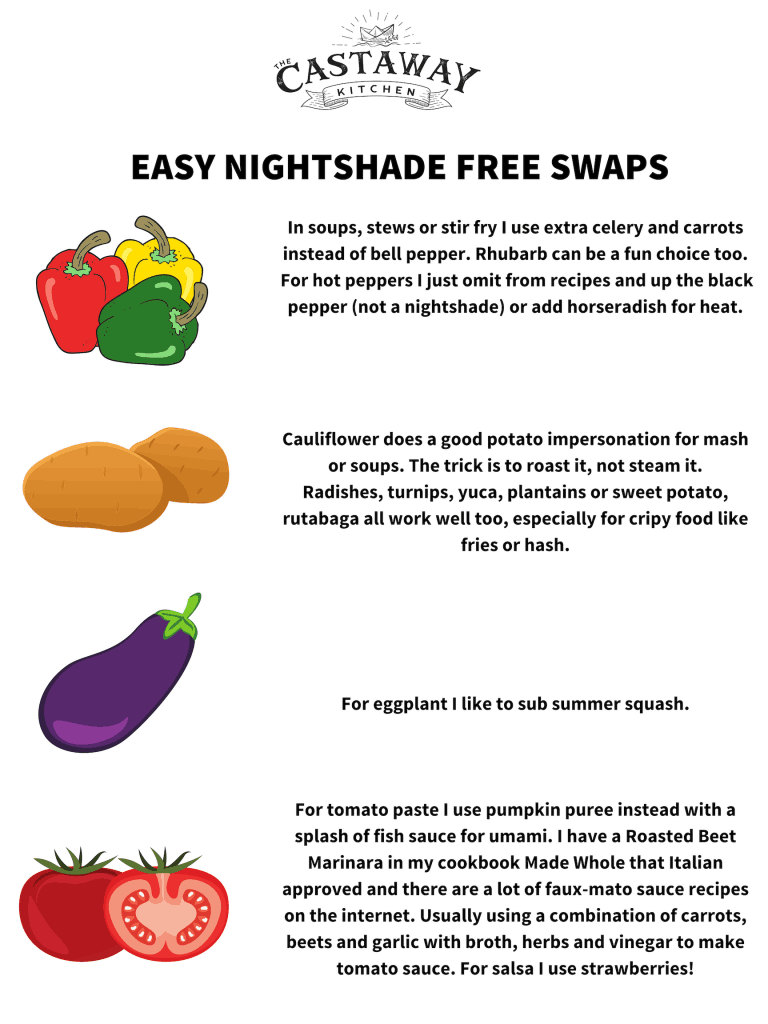 SHOP NIGHTSHADE FREE PRODUCTS
Nigthshade Free Recipes