A good tomato-free marinara is hard to come by. I know, I've tried many. Some nomato recipes are just too complicated, others are too sweet. I wanted something legit. When I had to give up nightshades for health reasons six years ago, the loss of tomatoes in my life was big. I set out to make a really, really good tomato-free marinara. This recipe is well-loved in my best selling cookbook Made Whole.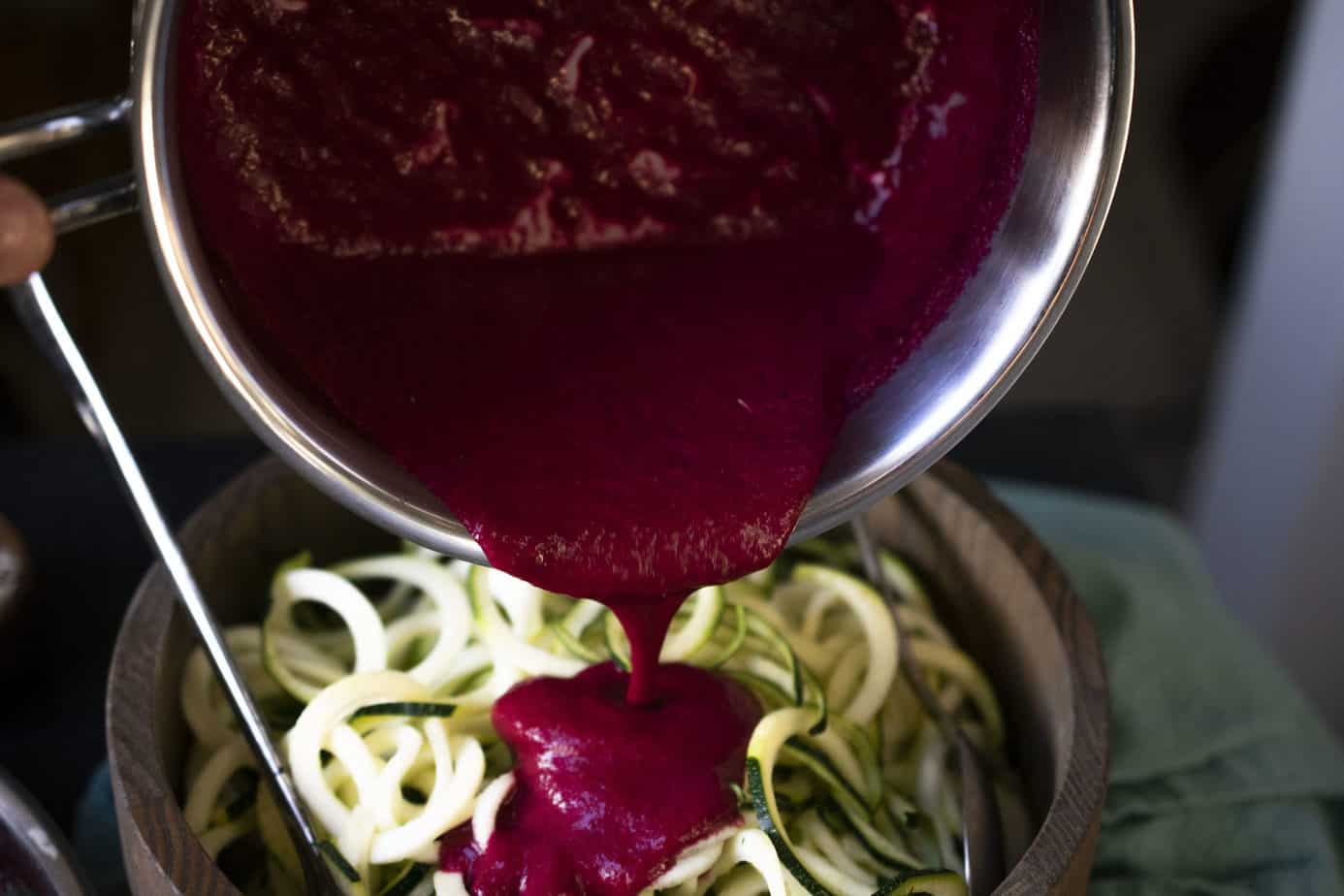 Table of Contents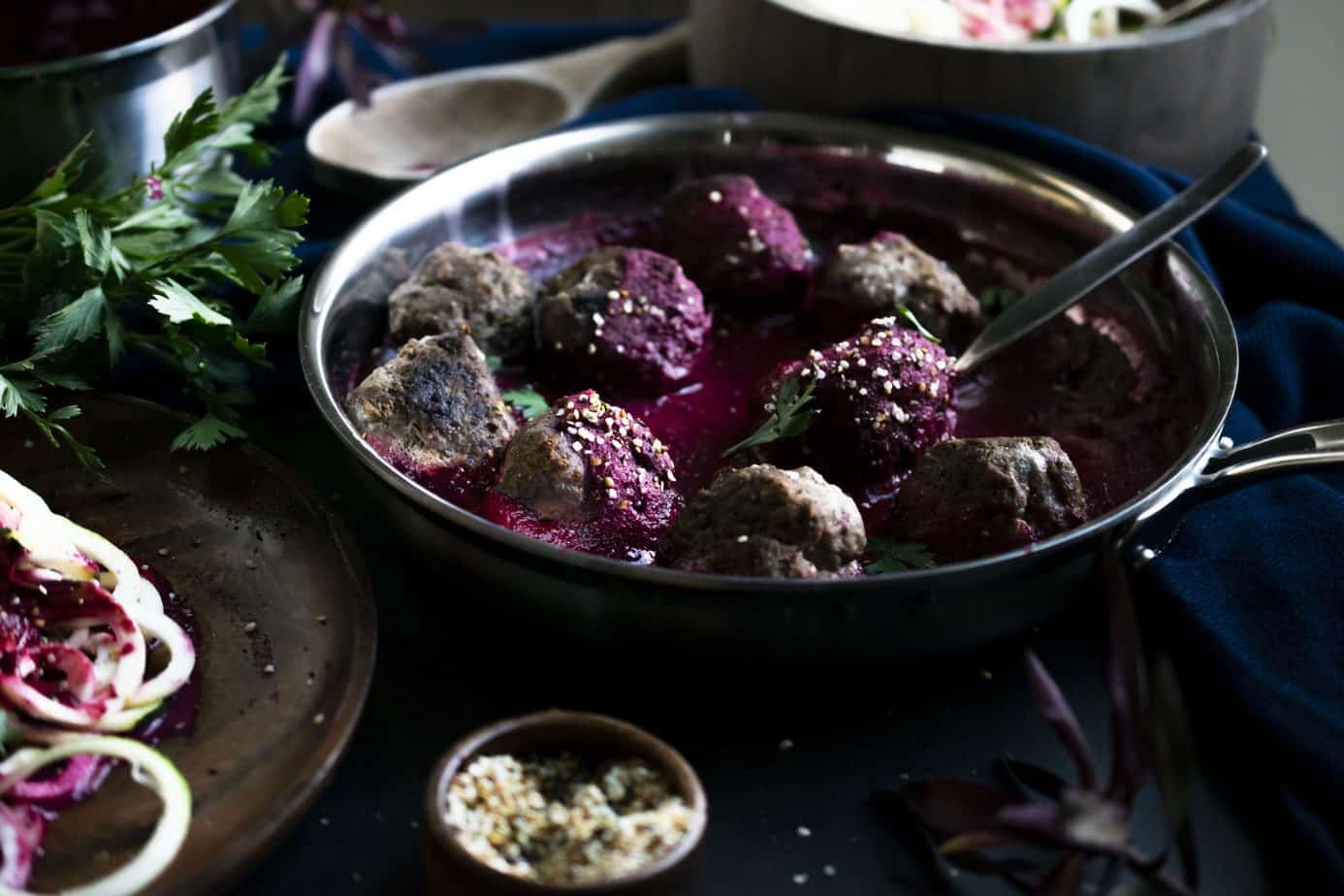 Why Publish a Book Recipe Here?
I'm posting it to the blog today because I want to give some older recipe posts a makeover. Like my Nightshade Free Shakshuka and my Pulled Pork Recipe, both require a tomato-free marinara or nomato sauce for short. Instead of having you go out and find one, I thought it was time to bless the blog with one. Why reinvent the wheel, when the perfect Roasted Beet Marinara is in my book Made Whole. A tried and true recipe that people absolutely ADORE!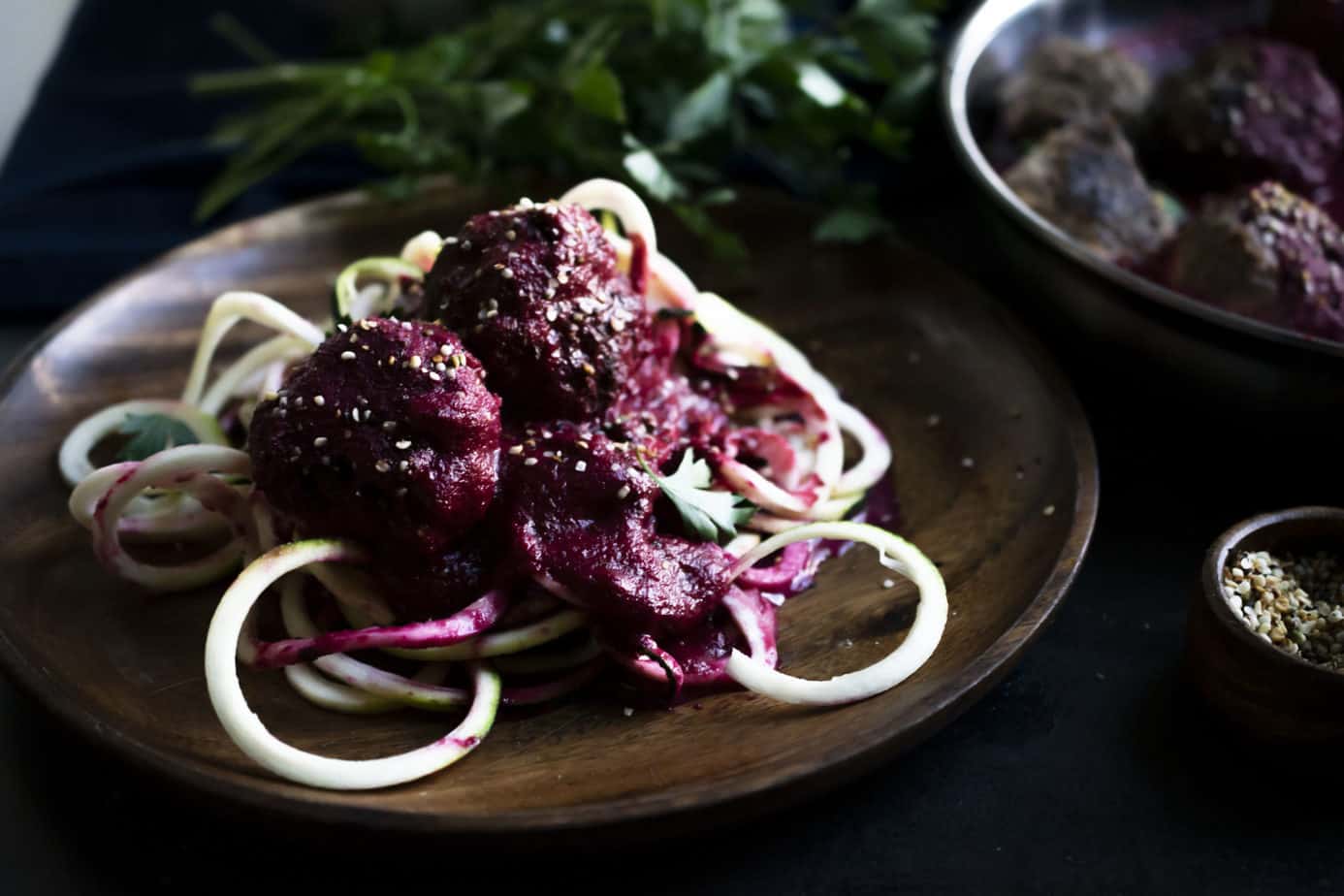 But Beets Taste like Dirt!
First off beets only taste like dirt when they are old, not peeled, or not cooked right. Secondly, this sauce doesn't even taste like beets. So no matter if you like beets or not, if you like marinara, you will like this sauce!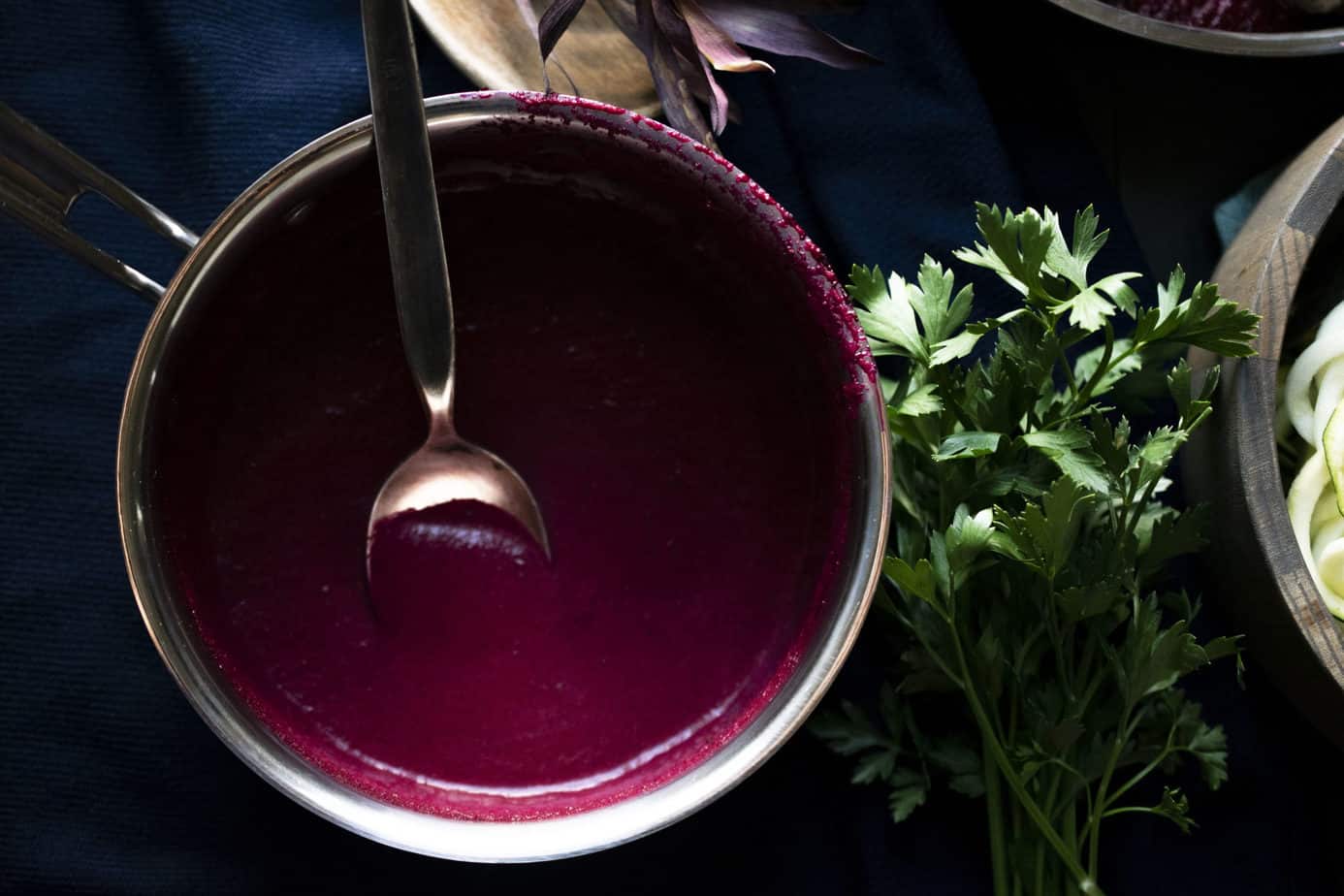 Ingredients and Tools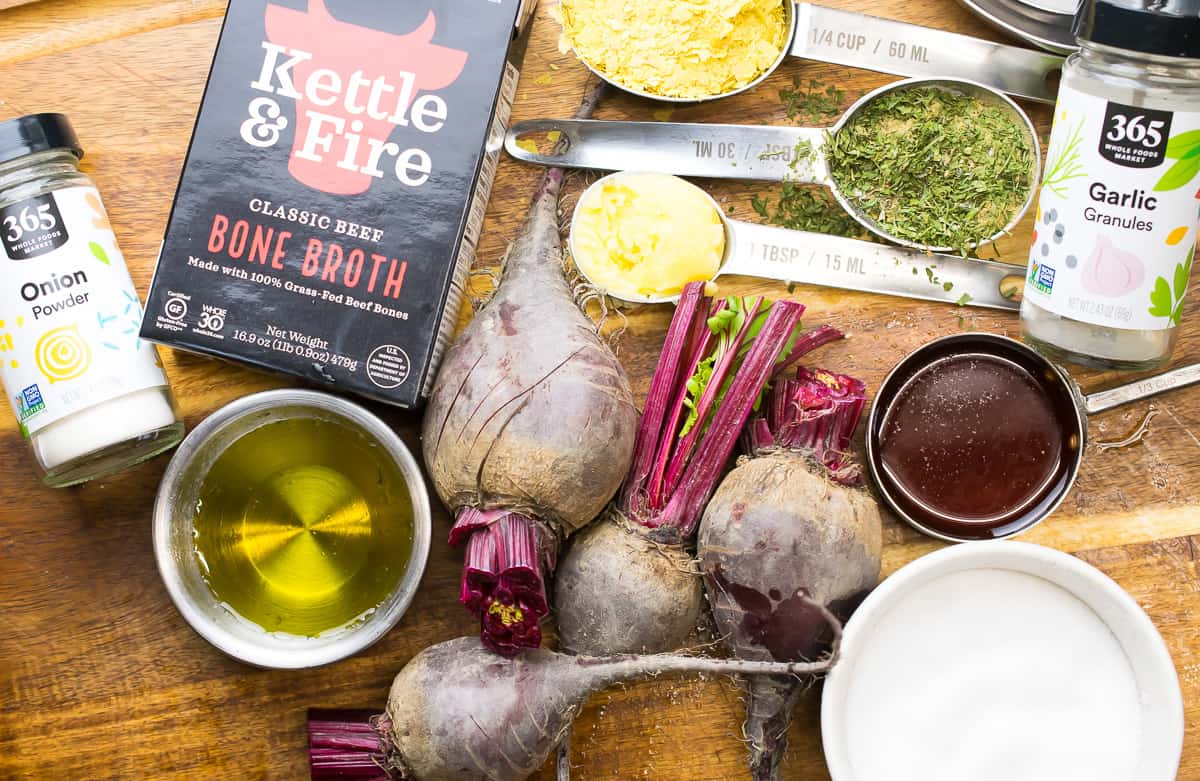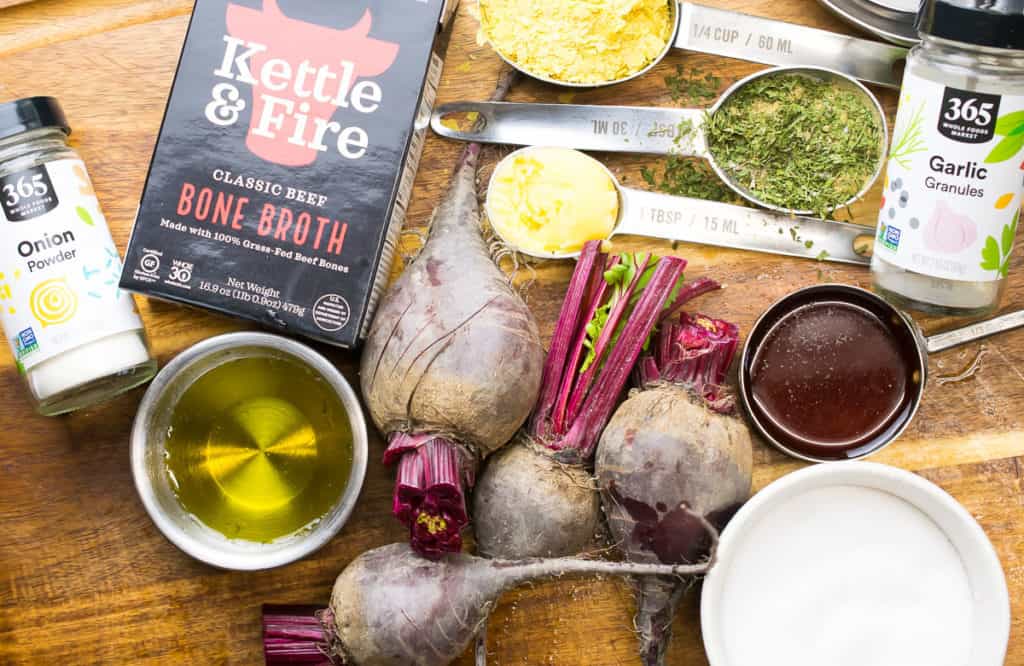 To make this super easy and super delicious beet-based Tomato Free Marinara you will need:
red beets, about 2 medium (or 1 pound)
lard or duck fat (ghee if you can tolerate it)
red wine vinegar (white wine vinegar will work too)
bone broth (I like Kettle and Fire– code CASTAWAY for 25%off)
nutritional yeast (Frontier coop has a non-fortified)
olive oil
garlic powder, onion powder, and optional black pepper (omit for AIP)
Tools:
Sheet pan
cutting board
knife
blender
Step by Step for Tomato Free Marinara
Let's get cooking! you're going to love using this Tomato Free Marinara for your meatballs and noodles, for dunking, and making soups!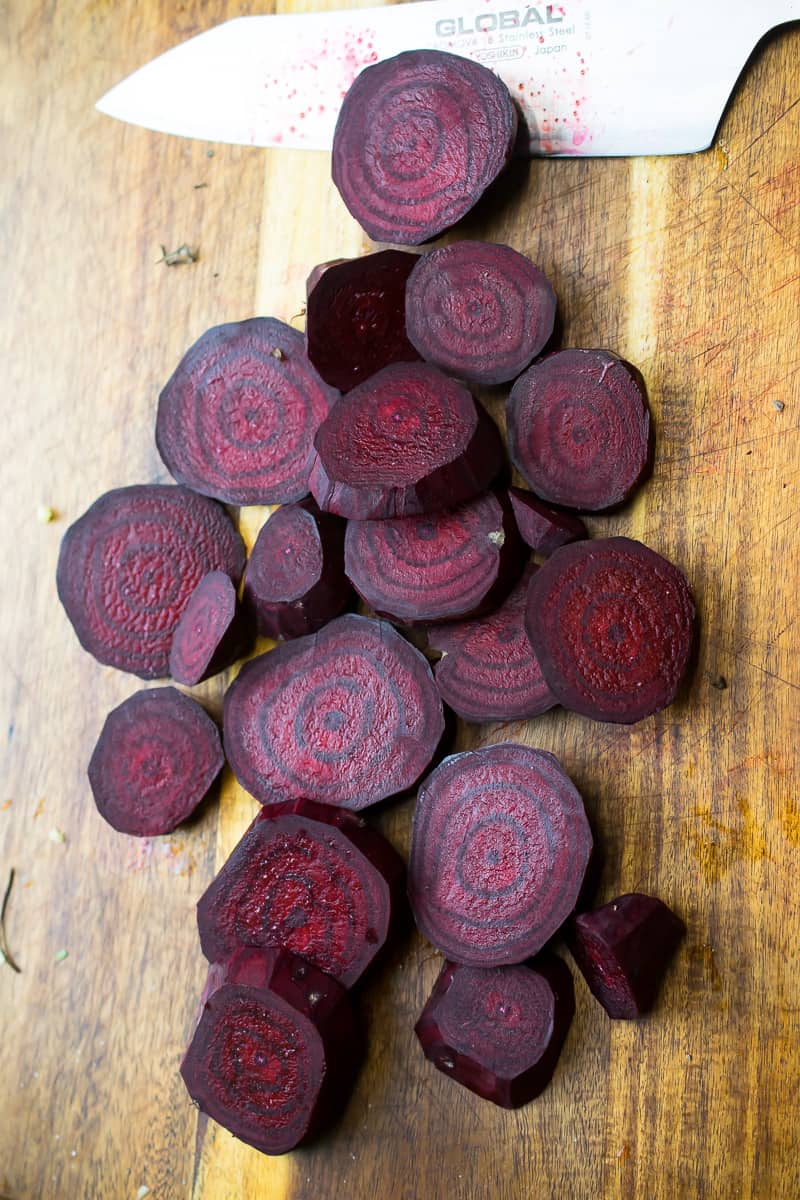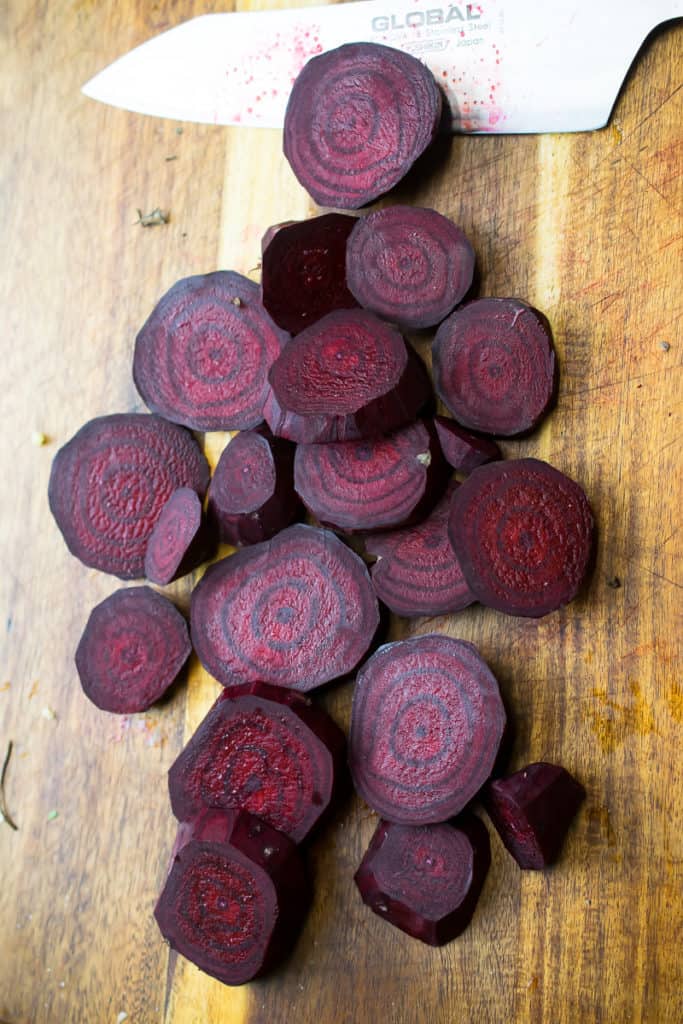 Frequently Asked Questions
Can I use butter or ghee?
Yes! I won't be AIP compliant, but those fats will work well. Not coconut oil though, it will skew the flavor.
Can I use another type of vinegar?
Yes, as long as it's some that has a little sweetness to it.
What can I use in place of nutritional yeast?
Fish sauce! 1 tablespoon.
Can you freeze it?
Yes! Freeze it in cubes and pop them in a sauce pot to thaw and heat.
What should I use it for?
Soups, pizza, pasta! Anything you would use regular marinara for!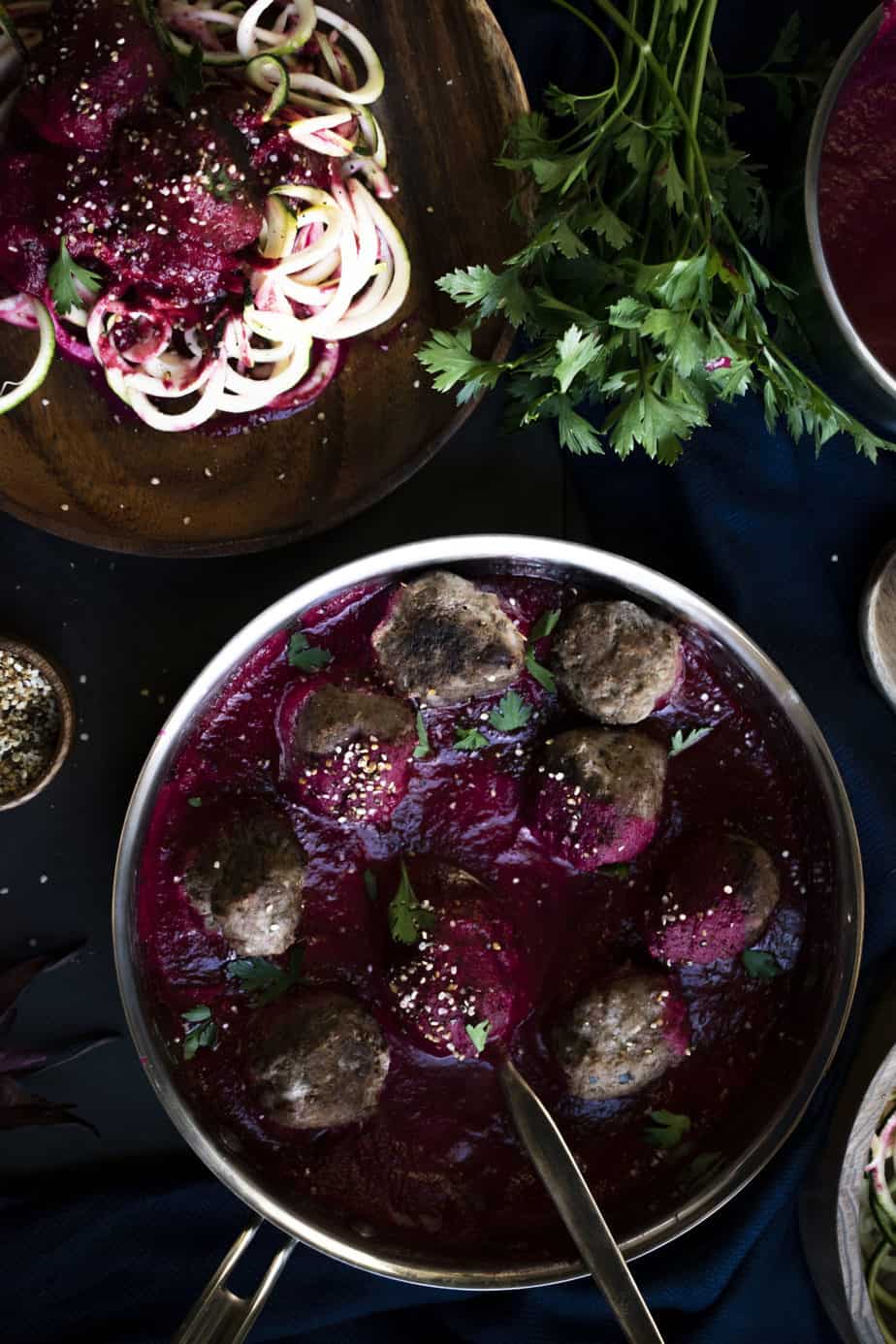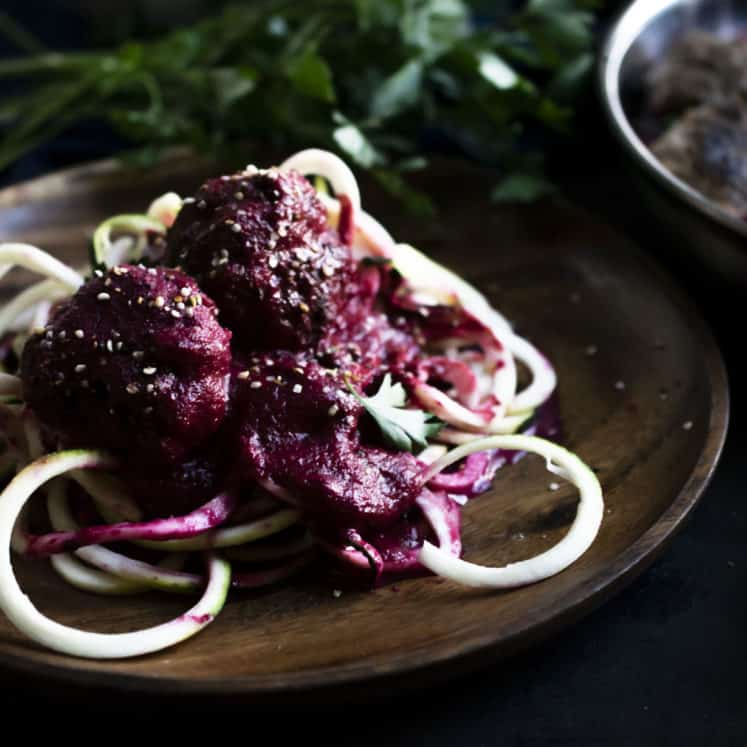 Tomato Free Marinara (Roasted Beet Nomato)
---
Author: Cristina Curp
Prep Time: 10
Cook Time: 30
Total Time: 40 minutes
Yield: 4 cups 1x
Category: sauce
Method: roast
Cuisine: Italian
Diet: Gluten Free
Description
An incredibly convincing marinara sauce made without nightshades. Tomato free marinara safe for those on the autoimmune protocol.
---
Scale
Ingredients
2 medium beets (about 1 pound)
1 tablespoon lard, duck fat or tallow
1/3 cup red wine vinegar
1 1/2 cup bone broth
1/4 cup nutritional yeast
2 tablespoons dried Italian Herb Blend
2 tablespoons olive oil
2 teaspoons salt
2 teaspoons garlic powder
2 teaspoons onion powder
1/2 teaspoon black pepper (omit for AIP)
---
Instructions
Preheat oven to 400F.
Peel and slice beets into 1/4 inch slices. Toss with lard and 2 tablespoon vinegar and lay flat on a sheet pan. Roast for 25 to 30 minutes until caramelized and tender. They should be a little sticky and sweet and dark around the edges.
Scrape the beets and all the goodness from the sheet pan into a blender. Add the remaining ingredients and blend on high until smooth.
If it's too thick for your liking add more broth, if you want it thicker, simmer it stove top until it reaches desired consistency.
Store in the fridge in a mason jar for up to 10 days.
Nutrition
Serving Size: 1/4 cup
Calories: 45
Fat: 3g
Carbohydrates: 4g
Fiber: 2g
Protein: 2.3g
Keywords: tomato free marinara