Slow Roasted Cinnamon Carrots with Tahini Drizzle: buttery, roasted, slightly caramelized cinnamon carrots, drizzled with a creamy savory sauce. Good and good for you!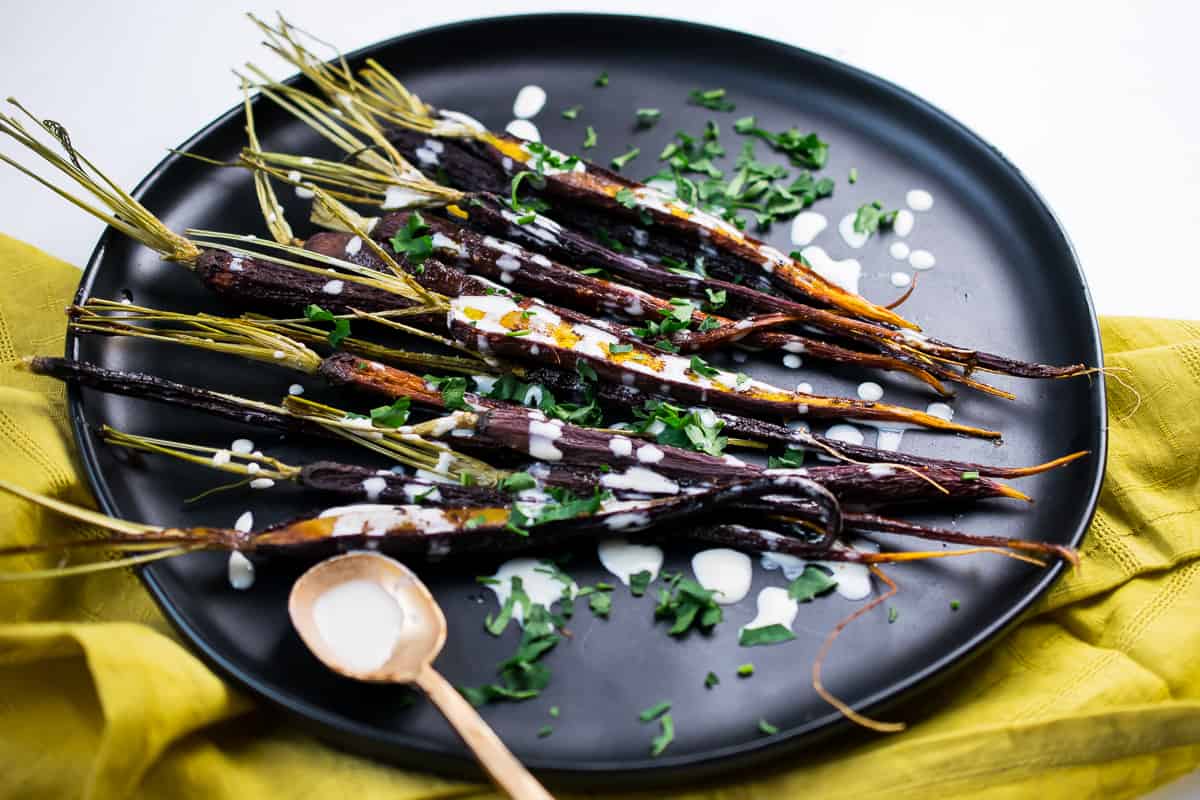 Table of Contents
These Slow Roasted Cinnamon Carrots with Tahini Drizzle are the perfect paleo side dish
Roasted vegetables are probably in my top 10 favorite foods of all time. They get so tender and crispy when you roast them low and slow, and the roasty flavor paired with salt, spices, and duck fat (or ghee!) is so dang delicious. Plus, they're pretty to look at … especially these rainbow carrots. Adding cinnamon, coconut aminos, and honey really adds to the caramelization you get with roasted veggies, and the tahini drizzle packs a savory twist with a bright pop of citrus. Lots of color, full of flavor, and, you guessed it: nutrient density. Win/win/win.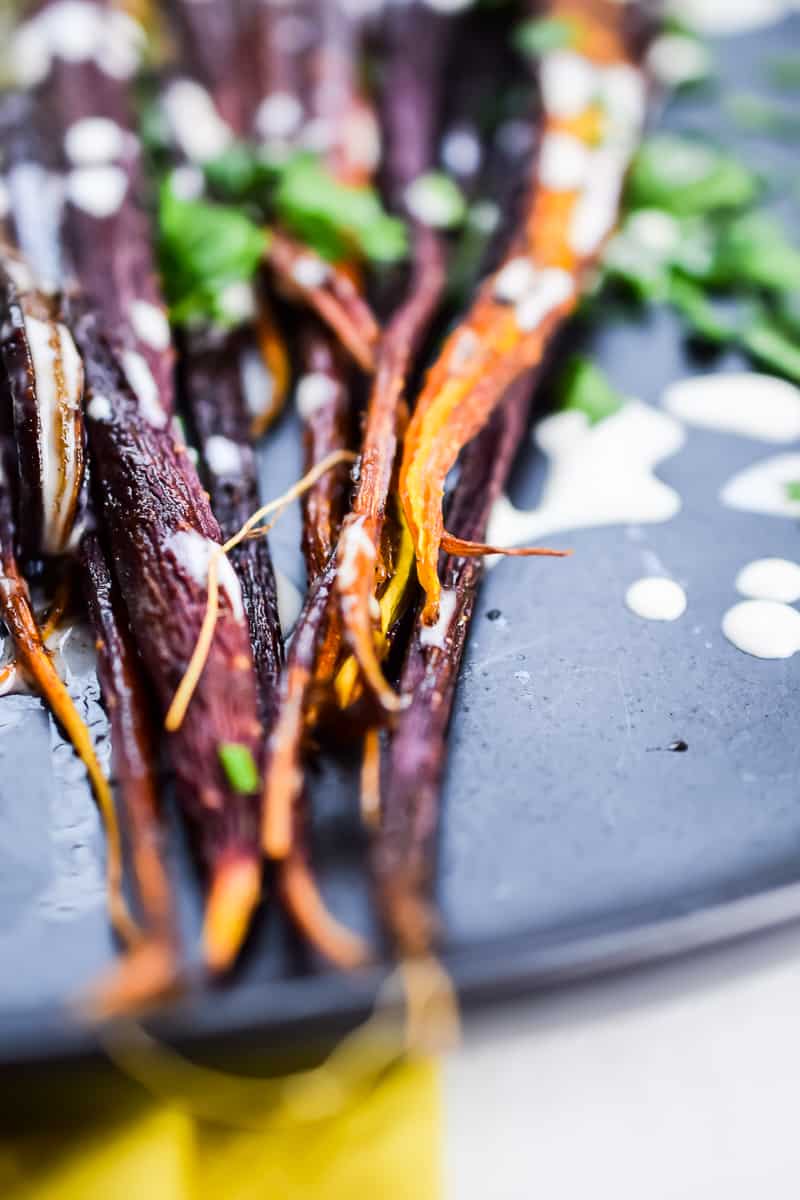 Yes, it's true: carrots are good for you
I know, I know, "carrots aren't keto," and the keto police are probably having a fit, but if there's anything I've preached on my platform, it's this: food is medicine, and medicine goes beyond the macros. If we're going to look at food for its nutritional value, we've got to start looking at it in terms of nutrient density.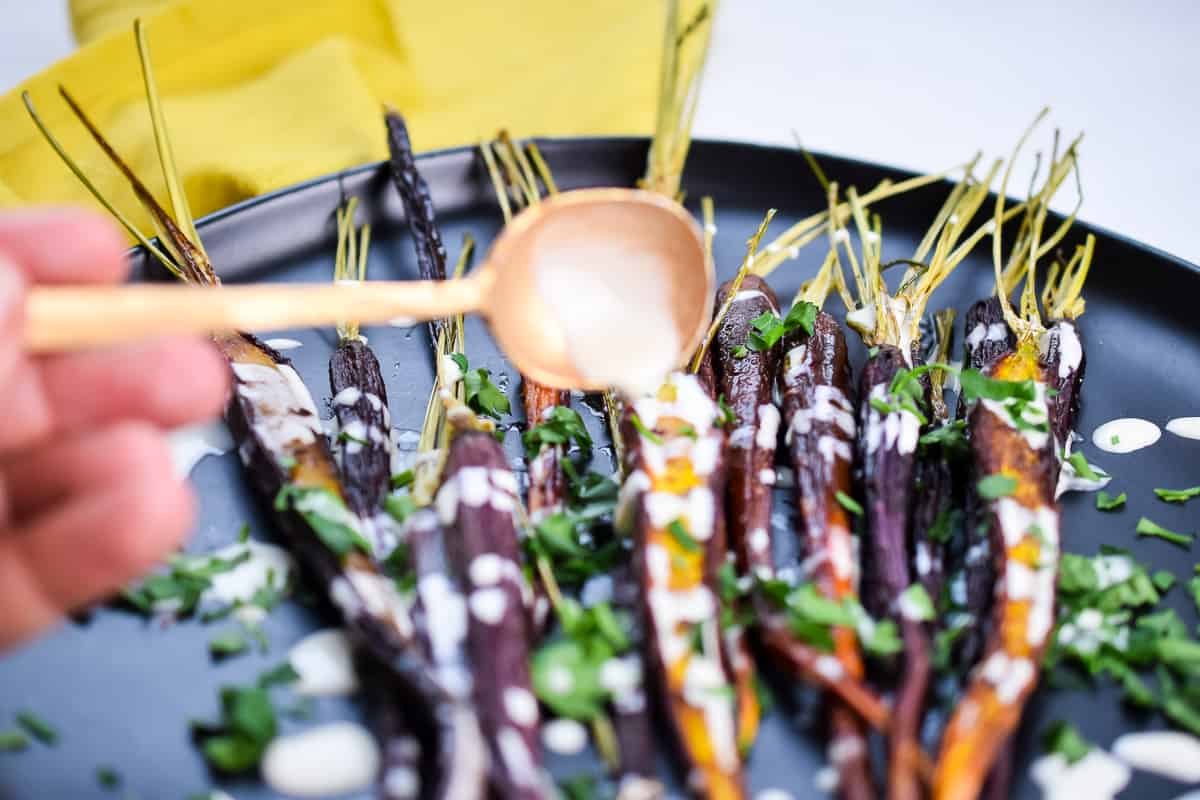 Did you know that carrots are high in fiber? And did you know that carrots are made up of both soluble and insoluble fiber? The soluble fiber breaks down, encouraging your body to digest your food at a slow and steady rate so that you can fully absorb the nutrients in your food and skip the blood sugar spike from higher carb dishes. The insoluble fiber (AKA fiber that your body can't digest) binds to toxins and excess estrogen in the body, helping you eliminate what you don't need. This is why raw carrot salad can be beneficial women struggling with symptoms of estrogen dominance (I talk about that in my new cookbook, Made Whole Made Simple).
Carrots are also full of beta-carotene and vitamin A, which can help fight inflammation. Though, if you're deficient in vitamin A, I highly recommend incorporating more organ meat recipes, like my Nose to Tail Burgers.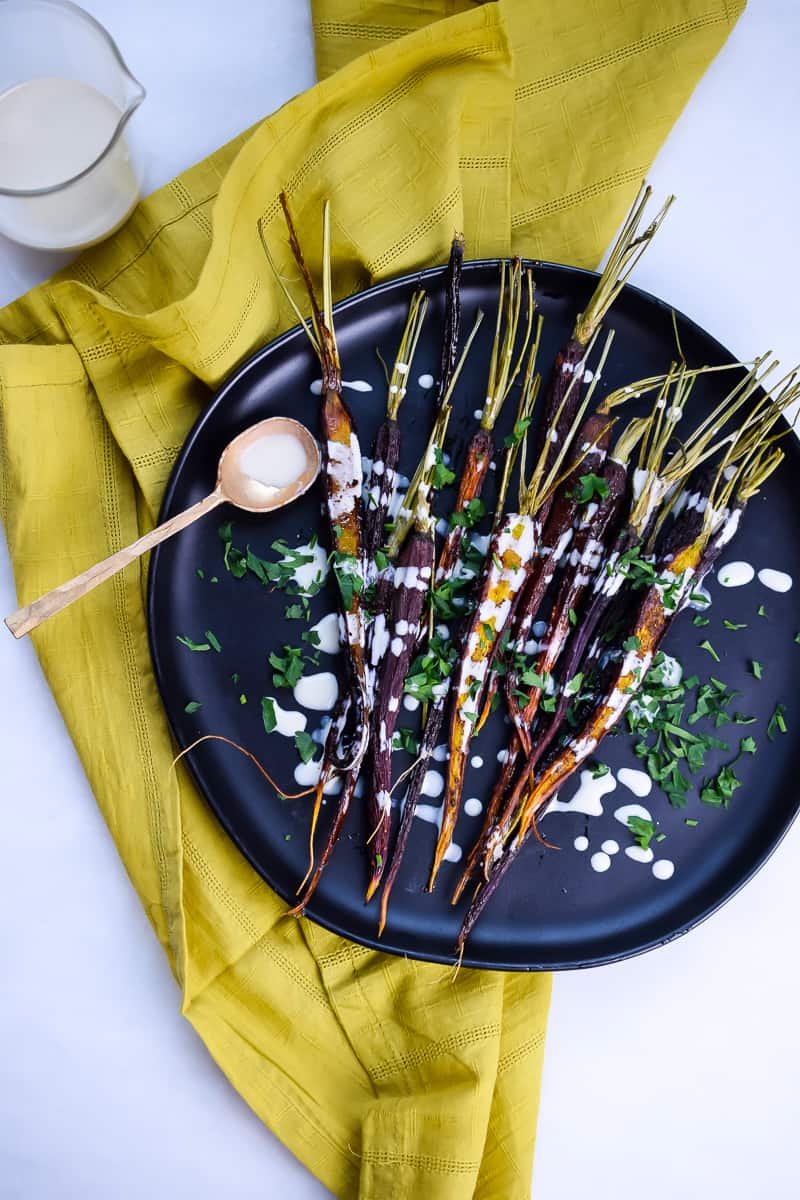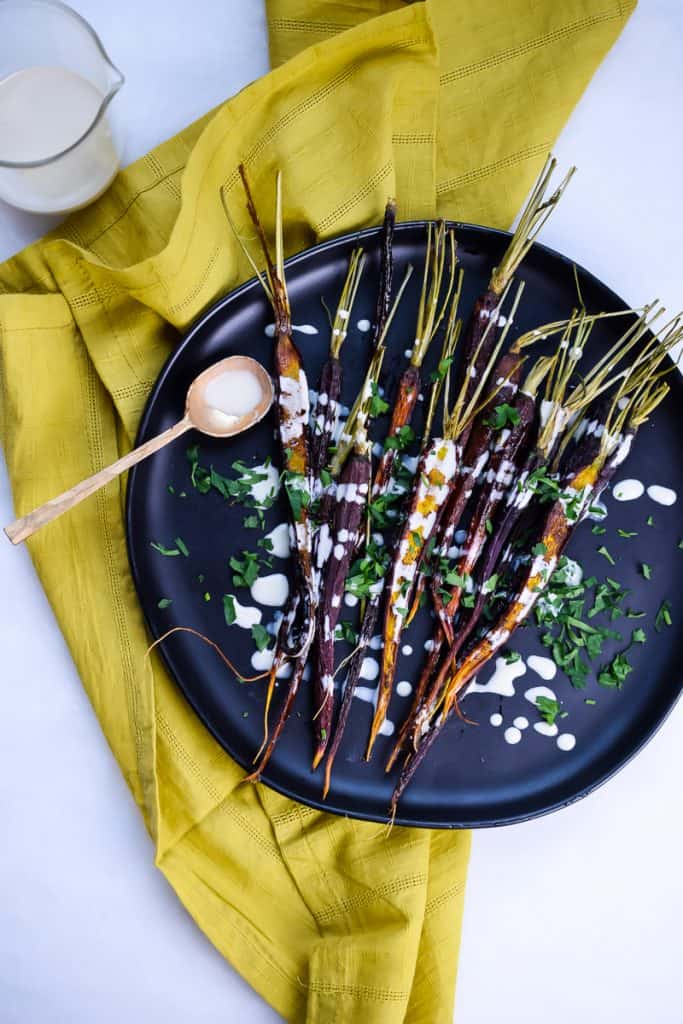 The finishing touch on these Slow Roasted Cinnamon Carrots? Tahini Drizzle!
Roasted carrots are pretty sweet on their own, and these carrots are just a bit sweeter with the addition of coconut aminos and honey. I wanted to balance out the flavors in this recipe; that's where the tahini drizzle comes in. Nutty, slightly earthly, seasoned with salt and pepper, and brightened up with fresh lemon juice.
Really, you could throw this drizzle on anything and it would be excellent, but I highly recommend drizzling over these slow-roasted cinnamon carrots. It's a real food side dish that will please everyone, whether you're preparing for a whole food holiday or just looking for a gluten-free side dish recipe that's super satisfying and damn good looking.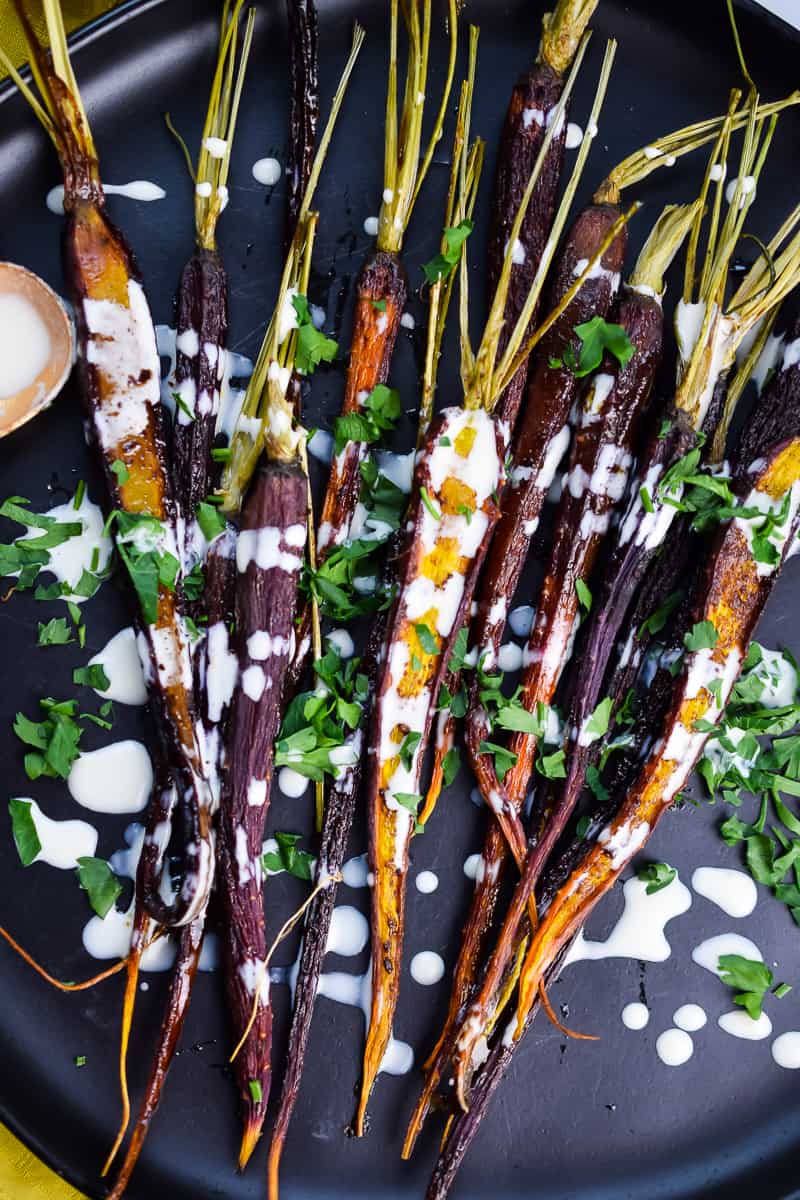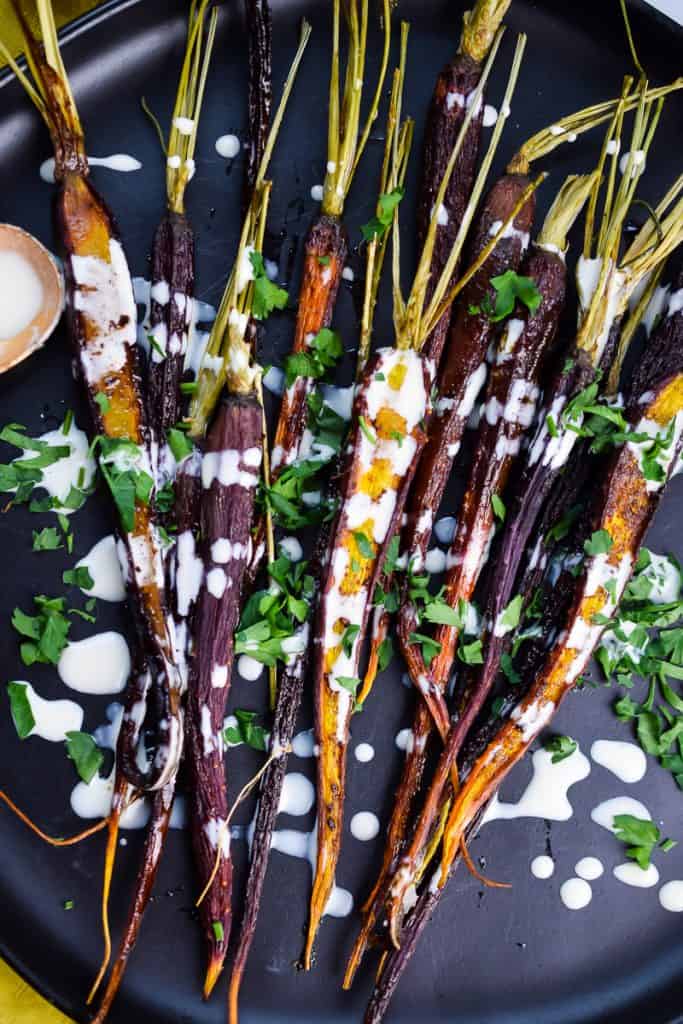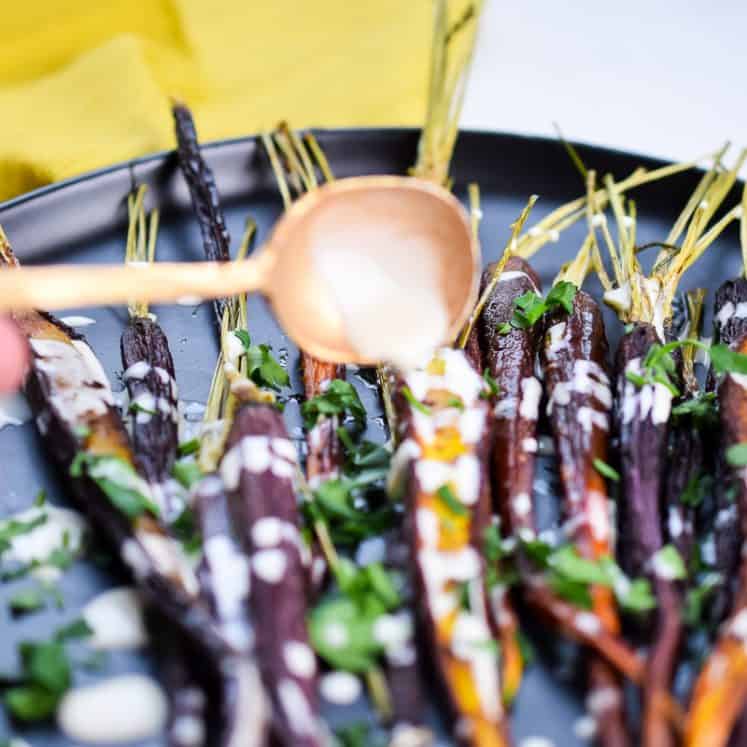 Slow Roasted Cinnamon Carrots with Tahini Drizzle (Paleo, Whole Food, Gluten Free, Anti-Inflammatory, Dairy Free)
---
Author: Cristina
Prep Time: 8 minutes
Cook Time: 1 hour
Total Time: 1 hour 8 minutes
Yield: 3 servings 1x
Category: Side Dish
Method: Roast
Cuisine: Vegetables
Description
Slow Roasted Cinnamon Carrots with Tahini Drizzle: buttery, roasted, slightly caramelized cinnamon carrots, drizzled with a creamy savory sauce. Good and good for you!
---
Scale
Ingredients
For the Carrots:
2 bunches thin purple carrots or rainbow carrots
2 tablespoons duck fat, ghee or tallow
1/2 teaspoon fine salt
1 teaspoon ground cinnamon
1 tablespoon coconut aminos
1 teaspoon honey or yacon syrup
For the Tahini Sauce:
2 tablespoons tahini
1 tablespoon water
Juice of one lemon
Pinch of salt and pepper
---
Instructions
Preheat oven to 250F. 
Peel carrots and cut the thicker ones in half lengthwise. 
Line the carrots up on a sheet pan. 
Brush the carrots with the fat and sprinkle with seasoning all over.
Mix aminos and sweetener together and brush the carrots with it. Give the sheet pan a shake so the carrots roll a bit and are evenly coated in all the dressings. 
Roast in the center rack for 1 hour. Remove from the oven.
Mix together the sauce ingredients until thin and smooth. 
Serve the carrots and drizzle with sauce. 
Garnish with herbs or toasted nuts!
Recipe Notes:
20.7g net carbs per serving
Nutrition
Serving Size: 1 serving
Calories: 250
Fat: 15g
Carbohydrates: 28.7g
Fiber: 8g
Protein: 4.1g