Swiss Chard Romesco: a sweet and tangy superfood sauce loaded with vitamins and anti-inflammatory properties. You'll want to add it to everything!
Table of Contents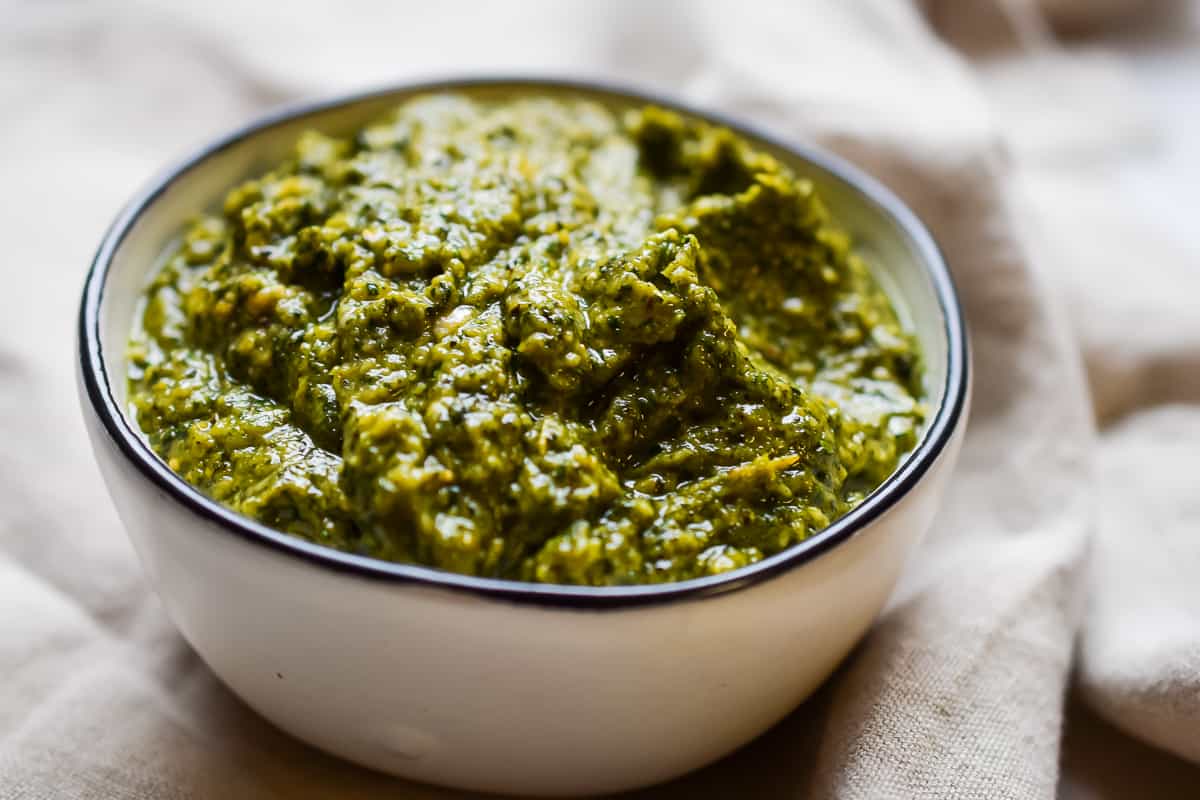 If you love pesto, this Swiss Chard Romesco is going to be your jam
I love pesto because it can be used as a dip, a spread for crackers, or a topping on meats, salads, and more. This Swiss Chard Romesco can be used the same way — add it to your plate any time you want a burst of nutty, sweet and savory, tangy flavor, loaded with healthy fats and the power of superfoods.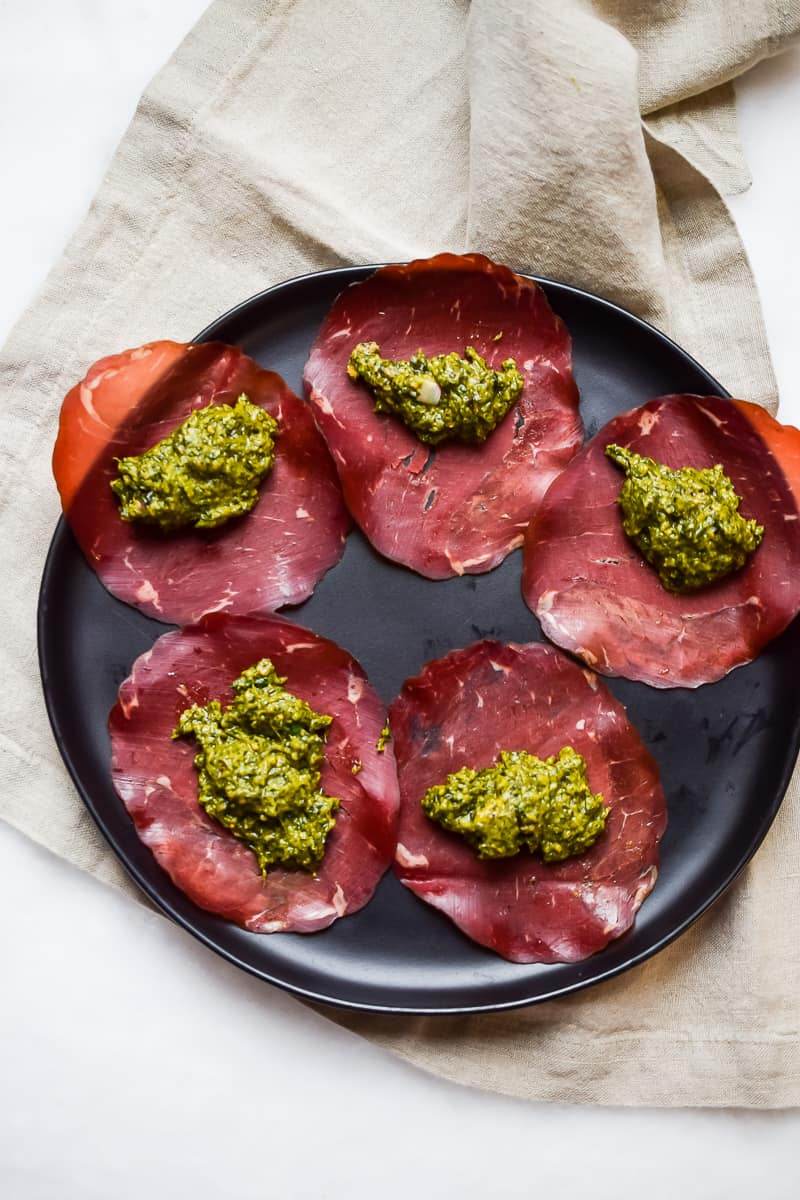 How to make Romesco:
This Whole30 compliant sauce is made with Marcona Almonds, which are shorter, rounder, softer, and sweeter than regular almonds. You'll find them at Trader Joe's, Wegmans, Costco, or on Amazon, sold blanched (no skin) and salted/oiled. They make a great snack or addition to any dish, and they have macros similar to regular almonds.
In a traditional romesco sauce, you'd fry the onion and almonds, but in this recipe, the red onion and chard are roasted, which compliments the natural sweetness of the Marcona Almonds. Seasoned with salt, garlic, and turmeric with a pinch of black pepper to enhance the anti-inflammatory properties of curcumin (found in turmeric).
Of course, the main ingredients of a traditional romesco sauce are tomatoes, bixto peppers, paprika and olive oil. Since this is a nightshade-free romesco recipe, we're ditching the tomatoes and using Swiss Chard instead.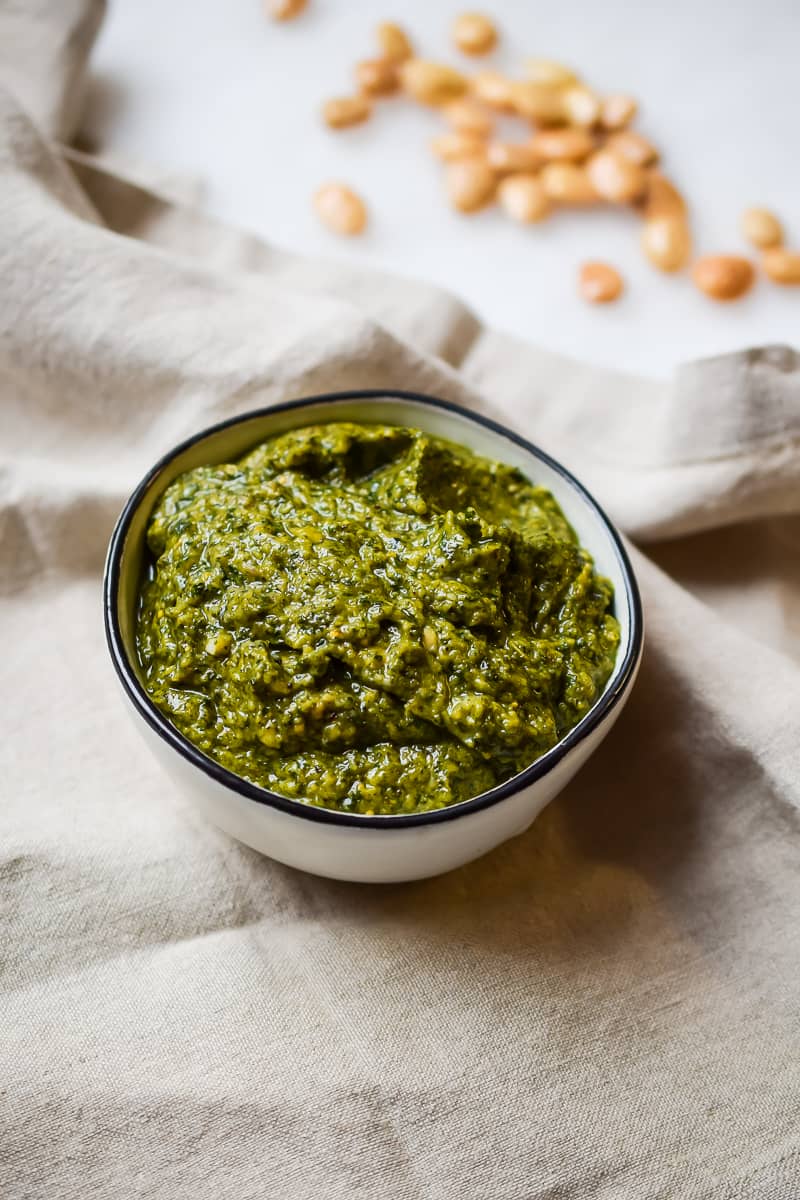 Why Swiss Chard is good for you:
Swiss Chard is a great source of vitamins A, C, E, and K, as well as calcium, magnesium, copper, zinc, sodium, and phosphorus. It's also full of antioxidants, like kaempferol, an anti-inflammatory flavonoid that can help with chronic disease prevention.
Swiss Chard is also a good source of dietary nitrates, and when these dietary nitrates combine with unsaturated fat sources like olive oil, they form nitro fatty acids. These nitro fatty acids can help to further decrease inflammation and promote cardiovascular health.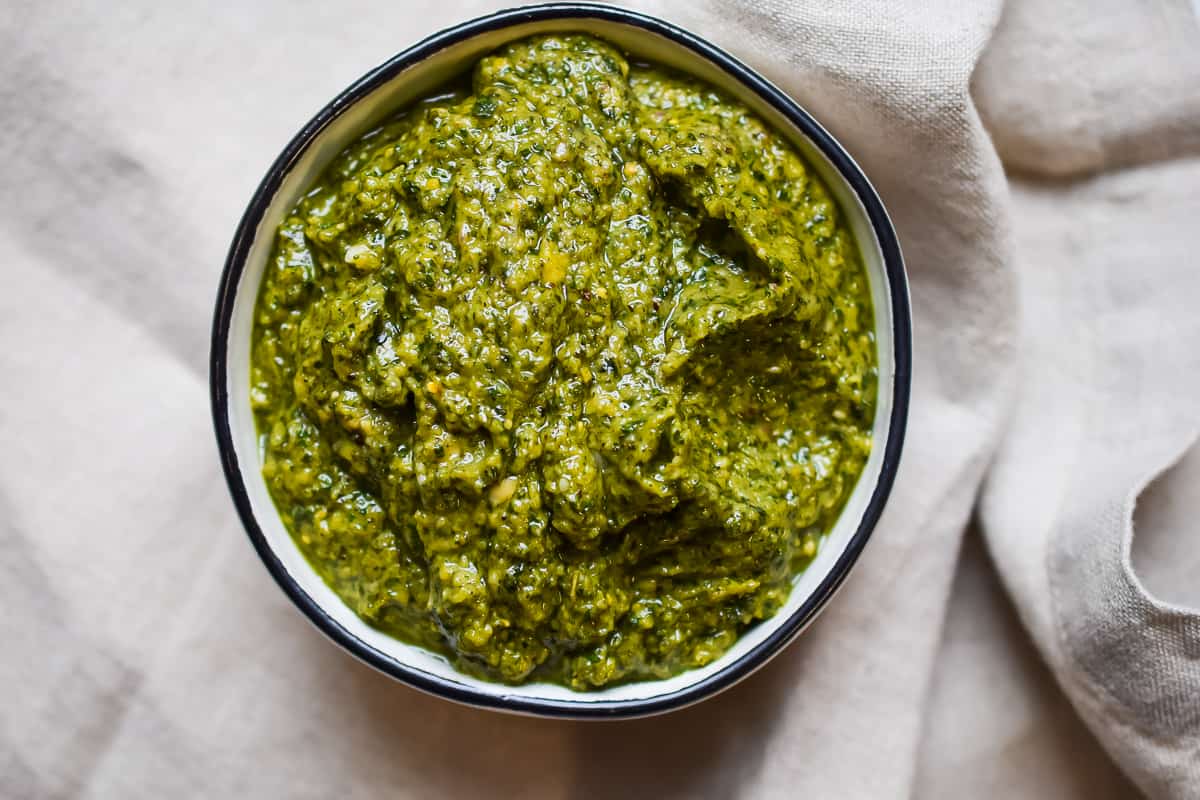 Health benefits of olive oil
Extra virgin olive oil is a great source of heart healthy monounsaturated fat, and when sourced well and stored properly, EVOO is one of the healthiest things you can eat. Olive oil is high in polyphenols, which are protective micronutrients and powerful antioxidants.
Like I said, this Swiss Chard Romesco is a superfood sauce you'll want to put on everything, not just because it's super tasty, but it's so dang good for you.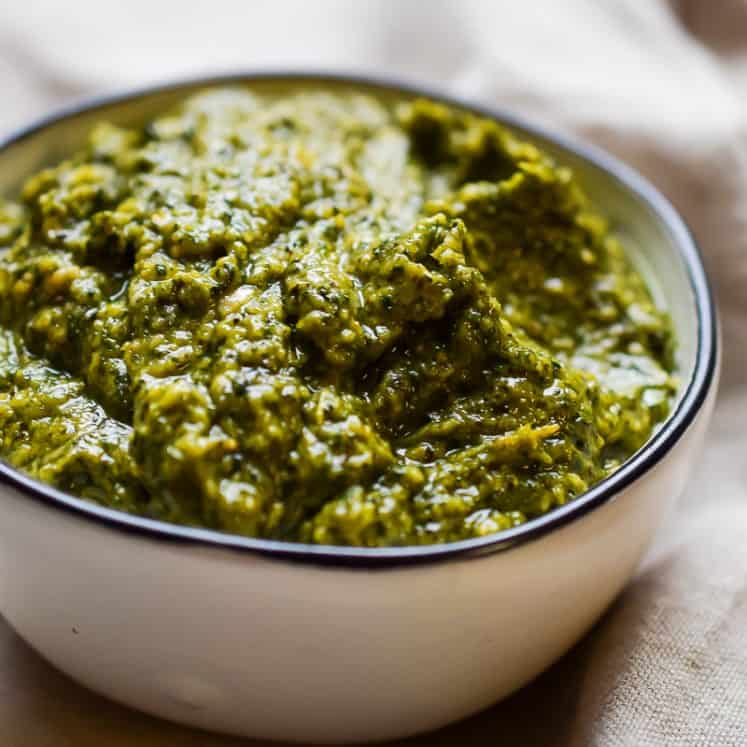 Swiss Chard Romesco (Dairy Free, Egg Free, Whole30, Paleo, Keto, Nightshade-Free, Anti-Inflammatory)
---
Author: Cristina
Prep Time: 5 minutes
Cook Time: 15 minutes
Total Time: 20 minutes
Yield: 12 servings 1x
Category: Condiment
Method: Roast, Blend
Cuisine: Sauce
Description
Swiss Chard Romesco: a sweet and tangy superfood sauce loaded with vitamins and anti-inflammatory properties. You'll want to add it to everything!
---
Scale
Ingredients
½ cup diced red onion
1 bunch Swiss Chard, chopped (2 cups)
⅔ cup, plus 1 tablespoon extra virgin olive oil, divided
1 ⅛ teaspoon fine salt, divided
1 teaspoon turmeric
¼ teaspoon black pepper
1 ½ tablespoon red wine vinegar
4 cloves garlic, peeled
½ cup Marcona almonds
---
Instructions
Preheat oven to 400F.
In a sheet pan combine the red onion and chard. Sprinkle with ⅛ teaspoon salt and drizzle with 1 tablespoon olive oil. Roast for 15 minutes until the vegetables are tender with browned bits.
Transfer the roasted veggies to a blender. Add in the remaining ingredients. Blend until smooth, like the consistency of pesto.
Store in an airtight container in the fridge for up to 2 weeks.
Recipe Notes:
2g net carbs per serving
Nutrition
Serving Size: 1 serving
Calories: 150
Fat: 15.2g
Carbohydrates: 3g
Fiber: 1g
Protein: 1.7g