Stir Fry Meatballs with a delicious stir fry sauce is a wonderful way to get all the great meat and veggie combo of stir fry but in an easy, sheet pan recipe! I like to use leftover broccoli stalks for this, which I always have leftover from making Perfect Crispy Roasted Broccoli. Other than being delicious this recipe is low carb, Whole30 and egg free!
These allergen-friendly, veggie-loaded meatballs are perfect for meal prep. Packing tons of fiber is great for digestion, detox and hormone balance. As well as loads of flavor. They turn out juicy and make a great appetizer dipped in the peanut-style sauce.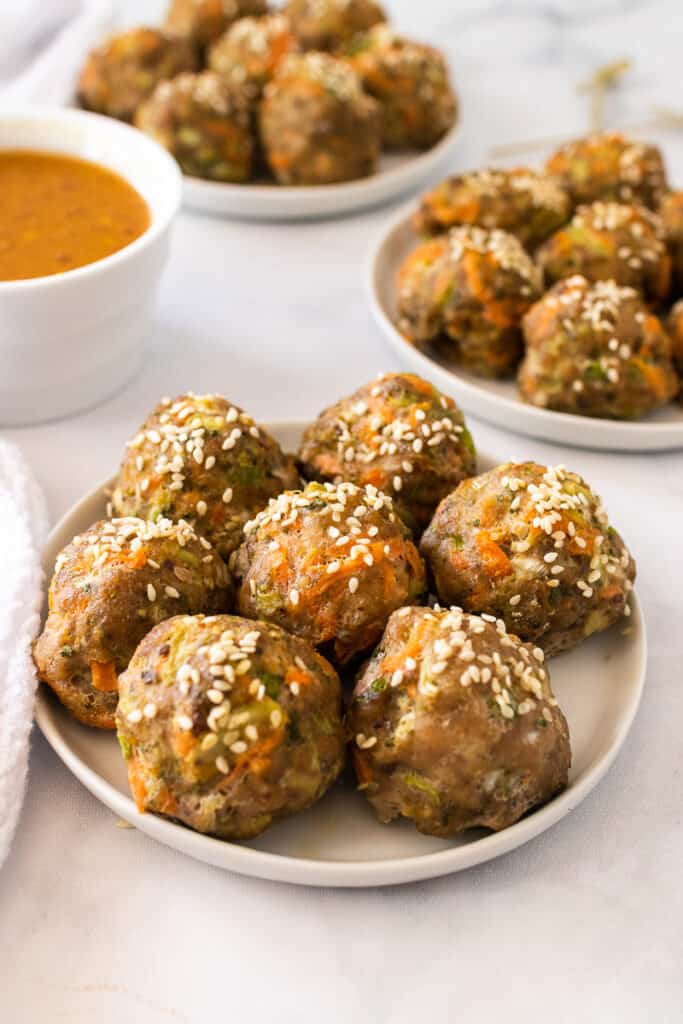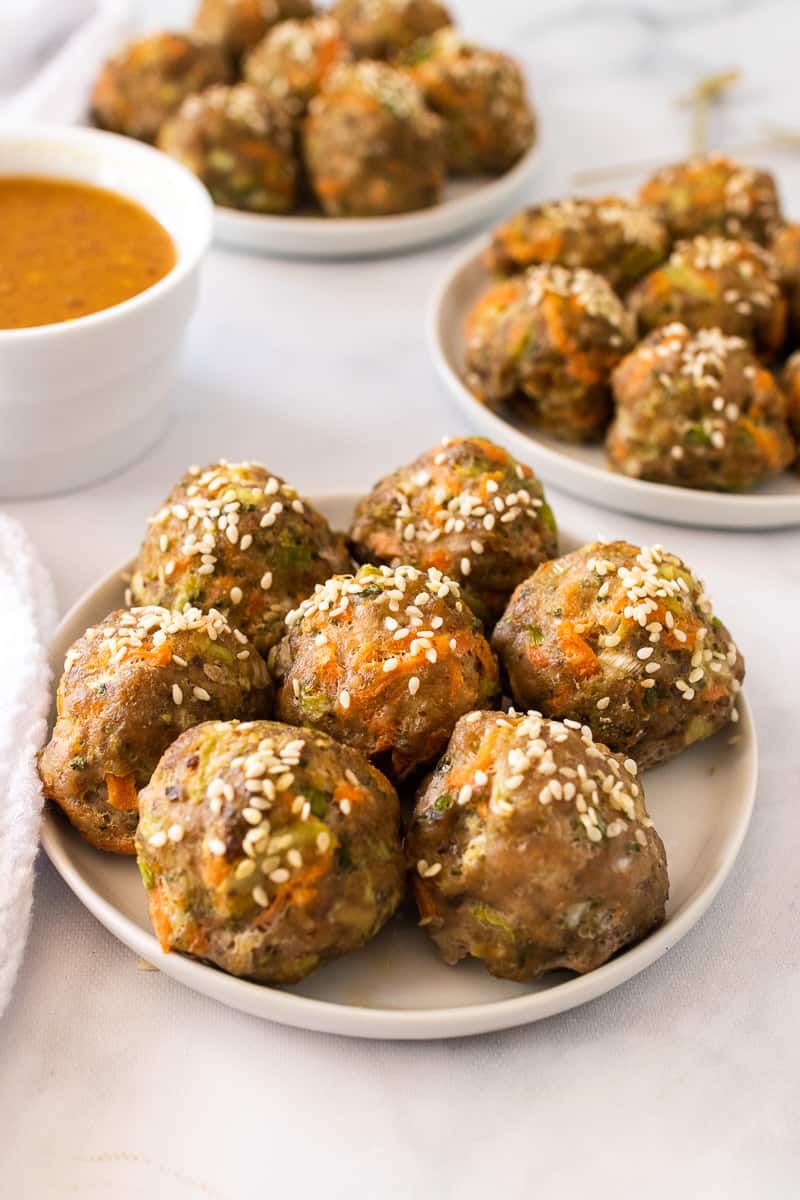 Table of Contents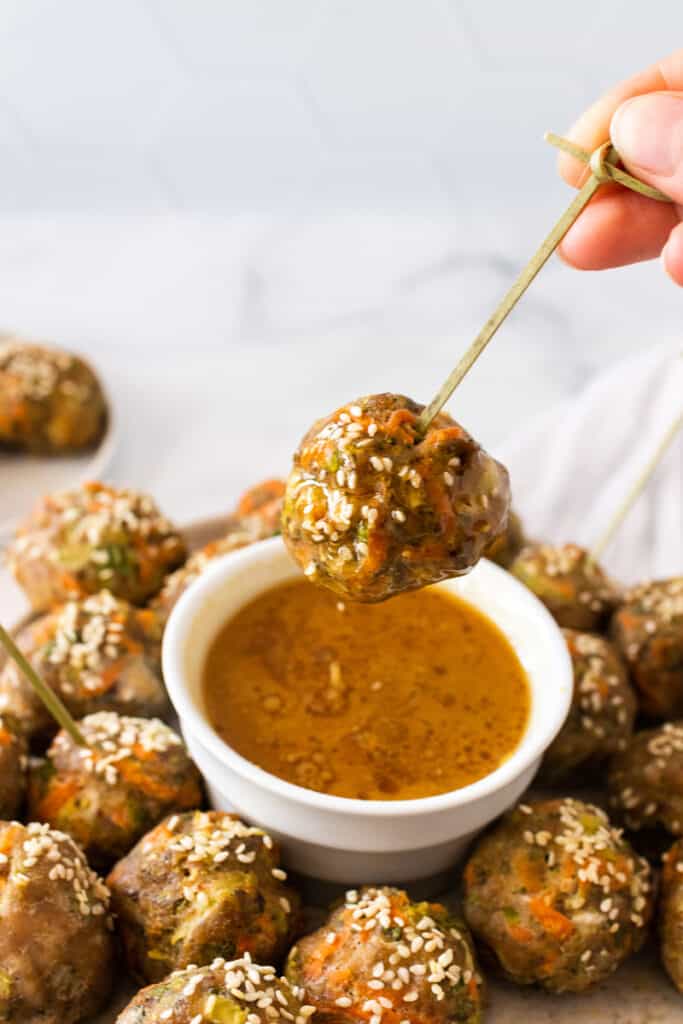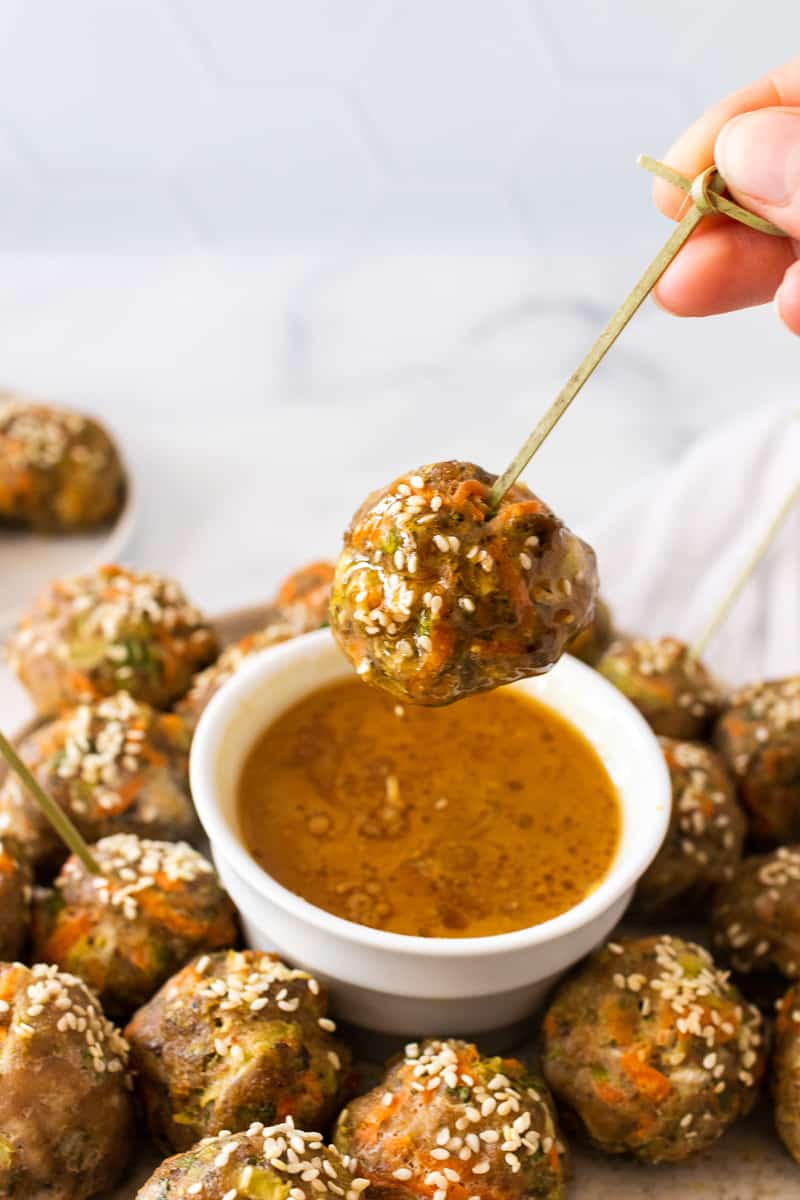 Sheet Pan Meatball Details!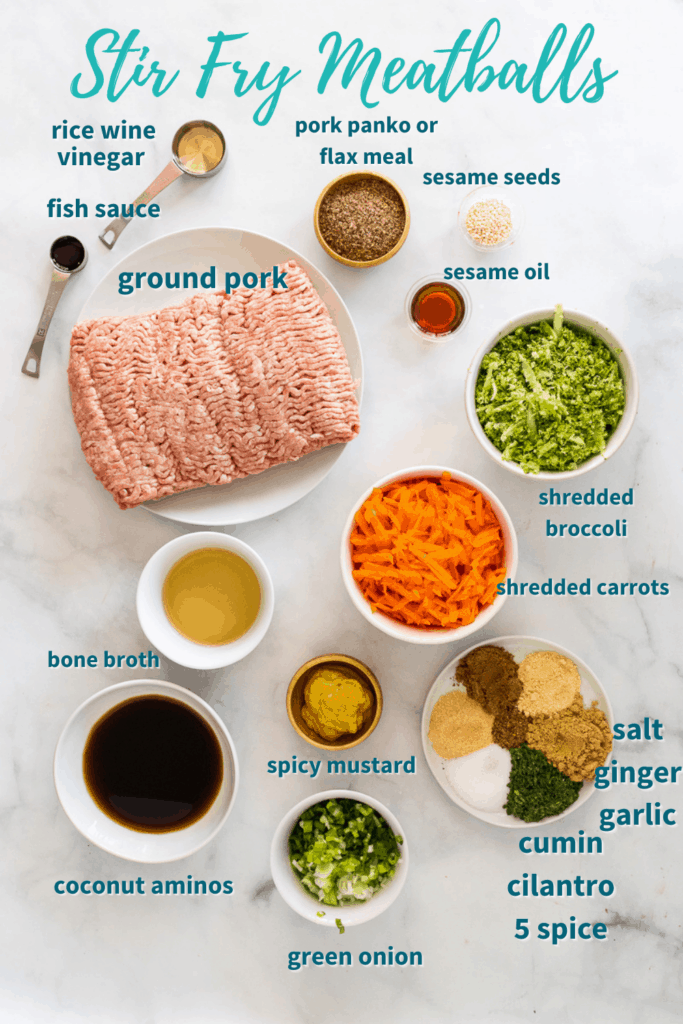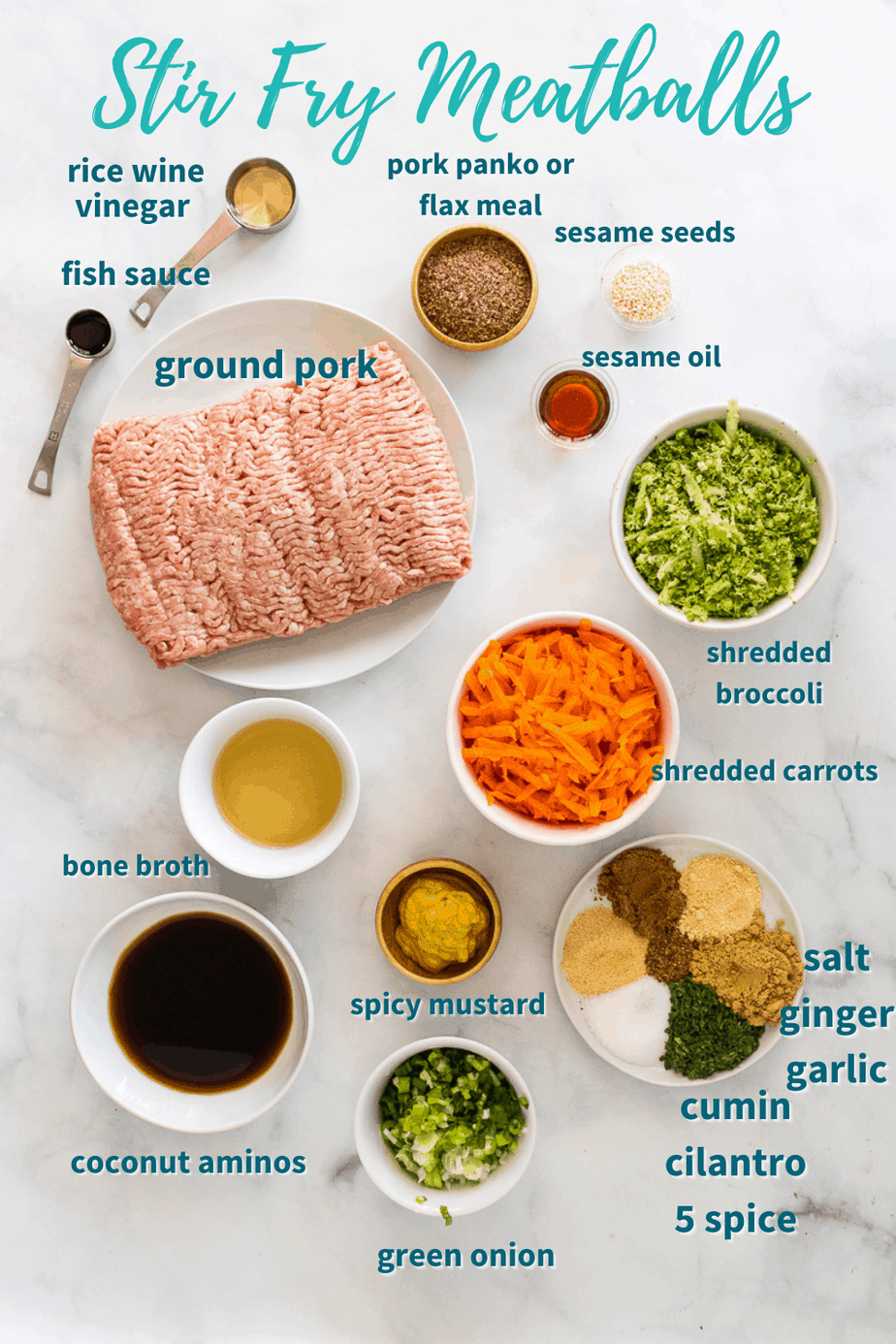 I like to use ground pork for this recipe because it's fatty and delicious and keeps the meatballs juicy.
Shredded broccoli and carrots add nutrients, fiber and bulk! You can also use pre-made broccoli slaw.
Yes, there are a lot of dry seasonings, but that's why they taste so good!
Green onion or scallion because no stir fry dish is complete without them.
Cold bone broth thickens the sauce with its natural gelatin!
I use my sheet pans a lot! I have tried stainless steel but they warp. Nordic Ware makes amazing sheet pans, they are true workhorses. Since food doesn't simmer in them, leaching aluminum is not a concern, but either way, you can line them with parchment paper if you like.
Prep Cups are something else I use constantly. They come with lids, so I can store extra sauce or ingredients in them. Measuring everything out before you were cooking is called mise en place, a French term for recipe prep that translates to everything in its place.
Making Easy Whole30 Meatballs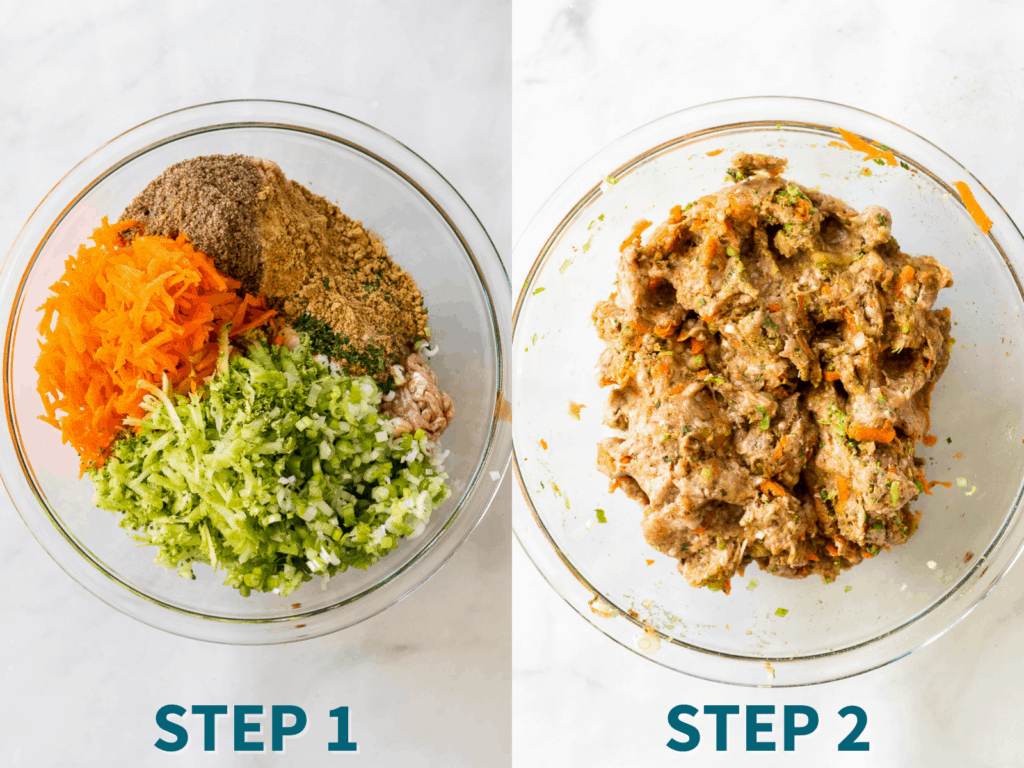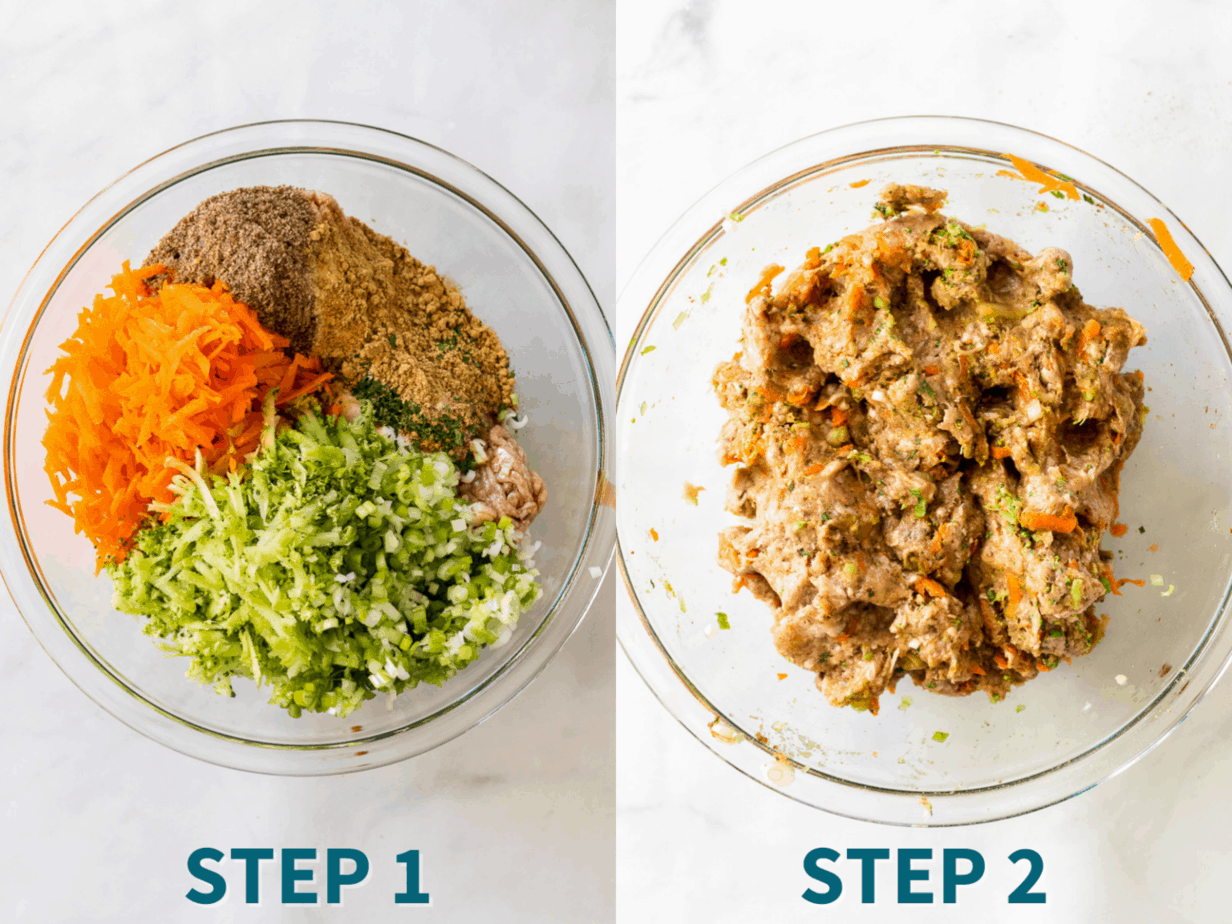 Preheat the oven to 350F and grease as sheet pan. Combine all of the meatball ingredients together in a large bowl. Mix until thoroughly combined.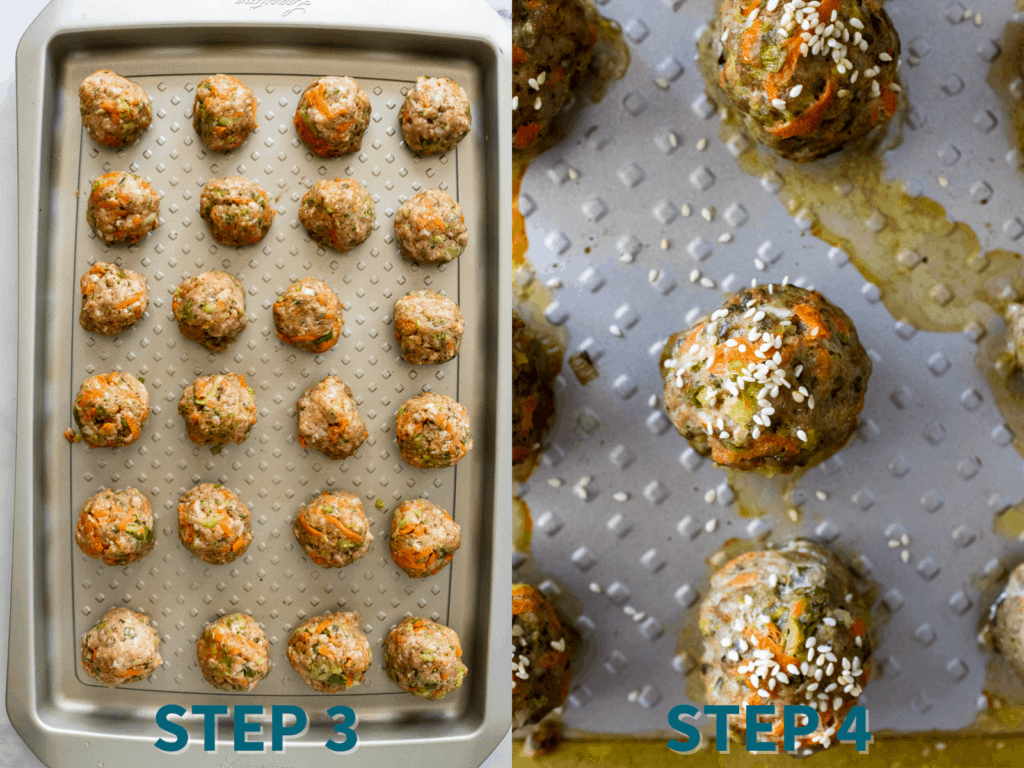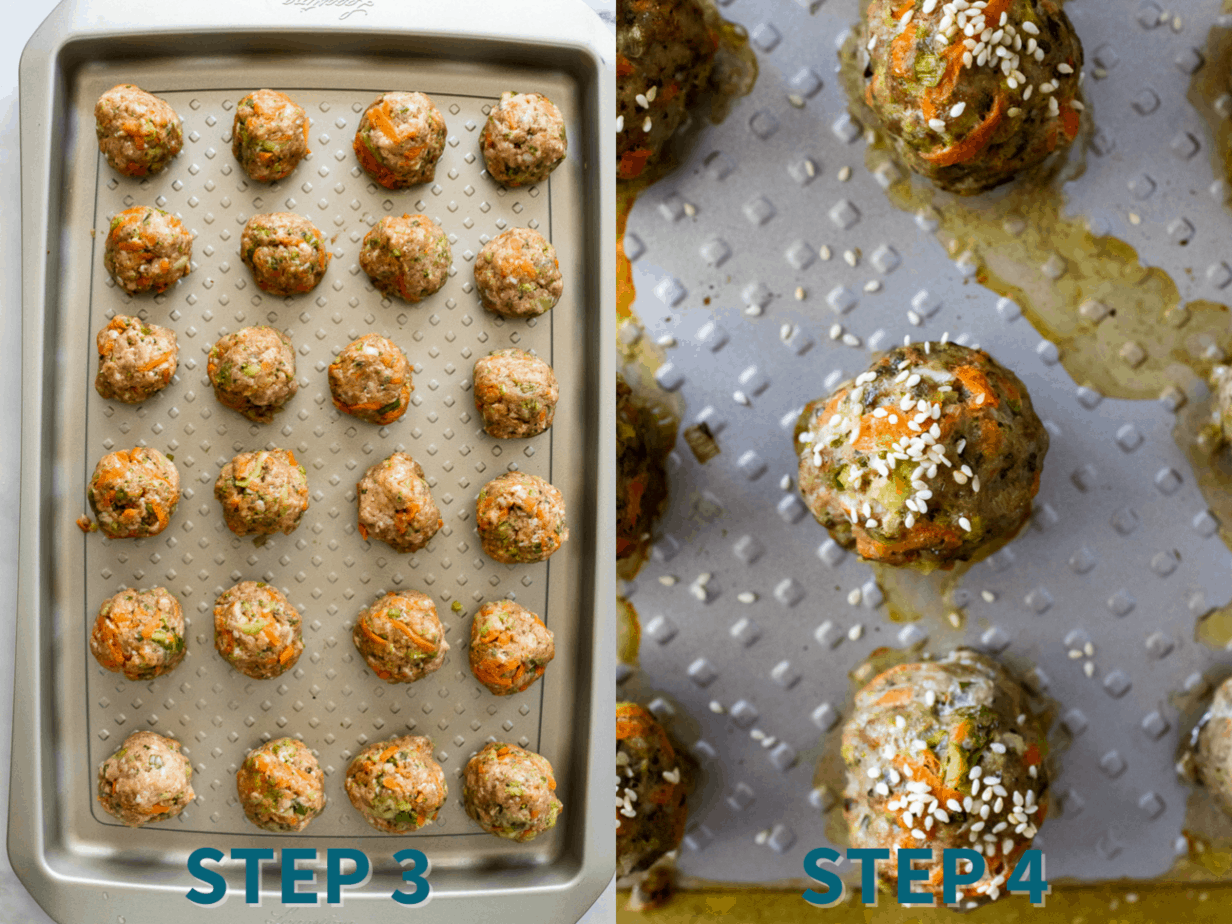 Shape 24 even sizes meatballs and lightly coat with coconut oil or avocado oil spray. Bake at 350F for 30 minutes or until well done. Remove from the oven and use a spatula to lift up from the sheet pan.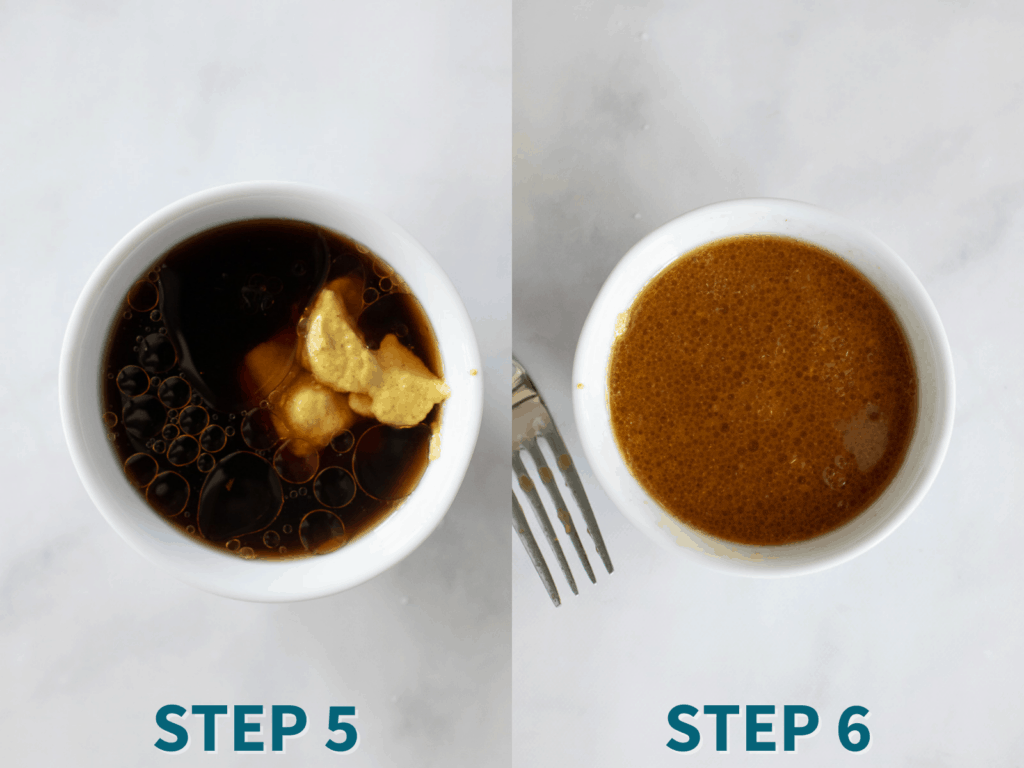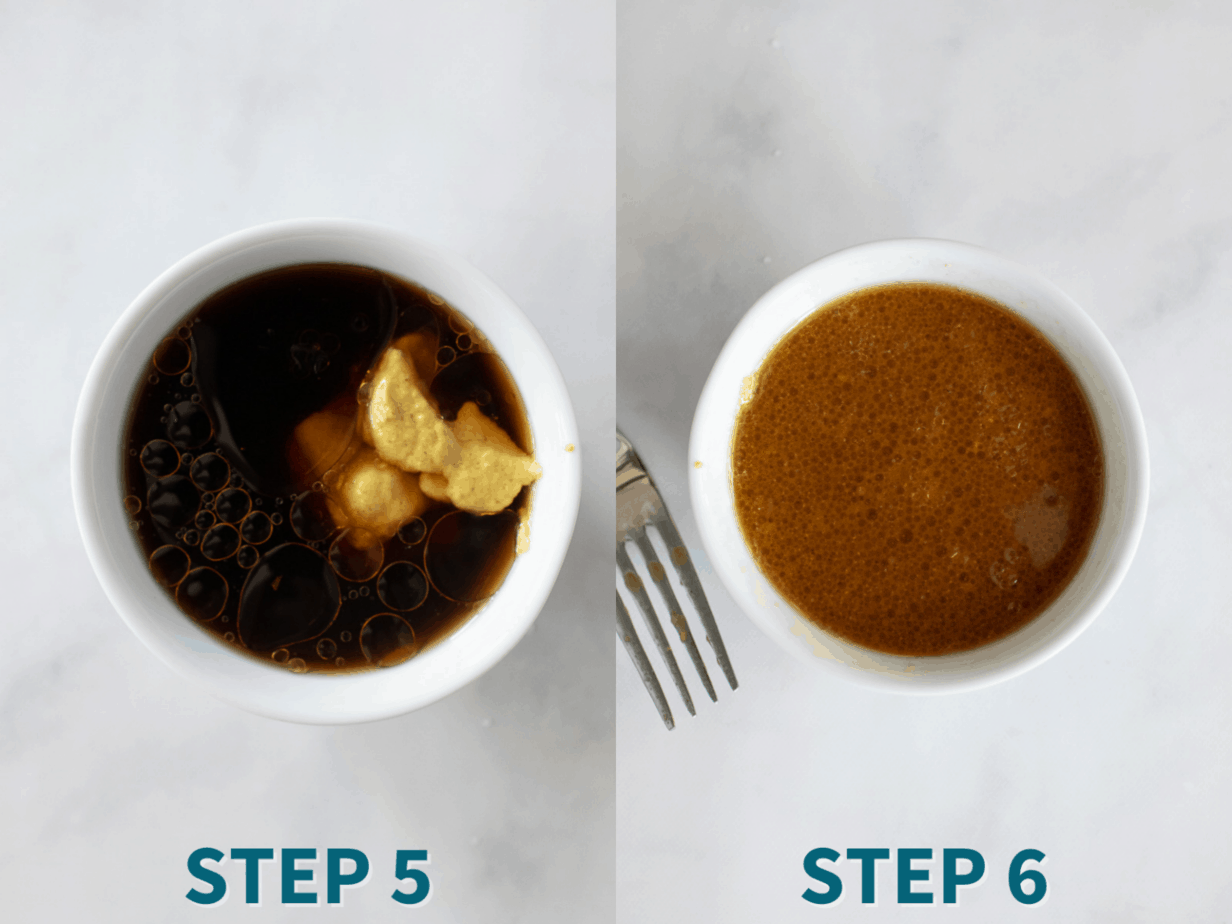 Combine your sauce ingredients, coconut aminos, bone broth, mustard, rice wine vinegar in a small bowl. Use a small whisk or fork and mix! Serve, dip and enjoy!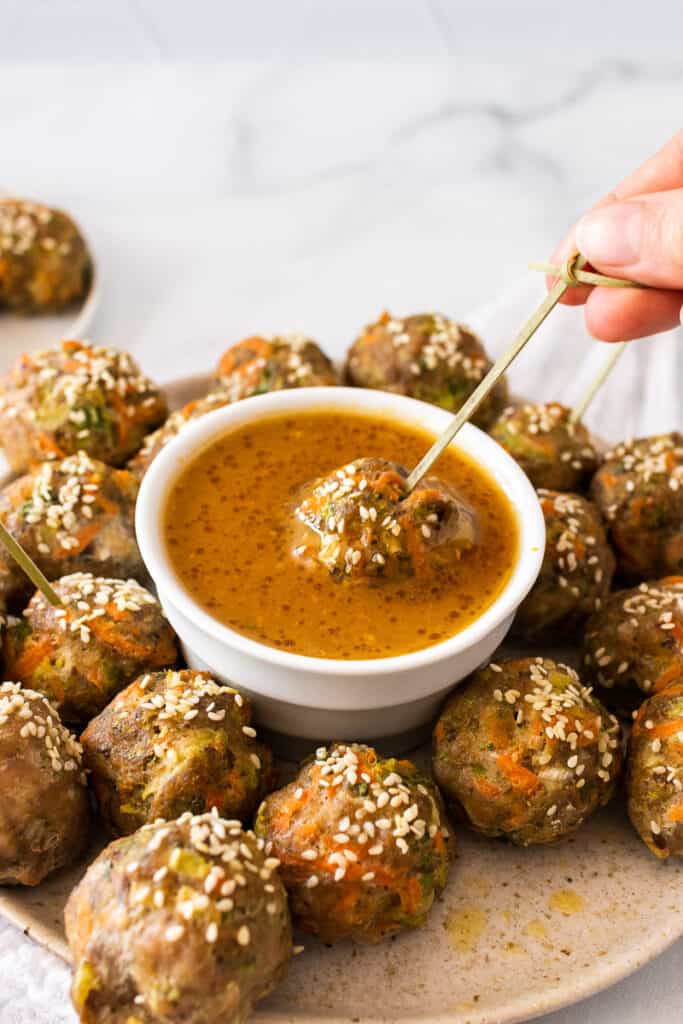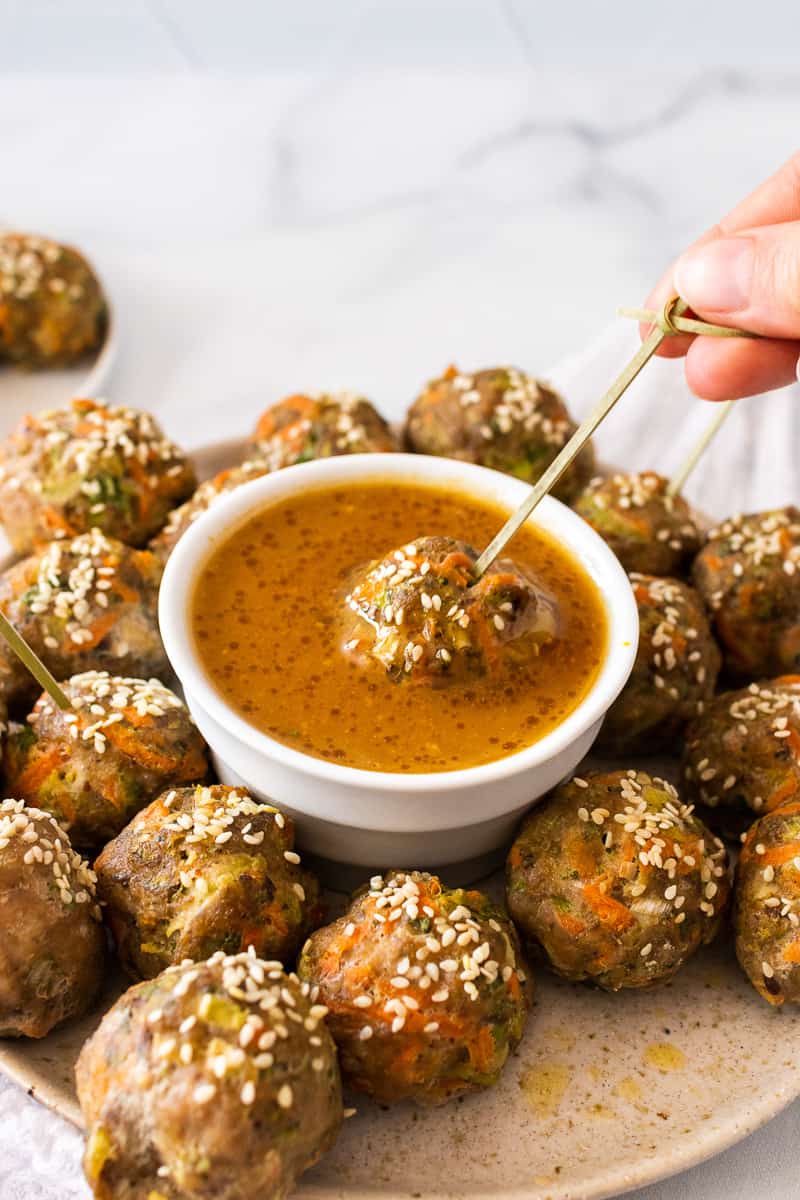 Frequently Asked Questions
Can I use another meat, I don't eat pork?
Yes, dark meat ground turkey, or beef will work well! Skip the pork panko and use flax meal or tigernut flour.
Can I make these AIP?
Yes! Skip the sesame seeds and oil and the 5-spice and they're compliant!
What should I serve these with?
Great over Whipped Cauliflower or with riced veggies or regular rice if you eat it!
How do I store leftovers?
In an air tight container in the fridge for up to 5 days.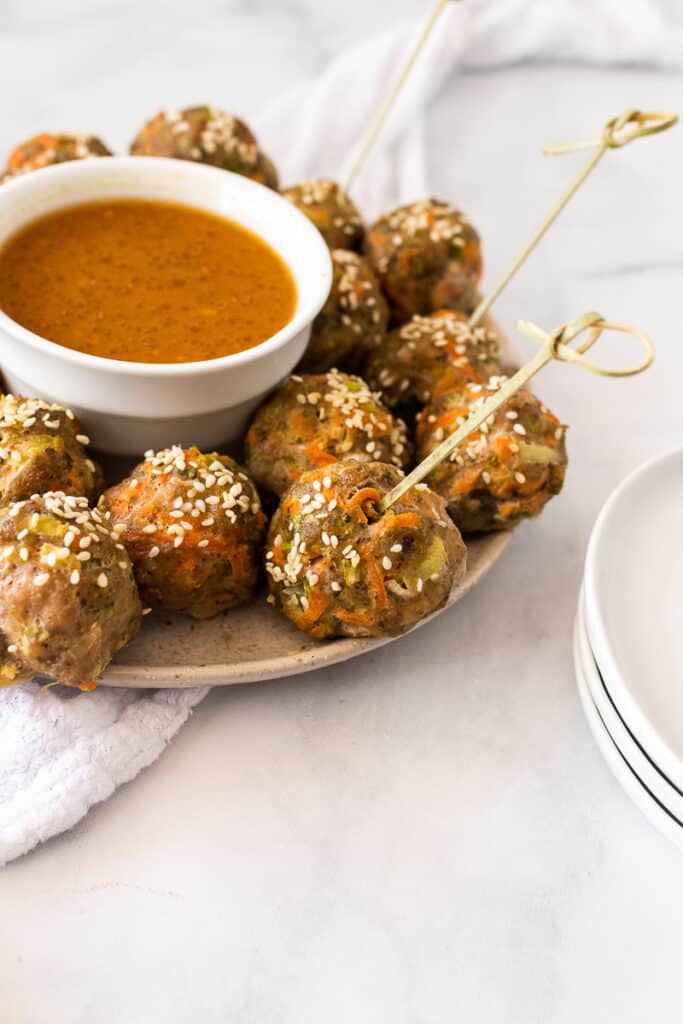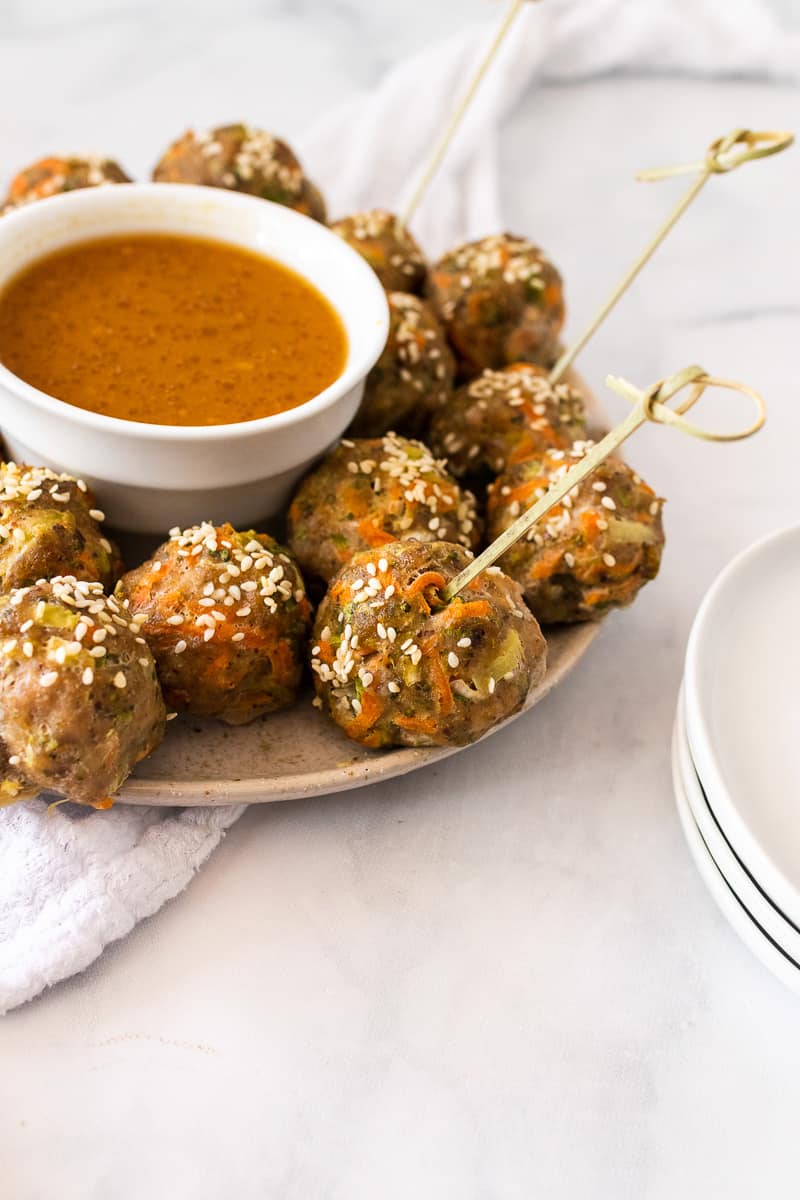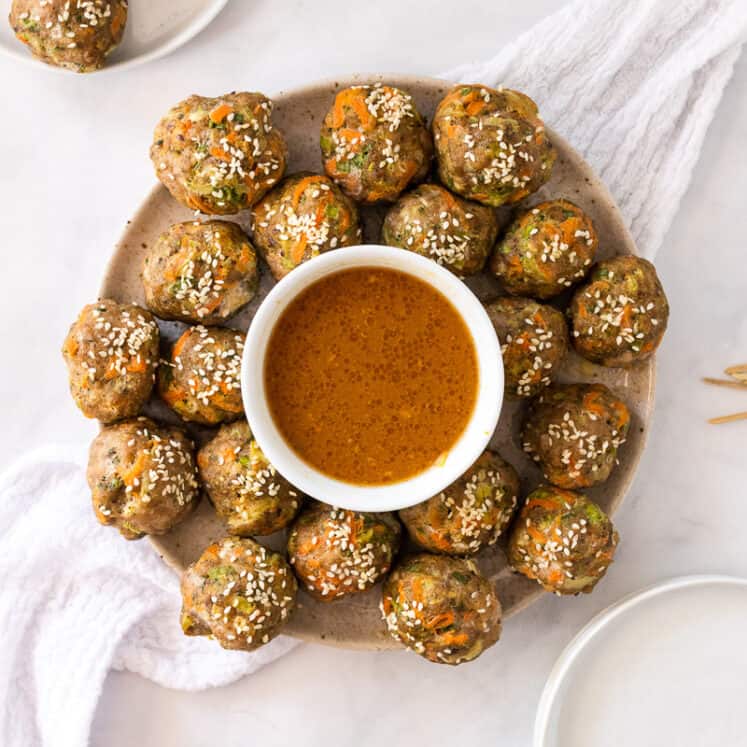 Stir Fry Meatballs (Paleo, Keto, Whole30, Egg Free)
---
Author: Cristina Curp, FNTP
Prep Time: 15 minutes
Cook Time: 30 minutes
Total Time: 45 minutes
Yield: 24 meatballs 1x
Category: Entree
Method: Sheet Pan
Cuisine: Asian
Description
Egg Free, Whole30, Low Carb Meatballs packed with stir fry flavors and a dipping sauce!
---
Scale
Ingredients
For The Meatballs
2 pounds ground pork
1 cup shredded broccoli
1 cup shredded carrots
3 green onion, minced
2 teaspoons garlic powder
2 teaspoons fine salt
2 teaspoons dried cilantro or parsley
2 teaspoons ground ginger
1 teaspoon onion powder
1 teaspoon cumin
1/4 teaspoon 5 spice
2 tablespoon coconut aminos (I like this one)
2 tablespoons pork panko (get it here) or flax meal
2 teaspoons sesame seeds
coconut oil spray
For The Sauce
2 tablespoons coconut aminos
2 tablespoons Primal Kitchen Spicy Mustard (get it here)
2 tablespoons cold bone broth
1 tablespoon rice wine vinegar or white wine vinegar
1 teaspoon fish sauce (I like this one)
1 teaspoon toasted sesame seed oil
---
Instructions
Pre-heat oven to 350F.
In a large bowl mix the ground pork, veggies, dry seasonings, coconut aminos, and pork panko.
Shape 24 large meatballs. And place on a lightly greased sheet pan. Give them a light spray with coconut oil. Sprinkle with sesame seeds. Bake for 30-40 minutes until fully cooked and golden brown.
While they cook, make the sauce. Whisk all of the sauce ingredients together until smooth. Be sure to use a good bone broth that is gelatinous when cold, it will help thicken the sauce!
When the meatballs are done, remove them from the oven, use a spatula to remove them from the sheet pan. Serve with dipping sauce! Enjoy!
Recipe Notes:
IF you don't eat pork, dark meat ground turkey works well in this recipe too!
Nutrition
Serving Size: 4 meatballs with sauce
Calories: 384.2
Fat: 25.6g
Carbohydrates: 7.7g
Fiber: 1.8g
Protein: 31.3g
Keywords: Stir Fry Meatballs