Ground Beef and Broccoli Skillet Casserole, this bad boy is a sneak peek into my next cookbook! Yup, one of the many, one skillet, nutritionally dense recipes that will grace the pages of book baby #2!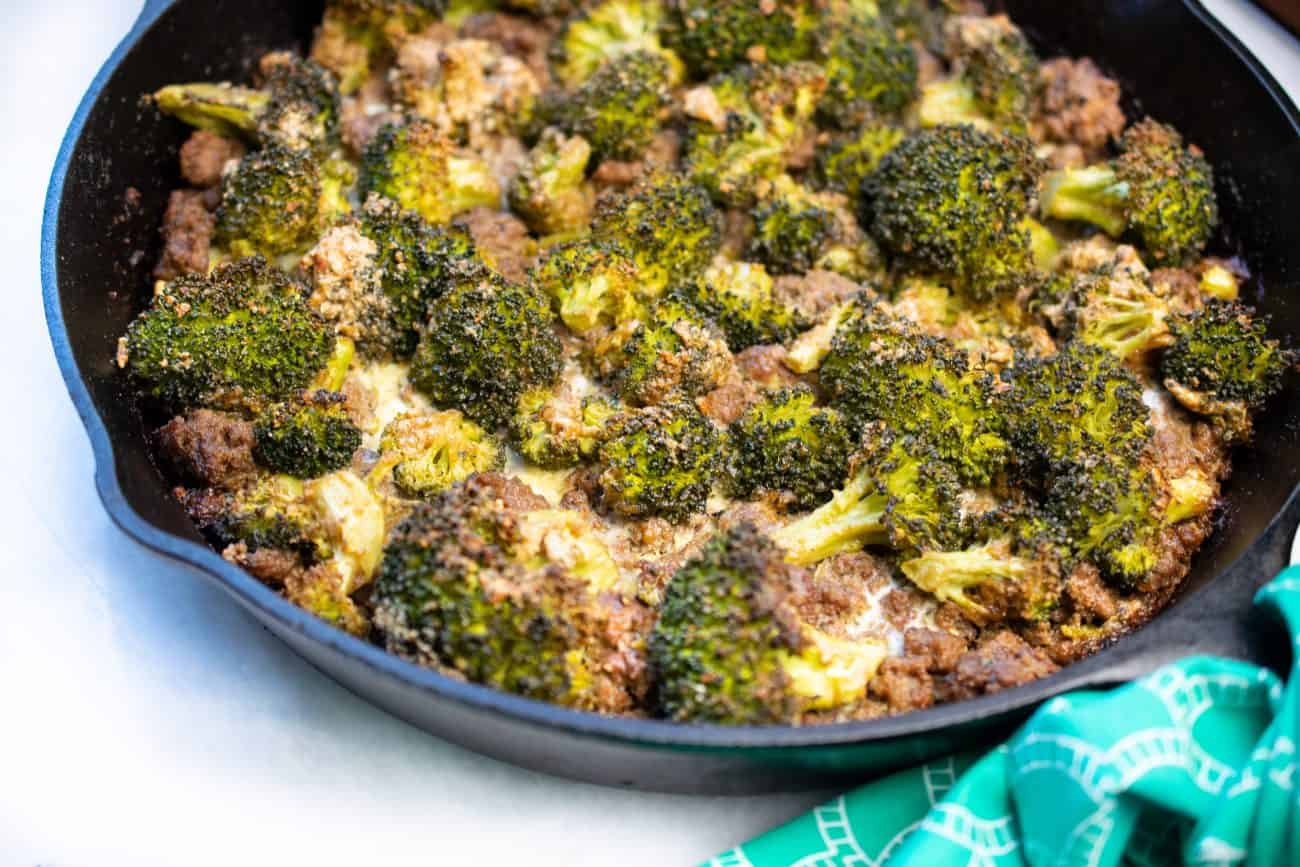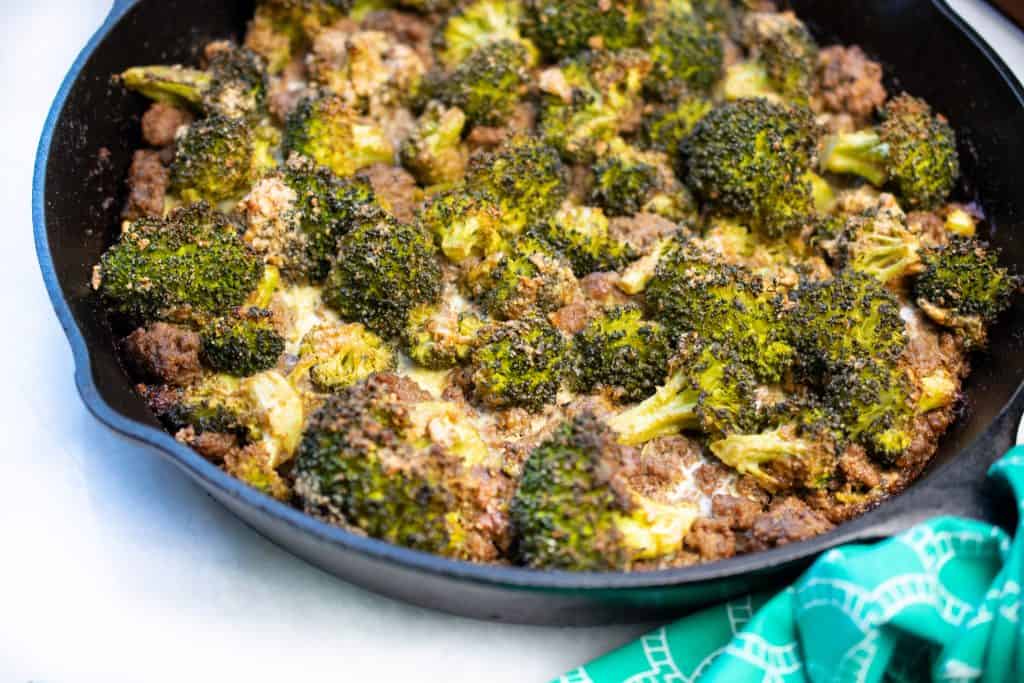 Beef and broccoli are such a dynamic duo, one you will see in this book time and time again. All the amazing antioxidant, anti-inflammatory, detox supporting goodness of broccoli with the nutrient-dense, highly digestible, protein-packed beef. Truly, the perfect pair. They come together beautifully in this dish that has comfort food written all over it. Crispy, savory, creamy goodness that is Jack approved!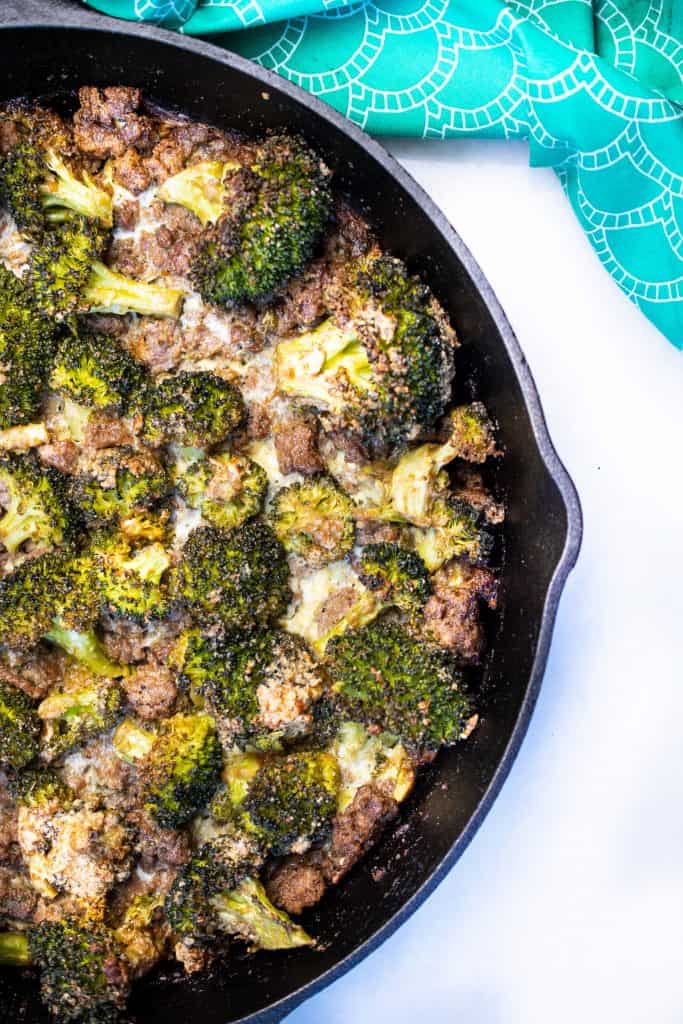 Recipe Details
Prep Time: 5 minutes | Cook Time: 40 minutes |Serves 4
Dairy-Free | Nut Free* |Egg Free* | Coconut Free | AIP* |Paleo | Keto (make sure to check the substitutions)
I used my 16″ Lodge cast iron skillet to make this, it's actually what I make most of my food in. I used Butcher Box grass fed ground beef. This is a non-fortified nutritional yeast, and if you're not familiar with nutritional yeast, it's a deactivated yeast that gives paleo, Whole30 compliant,  vegan, AIP, and essentially, dairy-free foods a cheesy flavor!
This beef and broccoli skillet casserole flavor is so good and rich. Think Hamburger Helper meets Beef and Broccoli Stir Fry. You're going to love it and so will your family!
New Here? All of my recipes are FLEXIBLE, healing recipes, made to fit your needs. From this blog to my first cookbook Made Whole, I aim to make DELICIOUS recipes that you want to make and eat, but that also makes you feel really good.
Yeah, it might not plate very pretty, but dang it tastes good! #TeamUglyFood Time to get cooking and dig into this family-friendly, Whole30 compliant, AIP friendly, low carb paleo beef and broccoli casserole!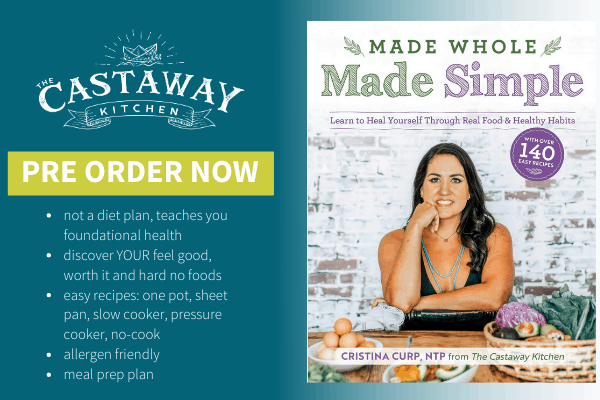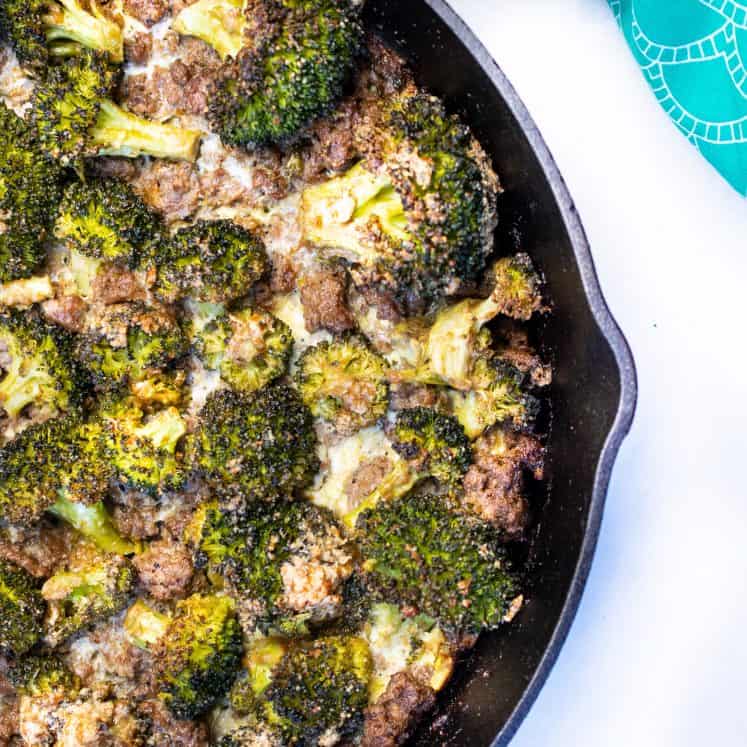 Beef and Broccoli Skillet Casserole (Whole30, Paleo, Keto)
---
Author:
Prep Time: 5 minutes
Cook Time: 40 minutes
Total Time: 45 minutes
Yield: 4 1x
Category: Entree
Method: One Pot
Cuisine: Comfort Food
Description
Think Hamburger Helper meets Beef and Broccoli but in a super easy and healthy way!
---
Scale
Ingredients
1 tablespoon bacon fat or lard
2-pound ground beef, 85% lean
2 ½ teaspoons fine salt, divided
2 teaspoon ground garlic
2 teaspoons onion powder
2 teaspoons dried parsley
2 large eggs, whisked
2 tablespoons dairy free milk
1 tablespoon apple cider vinegar
1-pound fresh broccoli florets
2 tablespoons nutritional yeast
2 tablespoons cashew butter or sun flower seed butter
1 tablespoon extra-virgin olive oil or ghee
---
Instructions
Pre-heat the oven to 400F and heat a 16" inch cast iron skillet, or oven safe skillet on the stove over medium heat. When it comes to temperature, melt the bacon fat in the skillet, then crumble the ground beef into it.
Break up the meat with a whisk or spatula until crumbly and browned. Stir in 2 teaspoons salt, the garlic powder, onion powder and dried parsley. Stir well and continue to cook until completely browned.
Combine the eggs, milk and vinegar in a small bowl and pour it evenly over the beef. Remove the skillet from the heat.
Quickly toss the broccoli florets with the remaining salt, nutrtitional yeast, cashew butter and olive oil until well coated then put the florets over the ground beef in an even layer.
Transfer the skillet to the oven, middle rack and bake for 30 minutes. When the broccoli florets are browned and toasty and the egg is cooked through, remove the skillet from the oven and use a large spoon or spatula to serve the casserole hot!
Store leftovers in an airtight container in the fridge for up to 4 days. Bake at 350F for 10 minutes to reheat.
Recipe Notes:
Substitutions
To make this egg free omit the egg and double the milk. Then with th milk and vinegar mix, add 1 tablespoon grain free flour to make a slurry.
To make this AIP, use coconut flour or arrowroot starch for the slurry. Use coconut butter in stead of cashew butter on the broccoli.
Nutrition
Serving Size: 1/4 recipe
Calories: 567.9
Fat: 36g
Carbohydrates: 11.1g
Fiber: 3.6g
Protein: 49.9g
Keywords: beef and broccoli skillet casserole