Have you seen ramen burgers on the internet? It's one of these buzzy, viral things going around in the foodie scene. Don't know what I'm talking about… well, let me paint a picture for you… you but a burger on a bun that is made of ramen noodles… pretty sure the ramen blocks are the 50 cent package kind that is deep-fried or something. So this Keto Ramen Burger isn't that… but it's better. You can all the delicious flavors of ramen without the MSG, gluten, or crap.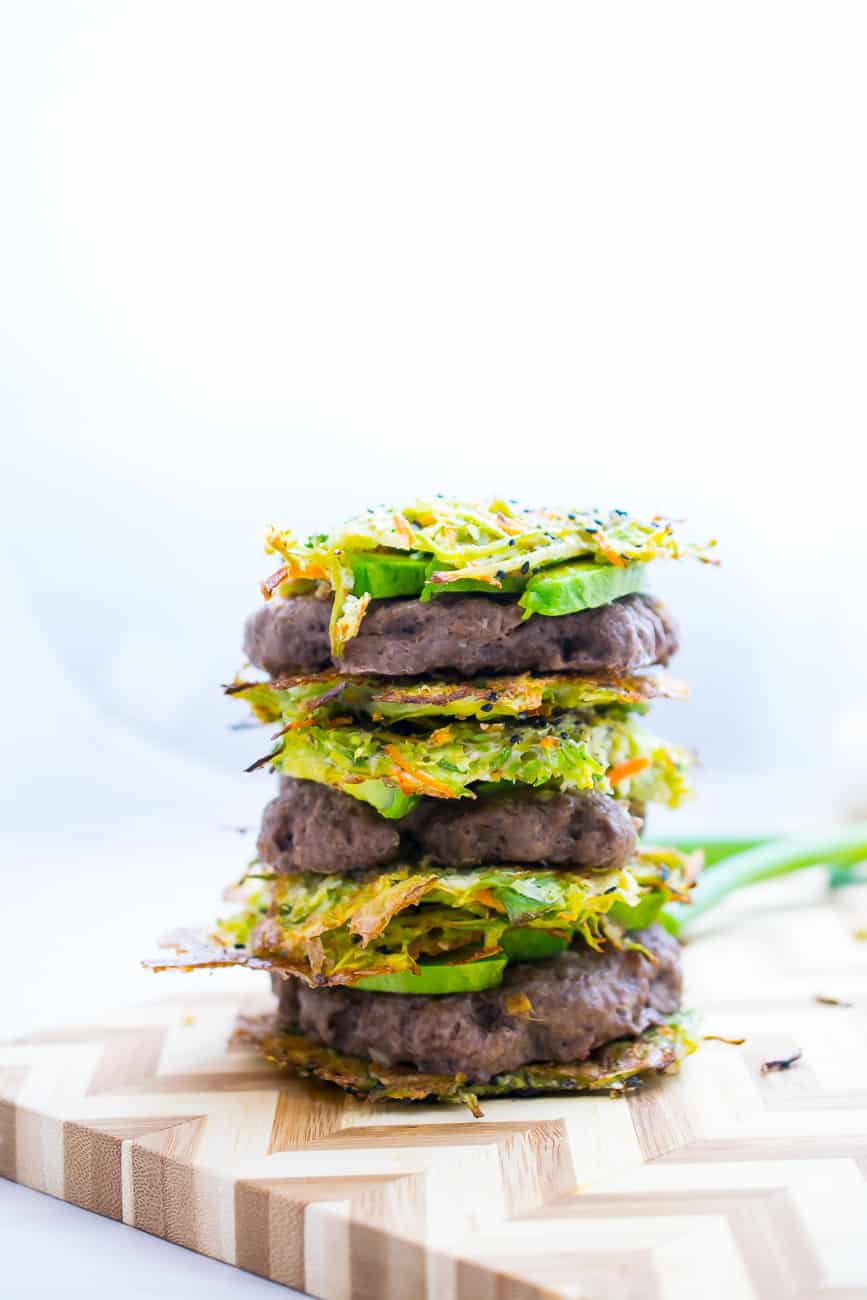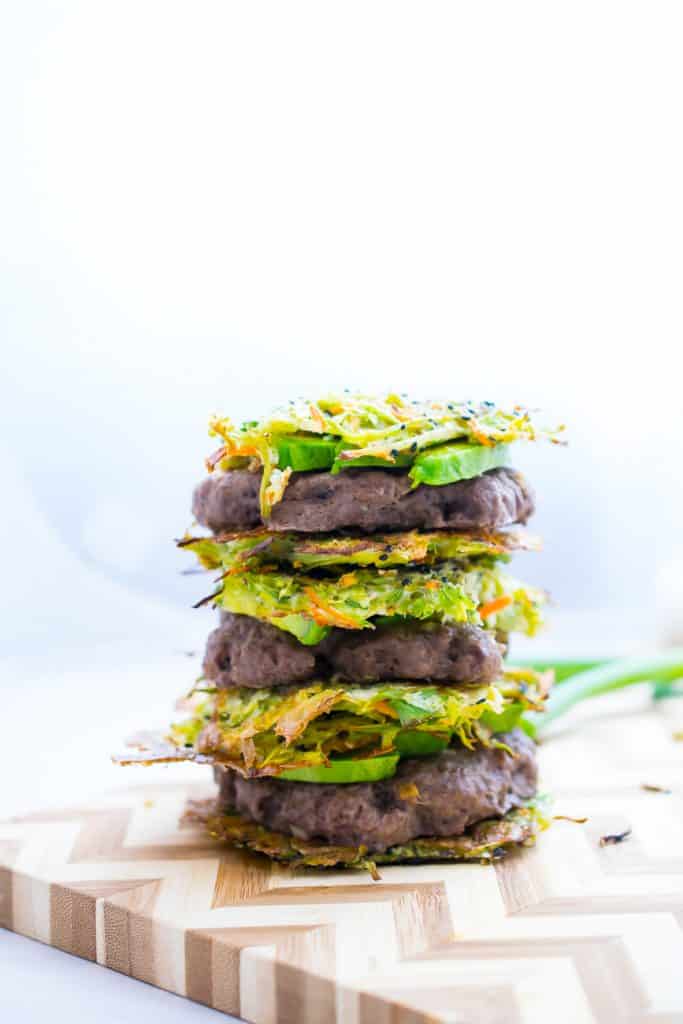 Table Content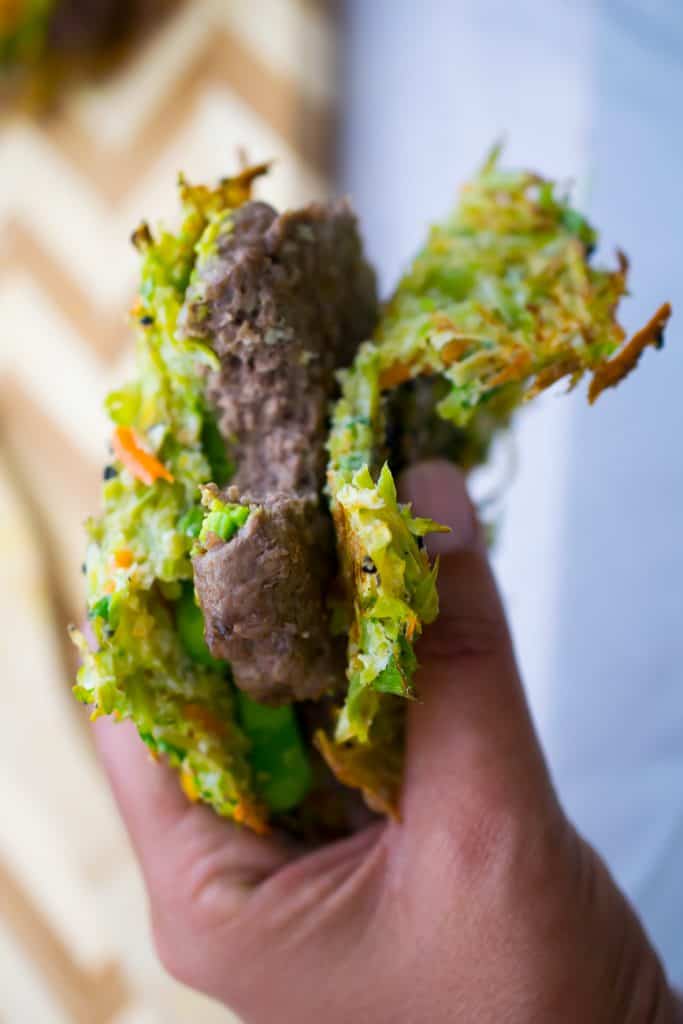 What's Better Than Paleo Keto Comfort Food… All That Made On A Sheet Pan!
Yup! This Keto Ramen Burger recipe, bun and all, it's a sheet pan recipe. You need half size sheet pans to make this easy and save time. The buns are simple, flourless mix of broccoli slaw, green onion, seasonings and egg topped with sesame seeds.
The juicy beef burgers are spiked with ginger and garlic, fish sauce and coconut aminos. You put it all together and you have an explosion of your favorite Asian take out flavors in a squeaky clean, nutrient dense, beautiful burger!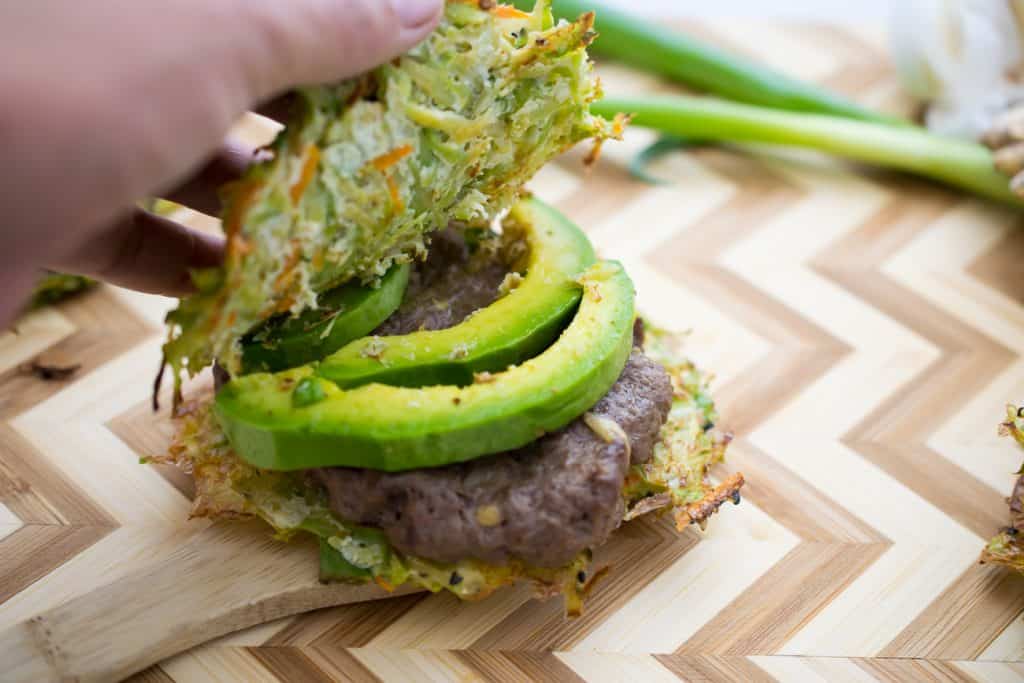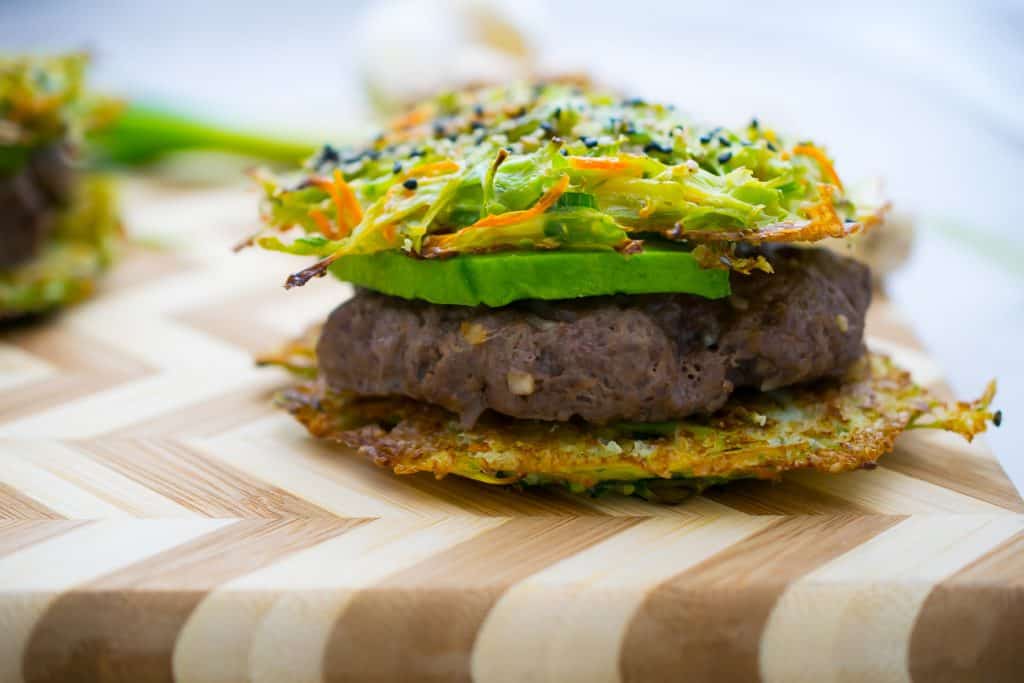 Keto Ramen Burger Add Ons!
I like to put avocado on my burgers, but creamy mayo would be a welcome addition too.
If you're feeling extra saucy I highly recommend my Ginger Sauce which you can find a version in my book Made Whole, or in this blog post.
Another welcome sauce would be by healing Teriyaki Sauce, you can find that recipe in my Teriyaki Meatball Noodle Bowl recipe, which lives here.
Okay, let's get cooking!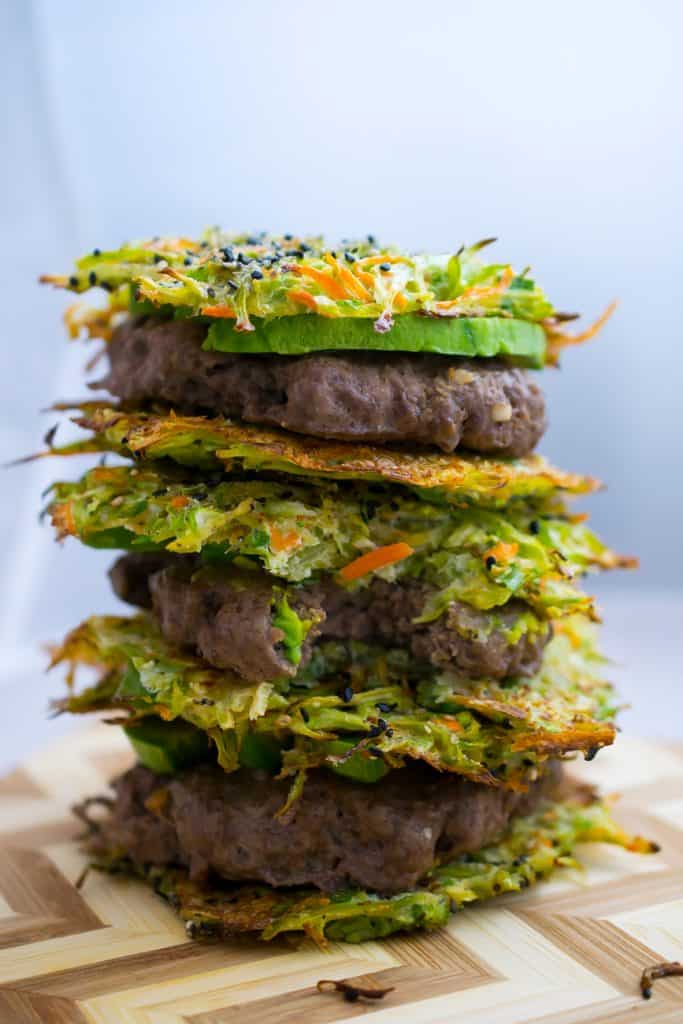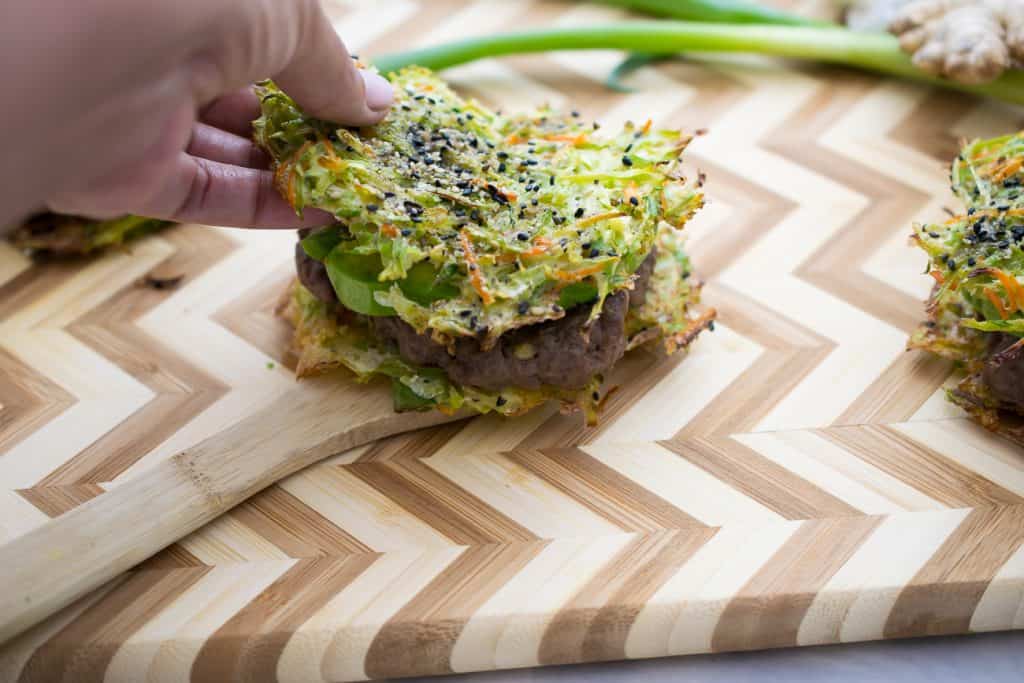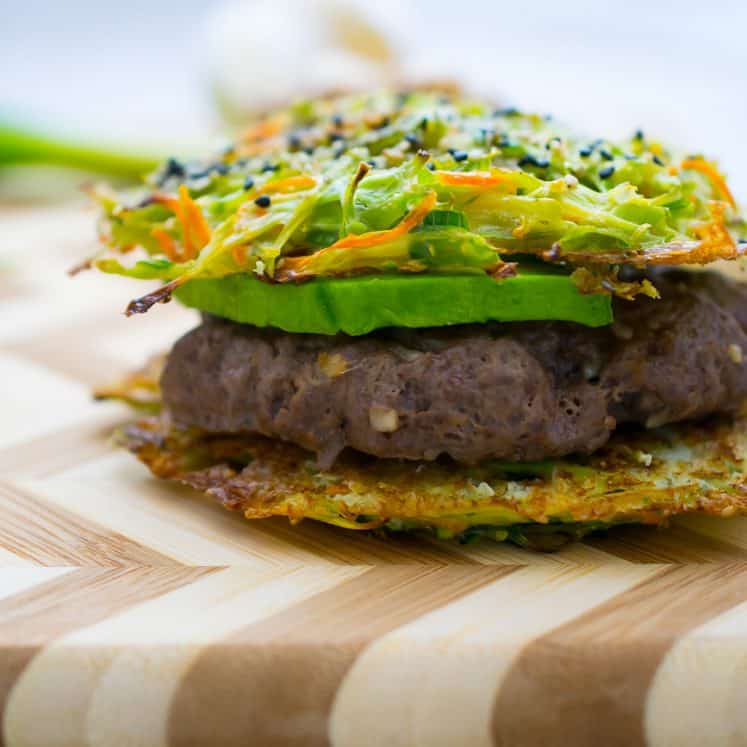 Keto Ramen Burger (Dairy Free, Gluten Free, Nut Free, Paleo)
---
Author: Cristina Curp
Prep Time: 10
Cook Time: 22
Total Time: 32 minutes
Yield: 3 burgers 1x
Category: entree
Method: sheet pan
Cuisine: Asian
Description
A juicy and flavorful Ramen inspired burger that is allergen friendly!
---
Scale
Ingredients
For the "Ramen Bun"
9 ounces (1 bag) shredded broccoli or broccoli slaw
½ teaspoon unrefined salt, fine
½ teaspoon ground white pepper
2 green onion, minced
2 large eggs
OPTIONAL: 1 tablespoons almond meal or ½ tablespoon coconut flour
1 tablespoon sesame seeds
Coconut oil spray
For the Burgers
1 pounds grass fed ground beef
½ teaspoon unrefined salt, fine
1 teaspoon fish sauce
2 teaspoon coconut aminos
1 tablespoon minced fresh ginger
1 tablespoon minced fresh garlic
1 tablespoon spicy mustard or Dijon mustard
Optional Add Ons:
---
Instructions
Pre-heat the oven to 400F. Line one sheet pan with parchment paper and lightly grease with coconut oil. Leave the second sheet pan bare and lightly grease with coconut oil
In one large bowl mix the broccoli slaw, green onion, salt, pepper, minced onion and eggs. Spoon 2 tablespoons at a time on to the lined sheet pan and shape 6 rounds, gently shaping with your hands and flattening them. Top with sesame seeds. If you want the ramen buns to have a heftier feeling to them add in the flour to the mix, but it's not necessary.
Bake for 20 minutes at 400F on the bottom rack. While the ramen "buns" bake mix all of the burger ingredients together in large bowl and then shape 3 large patties. Flatten them out well and poke a hole in the center of each one with your finger.
Place them on the second sheet pan and at the 10-minute mark put them in the oven with the ramen "buns". Cook everything until time is up then remove the buns from the oven and broil the burgers for 2 minutes then remove from the oven.
Use a thin spatula to scrape the ramen buns off of the sheet pan carefully. They will be delicate tasty rounds. I use the term bun lightly… but you get the picture. Sandwich the patties between two broccoli ramen buns and add avocado or your sauce of choice and dig in!
Recipe Notes:
Macros are with avocado, not the other sauces, also do not include the optional flour in the buns.
Nutrition
Serving Size: 1 burger
Calories: 390
Fat: 24g
Carbohydrates: 8.8g
Fiber: 4g
Protein: 34.4g
Keywords: sheet pan keto ramen burger