These Juicy Pork Burgers
Y'all know I love me some burgers… I only have like 10 recipes on the site. They might need their own page soon. These are amazing. The mix is juicy pork patty with little chunks of celery and green onion, perfectly seasoned and fried up to golden perfection. The MCT powder gives them a great mouthfeel, almost like they are lightly breaded.
I like THIS MCT Oil Powder. It's dairy free and it is great in my coffee and I have even used it in salad dressing. Great thickening agent for those avoiding dairy AND starches! (save 10% with code castaway10)
The ginger sauce is a throw everything in the blender creation that is creamy yet chunky. It's heavy on the ginger and dare I say a little spicy! The combination together is WOW! This recipe makes a big batch too, so whip these up Sunday and pack them for lunch or reheat for a quick breakfast. I served these with cauliflower rice for dinner and it was a huge HIT!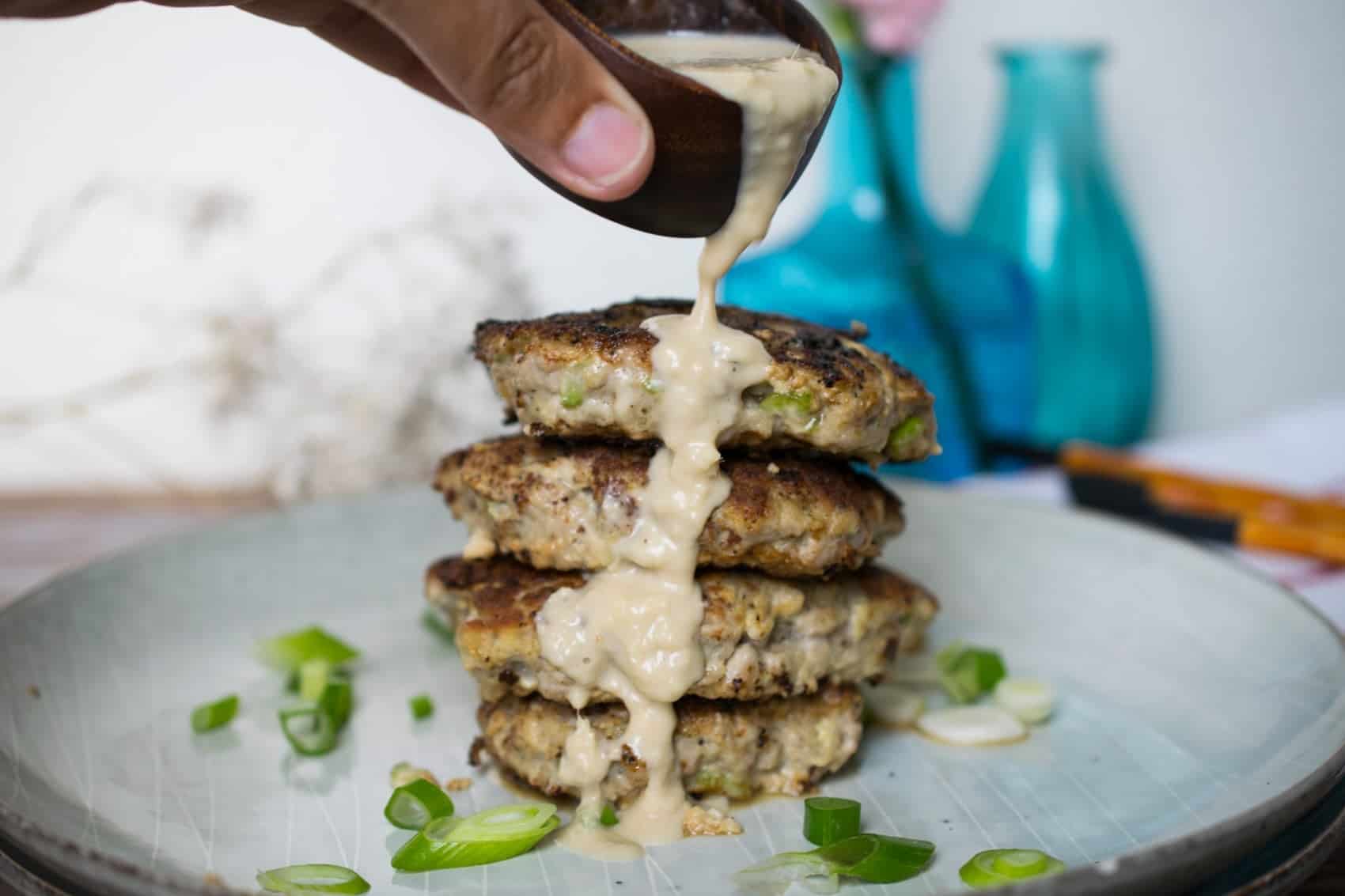 Home At Last!
Not going to lie, I'm downright giddy! Finally posting a new recipe, on my new website. So exciting. It has been almost 2 months since I have posted a new recipe I think. That's just nuts. But between traveling in July, the Whole30recipes takeover in September… plus quite a bit of work on the recipe development side… and some other stuff that TOP SECRET for now… it's been crazy. But now I'm home. The new site is up and running. We're back to regularly scheduled deliciousness.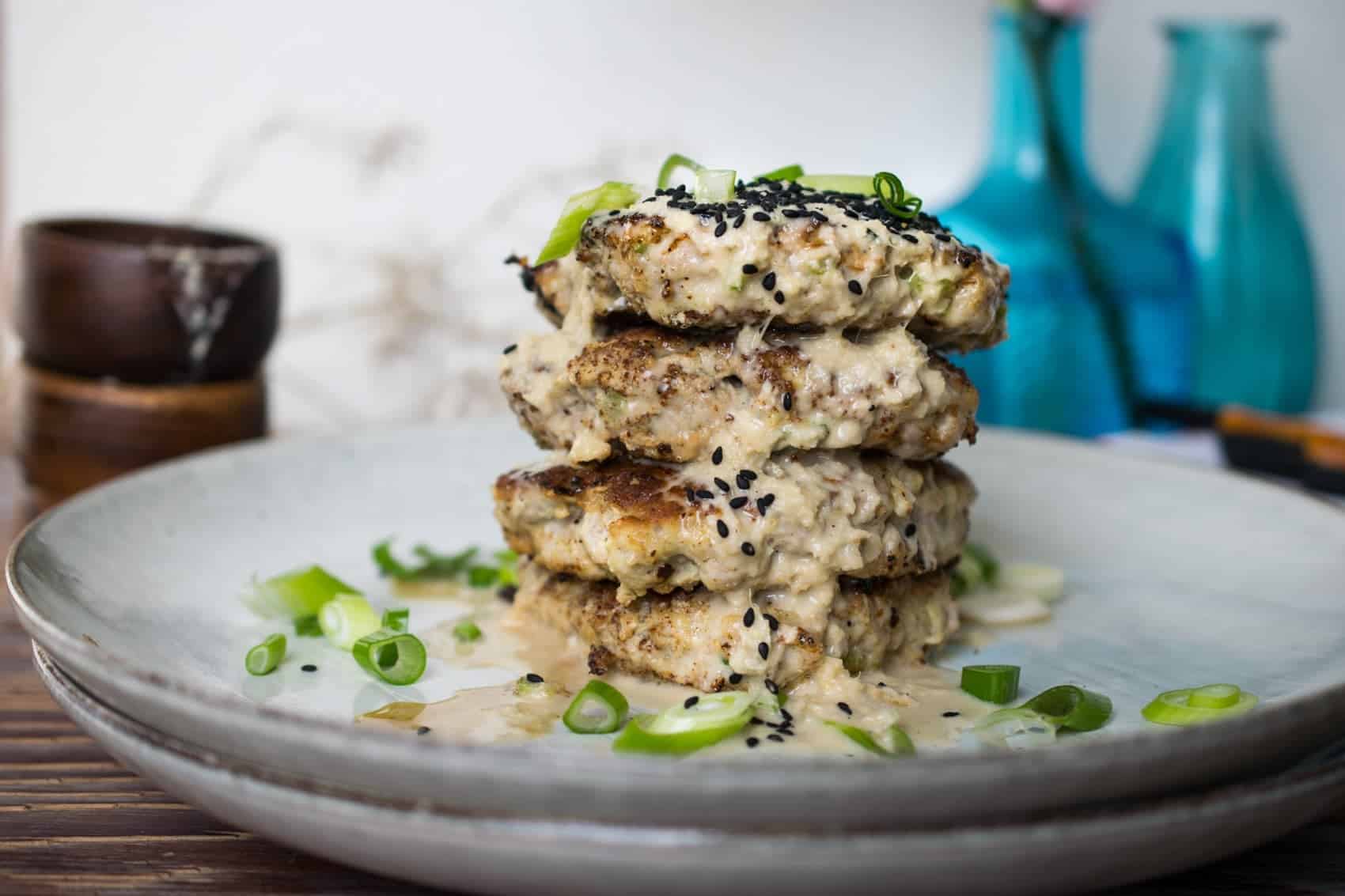 Catching Up
If you follow along on Instagram, you're hip to my ongoings, mostly because I yammer on Stories quite a bit. I will say that I have really found my groove lately. This low carb paleo/ whole food keto is really working for me. I feel and look better than ever. I LOVE food. Bonus there are so many folks to help. I get to help people daily with making better food choices and finding what works for them. We're all so different, but one thing that I know to be true, no matter who you are or where you are is that clean eating has no negative side effects. Whether you go low carb, high carb, AIP or whatever… real food will always be a big, resounding YES in my book.
I can't wait to keep creating and sharing with all of you, but most of all, I can't wait to share all these amazing recipes because at the end of the day, that is want to start all of this… my love for cooking combined with my passion for healing through food.
Substitutions
I get it, you are all not going to go BUY MCT Powder just for this recipe… well maybe you are… MCT powder is easier on your digestive system and delivers a healthy dose of medium chain triglyceride fatty acids that are like pure energy! Perfect Keto MCT powder is one of the few on the market without out added starches or dairy. Save 10% with code CASTAWAY10. 
Not interested? … here is what else you can use.
1 tablespoon coconut flour
or
1 tsp cream of tartar mixed with 2 tsp coconut flour
or
1 tablespoon starch (tapioca, arrowroot)
or
1 teaspoon coconut flour with 1 tablespoon beef gelatin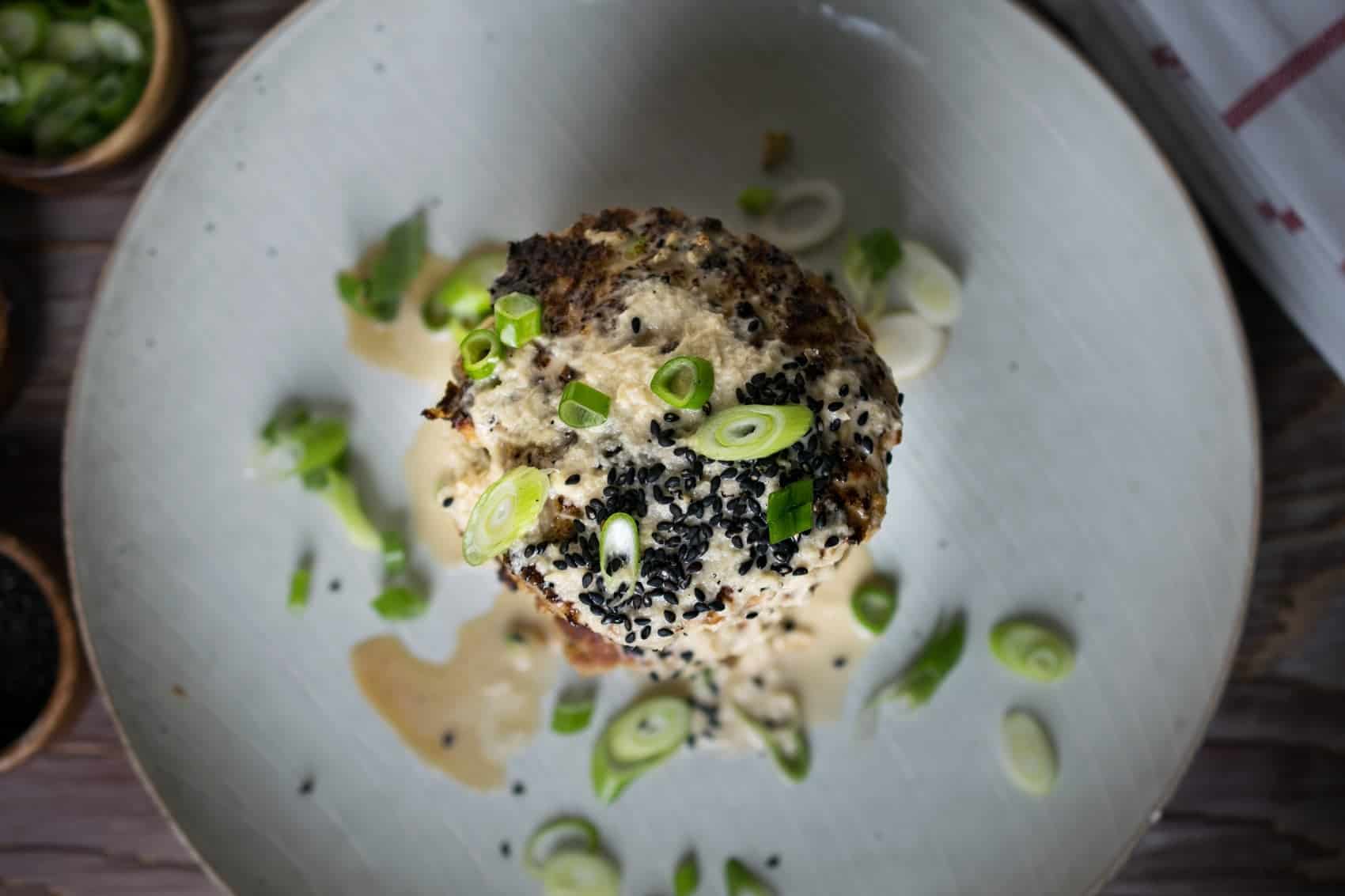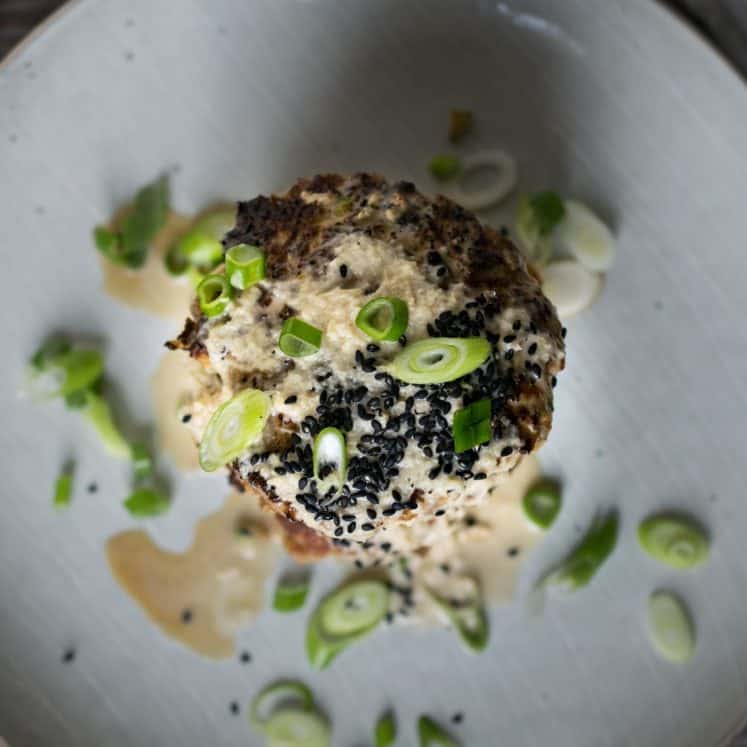 Scallion Pork Patty With Ginger Sauce
---
Author:
Prep Time: 10
Cook Time: 20
Total Time: 30 minutes
Yield: 8 burgers 1x
Category: entree
Method: skillet
Cuisine: Asian
Diet: Gluten Free
Description
Juicy and delicious patties with an amazing sauce!
---
Scale
Ingredients
For Pork Patties
2 lbs ground pork
2 cloves garlic, minced
2 stalks green onion, minced
2 ribs celery, minced
1 tsp Sesame oil
1 tbsps Coconut Amino Acids
1/2 teaspoon, Salt
1 tsp black pepper
3 Eggs
1/4 cup unflavored MCT Oil Powder (see post substitutions)
1 tbsp Cooking Fat
For the Sauce
1/4 cup diced, peeled, ginger root
4 clove Garlic, raw
1/4 cup Coconut Amino Acids
1 tbsp Fish Sauce, Red Boat
2 tbsp (15 g), Red Wine Vinegar
2 tbsp Oil – Sesame
1 tbsp Dijon Mustard
---
Instructions
In a large bowl crumble in the ground pork. Add in the minced celery, green onion (scallion), and garlic. Add in the coconut aminos, salt, and pepper. Mix thoroughly.
Add in the eggs, mix until well combined.
Add in the MCT powder (coconut flour, starch and/or gelatin) and mix in with your fingers until the meat mix feels like a sticky dough. Shape approximately 8 patties with your meat mix.
Heat a large castiron skillet over medium heat. While it comes to temperature, make the sauce.
Combine all of the ingredients in a blender or food processor until thick, chunky sauce forms. Set aside.
Heat the cooking fat in the skillet. Cook 3-4 at a time, not to crowd the skillet. Cook 5 minutes each side or until the center feels firm like the palm of your hand and both sides are browned. Repeat until all of the meat mix is cooked. Add a little fat to the skillet between batches.
Serve with ginger sauce on the side, garnished with sesame seeds and more green onion.
Recipe Notes:
Makes a big batch, these are great for meal prep!
Macros are without the sauce, recipe makes extra!
Nutrition
Serving Size: 1 burger
Calories: 576
Fat: 42g
Carbohydrates: 1g
Fiber: 0g
Protein: 45g
Keywords: juicy pork burger