My Happy Place
The kitchen is really my happy place. Being chained to my computer for hours on end writing and editing my eBook was really hard for me. It takes its toll. Not that I'm not happy it's out. It's a heck of an accomplishment and whether it sells like crazy or not, I'm proud of myself!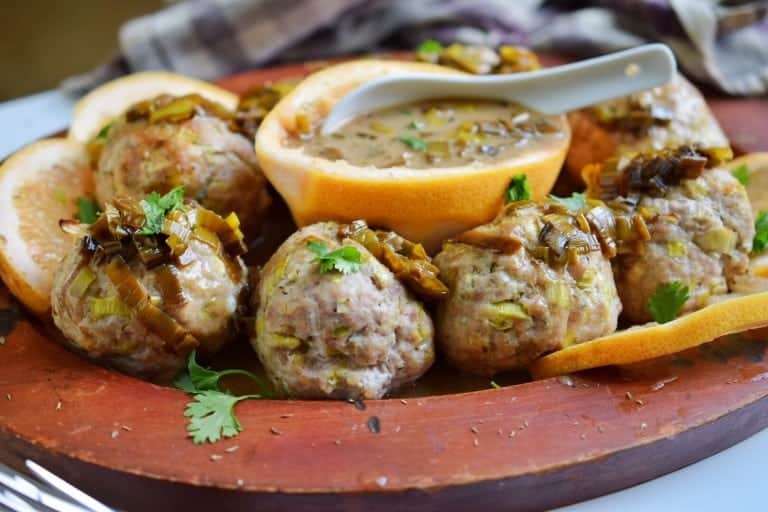 That being said, I'm glad to be back in the kitchen, recipe development is my jam. This morning when I went to the market I had a few ideas flying around my head… none of them were these meatballs. You know, sometimes you just have to let the produce speak to you, inspire you and lead the way.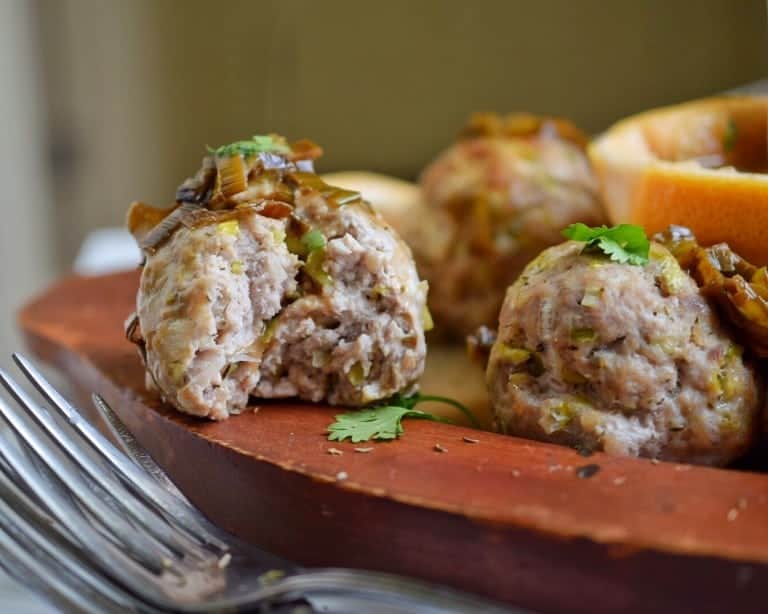 JUICY PORK MEATBALLS
These big, bad, juicy pork meatballs are packed with leeks, grapefruit, beef gelatin, and thyme! Roasted to golden perfection then served up with a creamy balsamic sauce with caramelized leek greens… and while you may be thinking that this recipe is just too complicated or too fancy for you… I beg to differ. I think that if you have some greens or zoodles, even some sweet potato mash ready to go… and forty minutes… you should try these and see just how simple they are.
Ok! Let's get cooking because these Pork Meatballs with Balsamic Sauce are DELISH!!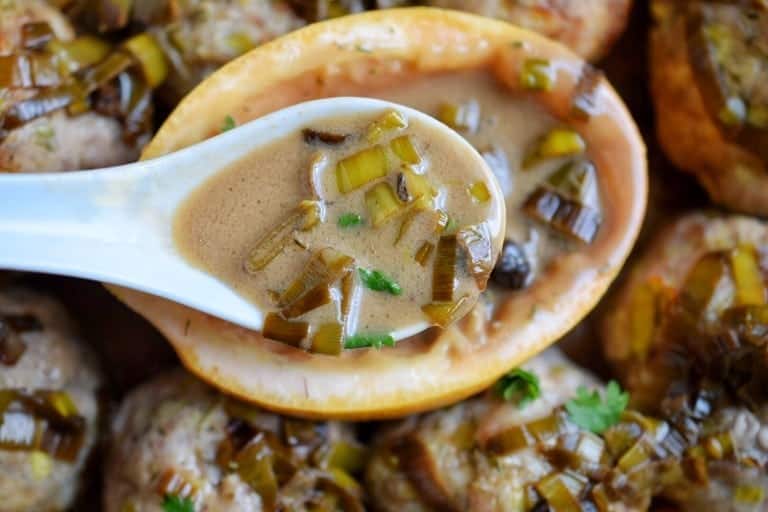 Pork Meatballs with Balsamic Sauce
---
Author: Cristina Curp
Prep Time: 10
Cook Time: 35
Total Time: 45 minutes
Yield: 9 1x
Category: Entree
Method: Oven & Stovetop
Cuisine: American
Description
Balsamic pork meatballs
---
Scale
Ingredients
Meatballs
3lbs ground pork
2 leek stalks
1 tbsp dried thyme
1 grapefruit (or orange)
1 tbsp coconut oil
1/2 tsp pastured beef gelatin
1 tsp balsamic vinegar
2 tsp salt
1 tbsp coconut flour
Sauce
1 tsp coconut oil
the greens from your  leek stalks
1 cup coconut milk
1 tsp beef gelatin
1/4 cup balsamic vinegar (or coconut vinegar)
2 inch piece of citrus peel
1/2 tsp salt
---
Instructions
Pre-heat oven to 350F.
Cut your leeks right where the white turn green. Then cut the whites in half and wash any dirt out of them. Pat dry. Lay your leeks flat on the cutting board and mince, should yield about two cups, add them to a large bowl. Next add in your thyme, salt and coconut flour to the bowl.
Juice your grapefruit and add it in. Add in balsamic vinegar Toss everything together. Sprinkle in the beef gelatin, and mix well.
Add in the pork and mix it all up with hands until the leek mix is evenly incorporated into the pork. Spread coconut oil all over a sheet pan and with your greased hands roll 8-9 large meatballs from your mix. You can make them a little smaller at 1/4 pound a meatball and make 12. Either way, the goal is to make single serving meatballs! Pop these in the oven and set the timer to 35 minutes.
In the meantime, wash your leek greens. Heat a large skillet on high heat, add in coconut oil. Slice your leek greens. Add them to the skillet with the grapefruit rind and saute until tender and beginning to brown.
Lower heat to medium, add in the balsamic vinegar, it will quickly begin to boil down. Stir it.
After about 30 seconds, add in coconut milk, salt and gelatin. Whisk to combine as it comes back up to a boil. Let it simmer for 10-15 minutes, stirring occasionally until it's has become a little darker in color and thicker.
Remove from heat and wait for meatballs to be ready. If they're 1/3 pound they can take up to 40 minutes, depends on your oven and the size.
When ready, plate meatballs and spoon leek and sauce all over them! These are perfect with zoodles or scalloped potatoes!
Nutrition
Serving Size: 1 large meatball
Calories: 115
Fat: 6g
Carbohydrates: 10g
Fiber: 4g
Protein: 3g
Keywords: Pork Balsamic Meatballs