Steak and eggs is a pretty awesome combination! When Pre-Brands sent me some of their amazing, tender, grass-fed beef to play around with, I was thrilled! They also requested I come up with a steak and eggs recipe for their fall line up. Um, yeah! I wanted to make something fun, but not too crazy because let's face it… no one wants to work that hard in the morning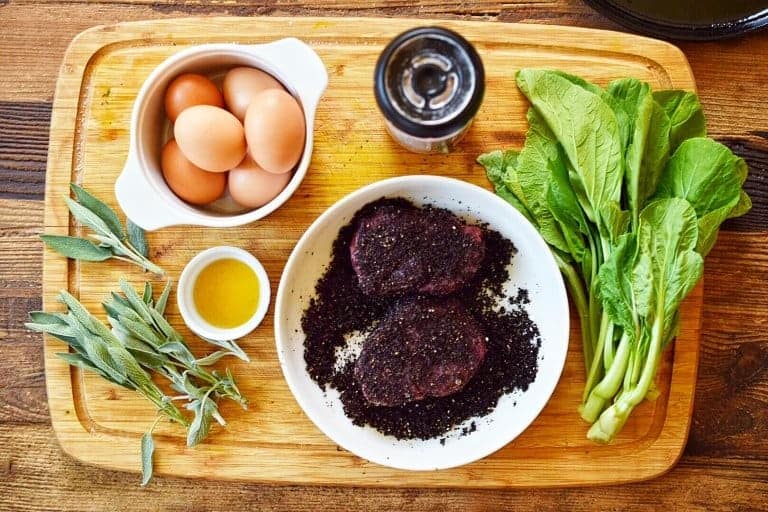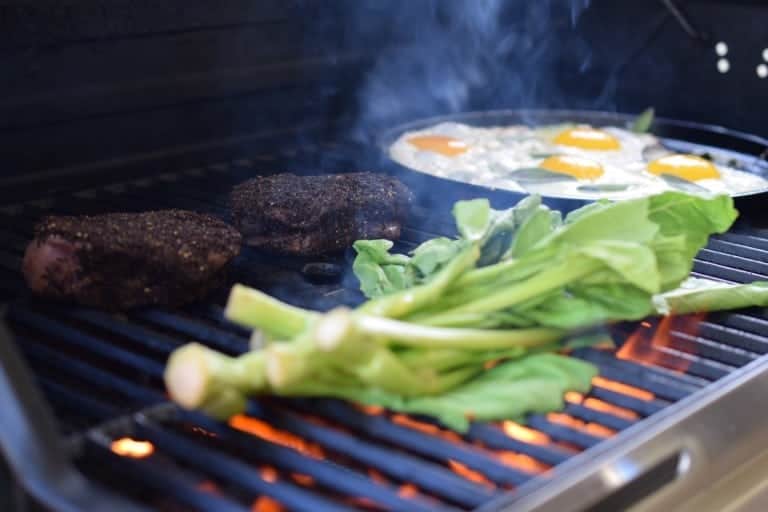 Grilling in the morning? Well, yeah. I mean, no shame, I was out on my back porch, 9am on Sunday….in my chonies… grilling. The clean up is easier, and if it's super hot where you are, it won't heat up the house. So yes, go all glamping style and grill your damn filet for breakfast.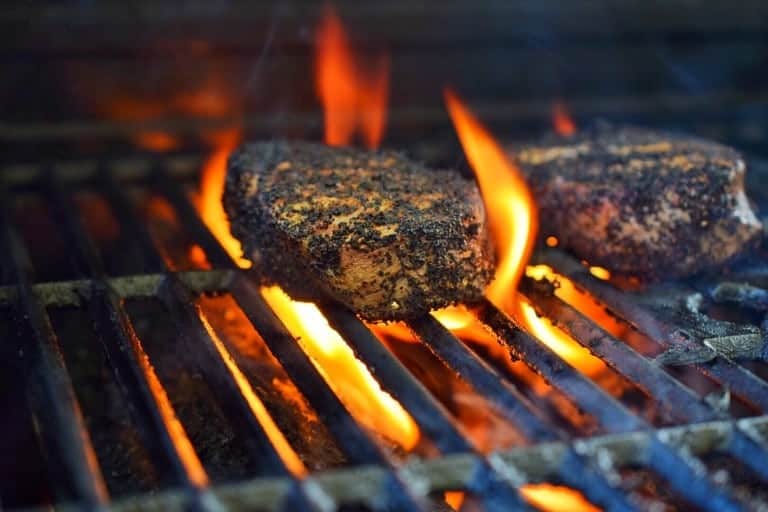 Coffee grounds and steak just work… especially for breakfast… and sage and eggs are my fav combo… so just trust me on this one and get to it. Don't let the mushroom powder throw you off. You know those dehydrated shiitake mushrooms they sell with Asian foods? Grab those and throw them in your blender or food processor until they are dust!A great umami seasoning. I think Michelle Tam of Nom Nom Paleo coined it Magic Mushroom Powder. It truly is magic!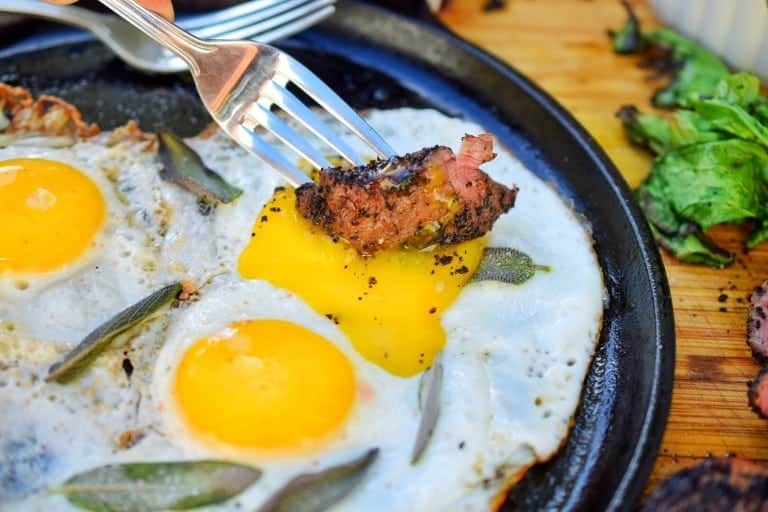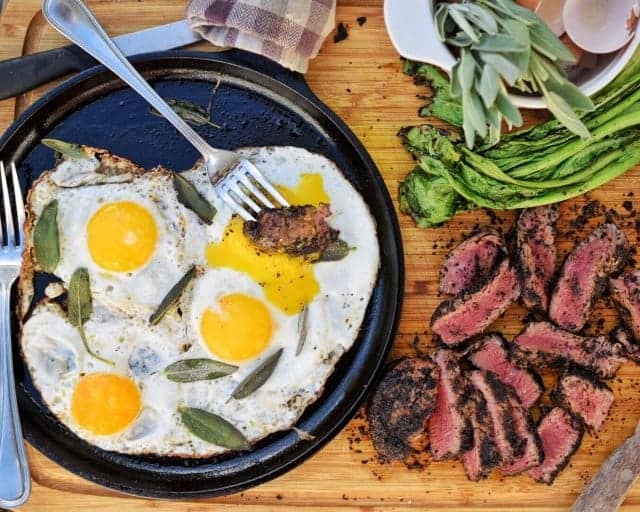 Kona Crusted Steak & Sage Fried Eggs… on the Grill!
---
Author:
Prep Time: 10
Cook Time: 10
Total Time: 20 minutes
Yield: 4 Servings 1x
Category: Breakfast
Method: Grill
Cuisine: American
Description
Steak & Eggs!
---
Scale
Ingredients
Steak:
2 Pre-Brands Beef Tenderloin Steak
3 tbsp Kona Coffee grounds
1 tbsp black pepper
2 tsp pink Himalayan salt
1 tbsp ground shiitake mushroom powder
1 tsp maple syrup (omit for Whole30, double coconut aminos)
1 tbsp coconut aminos
1 tbsp ghee
Eggs:
4 large pastured eggs
1 bunch fresh sage
2 tbsp avocado oil
1 tbsp ghee
salt to taste
Greens:
4 bunches choy sum or 2 heart of romaine
1 tbsp ghee
Cast Iron Skillet
Grill
---
Instructions
In a shallow bowl mix coffee grounds, black pepper, mushroom powder, maple syrup and coconut aminos.
Rinse and pat dry your tenderloin steaks.
Pat salt on to them, then place in bowl with coffee mix press down gently, flip and repeat.
Set aside.
Turn grill on, all burners on high.
Massage avocado oil in to cast iron skillet and set it on one side of the grill.
Close the lid, and let it heat to 450F.
In the mean time prep all your ingredients on a board to take outside.
Eggs in a bowl, pick sage leaves off.
Measure out cooking fat etc.
When the grill is hot, carefully open the lid.
Smear a little ghee on the top of your steaks and place them on the hot grill, fat side down.
Add a little ghee to the skillet, don't touch the handle it will be hot!
Crack eggs on to skillet.
Add sage leaves and salt to egg whites.
Rub greens down with a little fat and find a place for them on the grill.
Use tongs to handle the greens, these will be done fist, one minute a side or so.
Sprinkle with salt, and set on the cutting board.
After 2 minutes add a little ghee to your steaks and flip them.
Your eggs should be almost done by now, you can turn off the heat on that side of the grill.
Wrap a kitchen towel around the handle of the skillet and move it the edge grill while the steaks finish.
After another two minutes remove steaks from the grill and set on the cutting board.
Let them rest 3-5 minutes. Slice with a sharp knife.
Add eggs to the board, they should slide right off the cast iron skillet.
Set out forks and knives and dig in!
Nutrition
Serving Size: 1/4 recipe
Calories: 564
Fat: 46g
Carbohydrates: 7g
Fiber: 1g
Protein: 30g