Perfect Steak Salad in partnership with MEATER.
I cook quite a bit of meat in my home. Quality animal proteins are an important part of my nutritious diet. As a former restaurant chef, I have quite a bit if kitchen prowess to know how to cook just about any cut of meat. But let me tell you, any good chef knows that using a thermometer is key. Especially when cooking larger cuts of meat, or cheaper cuts that get tough when overcooked.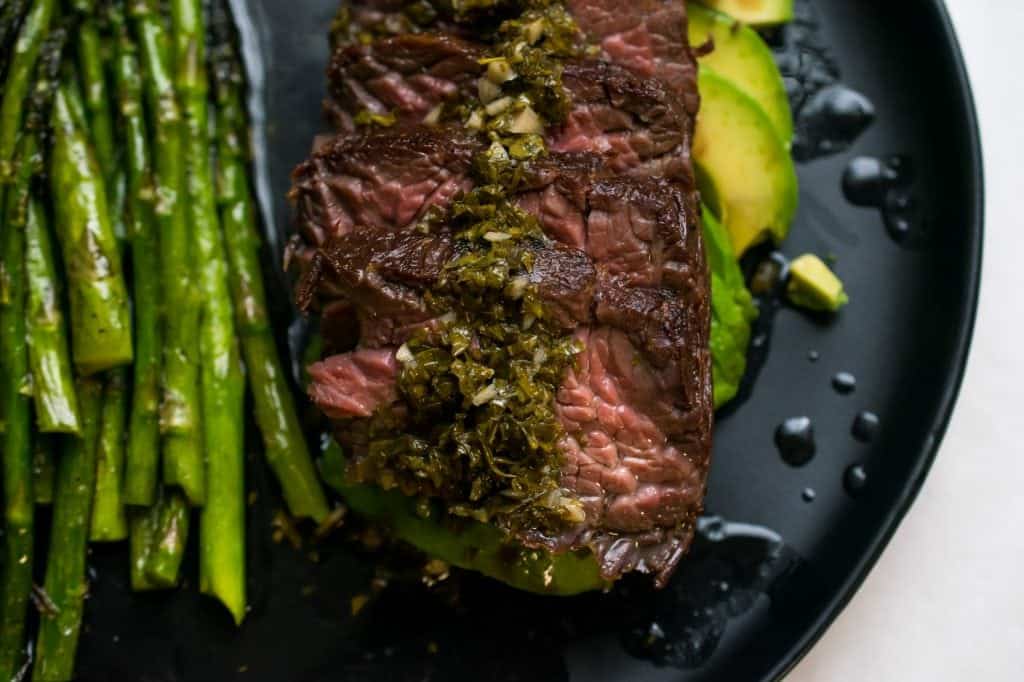 A question I get constantly as a food blogger is how to cook steaks, roasts etc. The truth is that cook times will vary greatly depending on the method, the size of the cut and the equipment being used. Unless you have a thermometer, you need to have a strong intuition about what you're doing.
Learn More about MEATER Here.
MEATER takes the guesswork out. I've used, broken and thrown out more kitchen thermometers than I would like to admit. Inaccurate readings faded digital numbers and more. What I love about MEATER is that not only does it tell you how long to cook your meat, but also how long to let it rest. You can enter your own internal temp or use their intuitive software to decide how long to cook.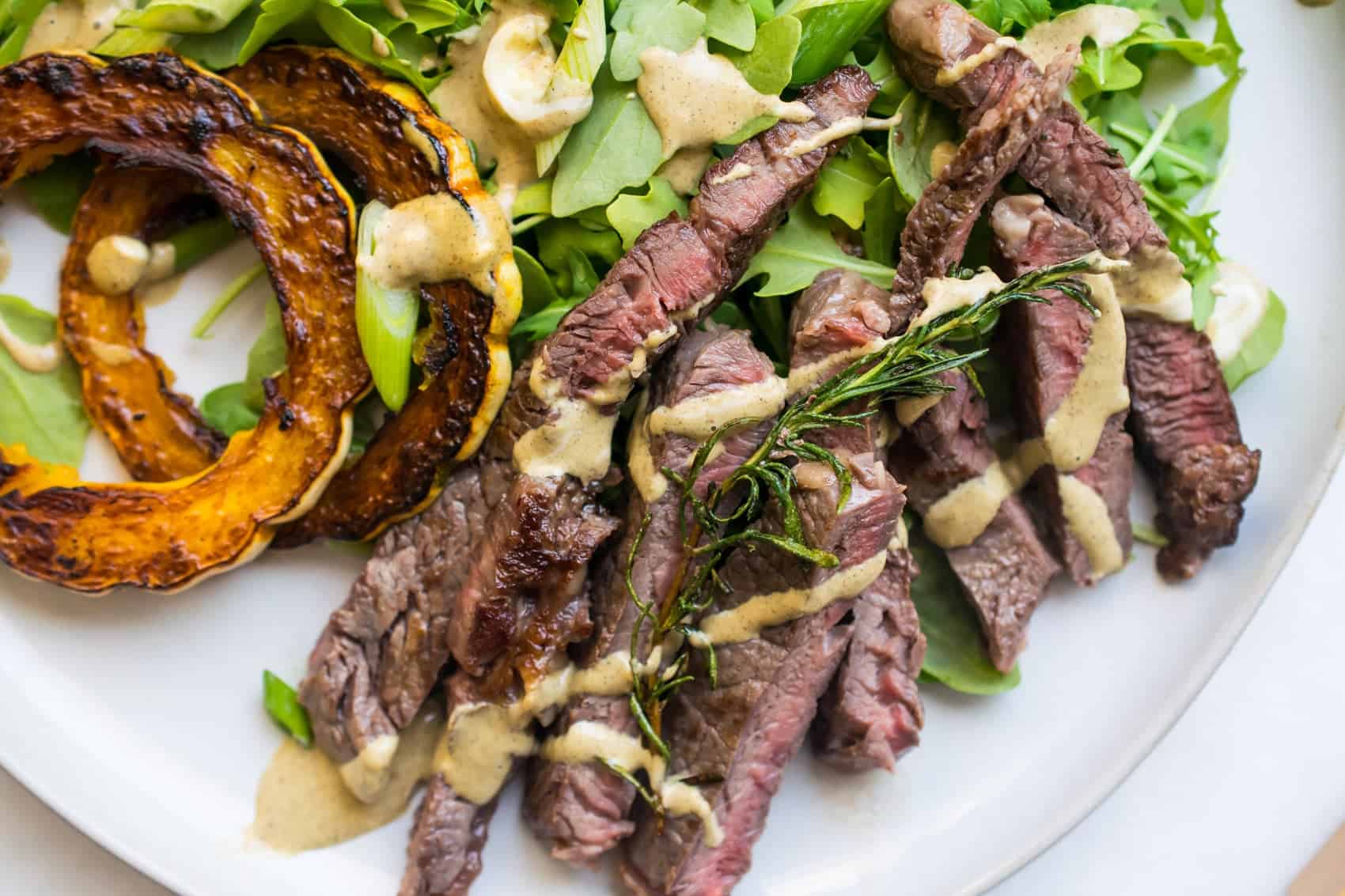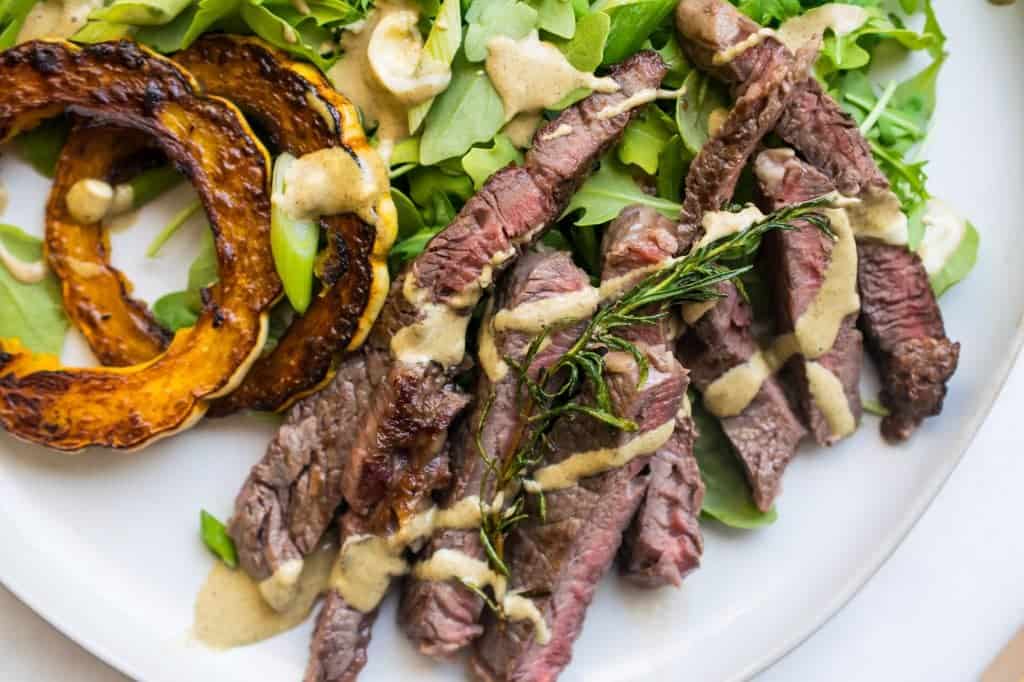 It's like having an expert right there with you as you cook your steak! No more are the days of burnt meat, tough roasts or dry chicken. I find myself using MEATER all the time. I love that I can walk away from my kitchen and the app will let me know when it's time to remove my food from heat. It gives me flexibility and insight and it's fun to use. Jack loves watching the rings change colors.
To purchase your MEATER, visit their site at https://meater.com/

This Steak Salad Though
It's what dreams are made of. Peppery arugula, crispy and sweet delicata squash rings. Perfectly cooked, fatty ribeye and a creamy tangy "honey" mustard that really ties it all together beautifully.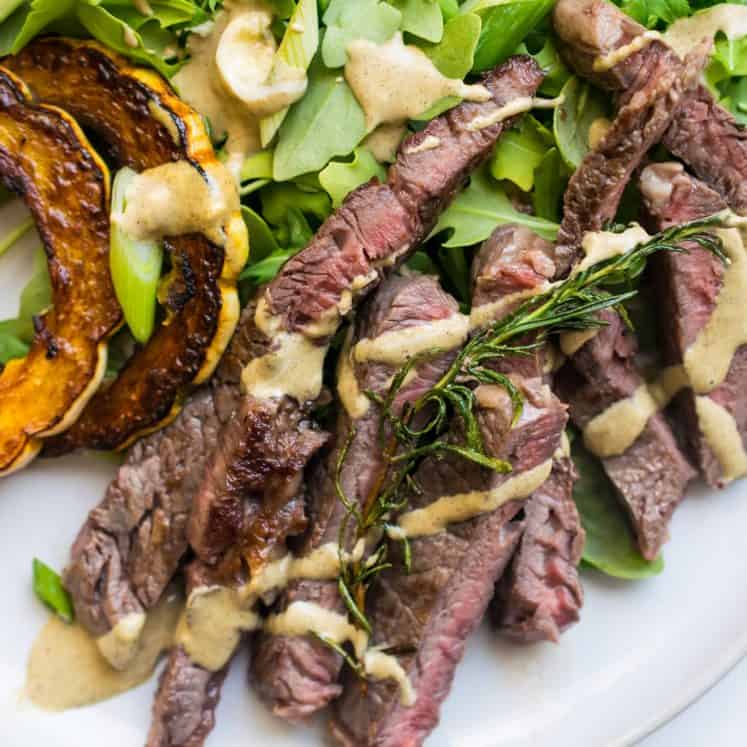 The Perfect Steak Salad (Paleo, Keto, AIP, Whole30)
---
Author: Cristina
Prep Time: 10
Cook Time: 15
Total Time: 25 minutes
Yield: 2 1x
Description
Cook the perfect steak and serve it over this seasonal salad!
---
Scale
Ingredients
Fine salt
2 6oz ribeye steaks
1 tablespoon cooking fat
2 sprigs rosemary
4 cups fresh arugula
4 slices delicate squash, seeded
1 green onion, sliced
For the Dressing:
¼ cup Dijon mustard (for AIP use horseradish)
2 tablespoons avocado oil
2 tablespoons lemon juice
2 tablespoons coconut aminos
2 tablespoons mayonnaise (for AIP sub coconut cream)
½ teaspoon oregano
---
Instructions
Heat a large cast iron skillet over medium heat while you prepare the steaks.
Salt the steaks liberally all over. About 1 teaspoon between both steaks.
Insert rosemary into one of your steaks, in the thickest part.
Place the steaks on the hot cast iron.
Check the MEATER App for cooking time, flipping halfway through, or when halfway to desired done temperature, 135F for medium rare.  Use tongs to flip the steaks.
Once you have flipped them put a rosemary sprig on each steak until it is done cooking.
Remove the steak from heat and let it rest. Leave the skillet on the heat.
Add the squash rings to the hot skillet and cook 3 minutes a side until browned and the squash is tender.
Cut the steaks into ¼ inch slices.
On two large plates distribute the arugula salad.
Add the steak and the rings.
Sprinkle with salt and add the green onion.
Stir all the dressing ingredients together and drizzle over everything.
Enjoy!
Keywords: perfect steak salad