Anytime I can throw everything in the oven for dinner vs cooking stove top… I do! I have a deep deep love of sheet pan meals. Fewer dishes. Hands off. Best part, a great way to make crispy things. Or a great way to get a lovely brown on proteins. Enter this Broiled Salmon.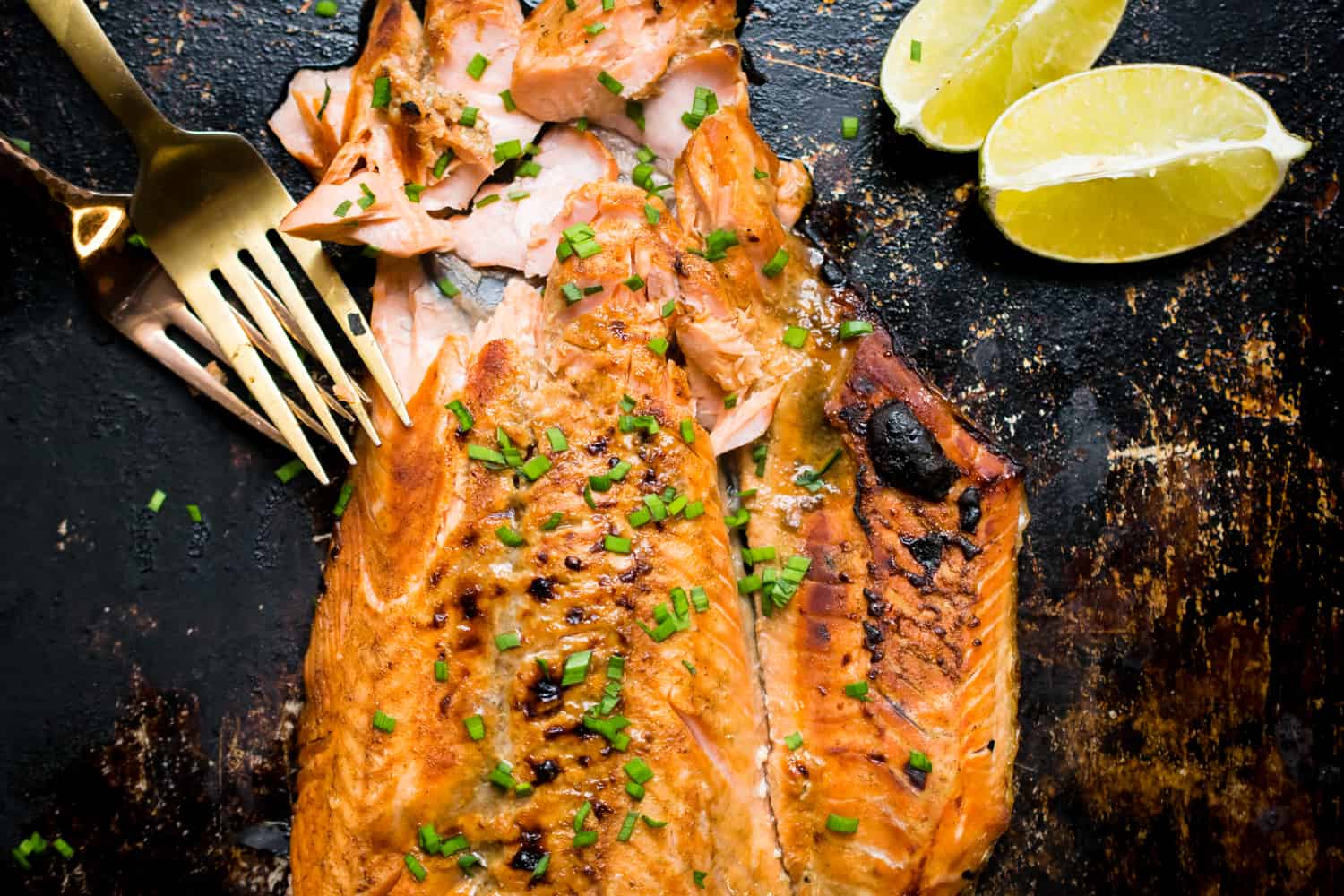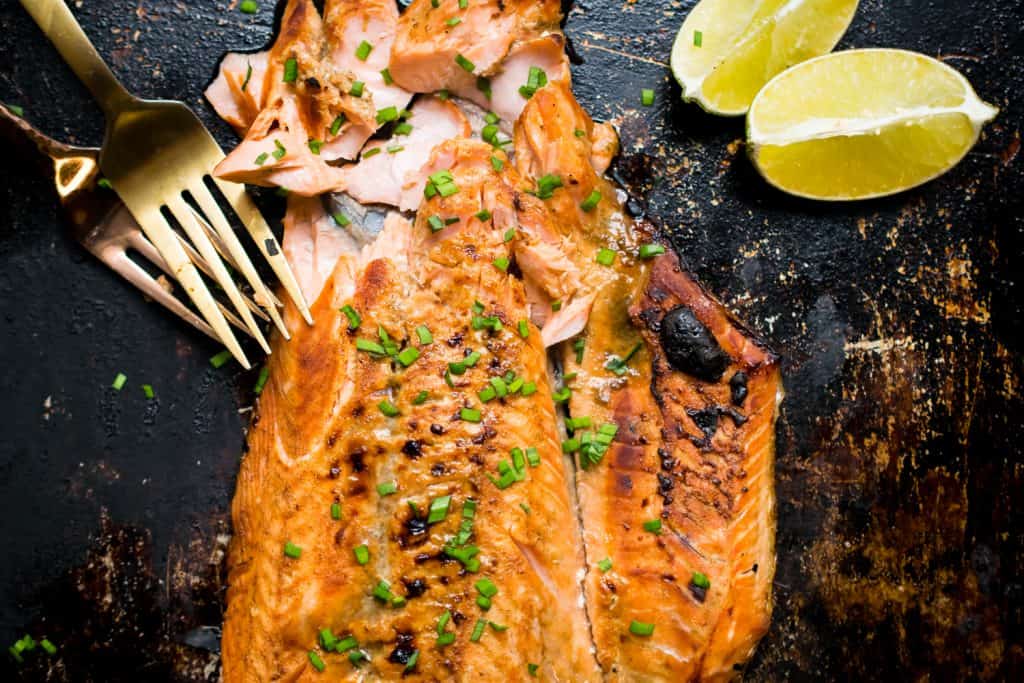 The Secret To The Perfect Broiled Salmon
For one, you don't cook it too long. Size matters, but usually 8-10 minutes is enough. You know your broiled salmon is ready when you can easily flake the flesh with a fork. You want it tender and soft, if it crumbles, or its very stiff, it's overcooked.
The second secret, a killer sauce or topping. While salmon is delicious fish with high omega 3 fatty acid content, slapping on some mayo, coconut butter or a sweet marinade (like this recipe) will take your broiled salmon from meh to wow!
Lastly, chose the right salmon. Salmon has seasons, so pick what is at its peak (see here).  When you pick salmon look for wild caught (has darker flesh). You want a piece that is uniform in size (so it will cook evenly), and that isn't tattered. If the flesh has holes and rips in it, you don't want that.
Also, ask your fishmonger to remove the bones, or do it yourself with plyers or tweezers when you get home. Yup, I have a pair of tweeters I use in the kitchen only, they tend to be more delicate and allow me to remove bones without tearing about the meat of the fish.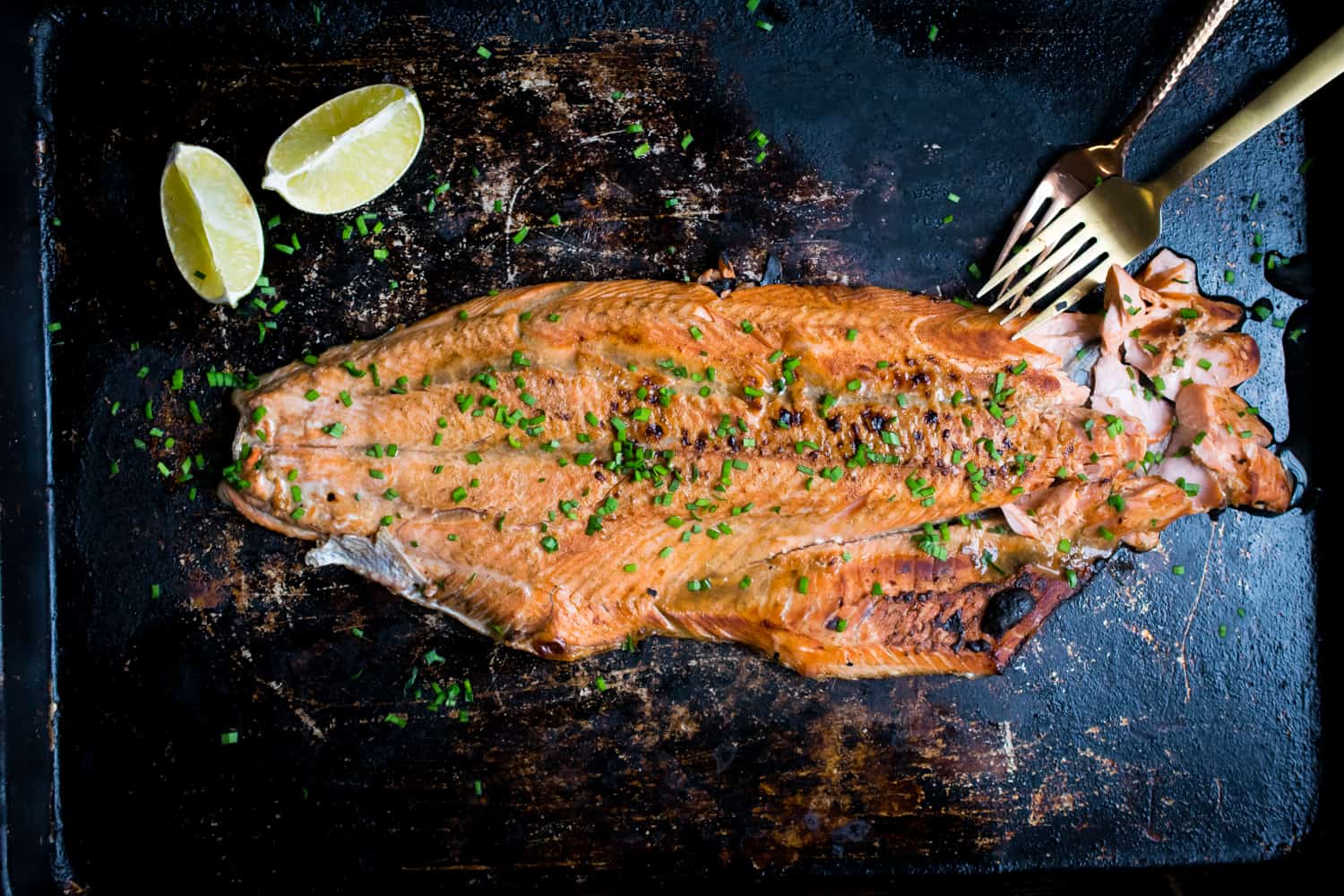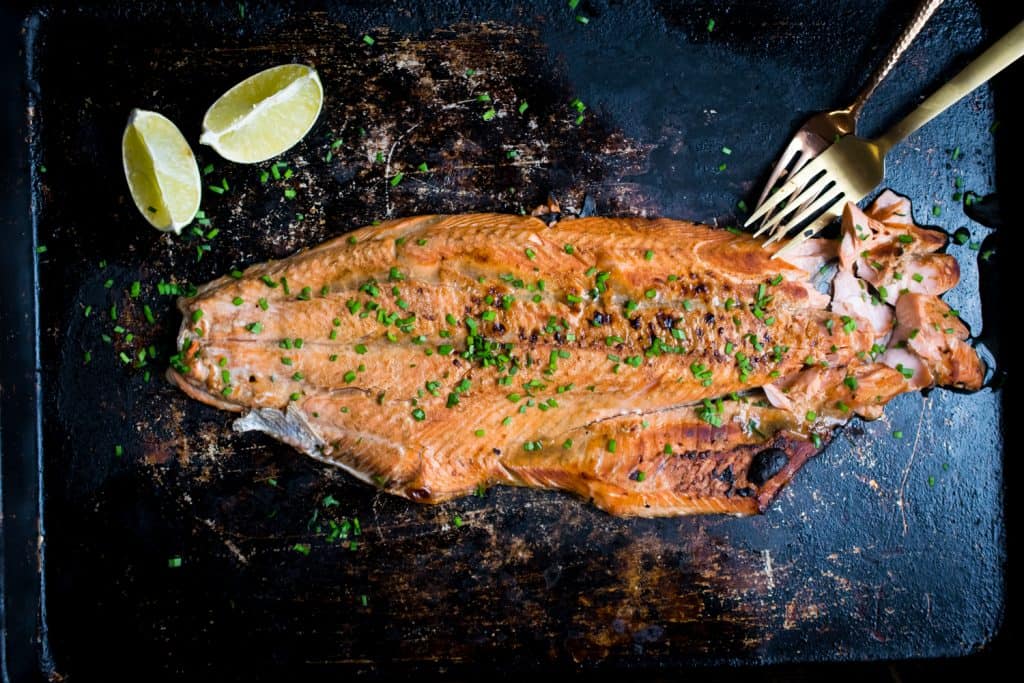 That Caramelization Though…
My favorite part of this recipe is the toasty, caramelized bits from the marinade. This happens because of the coconut aminos and oh mah lawdy those toasty bits are bites of heaven. If you're using the pre-made marinade like The New Primal Citrus Herb make sure to shake up the bottle really well before adding it to the fish.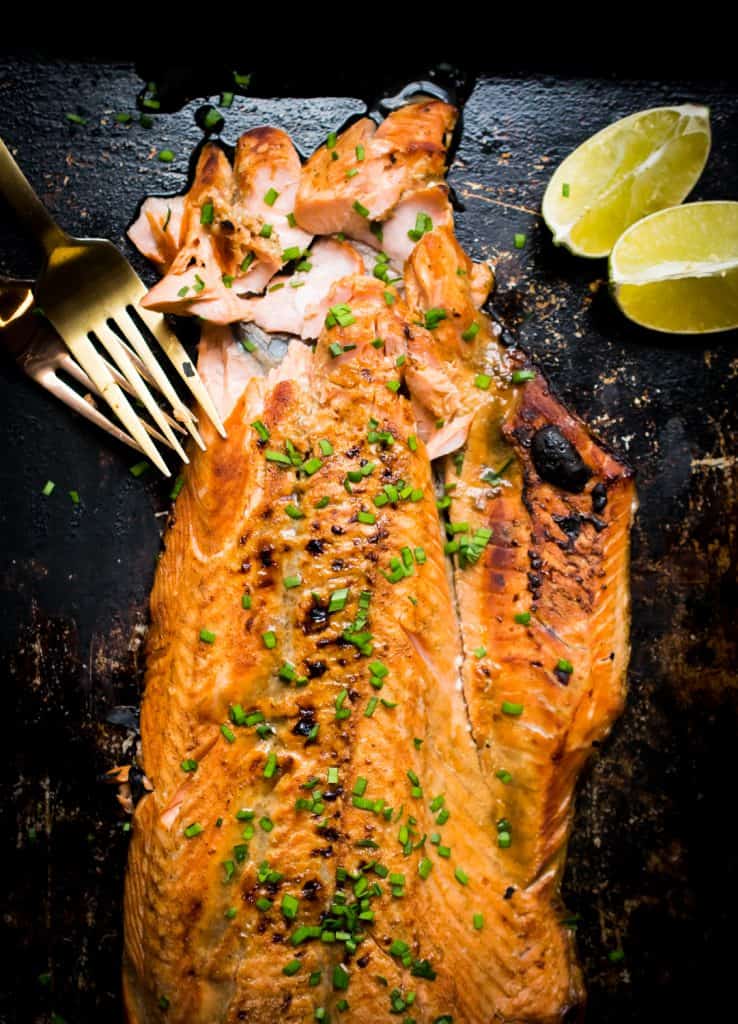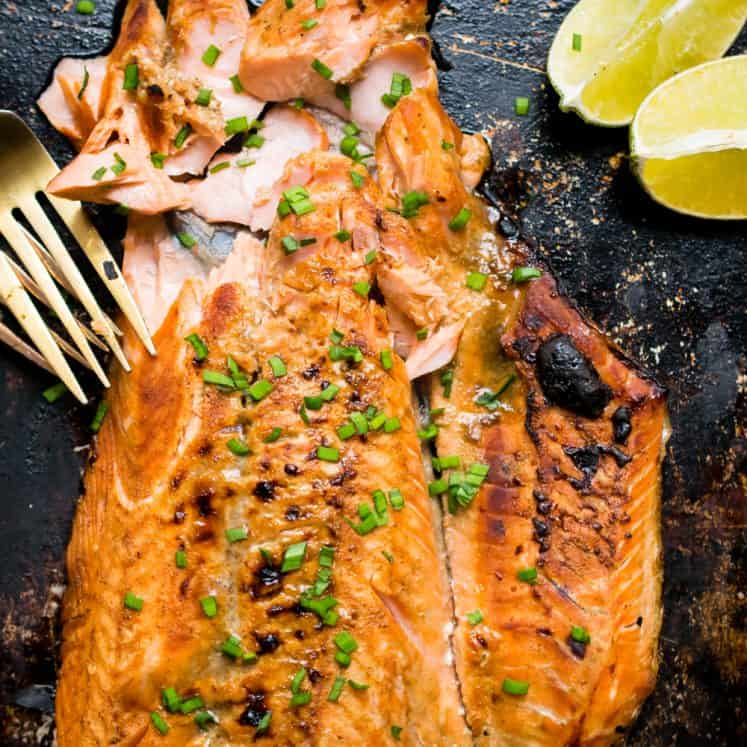 Broiled Salmon (Whole30, Keto, Paleo, AIP)
---
Author: Cristina Curp
Prep Time: 20
Cook Time: 8
Total Time: 28 minutes
Yield: 6 1x
Category: Entree
Method: Broil
Cuisine: Seafood
Description
A delicious and succulent salmon roast ready in minutes!
---
Scale
Ingredients
1 1/2 lb  Side of wild caught salmon
1 teaspoon fine salt
2 tablespoon olive oil
1/4 cup coconut aminos
1/4 cup fresh squeezed orange juice
Chives to garnish
---
Instructions
Line your sheet pan with parchment paper (or you will scrub forever). Set aside.
Salt your salmon all over.
Combine the coconut aminos, olive oil, and orange juice in a shallow bowl or container, large enough for the salmon.
Put your salmon meat side down in the marinade. Let it sit for 20 minutes.
Set the oven to broil 550F.
Place the salmon skin side down on the parchment paper. Pour the marinade (olive oil, juice and aminos) over it.
Broil for 8 minutes right under the broiler, or until the salmon is cooked, flakes easily with a fork. Check every minute after 8 minutes until it's done.
Remove from the oven garnish with chives. Serve hot! Goes well with The Best Roasted Broccoli, Crispy Fried Rice or Brussel Sprouts.
Recipe Notes:
See post, you can also use premade coconut aminos based marinade like The New Primal.
Nutrition
Serving Size: 4 ounces
Calories: 260
Fat: 18g
Carbohydrates: 3g
Fiber: 0g
Protein: 20g