I never ate canned salmon until my recent years. I didn't even know you could get quality salmon in a can, but you can! See what I did there? Let's learn more about why salmon is amazing and you need more of it in your diet… especially in the form of these crispy salmon cakes!
Slammin' Salmon
Wild Caught canned salmon is actually quite affordable and I like to keep some on hand for this times when fresh wild caught salmon prices soar, you know into the $20+ a pound range. Yeah, no thanks. Yet salmon is delicious and oh-so-good for you. Rich in omega-3 fatty acids (700 mg per serving) this pink flesh fish is an ideal keto diet protein. Essential fatty acids aren't used for energy however, these bioactive amino acids are used for functions like blood clotting!
Both omega 3 and omega 6 are essential fatty acids, however high levels of omega 6 can be inflammatory. Ideally, we would all be eating a diet with a 4:1 ratio of omega 3 to omega 6, but in most industrialized countries (yes, that's us) the ratio is more like 1:4. Seed-based and hydrogenated vegetable oils have a lot to do with that. Yuck!
Another reason is the lack of sea animal in your diet. Fish and seafood are among the most nutritious animal protein on the planet yet way under-consumed.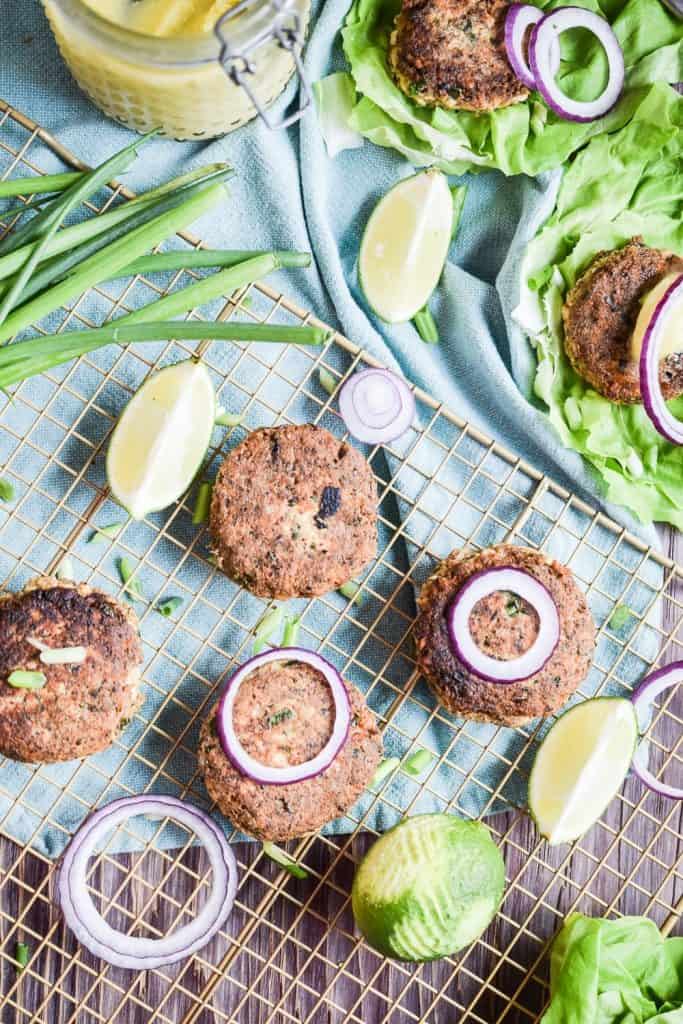 Where To Find Canned Salmon
I got a 6 pack of Wild Alaskan Salmon at Costco, from their Kirkland brand, surprisingly you can also buy these on Amazon. Vital Choice and Wild Planet are two really well respected and vetted brands, but slightly more expensive. You can get them on Amazon as well or at Whole Foods. Be sure to buy boneless, skinless canned salmon!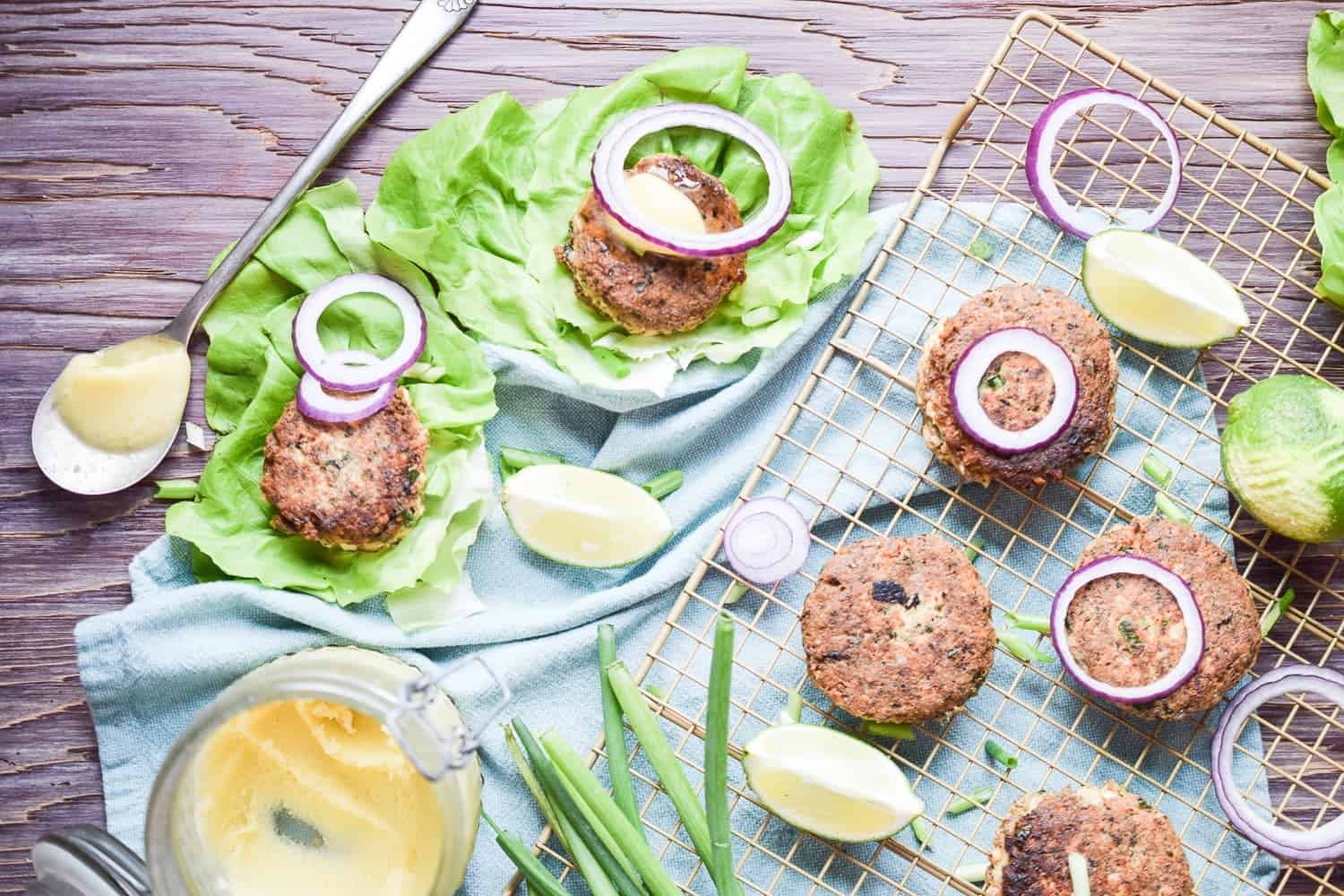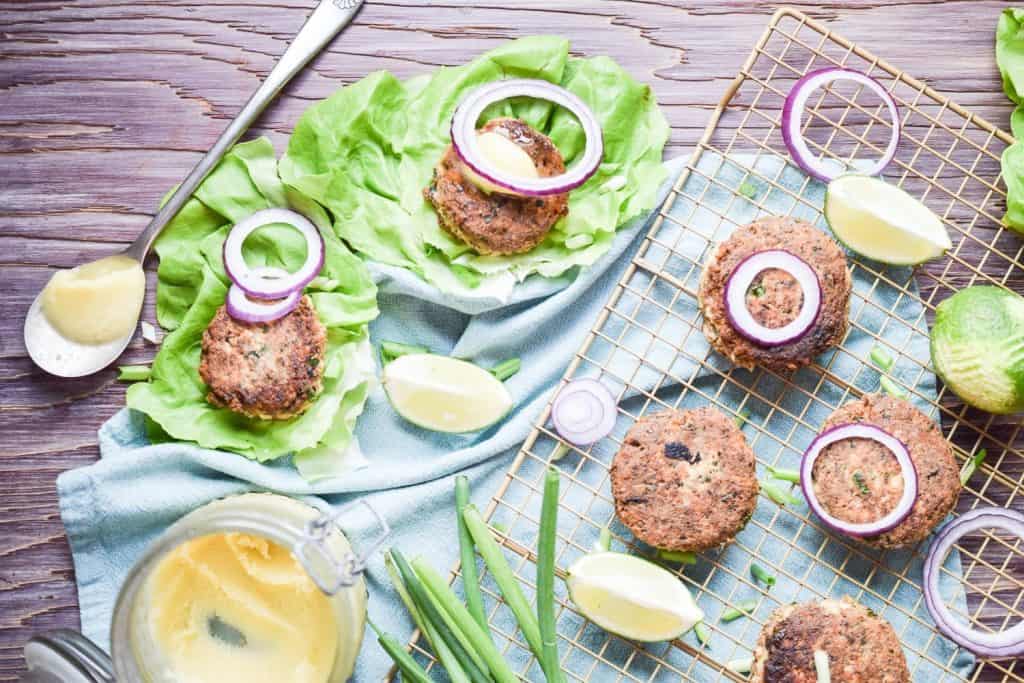 These Whole30, Keto and DELICIOUS CRISPY SALMON CAKES!
They're simple to make, fry up super crispy, store and reheat well and aren't fishy at all! A great meal prep dish, serve them up with lettuce cups or over salad, dunk them in mayo and enjoy!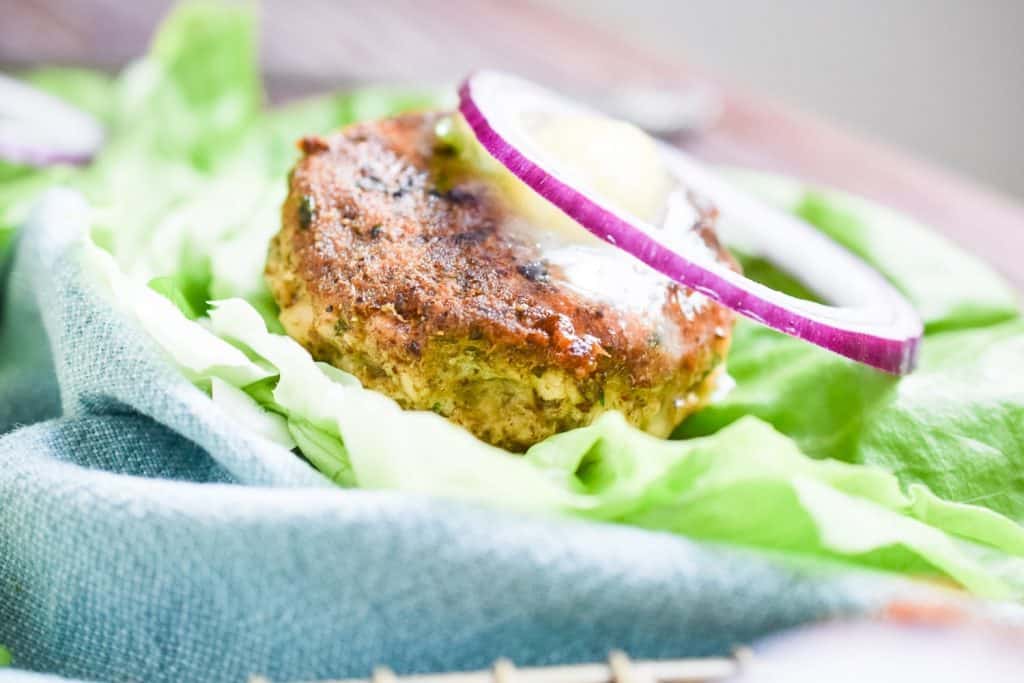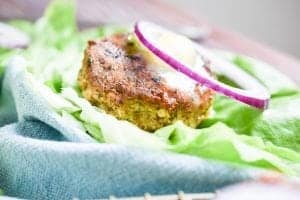 Crispy Salmon Cakes – Whole30 – KETO – PALEO
---
Author:
Prep Time: 10
Cook Time: 16
Total Time: 26
Yield: 5 cakes 1x
Category: entree
Method: fry
Cuisine: seafood
Description
Delicious, nut free, Whole30 and keto salmon cakes!
---
Scale
Ingredients
2 cans wild-caught salmon (12oz total)
3 sprigs fresh cilantro, minced
3 sprigs fresh oregano, minced
3 cloves garlic, minced
1 lemon, zested and juiced
1 teaspoon ground cumin
1 teaspoon black pepper
1 teaspoon onion powder
½ teaspoon fine salt
1 tablespoon olive oil
2 large eggs
3 tablespoons flax meal
2 tablespoons duck fat or lard for frying
---
Instructions
Heat a large cast iron skillet over medium heat.
Open and drain the cans of salmon, crumble the salmon in to a large bowl.
Add in the minced herbs, lemon zest and juice, cumin, pepper, onion, salt and olive oil. Mix well.
Mix in the eggs and then the flax meal until the mix makes a nice dough. If the mix is too wet you can add more flax meal.
Shape 6 even-sized patties. Cook as many as will fit in the skillet without over crowding, usually 4, at a time.
Cook for 4 minutes each side or until golden brown.
Remove from the heat set on a cooling rack to drain or paper lined plate.
Cook the remaining salmon cakes and enjoy!
Store in an airtight container in the fridge. Heat in the toaster oven or in a skillet over medium heat for 3-4 minutes.
Recipe Notes:
For 5 patties, per patty:For 5, per cake: Calories 223, Fat 16g, Carbs 4, Fiber 2, Protein 17g
Nutrition
Serving Size: 1 cake
Calories: 223
Fat: 16g
Carbohydrates: 4g
Fiber: 2g
Protein: 17g
Keywords: crispy salmon cakes