Think peanut sauce mixed into your turkey patty… except it doesn't HAVE to be peanuts. These Thai-inspired turkey burgers pack flavor and nutrition ready in under 30 minutes. Low-carb, lean-meat, healthy fat- they are perfect over greens or on a gluten free bun!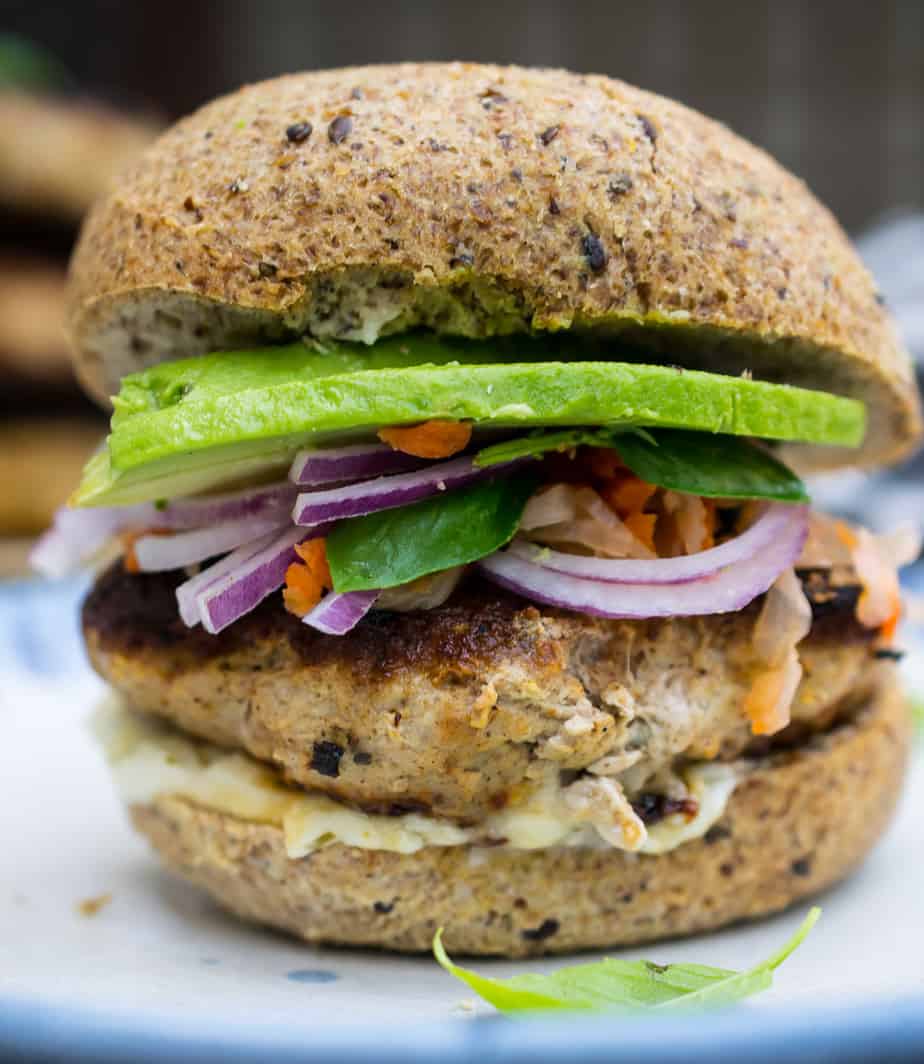 Table of Contents
Why This Recipe Works
Nut butter! In your turkey burger? Yes! This Thai Turkey Burger is packing a hefty dose of nut butter… and it works REALLY well. Ya know how peanut sauce really makes Thai food amazing? Well, with these patties you can use peanut- almond- or sunflower- butter and get that same savory sweetness. Spiced and nutty and perfect for meal prep, this paleo recipe makes 8 patties. Cook once, eat twice, or thrice! I use a 4-ounce scoop to shape these patties quickly and get them frying up in a pan or cooking on a sheet pan, you can even cook them in the air fryer.
Flavorful No-Fuss Ingredients
The strangest ingredient in this recipe is the Red Boat Fish Sauce, it's really the only one on the market that isn't full of sugar or fillers. Fish sauce gives good umami flavor, a savory depth that is just delicious. You can buy it almost anywhere that also carries coconut aminos, which are the GO-TO replacement for soy sauce in the paleo world.
Nut butter of choice, you can also use Sunflower Seed Butter. I think peanut butter, almond butter and sun butter are the best options.
Lots of dried basil, you can use fresh basil too. Cilantro can be used too, but don't skimp on the herbs for a great Thai inspired flavor on your turkey burger.
Apple cider vinegar or lemon juice for acidity.
One large egg for a binder, you can sub 1 tablespoon flaxseed.
Garlic, onion, ginger, black pepper and salt! You can also add turmeric, red pepper or cilantro!
Step by Step
Start by mixing all of the ingredients in a large bowl.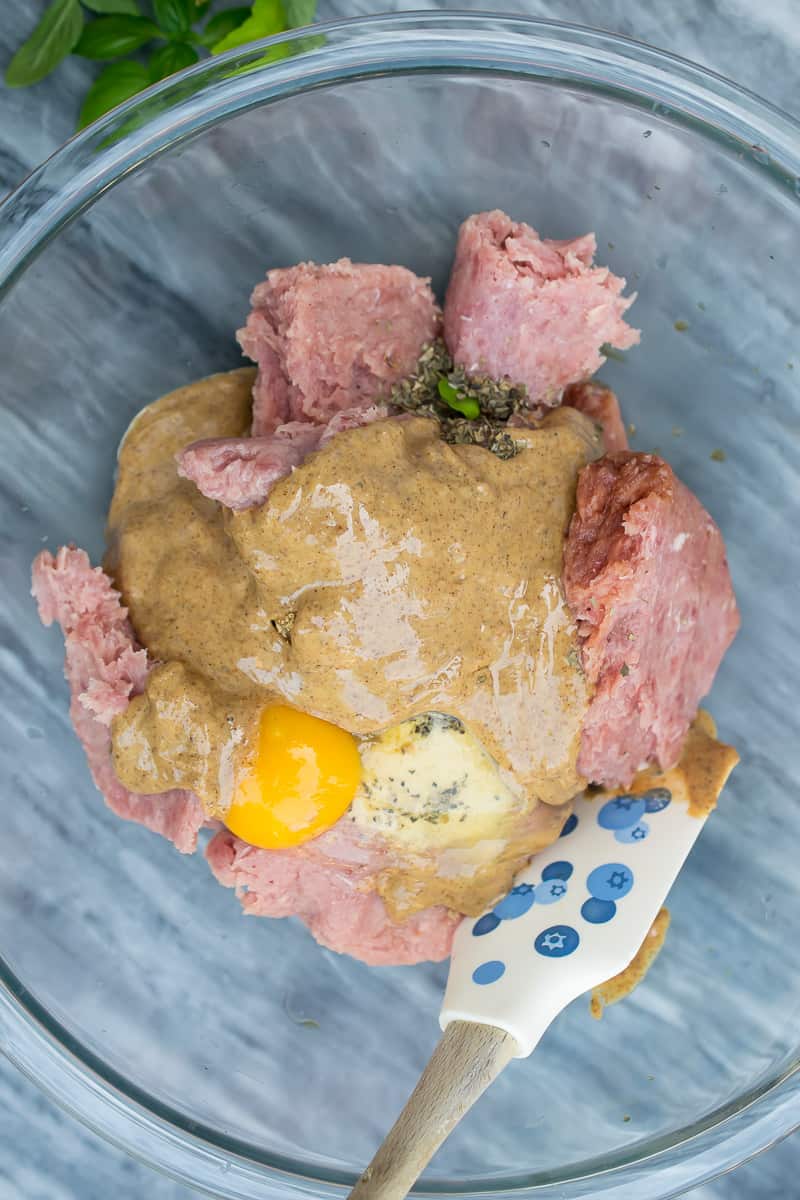 Mix really well until thoroughly combined. Then use the 4oz scoop to shape 8 large patties.
You can cook them in the air fryer, 375F, cooking 8 minutes, flip and cook another 8 minutes.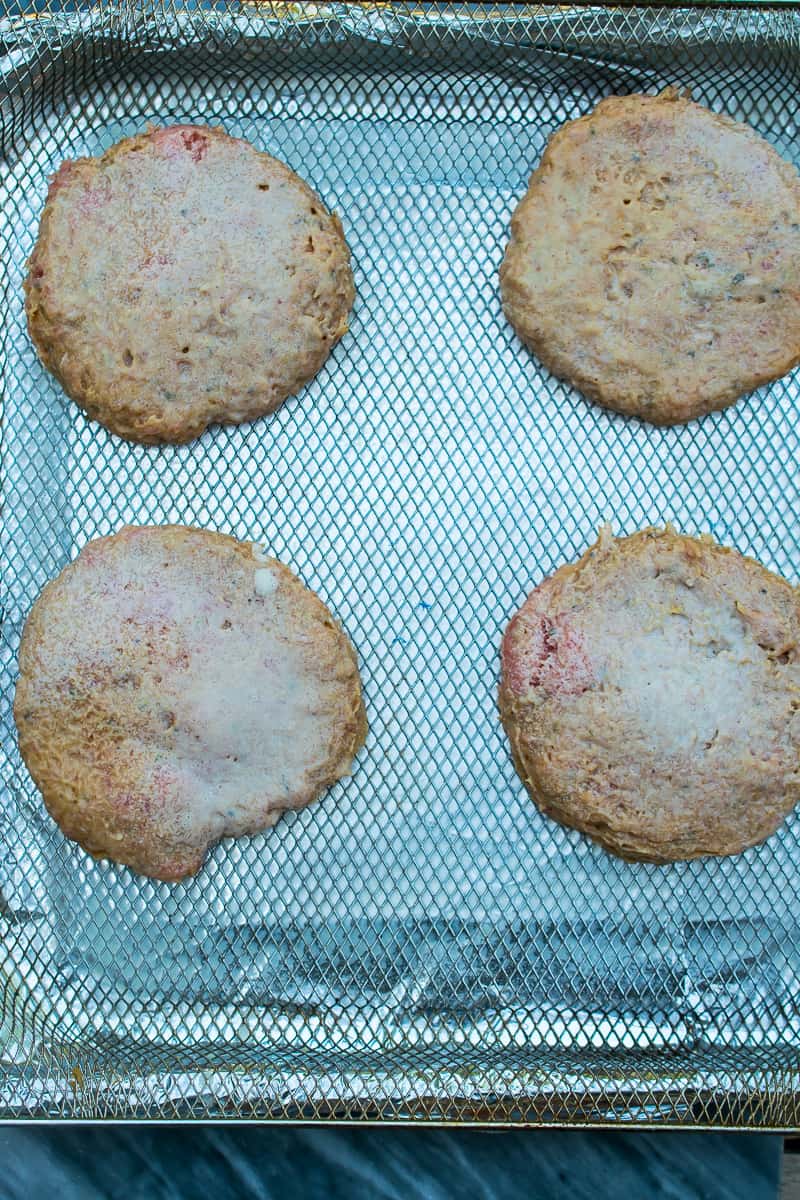 Or you can fry them up in a skillet, cooking 5 minutes each side, then covering for 3-5 minutes so the centers cook through.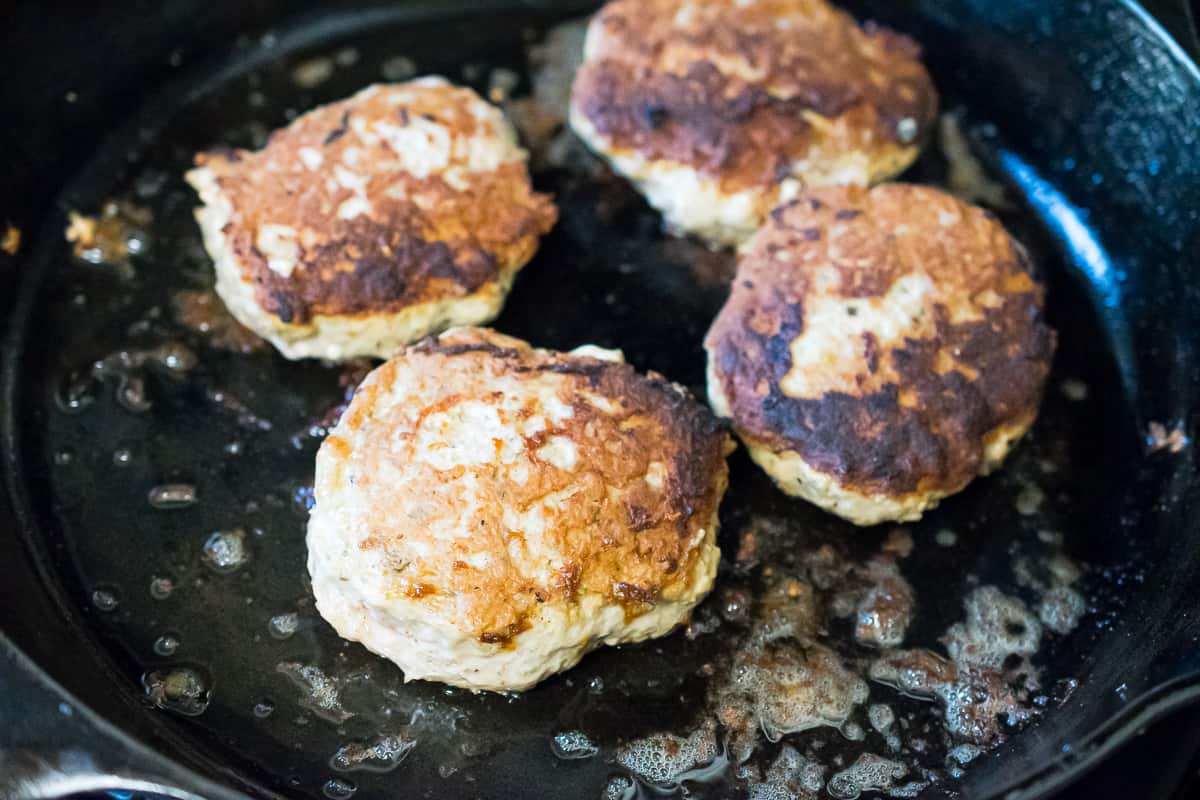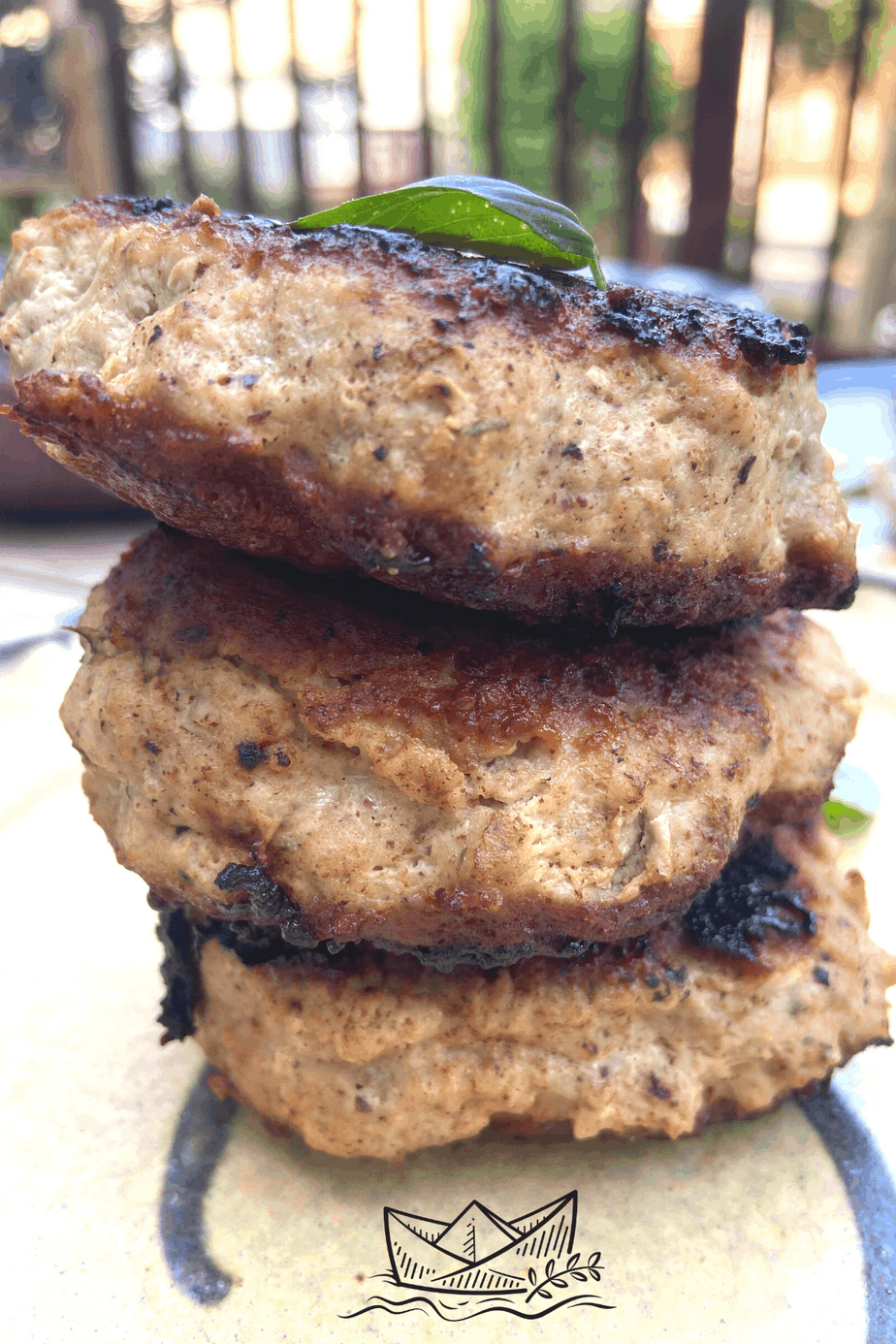 Frequently Asked Questions
Can I make these with another protein?
Yes, ground pork or chicken will work best.
Can I leave out the nut butter?
Yes, but you will need to replace it with 1/4 cup almond flour. And I recommend making a peanut sauce to serve with.
How do you serve these?
I like to eat them over salads with a creamy basil sauce or on UnBuns (or my Nut-Free Keto Rolls) with pickled carrots, fresh basil or cilantro, and avocado.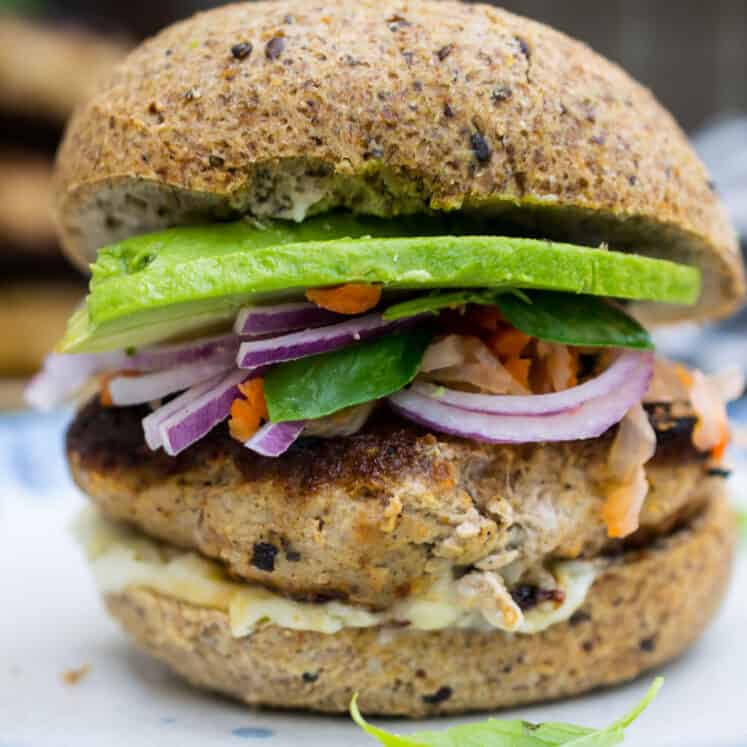 Thai Turkey Burger (Whole30, Paleo, Keto)
---
Author: Cristina Curp, NTP
Prep Time: 8
Cook Time: 20
Total Time: 28 minutes
Yield: 8 burgers 1x
Category: Entree
Method: Oven
Cuisine: Thai
Diet: Gluten Free
Description
A delicious turkey burger inspired by Thai cuisine!
---
Scale
Ingredients
2 pounds 85% lean ground turkey
1 large egg
1/3 cup unsweetened almond butter, or sun butter (see post)
1 tbsp apple cider vinegar or lime juice
1 tablespoon fish sauce
1 tablespoon coconut oil or avocado oil
2 teaspoons dried basil
1 1/2 teaspoons fine salt
2 teaspoons garlic powder
2 teaspoon onion powder
2 teaspoons black pepper (use 1 for less spice)
1 teaspoon ground ginger
1 teaspoon ground turmeric (optional)
Cooking spray (avocado, olive or coconut oil)
Ideas for Serving:
---
Instructions
Mix all of your ingredients in a large bowl until well combined. Use a 4oz scoop to shape 8 even-sized patties.
Stove Top
 Pan-fry the patties for 5 minutes on each side until golden brown. Cover and cook another 2-3 minutes.
Air Fryer
Spray the basket liberally with oil. Cook at 375F. for 7 minutes on each side, flip once.
Oven
Great a sheet pan and bake the patties at 400F for 15 minutes or until cooked through.
Recipe Notes:
See post for ingredients links and substitutions
If you can only find 93% lean or leaner turkey, up the coconut oil to 2 tablespoons or add another egg.
Nutrition
Serving Size: 1 buger
Calories: 305.3
Fat: 23g
Saturated Fat: 5.9g
Carbohydrates: 3.5g
Fiber: 1.4g
Protein: 22.6g
Keywords: Thai Turkey Burgers