Burger season is here and if you're grain-free, like me you need the Perfect Bunless burger! A juicy, flavorful burger is one of life's simple pleasures and one that we paleo folk can wholeheartedly enjoy. You can make a paleo bun or you can stack it with eggs and veg or just do a good ol' lettuce wrap. Which isn't really a wrap. Why do people call it that? It's more like lettuce cups or lettuce buns. There is no wrapping involved. Here in Hawaii, they grow Manoa lettuce, different variations, but it's small. The little baby Manoa butter lettuce leaves are just perfect for sandwiching a burger together. This is my go-to ground beef mix and burger instructions. But before we get there, let's talk toppings.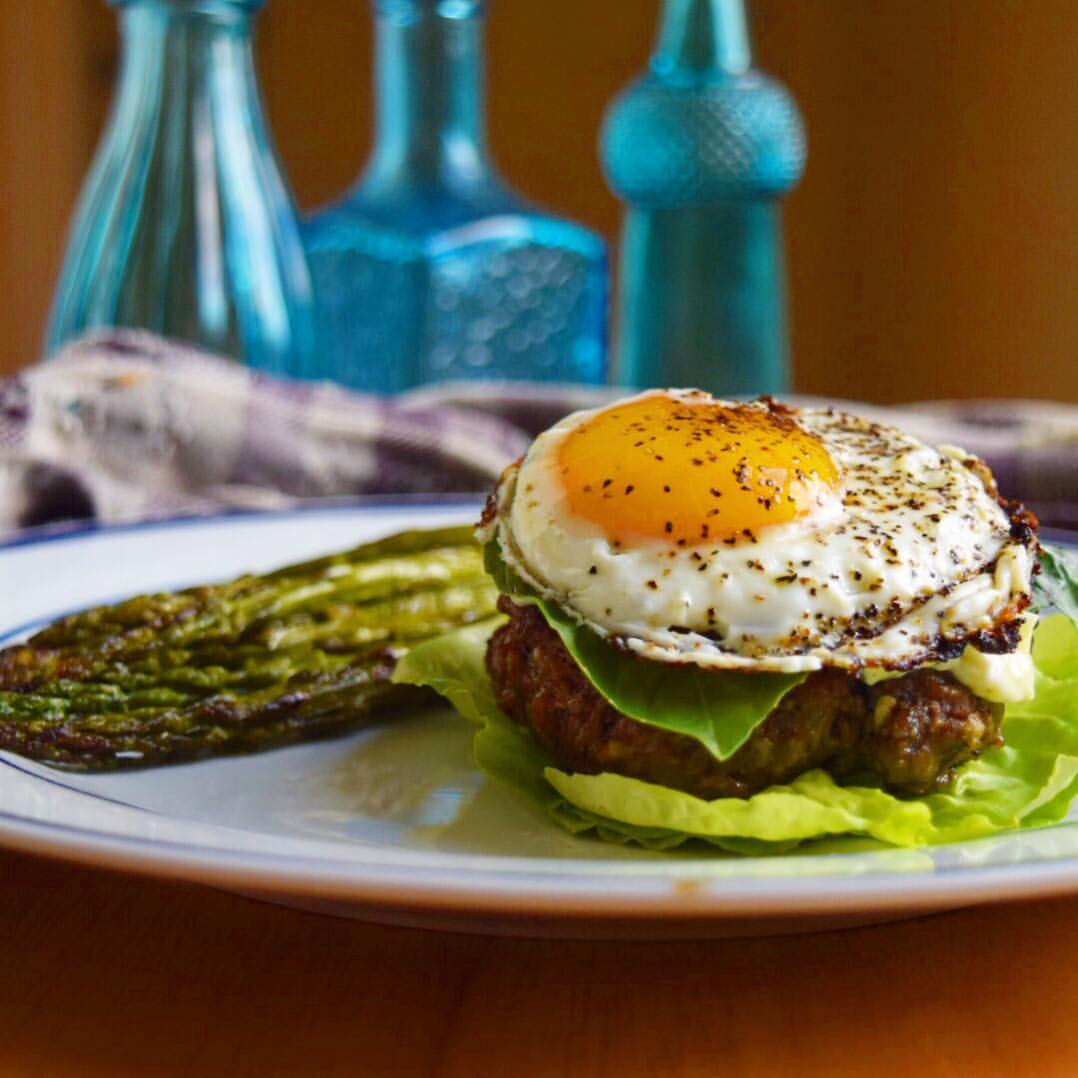 Paleo Burger Toppings
Bacon/Prosciutto: oven roasted to crispy perfection, arrange on a sheet pan and place in the oven, then set to 350F. After it's done preheating, check on it, close the oven, it will need another 5-8 minute.
Fried Egg: I'm a fan of the crispy fried egg. Use a small skillet, 6″ or less. Heat 1 tbsp cooking fat in it. Crack the egg right into the hot skillet. Season with salt, pepper and herbs. Cook on high until the whites are no longer translucent. If the edges look crispy but there are still a lot of white jiggly parts, lower heat and partially cover with lid until they're cooked. You can use the ring of a mason jar lid or cookie cutter to trim your egg whites, for perfect burger size toppers!
Condiments: Homemade Mayo or Primal Kitchens Mayo. Nightshade, sugar-free mustard. Chimichurri.
Thinly sliced onion. Pickles. Avocado.
Ok, now let's grill some beef. Did you know, my daddy's a butcher? True story. His whole family. They have butcher shops. Not that it gives me any credentials… but I can grill.
What Is Shiitake Mushroom Powder and Where Can I Get It?
You don't get it, you make it. You make it by grinding up dehydrated shiitake mushrooms in your blender or a food processor. You can find these dried mushrooms at any grocery store with Asian food items. NomNomPaleo sells a Magic Mushroom Mix available at all west coast Whole Foods.
Mushrooms are umami, a delicious, subtle yet absolutely necessary flavor that I find ultimately satisfying. Even if you don't like mushrooms this powder will add a dimension to your meals you didn't even know you needed!
Paleo Perfect Bun-less Burger (Keto, Whole30)
---
Author: Cristina Curp
Prep Time: 15
Cook Time: 6
Total Time: 21
Yield: 5 1x
Category: Entree
Method: Grill
Cuisine: American
Description
Bun-less Paleo Burger (Keto, Whole30)
---
Scale
Ingredients
2 lbs pastured ground beef
1 tbsp ground shiitake mushroom powder
1 tsp black pepper
1 tsp cumin
1/4 cup diced onion
2 tsp Pink Himalayan salt
2 tbsp olive oil
2 tbsp white wine vinegar
1 tsp garlic powder
1 tsp dried cilantro
---
Instructions
In a food processor pulse together the shiitake powder, black pepper, cumin, onion, salt, olive oil and vinegar. It will make a chunky paste.
In a large bowl, mix this chunky paste with the beef until well combined.
Use a large 4oz ice cream scoop to shape your patties.
Make the scoop, then press it down, smoothing out the sides until it's about an inch thick. Make an indent in the center with your thumb (so they cook evenly and don't become meatballs).
Place them on a cutting board or sheet pan, spinkle with a little garlic powder and cilantro.
Heat your grill to 450F, closed.
Have coconut oil spray and a spatula at the ready.
Spray your burgers with coconut oil.
Place your burgers on the grill, towards the back, oiled side down.
Keep the lid open.
Set timer for 3 minutes.
Spray the burgers again with coconut oil and flip them over.
Cook another 3-5 minutes until desired doneness.
Remove from heat, and take to the kitchen to assemble.
I like to set out my assembly area ahead of time.
Enjoy!
Nutrition
Serving Size: 1 burger
Calories: 376
Fat: 23
Carbohydrates: 2
Fiber: 0
Protein: 47
Keywords: Bunless Paleo Burger