These are roasted sweet potatoes are gorgeous, I mean, just look at them! And I can't really take any credit, they just do this, on their own, given a little fat & heat. Although there's not really a recipe…. this is my "how to" on making the best, butter, roasted sweet potatoes and I'm sharing it because there's been a lot of interest on my Instagram account about these beauties. So here it is.
The perfect roasted sweet potato. Dare I say CARAMELIZED. Because that is what they do all on their own! This method keeps them paleo and Whole30 compliant. If you use coconut oil instead of ghee it's autoimmune paleo compliant too.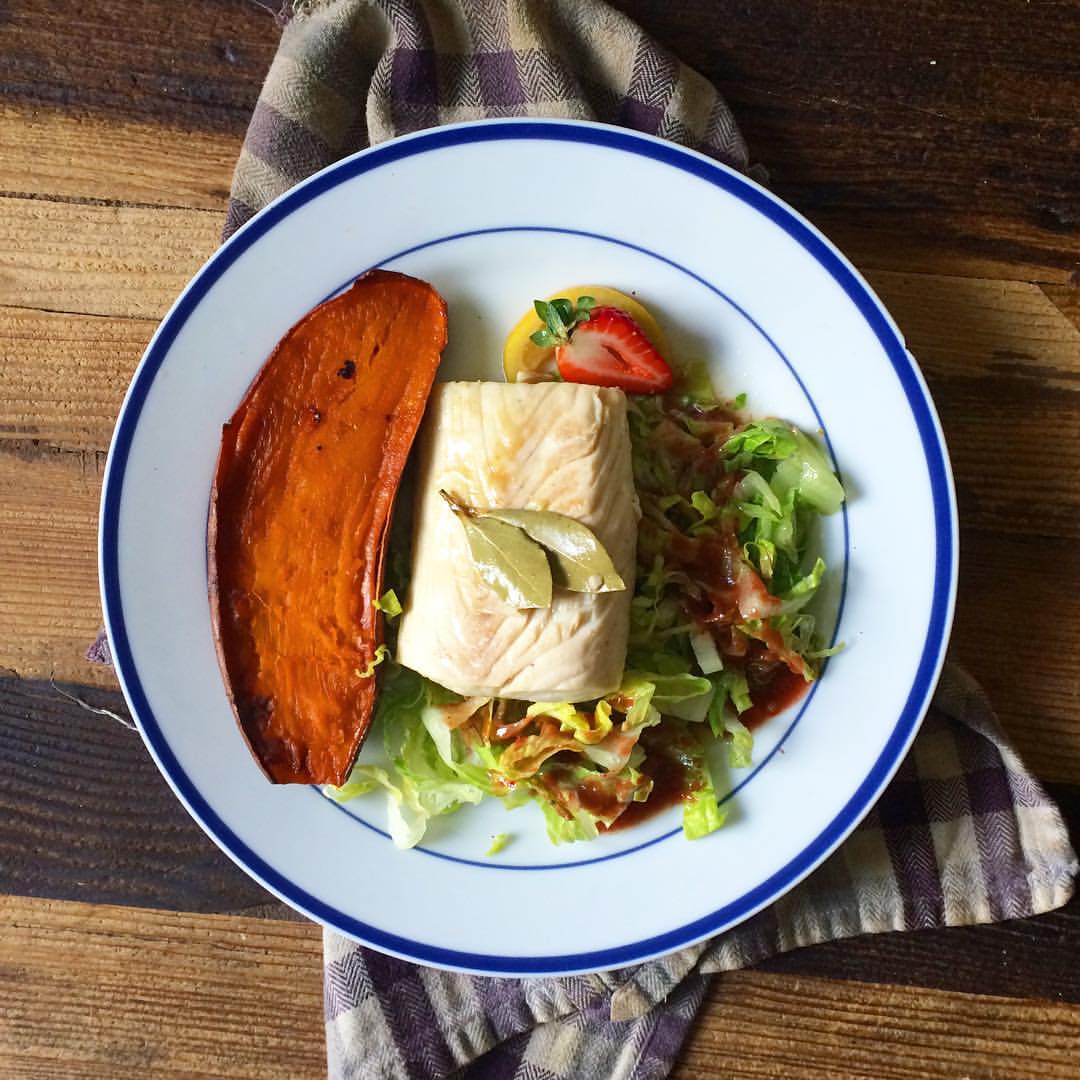 As for my low carbers…. if you want to practice a CARB UP… THIS. Don't go for gluten or pizza… go for tubers. Whole ingredient foods. Yum! Great pre-biotic fiber to feed the bacteria in your gut 🙂
Perfect Roasted Sweet Potatoes
---
Author: Cristina Curp
Prep Time: 10
Cook Time: 40
Total Time: 50
Category: Sides
Method: Bake
Cuisine: Paleo
Diet: Gluten Free
Scale
Ingredients
3 large garnet sweet potatoes, opt for ones that are longer instead of thicker
3 tablespoons  ghee, I used Tin Star cultured brown butter (it's casein & lactose free)
or you can use 1/4 cup coconut oil for AIP
1 tsp pink Himalayan salt
---
Instructions
Pre-heat your oven to 400F.
Slice your sweet potatoes in half lengthwise.
Rub them down with ghee over the sheet pan.
Sprinkle with salt.
Place cut side down on the sheet pan & place in the oven.
Bake for 35-40 minutes.
When you can easily pierce with a fork through the skin, they're done.
Use a spatula to scrape them off the sheet pan, most of them won't stick, but you don't want to risk peeling off some yummy caramelized parts.
Recipe Notes:
These reheat well, add them to your batch cook!
Serve with grilled meats, burgers, eggs, or topped with ground beef & veggies. They also compliment salads well ?
Nutrition
Serving Size: 1 potato
Calories: 362
Fat: 15g
Carbohydrates: 47g
Fiber: 7g
Protein: 3g
Keywords: perfect roasted sweet potato