Ok, full disclosure, I need to photograph this recipe again. Alas, by the time I looked up from my cooking frenzy it was 6:30 PM and the sun was gone. So the one decent picture I got of this dish doesn't even do it justice. UPDATE! I was able to take more photographs of this super garlicy sweet potato mash!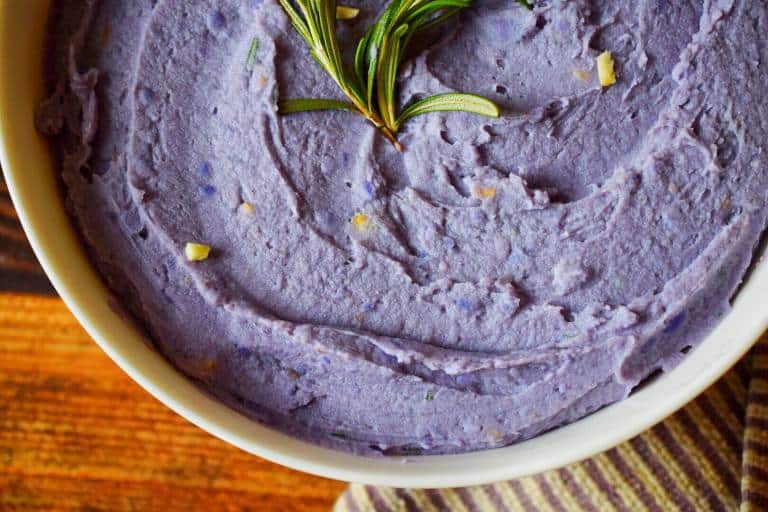 Now that that's out of the way… this garlic sweet potato mash is bombdotcom.
I'll be posting all sorts of Thanksgiving/Holiday type recipes for the next week or so. I want you to be able to create a killer spread without wreaking havoc on your lifestyle, your budget, your health or your goals. And no… that's not supposed to be a guilt trip statement. If you CAN and want to go all Paula Deen on Thanksgiving, go for it. I (and many of you), however, just can't. But it's not even a negative thing, it's a let's do this damn thing kind of thing. Because you already know that paleo or not we always eat well around here.
I used Okinawa sweet potatoes for this garlic sweet potato mash because purple food makes me happy. Also, a lot of fall food tends to be orange, brown or white, so I think the bright purple mash is a nice change from that, but use whatever kind of potato you want.
Simple, clean & oh so creamy good. This side of mash will wow all your guests!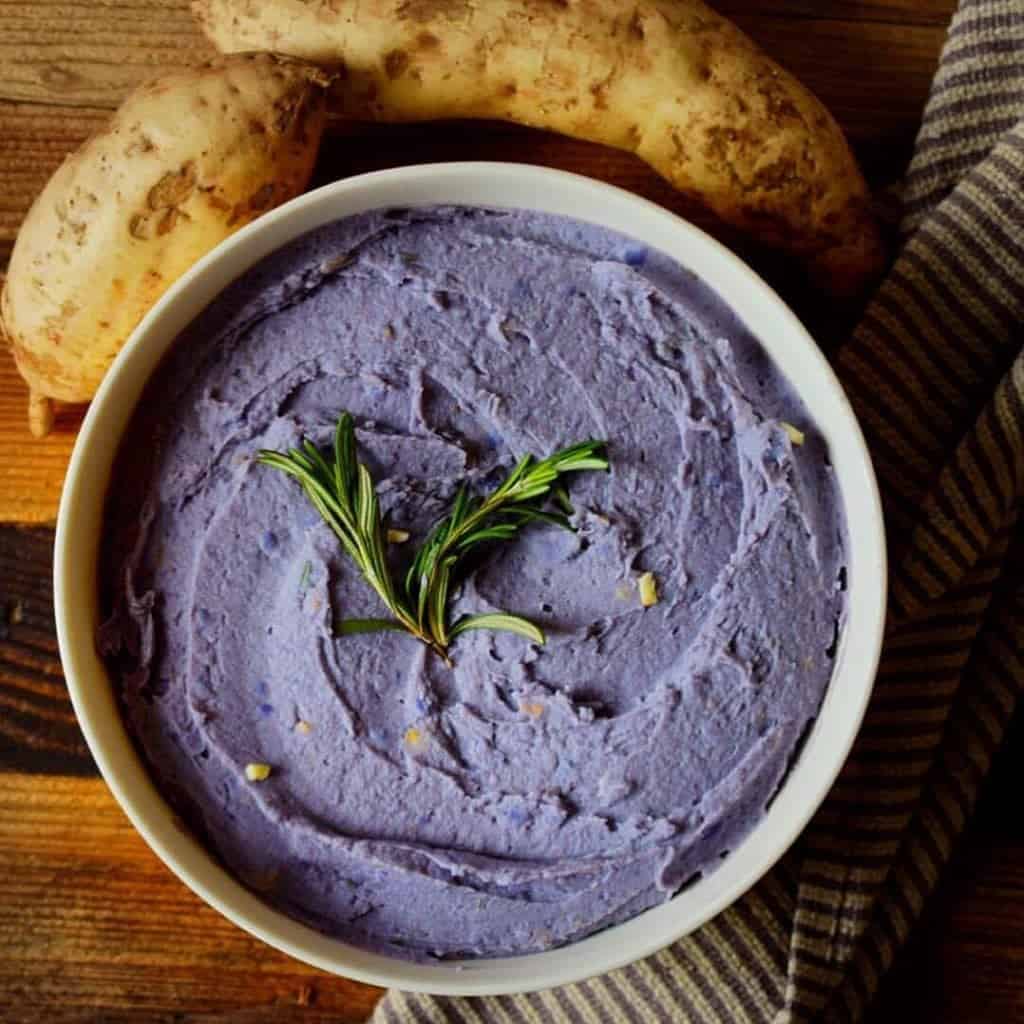 Garlic Sweet Potato Mash
---
Author: Cristina Curp
Prep Time: 5
Cook Time: 35
Total Time: 40
Yield: 10 servings 1x
Category: side dishes
Method: stove top
Cuisine: holiday
Diet: Gluten Free
Description
Vampire Slayer Garlic Lover Mash!
---
Scale
Ingredients
5–6 medium sized Okinawa sweet potatoes
8 whole garlic cloves
1 tbsp Primal Palate Garlic & Herbs (or other garlic seasoning blend)
1/2 tsp sea salt
2 sprigs rosemary
2 tbsp Tin Star Foods Brown Butter Ghee (or butter, or bacon fat)
1/2 cup cashew creamer (see paleo cream sauce variation post for recipe)
You may also use coconut milk fat
*optional 1 egg yolk
---
Instructions
Peel your potatoes and garlic.
Dice your potatoes into 1/2 inch pieces, it should be about 4 cups of diced potatoes.
Place your potatoes in a large pot, fill the pot with water until potatoes are submerged.
Set to cook on high, bring to a boil (if you cover the pot the water will boil faster, remove cover once the water begins to boil)
Kitchen hack: place a wooden spoon across the top of your pot to keep the water from boiling over.
Boil for 20-30 minutes until the potatoes are fork tender.
Carefully drain the potatoes.
Mince garlic & rosemary leaves.
Heat ghee in a small skillet with the garlic.
Cook, stirring often until golden.
Place potatoes in the bowl of a stand mixer (or a large bowl if using a hand mixer). Pour in hot ghee and garlic- rosemary mix.
With the whisk attachment cream the potatoes on high.
Slowly add in the milk, the seasoning and lastly (if you're using it) the egg yolk.
Continue to mix until the potatoes are smooth and creamy.
Stop periodically and use a spatula to scrape down the sides of the bowl so it mixes evenly.
For extra purdy serving using a piping bag. Garnish with extra seasoning or herbs and a little ghee.
Nutrition
Serving Size: 1/2 cup
Calories: 128
Fat: 4g
Carbohydrates: 21g
Fiber: 2g
Protein: 2g
Keywords: garlic sweet potato mash