This Warm Kale Bacon salad is a celebration of seasonal produce and flavors. Roasted beets and toasty bacon, pumpkin seeds, and apple pecan dressing! A stunning addition to any holiday spread.

Growing up Cuban our Thanksgivings were far from traditional
Usually boasting pork, rice, and beans or sorts… along with a turkey! But now, my spread will be different in another way. Sure sweet potato mash will make a cameo, of course, I'll have a succulent bird and my super healthy pumpkin pie… but paleo-fied recipes for stuffing, green bean casserole are so time to consume, and I know the rest of the guests will probably just want to "real thing" …. also those carb-heavy paleo-fied foods usually don't sit so well with my tummy.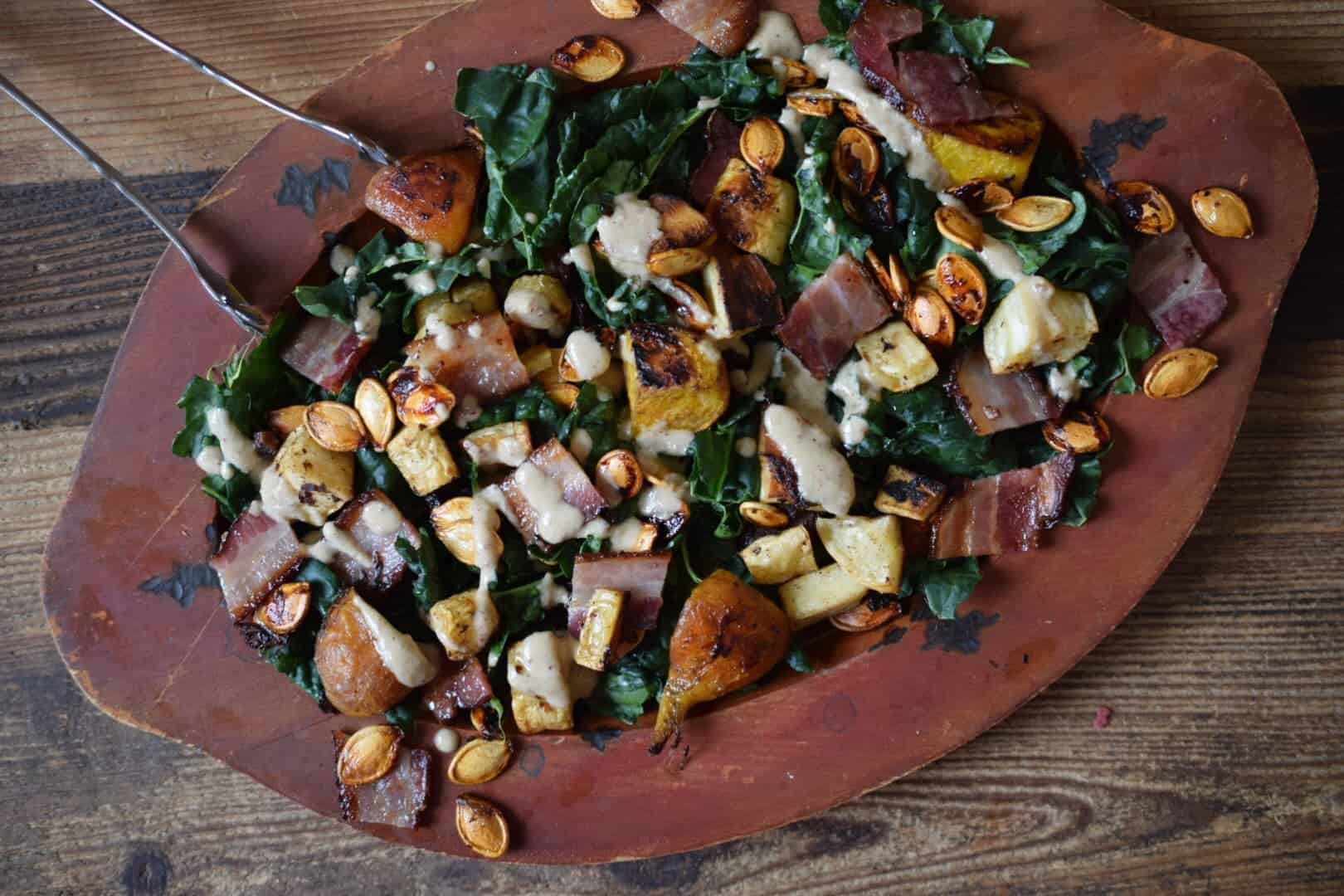 This. This spectacular salad though.
It's decadent, delicious, beautiful and will compliment a beautiful holiday spread with your the tummy ache… or the extra work. Also, it's kinds warm around these parts to go full food coma in November. Not all parts of the world (even the U.S.) has actual seasons. I've actually never lived anywhere cold. Miami. San Diego. Hawaii.
Kale not your jam?
Try this salad with arugula or baby spinach. Beets gross you out? Well, me too sort of, but not when roasted like this! You can also use any other root vegetable. But if you do one thing… MAKE THIS DRESSING. I mean, c'mon APPLE. PECAN. VINAIGRETTE…. made with a whole red apple… and it's got fennel and nutmeg! So "FALL" I can't handle it!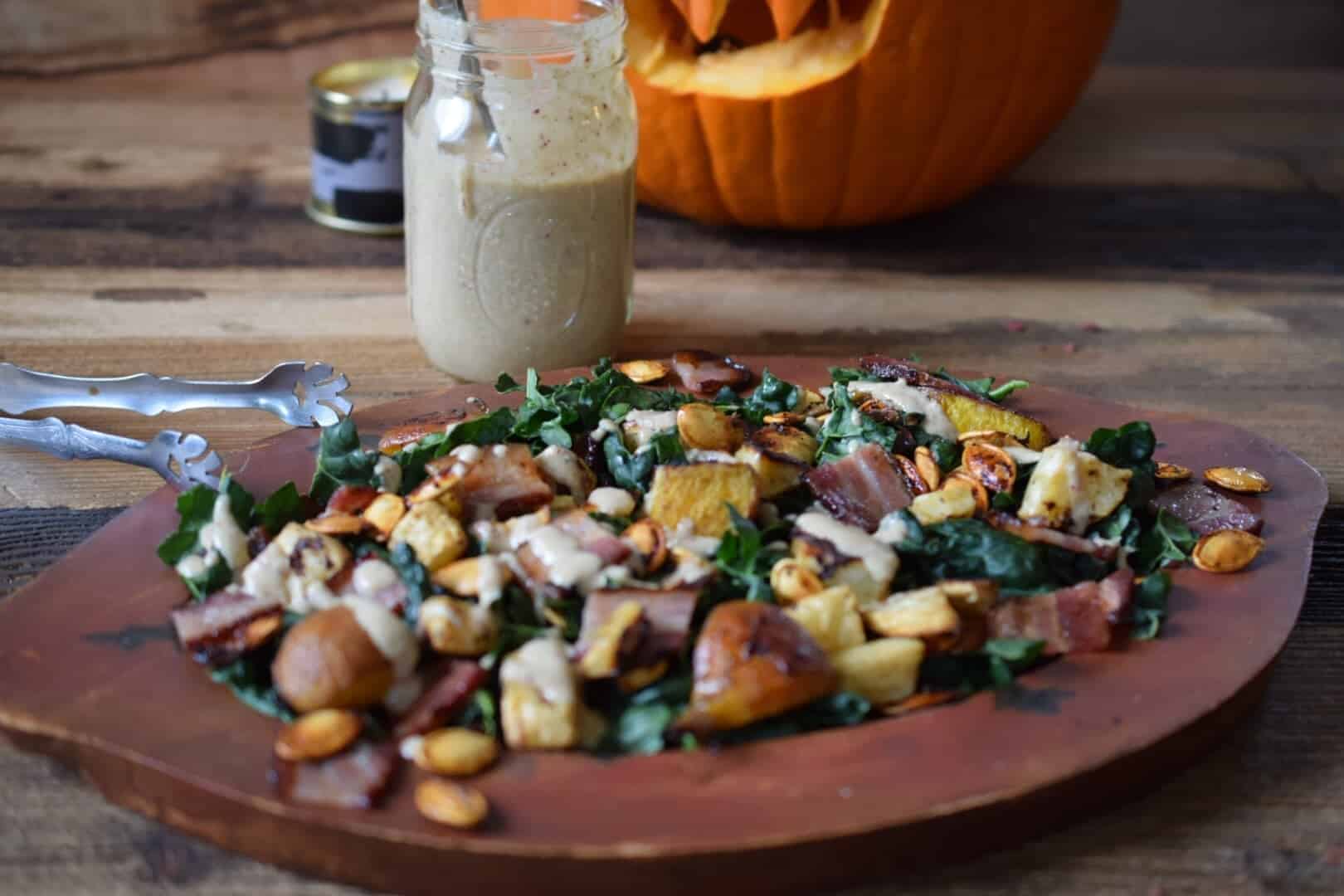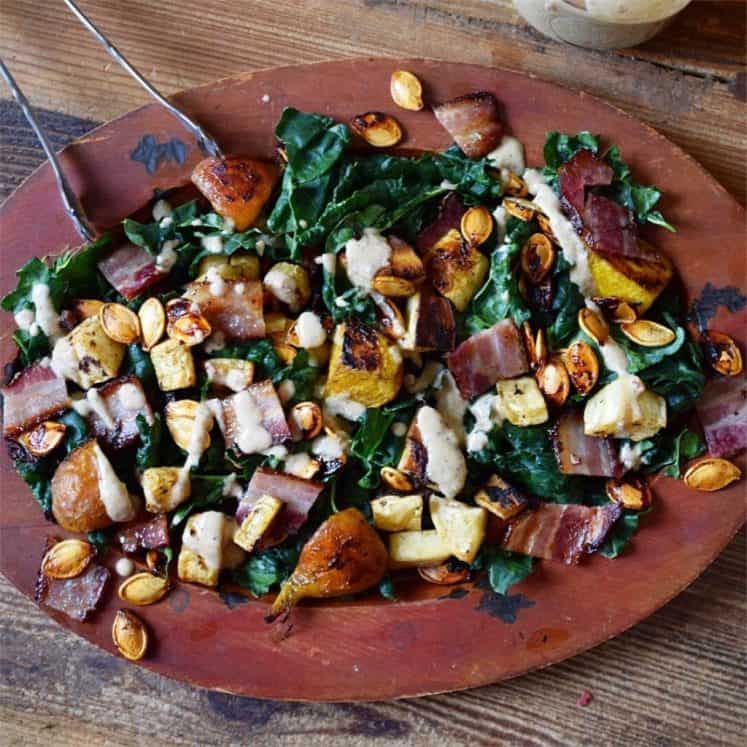 Warm Kale Bacon Salad with Apple Pecan Vinaigrette
---
Author: Cristina Curp
Prep Time: 10
Cook Time: 30
Total Time: 40 minutes
Yield: 5 servings 1x
Category: Sides
Method: Salad
Cuisine: Fall
Diet: Gluten Free
Description
A wonderful fall salad!
---
Scale
Ingredients
6–8 large lancinato/dino kale leaves
4 slices bacon
1 cup pumpkin seeds
1 tsp coconut oil
1 tbsp coconut aminos
1 tsp mustard seeds
2 golden beets
1 large parsnip
(you can also use sweet potatoes, turnips, carrots or butternut squash)
2 tbsp raisins
Apple Pecan Vinaigrette
For the dressing:
1 diced red Apple
3 tbsp coconut aminos
3 tbsp Apple cider vinegar
1/2 tsp fennel seeds
1/2 tsp ginger
1/2 tsp salt + pepper
Pinch nutmeg
1/4 cup pecans
1/4 cup olive oil.
---
Instructions
Lay your bacon slices flat on a sheet pan and place in a cold oven. Then set the oven to 375F. The bacon will cook while it pre-heats and up to 15 minutes after it reaches temperature. Watch it, remove when it's reached desired crispness.
In that time, dice all your root veggies into 1/2 inch pieces.
Toss your pumpkin seeds with coconut aminos, coconut oil and mustard seeds. Spread out on another sheet pan.
When the bacon is done, remove from sheet pan carefully and then place the root veggies on the pan with the bacon fat. Use tongs to toss them with salt and pepper.
Set oven to 400F.
When it reaches temperature put the veggie sheet pan and the pumpkin seed sheet pan in the oven (middle racks).
Remove the pumpkin seeds after 15 minutes.
Roast the veggies up to 45 minutes,until desired caramelization.
While these roast, make your dressing!
Combine all the ingredients in a blender except the oil. Blend until smooth, while drizzling in the olive oil.
It will make about 12 ounces, store the extra in the fridge up to 4 days.
Next tear your kale leaves off of the stem and vein, massage the leaves until tender, about a minute.
Toss with chopped bacon, roasted veggies, raisins, and pumpkin seeds. Drizzle dressing all over.
Makes 2 large entree salads. Or enough to serve as a side dish for 5 people.
Nutrition
Serving Size: 1/5 recipe
Calories: 567
Fat: 32g
Carbohydrates: 43g
Fiber: 10g
Protein: 36g
Keywords: warm kale salad