Versatile Salad!
This is my ideal meal. All day, every day I would eat this combination of fresh, crunchy and creamy! More so than the bouquet of flavors in this salad, I love how versatile it is. You can serve it as an entree meal, it's the perfect pot luck salad and it would accompany egg dishes beautifully among a brunch spread. It also makes a killer jar salad! Add the ranch dressing first, then your salmon, followed by the bacon, berries, and greens. Close the lids and store away some epic take along lunches for your week (or 4TH of July beach picnic).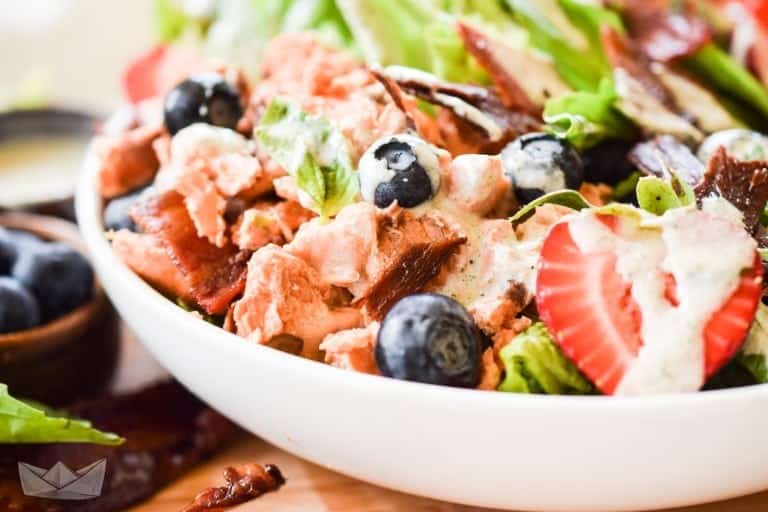 Move Over BLT
I've been pairing bacon, lettuce, and berries since I gave up tomatoes two years ago. I think the sweetness of the berries goes perfectly with tangy ranch and salty bacon, it's truly an epic combination. I have been using Primal Kitchen ranch since it came out, and I love it. I also recently made my own (egg, nut and dairy free) ranch dressing and you can get that recipe here.
Canned Salmon or Smoked Salmon
I like canned, wild caught, sock-eye salmon for this salad because the bacon is already salty. You could also use poached, grilled, baked… any kind of salmon you like. But to keep it virtually no cook, I would go with canned!
Extras
I the bluebs aren't really part of the BLSS acronym… they were more of an afterthought… but very welcome. I also added fresh basil leaves to it! Yummmmooo!
Soo BBBLSS?? #YOLO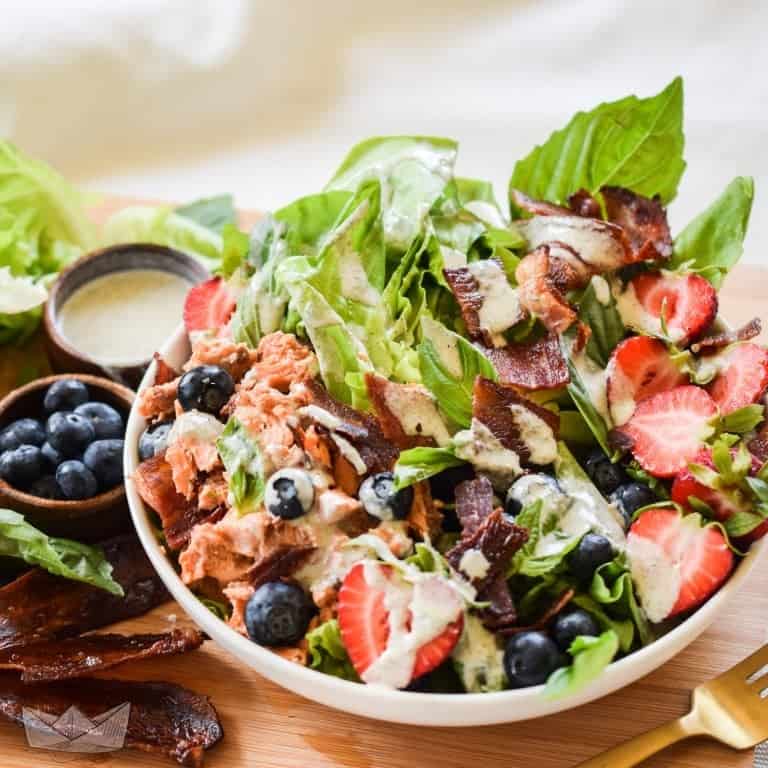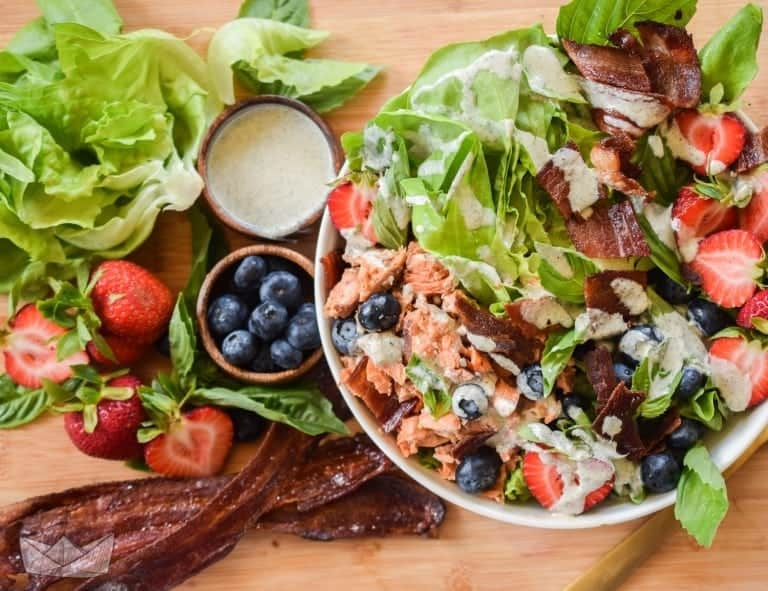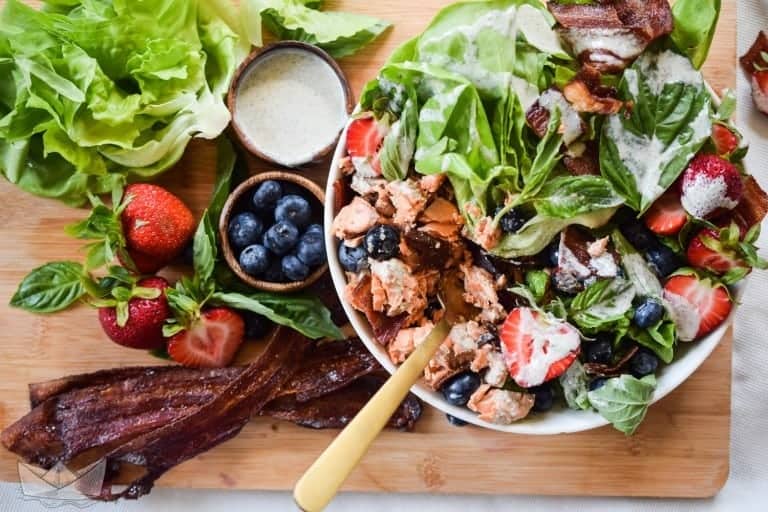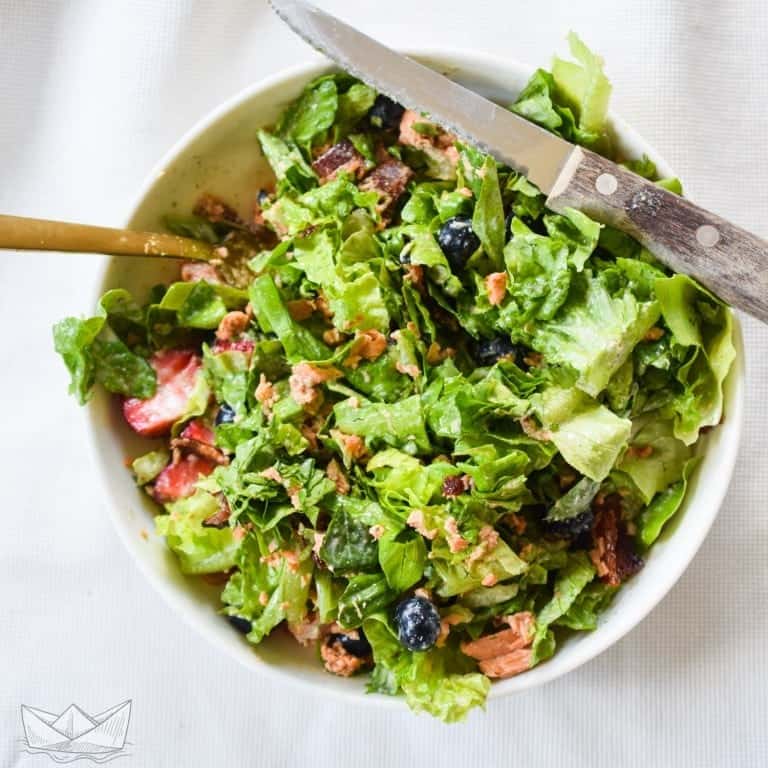 BLSS Salad
---
Author:
Prep Time: 10
Total Time: 10 minutes
Yield: 4 salads 1x
Category: Entree
Method: No-Cook
Description
A delicious and juicy salad with all your favorites!
---
Scale
Ingredients
2 heads butter lettuce
2 hearts of romaine
1 lb strawberries
1 cup blueberries (optional)
4 cans wild caught canned salmon (I use this one)
8 slices pastured sugar free bacon (I use this one)
8 oz Ranch dressing (my egg free recipe here)
Fresh basil leavest to garnish (optional)
Pink salt + cracked pepper
---
Instructions
Lay your bacon flat on a sheet pan, each strip side by side, not overlapping. Pop your sheet pan into the oven and set the temperature to 375F. The bacon will cook here for about 15 minutes. Once the oven reaches temperature check on it. I like it really crispy for salads, so set a timer for about 8 more minutes.
Wash and dry your butter and romaine lettuce. Tear the leaves by hand. Then wash, dry and core your strawberries. Rinse and drain the berries.
Open your salmon cans.
Once the bacon is ready, remove from the oven, use a spatula to scrap off of sheet pan and place on a cutting board. Let it cool, then chop it up.
Now you can plate these like I did for the photos… all fancy pants. First put the lettuce down, then flake the salmon on one side. Add the berries to the other and sprinkle the bacon on top. Drizzle dressing on top! Add basil and finish off with a sprinkle of salt and fresh pepper.
Real Life
Or you can toss it all together into a big salad bowl, add dressing, mix in and serve a yummy, creamy, crunchy, juicy mess!
Keywords: Berry Bacon Salmon Lettuce Salad