This dreamy egg-free ranch whips up in the blender and it's also dairy-free! A paleo ranch perfect for w Savory Waffles or the BLISS Salad because they're a match made in heaven.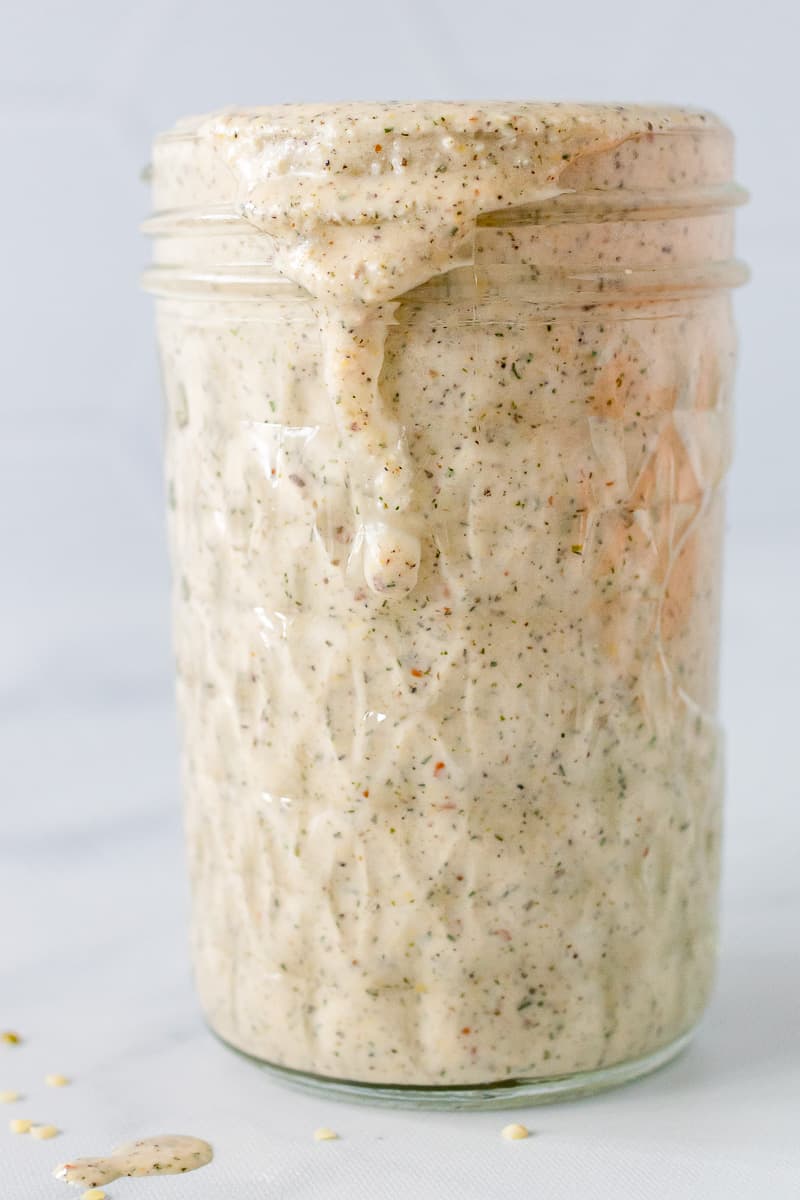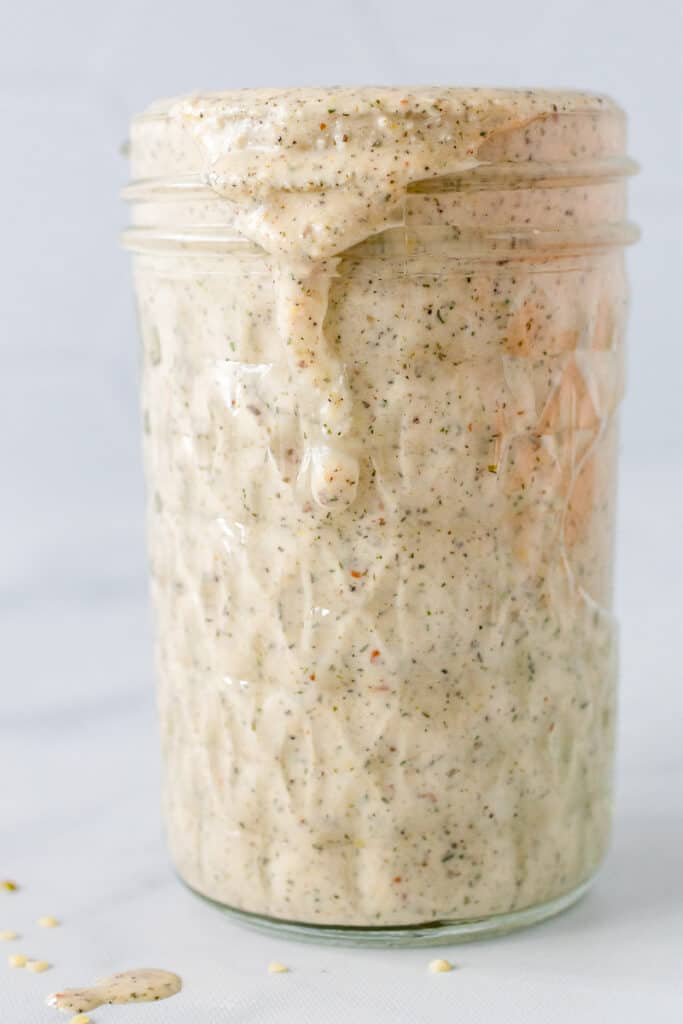 Table of Contents
This is THE Best Dressing
When you need a creamy dressing that's tangy and allergen-free, this recipe checks all the boxes. Most ranch dressings use a mayo base or egg yolks to thicken, but this Egg-Free Ranch uses the magic of hemp hearts for creaminess. You could also use cashews! It's easy to make and so versatile!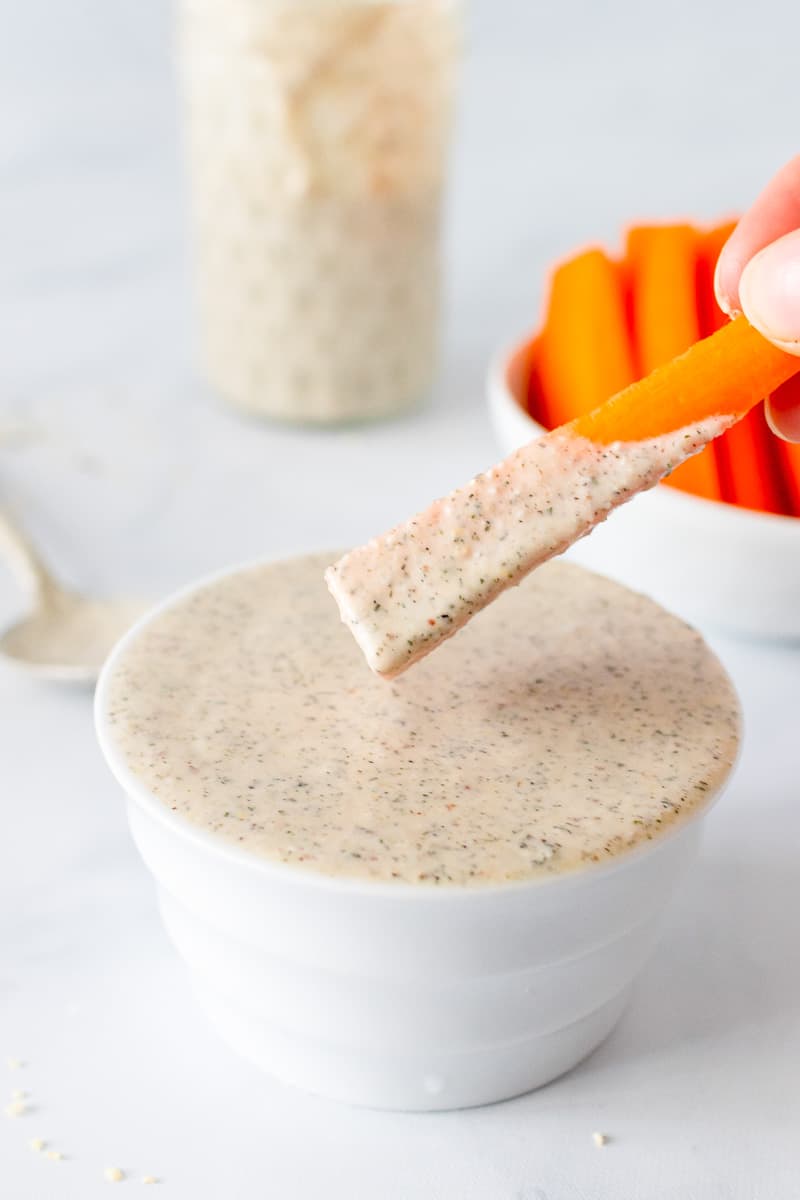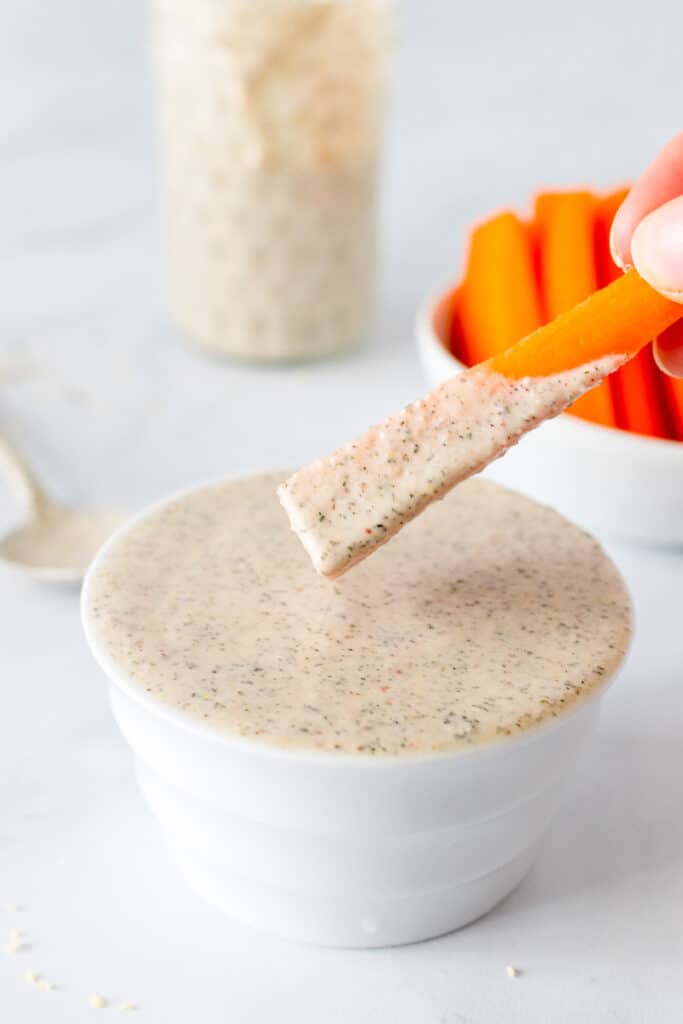 Allergen Free Ranch Ingredients
Well, you asked for it! It's something a few of you messaged me on Instagram about. I do listen, you know? It's also nut-free. I was originally going to use cashews to make this, but then I gave up nuts… and most seeds. But I do really well with hemp seeds (aka hemp hearts) and I think most of you do too… so that's the base. It has some coconut for creaminess, but I didn't want to go full coconut because ranch shouldn't taste like coconut (and this one doesn't). Trust me that this combination of ingredients creates a thick and creamy Egg-Free Ranch dressing that tastes LEGIT.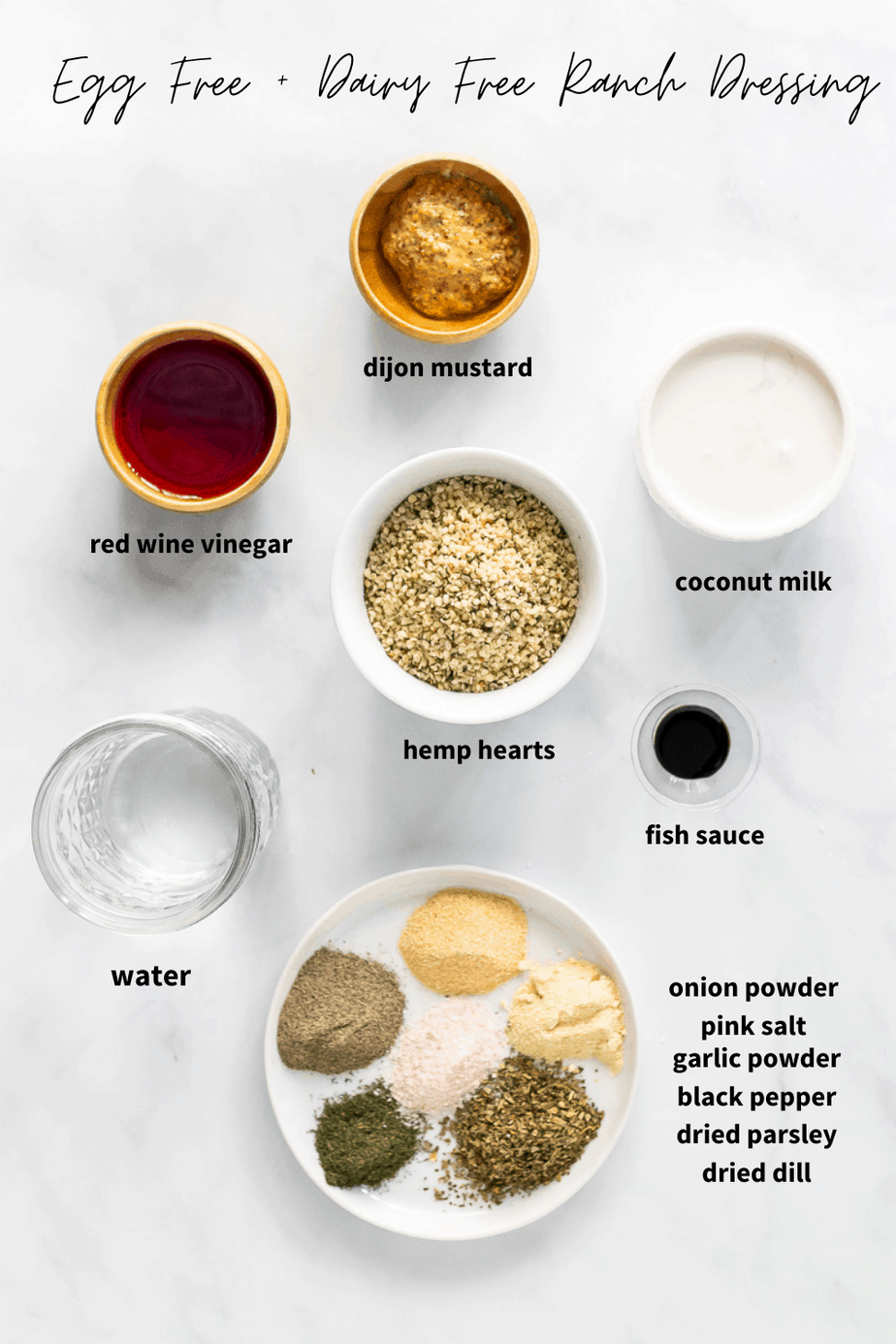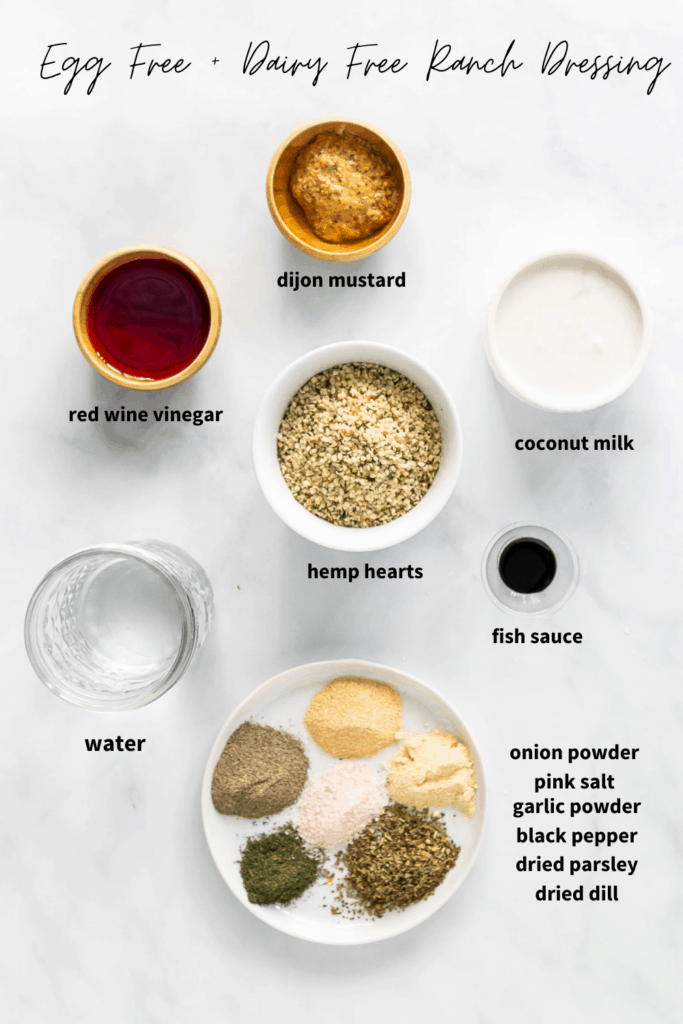 Hemp hearts are really easily blended up and creamy, and it's wonderful because they're nut free, but soaked cashews would work too! These replace the egg in traditional ranch.
Fish sauce adds umami and gives it that cheesy flavor, don't skip it! If you're vegan you can use nutritional yeast.
Red wine vinegar and dijon for tang!
Coconut milk or cream for creaminess, I'm partial to the full-fat canned coconut cream it makes it thicker.
A combination of nightshade-free and delicious herbs to give this dressing its incredible flavor.
Easy Peasy!
Making this dressing is as easy as:
combining all of the ingredients into a blender,
and blending until smooth.
Or you can combine everything in a jar and use an immersion blender! Either way, you can't go wrong with a 2 step recipe.
Tips for Success
Measure out all your ingredients ahead of time.
Add the liquids to the jar first, the coconut cream, mustard, vinegar and fish sauce, then the hemp hearts, lastly the seasonings.
Blend until completely smooth! If using an immersion blender, move it up and down slowly as you blend.
Store in a glass jar with a tight fitting lid in the fridge for up to 2 weeks.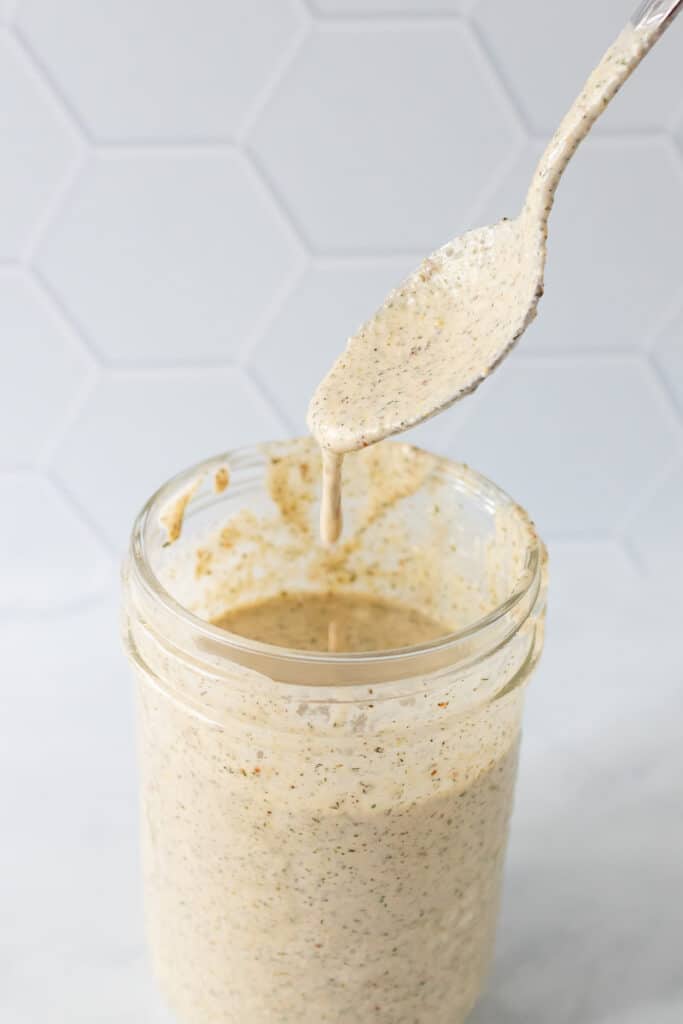 Frequently Asked Questions
What can I use instead of hemp hearts?
Raw cashews would be the best alternative, especially if they are soaked for 4 hours ahead.
What can I use instead of coconut cream?
You can use cashew cream or if you can tolerate dairy heavy cream.
Can I use apple cider vinegar?
Yes.
You May Also Like…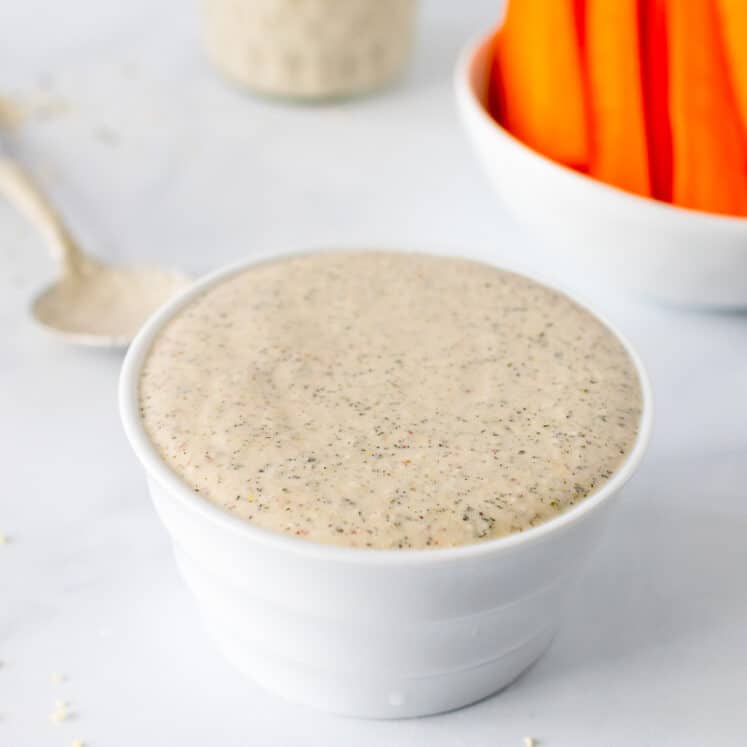 Egg Free Ranch Dressing
---
Author: Cristina Curp
Prep Time: 5 minutes
Total Time: 5 minutes
Yield: 16 ounces 1x
Category: sauces
Method: blender
Cuisine: american
Diet: Gluten Free
Description
A delicious and creamy egg and dairy free ranch dressing!
---
Scale
Ingredients
The Base
1/2 cup hemp hearts (or raw cashews)
1 tbsp Dijon mustard
2 tbsp Red Wine Vinegar 
1/2 cup coconut cream or milk, canned 
1/4 cup filtered water, more as needed 
splash of Red Boat Fish Sauce
Ranch Seasoning Blend (also great in meatballs):
1 tsp garlic powder
1 tsp dried parsley
1 tsp onion powder
1/2 tsp dried dill weed
1 tsp pink salt
1 tsp black pepper
---
Instructions
Combine all of the ingredients in your blender and blend until smooth. You can taste it and adjust salt or pepper… or add more dill. Up to you.
Store in a 16oz jar in the fridge. Shake before each use as it will separate a little. It should keep 2 weeks.
Recipe Notes:
You can use lemon instead of vinegar for a more TANGY flavor. You may omit the pepper. If you want a more AIP FRIENDLY version check this recipe out: http://www.raisinggenerationnourished.com/2017/06/paleo-ranch-dressing-and-dip
Nutrition
Serving Size: 1/4 cup
Calories: 225
Fat: 18g
Carbohydrates: 4g
Fiber: 2.2g
Protein: 10.7g
Keywords: dairy free ranch