These egg free keto cookies are the bee's knees! How could they not be, modeled after my FAMOUS CHEWY CHOCOLATE CHIP COOKIES! That's right, I took my most popular, no-fail, cookie recipes and modified them to be nut and egg-free… dairy-free too (that's right, no butter).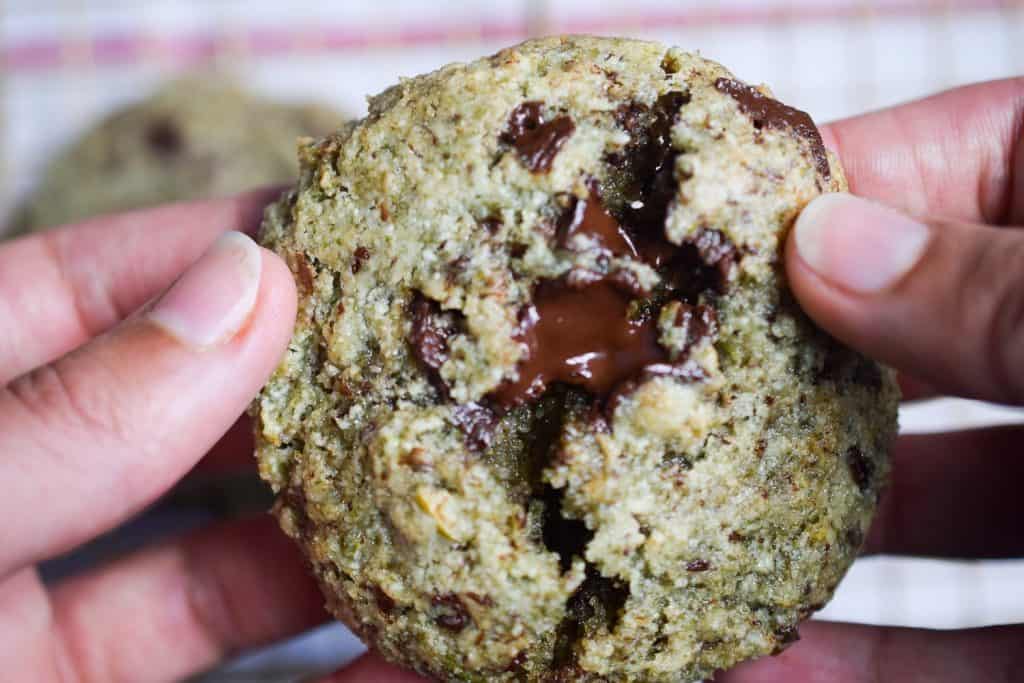 Table of Contents
Seeds FTW!
I ground up raw pumpkin seeds, yessss PEPITAS! Mixed with a little coconut flour to act as an anti-caking agent. That's what I used as flour for these delicious low-carb chocolate chip cookies! This pumpkin seed flour not only gives the cookies amazing flavor but their cool green color. Perfect for the holidays!
Pumpkin seeds are packed with magnesium, zinc, omega 3 fatty acids and are rich in natural phytoestrogens. They're great to take during the follicular phase of your cycle when you have your period. Along with flaxseeds… which this recipe also has. Say what? A delicious, healthy cookie that you SHOULD eat when you have your period? SIGN. ME. UP. To learn more about seed cycling click HERE.
If seeds don't sit well with you, consider soaking them with a pinch of salt before ingesting them. Soaking seeds for a few hours naturally lowers their phytic acid which can cause digestive distress. After soaking gently roast in the oven at low temperatures to dry out.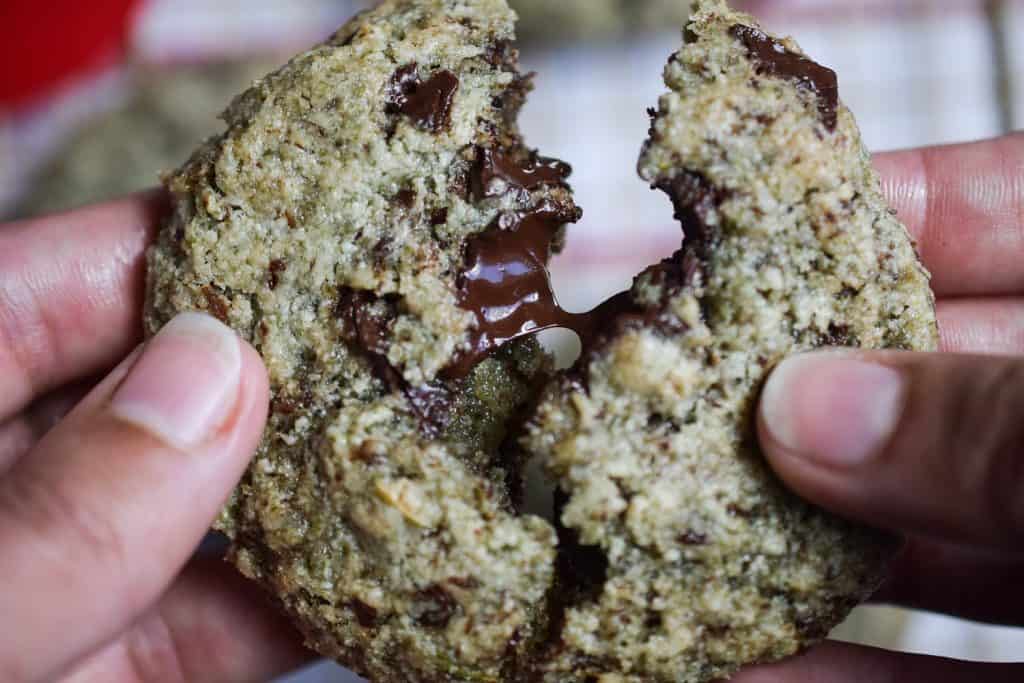 The Ingredients for Egg Free Keto Cookies
Raw pumpkin seeds, flax meal, baking soda, and salt, as well as a scoop of pastured gelatin for chewiness! Then we need some chocolate and sweetener! Go quality with chocolate, it always pays off. As for the sweetener, well that's a personal choice. I like erythritol, Truvia, and Swerve for low carb/keto cookies. If you're of the paleo persuasion you can use maple sugar or coconut palm sugar.
If you go ahead with a liquid sweetener like Lakanato Syrup, raw honey or maple syrup you will need to OMIT the coconut milk.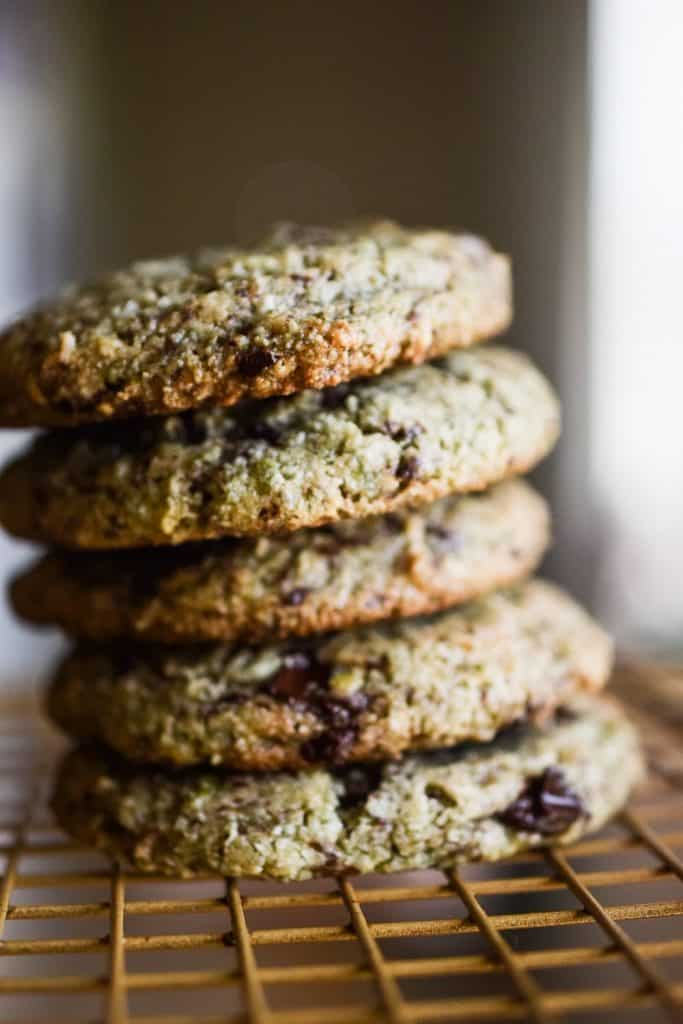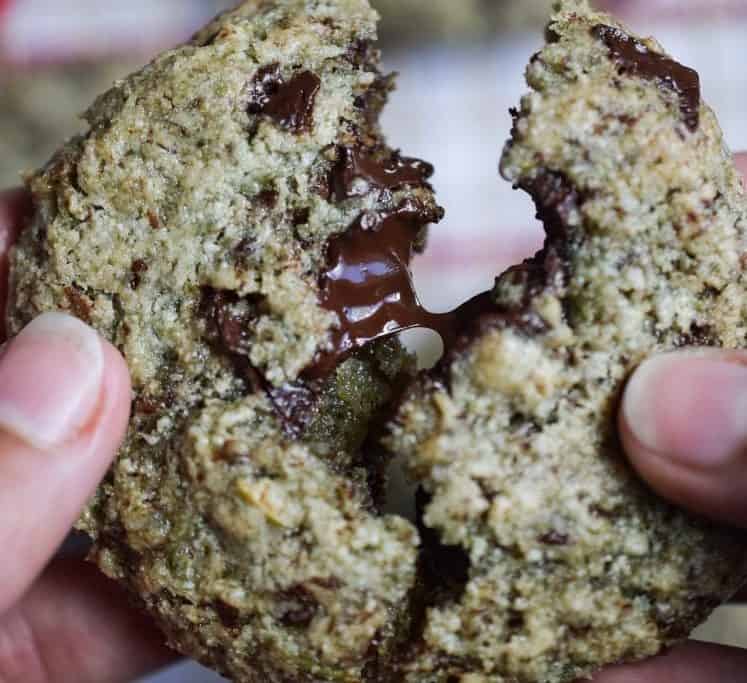 Free Keto Cookies (Chewy Chocolate Chip)
---
Author: Cristina Curp
Prep Time: 10
Cook Time: 15
Total Time: 25 minutes
Category: dessert
Method: baking
Cuisine: cookies
Description
These pumpkin seed chocolate chip cookies are delicious and egg free!
---
Scale
Ingredients
2 cups raw pumpkin seeds
3 tablespoons coconut flour
1 flax egg (1 tablespoon water + 1 tablespoon flax meal)
3 tablespoons softened coconut oil or lard
1 teaspoon vanilla or peppermint extract
1/3 cup granulated sweetener (erythritol for keto, maple sugar for paleo)
1/2 teaspoon baking soda
1/4 teaspoon fine salt
2 tablespoons pastured gelatin
1/3 cup coconut milk
1 cup chopped up dark chocolate
---
Instructions
Pre-heat oven to 350F. Line a baking sheet with parchment paper.
In a food processor, high powered blender of coffee grinder: process the pumpkin seeds with the coconut flour until a fine crumb. Measure out two cups and set aside.
In a large bowl let your flax egg sit for a few minutes.
Add in the coconut oil, extract, and sweetener. Mix.
Add the salt, baking soda, ground pumpkin seed flour mix and the gelatin.
Mix until a dry dough forms. Then add in the coconut milk and mix until the dough takes shape.
Fold in the chopped up chocolate.
Shape about 10-12 1 inch balls, set them 2 inches apart. Gently flatten.
Bake for 12-15 minutes until the edges just begin to brown.
Remove from the oven and let them cool for 10-20 minutes before handling. Use a spatula to remove from the cookie sheet. Enjoy!
Recipe Notes:
3.7 Net Carbs Per Cookie
Nutrition
Serving Size: 1 cookie
Calories: 175
Sugar: Alcohol: 5.3g
Fat: 15g
Carbohydrates: 13g
Fiber: 4g
Protein: 5g
Keywords: egg free keto cookies