Folks, it's a freaking Christmas miracle. I made a cookie without chocolate in it. Seriously. In general, when it comes to sweets I go chocolate or citrus… but snickerdoodle? Who am I even? Well, I am the wizard that came up with these delightful keto cookies.
Coconut Flour Cookies
I know what you're thinking… dry, hard, bleh. Coconut flour can be a total B-I-T-C-H to bake with, but since giving up nuts, I have MASTERED this. The trick is to use very little. Less flour than you would ever think possible. Then reduce it a little more. That's how much you use to bake with coconut. You think I'm kidding? This recipe only takes 1/3 cup and it makes 18 cookies.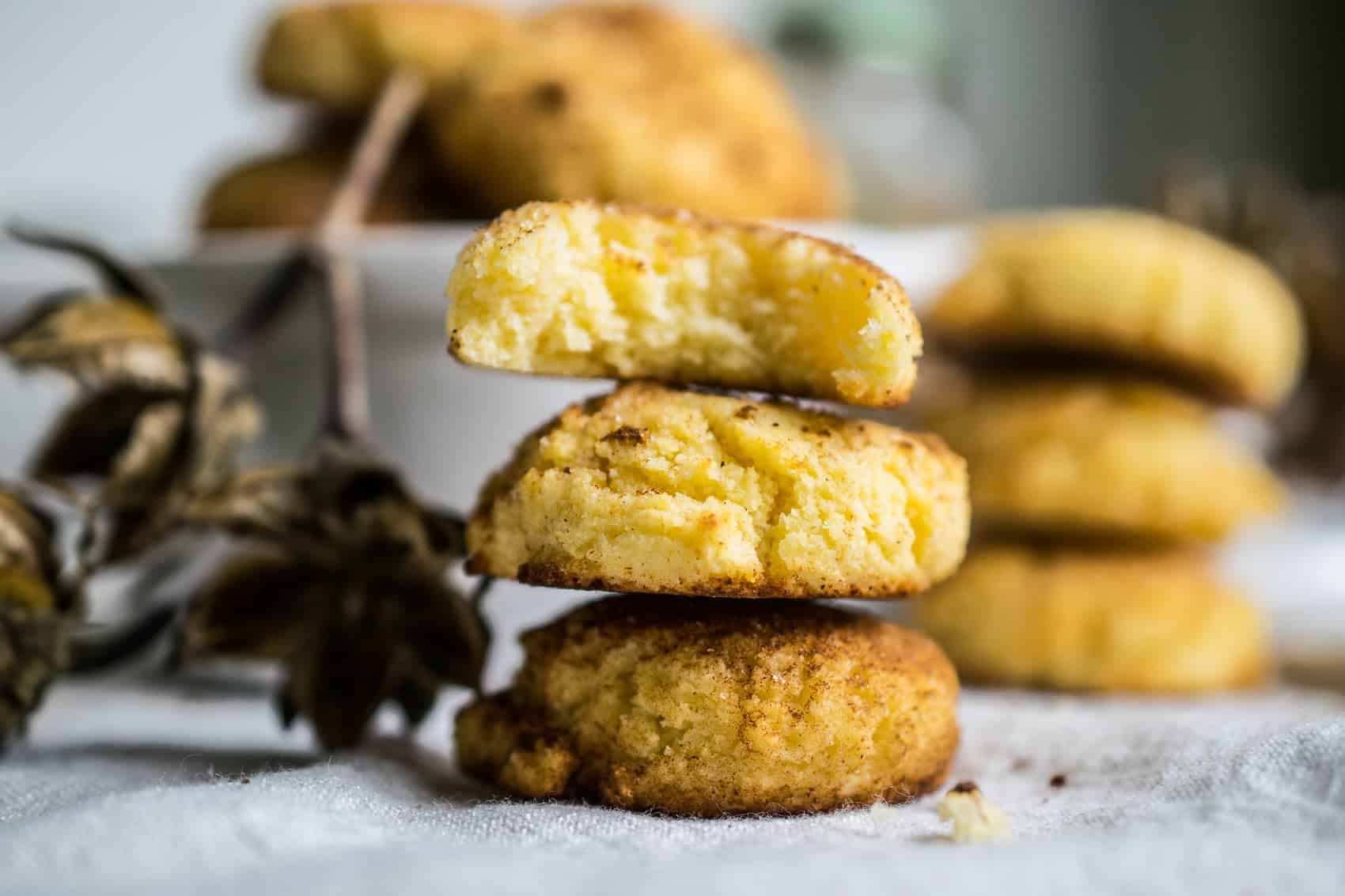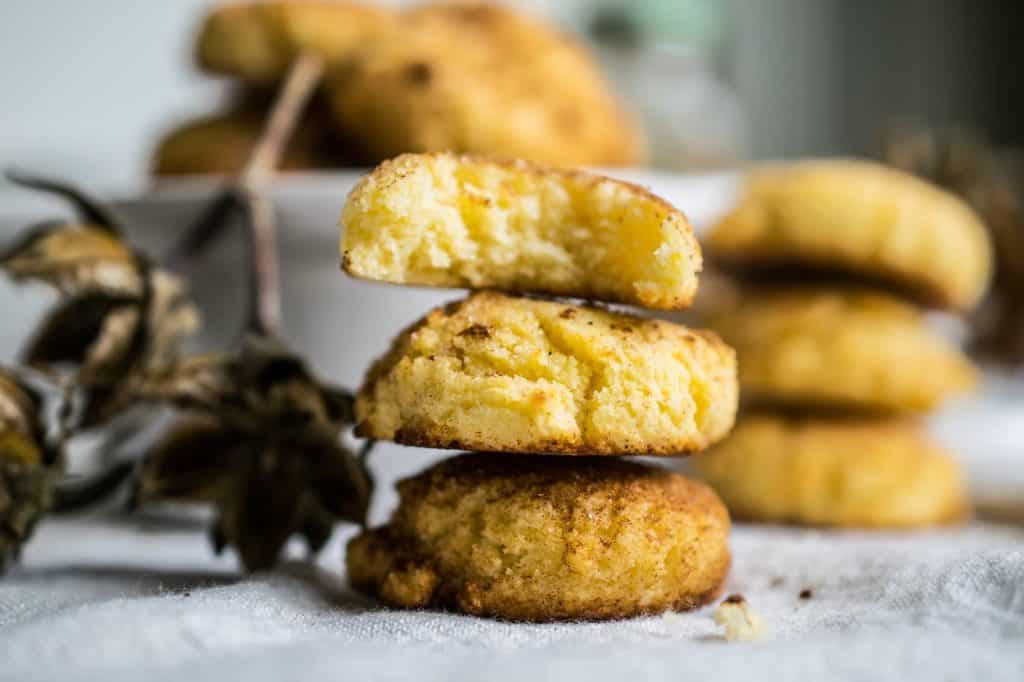 Why I LOVE Coconut Flour
I love coconut flour because it's packed with fiber. It's allergen friendly. I love coconut flour because although cup for cup it IS higher in carbs than almond meal… you would need 2 cups almond meal for this recipe. So just based on the fact that you only ever need SMALL amounts of coconut flour in a recipe, it is in USE… my favorite low carb, paleo, keto flour to use.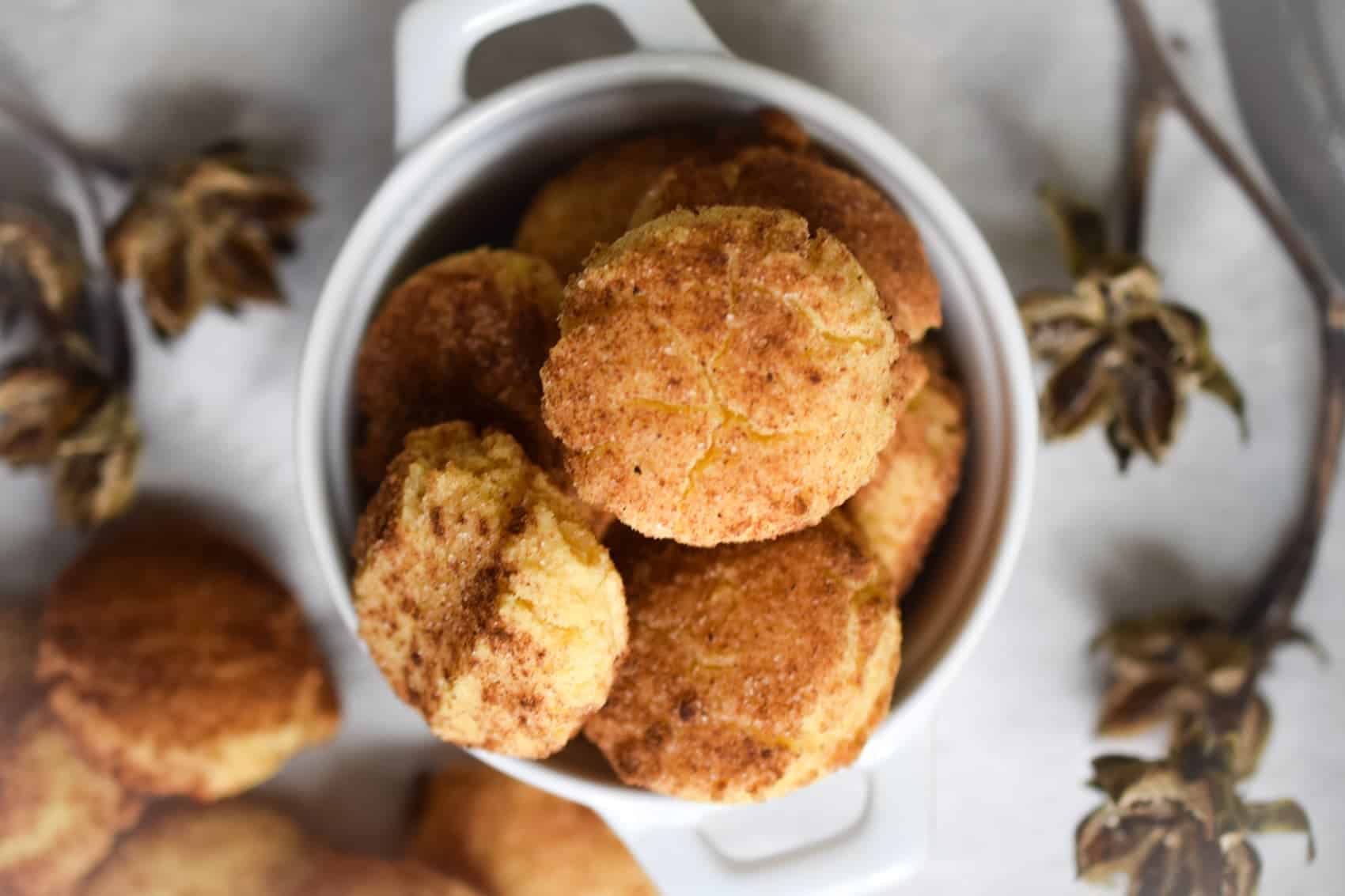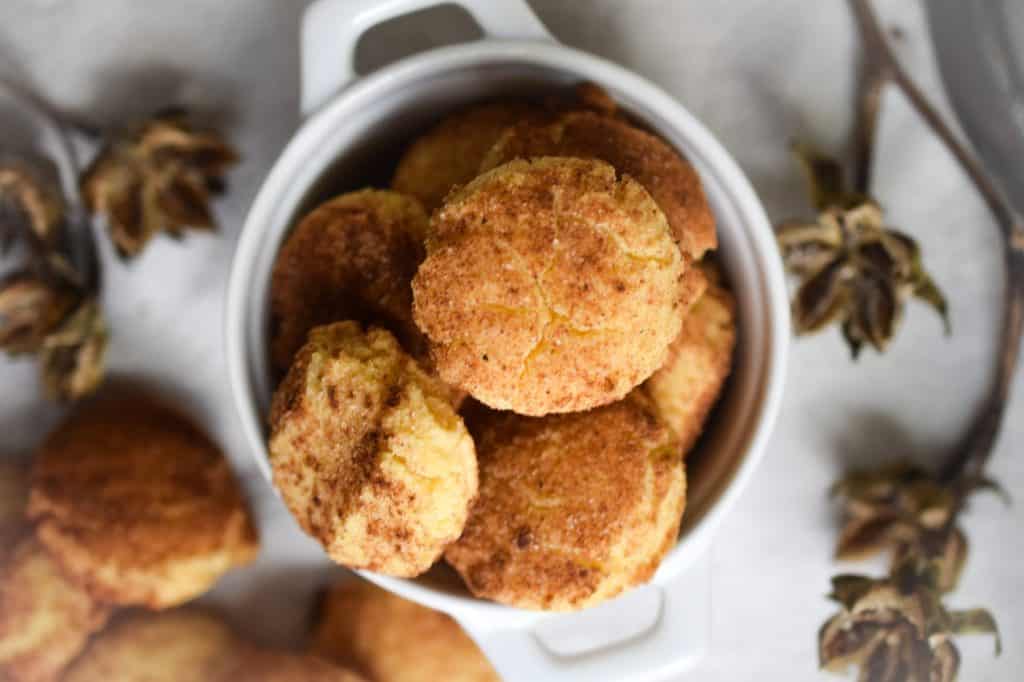 Inspiration
This recipe is actually inspired by my CHEWY KETO CHOCOLATE CHIP COOKIES. I formulated a killer, nut free version of them… which will be shared in due time… you know… they're for a very special project! Yet I had to hook you all up. So I took that, the nut free, chewy, keto, cookie recipe and tweaked it into this… a delightful snickerdoodle recipe.
And it is good. Even though it doesn't have chocolate. Although… a magic shell (coconut oil  + melted chocolate) drizzle would do them good…. Jesus, take the wheel! I can't help my self.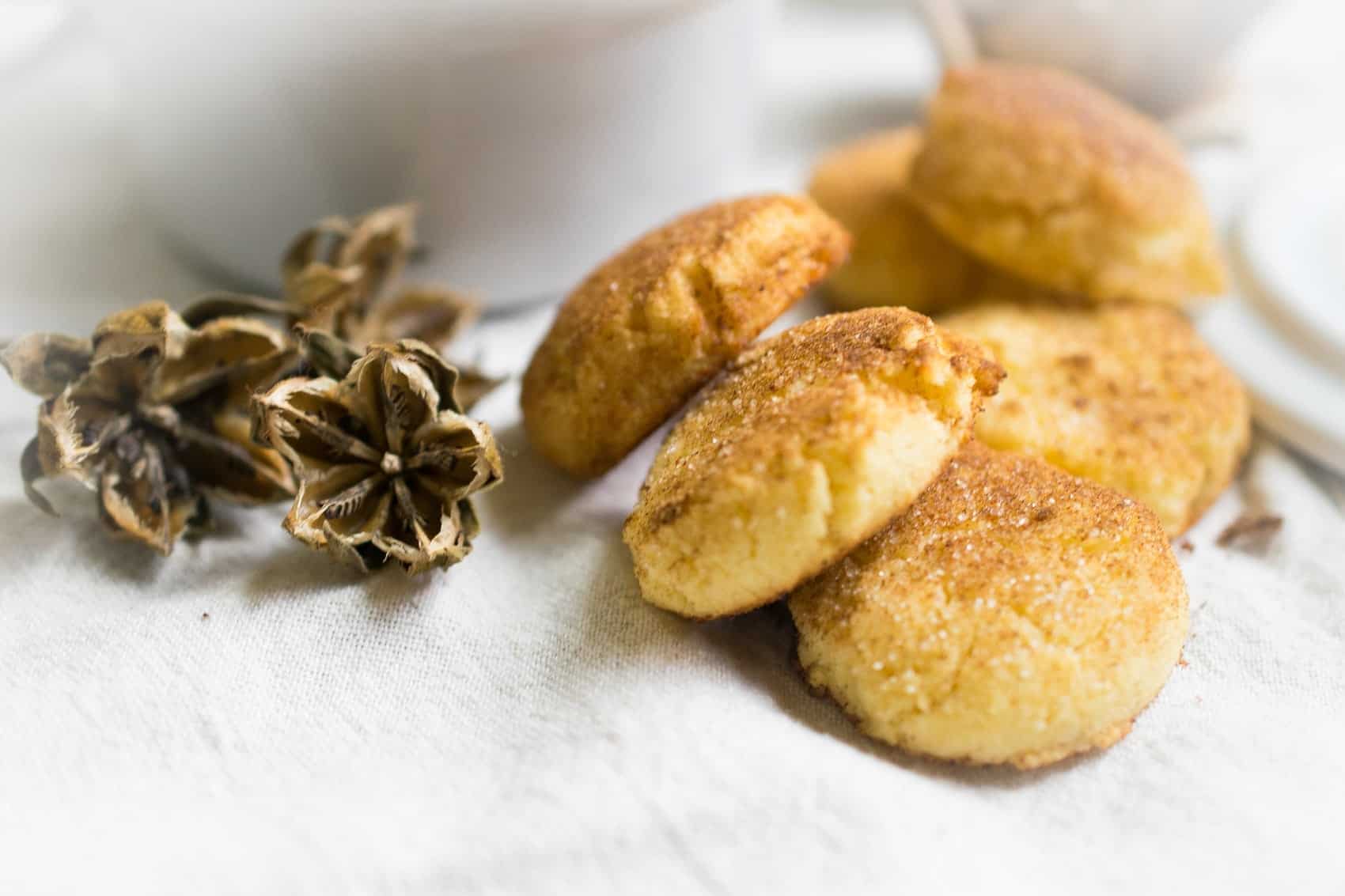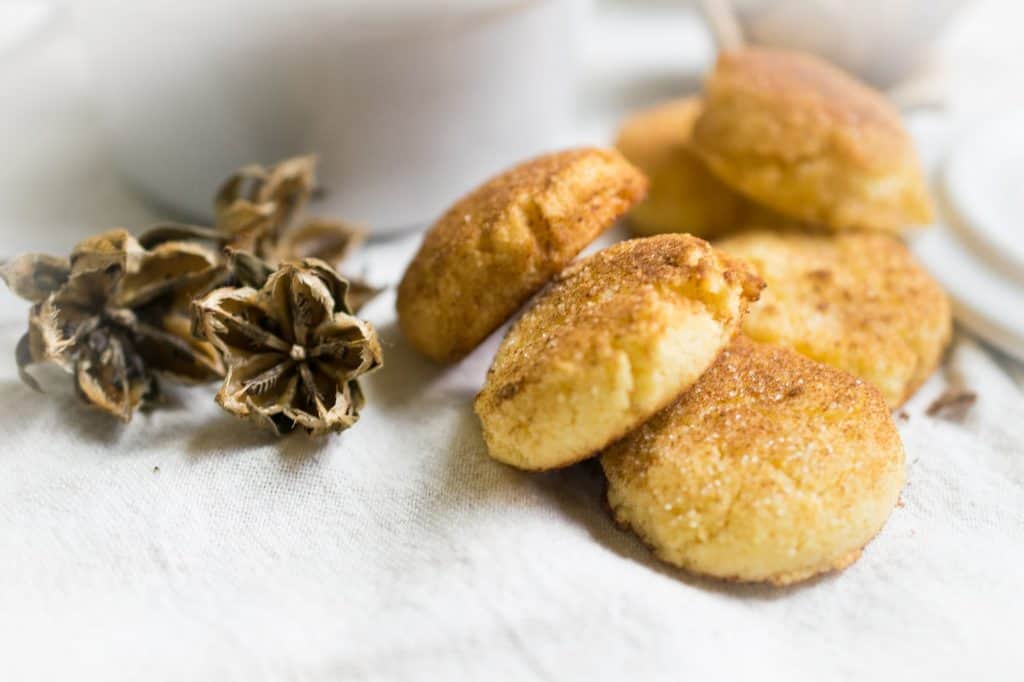 Ingredients

Why CEYLON CINNAMON:
Cassia cinnamon, which is pretty much all the more common types contain higher levels of couramin which, when taken in large amounts can damage the liver in some folks. Long shot, I know.  Yet, I use a lot of cinnamon, so i use ceylon so be on the safe side! Ceylon cinnamon is also knows as "true cinnamon" which comes from the cinnamonun vermun.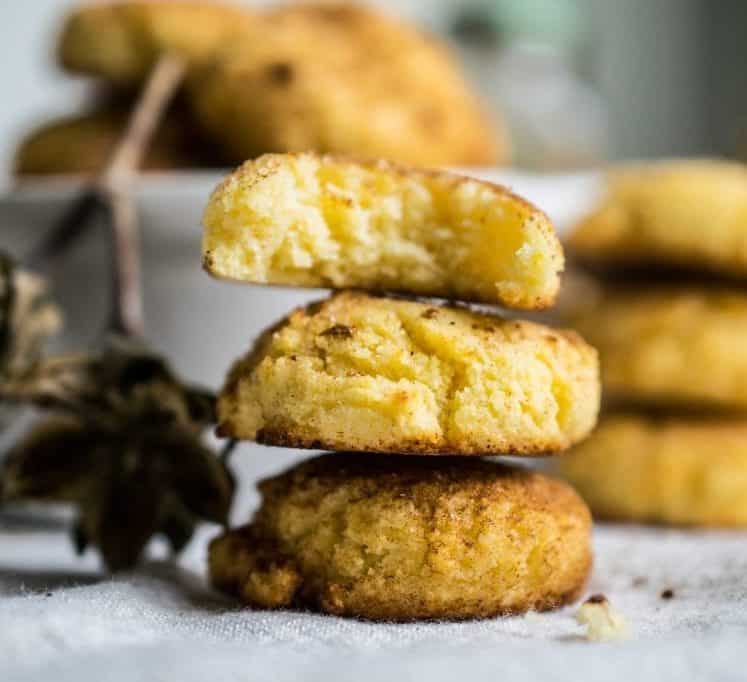 Keto Snickerdoodle Cookies
---
Author:
Prep Time: 10
Cook Time: 10
Total Time: 20 minutes
Yield: 18 1x
Category: cookies
Method: baking
Cuisine: American
Description
Cinnamon and sweet soft snickerdoodle cookies that are gluten free and low carb!
---
Scale
Ingredients
2 large eggs
1 teaspoon vanilla extract
1/3 cup + 2 tablespoons erythritol (maple or coconut sugar for paleo)
¼ cup (½ stick) unsalted butter, coconut oil or ghee, softened
1/3 cup + 1 teaspoon coconut flour
½ teaspoon baking soda
Pinch of fine Himalayan salt
1 tablespoon gelatin or agar agar gum (optional)
2 tablespoons ceylon cinnamon
1/4 teaspoon nutmeg (optional)
---
Instructions
Preheat the oven to 350°F. Line a baking sheet with parchment paper.
In a large bowl, whisk the eggs until frothy with a fork or wire whisk. Add the vanilla extract, 1/3 cup granulated sweetener, and butter and whisk until well combined.
Add the coconut flour, baking soda, gelatin, and salt to the wet ingredients. Using a rubber spatula, mix the ingredients together until a dough forms.
Using a 4CM cookie scoop or teaspoon make the cookies on the lined sheet pan.
The recipe makes 18. Using the palm of your hand, gently flatten the balls so they are about ½ inch thick.
Combine the cinnamon, nutmeg, and 2 tablespoons sweetener and dust the cookies with it. You can sprinkle it on or use a fine-mesh sieve to dust it on. Alternatively, you can roll the cookie balls in the cinnamon mix before putting them on the cookie sheet and flattening them.
Bake for 8-10 minutes, until the edges are lightly browned.
Remove from the oven and let the cookies cool to room temperature on the baking sheet before handling.
The more they cool, the chewier they will be. Store in an airtight container at room temperature for up to 5 days.
Nutrition
Serving Size: 1 cookie
Calories: 44
Fat: 3g
Carbohydrates: 3g
Fiber: 1g
Protein: 2g
Keywords: nut free snickerdoodle cookies