This 4 ingredient, candy-like, totally keto, and paleo-friendly treat is as decadent as it gets: Coconut Caramel Slice! Toasty caramel that glues coconut together, topped with a thin layer of super dark chocolate … Who isn't salivating?!?!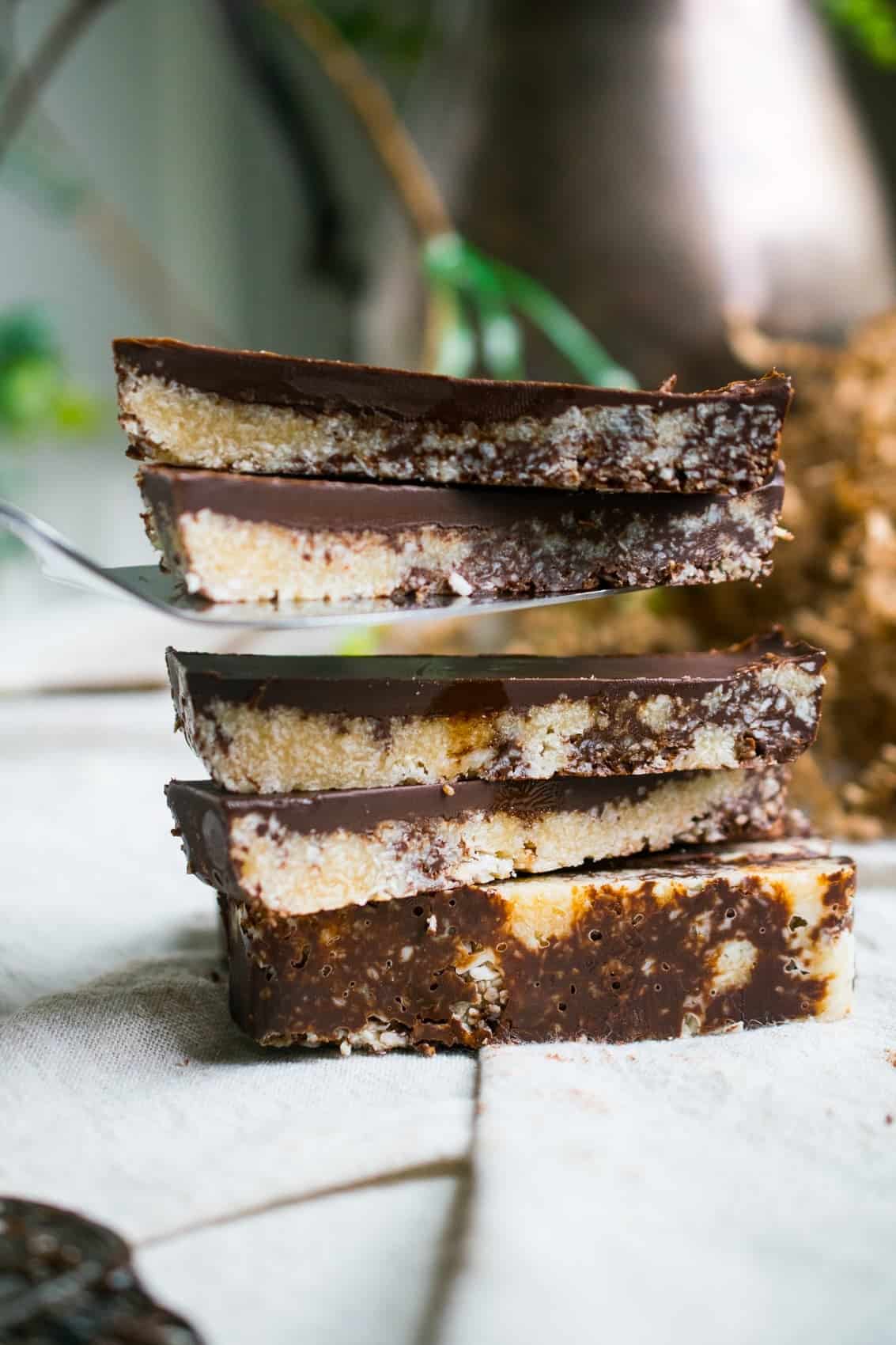 Table of Contents
You NEED This Samoa Inspired Treat
Yes, you need this nut, egg and sugar-free treat in your life! My husband and toddler love this one! Justin even called it my best treat yet! Tis the season after all, with this in your corner you won't even be tempted by those other sugary options. Seriously folks, get to making this bad boy. Coconut Caramel Slice is your new best friend.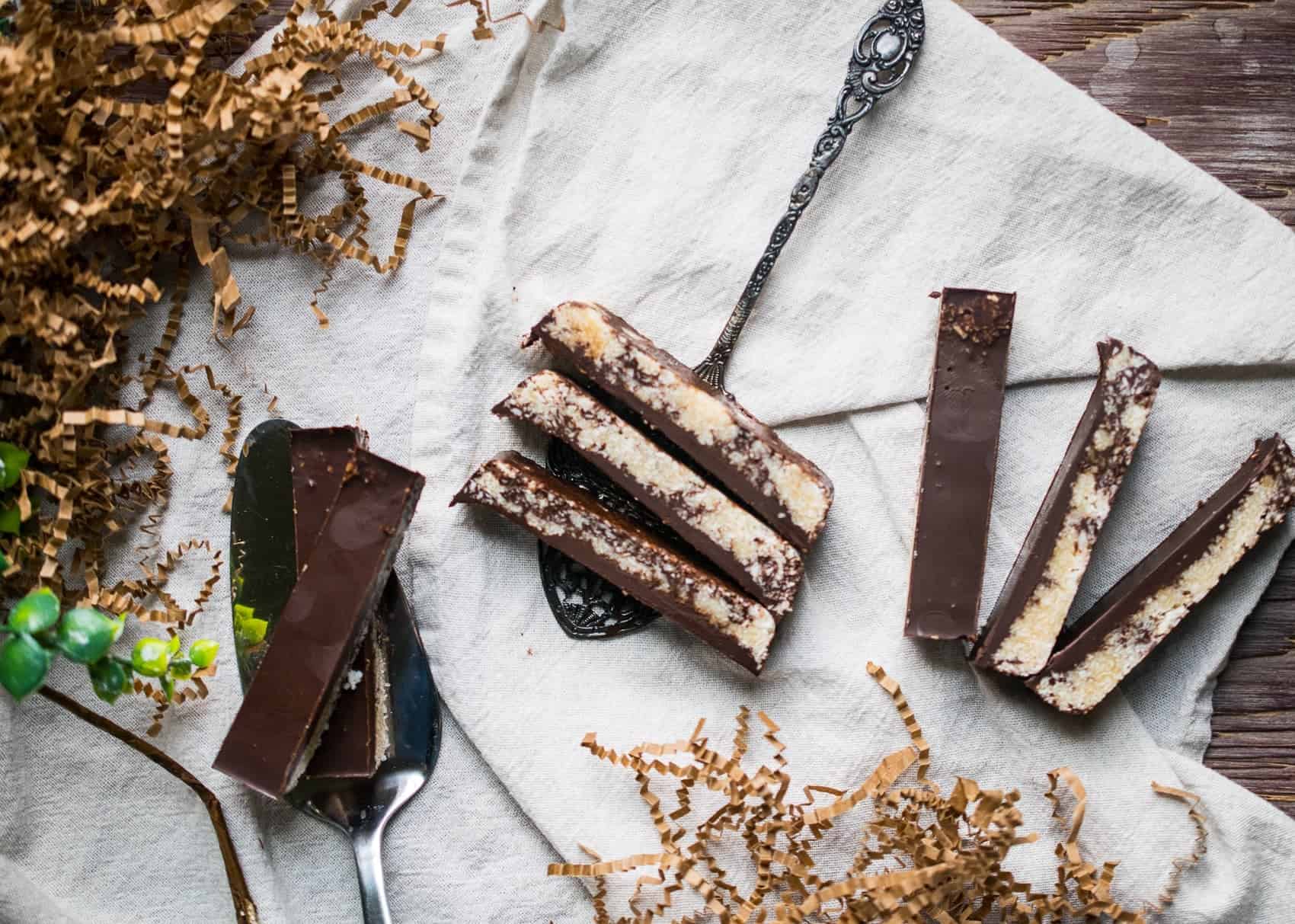 Four Simple Ingredients
Grass Fed Butter (or Ghee for lactose casein-free), it also works with coconut oil or coconut cream (but takes longer to melt the sweetener).
Granulated Sweetener. Whichever you like, erythritol, Truvia, Maple Sugar etc…but has to be GRANULAR for the caramel. Coconut palm sugar will take longer to dissolve, you might need to add in a little coconut milk to help it along.
Unsweetened, shredded coconut. I use this one. Not coconut flakes, shredded or desiccated coconut.
Dark chocolate. I like this one and or you can make your own, link at the bottom of the page.
Coconut oil. Which honestly, is optional, I just stretch the chocolate out a bit.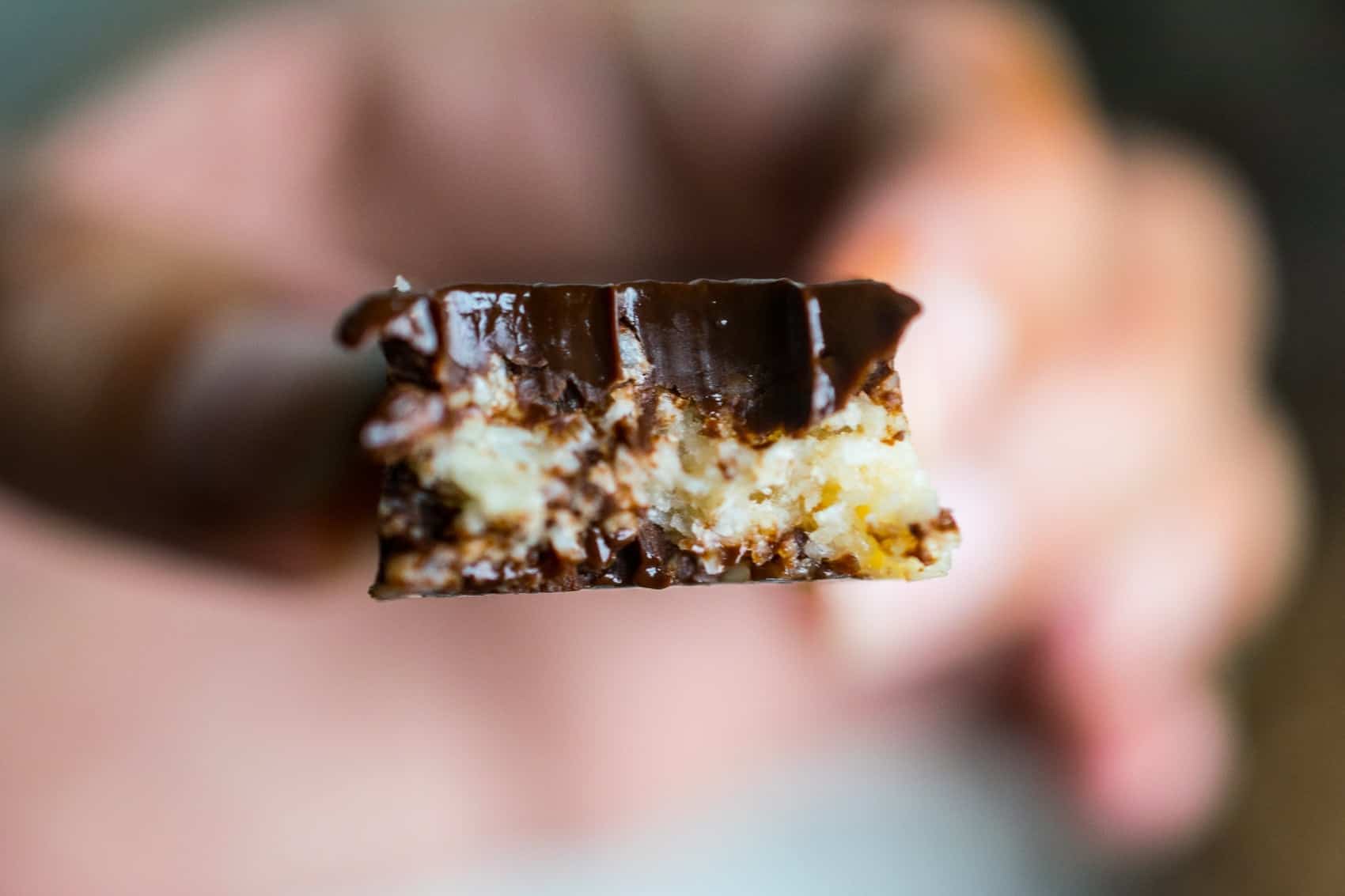 Step by Step Coconut Caramel Slice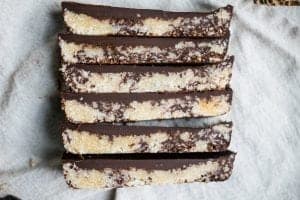 Coconut Caramel Slice
---
Author: Cristina Curp
Prep Time: 15
Cook Time: 20
Total Time: 35 minutes
Yield: 10 1x
Category: Desserts
Method: Stove
Cuisine: American
Description
Warning: This Keto Candy is ADDICTIVE.
---
Scale
Ingredients
3 tablespoons salted grass fed butter (or ghee)
3–4 tablespoons granulated sweetener
1 cup shredded, unsweetened coconut
1 bar, 3-4 ounces, dark chocolate
1 tablespoon coconut oil (optional)
---
Instructions
Melt the butter in a small sauce pot over medium-high heat and bring to a simmer.
Add in the sweetener once tablespoon at a time and stir.
Heat until the sweeter has dissolved or browned, whichever happens first. Some sweeteners will bubble up, that's okay too.
It should be almost like syrup, slightly golden in color, smells of candy and becomes smooth again. Depending on the sweetener you use the time here will vary, can take up to 10 minutes.
Mix in the shredded coconut and quickly stir to combine it. Take it off the heat and quickly transfer in to 8×4 inch loaf pan. Flatten it to the bottom as evenly as possible. Do this fast, as the caramel cools it will become stiff.
In a microwave safe bowl add the chopped chocolate and coconut oil if using it. Microwave in 20 second intervals, 1-2 is enough, on medium power until mostly melted. Cover for 30 seconds then stir until all the chunks are melted.
Use a spatula to scrape it all out of the bowl and over the coconut. Spread it out evenly.
Place the pan in the freezer for 20-30 minutes until the chocolate is completely hard.
Use a knife or a spatula to un mold it, run it around the edges then lift it from one end, it should pop right out.
Chocolate side up, slice it into 10 even slices.
Enjoy! Store them in Tupperware in the fridge up to a week.
Recipe Notes:
Macros (using Truvia + with 80% Ghirardeli and coconut oil) per slice
Cal 152, Carbs 7.7, Fiber 3.1, Sugar Alcohol 3.6, Protein 1.2
Macros (using Swerve + with Lily's and coconut oil) per slice
Cal 165, Carbs 10, Fiber 8.7, Sugar Alcohol 3.6, Protein 1.3
Nutrition
Serving Size: 1 slice
Calories: 167
Sugar: Alcohols 3.6
Fat: 12g
Carbohydrates: 10g
Fiber: 8.7g
Protein: 1.3g
Keywords: coconut caramel Slice