I get asked a lot about my favorite things and brands that I recommend, so I decided to put them all together in one space. From whole food ingredients to safer skincare, I've included the companies that I use and love.
My Favorite Things
discount code CASTAWAY10
I know many areas don't offer quality protein options, and it can be hard to source responsible. Luckily, you can beef, chicken, pork, salmon, and more delivered to your door by several companies, I use ButcherBox. For more information on why grass fed beef is better and why sourcing quality protein is important, check out this post.
One of my favorite companies to shop with is Thrive Market. They want everyone to have access to healthy food, they work hard to give back to various communities, and they're committed to being a zero-waste company. It feels good to support companies who choose to do the right thing, even when it's not the most profitable choice, and I encourage you to do the same if you are able! They're offering a 25% off discount to new Thrive customers here. You can also read more about why I choose Thrive.
My favorite salt is Redmond Real Salt. This salt is sourced from an ancient salt bed in Utah, free from contaminants found in sea salt today. Salt is essential, not just for trace minerals, but for FLAVOR. Redmond is offering 20% off with code CASTAWAY.
I used Araza makeup for a long time, and there was no way I would change that … until a friend took me to a Beautycounter pop-up and I tried a few items. I bought some for myself and I was instantly hooked — now, I use Beautycounter exclusively for skincare and makeup. You can watch my review of Beautycounter and shop with me for safer skincare and makeup.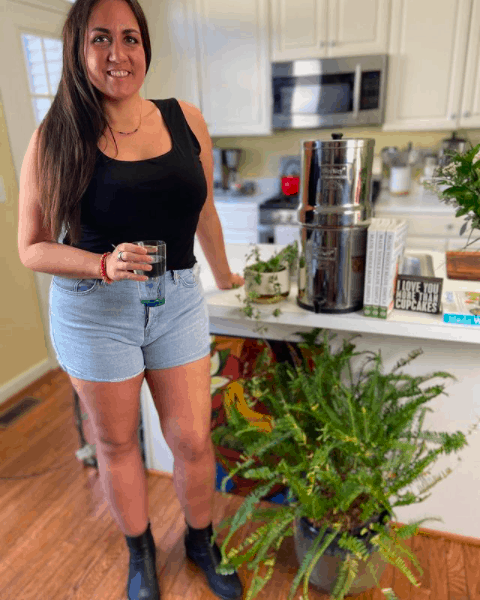 One of the things I would take with me if I was stranded on a desert island is my Berkey water filter — that tall silver thing on my countertop. This filter removes 200+ unsafe contaminants from my drinking water, and is way more environmentally friendly than single use plastic generated from bottled water. I use it every day, and Berkey water just tastes better! Save $$ with code CASTAWAY5 at checkout.
Sip Herbals is an all-natural organic herbal coffee alternative that I LOVE. It gives people who don't tolerate coffee or who are looking to cut caffeine the enjoyment of a warm, satisfying beverage with the taste, body, and texture of coffee.
Legit Bread Company
Bread, bagel, cracker, cheese, cookie, and pancake mixes, all completely gluten-free! If you're missing baked goods and the ease of a pre-made mix, Legit Bread Company has your back. They even have an AIP-friendly pack!