This coconut lime keto cake is like a vacation in dessert form! Light, fluffy, and refreshing lime cake, topped with an airy coconut "icing," this gluten free and dairy free treat is something everyone can enjoy!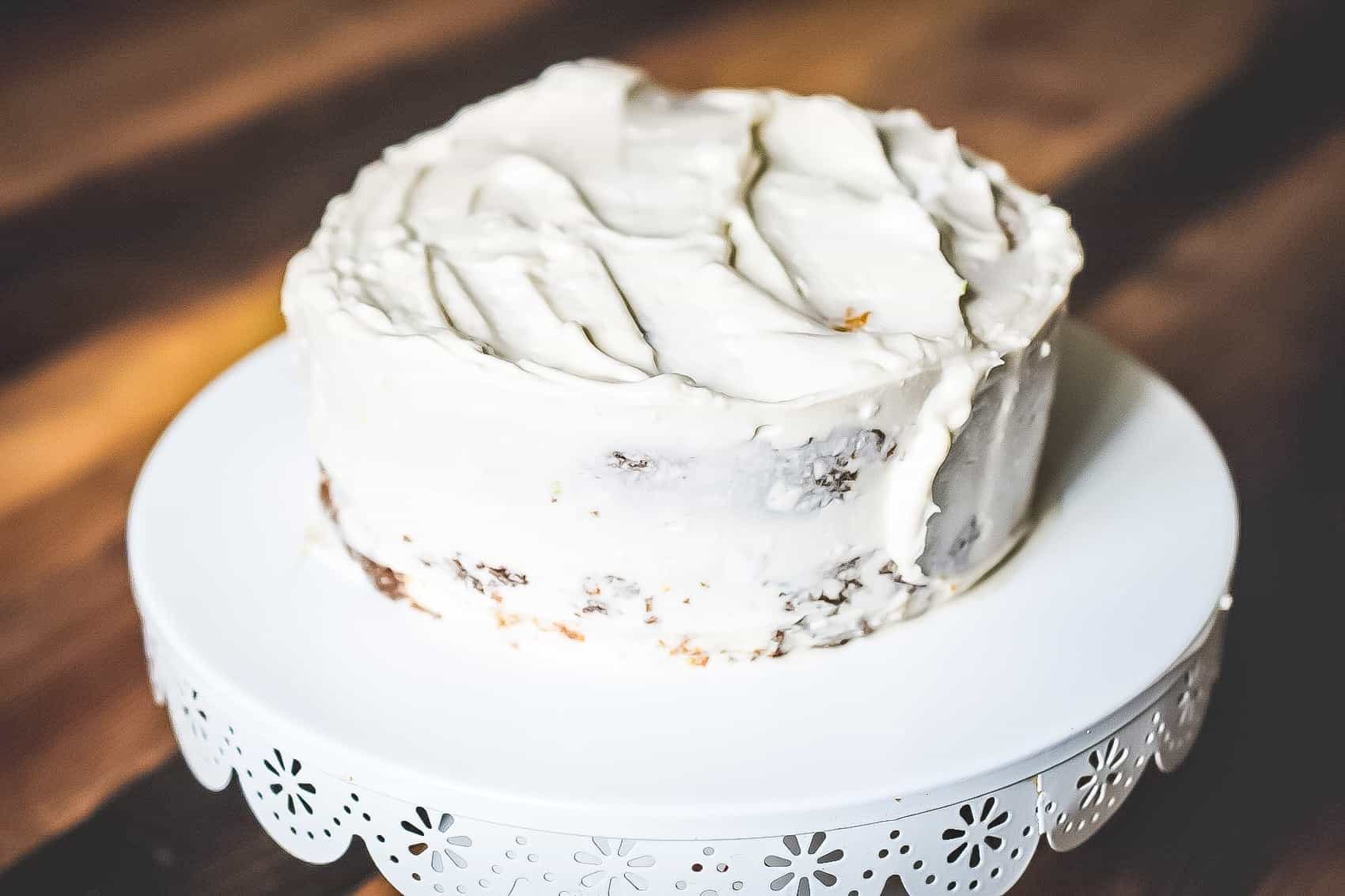 The best keto cake!
Summer seems to be birthday season around here and having a killer cake on hand is a must! This dairy-free keto cake is as good as it gets. It tastes like decadent, tropical rum cake. It's moist, flavorful, elegant and beautiful and it's easy to make!
I made this cake for my unsuspecting stepdad who flew to Hawaii with my mom on his birthday! We had dinner, we had cake, everyone was hooked. Then I kind of forgot about this recipe until today!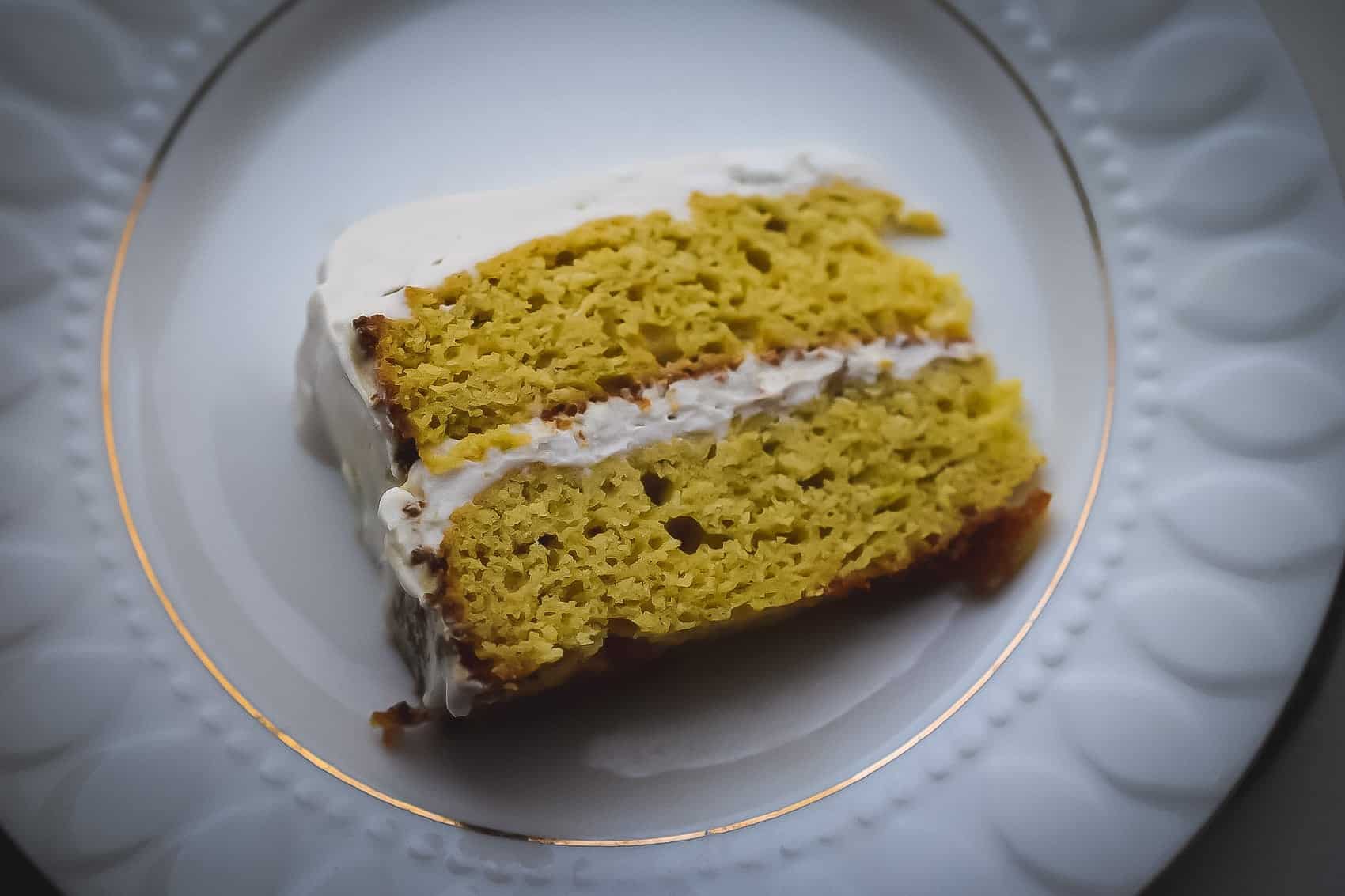 How to make sweetener free keto cake
So I remembered this cake because it came up in a dairy-free keto facebook group… does someone have a sweetener free cake and I thought of this one. It originally only uses 1/3 cup of erythritol for the entire cake… that could easily be omitted with little change to the flavor.
Then I thought … some delicious replacements would be Primal Fuel Vanilla Collagen (adds vanilla flavor and a hint of sweetness) or MCT Oil Powder for texture!
Either way, you can't go wrong.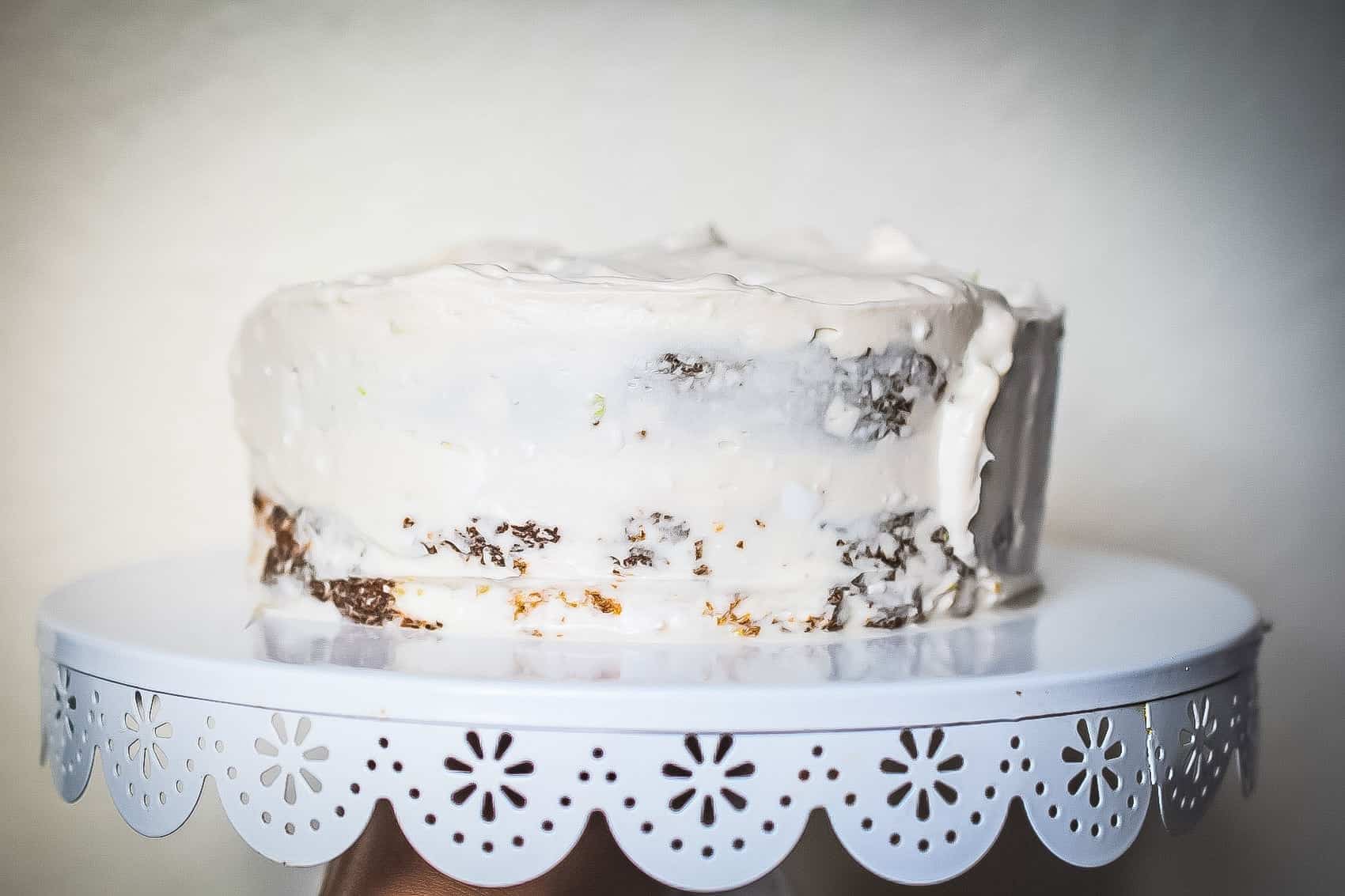 How to make dairy free icing
Is simple. Chill a can of full fat, good quality coconut milk overnight. Open the can while it's still very cold. Scoop out the hard, creamy, coconut milk fat. Promptly whip that up with lime zest, pinch of salt and the optional stevia.
Whip with egg beaters until it looks whipped, fluffy and smooth. Then keep cold, in the fridge. Quickly dress the cake. Keep that cold too until ready to serve.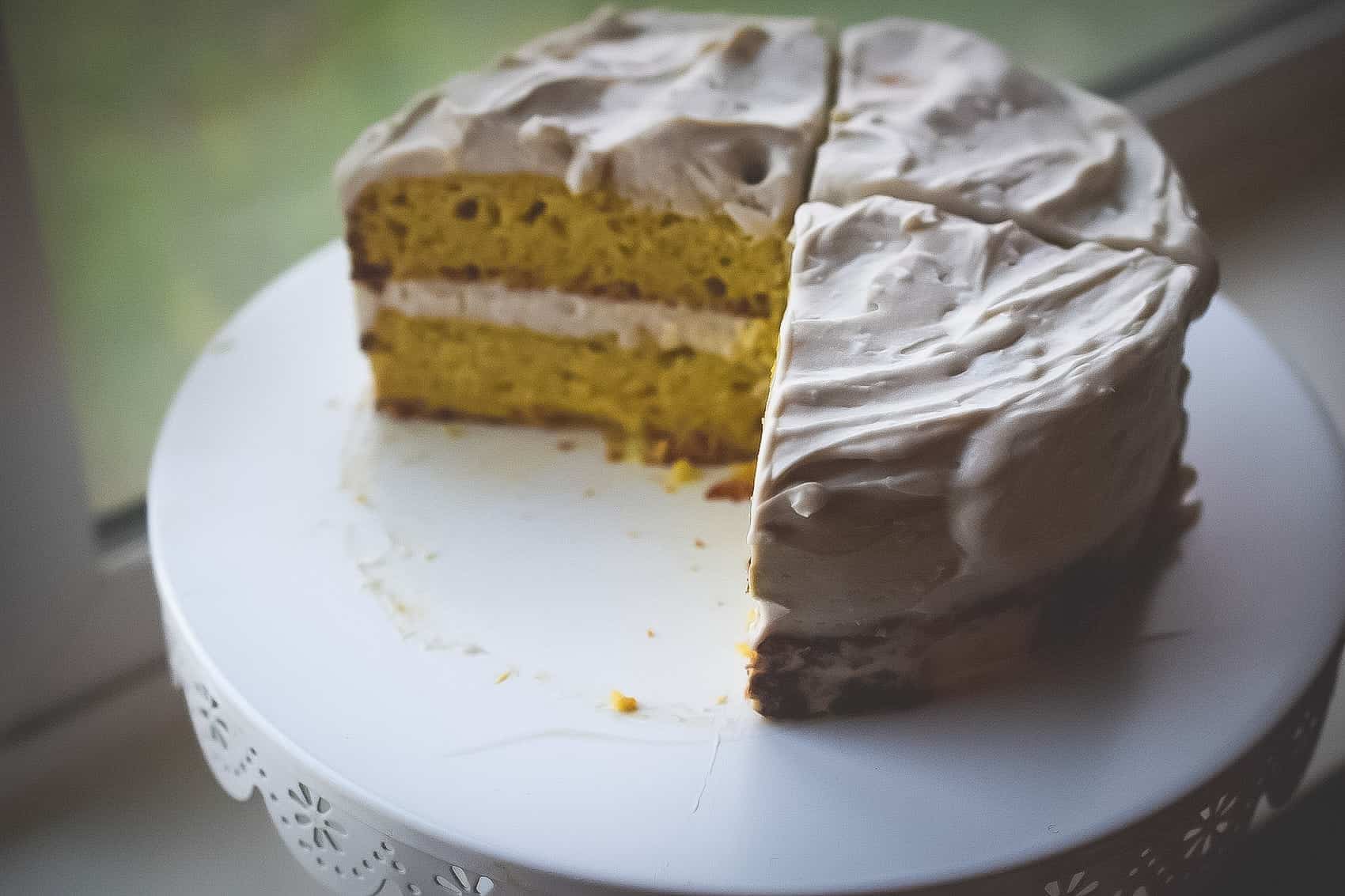 A visual guide: how to make this keto lime cake
For those who have had trouble with this recipe, I made it on IG stories to help you 🙂 Watch and learn my loves!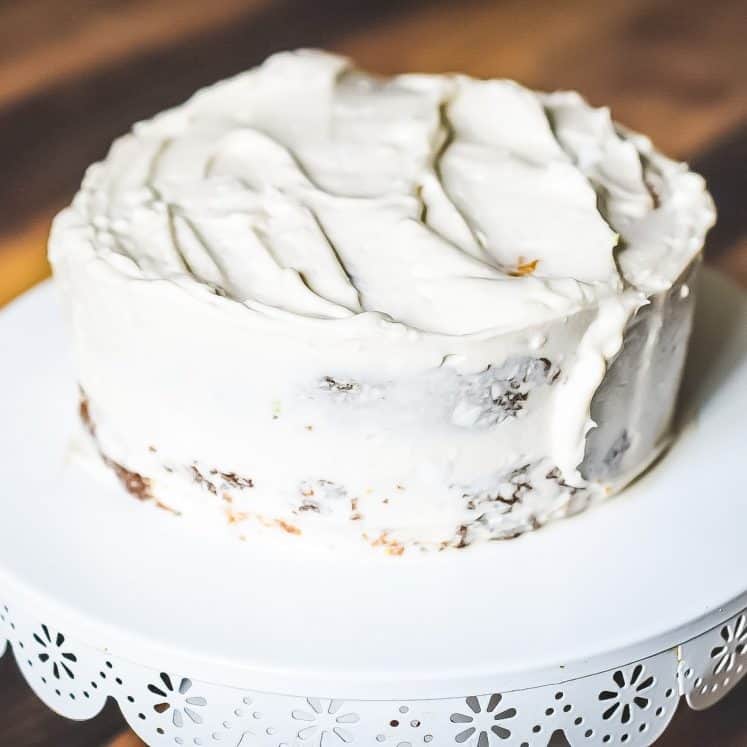 Coconut Lime Cake (Keto, Paleo, Dairy Free, Nut Free)
---
Author: Cristina Curp
Prep Time: 10
Cook Time: 35
Total Time: 45 minutes
Yield: 2 layer 6″ cake 1x
Category: Dessert
Method: Baking
Cuisine: Keto
Description
A simple, delicious cake for any occasion. Dairy and nut free with a sweetener free option!
---
Scale
Ingredients
For the Cake
1/2 cup coconut flour
1/3 cup erythritol or another granulated sweetener (optional, see notes)
2 tsp baking powder
1/4 pinch salt
2 limes zested
4 large eggs, room temp 
1/4 cup coconut oil, room temp 
1/2 cup coconut milk (left over from coconut milk can) 
1/4 cup unsalted ghee, softened butter or lard
"Buttercream"
1 lime zest
10 drops liquid stevia or 1 tablespoon honey (optional)
pinch of salt
---
Instructions
Pre-heat oven to 350F. Lightly grease two 6″ cake pans. 
Sift the dry ingredients (flour, sweetener, baking powder, and salt) together in a small bowl. 
In a large bowl mix with an electric hand mixer beat the eggs, milk, lime zest, coconut oil, and lard for 2-3 minutes until foamy and fluffy. 
Add the dry ingredients to wet ingredients and beat until well combined. 
Pour the cake mix into the two prepared cake pans, place them on a sheet pan and bake 25-30 minutes until a toothpick inserted comes out mostly clean.
Let the cakes cool completely before unmolding. Set them to chill while you make the coconut cream.
In a small bowl whip the coconut milk fat until with a hand mixer until smooth and whipped. Add in the lime zest, stevia if you're using it and salt. Then use a cold metal spatula to spread some on top of one cake round in the middle.
Stack the cakes and then use the rest of the cream to frost the outside of the cake. Keep the cake chilled until ready to serve!
Recipe Notes:
*Use of sweetener is optional in this recipe the natural sweetness of the coconut and lime are enough if you don't do keto sweeteners! Alternatively, you may use raw honey if you eat honey or Vanilla Collagen Primal Fuel instead of the erythritol too!*
Nutrition
Serving Size: 1/6 of cake
Calories: 339
Fat: 32g
Carbohydrates: 18g
Fiber: 14g
Protein: 7g
Keywords: Keto Coconut Lime Cake