My Jack loves flapjacks and being his mama I've become a healthy pancake expert. I whip up various batches of keto paleo pancakes a week, always changing up the ingredients to vary his nutrition. When they're AWESOME, like these keto blueberry pancakes, well then they make it to the blog!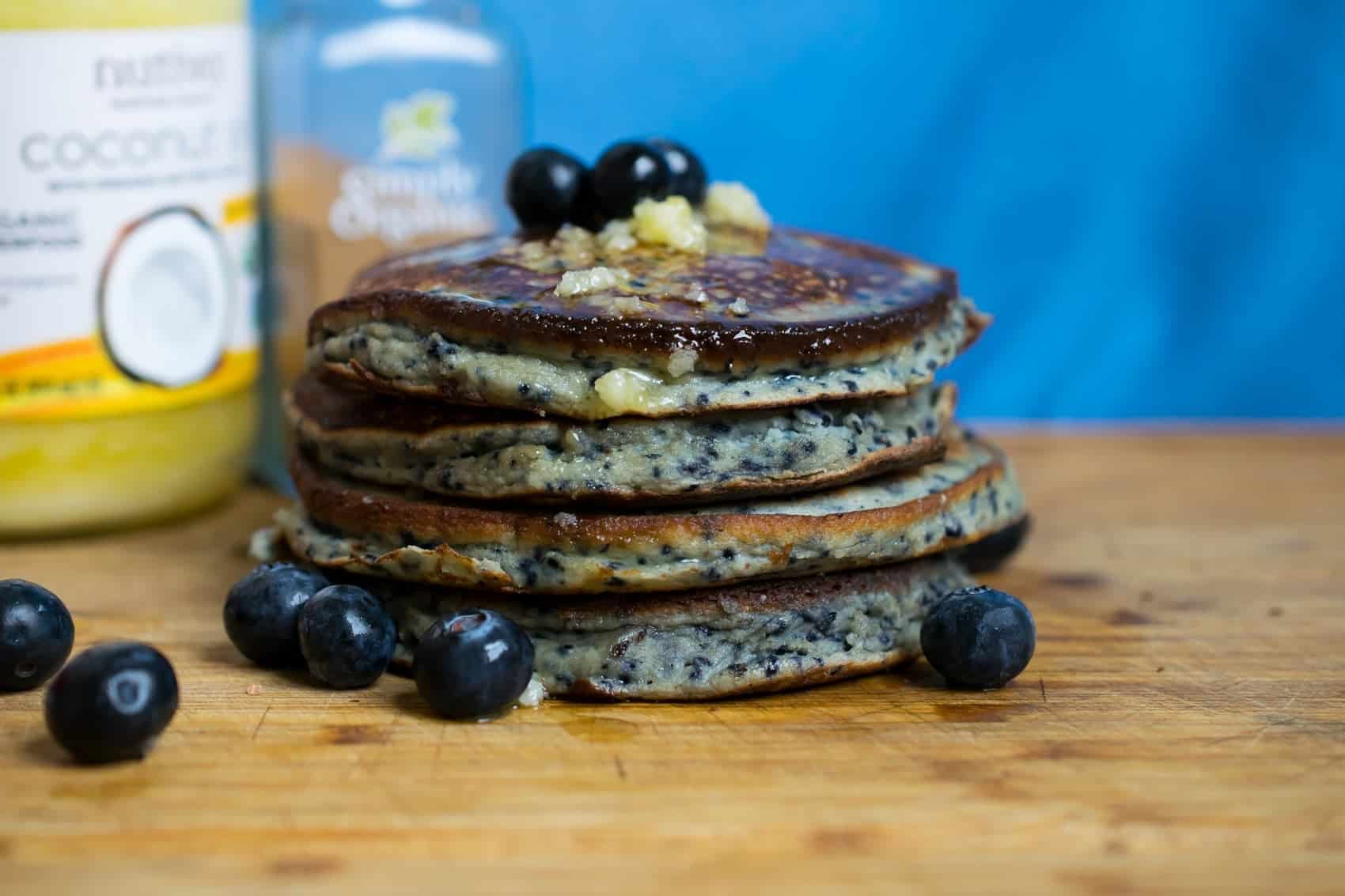 No Sweetener No Problem
My kid enjoys his pancakes with raw honey. I enjoy them plain or with fresh berries and a pat of … well, not butter… not since I had to omit it from my diet… and coconut oil just isn't the same. Enter Butter Flavored Coconut Oil. I KNOW! FLAVORED. I was off-put to.. until I read the label and was surprised that the butter flavor in the Nutivas Butter Flavored Coconut Oil is made from plants and fermented herbs and they explain it right there on the jar. So, no beaver anal glands.
So a pat of wanna be butter coconut oil and pinch of salt and these keto blueberry pancakes are perfect. The natural sweetness of the blueberries really satisfies! I bet some whipped coconut cream would go well too!
Keto Blueberry Pancakes!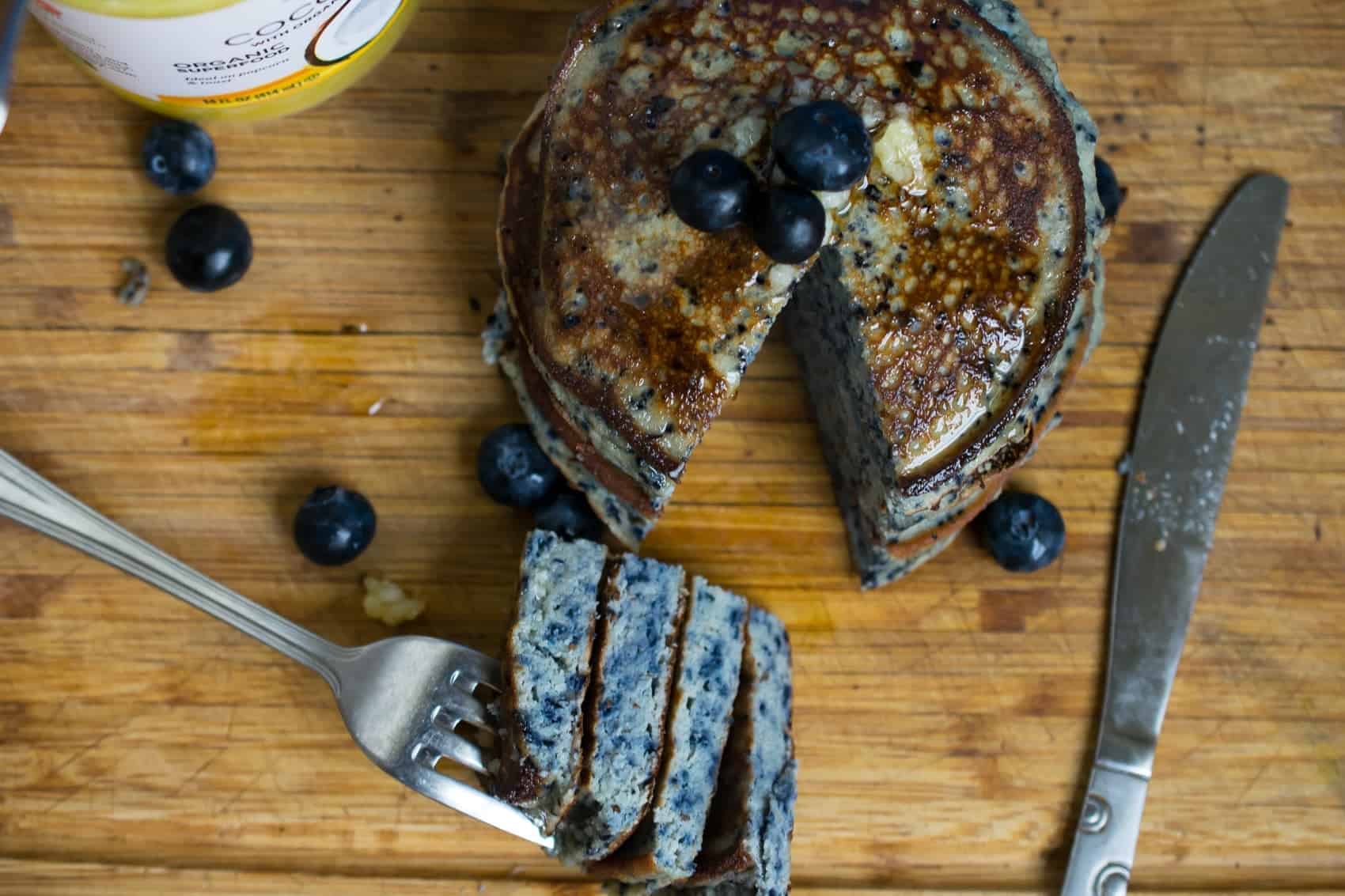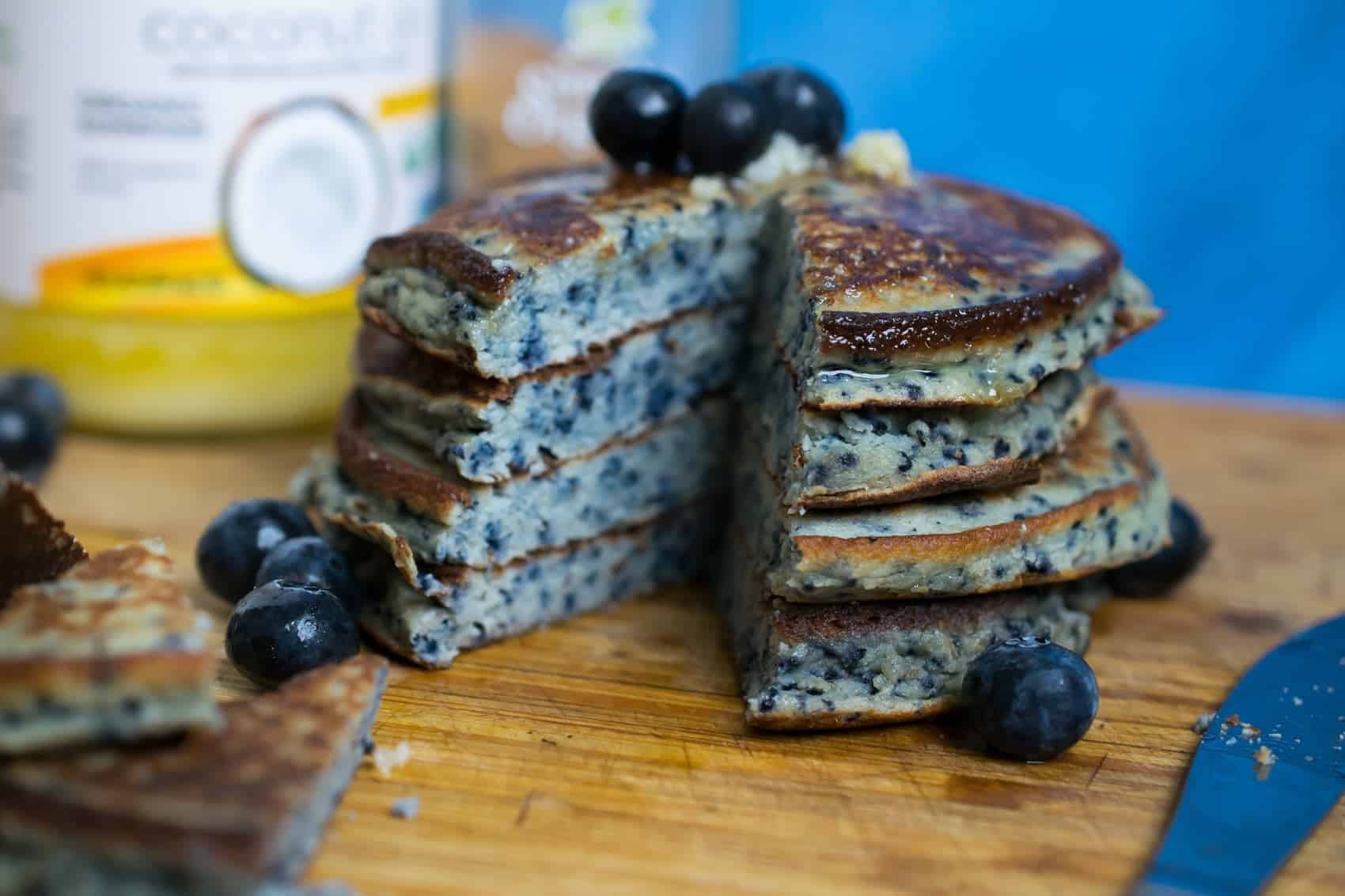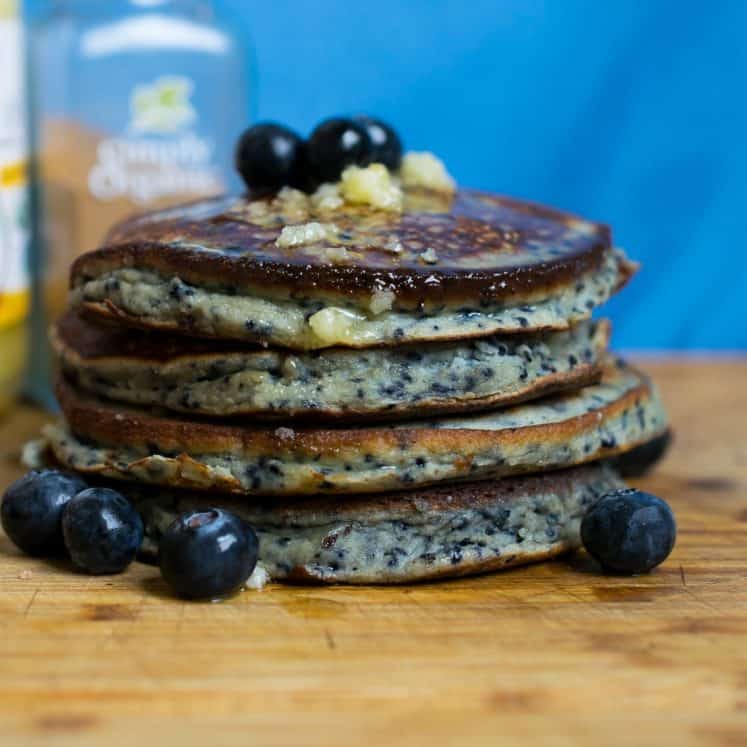 Keto Blueberry Pancakes
---
Author: Cristina Curp
Prep Time: 5
Cook Time: 12
Total Time: 17 minutes
Yield: 6 1x
Category: breakfast
Method: stove top
Cuisine: american
Description
Dairy and nut free Keto (and paleo) Blueberry Pancakes!
---
Scale
Ingredients
1/2 cup fresh blueberries
4 large eggs
1/4 cup + 1 (maybe 2) tablespoons coconut flour
1 teaspoon baking powder
1/4 teaspoon fine salt (or 1/2 teaspoon coarse salt)
1/2 teaspoon Ceylon cinnamon (omit for low histamine)
1/2 cup full-fat canned coconut milk
2 tablespoons buttery coconut oil 
---
Instructions
Combine all of the ingredients in a blender (except the coconut oil).
Blend until smooth.
Use a spatula to quickly transfer the batter to a bowl, it will go from fluid to thick in a few minutes.
Let the batter sit in the fridge while you heat a large skillet over medium heat. IF your batter hasn't thickened to almost a paste-like consistency, add the extra tbsp of coconut flour.
When the skillet or griddle have come to temperature add 1 tablespoon of coconut oil to it.
Measure out 1/4 cup of batter for each pancake. Cook 3 minutes then flip and cook another 3 minutes. Add more coconut oil to the skillet for the next batch of pancakes.
Makes about 6! Top with extra buttery coconut oil and fresh berries!
Nutrition
Serving Size: 2
Calories: 305
Fat: 24
Carbohydrates: 11
Fiber: 6
Protein: 10
Keywords: keto blueberry pancakes