Egg free keto cookies! Yes, it's possible. I actually have two other recipes on the blog! My Hazelnut Short Bread and my Egg Free Chewy Peppermint Chip Cookies,  however, these Egg Free Tahini Chocolate Chip Cookies are super easy to make. No crazy ingredients and they're dairy free and nut free too! Modeled after my Famous Chewy Chocolate Chip Cookies this recipe turns out EPIC. They have a slightly nutty flavor to them and almost remind me of oatmeal cookies, but with chocolate chips, not raisins, because that is blasphemous.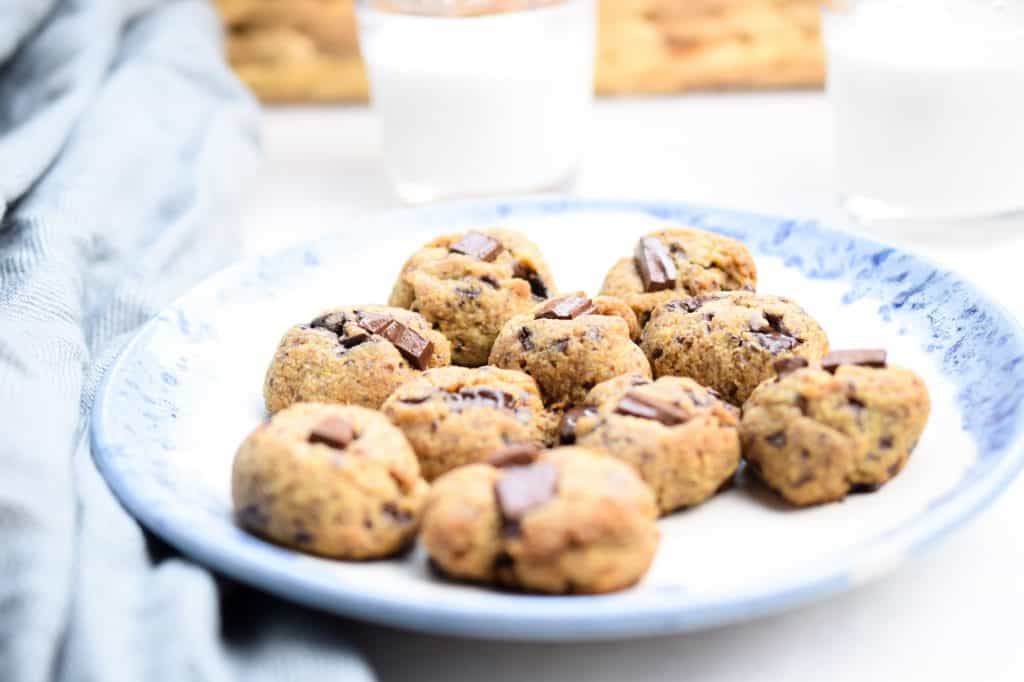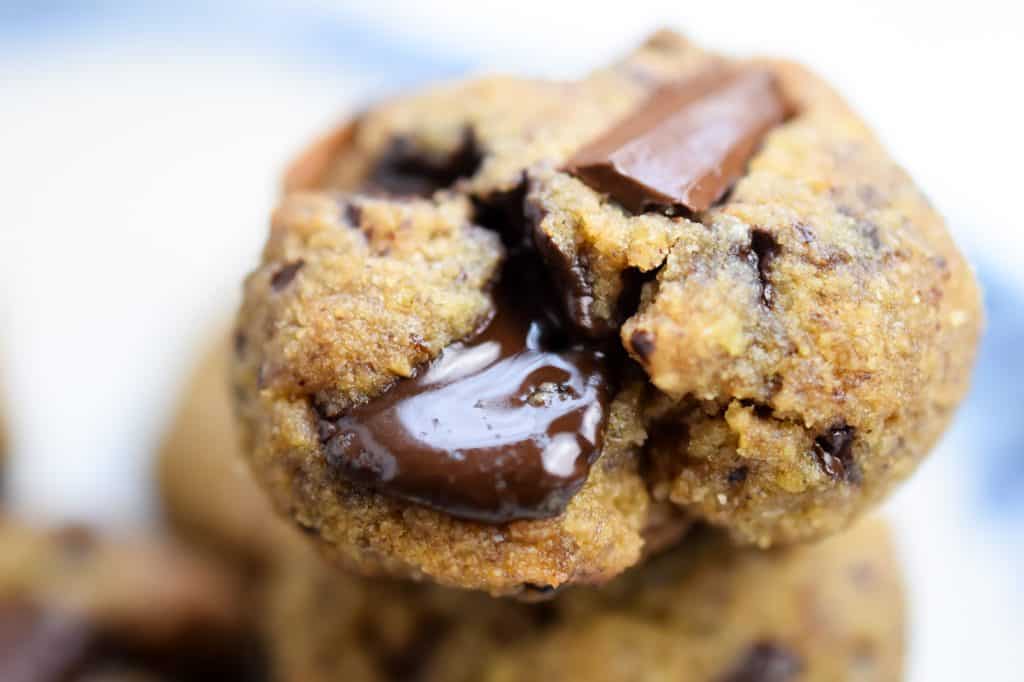 Cookie Monster
As you can tell by the many recipes I linked in just the first paragraph, I love cookies. They're my go-to treat. When I can make a recipe that tastes amazing and feels amazing to eat, I call that a win-win. So this cookie is allergen friendly! But the real question here, and really, the big question with any keto recipe… WHAT DID I USE TO SWEETEN THEM?
I tried a new product that came in My Keto Box, which I'm also just trying out. It seemed interesting. Three ingredients: vegetable glycerin, monk fruit, natural flavors. I really liked how this keto sweetener performed in these egg free keto cookies!
Decent, and vague, so I hit the interwebs to do some digging.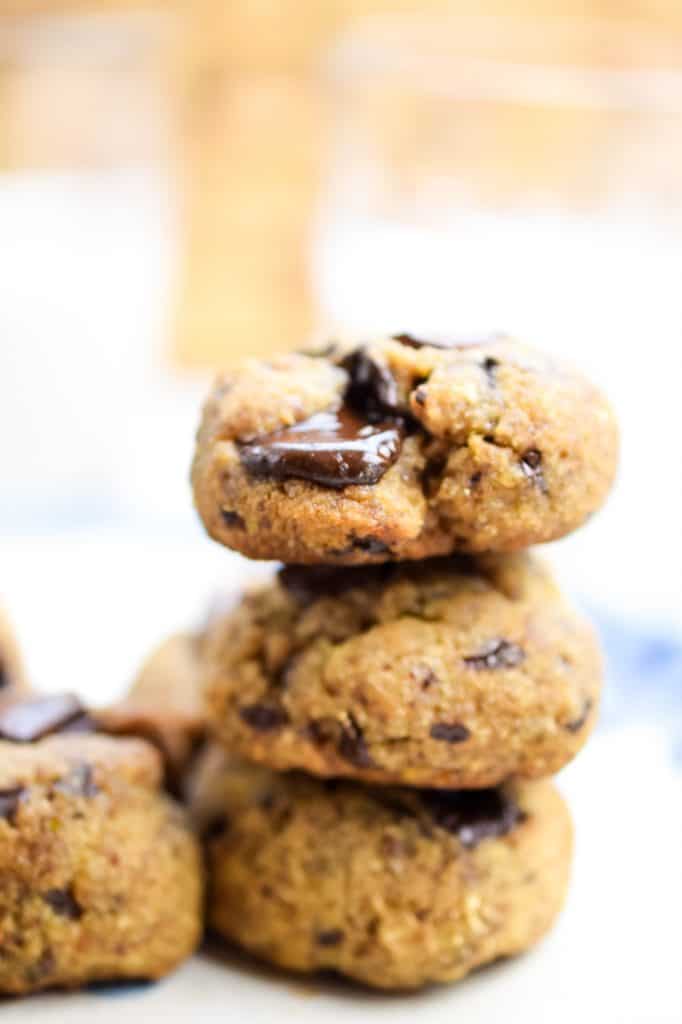 The Scoop On Zero Syrup
A mix of vegetable glycerin and monk fruit. No carbs, no fat, no protein but not non-caloric, which I like. 59 calories per tbsp. This recips uses 2 tbsp.
The actual product page doesn't give any details about the actual vegetable glycerin used. Vegetable glycerin is sugar alcohol made from vegetable-based fats, usually soy, coconut or palm oil. Super stoked that corn wasn't an option, but not thrilled that soy could be an option.
While the actual Zero Syrup page had no info on the glycerin used, the same company makes and sells vegetable glycerin, which is obviously what they use to make this product. So I found this GMO statement, which doesn't say GMO-free, but says that as far as they know, no GMO products are used. Then I found this Allergen statement which says that no soy is present.
I've deduced that they must use either coconut or palm oil glycerin. The natural flavors are still questionable, but I don't think any of these sweeteners are perfect. I am going to contact the company to get more details, but for now, I'm happy with this product and will definitely use it to make these egg free keto cookies again.
If you can't do sugar alcohols at all, Choc-Zero has a Vegetable Fiber and Monk Fruit syrup that you can get here, that has zero sugar alcohols.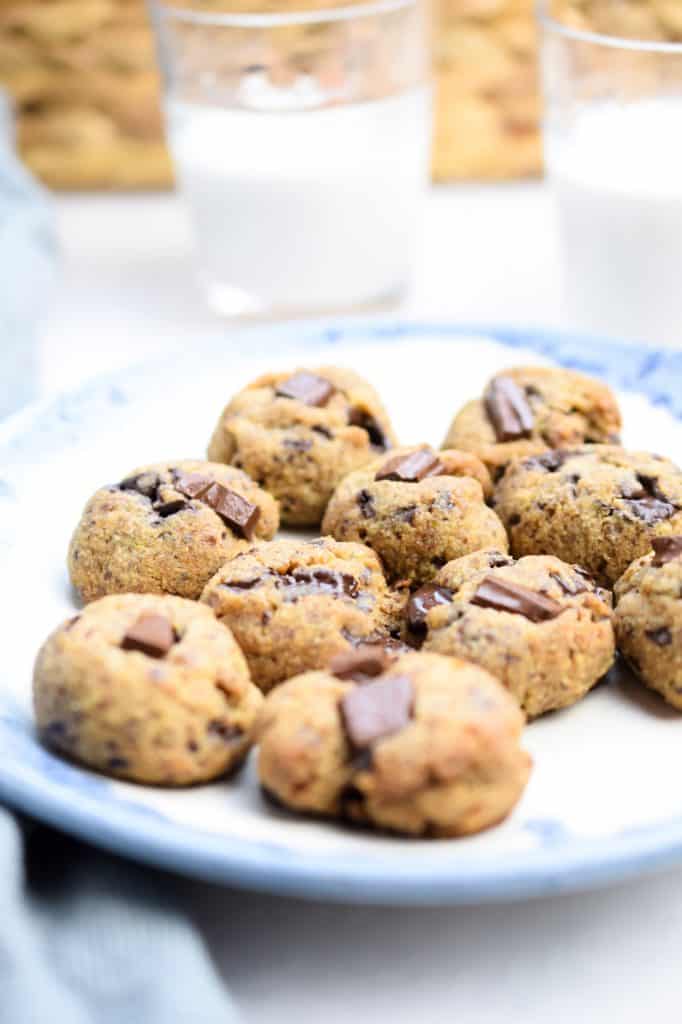 Substitutions for these Egg Free Tahini Chocolate Chip Cookies
If you can't do flax egg, use one large egg, whisk until frothy before adding the other ingredients.
If you can't do tahini, use sun butter, almond butter or even peanut butter!
If you can't do keto sweeteners use honey or maple syrup.
If you can't do coconut flour, you can use 1 cup fine ground almond meal.
If you can't do ghee, use coconut oil, tallow, lard or bacon fat.
I think that covers ALL THE THINGS. Now it's time to get your egg-free keto cookie party started!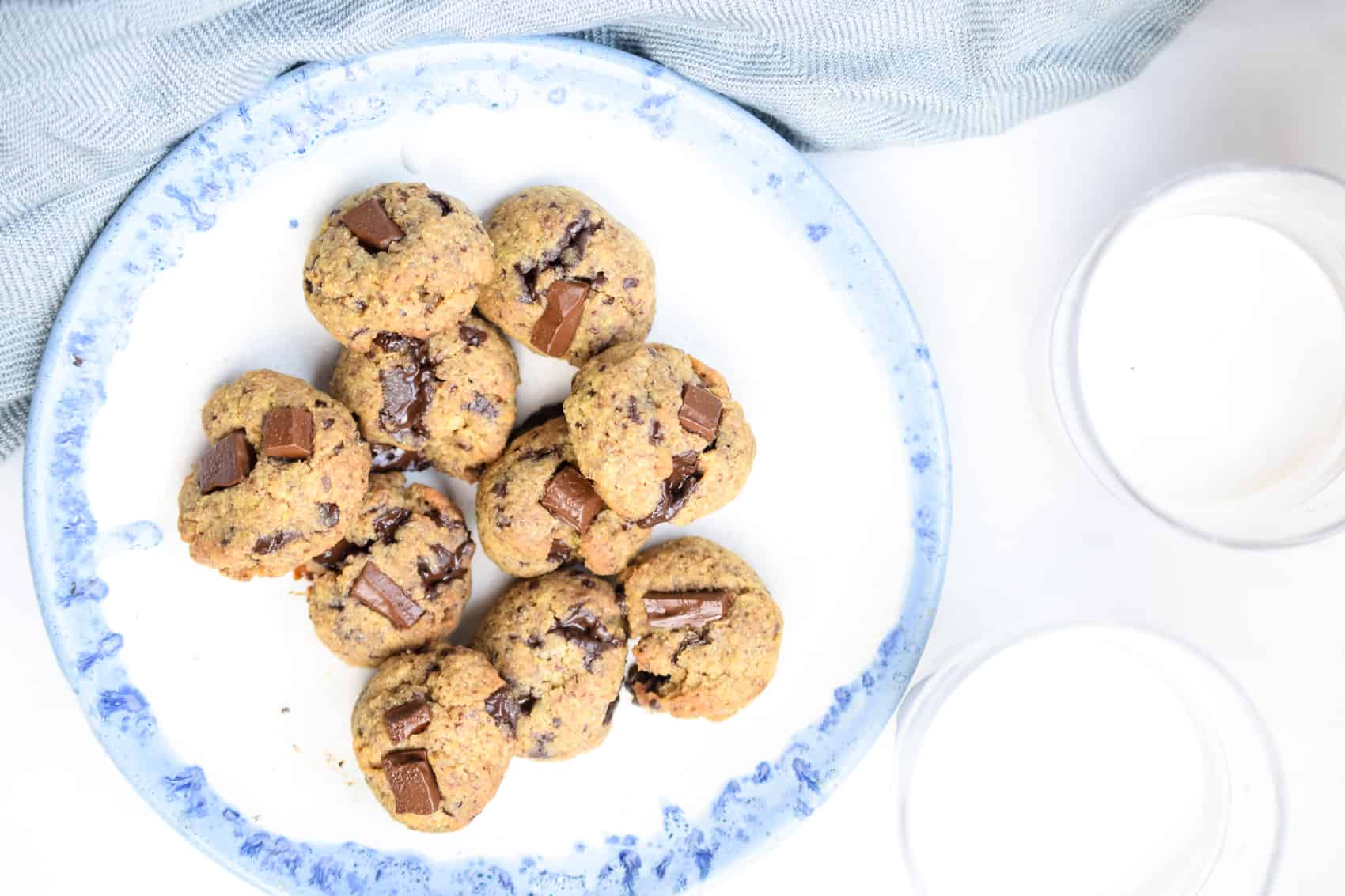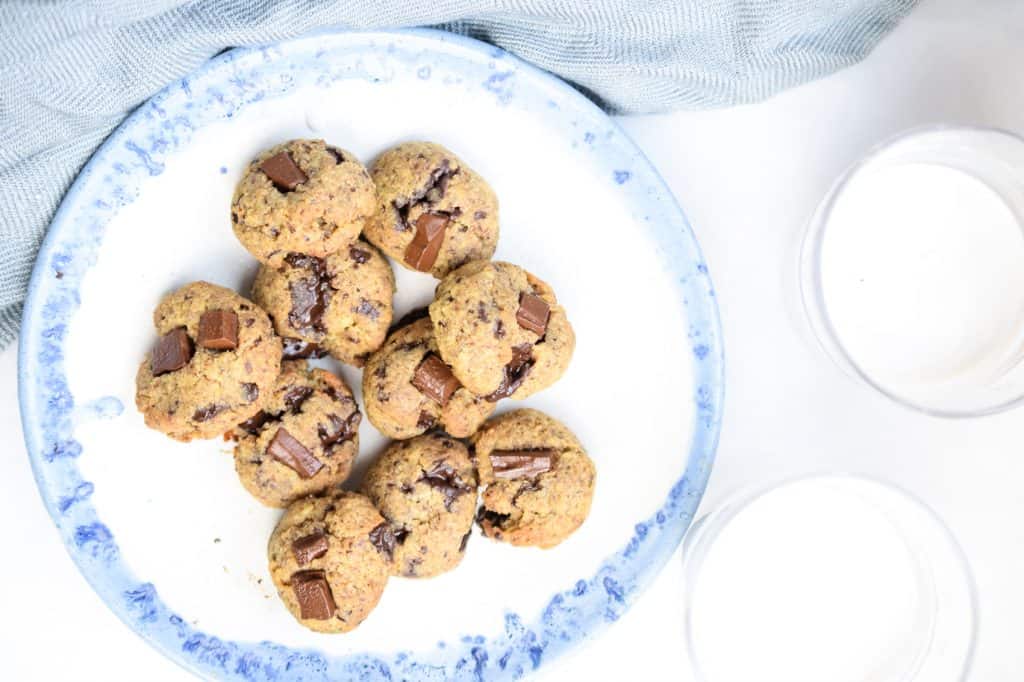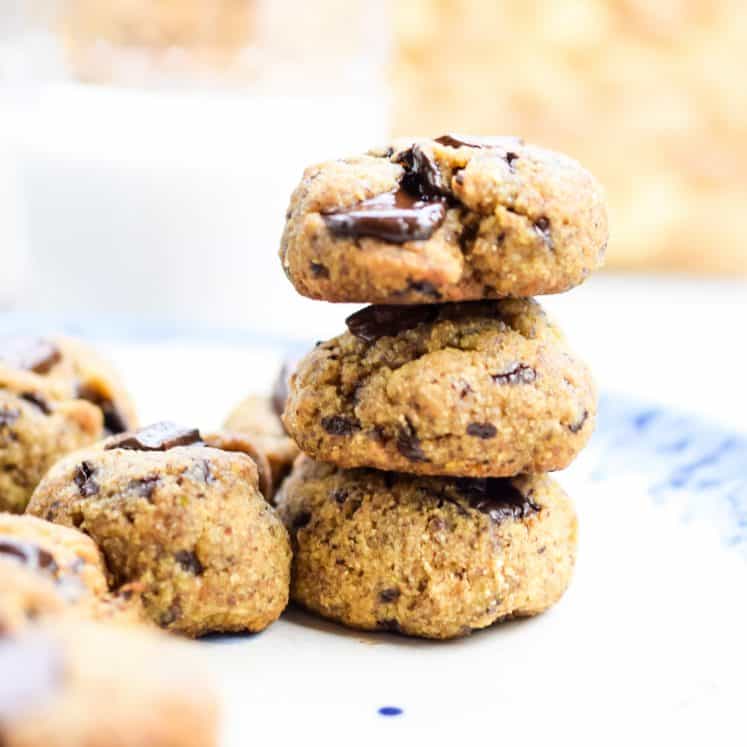 Egg Free Tahini Chocolate Chip Cookies (Keto, Dairy Free, Nut Free)
---
Author: Cristina Curp
Prep Time: 10
Cook Time: 10
Total Time: 20 minutes
Yield: 10 1x
Category: Dessert
Method: Bake
Cuisine: Keto
Description
This one bowl recipe makes soft and yummy egg-free chocolate chip cookies that are allergen free and keto!
---
Scale
Ingredients
2 tablespoons ground flax meal
2 tablespoon water
2 tablespoons ghee or coconut oil
2 tablespoon tahini
1 teaspoon vanilla extract
2 tablespoons Zero Syrup, Choc Zero Honest Syrup or Honey (see post for details)
1/4 scant cup coconut flour
1/2 teaspoon fine salt
1/4 cup chopped up dark chocolate, I like this one 
---
Instructions
Pre-Heat Oven to 350F.
In a large bowl mix together the flax and water and let it sit for 2 minutes.
Add in the ghee and tahini and mix until smooth.
Add in the vanilla and the sweetener and mix in, followed by the flour and salt. Use a spatula to fold in and combine.
Add in the chocolate and fold in. Shape 10 even sized balls and place 1 inch apart parchment paper or silicone mat lined baking sheet. Bake for 10 minutes. Remove from the oven, let cool for 10 minutes and enjoy!
Nutrition
Serving Size: 1 cookie
Calories: 95
Fat: 7.1g
Carbohydrates: 3.6g
Fiber: 2.1g
Protein: 1.5g
Keywords: Egg Free Chocolate Chip Cookies