These easy keto shortbread cookies are the real deal!
Made with delicious hazelnut meal that lends the most delicate flavor, mixed up with healthy coconut oil and baked to golden perfection. To take it over the top I've dipped these bad boys in dark chocolate for a keto cookie that is just to die for!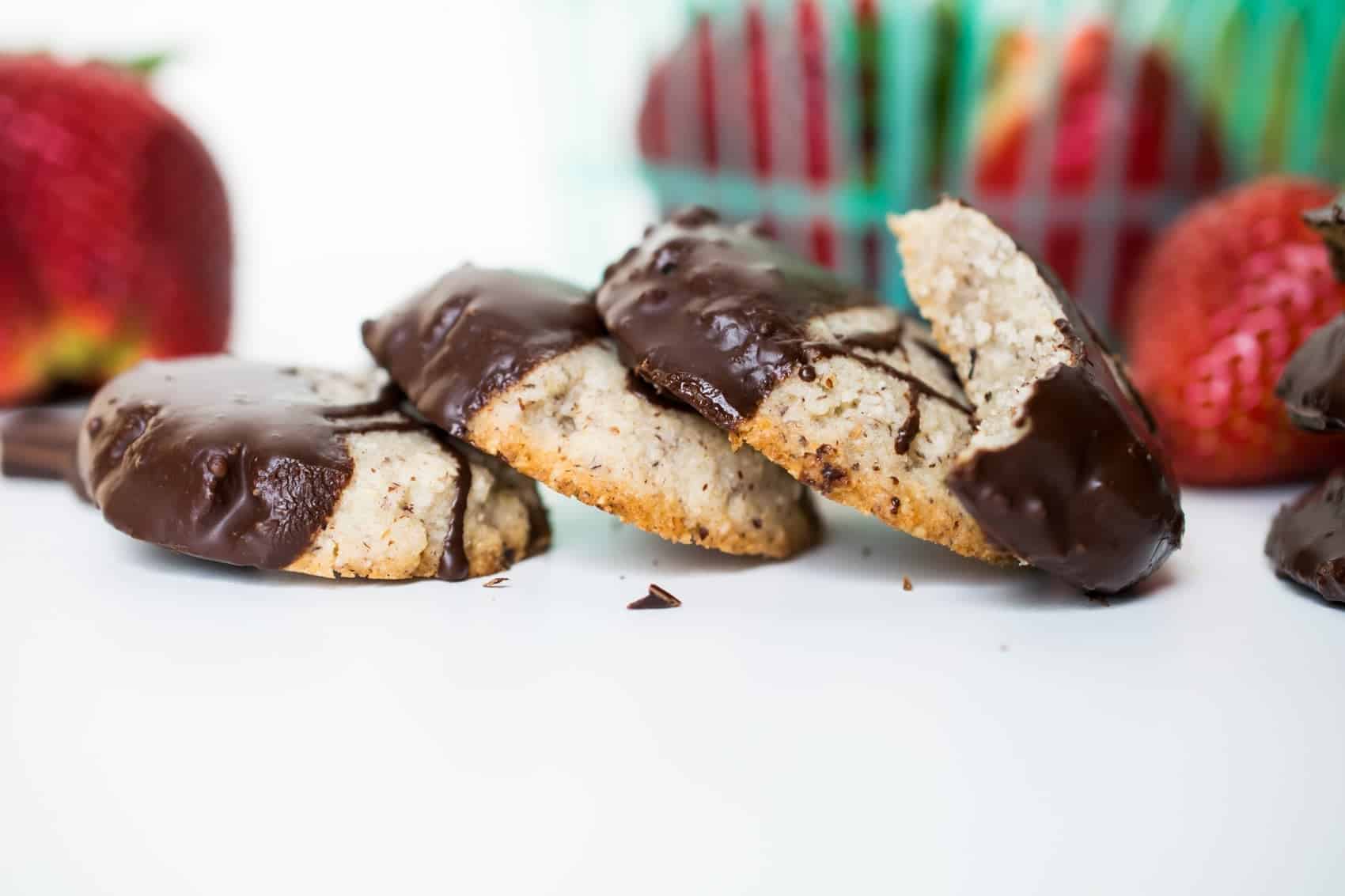 The Keto Shortbread Cookies are DAIRY FREE… NO BUTTER HERE!
Can it be? Yes! It comes together so so easily and thanks to your friend gelatin, the cookie still has great structural integrity while keeping the traditional buttery crumb of shortbread. The flavor combo is reminiscent of Nutella. Chocolate and hazelnut are a match made in heaven!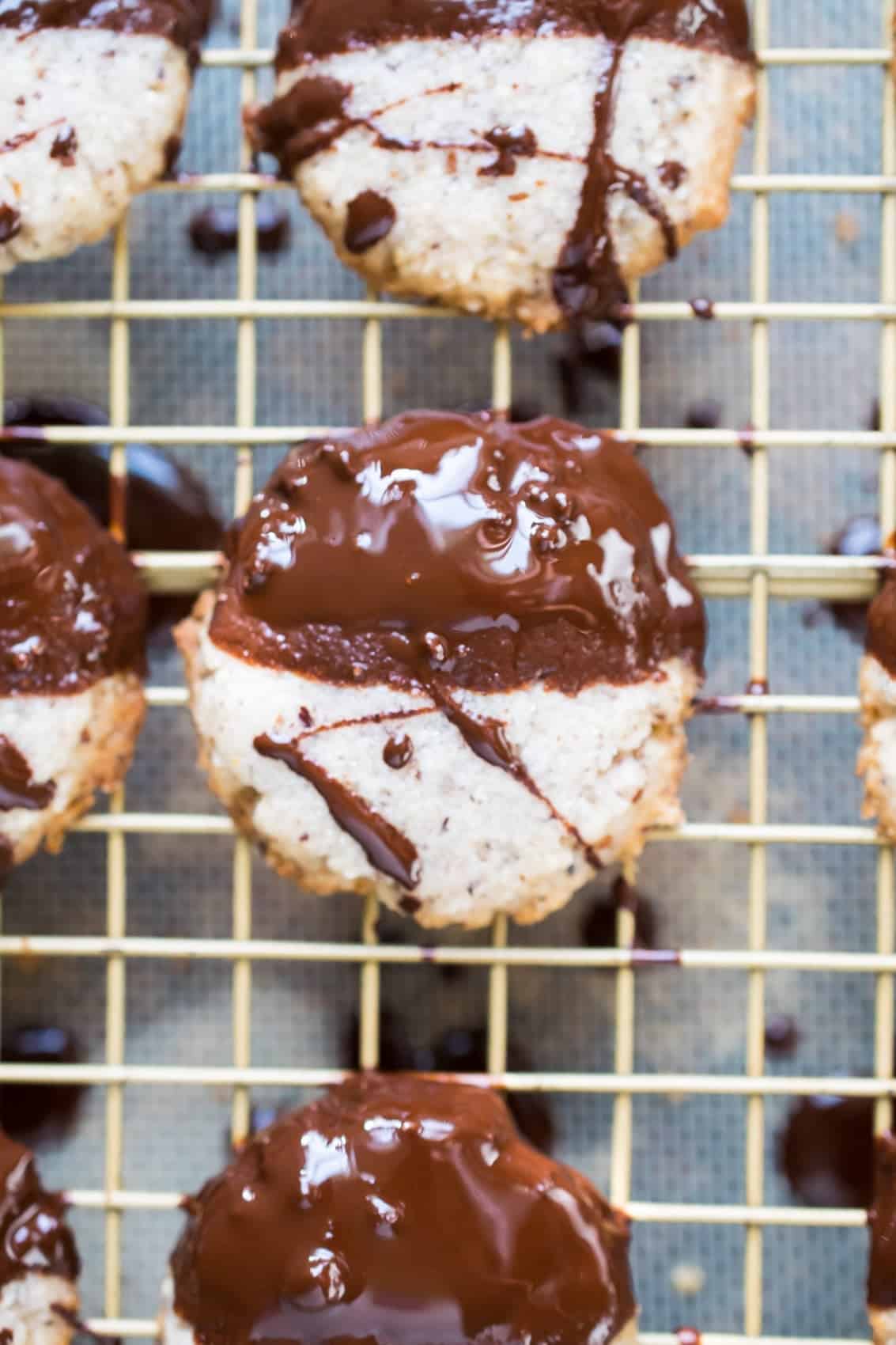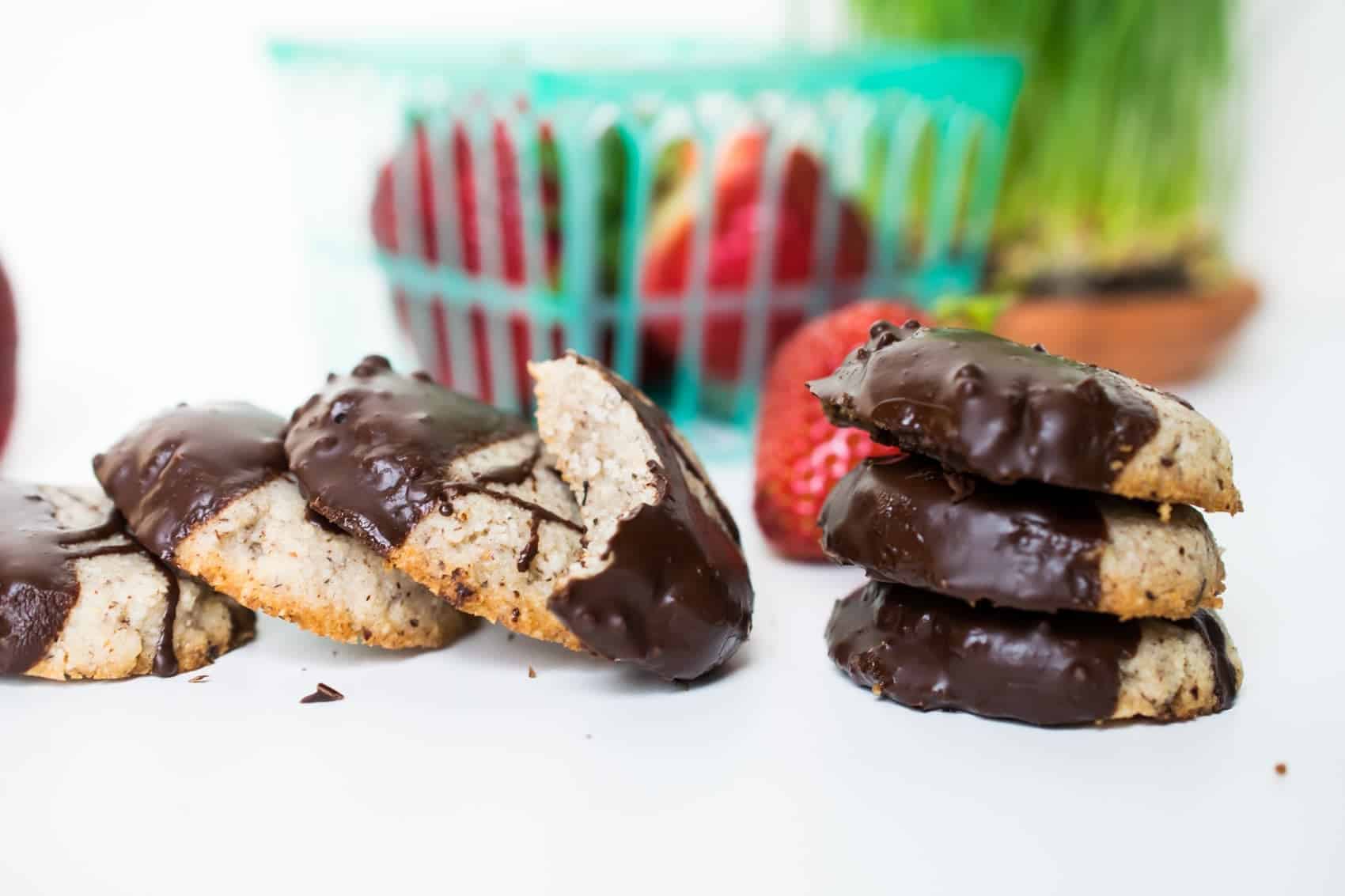 The Trick To These Dairy Free Cookies
Tender Love + Care! Yes! Soft hands folks. It's a delicate dough, and once they come out of the oven they need to firm up before hadeling. These are not rugged cookies, show them some respect.
Ingredients
Shop the ingredients for these easy keto shortbread cookies (Amazon Affiliate Links):
I make my own grain-free baking powder with cream of tartar, tapioca starch, and baking soda, HERE.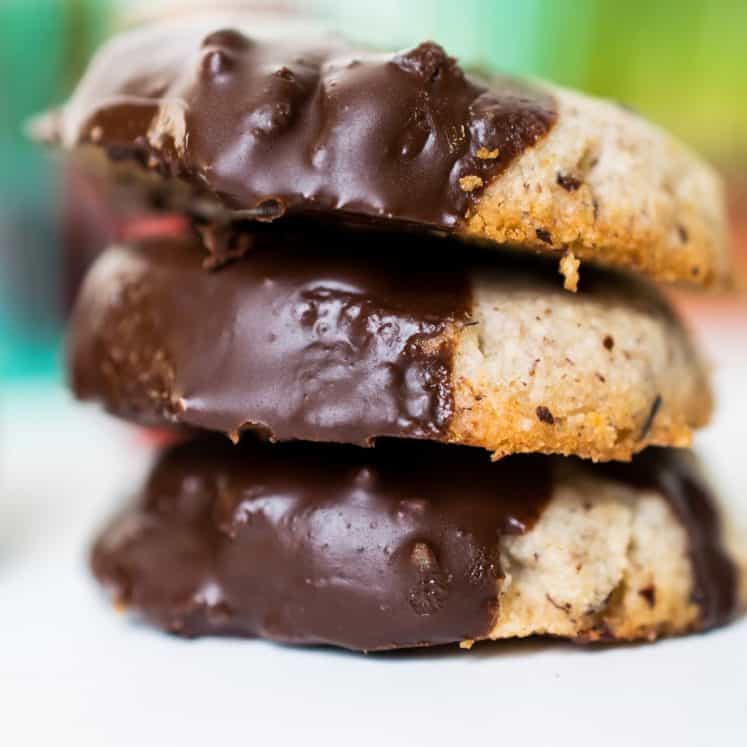 Easy Keto Shortbread Cookies
---
Author: Cristina Curp
Prep Time: 10
Cook Time: 20
Total Time: 30 minutes
Yield: 12 1x
Category: cookies
Method: baking
Cuisine: keto
Description
Super easy, delicious and allergen friendly! These shortbread cookies are legit!
---
Scale
Ingredients
1/2 cup fine ground hazelnut meal/flour
3 tablespoons fine ground coconut flour (see notes)
1 tablespoon pastured gelatin (I use Vital Proteins)
1/4 cup confectioner's Swerve (erythritol)
1/2 teaspoon baking powder (I use homemade, see link above)
1/3 cup melted coconut oil
1 teaspoon vanilla extract
pinch of salt
1 bar low carb dark chocolate
---
Instructions
In a large bowl whisk together the flours, gelatin, Serve and baking powder until not clumpy anymore and well combined
Add in the coconut oil and vanilla extract. Mix with a spatula until a dough forms. If the dough is too wet, add in one more tablespoons coconut flour. If it's too dry, add in one more tablespoon coconut oil and/or a splash of water.
Use a small cookie scoop to shape 10-12 small balls.
Place them on a silicone or parchment paper lined sheet pan and press down, GENTLY, with your palm until about the cookies are about 1/4 inch thick. Sprinkle with salt.
Place the sheet pan in the fridge while the oven pre-heats.
Pre-heat the oven to 350F. When the oven reaches 350F, take the cookies (on the sheet pan) from the fridge and place it in the oven, middle rack.
Bake for 8-10 minutes, until the edges are golden.
Remove from the oven and let the cookies cool completely before removing from the sheet pan.
In a small bowl, microwave the chocolate for 30 seconds. Stir until completely melted. If it won't melt all the way, give it another 10 seconds, then keep string until it's completely smooth and beginning to cool and thicken.
Tilt the bowl to one side so the chocolate is deep enough to submerge half a cookie.
One by one dip the cookies slowly, and let the excess chocolate drip off. Then place the cookie on a wire rack or back on the parchment paper.
Repeat with all of the cookies.
Then take a spoon and go over the cookies drizzling the remaining chocolate.
Place the cookies in the fridge for the chocolate to harden.
Then dig in! Store leftovers in tupperware at room temp for 3-4 days.
Recipe Notes:
-You can skip the chocolate if its not your thing!
-You can also dip/drizzle coconut butter on these, yum!
*For Paleo Make powdered sweetener by grinding your maple or palm sugar in your high powered blender*
*IF you are using REGULAR coconut flour, start with 2 tablespoons, add more as needed to form a dough. Coconut flour density varies brand to brand. The mix should not be crumbly. It should be a very wet sand texture.
Macros per cookie (pls note I don't omit the sugar alcohol carbs)
Calories 144, Fat 14g, Carbs 8g, Fiber 2g, Protein 2g, Sugar Alcohol: 4g
Nutrition
Serving Size: 1 cookie
Calories: 144
Sugar: (Alcohols) 4g
Fat: 14g
Carbohydrates: 8g
Fiber: 2g
Protein: 4g
Keywords: easy shortbread cookies