This Dairy-Free Pecan Pie is too delicious — don't wait until the holiday season to enjoy it! It's the perfect keto dessert any time of year.
This recipe is coming to you from my friend, Vicky, at So Nourished. She put together this Dairy-Free Pecan pie, made with no eggs, refined-sugar, or gluten, so everyone can enjoy it! Thanks, Vicky, for sharing this recipe with The Castaway Fam.
Table of Contents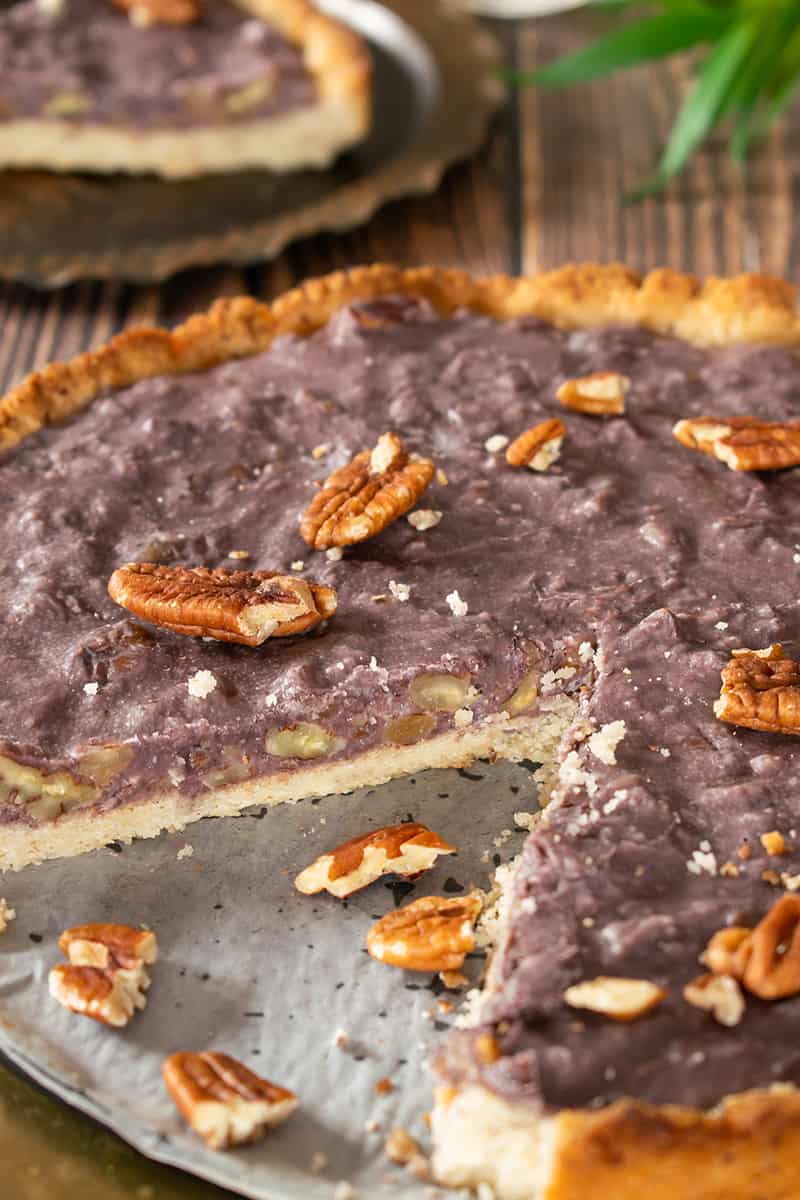 The best Dairy-Free Pecan Pie
I love a good slice of pecan pie. In fact, it is one of the things that I look forward to the most around Thanksgiving time. But who says pecan pie just has to be for Thanksgiving? I want it year-round! And know what else I want? I want a pecan pie that's keto-approved and also dairy-free. I know, I know, I ask for a lot!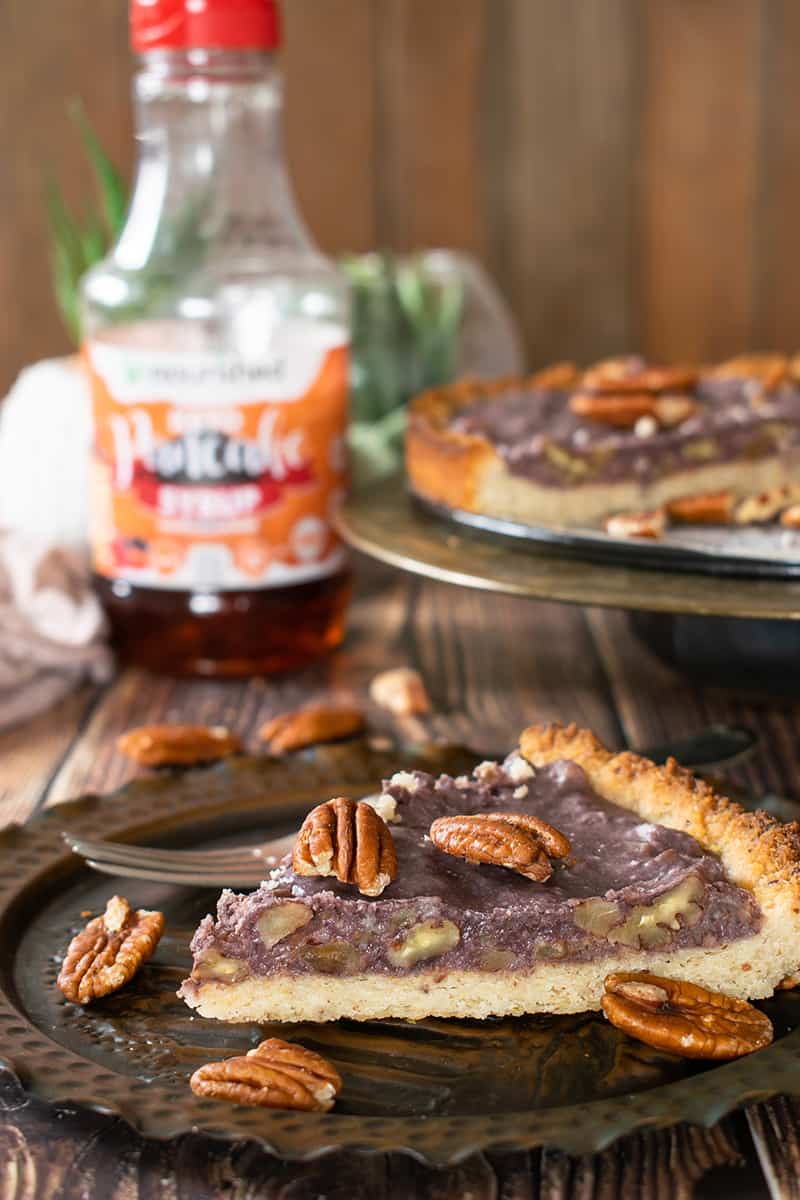 How to make a keto pecan pie
In order to make my dream of a keto & dairy-free pecan pie come true, I turned to a few of my favorite baking ingredients. First, I always reach for erythritol to help sweeten my baked goods in a low carb way. Erythritol is a natural sweetener that is typically found in fruit. It is a compound sugar alcohol that is almost as sweet as white can sugar. Erythritol is not absorbed by your body which means that it is low calorie and also low carb.
When used in baking, erythritol acts almost identically to cane sugar so you can use it to replace sugar in most recipes. This is exactly what I did with my dairy-free pecan pie recipe! If you want a little more of that classic, molasses taste, try using golden erythritol. It's still keto and has a rich flavor that goes well with the pecans. For this recipe, I skipped the golden sweetener and opted, instead, for maple. Yes- you can have maple syrup when following a keto diet! As long as it is a keto syrup… We love our So Nourished pancake syrup that's packed with maple flavor. It really shines through in this pecan pie recipe and brings that warmth and complex taste that I love.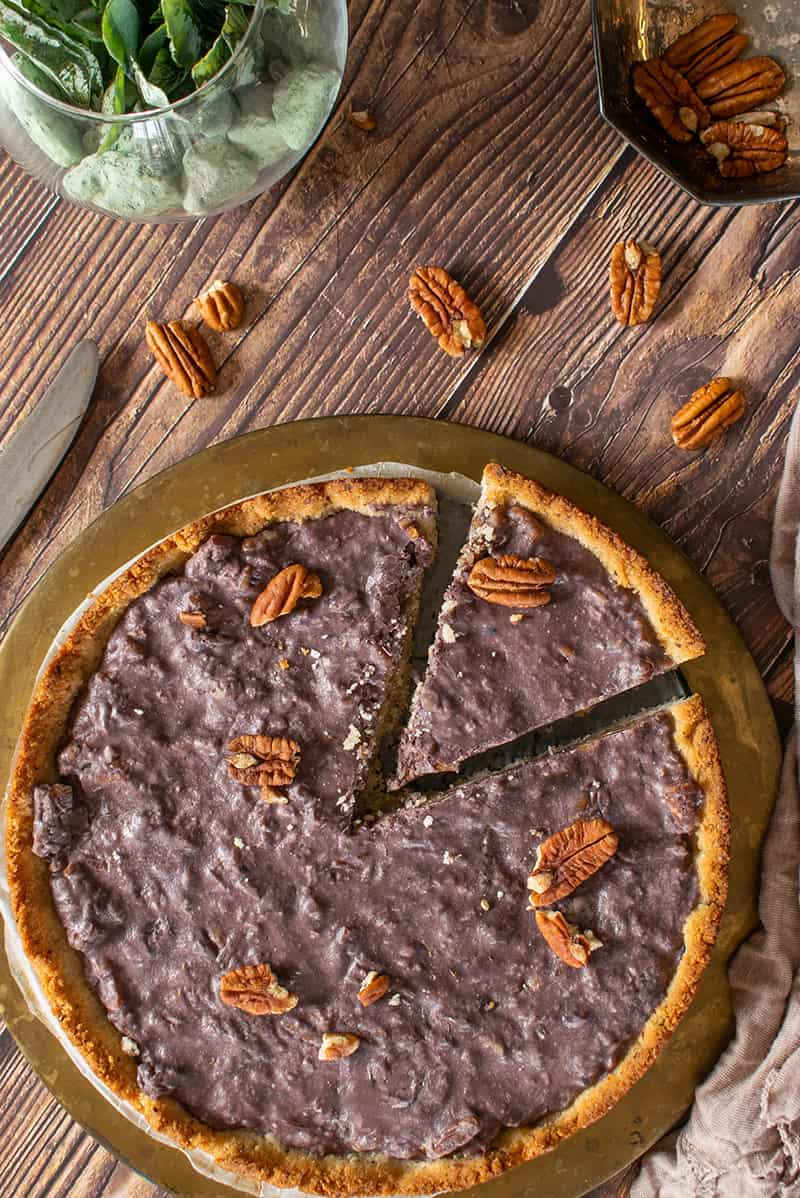 How to make a gluten free pie crust
The other major ingredient that I love in keto baking is almond flour. It is fantastic to use to make low carb pie crusts. Since this pie revolves around nuts, it is also great to add another nutty taste! The almond flour is soft, easy to work with, and has lots of healthy fats which we ketoers definitely need.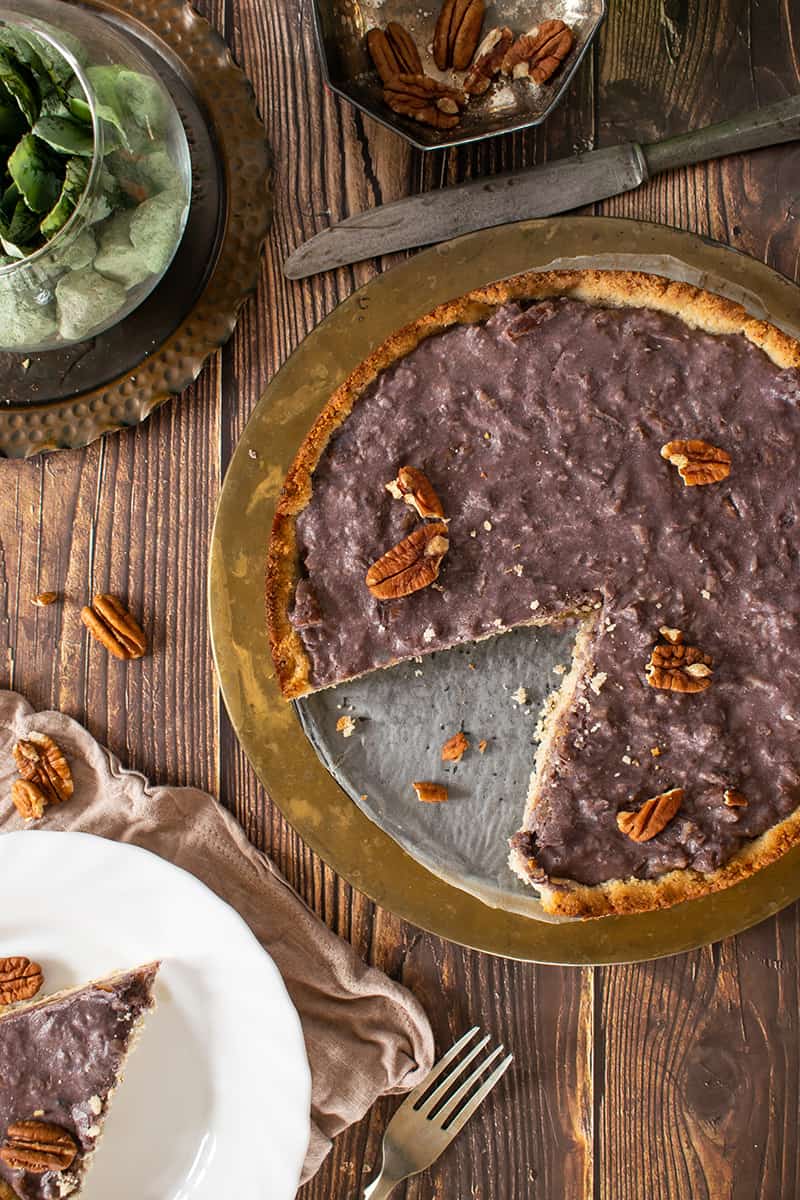 The key to a dairy free pecan pie
So we have our keto ingredients ready to go, but what about keeping this pie dairy-free? We got that covered too! Butter is typically used in most pecan pie recipes for the pie crust and also the filling. You can probably find a good butter substitute in grocery stores right in the dairy aisle, but we think ghee or classic coconut oil would work wonderfully as well. Keeping ingredients as natural as possible is important too. Just be ready to have a pecan pie with a coconutty taste!
Our pecan pie filling is made with canned coconut milk which is rich in fats and also flavor. It's a great substitute for heavy cream since it's much higher in fat than almond milk, for example. Seems like this keto & dairy-free pecan pie is coming together perfectly.
If you are eating keto and think that a dairy-free pecan pie could benefit your keto dieting, try this recipe. It doesn't take long to put together and it will taste fantastic any time of year. No need to wait for Thanksgiving to enjoy a big slice of pecan pie! Why not whip one up on a special Tuesday instead? Everyone deserves a great, diet-approved treat like this. Enjoy!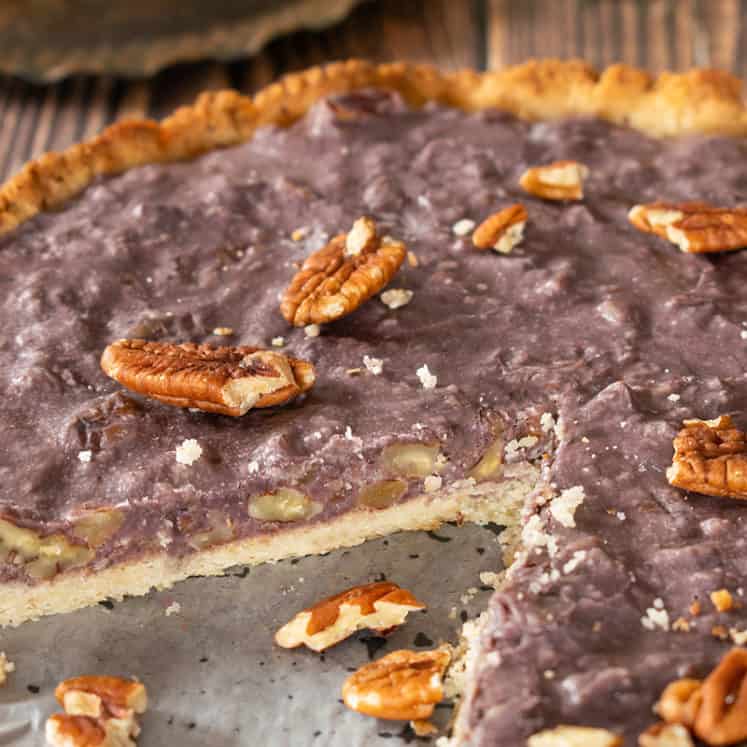 Dairy-Free Pecan Pie (Keto, Vegan, Refined Sugar-Free, Egg-Free, Gluten-Free)
---
Author: Vicky from So Nourished
Prep Time: 15 minutes
Cook Time: 45 minutes
Total Time: 1 hour
Yield: 8 slices
Category: Dessert
Method: Bake
Cuisine: Pie
Ingredients
Pie Filling
2 Tbsp butter or butter substitute (ghee or coconut oil)
1 ½ cups pecans, chopped
¾ cup So Nourished Granular Erythritol
¼ cup So Nourished Pancake Syrup
¾ cup full fat, canned coconut milk
2 tsp vanilla
½ tsp xanthan gum
¼ tsp salt
Pie Crust
2 ½ cups almond flour
1/3 cup So Nourished Granular Erythritol
¼ tsp salt
¼ cup butter or butter substitute, melted
2 tbsp water
1 tbsp ground flaxseeds
½ tsp vanilla
---
Instructions
Start by making the pie crust. In a small bowl, mix together the water and flaxseeds and set aside.
Combine the almond flour, erythritol and salt in a large bowl.
Add the melted butter, flaxseed mix and vanilla and stir into a thick dough. It will be dry and a little crumbly but that is okay- just keep mixing until it comes together into a large ball.
Press the dough into a nine-inch pie pan. Work the dough up the sides of the pan and try to make it as even as possible across the bottom and up the sides. It should be about ¼ of an inch thick.
Prick the crust all over with a fork to prevent it from bubbling in the oven.
Bake the crust in a preheated 350 degree oven for 12 minutes or until it is just beginning to turn golden brown. Remove from the oven and set aside to cool.
To make the filling, combine the coconut milk and xanthan gum in a small bowl. Whisk together and set aside.
Add the butter to a medium-sized sauté pan and melt over medium heat.
Add the chopped pecans to the pan and toss them in the butter. Let them toast in the pan for about 30 seconds, stirring occasionally.
Add the pancake syrup, erythritol, coconut milk mix, vanilla and salt to the pan and stir well.
Remove the pan from the heat and pour the mix into the prebaked pie crust. The filling should come almost to the top of the crust.
Carefully place the pie into a preheated 350 degree oven and bake for 30 minutes. The center of the pie should be mostly firm when you jiggle it.
Remove the pie from the oven and let it cool completely. Ideally, cool the pie in the fridge overnight before cutting to really let it set. Slice and enjoy!
Recipe Notes:
net carbs per serving: 5g (subtract fiber and sugar alcohols in erythritol)
Nutrition
Serving Size: 1 slice
Calories: 479
Fat: 45g
Carbohydrates: 40g*
Fiber: 8g
Protein: 10g
Keywords: dairy-free pecan pie, vegan pecan pie, egg-free pie, keto pie, gluten free pie crust