Dreamy spaghetti and meatballs with dairy-free pesto! This meal is a restaurant worth and easy to make. These turkey meatballs are so juicy and tender, the cook up easily in the oven. This pesto is so dreamy too, it's from my first cookbook – it's a dairy-free version that uses hemp hearts, fresh basil, and garlic. Tossed with spiralized squash for noodles, this trio is meant to be.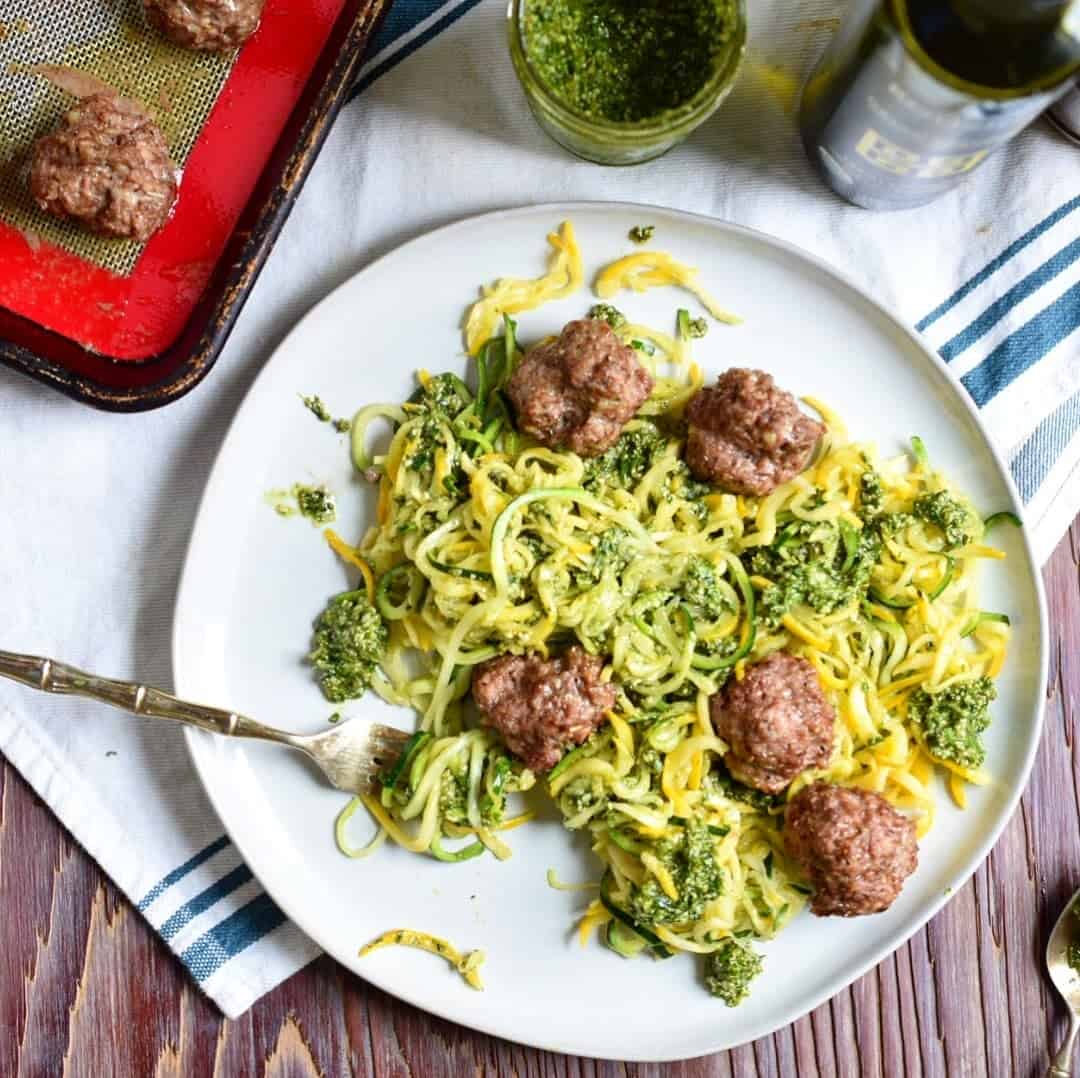 Whole30 Dinner Success
Thank goodness for meal prep! I've been hitting it hard with meals like this Whole30 Turkey Meatball and Zoodle combo, meals that make BIG batches with minimal effort. Remaking leftovers and keeping it really simple and clean. I feel like it's my best strategy for eating well, enjoying the food and not getting burnt out on cooking.
Bonus, I *was* also hoping to get my Meal Prep Mix and Match Guide ready to launch next week, but then my computer crashed and I'm here praying I don't lose all my files.
I digress. It will be okay. I'm thankful I still write my recipes by hand in the kitchen. I'm thankful I still had the images in my camera and that my husband has a computer I can use. Some setbacks, yes? Defeated? NO! Okay, let's make some Whoel30 Meatballs!
Dark Meat Magic
These Turkey Meatballs are absolutely delicious, flavorful, and perfect with Pistou and Zoodles
The secret to delicious Whole30 Turkey Meatballs is DARK MEAT! Yes! Dark Meat ground turkey is more flavorful and fattier and CHEAPER! The dark meat is more flavorful and fattier and it helps the meatballs not my dry.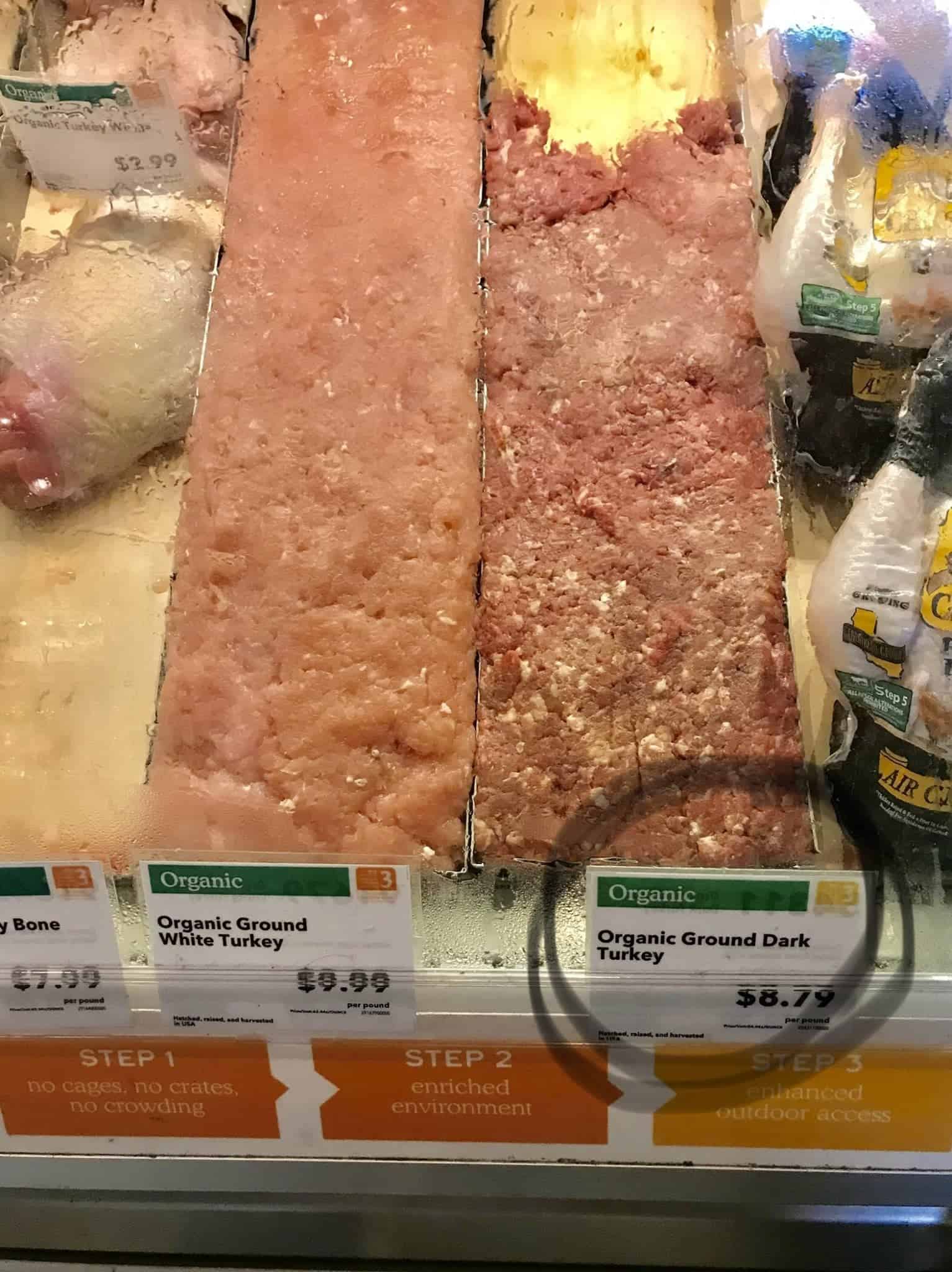 Pistou (aka Pesto) Recipe from my NEW cookbook!
This Pistou recipe… Pesto's French Cousin is from my cookbook… Made Whole! I'm sharing it with you here because I just love this dairy and nut-free sauce. It's flavorful and elegant and oh-so-easy to make!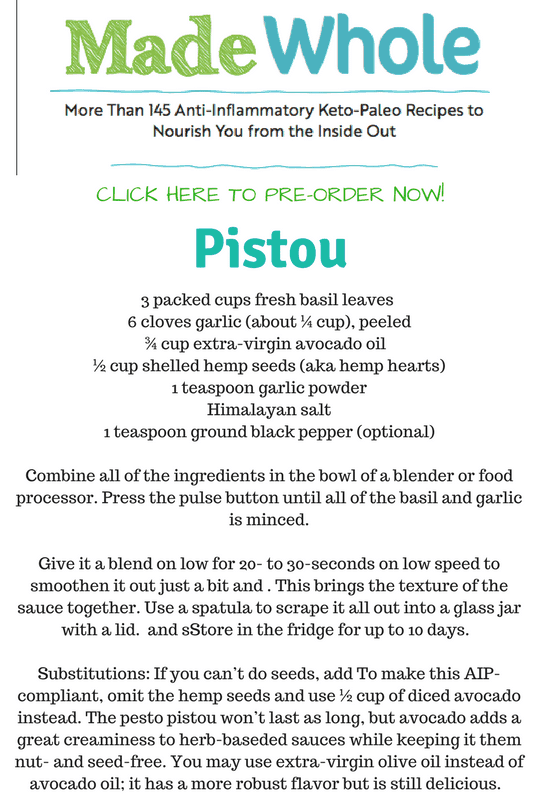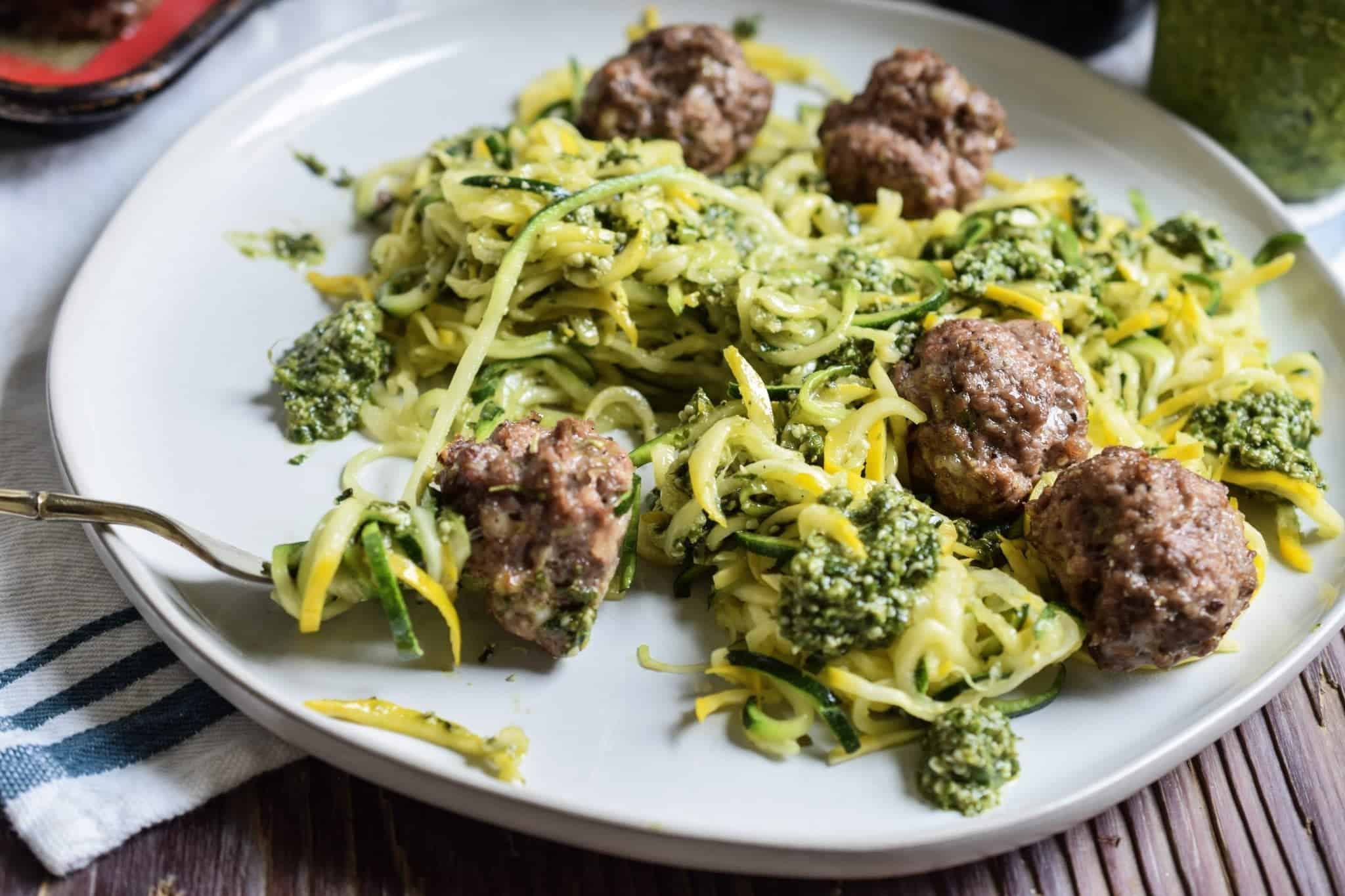 Zoodle 101
Zoodle: Zucchini Noodle. Zucchini cut into spiraled strings that resemble noodles, but it's just zucchini. You can make these with almost any veggie. A spiral slicer appliance is simple and affordable, under $30. I have the Faberware one, got it at Target.
If you don't have a vegetable spiralizer use a veggie peeler to make ribbons out of your summer squash for the noodles!
I like to spiralize about 4-5 zucchini at a time. Sprinkle the noodles with salt and let them sit in a colander for 30 minutes to drain water. Then I pat them dry with a clean kitchen towel and lightly saute with sauce to serve.
Store leftover zoodles wrapped in a kitchen towel in the fridge for up to 4 days.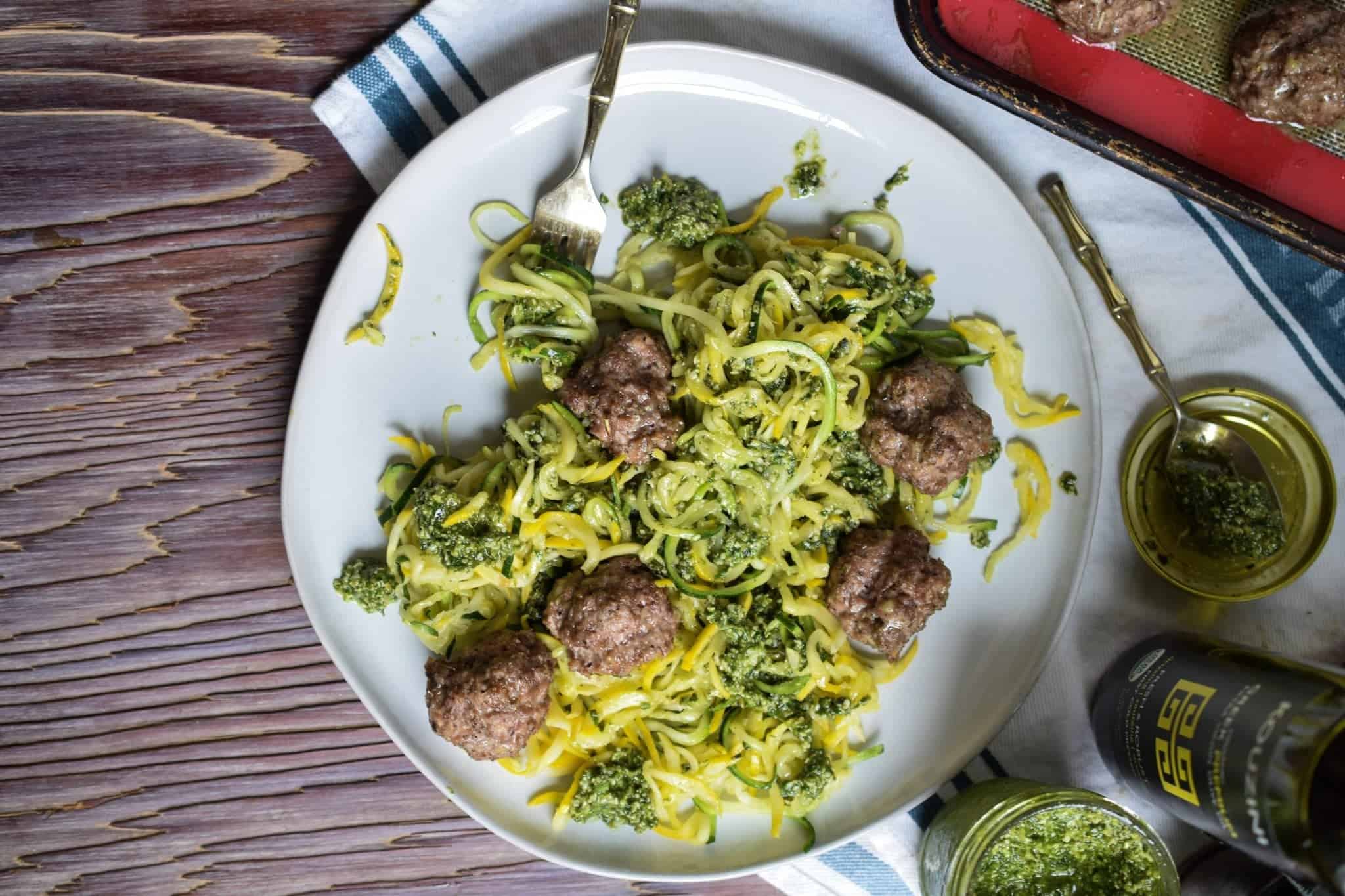 Whole30 Turkey Meatballs
---
Author: Cristina Curp
Prep Time: 10
Cook Time: 20
Total Time: 30
Yield: 24 1x
Category: Entree
Method: Varied
Cuisine: Italian
Diet: Gluten Free
Description
dairy, nut and egg free paleo, keto meatballs
---
Scale
Ingredients
2 pounds ground dark meat turkey
2 teaspoons fine salt
1 teaspoon black pepper
2 teaspoons garlic powder
1 teaspoons Italian Herb blend
1/4 teaspoon ground nutmeg
3 tablespoons grain free flour (use only 1 tablespoon if using coconut flour)
2 tablespoons avocado oil
For Meatballs and Noodes
2 cups zoodles (see instructions above)
1/4 cup Pistou (see recipe above)
---
Instructions
Pre-heat the oven to 400F.
In a large bowl combine all of the ingredients except the avocado oil.
Mix well.
Shape 24 one inch balls and place on a lined sheet pan.
Drizzle with avocado oil.
Bake for 20 minutes or until firm and browned.
Remove from the oven. Save 12 meatballs for later use (leftover recipe coming soon).
Lightly saute the zoodles in a skillet to warm with the Pistou.
Serve the warm, sauced zoodles with 3-4 meatballs a plate.
enjoy!
Recipe Notes:
Store leftover meatballs in tupperware, in the fridge for up to 5 days. Saute to heat.
Pistou Turkey and Noodle Leftover Frittata Recipe coming soon, the perfect recipe to makeover this meal's leftovers!
Nutrition
Serving Size: 5 meatballs
Calories: 309
Fat: 25g
Carbohydrates: 3g
Fiber: 1g
Protein: 32g
Keywords: Whole30 spaghetti and meatballs