Frittatas are like quiche's casual cousin. Skip the crust and bake up a bunch of stuff in a skillet with eggs. Boom. The best thing about this meatballs frittata is that it enlists leftovers! I don't know about you but my boys eat A LOT. So it's tough to make meals, even batch cook meals last for two or three full meals. A great way to STRETCH a recipe is to add eggs.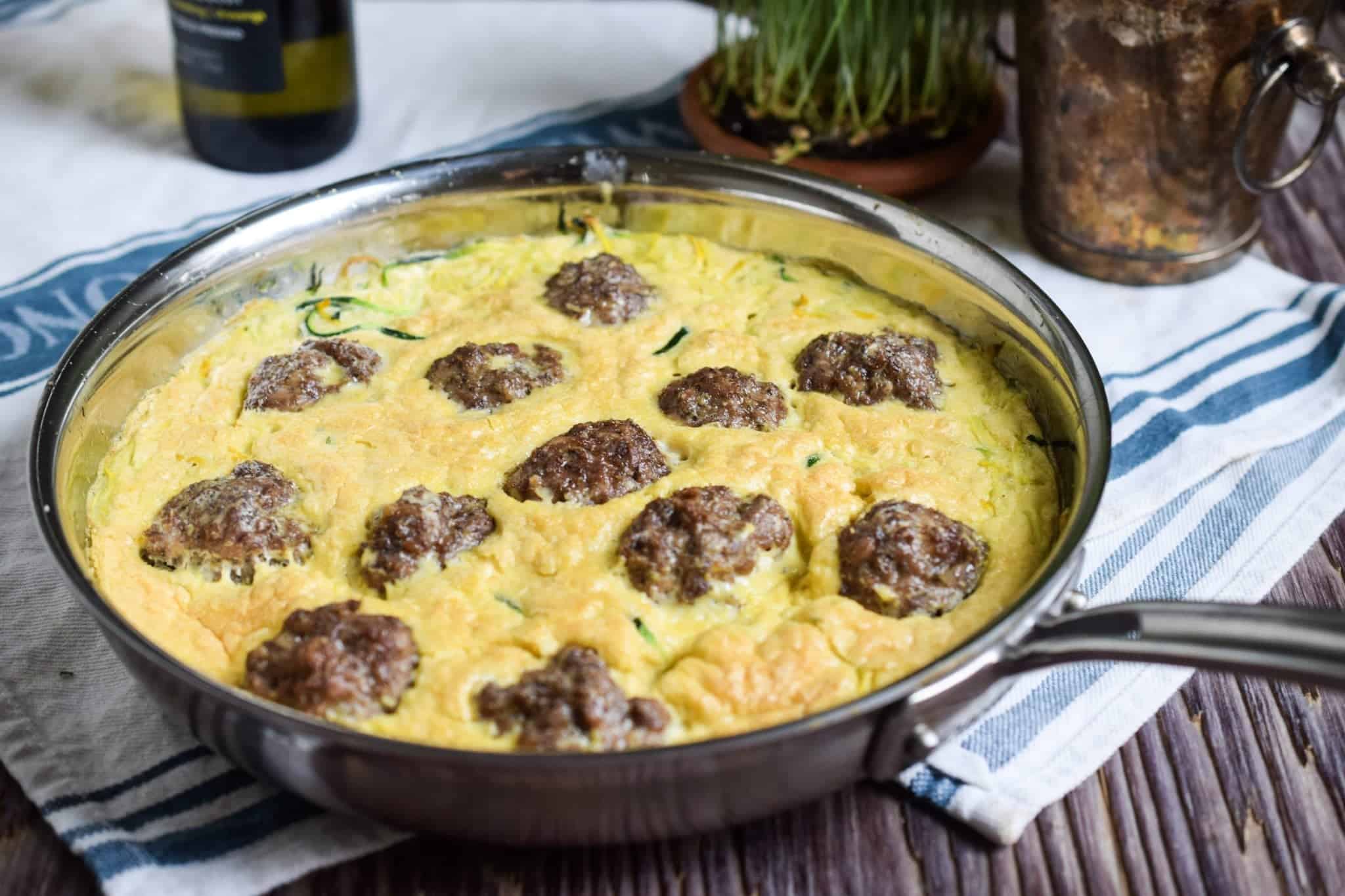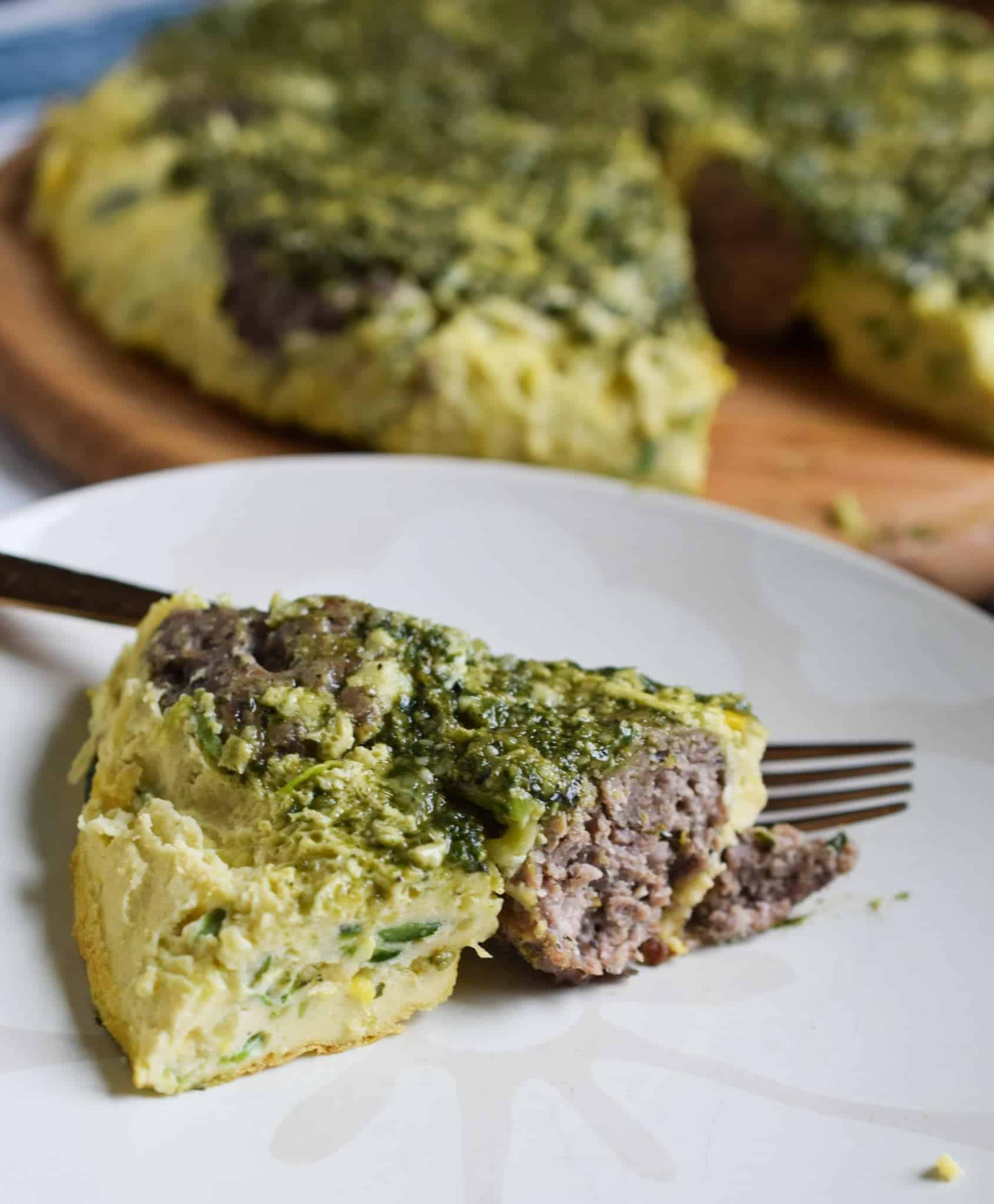 By taking the leftover Turkey Meatballs and Zoodles from THIS RECIPE, baking them into eggs and slathering with pesto, we've got a whole other batch cook meal. Great for dinner with a side salad or breakfast to go all week.
Trust me, when you're on a Whole30, this whole cook once, eat a zillion times thing, it works. When I make the Turkey and Pesto Zoodles, I pop the frittata right in the oven, and make it all at the same time. When we clean up after dinner and put everything away… we've got a whole other meal ready to go!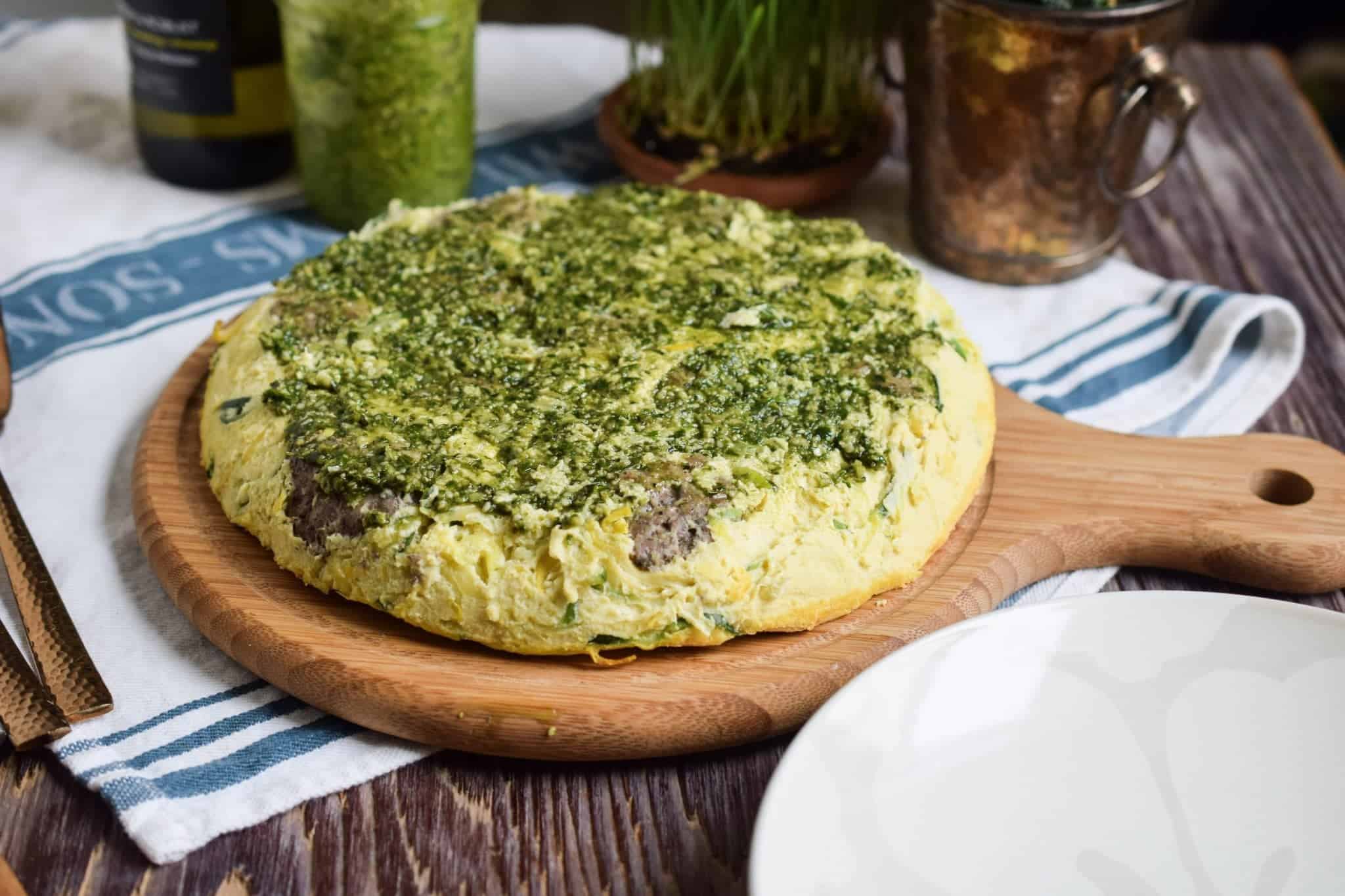 First things First…
Make the zoodles, make the meatballs, make the sauce. EVERYTHING YOU NEED HERE.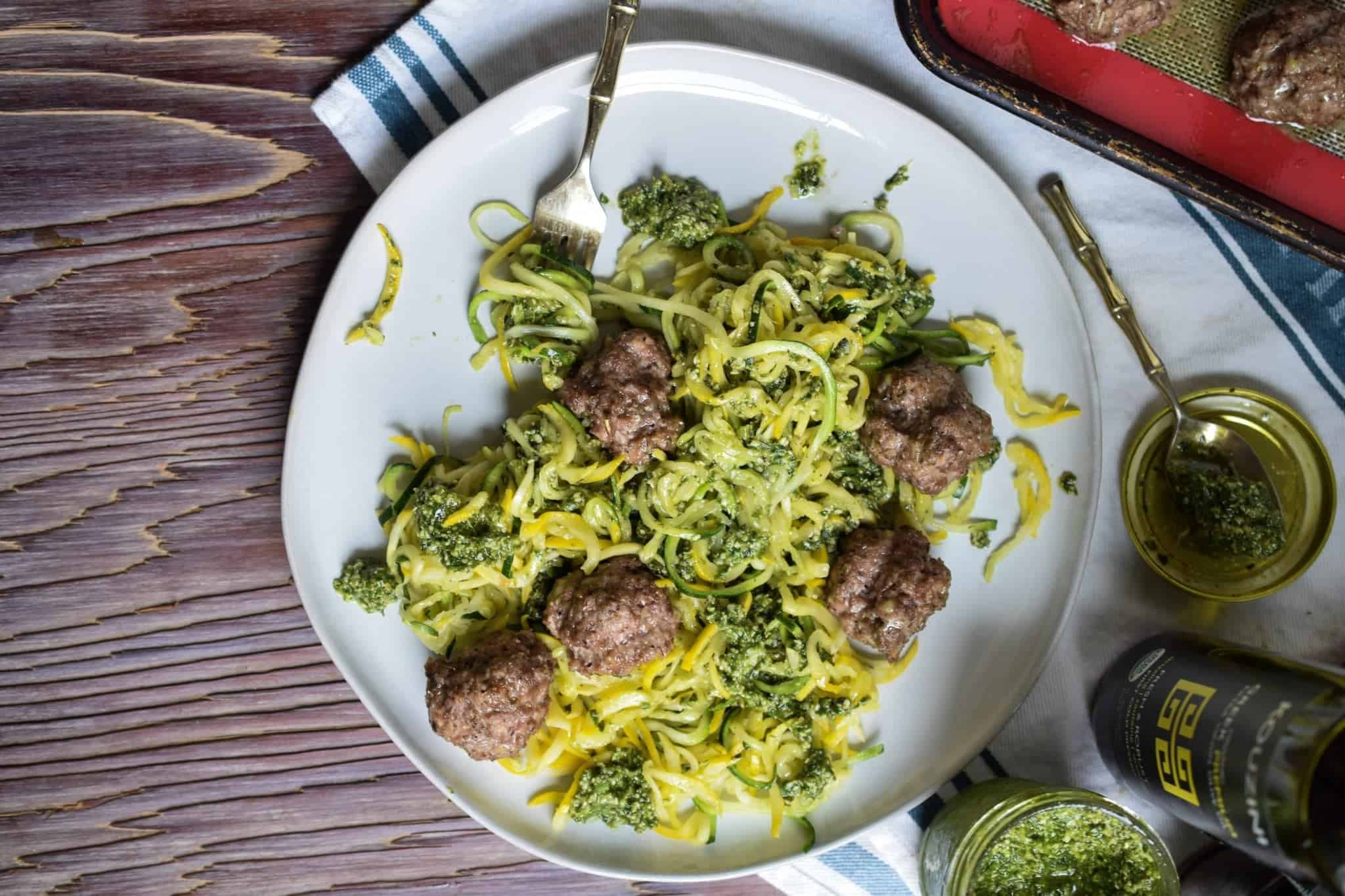 Dig This Meal Prep Stuff?
Stay tuned! More sheet pan meals with leftover makeovers coming soon. Also I am working on a mix and match meal prep guide, putting together all of these recipes with shopping lists and cooking schedules to maximize your kitchen time and your budget!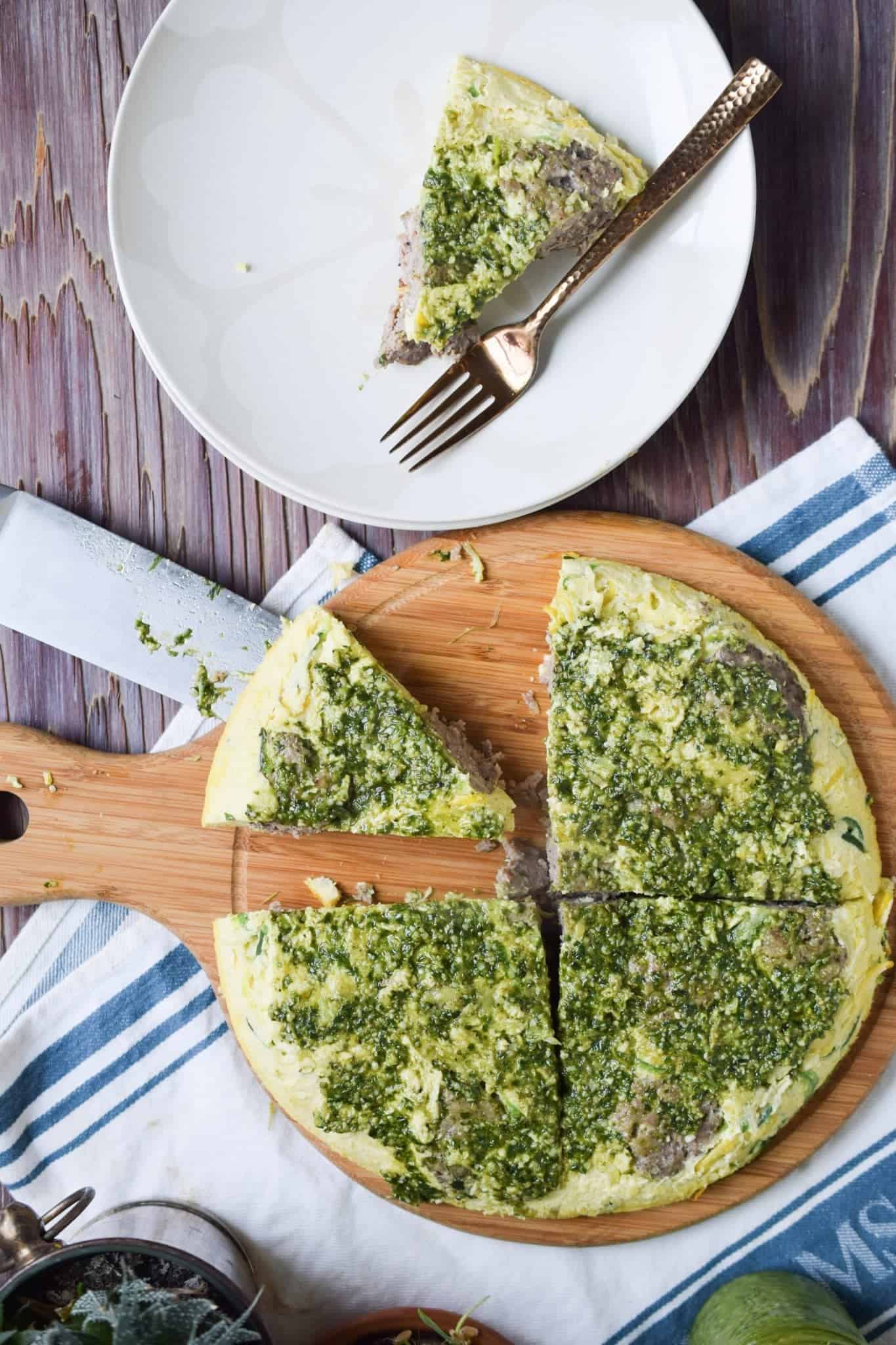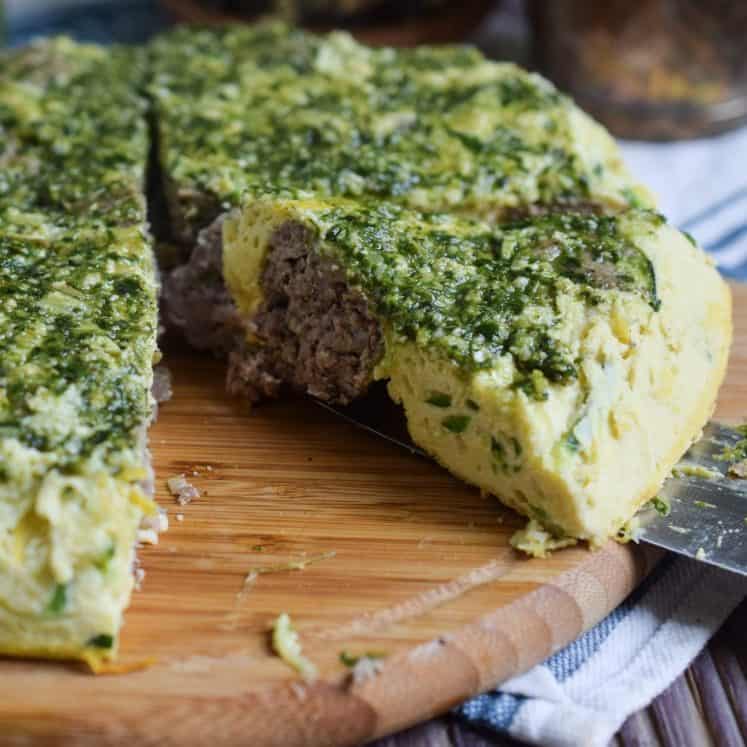 Meatball Frittata (Whole30, Paleo, Keto)
---
Author: Cristina Curp
Prep Time: 10
Cook Time: 25
Total Time: 35
Yield: 4 1x
Category: Breakfast
Method: Bake
Diet: Gluten Free
Description
A delicious leftover makeover recipe. Perfect for meal prep or brunch!
---
Scale
Ingredients
2 cups zucchini noodles (zoodles, see notes)
6 small meatballs (turkey meatballs, see notes)
6 large eggs
1/4 cup dairy free cream (coconut or cashew, see notes)
1 teaspoon fine salt
2 tablespoons Pistou (see notes)
---
Instructions
Pre-heat the oven to 400F.
Grease an 8 or 9 inch skillet lightly.
Spread the zoodles out over the bottom of the skillet.
Make 6 holes in the zoodles and arrange the meatballs. I like to do this in a symetrical pattern.
Blend the eggs, salt and cream in the blender for 45 seconds on high.
Pour the egg mix into the skillet. Set the skillet in the oven on the middle rack.
Bake for 25-30 minutes until the eggs are golden and the center is set.
Remove from the oven, let it cool.
Run a spatula under the frittata to separate it from the pan then flip it over onto a cutting board.
Spread pistou (pesto) all over it. Slice, share, enjoy!
Recipe Notes:
In case you skipped the text in the post, the meatballs, zoodles and pesto are from a previous recipe, the link is above! See that post for those recipes and instructions on how to prepare the zoodles. Not to worry, it's all very simple!
* You can use coconut cream from a chilled coconut milk can or my DAIRY FREE CREAMER, recipe here: https://thecastawaykitchen.com/dairy-free-keto-coffee-creamer-paleo-whole30/
While this creamer has a little cinnamon and vanilla it is mild enough that it still works great in this recipe!
Nutrition
Serving Size: 1/4
Calories: 300
Fat: 23g
Carbohydrates: 7g
Fiber: 1g
Protein: 16g