What is different about THIS recipe… well… for one it's a NIGHTSHADE free satay. All the warm, yummy spices, juicy chicken, and charred bits without possibly inflammatory nightshades. The chicken is also marinated in good fats like avocado and coconut oil. The lemon tahini sauce is made dairy and nut-free. For an authentic satay experience that is Made Whole!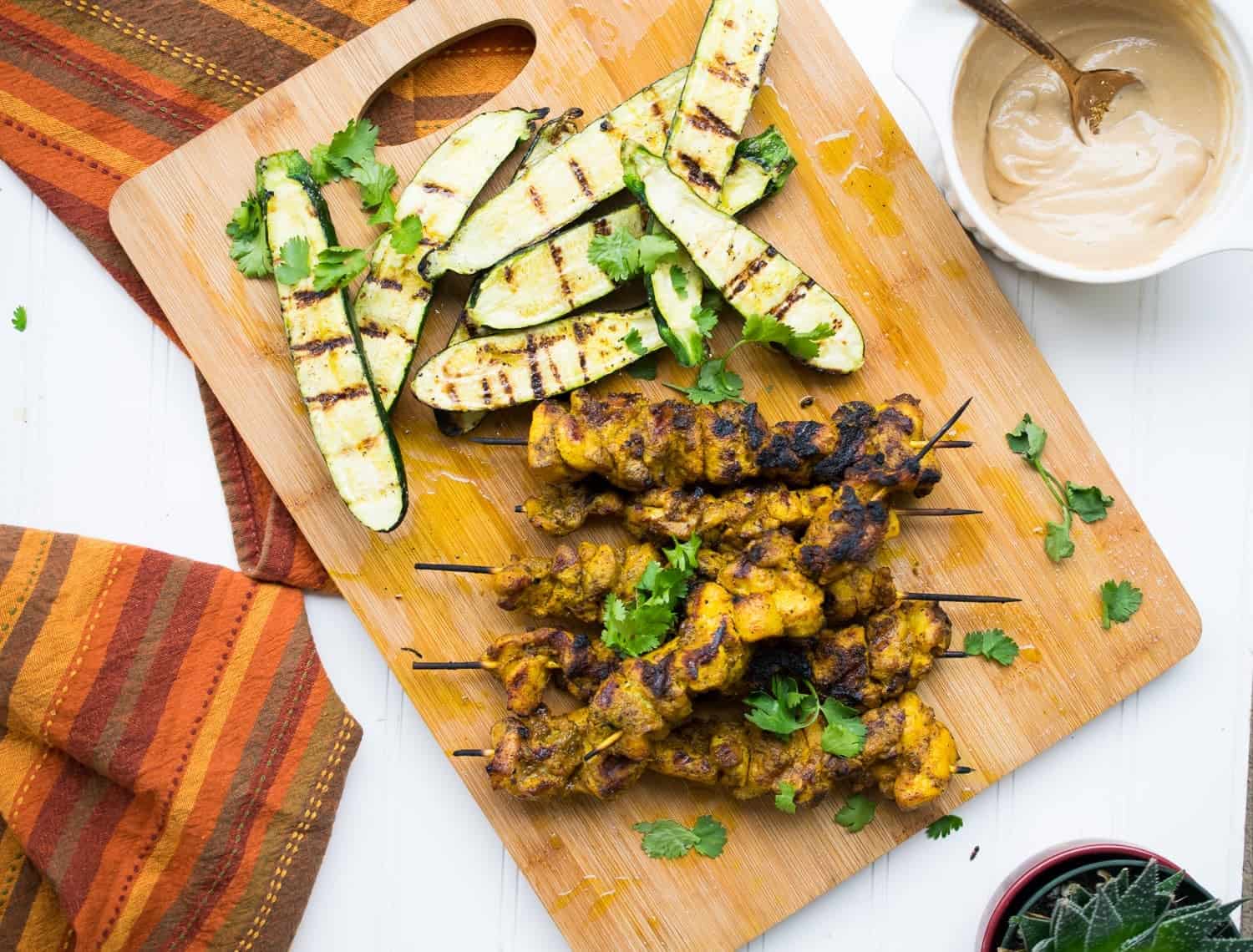 This book is from my new cookbook Made Whole! I got my first author copy last week and I've been overcome with emotion on how beautiful it turned out. I can't believe I created this massive 432 page, real food resource. You can pre-order Made Whole HERE or come see me on a book tour and purchase the book in a store. RSVP for the book tour HERE.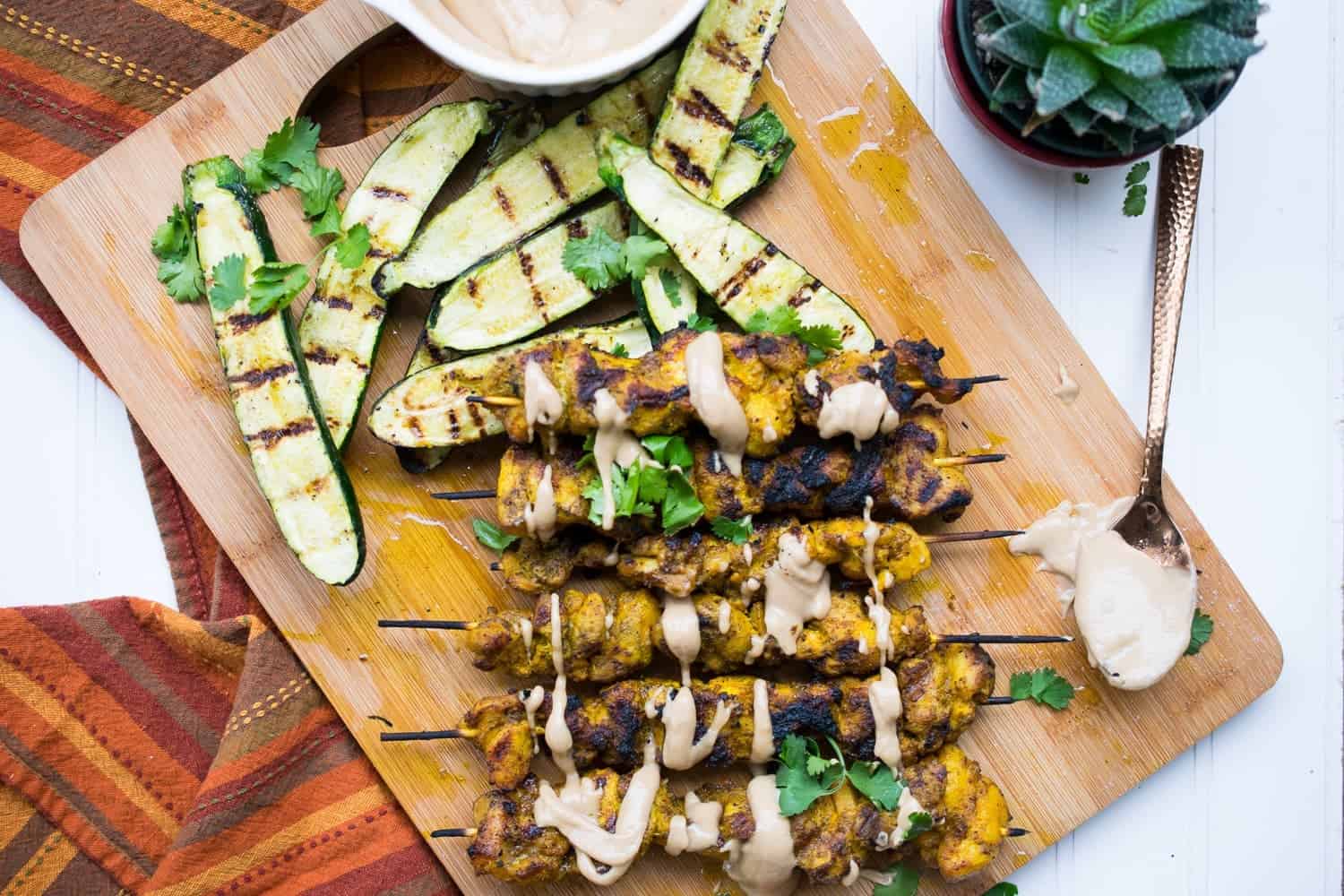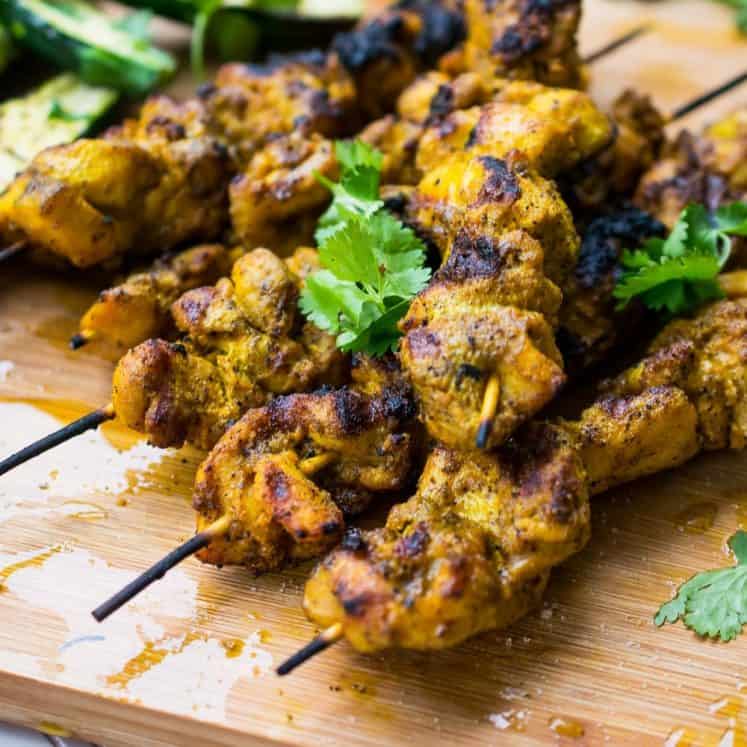 Chicken Satay + Grilled Zucchini (Whole30, Paleo, Keto, Nut Free)
---
Author: Cristina Curp
Prep Time: 20 minutes
Cook Time: 10 minutes
Total Time: 30 minutes
Yield: 3 1x
Category: entree
Method: grilling
Cuisine: international
Diet: Gluten Free
Description
Marinated chicken, grilled summer squash, toasty and tangy sauce!
---
Scale
Ingredients
For the Satay
1 pound boneless skinless chicken thighs
1 teaspoon fine Himalayan salt
1 teaspoon ground black pepper
1 teaspoon turmeric powder
1/2 teaspoon ground toasted cumin
2 tablespoons coconut oil or lard
1 tablespoon coconut vinegar
1 tablespoon toasted sesame oil
For the Zucchini
3 small zucchini, halved lengthwise
1 tablespoons avocado oil or olive oil
pinch of fine Himalayan salt
For the Sauce
Juice of 2 lemons
2 tablespoons tahini (or sunflower seed butter)
1 tablespoon coconut aminos
1/2 teaspoon fish sauce
1/2 teaspoon ginger powder
Special Equipment
---
Instructions
Cut each chicken thigh lengthwise into two or three strips, then cut the strips in half to make thumb-sized chunks. Place the chicken chunks, salt, pepper, turmeric, cumin, coconut oil, vinegar and sesame oil in a large bowl. Mix well, cover and set in the refrigerator to marinate for at least an hour or up to 3 days.
If you are using bamboo or wooden skewers, soak them in water 20 minutes before grilling. Thread four of five pieces of marinated chicken onto each skewer and set aside.
Pre-heat the grill to high heat (450F).
While the grill heats, prepare the zucchini and tahini sauce: Brush the zucchini with the oil and sprinkle with the salt. Place on a tray or cutting board that's large enough to hold everything after cooking.
Place all of the sauce ingredients in a small bowl and stir until smooth and well combined. Set aside.
When the grill has come to temperature, place the skewers on the hottest part of the grill and close the lid. Cook undisturbed for 3 minutes. Open the lid and turn the skewers over with tongs. Put the zucchini cut side down on the other side of the grill. Close the lid and lower the heat to 400F. You may have to crack the lid periodically for temperature control.  Grill for 5 to 8 minutes, until the chicken has a nice char to it and the internal temperature reaches 175F. Flip the zucchini once halfway through. Remove the skewers and zucchini from the grill and place everything on the tray or cutting board.
Drizzle the tahini sauce over everything or serve on the side for dipping.
Store leftover skewers and sauce in separate airtight containers in the fridge for up to 5 days. To reheat the chicken, quickly sear in a hot skillet for 5 minutes
Recipe Notes:
Substitutions: To make this recipe AIP compliant, omit the pepper and sesame oil from the satay and use another sauce (Ginger sauce from the cookbook, or use coconut butter instead of tahini).
Nutrition
Serving Size: 2 skewers + 1 zucchini
Calories: 344
Fat: 19.3g
Carbohydrates: 5g
Fiber: 2.8g
Protein: 34.2g
Keywords: chicken satay and grilled zucchni