Living in Hawaii, as a military family, we're always on a budget. Cost of living here is pretty outrageous. Rivaling cities like New York and San Francisco in rental prices, gas and food.  Doing your Whole30 Costco shopping for bulk items that will last long, or fresh items I can prep and freeze go a long way.
This list includes ALL of the things I buy at Costco although I don't always buy them if that makes sense. These are the Whole30 compliant products that I like. Usually when I go I like to keep my budget around $300, and buy pantry things that will last 2-3 months and fresh/frozen things for 2 weeks to 1 month. That way there is still enough budget left for weekly grocery trips. However your budget, your strategy might be different!
Making Whole30 Costco Budget Last
Things you won't find on the list… RX Bars, Beef Jerky or other really pricey items that may or may not be compliant. Also… buying a GIANT box of one or two flavors of the same snack… well, my family gets bored and it's a struggle to even finish it. When trying to save money when eating healthy, keeping it simple and sticking to INGREDIENTS is what will get you there. Alrighty, you are ready to rock your Whole30 Costco Haul!
Costco is a great budgeting tool when you stick to the basics! Check out my lists below in printable and pinnable format!
*NOTE: ALWAYS CHECK LABELS!!! DIFFERENT STORES OFTEN CARRY DIFFERENT BRANDS OF THE SAME ITEM, JUST BECAUSE IT'S ON THE LIST DOES NOT MEAN YOUR COSTCO WILL HAVE THE COMPLIANT VERSION. SO ALWAYS DOUBLE CHECK!*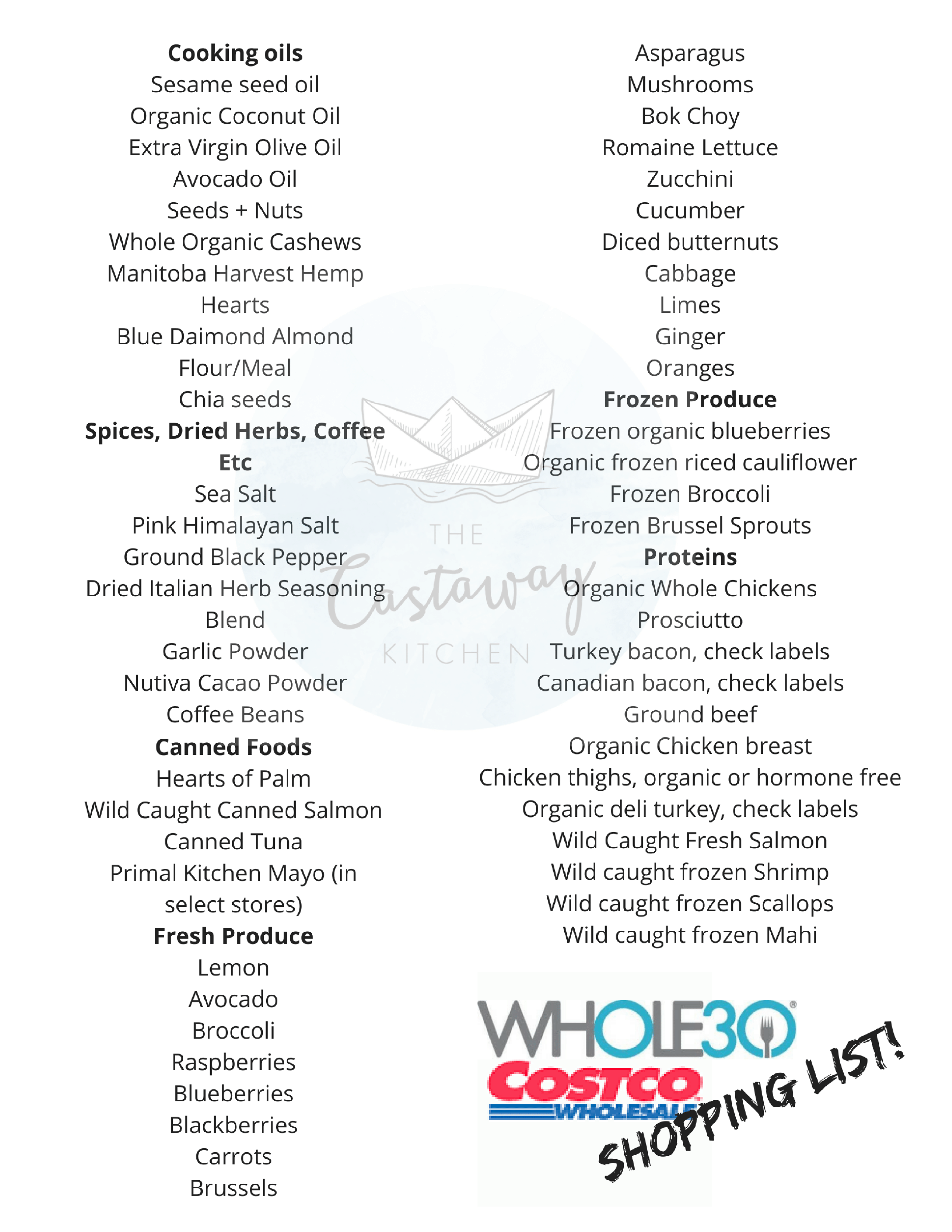 Other Whole30 Resources!