If starting an elimination diet has you stressed, don't worry. Focus on what you CAN eat (there's a lot!) and keep your pantry and fridge stocked. To help you out, I've included some of my favorite Costco finds.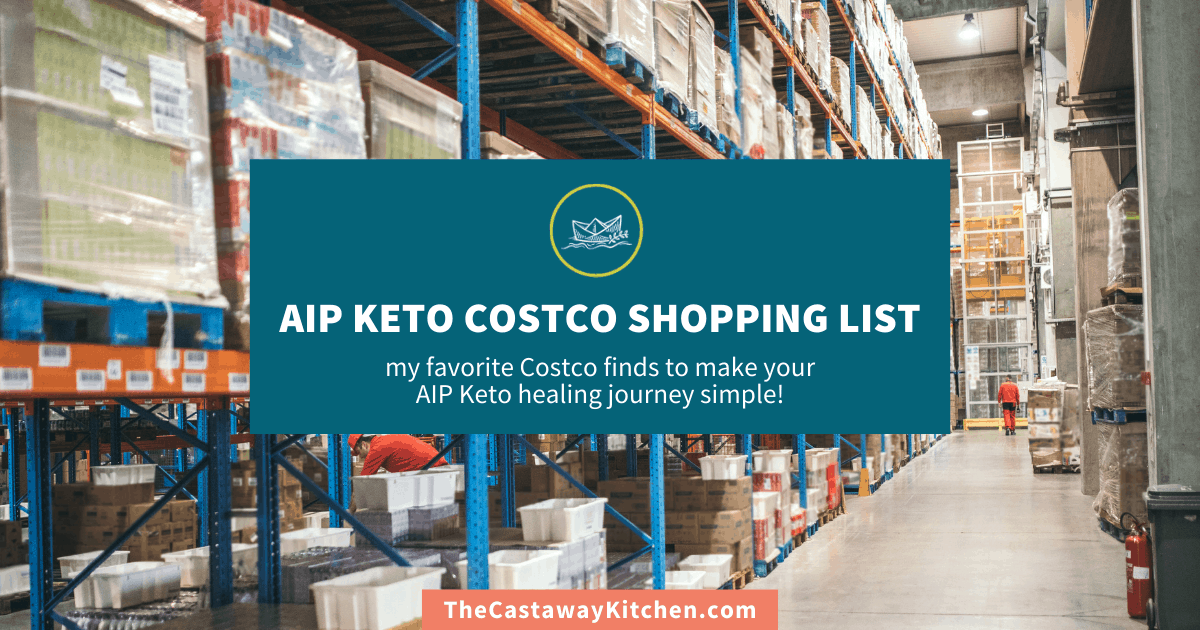 AIP Keto Resources
AIP Keto Costco Shopping List
Cooking Oils
Organic Coconut Oil
Extra Virgin Olive Oil
Avocado Oil
Fresh Produce
Lemon
Avocado
Broccoli
Raspberries
Blueberries
Blackberries
Carrots
Brussels
Asparagus
Mushrooms
Bok Choy
Romaine Lettuce
Zucchini
Cucumber
Diced Butternuts
Cabbage
Limes
Ginger
Oranges
Garlic
Onion
Spices, Dried Herbs, Coffee, Etc.
Sea Salt
Pink Himalayan Salt
Dried Italian Herb Seasoning Blend
Garlic Powder
Onion Pwder
Ground Cinnamon
Dried Parsley
Dried Oregano
Other dried herbs
Canned Foods
Hearts of Palm
Wild Caught Canned Salmon
Canned Tuna
Frozen Produce
Frozen Organic Blueberries
Organic Frozen Riced Cauliflower
Frozen Broccoli
Frozen Brussels Sprouts
Other frozen vegetables (not corn, no nightshades)
Proteins
Organic Whole Chickens
Prosciutto
Turkey Bacon, check labels
Organic Ground Beef, Chicken Breast, Chicken Thighs, Deli Turkey (check labels)
Wild Caught Fresh Salmon, Frozen Shrimp, Frozen Scallops, Frozen Mahi
Additional AIP Keto Products I Love:
Cooking Fats + Sauces
Red Boat Fish Sauce
Bragg's Apple Cider Vinegar
The New Primal/ Noble Made Coconut Aminos
Coconut Secret Coconut Vinegar
Epic Duck Fat
Nutiva Butter Flavored Coconut Oil
Seasoning
Simply Organic Ceylon Cinnamon (AIP reintro), Ground Ginger, Turmeric Root, Garlic Powder
McCormick Gourmet Lemon Peel
McCormick Gourmet Valencia Orange
Redmond Real Salt
Misc.
Vital Proteins Gelatin
Aroy-D Coconut Milk
Thai Kitchen Organic Coconut Milk
Anthony's Tiger Nut Flour
Crown and Prince Smoked Oysters in Olive Oil
Bonafide Bone Broth
Bacon's Heir Pork Panko
Coconut Wraps