What is inflammation, what causes inflammation, and how to heal your body and THRIVE without chronic inflammation?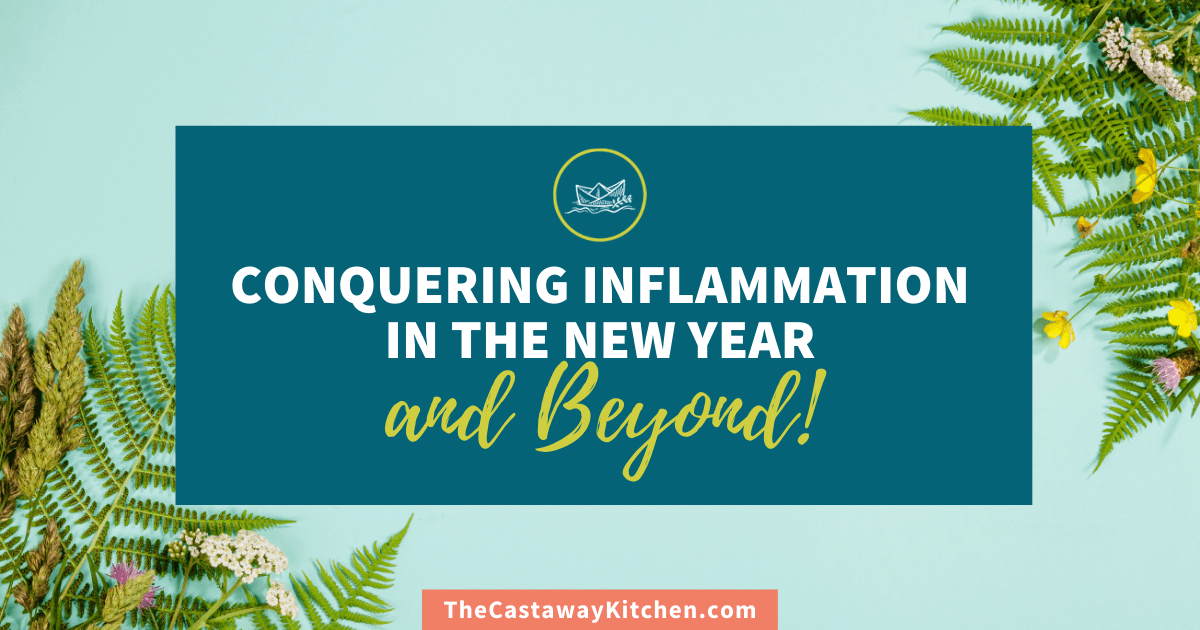 What Is Inflammation?
Inflammation is the body's natural response to defend the body from invaders and promote healing. For most people, inflammation is usually acute and goes away once the threat has been eliminated or dissipated. However, if you're an autoimmune warrior like me, you may struggle with chronic inflammation which is a whole 'nother beast.
Chronic inflammation differs from regular acute inflammation because it can last months or years after the trigger is gone. In addition, chronic inflammation can be triggered by food intolerance, an environmental stressor, emotional turmoil, an untreated injury or illness, and/or an autoimmune disorder. You can learn more about inflammation in Episode 6 of Body Wise Podcast: The Inflammation Spectrum with Dr. Will Cole.
Signs of Inflammation
Inflammation can show up in the body in various ways, including:
Redness or swelling, muscle stiffness
Joint pain, stiffness, warmth, and/or the joint not moving easily
Fever, chills, and/or headache
A general loss of energy and/or overwhelming fatigue
Changes in appetite and poor digestion
Some symptoms that I have personally experienced are:
Joint pain, specifically in my knuckles and fingers
Red hot spots on my knees
Heartburn
Swollen gums
Fatigue
Chills and headache
Abdominal bloating
How to Heal Inflammation
A lot of the symptoms associated with chronic inflammation are downplayed or normalized, especially in American culture. Think of how many commercials you see for medications that treat heartburn, arthritis, skin conditions, and digestive issues. While these medications may cover the symptoms, they fail to address the root cause of the inflammation. In some cases, the medication you're prescribed can even cause additional side effects that may require additional medication! What the heck?!
To get to the root cause of chronic inflammation you must first remove the stressor. Chronic stress is a result of a lingering stress response of your immune system. It's on high alert all the time, and you need to ask yourself why? I find that a toxin of sorts is usually the cause. Something you are ingesting or coming into contact with on a regular basis.
This is why elimination diets are such a key part of my healing process. One person's superfood is another person's poison. Find out what is triggering your inflammatory response.
While medications have their place, my approach as a Nutritional Therapy Practitioner is to try to uncover the deeper issues. When you work to heal the root cause, you can heal your body for real. These diet and lifestyle changes are important along with medication too!
Is it possible to reverse symptoms for the long haul? Yes, and I'm living proof. You can read all about my journey in this blog post: My Weight Loss and Healing Journey: How AIP and Keto Helped Me. I also wrote a book about my healing journey called Made Whole. It's filled with over 145 anti-inflammatory recipes.
Western medicine often overlooks the impact of stress on the body. One of the main causes of inflammation in the body is oxidative stress. To get scientific with it, oxidative stress reflects an imbalance between the systemic manifestation of reactive oxygen species and a biological system's ability to readily detoxify the reactive intermediates or to repair the resulting damage. As a result, oxidative stress can cause chronic inflammation.
It works like this: infection, injuries, and invaders trigger the body's immune response. Immune cells called macrophages produce free radicals while fighting off invading germs or pathogens. These free radicals can damage healthy cells, leading to inflammation. Most of us aren't equipped with the nutrient density to support proper intracellular antioxidant production, which is what we need to counteract this damage.
Oxidative stress is a response to various triggers, but I think the most common issues are:
Inflammatory vegetable and seed-based oils (blegh!)
A lack of nutrients in food
Toxic load
Insufficient sleep
Too much physical activity (or not enough!)
Y'all, it has been a VERY stressful year for everyone, and those struggling with chronic health issues have probably felt it a little harder. Stress is often the most difficult obstacle to overcome in dealing with autoimmune issues, and I talked about that on the Body Wise Podcast in Episode 3 (definitely check that out if you haven't yet). Deep breaths, friends. We got this.
So what's the answer? While there's no such thing as a quick fix, I've helped a lot of people heal their bodies and put their autoimmune issues in remission, and the answer isn't as complicated as you might think.
Looking for a quick guide on how to reduce inflammation? Get my FREE guide: How to Reduce Inflammation in 5 Easy Steps
How Real Food Impacts Inflammation
Healthy Fats
Because oxidative stress can come from inflammatory vegetable and seed-based oils, much of what constitutes "food" in the Standard American Diet is highly inflammatory. Canola oil, peanut oil, corn oil, safflower oil, grapeseed oil, and soybean oil are everywhere, especially in packaged convenience foods.
Our cells' membranes (the outer layer) are made of fats, including the types of fat we eat.
While omega-3 fatty acids have beneficial effects on our cell structure and function, consuming rancid cooking oil has the opposite effect. Eating rancid omega-6 oils which are highly processed are not just pro-inflammatory but also compromise the cell membrane and promote oxidative damage.
Want more insight on healthy fats? Check out this blog post: A Real Food Guide to Healthy Fats
The Importance of Nutrient-Dense Foods
Real foods are less likely to trigger inflammation (more on that below) and more likely to fend off inflammation. How? Antioxidants!
Antioxidants help protect your cells against free radicals. Glutathione is a potent intracellular antioxidant! That's right, you make your own, no supplements required.
Eating and digesting nutrient-dense foods properly is key! So be sure to optimize your digestion by eating slowly, chewing your food properly, and avoiding proton pump inhibitors. Learn more about the 4 pillars of health (including optimizing digestion) in my functional nutrition cookbook Made Whole Made Simple: Learn to Heal Yourself Through Real Food & Healthy Habits.
Want to cash in on the anti-inflammatory powers of real food? Add these foods into your diet to help your body make more:
Sulfur Rich Foods such as broccoli, cauliflower, cabbage, and kale — get The Best Crispy Roasted Broccoli recipe here
Vitamin C Rich Foods such as kiwi, strawberries, cauliflower, broccoli, and papayas — check out my Paleo Strawberry Shortcake recipe here
Selenium Rich Foods such as Brazil nuts, mushrooms, fish, spinach, and oysters — make this Sweet Dill Smoked Halibut
Identifying Food Triggers with The Autoimmune Protocol
Another way to address inflammation is to identify your food triggers, typically with an elimination diet. Elimination diets narrow your food choices down and then set guidelines for reintroductions to help you gauge what foods cause a reaction (more information on Life After Elimination Protocols in Body Wise Podcast Episode 15). The Autoimmune Protocol (AIP) has been especially helpful for me in determining my food triggers (nightshades, too much dairy, gluten).
I've included more information on AIP including how to combine AIP with keto, AIP shopping lists, and AIP recipes below.
Conquering Inflammation with AIP
The autoimmune protocol, autoimmune paleo, or AIP for short is an elimination diet designed to heal leaky gut and reduce inflammation with the purpose of reversing symptoms caused by autoimmune disease. It is also used so that one can find out which foods are aggravating their symptoms, causing inflammation and essentially making their autoimmune disease worse.
Some common questions I get about the AIP:
What is an autoimmune disease?
How does the AIP help?
How do I start the AIP?
What foods are allowed on the AIP?
What can I eat on AIP?
I've answered all of these questions in this blog post: What is the AIP? A complete guide to the autoimmune protocol
More anti-inflammation resources
One of the biggest defenses against inflammation is REAL FOOD. I feel passionate about this because I've experienced it first hand. I know how overwhelming it can be to overhaul all of your food choices, recipes, and even your relationship with food. That's why I've dedicated my life to making resources available to those who need a simplified approach to healing. No BS, no diet dogma, and no flavorless food (I'm Cuban, that's basically a sin in my book!).
If you're hungry for more AIP resources, here are some of my favorites:
Bottom line: everyone deserves the right to wellness, and feeling good in their own body.
Want the CliffsNotes version of this blog post? Get my FREE guide: How to Reduce Inflammation in 5 Easy Steps