AIP Empanadas! That means these are grain, gluten, dairy, nut, and egg-free! They are also totally legit! A crispy, flaky crust that is PERFECT! Filled with an AIP Cuban picadillo that has a great sweet and savory flavor profile. These might not be the empanadas I grew up on, but they're close and definitely just as good!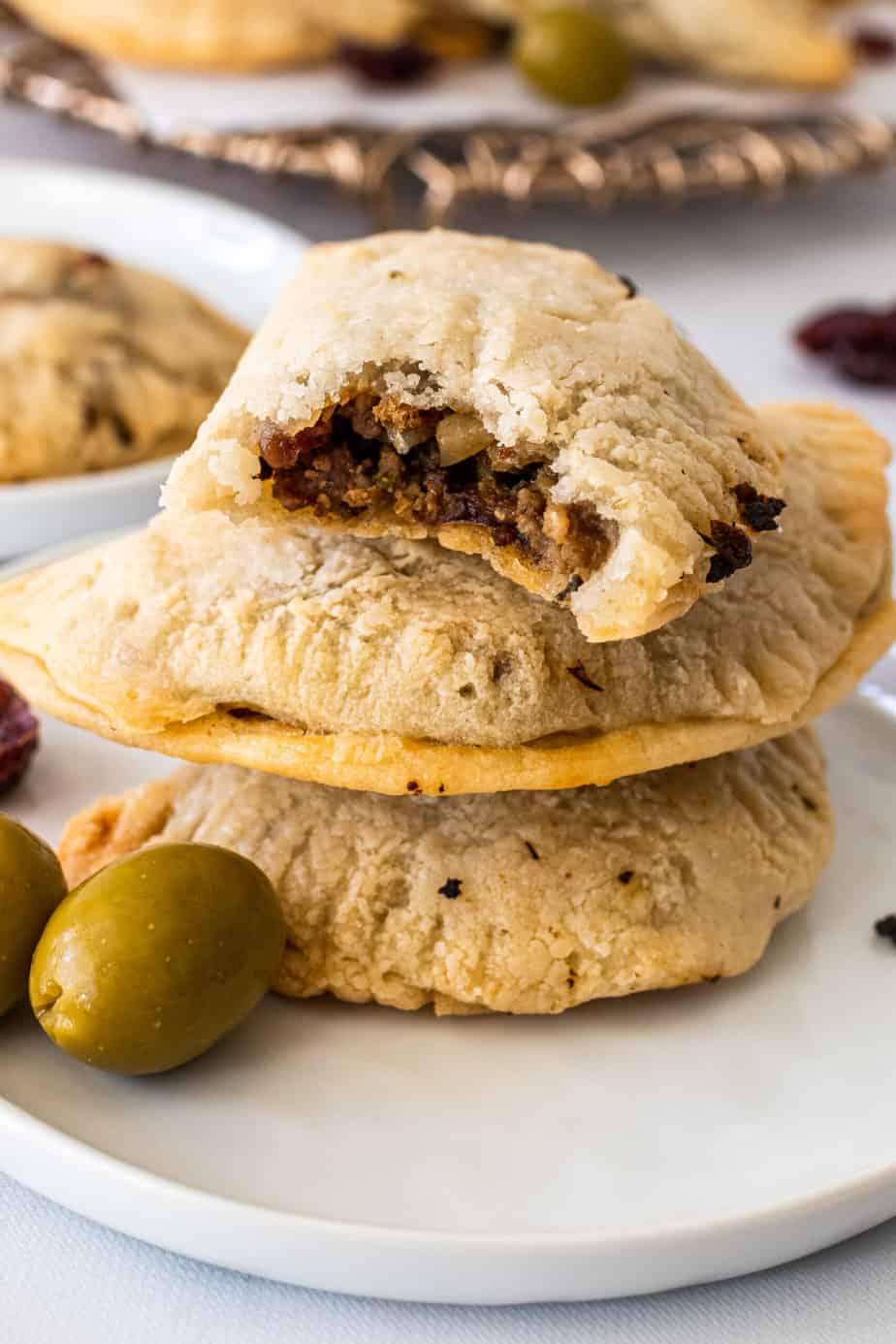 Table of Contents
Cuban Empanadas made Paleo!
Growing up, empanadas were a staple, as was picadillo. It was lovely to revisit this Cuban treat in an autoimmune-friendly rendition. Let's breakdown the ingredients of these AIP Empanadas: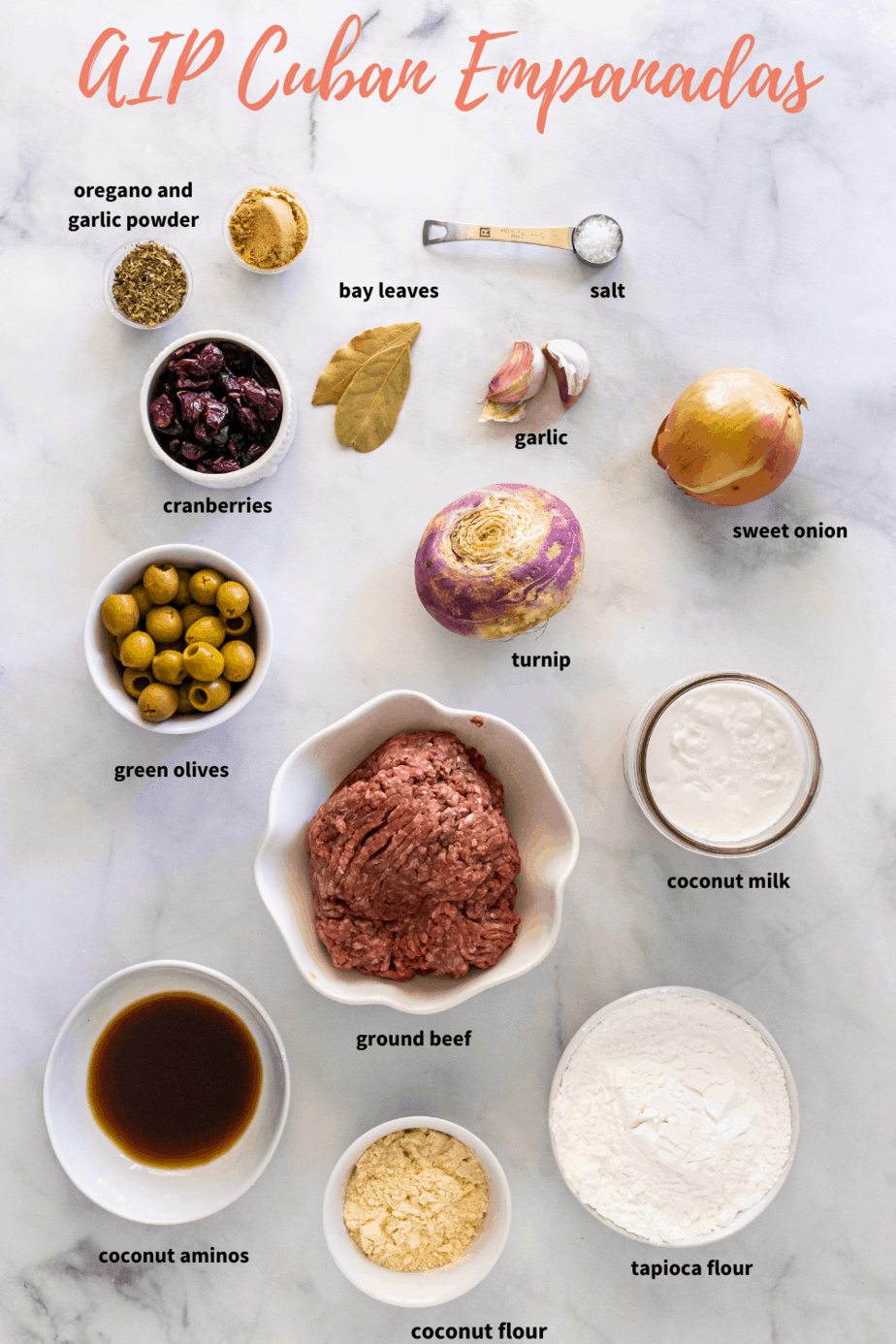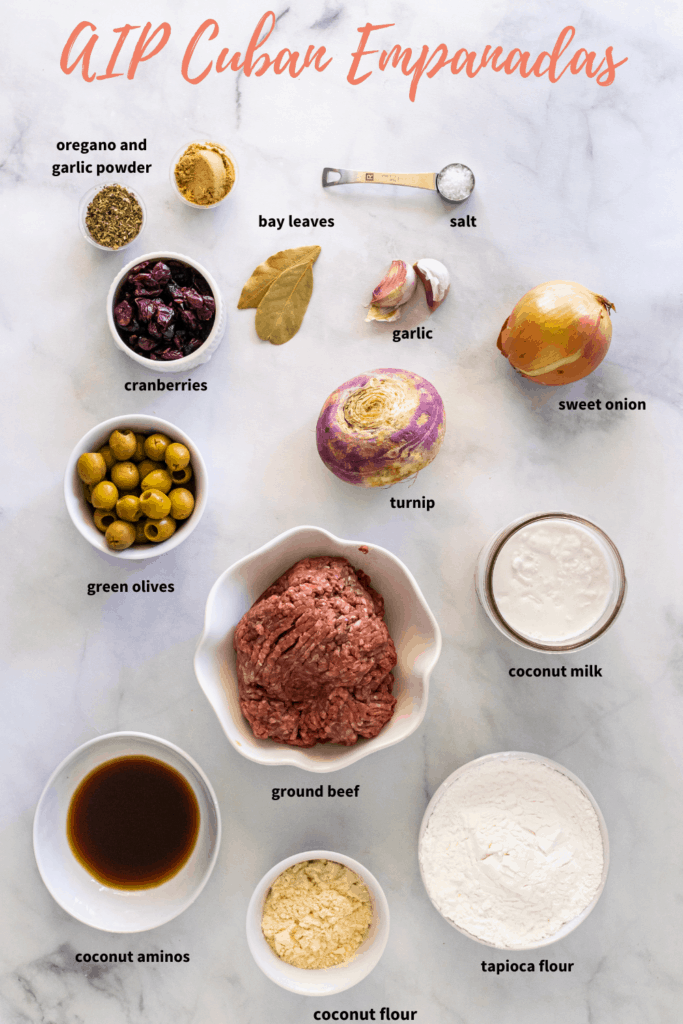 The filling is made from ground beef cooked in minced onions and garlic. Then you add in dried cranberries or raisins, diced turnips, seasonings, green olives, and coconut aminos. This cooks down to a delicious picadillo!
Tapioca flour is great for this egg free empanadas dough because it has viscosity from the starch content.
Coconut flours absorbent properties help dry up the dough so it's not sticky or soggy and gets crispy when baked!
The fat in the coconut milk helps the batter stay nice and thick and the AIP empanada dough crisp when cooked.
A Labor of Love
A lof of cultural dishes tend to take a little more time. Perhaps it's because these recipes orgininated from a time when live moved a little slower. Full disclosure, these are really labor-intensive. Also, delicious, and the more you make them the easier they are.
I adapted the crust recipe from My Heart Beets blog, she uses almond meal in her recipe, which I have substituted with the corresponding amount of coconut flour. Rule of thumb: 1/3 cup coconut flour per cup of almond flour (useful info on AIP!). I also created my own filling, using ingredients that mimic traditional Cuban empanadas but with autoimmune paleo modifications.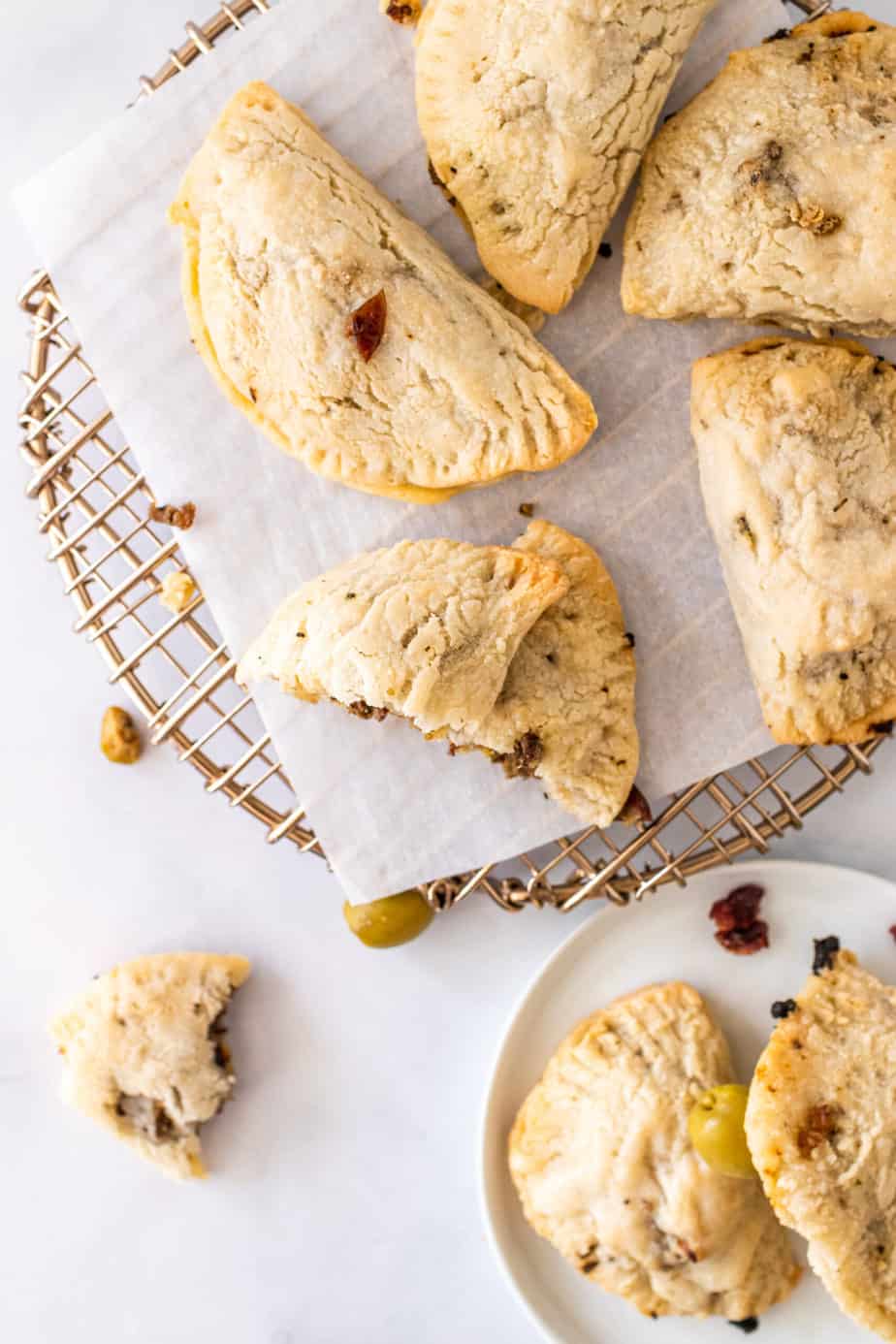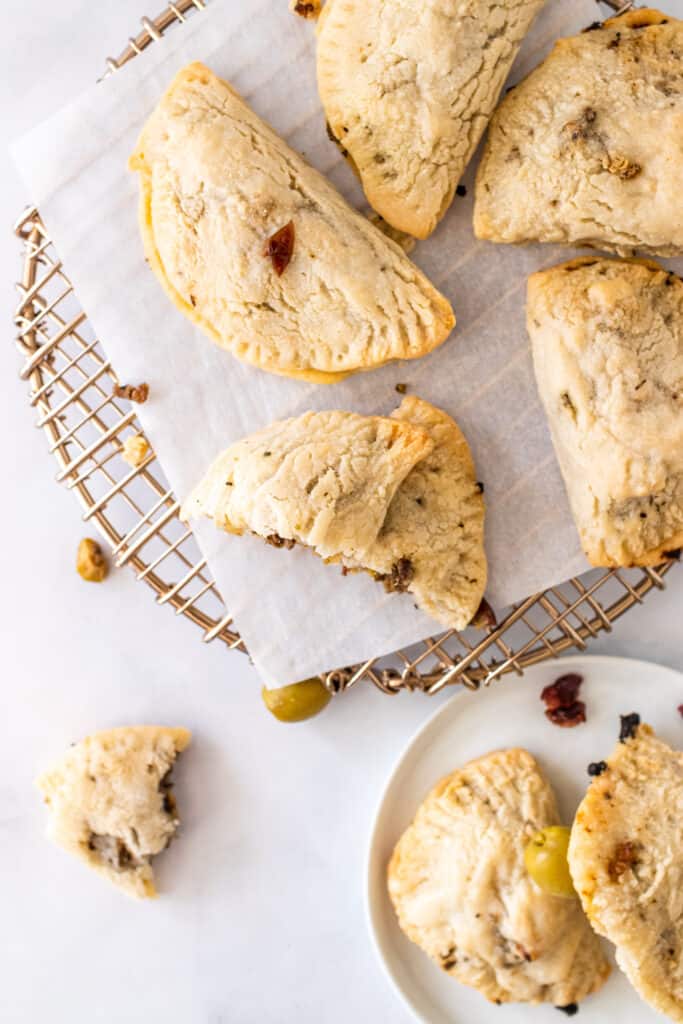 Step by Step Paleo Empanadas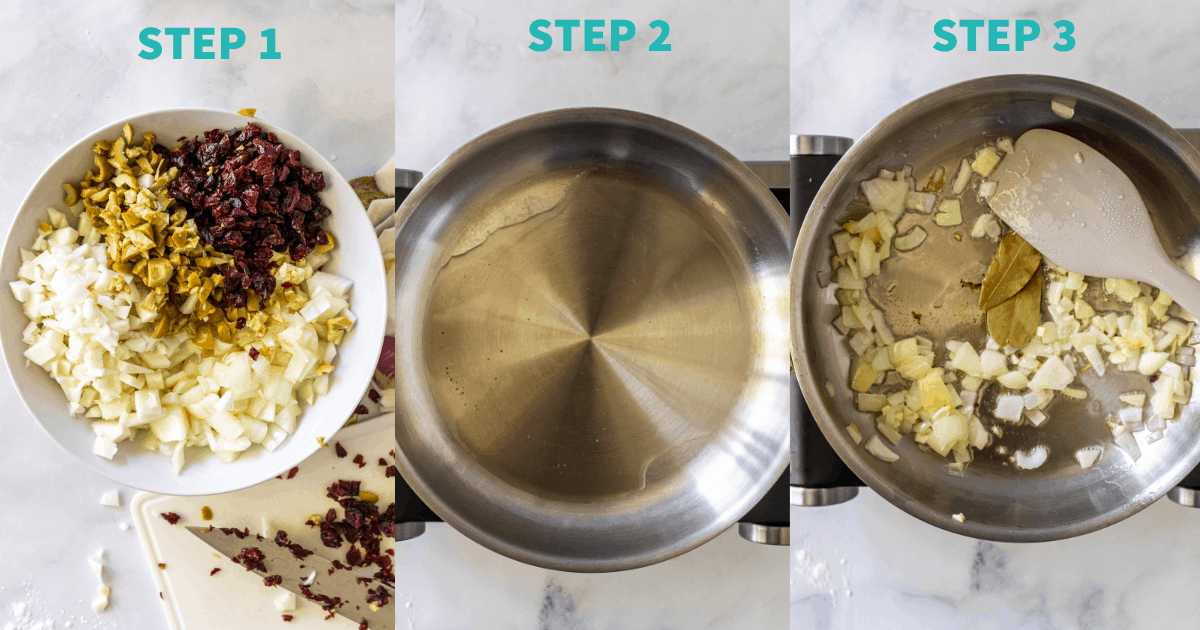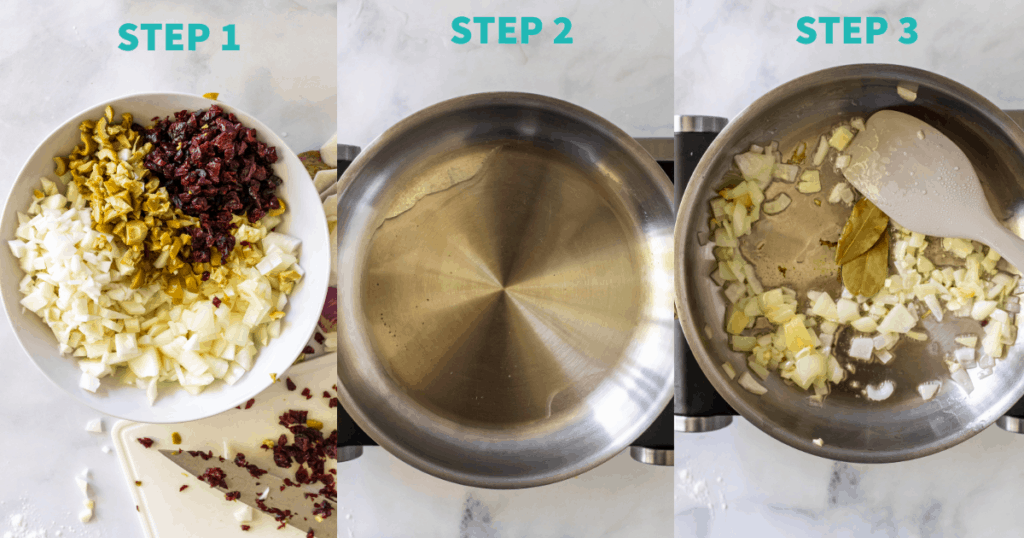 Start by dicing up all of your empanada filling ingredients, you want them nice and uniform so when you're filling the empanadas big pieces don't tear the dough. Heat a large skillet over medium heat, add cooking fat then the onion, bay leaves and garlic. Cook these down until tender.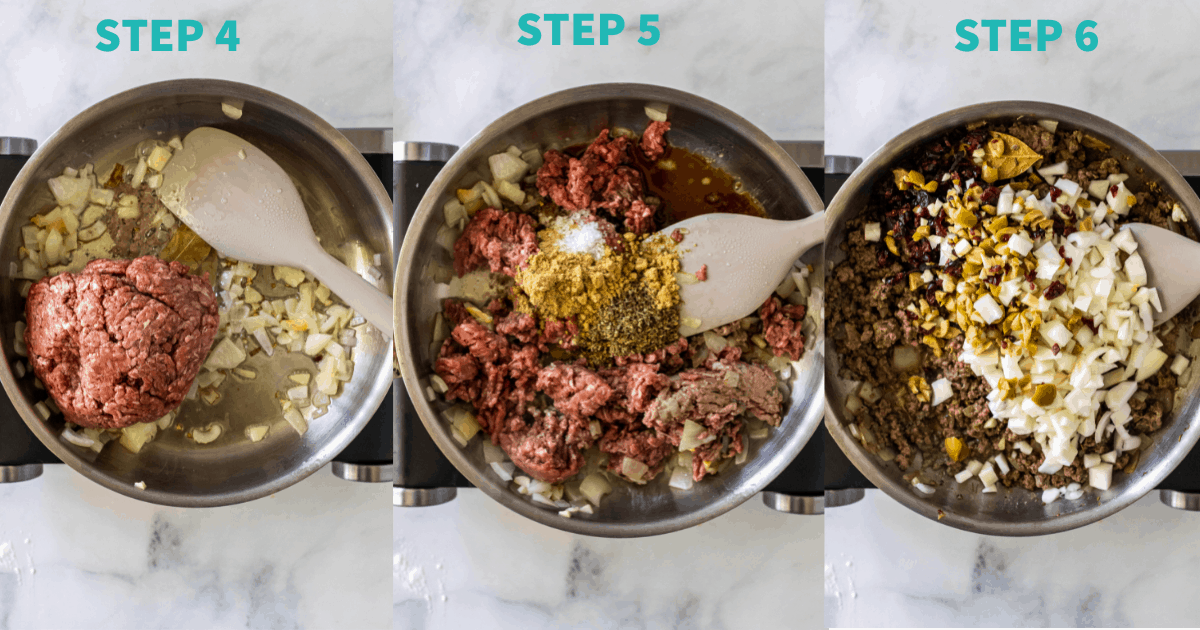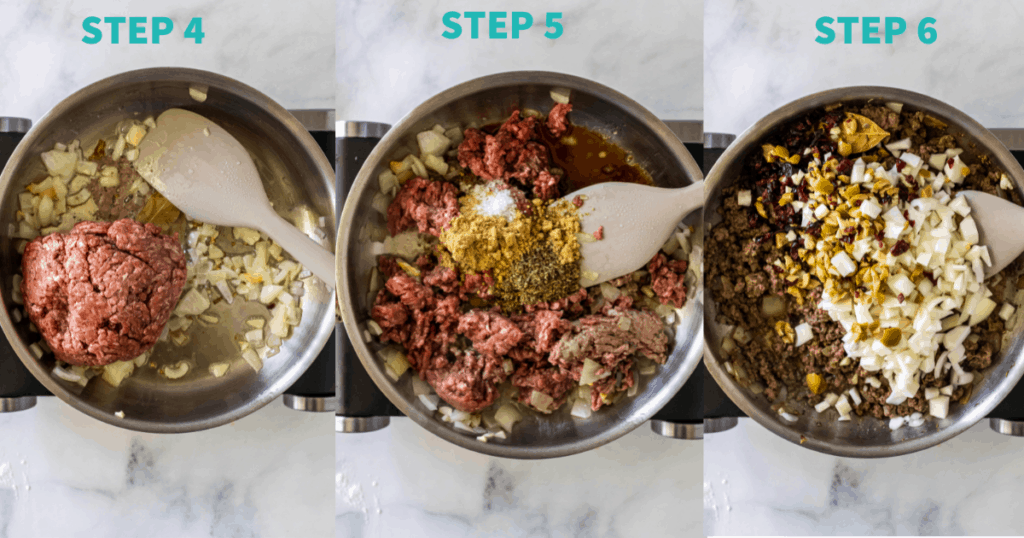 Add the meat to the skillet and break it up with your spatula, add in the seasonings and mix well. Cook until browned. Then mix in the turnips, olives and cranberries or raisins.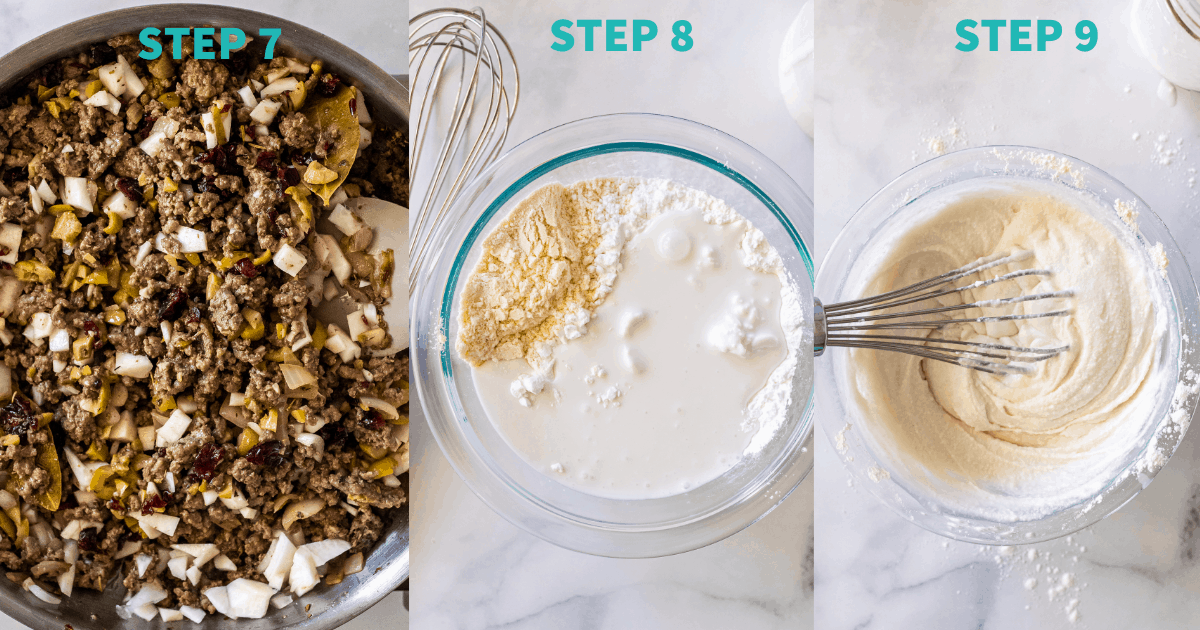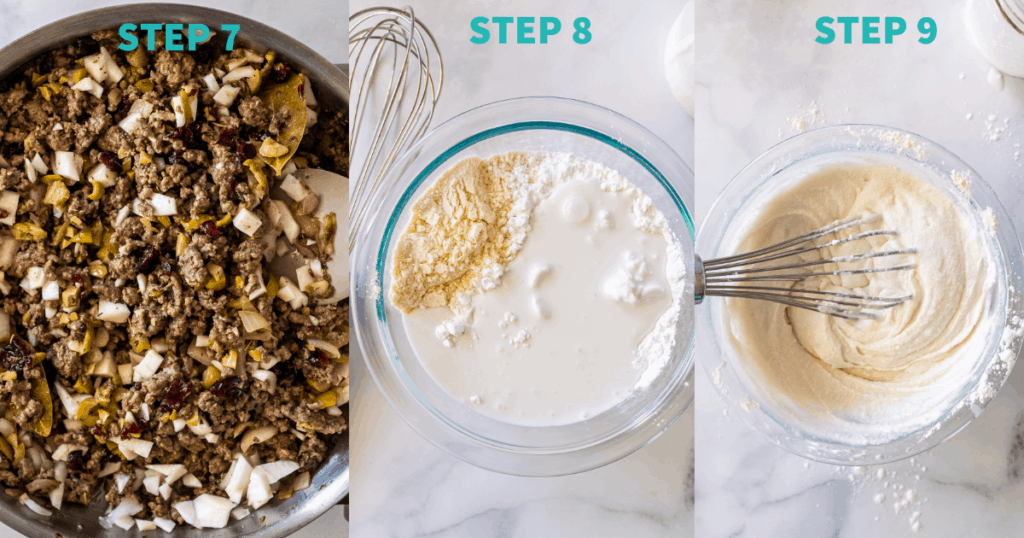 Once your done with your filling, set it aside. Whisk all of the dough ingredients in a bowl until its like a thick pancake batter.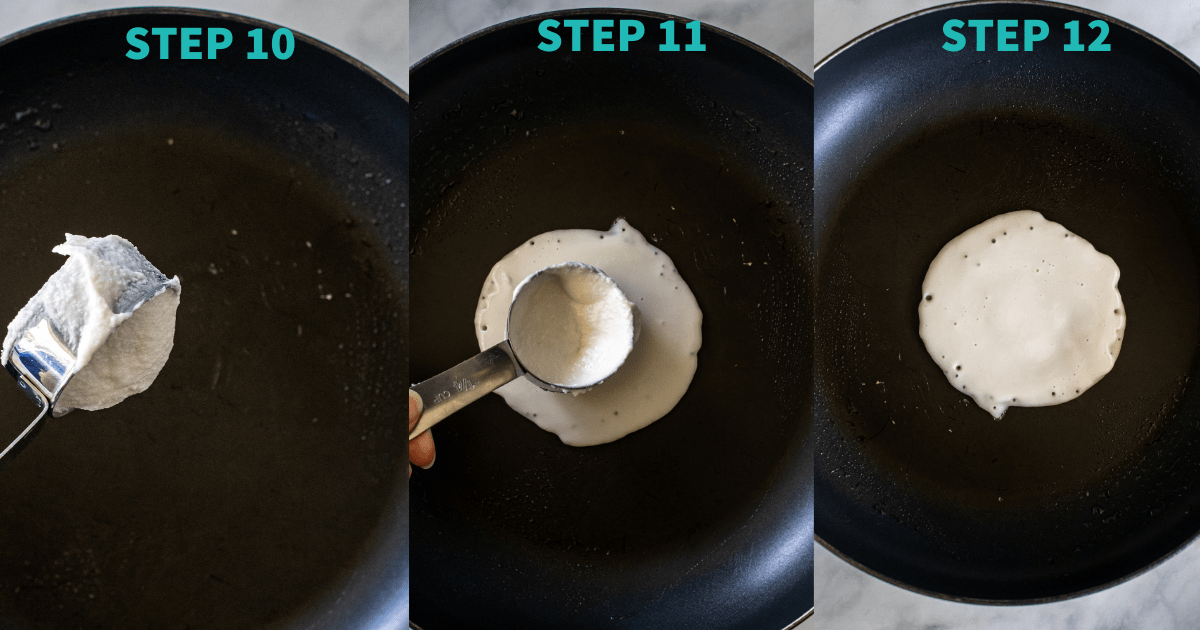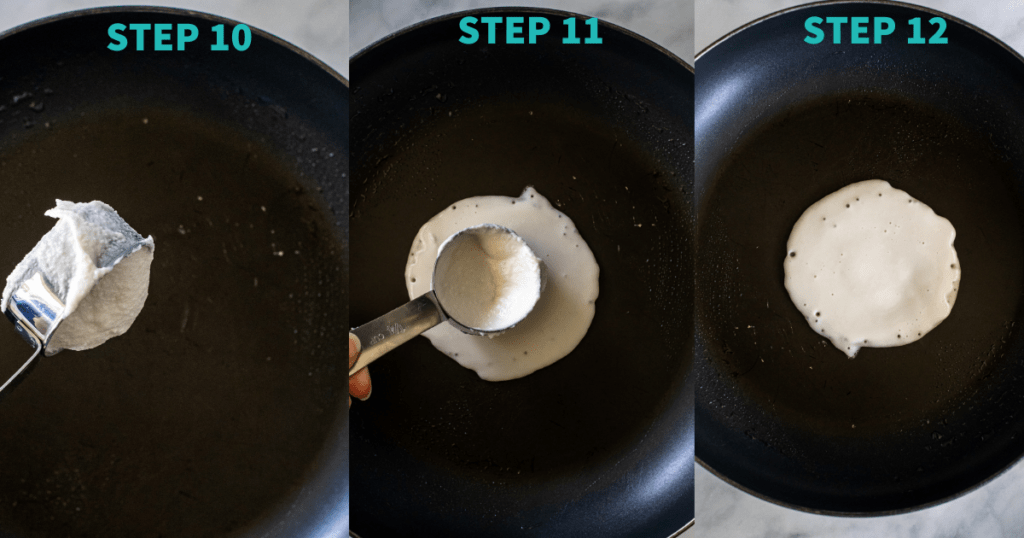 Use 1/4 cup to make a 3-4 inch round, and cook until the edges look done, a little dry. Use a thin spatula to transfer to a lined baking sheet.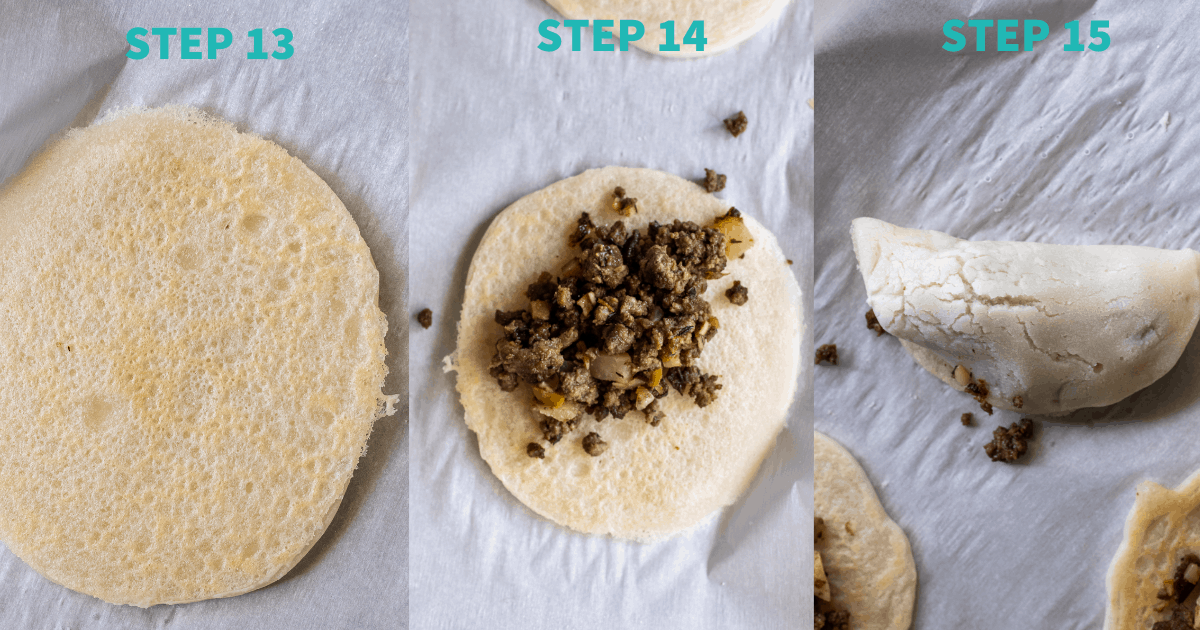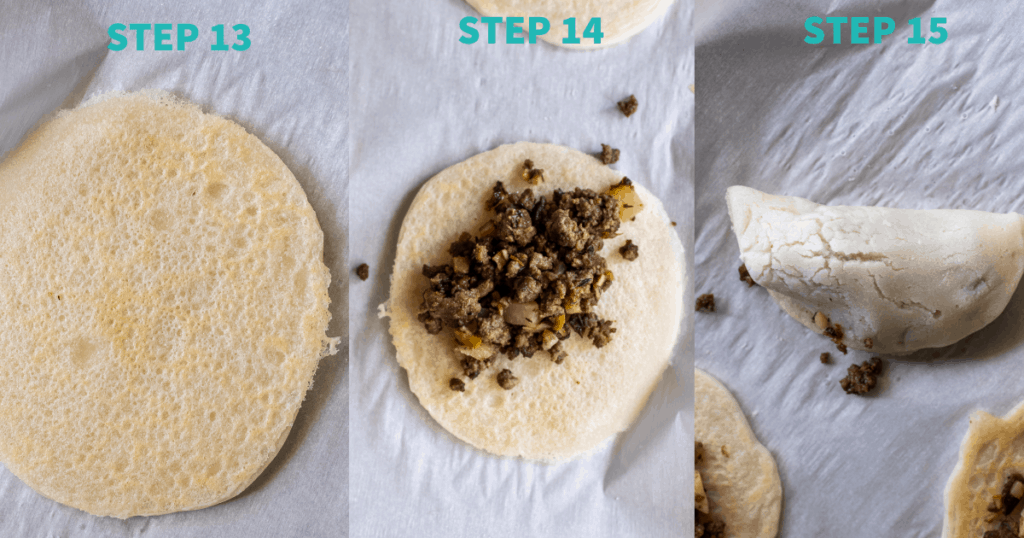 Place it on the parchment paper wet side down, and add a tablespoon of filling to the center. Wet the edges and fold the round over to connect the edges. It's like a pancake you fold in half!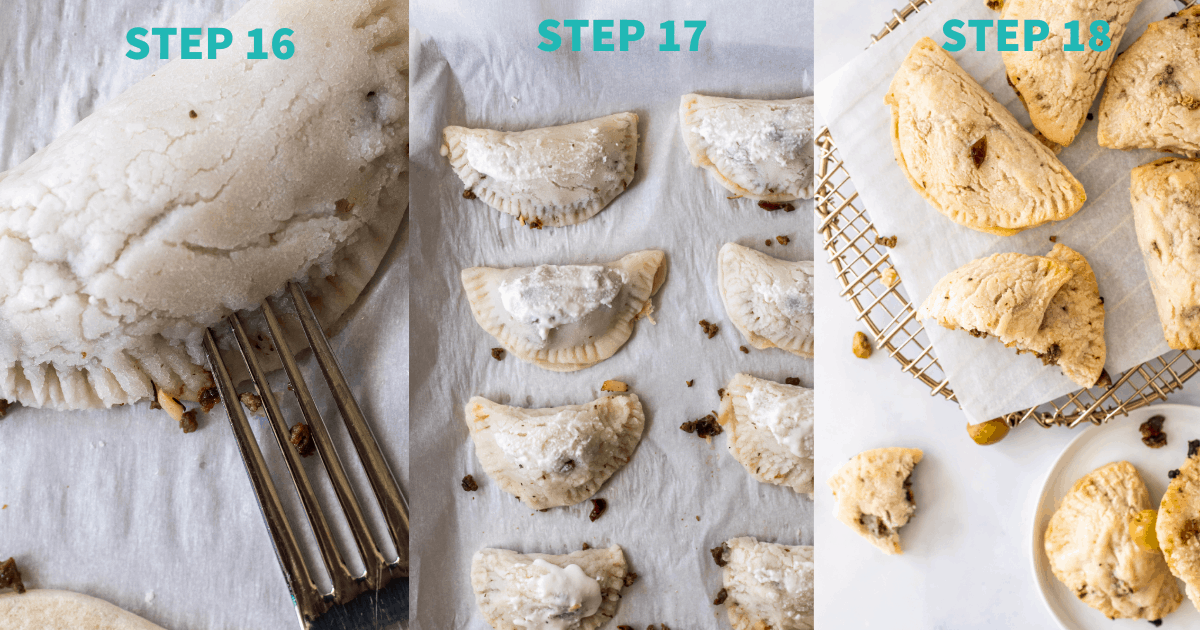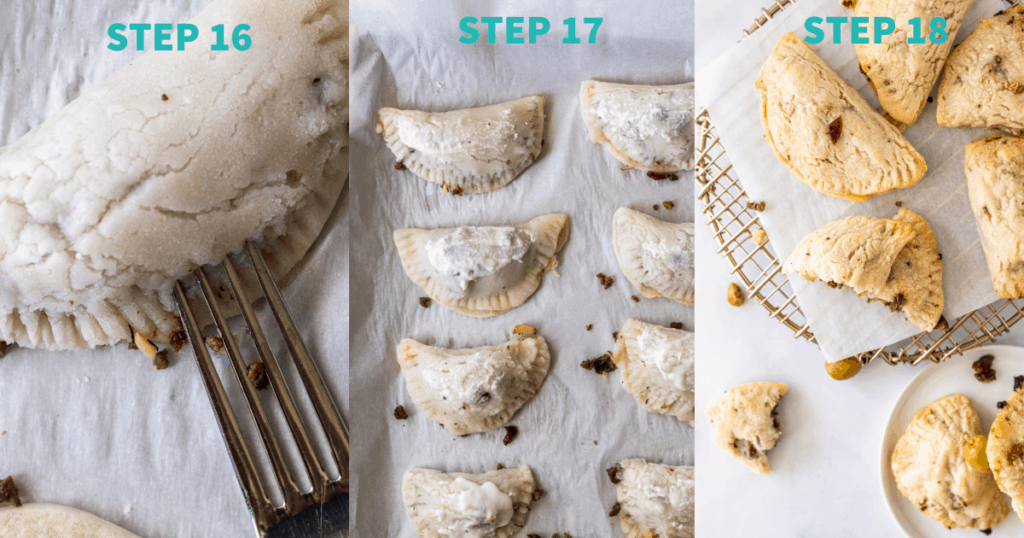 With a fork press down on the edges to seal them shut. Once you have all of your empanadas done, you can do back and fix them if they tore open, use wet fingers to pinch shut holes or scrape leftover batter from the bowl to patch up and holes. Bake at 350F until golden brown!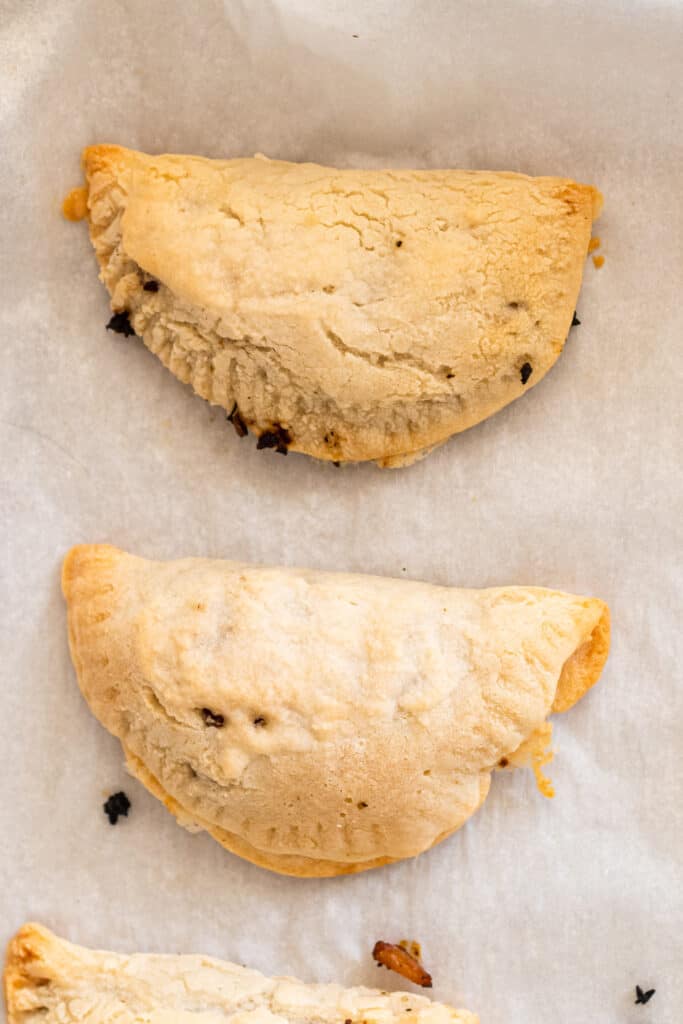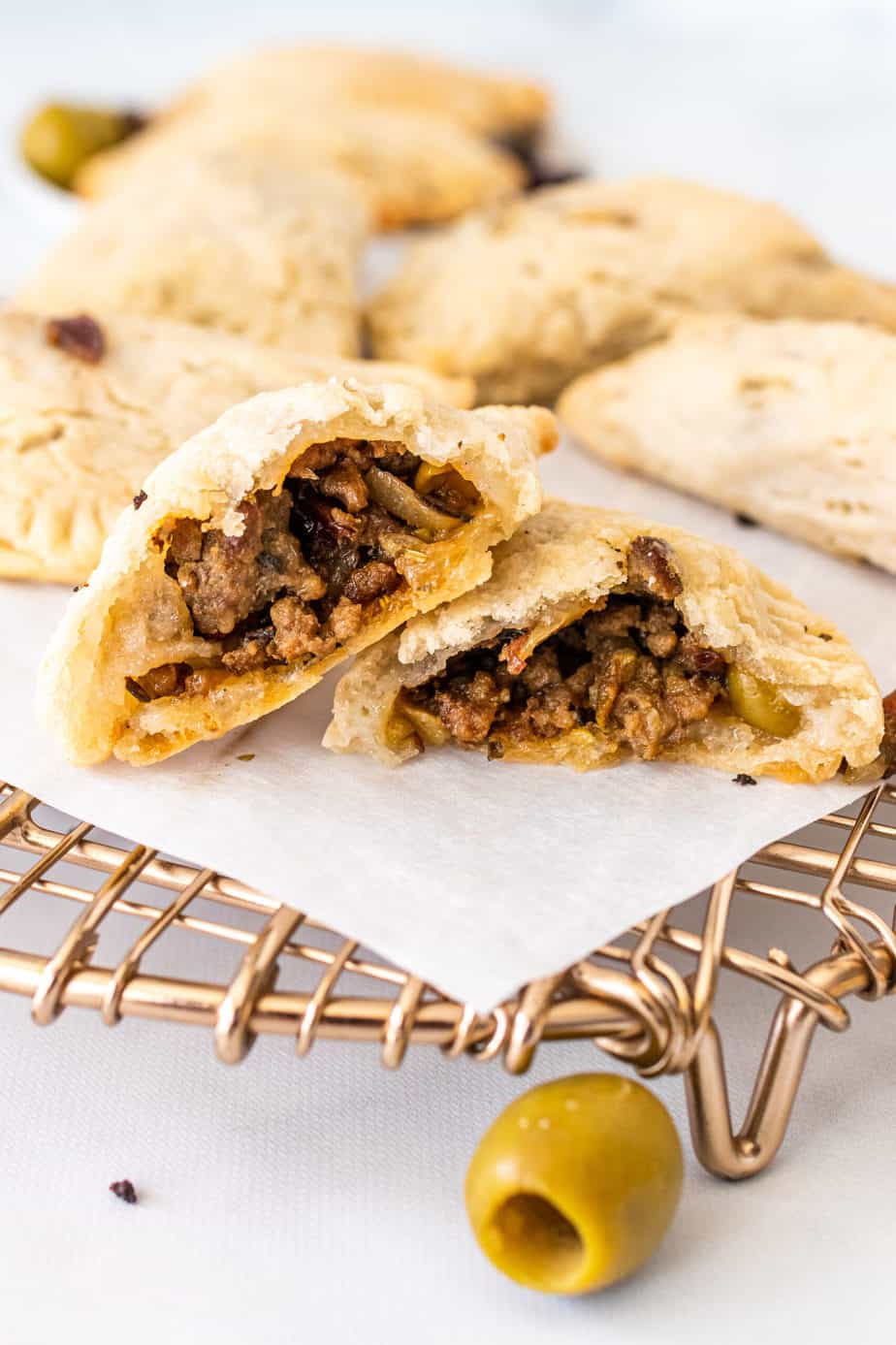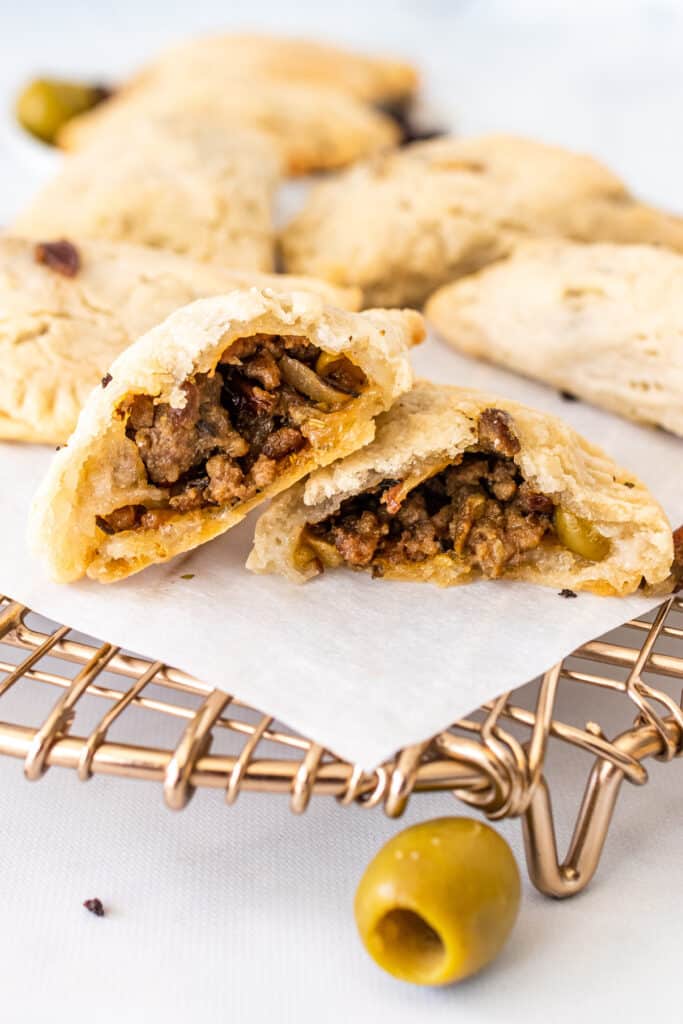 Tips and Tricks
This recipe is forgiving. If your empanadas have lots of little tears in them or aren't closing well, it's ok, they will repair in the oven.
With your fingers or a spoon scrape up any leftover batter from the bowl and blot on any boo's, when they bake it will seal it.
They freeze really well! You can wrap these up in parchment paper and put them in a large ziplock bag and freeze them. When ready to eat just bake in the oven at 350F until warm and toaty.
Work slowly with the pancake batter part of the recipe, I make one at a time because you don't want the dough drying before you can finish shaping your pancake.
Water is your friend. Work with wet fingers to avoid tearing the dough.
You can fill these with anything you'd like! I also like to deglaze the skillet with some lemon juice sometimes for a nice bright flavor!
You can leave the olives and raisins out of that's not your thing.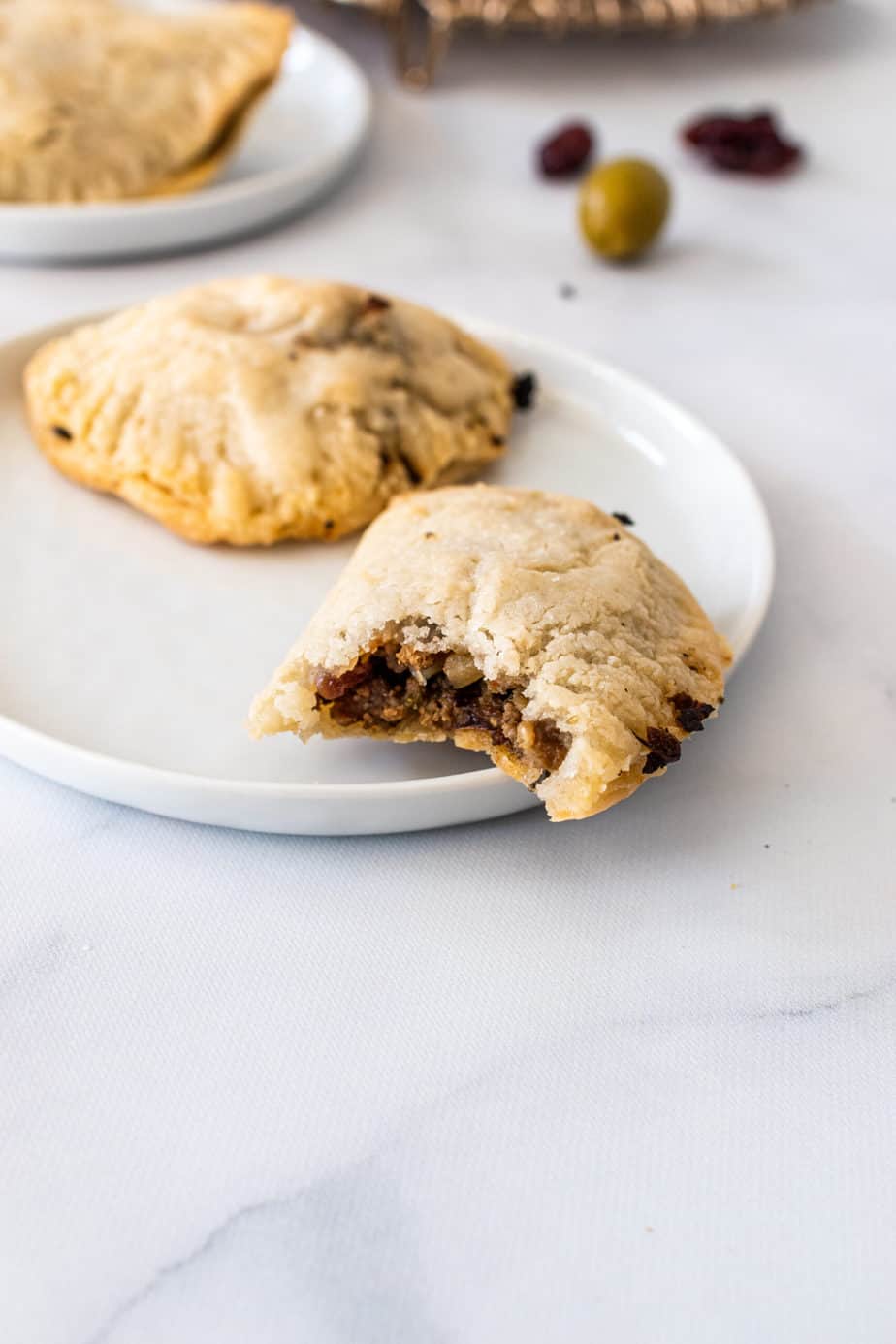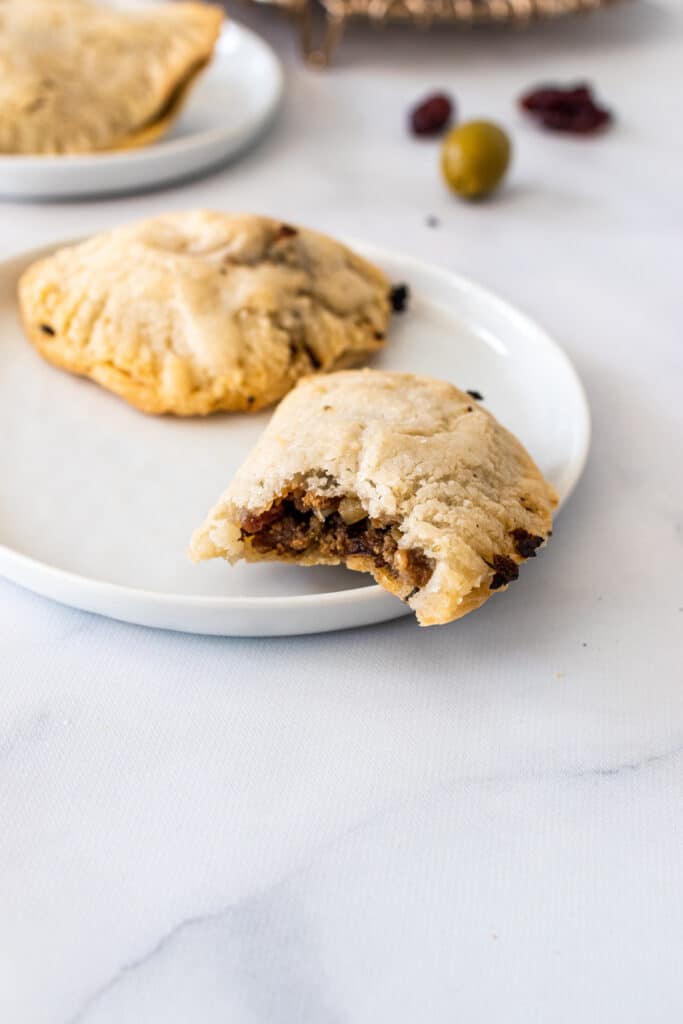 Frequently Asked Questions
What was the other filling, with the turnips this recipe used to have?
Yes, the first version of this recipe used a different filling, I updated it to be more like traditional picadillo for these empanadas, but this is what was in the other version: ground beef cooked, minced onions and garlic, dried cranberries or raisins, diced turnips, turmeric, oregano, green olives, and coconut aminos.
Can I freeze these?
YES! They freeze really well, just bake to reheat.
Can I use arrowroot starch instead of tapioca starch?
I think so!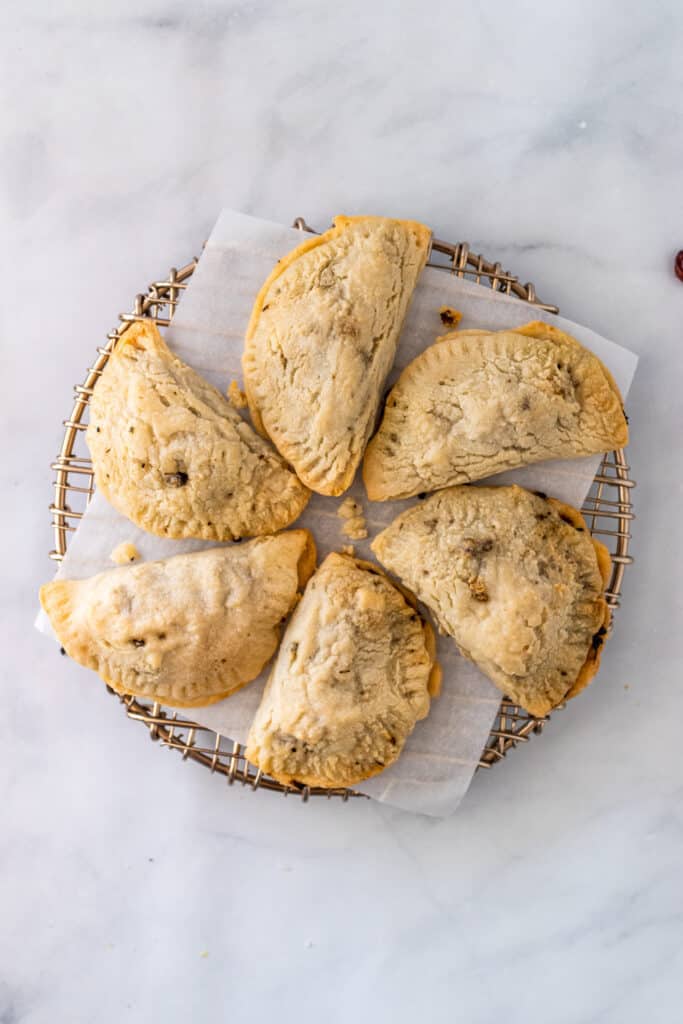 You May Also Like…
AIP Empanadas (Paleo, Gluten Free, Nut Free)
---
Author: Cristina Curp
Prep Time: 30
Cook Time: 40
Total Time: 70
Yield: 15 1x
Category: Snacks and Sides
Method: Baked
Cuisine: Cuban
Diet: Gluten Free
Description
AIP Paleo Empanadas
---
Scale
Ingredients
For Empanada "Dough"
1 cup tapioca flour (up to 2 tbsp more if needed)
1/3 cup coconut flour
10–12oz full fat coconut milk
pinch salt
For Beef Filling
1lb grass fed ground beef
1 turnip
1 small onion
2 garlic cloves
1/2 cup dried cranberries or raisins
1/2 cup pitted, green olives
2 bay leaves
3 tablespoons coconut aminos
1 tablespoon Italian herb seasoning (rosemary, thyme, oregano)
1 tablespoon ground garlic
1 teaspoon sea salt
---
Instructions
Picadillo Filling
Dice onion, garlic, turnip, olives and cranberries or raisins into small pieces.
Heat a large skillet over medium heat, once it comes to temperature lightly oil with avocado oil or coconut oil. 
Add in onions, garlic, and bay leaves. Saute until the onions are translucent.
Add in beef, break it up with the spatula until crumbly, then add in seasoning and stir often until browned. 
Add in cranberries, turnips,  olives and coconut aminos. Lower the heat, stir and cover, then simmer for 20- 30 minutes until the turnips are tender. 
Taste and adjust salt if needed, set aside and prepare to make the dough. 
Make the Empanadas
Pre-heat oven to 350F. Line a sheet pan with parchment paper and keep it by the stove. 
Shake your coconut milk can, if the fat is solidified run the can under warm water until you can shake it and hear the fluid liquid. Whisk all of the dough ingredients together. It will be like pancake batter. If your batter feels a little thin add more tapioca at this point. If it feels thick, add a little more milk.
Heat a  skillet or griddle on medium heat. Once it's hot, lightly grease. 
Pour 1/4 cup of batter to make a 3-4 inch round, try to make them thin and evenly shaped, it helps if your skillet is not slanted to one side. Move skillet around or use a spatula to help shape if needed. I use the same 1/4 cup to pour the batter and at the same time do a gentle dabbing motion in a circle to get the right shape.
Once the edges begin to look just cooked, about 60-90 seconds usually, use a thin spatula to move your half-cooked pancake to the baking sheet. Flip it on the parchment paper so the wet side is facing down.
If the pancake tears when you put the spatula under it, let it cook a little longer.
Place a spoonful of filling in the center, run a moist finger around the inside edges, then with wet fingers fold the pancake over to meet both edges. Use a fork to press them together gently. 
Repeat this until the batter is done and the filling is done. Spray all of them with oil lightly. Bake at 350F for 35-40 minutes. Until edges are golden.
Serve hot or room temperature! Enjoy! 
Recipe Notes:
Take your time with this recipe, relax and have fun. It's really forgiving! 
Read the post for success! 
Nutrition
Serving Size: 1 empanada
Calories: 128.6
Sugar: 1.2g
Sodium: 26.3mg
Fat: 7.3g
Carbohydrates: 10g
Fiber: 1.3g
Protein: 5g