I'm Cuban, like 100% Cuban and I've also been eating Whole30, AIP, Paleo-ish for 8 years. It's about time I share a killer Cuban Picadillo recipe that works for your dietary needs. This dish is already flexible and delicious and here is my authentic as it gets take on it! Yes, I called Mami to ask her for pointers.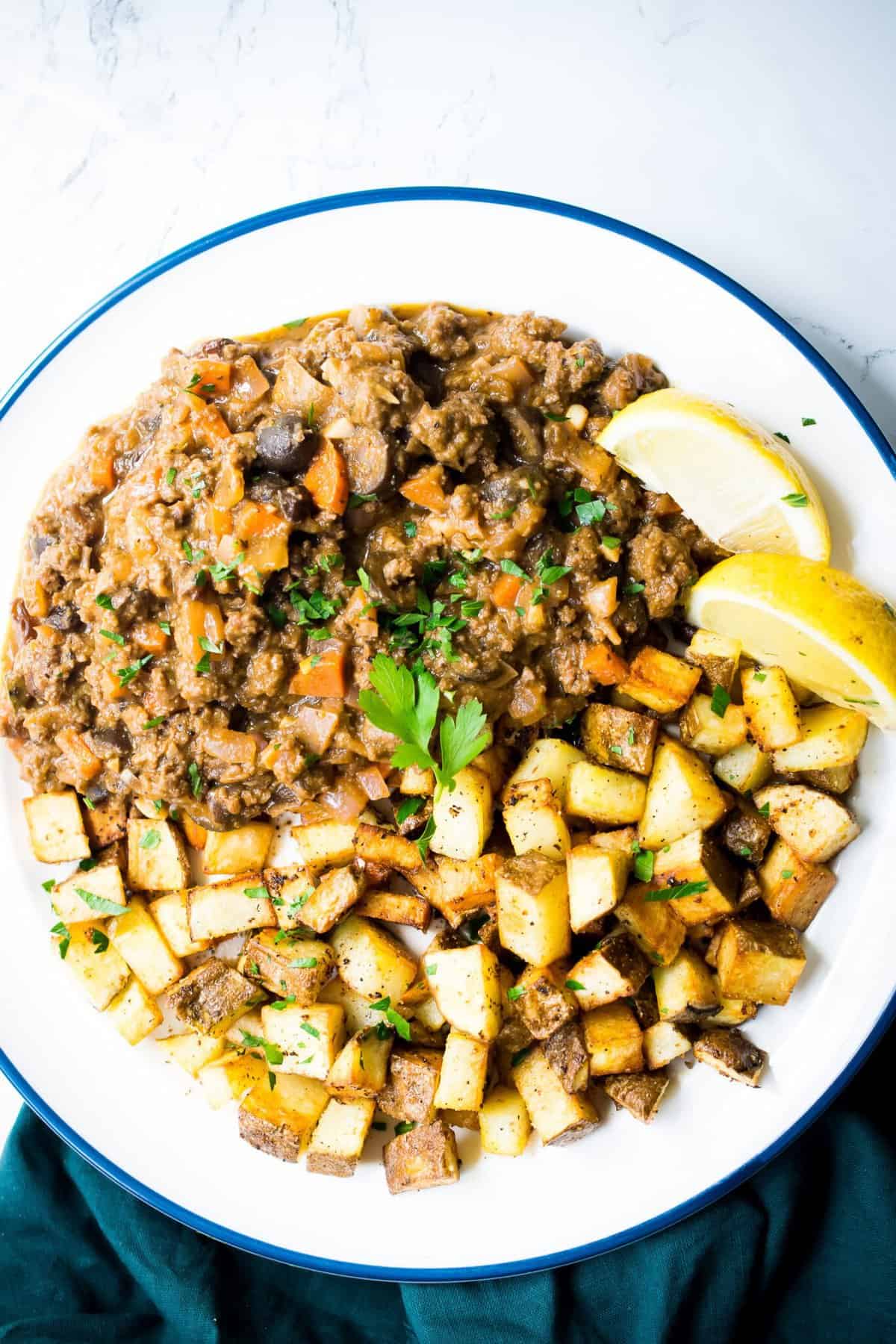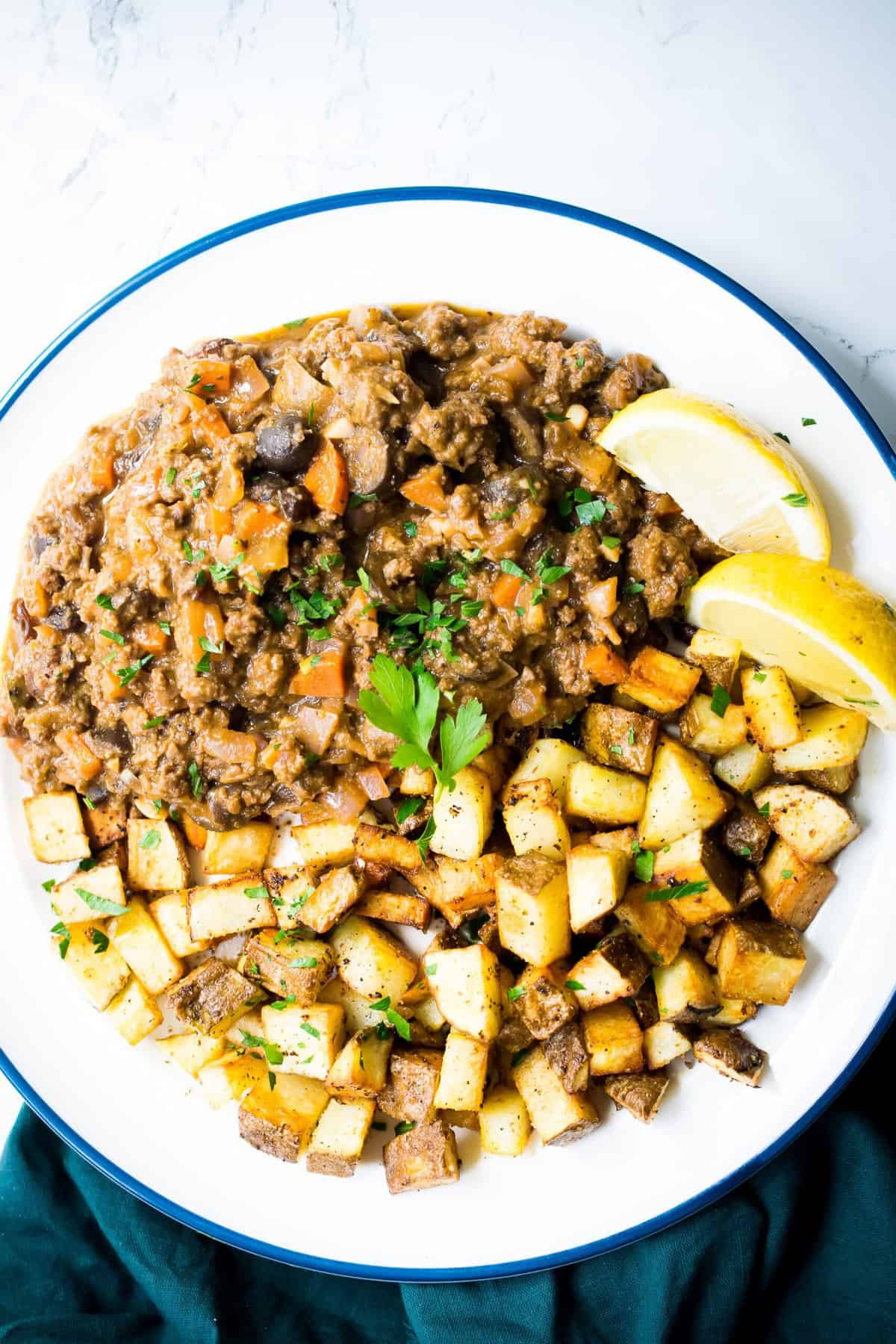 Table of Contents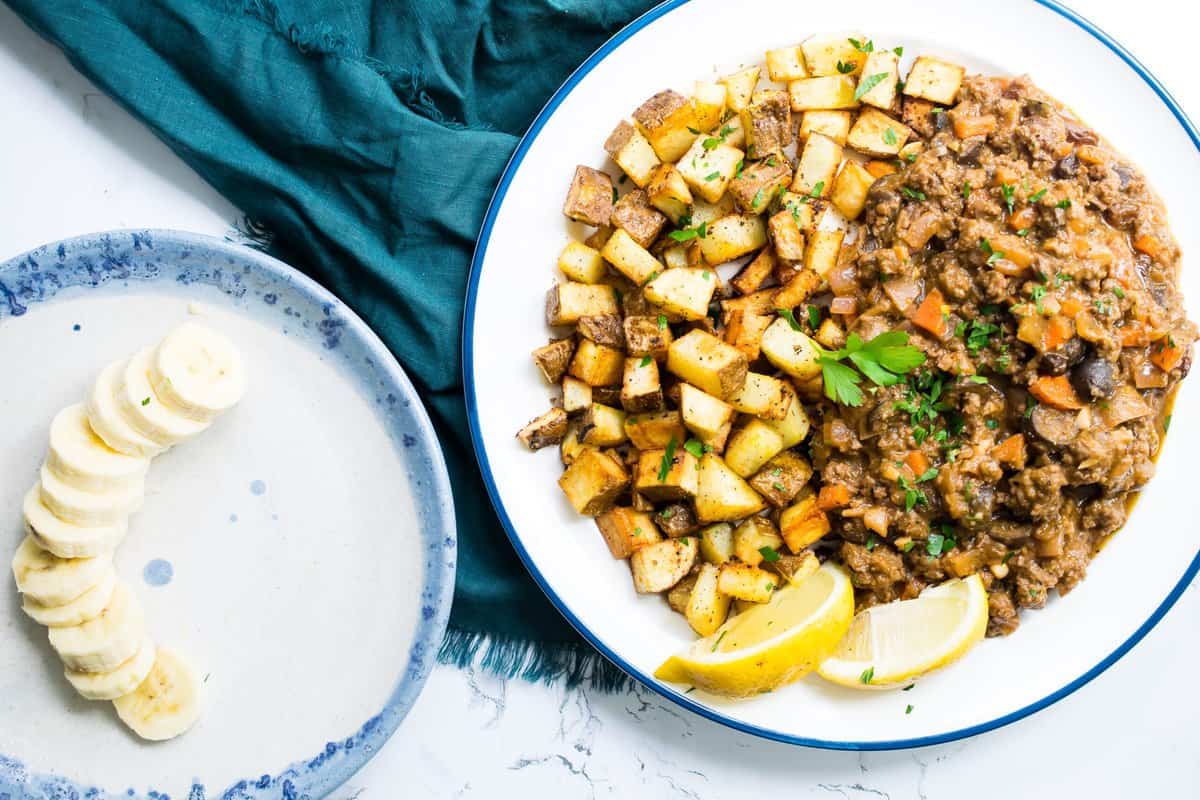 The BEST Cuban Picadillo Recipe
Let's start with authenticity for one! Can't go wrong when you're following mama's recipe. This one pot, saucy ground beef dish is a staple in Cuban culture. I grew up eating it every week. Yes, there are raisins and olives in there, but it works! This dish starts off with a nice saute of veggies for flavor, browned beef, tomato sauce (or nomato sauce), then some white wine (or broth), and finished off with the sweet and salty combination of olives and raisins. Perfect over a bed of rice or with fried plantains.
To keep it Whole30 I served it with crispy potatoes and made some simple modifications. This flexible recipe will share how to make it 100% authentic, then how to make it Whole30 and AIP. That way you can enjoy Cuban Picadillo no matter your dietary needs. Don't forget to serve it with a banana. Just trust me! We eat everything with banana on the side.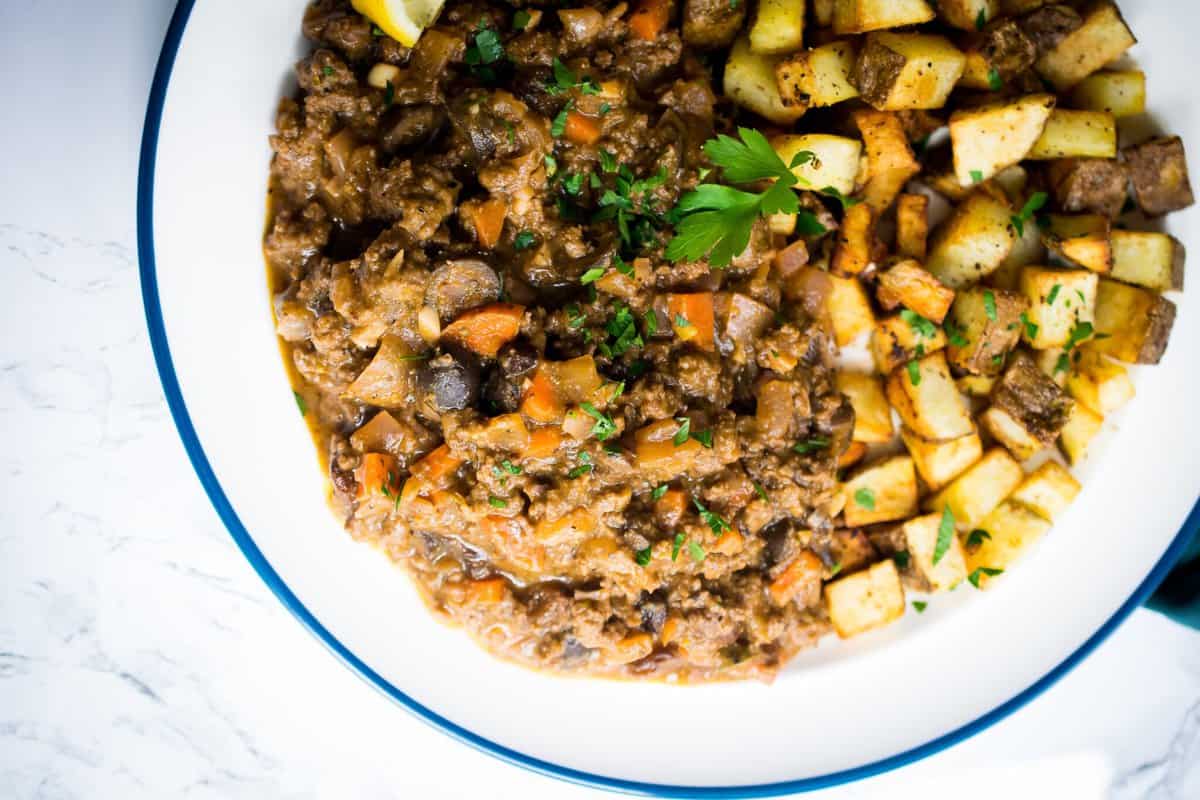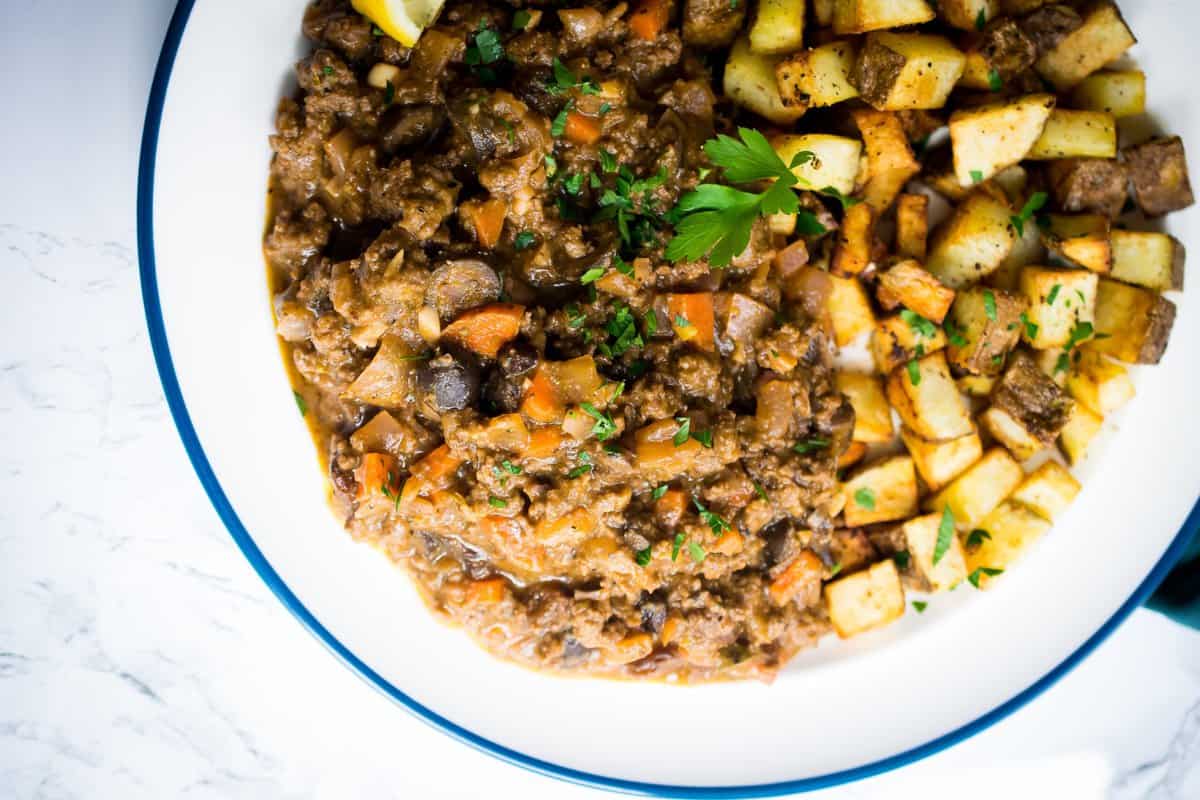 Paleo Cuban Picadillo Ingredients
The ingredients pictures are what I used, keeping it 100% authentic to my family's Cuban Picadillo recipe, except I used carrot instead of red bell pepper. However, I will list and discuss all the alternatives to make this picadillo compliant for Whole30 and AIP as well as the most authentic version ever.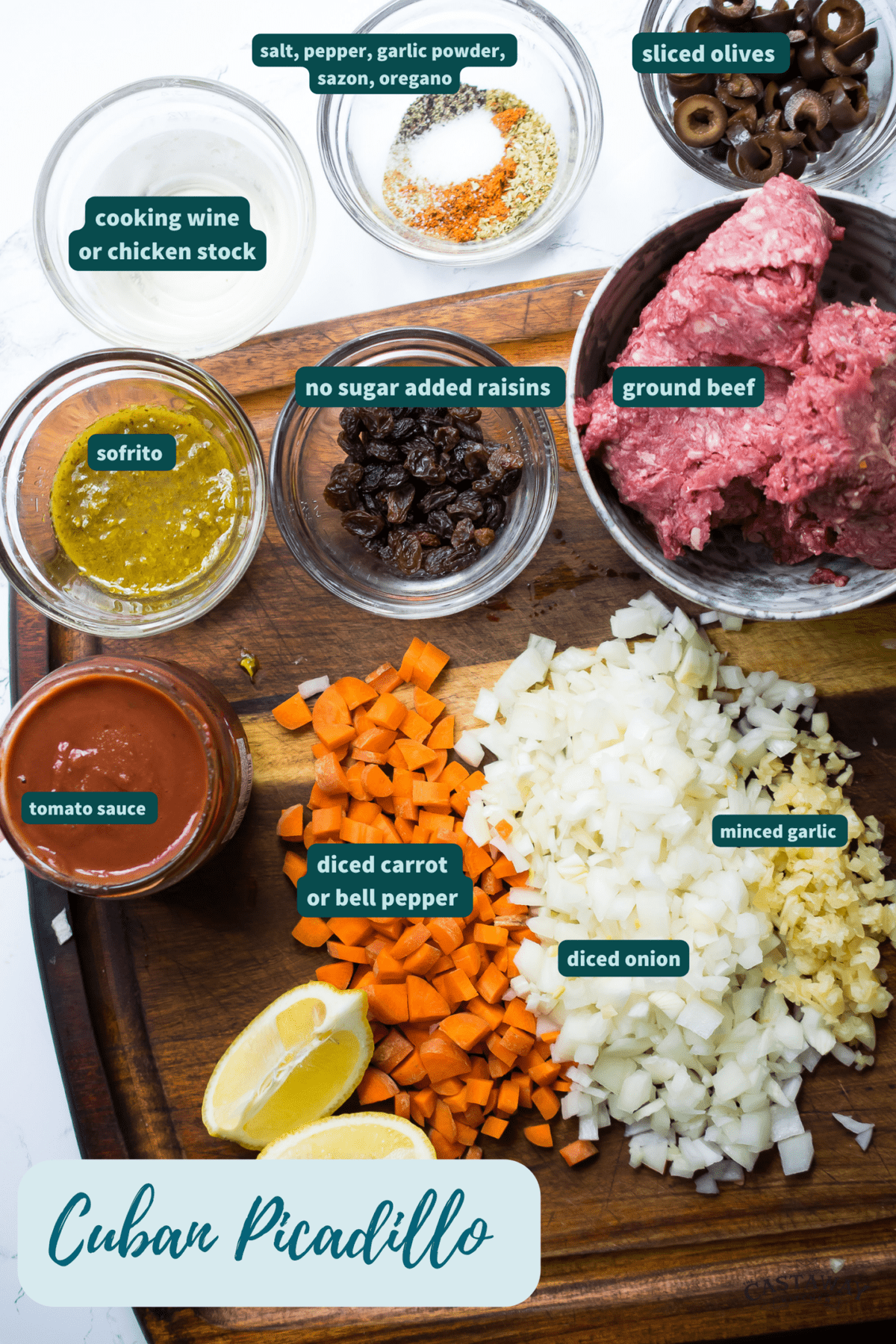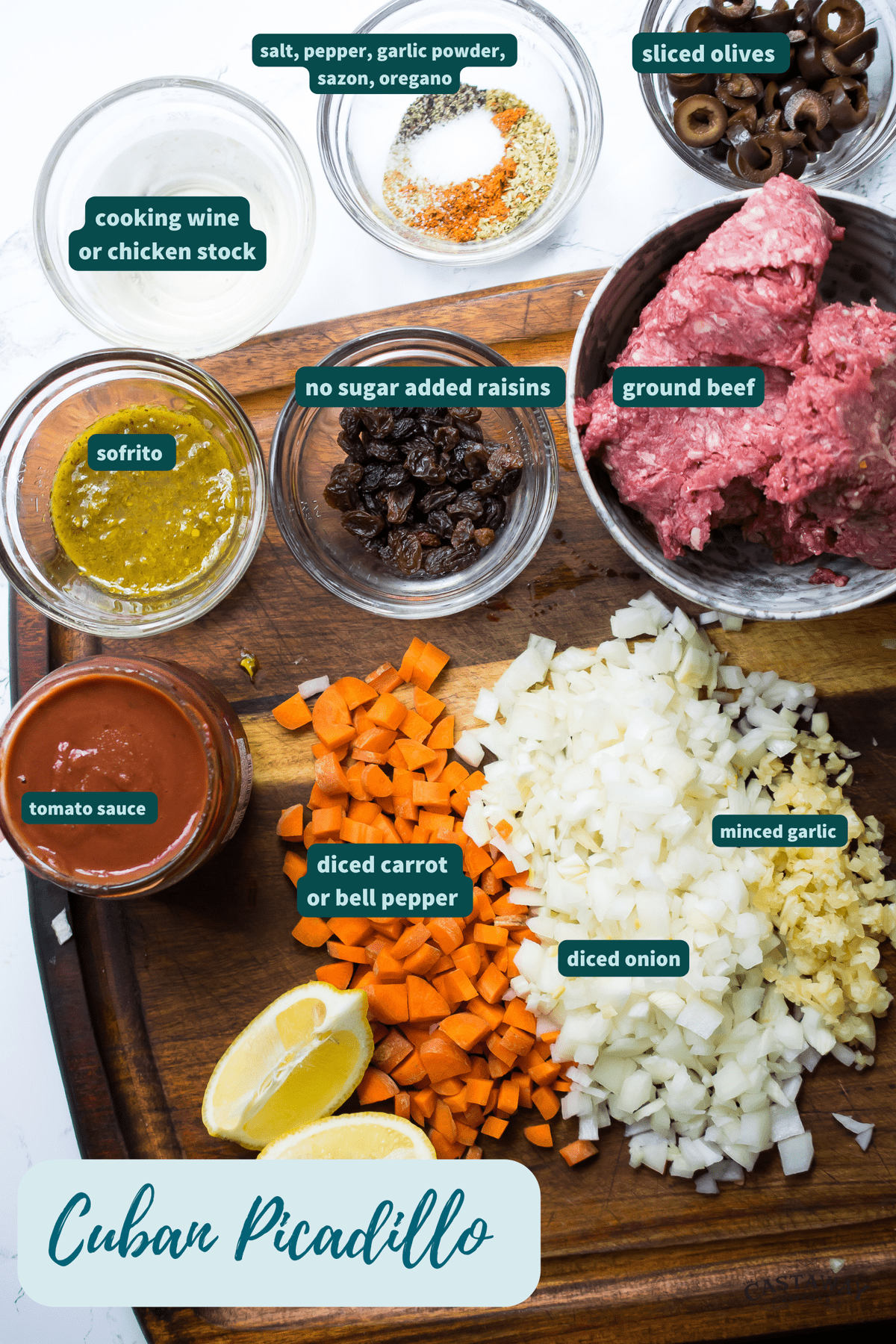 SOFRITO: techinically sofrito is made with the base that is sauteed onions, bellpepper, garlic and bay leaves. I used carrot instead of bell pepper, but you can use either or both. However, I also like to add 1-2 tablespoons of pre-made sofrito by Loisa (you can leave this ingreident out if you don't have any). For traditional Cuban Picadillo use 1 large red bell pepper, 1 yellow onion, 5 cloves garlic and 2 bay leaves. This also works for Whole30. For AIP, use the carrot instead of the bell pepper.
GROUND BEEF: for picadillo you need ground beef, you can use any kind you like, I'm partial to 85% lean and grass fed. When I'm on the mainland I always source Butcher Box ground beef. Here in Hawai'i I'm getting my beef from Doubl D Ranch.
TOMATO SAUCE: You're going to need about 1 cup of tomato sauce, or if you're making this AIP or nightshade free, you can use my Legit Nomato sauce!
SAZÓN: Sazón is a red seasoning blend that's actually nightshade free, the red color comes from achiote, but it's not spicy. You can leave this out, but I love the color it adds. I also get this from Loisa because it's organic and without additives.
VINO SECO OR BROTH/ LEMON: Traditionally you need a dry white wine, and I love the flavor this adds. If you're making it AIP, you can keep the white wine because the alcohol cooks off. For Whole30, however, you can't use wine, so use bone broth instead with 1/2 a lemon squeezed in.
OLIVES: Traditionally you would use green olives stuffed with pimento, however, I don't like those, so I used sliced black olives, I like the Lindsay organic brand.
RAISINS: I know raisins in savory dishes can be controversial but they really work in this recipe! Look for raisins without added sugar.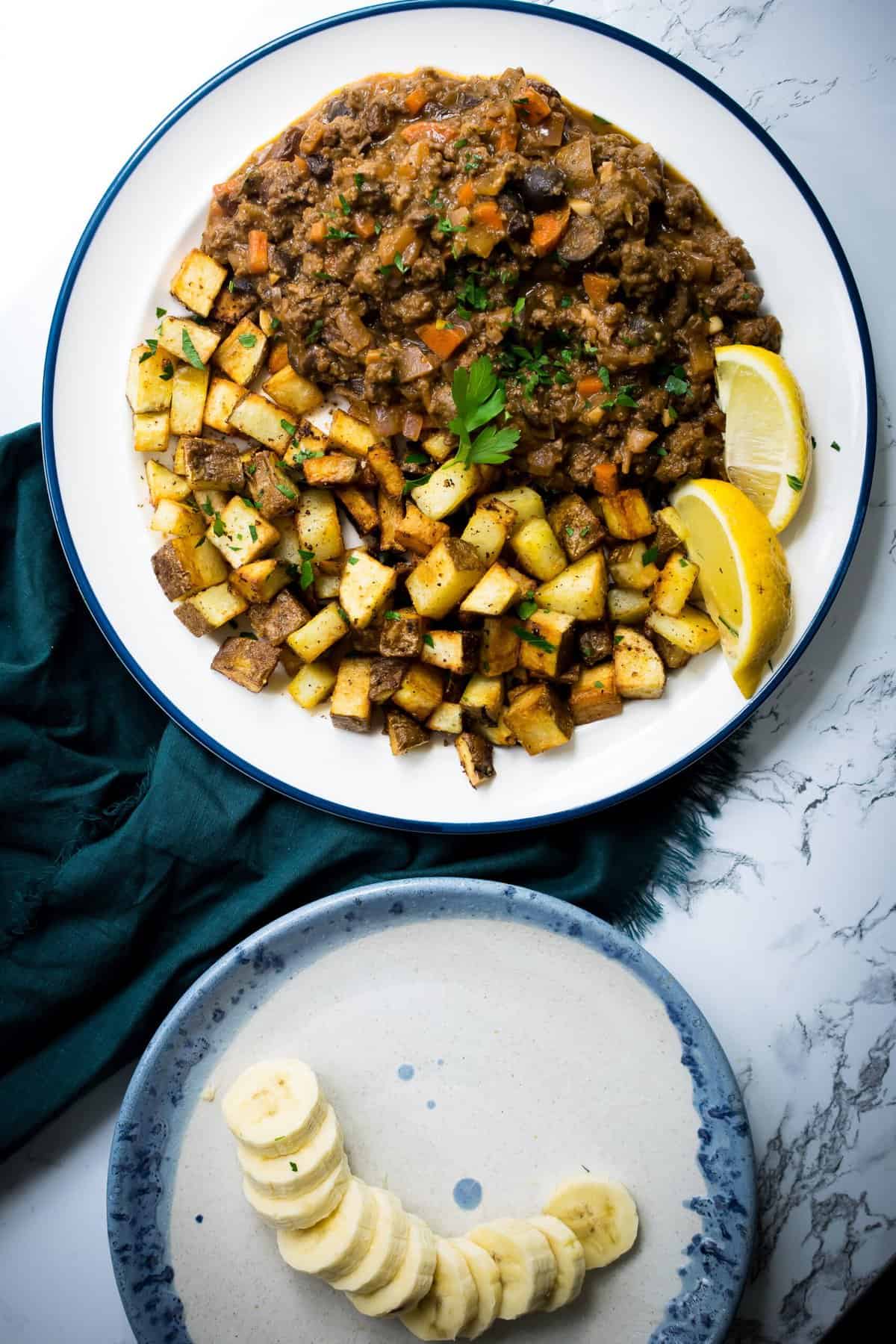 Step by Step Picadillo
This is a one pot dish that comes together in less than 30 minutes! Bonus it makes a lot so it's perfect for meal prep or to feed the entire family. Always start any recipe by preparing the ingredients, this is called the mis en place.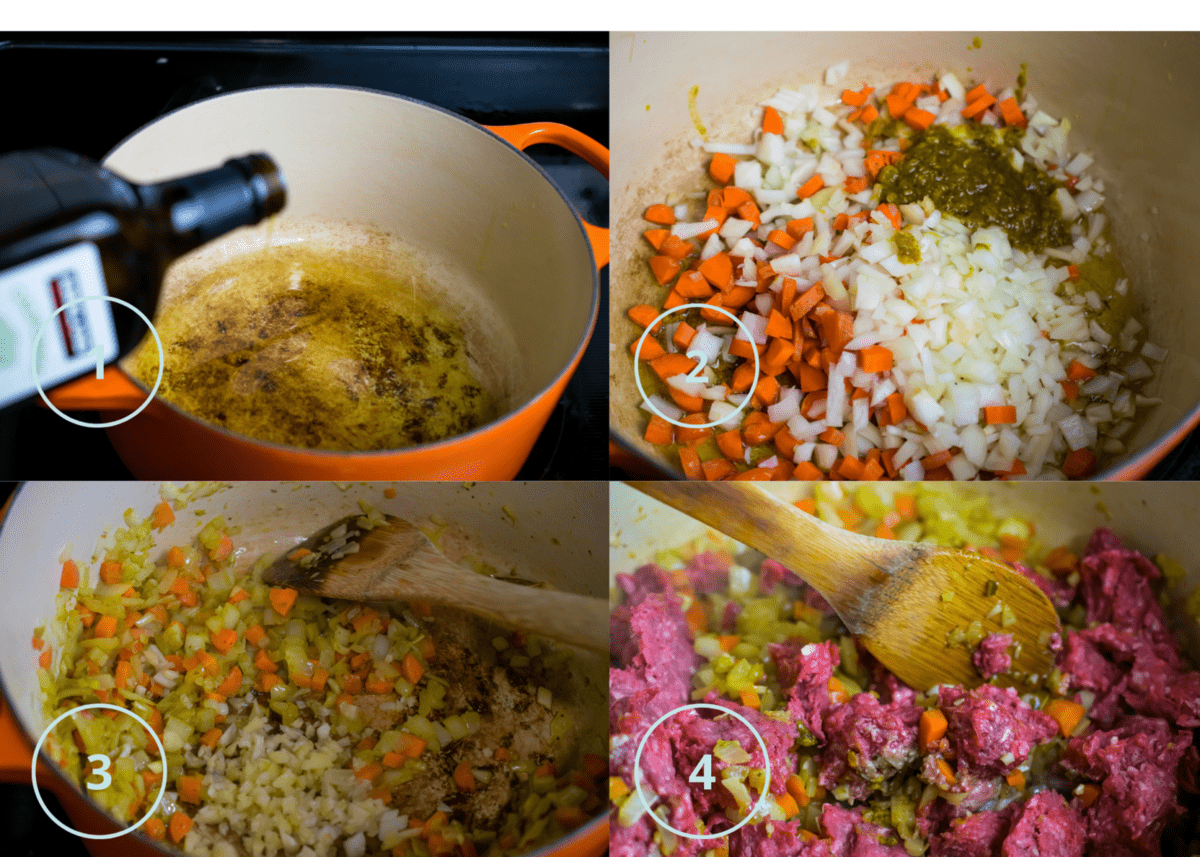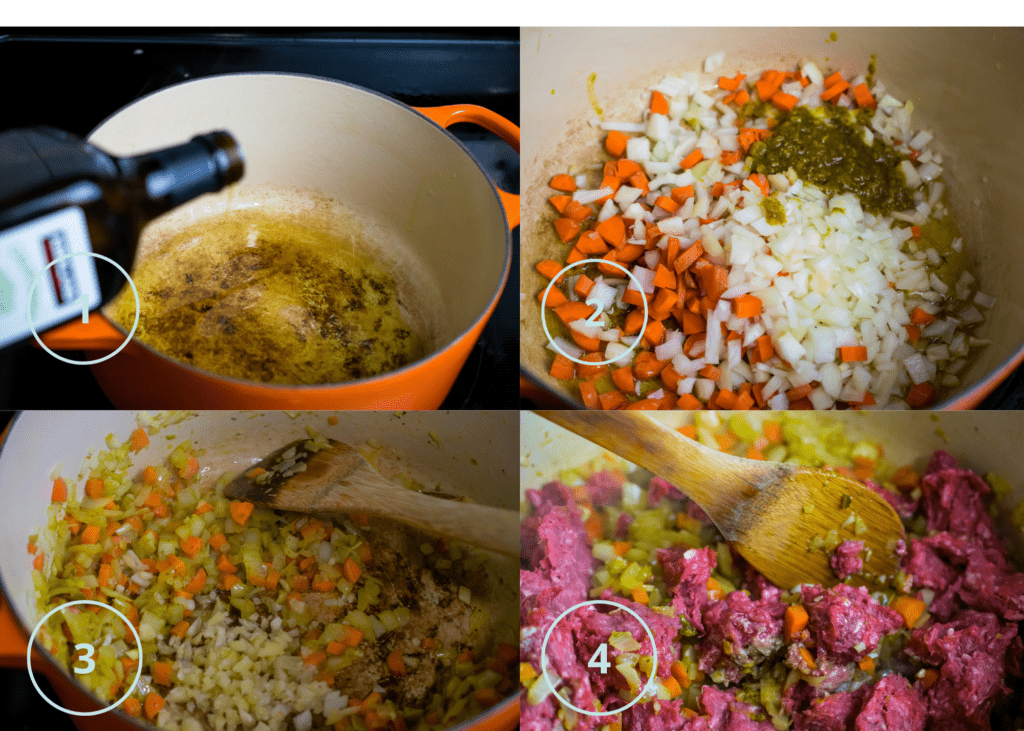 Start by heating olive oil in a large skillet or pot. I like using my enamled cast iron for this.
Add in the onion, bell pepper (or carrot), bay leaves and sofrito. Saute unti tender and aromatic.
Then add in the garlic and stir well.
Break apart the ground beef and you add it in and cook, breaking it up, until browned.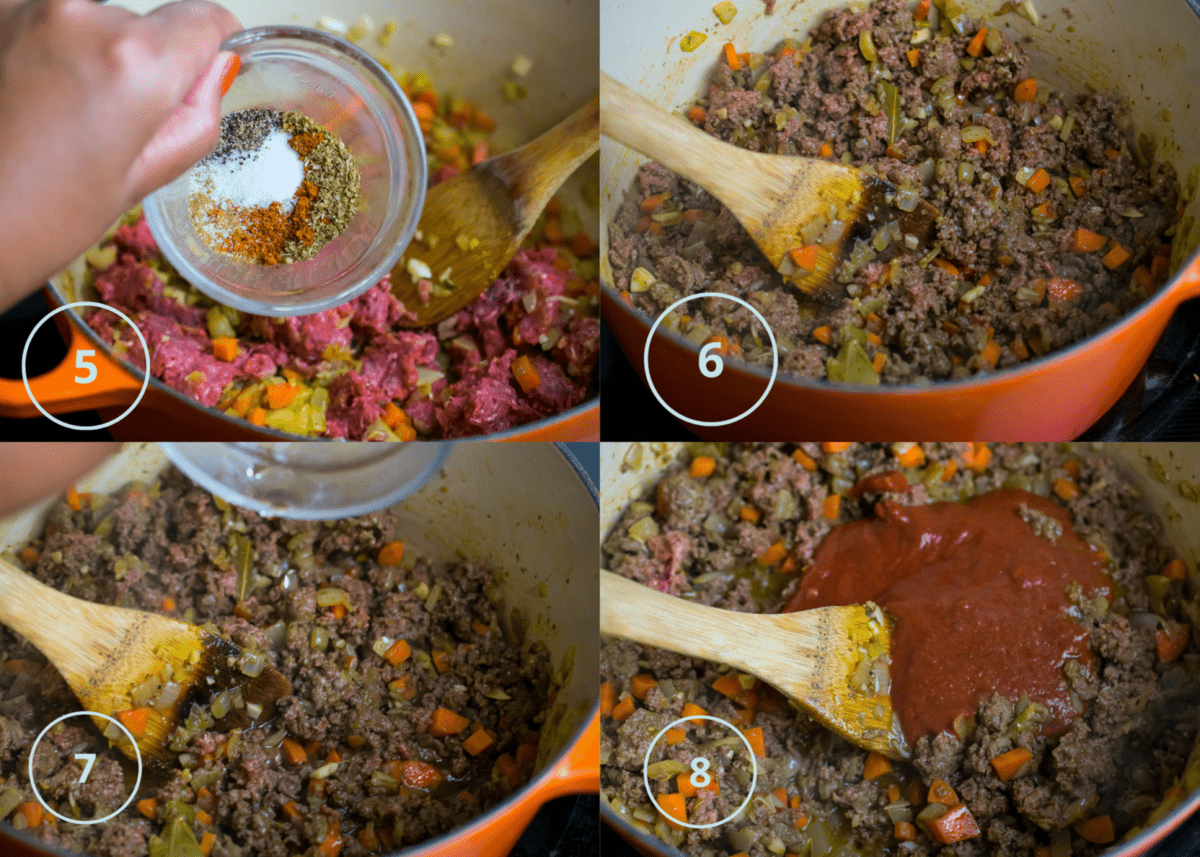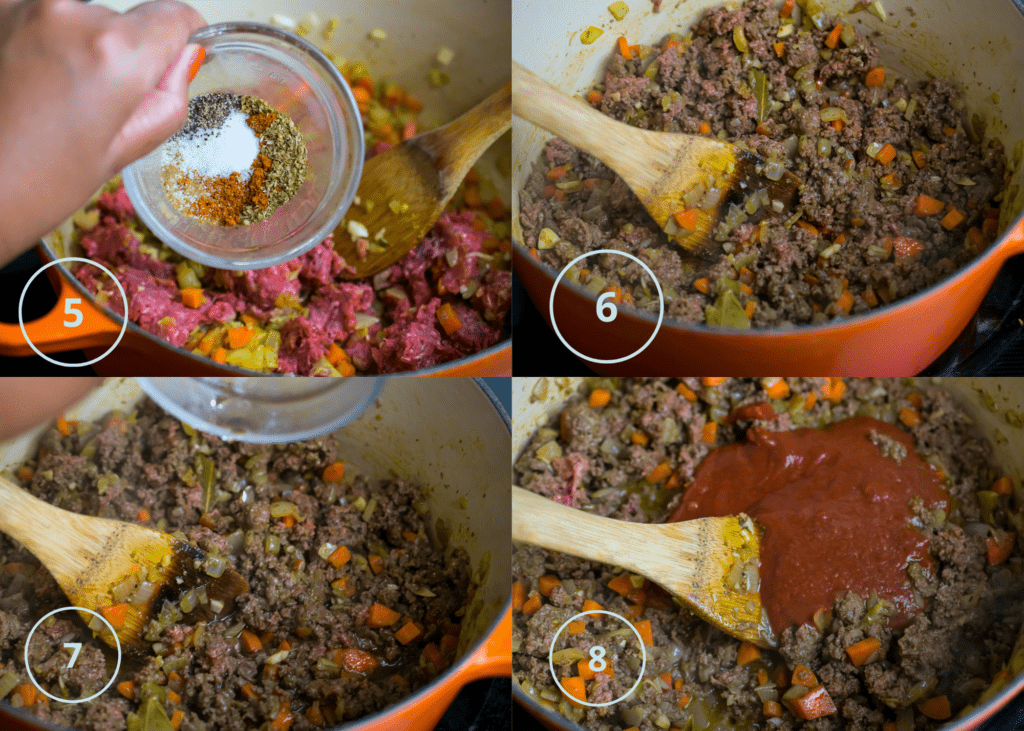 Add in all of the dry seasonigns to the ground beef mix and stir well.
Deglaze the pot with the white wine (or the broth and lemon). Stir well, scrapping the bottom of the pot.
Add in the tomato (or nomato) sauce and bring to a simmer.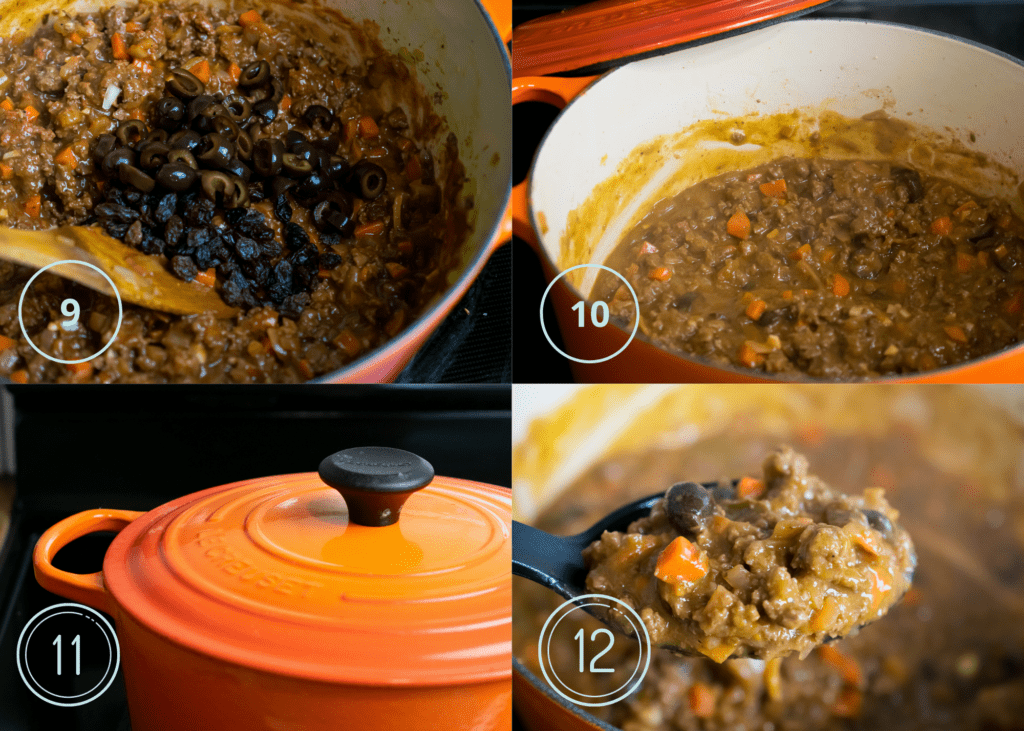 Mix in the olives and raisins and mix well. Bring to a simmer.
Lower the heat to low and cover for 10-15 minutes.
Open the lid, the mix should be saucey, not dry. You can add more tomato sauce or broth if needed.
Taste and adjust salt as needed. Serve hot! Cubans serve this with white rice and plantain or banana on the side. For Whole30 you can do crispy potatoes (pictured), riced cauliflower, or tostones.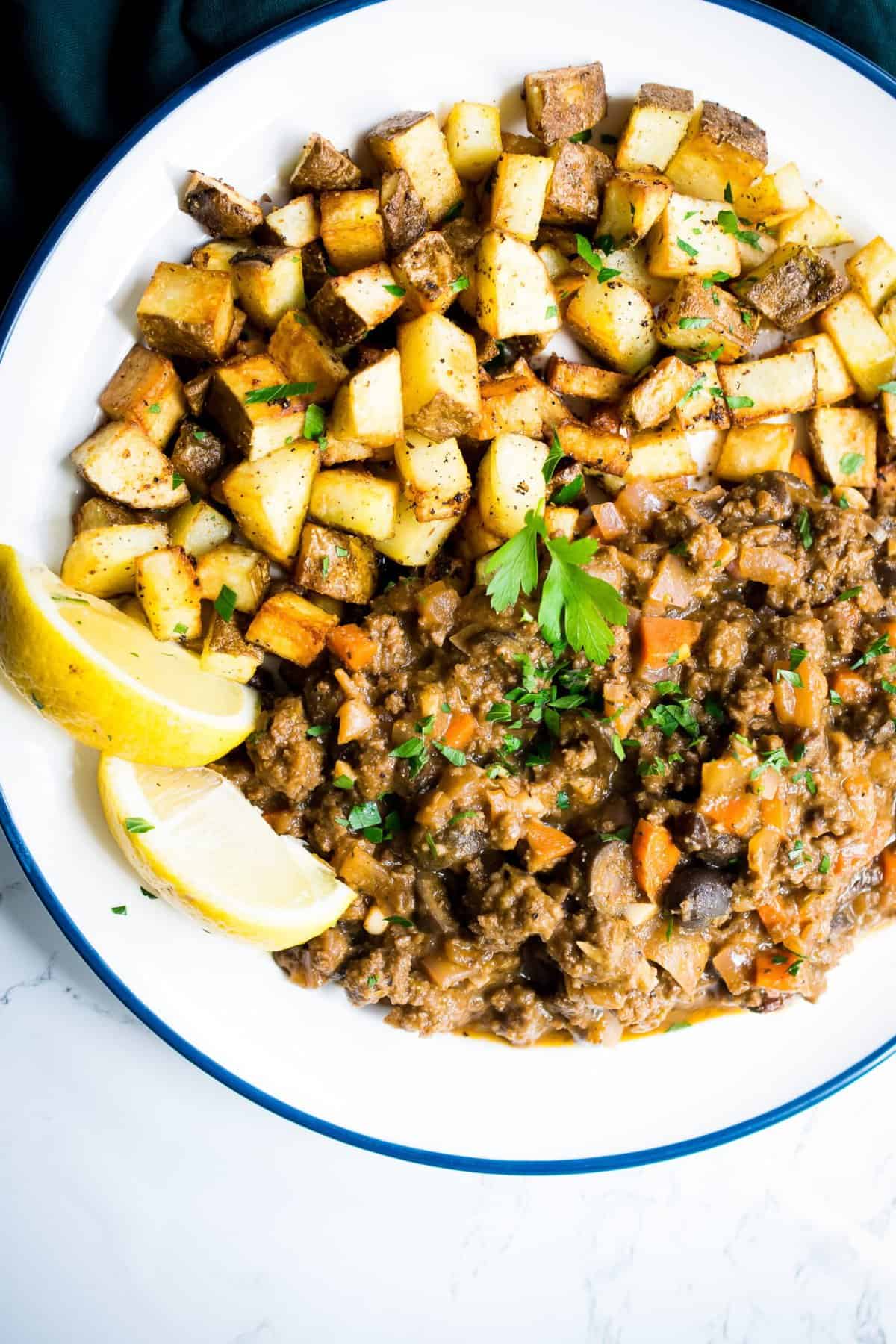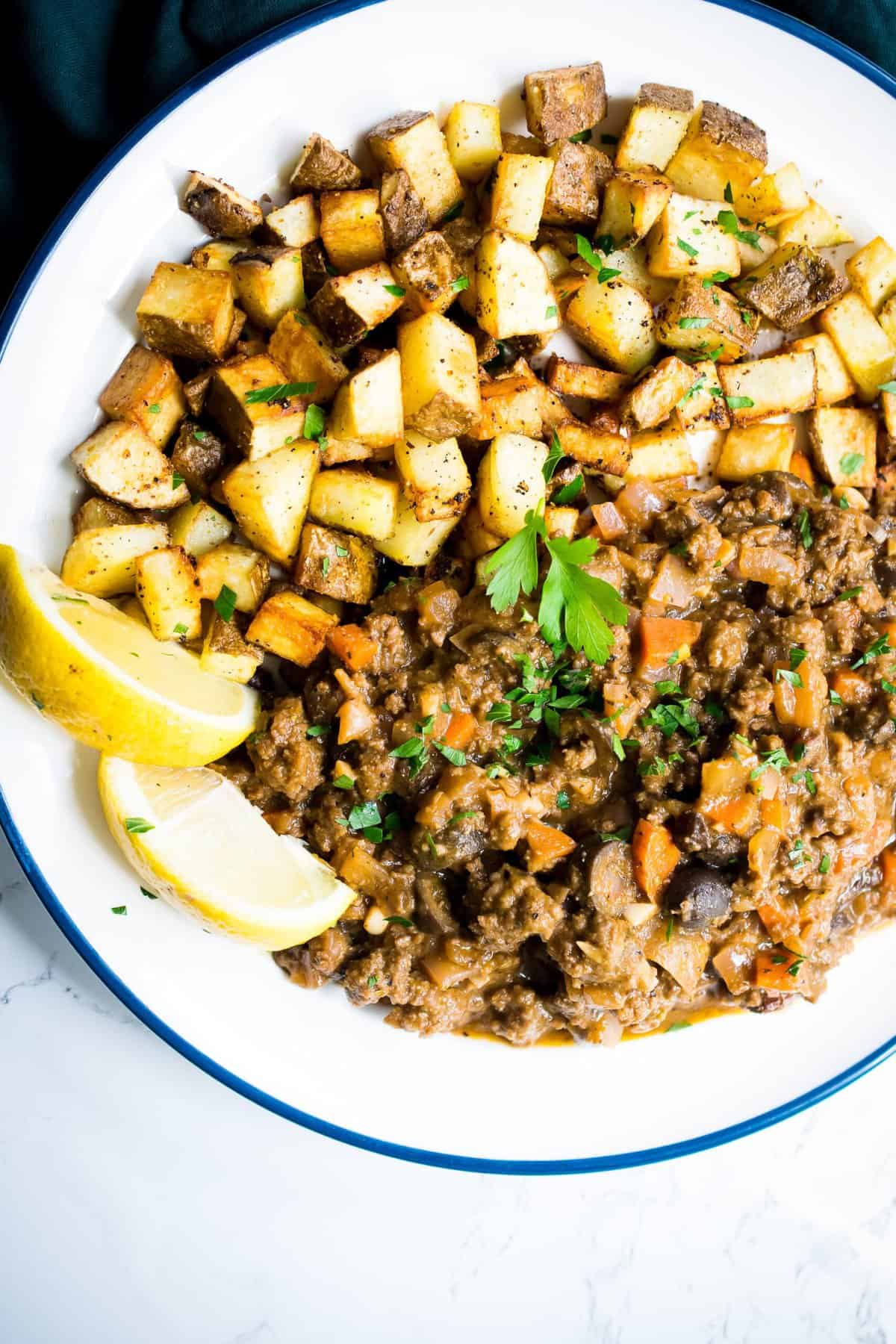 Cuban Cooking Questions?
Can I use skip the tomato?
I highly suggest you use my legit nomato sauce, if you're tomato free. If not use it, the flavor needs it.
Can I skip the olives?
Yes.
Can I add potatoes?
Yes! Some people add diced potato to their picadillo. They add it in with the sofrito.
More Cuban Inspired Recipes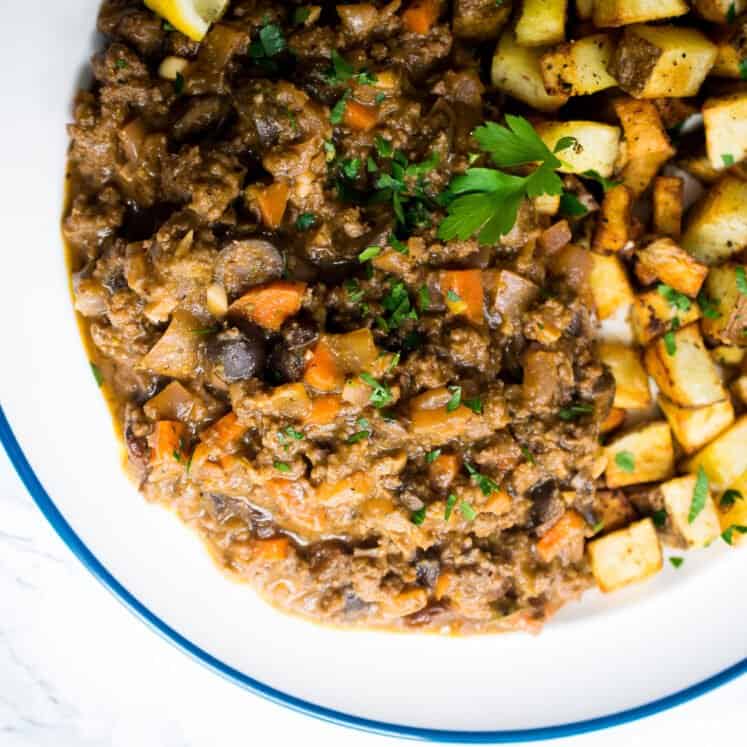 Cuban Picadillo (Whole30, AIP friendly)
---
Author: Cristina Curp, FNTP
Prep Time: 8 minutes
Cook Time: 20 minutes
Total Time: 28 minutes
Yield: 5 servings 1x
Category: Entree
Method: Stove Top
Cuisine: Cuban
Diet: Gluten Free
Description
A saucy, seasoned, sweet and savory ground beef dish that's perfect for any occasion.
---
Scale
Ingredients
2 tablespoons olive oil
1 large yellow onion, diced
1 red bell pepper (or 2 carrots), diced
2 bay leaves
2 tablespoons Sofrito (optional)
5 cloves garlic, minced
1 pound ground beef
1 1/2 teaspoons salt
1 teaspoon ground black pepper
1 teaspoon unsalted Sazón
1 teaspoon dried oregano
1/2 teaspoons ground cumin
1/2 cup dry white wine (or bone broth + lemon juice for Whole30)
10 ounces tomato sauce (or Nomato Sauce)
1/4 cup raisins (no sugar added)
1/2 cup sliced olives (green, black or stuffed)
---
Instructions
Heat a heavy bottomed pot over medium heat. Drizzle in the olive oil and let it heat up.
Add in the onion, pepper (or carrot) and bay leaves, as well as the sofrito. Saute until tender, stirring occasionally. Stir in the garlic.
Add in the ground beef and break it apart. Then add in all of the dry seasonings. Keep cooking, breaking down the beef, until browned and crumbly.
Deglaze the pot with the wine (or broth), scrapping the bottom of the pot. Then stir in the tomato sauce and bring to a simmer.
Mix in the olives and raisins, and stir well. Cover, lower the heat and cook here for 10 minutes.
Open the lid. Everything should be saucy, tender and well combined. Taste it, adjust salt as needed. If you find it not saucy enough, add in a bit more broth.
Serve hot, garnish with cilantro, lemon or limes and serve over rice, with potatoes or fried plantains.
Recipe Notes:
To make this dish elimination phase compliant do the following:
use carrots instead of bell pepper
omit the sofrito, sazon, cumin, and black pepper. Double the garlic and oregano. 
use my legit nomato sauce instead of tomato sauce
Nutrition
Serving Size: 1 cup
Calories: 443
Fat: 29g
Saturated Fat: 4g
Unsaturated Fat: 5g
Carbohydrates: 24g
Fiber: 4g
Protein: 21g
Keywords: Cuban Picadillo Paleo