Summertime = Anti-Inflammatory Smoothie time. Refreshing, energizing, and ready in 5- this bright and tropical smoothie is just what you need to keep going this season. Filled with anti-inflammatory ingredients to support your body in feeling good, this one is quickly becoming a daily favorite.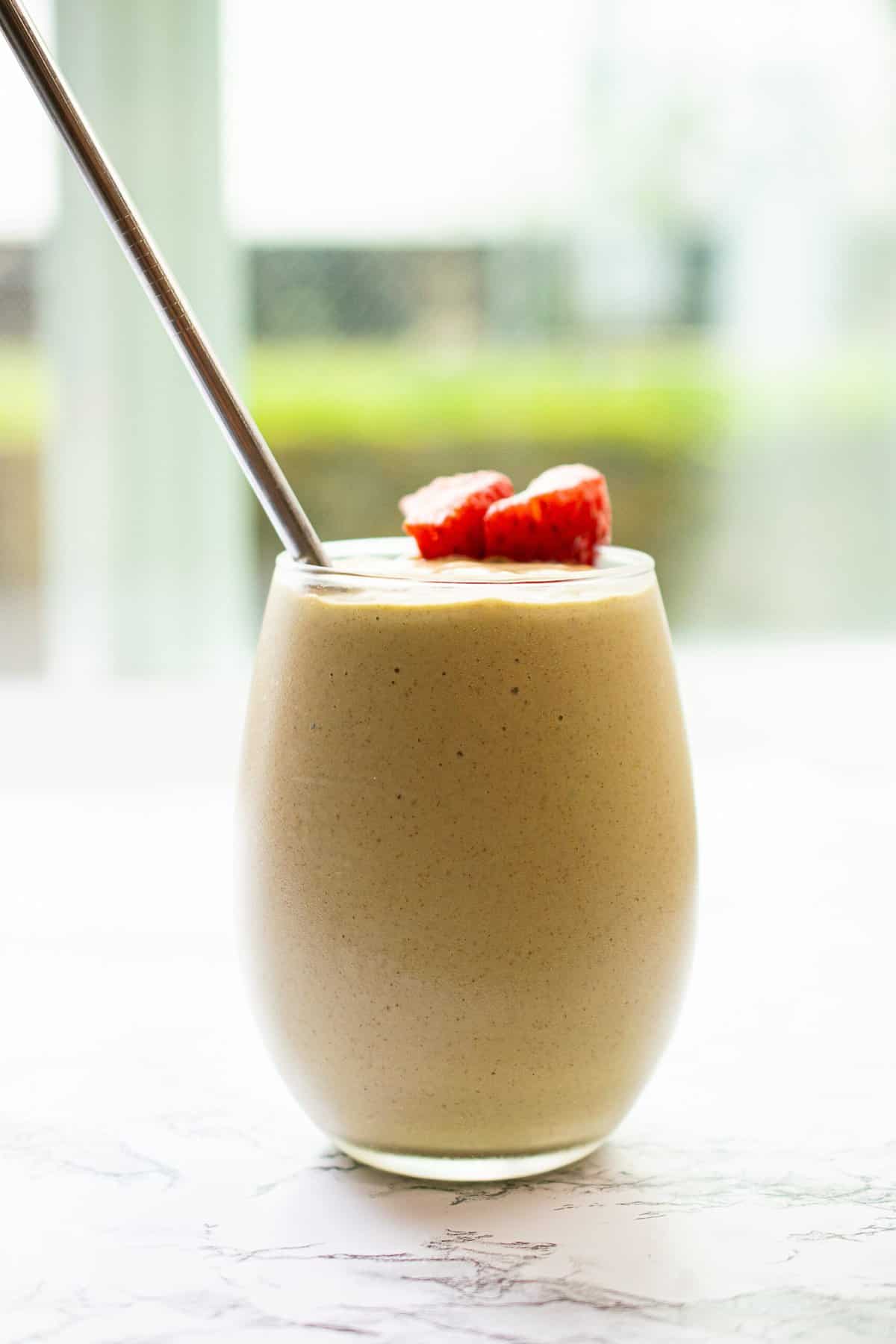 Table of Contents
The Secret to Anti-Inflammatory Goodness
Smoothies can be a hit or miss for me. Even though I like them, I don't tend to make them that often… that is, until I put together this combination and fell in love. This anti-inflammatory smoothie has become an almost daily creation that keeps me feeling refreshed, invigorated, and supported.
A delicious blend of Omega-3 fatty acids, anti-oxidants, Vitamin C, and Bromelain- an enzyme in pineapple which triggers your body's ability to fight pain and reduce swelling– this drool-worthy smoothie is a powerhouse of both immune & anti-inflammatory support.
The flavor is bright, tropical, and fairly mild. It brings on the summer vibes without being too overpowering. It's also a really good way to get some protein powder in. This smoothie blends well with both paleopro and active stacks protein powder!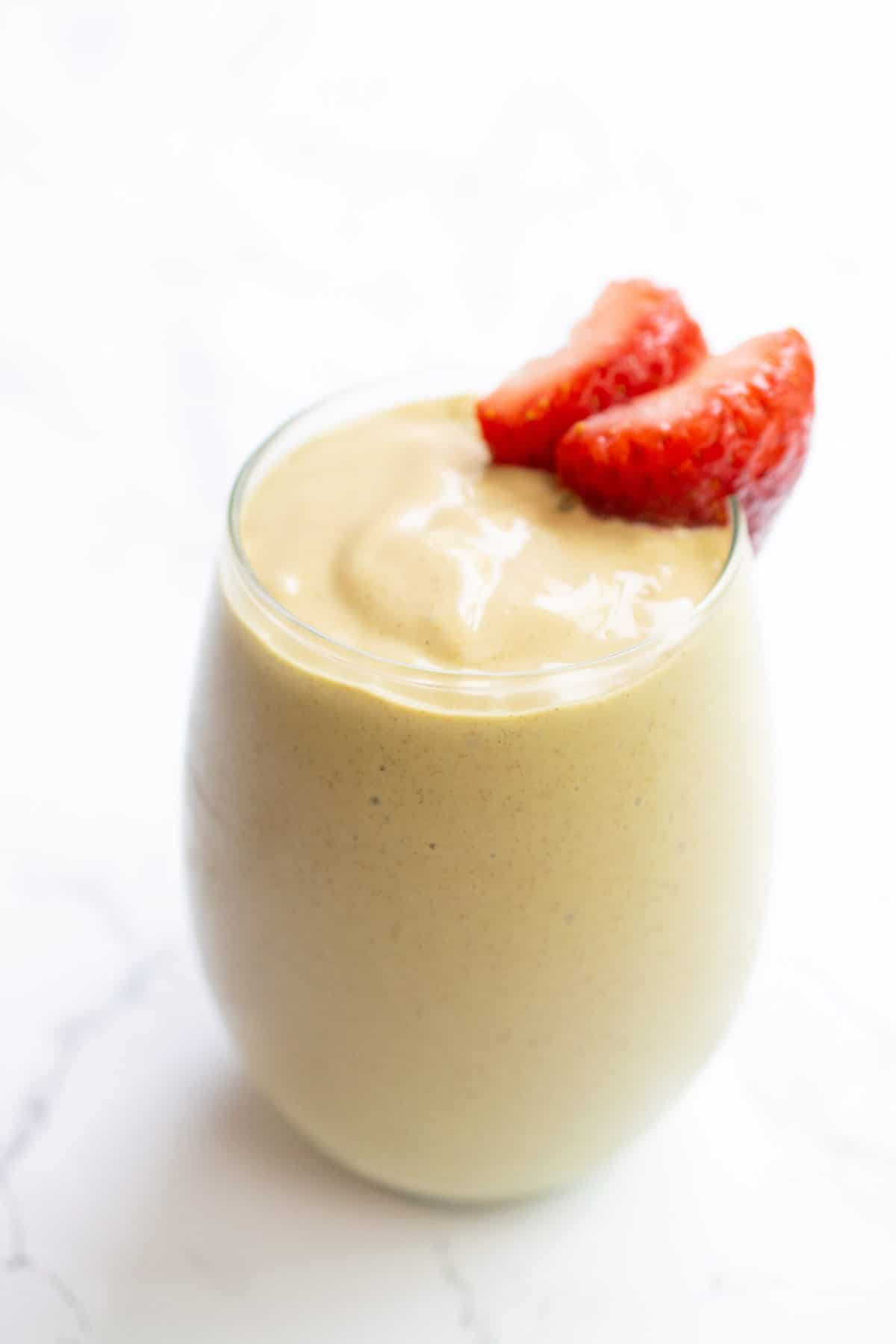 Grab Your Anti-Inflammatory Ingredients!
A great way to make sure you always have smoothie ingredients on hand is to buy them frozen and keep a stash in the freezer. Often this can save you some money and it also keeps fruits & veggies from going bad before you're ready to use them. Alternatively, you can buy ingredients in bulk and freeze them yourself!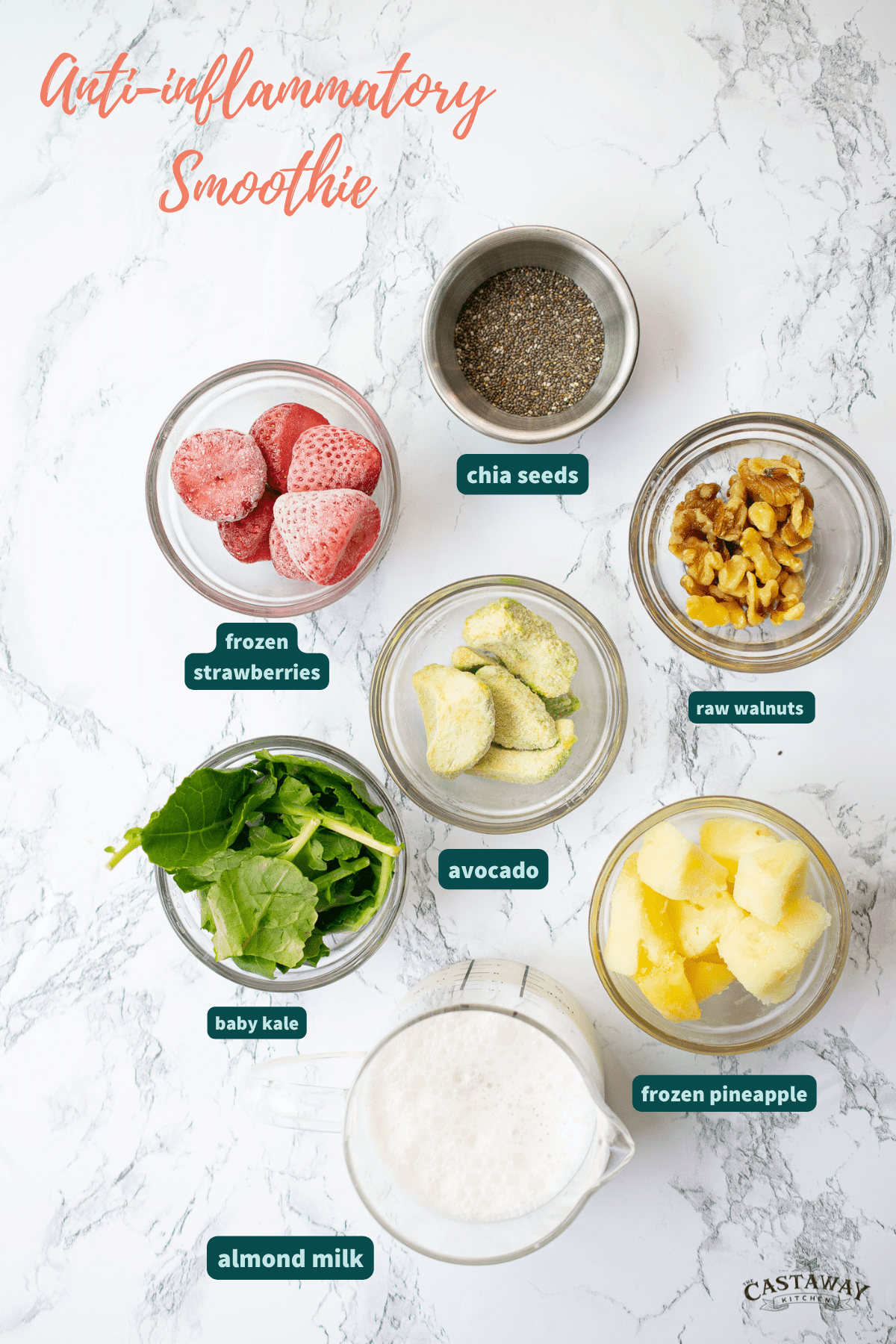 Avocados, Chia Seeds, and Walnuts all contain high levels of Omega-3 fatty acids. Upping this kind of fat helps us balance our Omega 3:6 ratio and keeps inflammation levels down!
The anti-oxidants present in the Strawberries, Chia Seeds and the Pineapple support a healthy inflammatory response by protecting cells from the impact of free radicals.
Pineapple in particular has an enzyme called Bromelain which causes the body to produce substances that fight off pain and swelling.
This smoothie is also great with protein powder- vanilla or chocolate flavor! I really like both the paleopro cacao protein powder and the active stacks vanilla protein powder.
Smoothie Time!
No special instructions here- just throw everything in the blender until you get your desired consistency.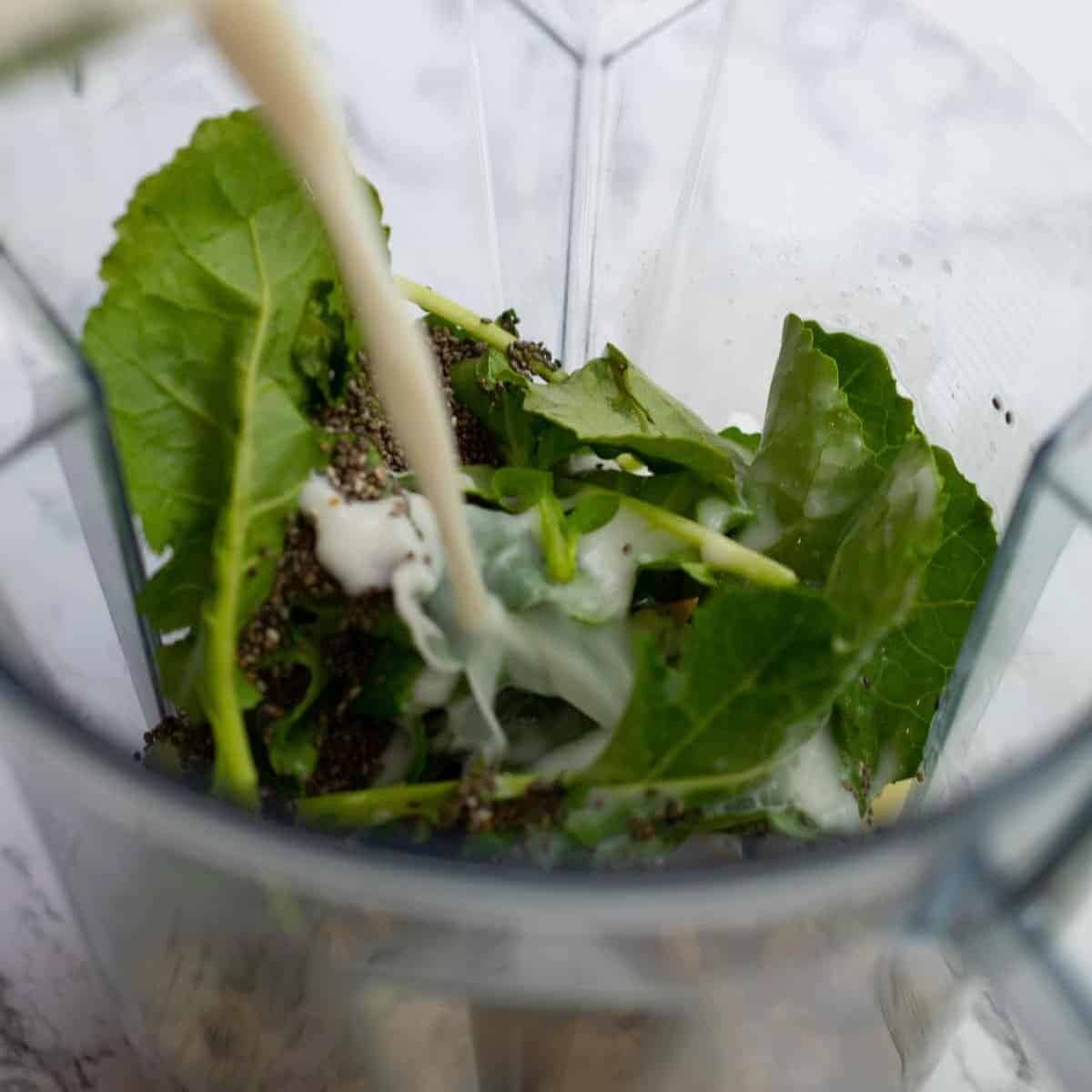 Frequently Asked Questions
Can I add protein powder to this?
Definitely! I think that would be a great way to get it in. Both paleopro and active stacks protein powders are awesome.
Can I skip the pineapple?
For sure. While pineapple has some pretty fantastic anti-inflammatory-specific compounds, you could also go a more anti-oxidant-focused route and sub for a blend of berries or throw some frozen banana in.
Can I use oat milk?
Yes. I like almond milk- and stick to that, but this could work with your preferred milk. Oat milk is pretty creamy so the consistency might be a little different, but it would still work.
Anti-Inflammatory Smoothie
---
Author: Cristina Curp
Prep Time: 5
Total Time: 5 minutes
Yield: 2 Cups 1x
Category: Snacks
Method: Blender
Diet: Gluten Free
Description
Bright & refreshing summer smoothie filled with anti-inflammatory ingredients! 
---
Scale
Ingredients
1 cup frozen pineapple chunks
1 cup frozen strawberries, whole
1/2 cup frozen avocado chunks
1 cup fresh kale
1/4 cup walnut halves
1 tbsp chia seeds
1 1/2 cup milk of choice
---
Instructions
Add all ingredients to blender and blend until smooth!
Recipe Notes:
You can add- protein powder, collagen, adaptogens or frozen banana too!
Macros calculated with unsweetened Almond milk 
Nutrition
Serving Size: 2 Cups
Calories: 566
Fat: 40g
Carbohydrates: 54g
Protein: 16g