As many of you know I have been tweaking my diet, my supplement, and my workouts lately.
Two major goals, to inch my weight loss forward and to balance my hormones and in turn crush lingering inflammation. I am glad to report I am seeing good results with these changes. Whoot Whoot! While my eating habits remain squeaky clean they are more intentional. Keto most days with carb-up meals in the evenings the days, I work out.
A big factor in my leap in healing, I attribute to the changes in my supplements. I'm focusing more on food-based supplements that focus on nutrition, digestion, and inflammation. I've added a video at the bottom of this post going through them in detail, there are also links to where you can get them. You're welcome?
Now, how about this smoothie?
One of the intentional choices I made recently was omitting nuts from my diet. This along with the lack of starches or dairy in my diet posed some obstacles for this now super low carb diet of mine. Surprisingly it's gone off without a hitch and I have felt satisfied. This smoothie has been a lifesaver. When I'm in a rush when it's too hot to cook. When I eat a meal but still feel hangry. This smoothie packs all the things a keto woman needs.
Supplement Reviews Links
Where to find them:
These guys are made by Perfect Supplements, a great thing about that company is that you get a lot of discounts!
SAVE 10% with my discount code CASTAWAY10 and if you buy three products you get 25% off too!
They might just become your new favorite source for supplements! They also carry lots of quality health and supplement brands, not just their own. You can click on the images to browse their site!
The turmeric, probiotic, digestive enzyme and DIM I get on Amazon, click the images below for details. I've shopped around for these, and Amazon has the best prices. I changed the link to the turmeric to the Equip site, they gave me a code for you all.. CASTAWAY10 will save you 10% yeay!

I don't have any discount codes for Amazon, but if you have Prime, you get free shipping, so that's a bonus! *the turmeric supplement is not AIP compliant because of the black pepper in it*
And since I never do these kinds of posts, because honestly linking all of this stuff is super freaking tedious (you see, that's how much I love you)
… here are Other supplements/ products I use often:
Primal Kitchen: Chocolate and Coconut Collagen Fuel (it's freaking delicious and nut/dairy free)
Tin Star Ghee (lactose casein-free clarified butter)
Primal Kitchen Ranch (dairy-free and totally legit!)
Perfect Keto MCT Oil Powder (use code CASTAWAY10 for 10%off!)
If you have any question feel free to ask. For those of you who don't follow me on Instagram… my stories is where I talk about this stuff more and explain why and how I use products. However, I am getting better at doing these formal reviews and all that. I truly respect the fact that you all value my opinion and I would NEVER endorse or promote a product I personally don't use and love. Seriously, I picky as a motherFer when it comes to who my affiliates are. So thank you for trusting me.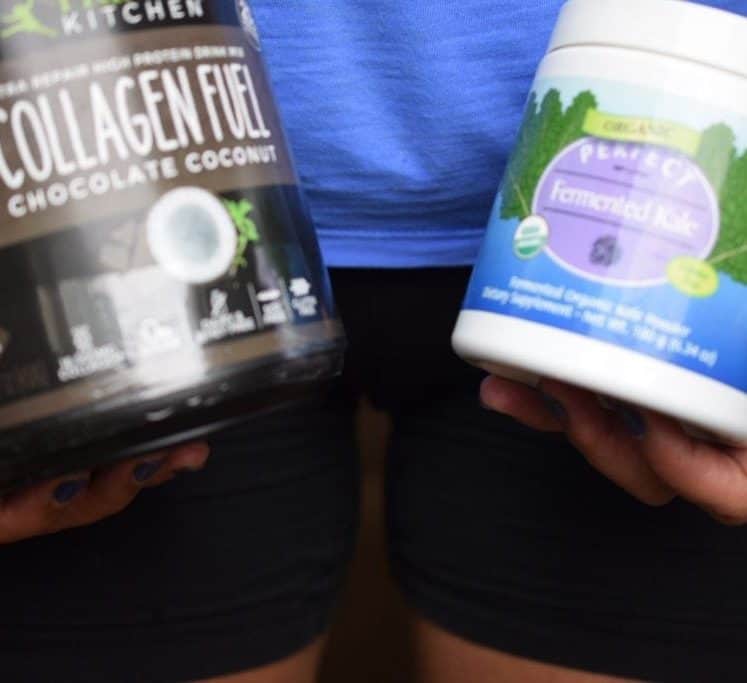 My Nut Free Superfood Keto Smoothie (and supplement reviews)
---
Author: Cristina Curp
Prep Time: 5 minutes
Cook Time: 0 minutes
Total Time: 5 minutes
Yield: 1 1x
Category: Snack
Method: Blender
Cuisine: Supplement
Diet: Gluten Free
Description
A tasty dairy free keto smoothie!
---
Scale
Ingredients
1 scoop fermented kale powder
2 scoops (22 grams) collagen peptides
3 tbsp cocoa powder (use carob powder for AIP)
1/2 cup full fat, canned, coconut milk
1/2 cup filtered water
a few drops stevia
1/2 cup ice
---
Instructions
Combine all the ingredients in a high powered blender.
Blend on high until smooth.
Serve, enjoy!
Nutrition
Serving Size: 1
Calories: 289
Fat: 20.4g
Carbohydrates: 12.4g
Fiber: 10g
Protein: 19.5g
Keywords: dairy free keto smoothie