Before Carb Cycling
I have been living a paleo-ish lifestyle for about 5 years now. Of those 5 years, 3 of them have been low carb, and I have been in ketosis more often than not. The benefits I saw from going low carb/keto were many. More energy, less cravings, reduction of inflammation, mental clarity, and a little weight loss too. I was hooked.

Table of Contents
When I Started Carb Cycling
When I first transitioned to keto, I went headfirst into carb depletion. I ate very low carb to deplete the glycogen stored in my liver and get rid of any glucose circulating in my bloodstream. This would force my body into using stored body fat fuel and put me in the metabolic state known as ketosis. For 10 days, I consumed only 20g total carbs paired with workouts to use up all of the body's glycogen stores. After that, I began implemented sweet potatoes around workouts. I felt great, I saw great results… however, somewhere along the line, I fell into the carb phobia (fear of all carbs) that was consuming the keto space.
I began avoiding starchy vegetables and fruit like the plague. It was all fine and dandy until I just didn't feel great anymore. This correlated with a move from Hawaii to VA and the launch of my next book (read STRESS). I felt flat during my workouts and I felt my hunger was insatiable. You can read more about hunger hormones here.
It's important to understand that keto is hormetic stress (see hormesis), like working out, cold plunges, sauna, or fasting. Good for you, but also a little stressful for your body. Stress that usually builds resiliently. Keyword: USUALLY. Usually not a problem, but it can be when combined with other factors, like a super stressful job, divorce, move, etc. Because the HPA-axis (hypothalamus, pituitary, adrenal) plays such a large role in blood sugar regulation, having stable blood sugar is important for hormone health.
However, the adrenals have their role to play in fat burning too, and during certain seasons of life, or for some people, it just doesn't work. If you feel like you never get past the keto flu symptoms (fatigue, brain fog, dry eyes, and mouth)… then keto might not be right for you.
When I learned about carb ups from Leanne Vogel – it made sense! So here is how I apply carb cycling to my low carb paleo/ ketogenic diet and why it works for me.
What is Carb Cycling?
Carb cycling means that you alternate carb intake on a daily, weekly, or monthly basis. The aim is to time carbohydrate intake to provide maximum benefit (or flexibility) and be able to exclude them when they're not needed. A good rule of thumb is to add 50g of whole food carbs on a carb up day. It can be spread out throughout the day or in one meal.
For me, the primary benefit is METABOLIC FLEXIBILITY. The ability to burn fat as fuel and glucose as fuel and switch between both seamlessly. This gives me the flexibility to consume carbohydrates before a hard workout for extra energy, or around certain days of my cycle, usually, post-ovulation (days 18 or 19) to keep my body extra relaxed and able to produce sufficient progesterone. Sometimes, if the start of my period is feeling rough, or especially if I have been extra stressed I will implement another carb up around day 28 to 1 of my cycle.
If my training schedule is really intense, including more than 2 high-intensity training days per week, I will do a carb up the night before each workout.
Other times, I follow an intuitive approach, when I get hungry and no amount of fat or protein is satisfying that hunger, I plan for a carb up meal. I'm not really a lean person, but I do experience low leptin at times, and having just one, whole-food carb up meal satisfies me so much, that I often fast the following day.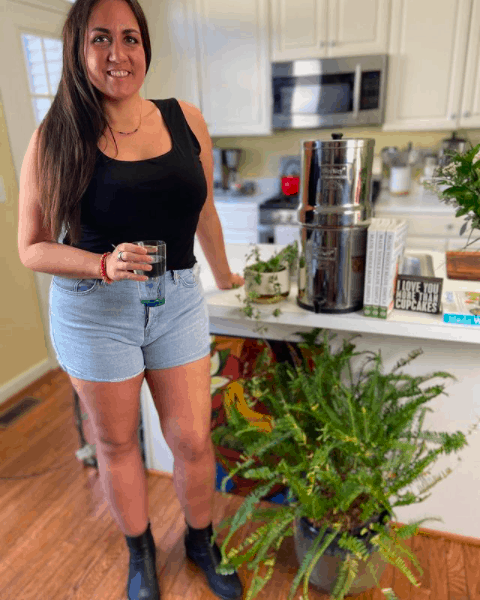 Benefits of Carb Cycling
I feel that being metabolically flexible more adequately mimics the ancestral template and this allows me to not fear carbohydrates, but rather fully understand their place in my diet and how they fuel my body. Metabolic flexibility is something I cover in detail in my next book Made Simple (order here). I also explain how our body uses each macronutrient for fuel and why certain activities require certain fuel sources.
I know I feel better when I have glycogen stored in my muscles to exert effort at the gym. I also feel that my body feels more balanced during times of stress when I up my carbs a bit. My periods are better too. But it's a fine line, if I go full-on carb binge, it's no longer beneficial. I truly thrive on a MOSTLY low carb, high protein, high-fat diet, that's home base. But I feel the advantages of using carbs and also enjoy the flexibility it allows for social situations and travel.
Being metabolically flexible means you can have a carb-heavy meal and not be starving 2 hours later. It means you can eat sweet potato for dinner, but easily fast the next day. It means not feeling hungover when you're out of ketosis. It means your body can efficiently use carbs or fat!
Who It's Not For
If you're still extremely sensitive to carbs and experience big swings in blood sugar when you consume even whole food carbs, then perhaps hold off on this until you have your blood sugar regulation under control. Another concept I cover in-depth in my next book.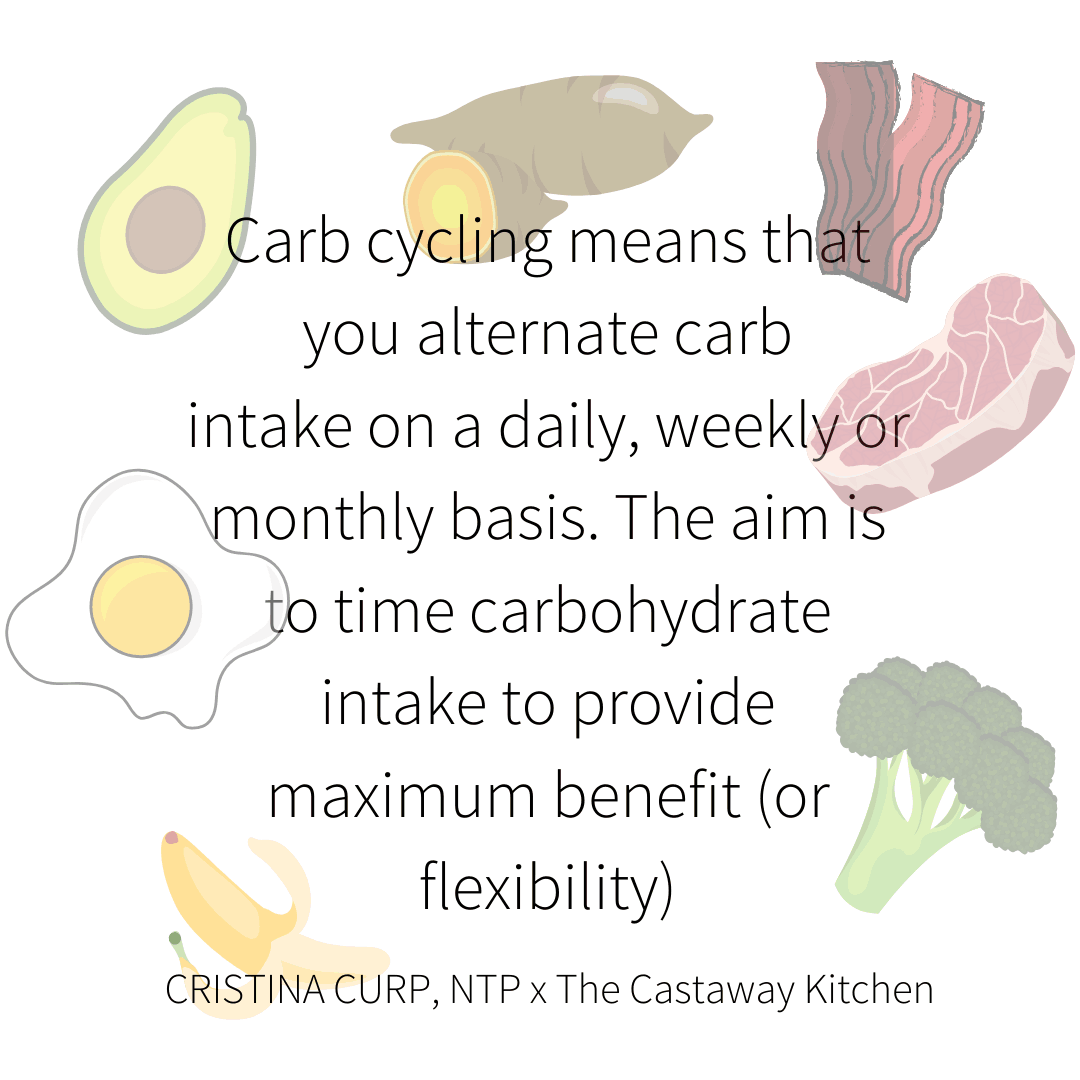 What a Carb Cycling Looks Like For Me
7:30am Wake up, drink water
8:00 am Drink Chaga Tea or Decaf with a splash of almond milk, mct oil and collagen
9:00am -10:00am Work Out
10:45am Chicken wings with kale, avocado, and Primal Kitchen Dressing
3:00pm Handful of walnuts and 85% dark chocolate chips
6:00pm Broiled Salmon with asparagus and half a roasted sweet potato
Next Day
7:30 am Wake up, drink water
8:00 am Drink herbal tea, plain or decaf coffee with cashew milk, collagen and cinnamon
9:00am -10:30am Work Out
12:00pm Fried Eggs, bacon and avocado and greens
5:00pm Steak, roasted broccoli, and a handful of nuts. Avocado brownie for dessert.
8:00pm sleepy time tea
Next Day
7:30am Wake up, drink water
8:00am Drink Chaga Tea with a splash of almond milk
9:30am Liver Pate with apple slices
2:00pm Protein shake and a handful of nuts
6:00pm Shrimp and Sausage Sheet Pan Dinner
When I do a higher carb meal, it tends to be a lower fat meal. Not void of fat, just lower in fat than usual.
Keto Recipes
Broiled Burger with Avocado Dill Broccoli Slaw
Carb Up Recipes