This easy Paleo Chicken Liver Pate is a must-try. A flexible and nutrient-dense pate recipe that can be made with bacon and beef or duck fat and chicken! Liver is nature's multi-vitamin and this recipes cooks up in one skillet and then you blend it and store it. It's savory and creamy and the seasonings mask the gamey liver flavor. The ideal intro to organ meat recipe. (1)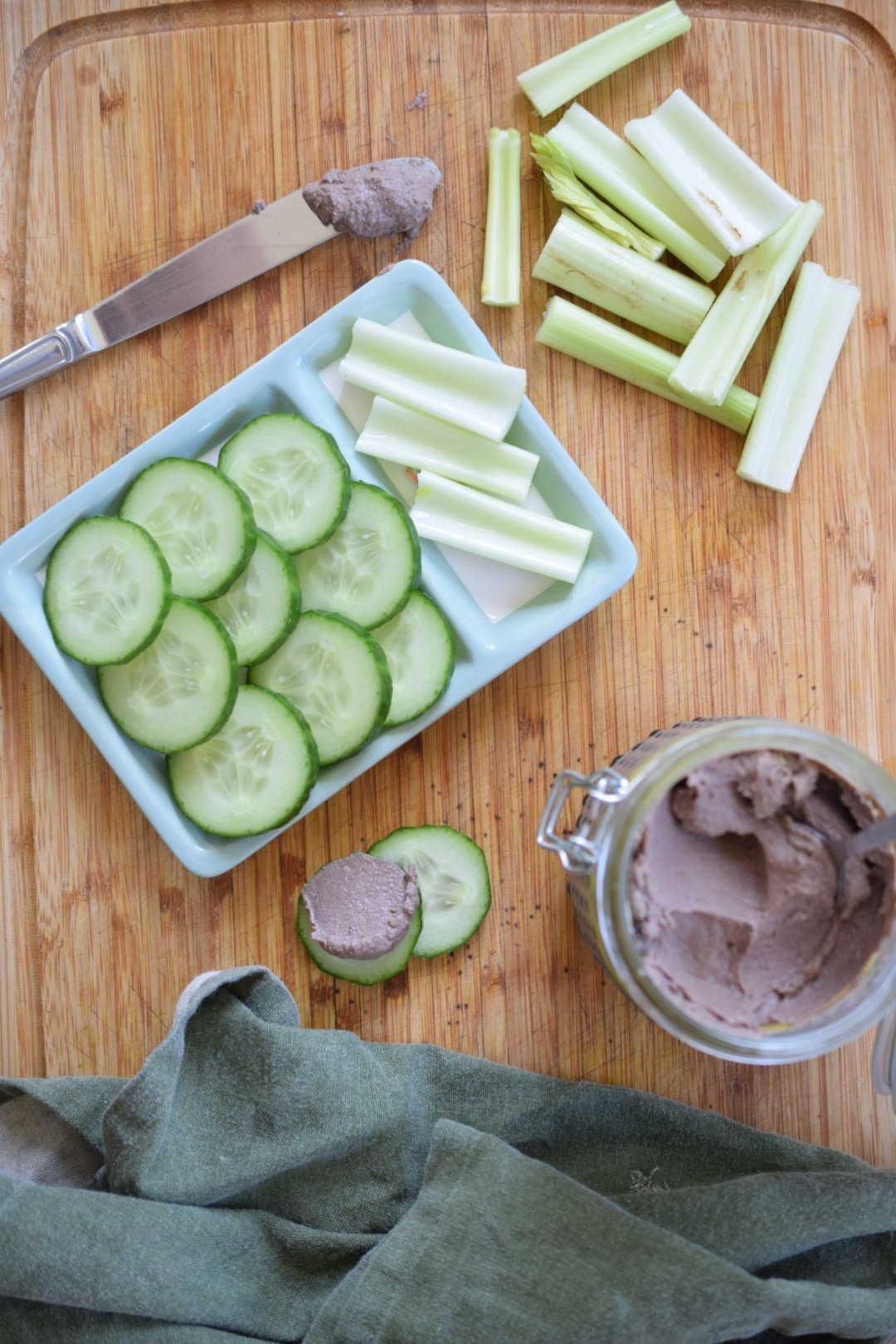 The best easy paleo chicken liver recipe
For those of us who actually enjoy the stuff… this easy chicken pate came out great! I have not eaten pate in some time, but I have always liked it. For some reason, I always thought it something over my head. While It's actually pretty basic, the ingredients, are … not so much.
Traditional pate was made with duck livers. Really, any liver will do; The Paleo Mom will argue that grass-fed beef liver is best. I could not find any. Seriously. 3 different grocery stores (even Whole Foods) and no beef liver. But I did find ORGANIC chicken livers! Now, had they been conventional, I would have passed.
Then, what? Game changer… duck fat! Yes, please! Especially from Mary's Farm. Love their chicken and duck! Bacon fat or ghee (not AIP) will work well too!
I have since made this Easy Liver Pate, which is so easy, various ways and I will explain those variations next!
So… want to get all (not so) fancy with it? I'll show you how!
Different ways to enjoy this paleo chicken liver pate recipe:
I have now tried EASY LIVER PATE with bacon fat & apple cider vinegar (instead of duck fat and balsamic) and it works great!
I also made this with beef liver, using 1 pound, 3 tablespoons bacon fat and added in 1 cup of mushrooms to the onions. Also used apple cider vinegar and fresh rosemary in this combo and it turned out delicious… actually, my favorite to date.
Health benefits of pate
The Paleo Mom, who's a doctor, says that "Compared to the muscle meat we are used to eating, organ meats are more densely packed with just about every nutrient, including heavy doses of B vitamins such as: B1, B2, B6, folic acid and the very important vitamin B12. Organ meats are also loaded with minerals like phosphorus, iron, copper, magnesium, iodine, calcium, potassium, sodium, selenium, zinc and manganese and provide the important fat-soluble vitamins A, D, E and K. (2,3)
Organ meats are known to have some of the highest concentrations of naturally occurring vitamin D of any food source. Organ meats also contain high amounts of essential fatty acids, including arachidonic acid and the omega-3 fats EPA and DHA." Need more reasons… read this article "Why Everyone Should Eat Liver".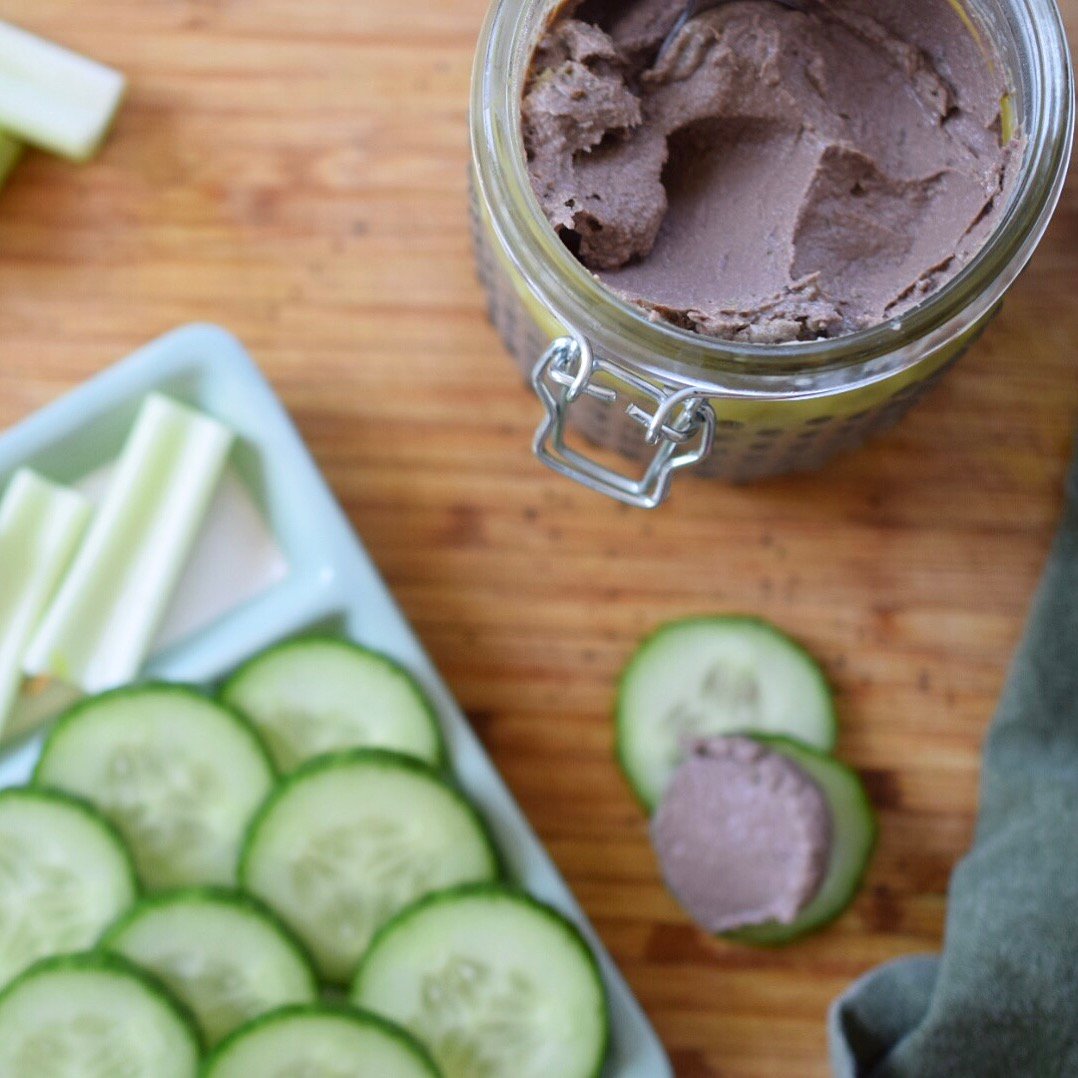 Easy Paleo Chicken Liver Recipe (Keto, Whole30, AIP)
---
Author: Cristina Curp
Prep Time: 15
Cook Time: 14
Total Time: 29
Yield: 18 1x
Category: Appetizer
Method: Sautee
Cuisine: AIP
Diet: Gluten Free
Description
Delicious EASY liver pate!
---
Scale
Ingredients
1/4 cup duck fat or bacon fat (see variations above)
4 cloves of garlic
1 sweet onion
1 stalk celery
1 cup sliced mushrooms (optional)
1 pound liver (chicken or beef, diced)
1 teaspoon dried Italian herbs, or 3 teaspoons fresh rosemary
2 teaspoons salt
2 tbsp aged balsamic vinegar or apple cider vinegar
---
Instructions
In a sauce pan or large skillet, on medium-low heat melt fat.
Small dice onion, garlic & celery and add to skillet.
Saute for 5 minutes until tender, moving often, then add in the mushrooms, if you are using them.
Add in livers and cook stirring often for 8 minutes. Stir in the salt and herbs, you want the livers to remain pink in the middle.
Add vinegar, stir and remove from heat.
Carefully transfer all of it to a Vitamix blender. Blend until smooth.
Transfer to ramekins or mini mason jars. You can top with some bacon fat & more herbs.
Close lid tightly and refrigerate. What you won't eat within 5 days, freeze. This pate can be eaten on the same day, but will be much better in a day or two!
Nutrition
Serving Size: 1/18th of recipe
Calories: 74
Fat: 4
Carbohydrates: 3
Fiber: 1
Protein: 6
Keywords: EASY LIVER PATE